September, 3, 2011
9/03/11
7:18
PM ET

Surprise move:
The situation at wide receiver carried the most intrigue through training camp and the exhibition season.
Mardy Gilyard
,
Donnie Avery
and
Danario Alexander
seemed to have the most to gain, with
Mark Clayton
's recent signing adding another dynamic. Alexander made it. So did
Dominique Curry
, a dominant special-teams player last summer until he suffered a season-ending knee injury. Gilyard and Avery missed the cut. That surprised me a great deal given Alexander's injury history, Avery's recent surge and Gilyard's value on special teams. Clayton went onto the reserve/physically unable to perform list, meaning he'll miss the first six games.
Curry is a special-teams player and a receiver in name only. He made the team despite a broken hand. That's a victory for special-teams coach Tom McMahon.
Veteran defensive lineman
Dan Muir
, signed in free agency, was also among the cuts. Gilyard, a fourth-round pick in 2010, missed the cut. The team has drafted 16 players in the first four rounds since Steve Spagnuolo became head coach. Gilyard is the only one no longer with the team. He has no eligibility for the practice squad after appearing on the game-day roster more than eight times last season (11).
Unknown rookie
Ben Guidugli
was one of four tight ends to stick on the initial 53-man roster, beating out
Fendi Onobun
. Guidugli could be providing depth while the team waits to see whether
Michael Hoomanawanui
is available for Week 1.
No-brainers:
The Rams weren't going to cut rookie receivers
Greg Salas
or
Austin Pettis
even though neither rookie lit up the preseason. They took precedence over Gilyard, who was selected when the Rams had a different offensive coordinator. Free-agent linebacker
Zac Diles
became expendable once the Rams added other veterans at the position.
What's next:
Depth at cornerback was and is a potential concern. The Rams kept only eight offensive linemen, including veteran backup
Adam Goldberg
. They could be in the market for an interior offensive lineman with good size and strength. With seven wide receivers on the roster for now, the team has only four running backs. This is the initial 53-man roster, not the final one, however. There will be changes before Week 1, most likely.
October, 30, 2010
10/30/10
5:07
PM ET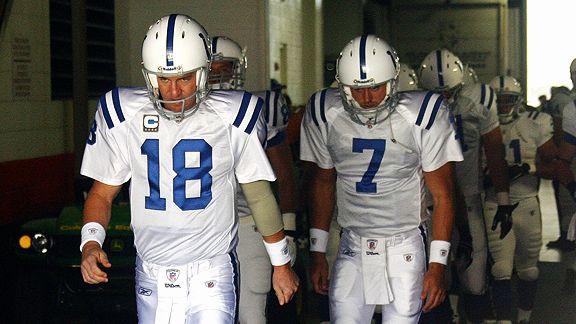 AP Photo/Kevin TerrellThe Colts take a serious, business-like approach to the game. The team has fun after it wins.
Late Monday afternoon, we'll see the obligatory shot of
Peyton Manning
walking into Lucas Oil Stadium in a sharp suit. For many big-time players, it's the standard pre-uniform uniform.
In the case of Manning and the Colts, it's fittingly symbolic.
Some teams may match Indianapolis' business-like approach. I don't know that anyone surpasses it.
Serious has produced a lot of success in the Manning era. Preparation and semi-stoic personalities are staple elements of the team's culture.
Colts president Bill Polian is a serious guy. Head coach Jim Caldwell is a serious guy. Manning is a serious guy. Their humor tends to be understated or deadpanned. Manning's known for telegenic sarcasm, not whoopee cushions and hand buzzers.
A good organization takes on the personality of people in those positions, and most of the Colts follow the lead of the team's power trinity.
I'm not around the team daily, but I've spent a good bit of time with the Colts since 2008. Big personalities are a big part of the NFL. But even the Colts' bubbliest guys --
Gary Brackett
,
Jeff Saturday
,
Pat McAfee
-- often strive to be reserved. (I bet McAfee shows a lot less personality than he used to when he returns from a one-game suspension for an alcohol-related arrest.)
Players in Indianapolis sometimes try to be uninteresting and bland. It's safer. It takes less time. It can't become a distraction.
Given all that serious and calm, I sometimes wonder where having fun ranks in the team's pyramid of success. It's something I've pondered since training camp and something I think can be looked at, like chemistry, as a chicken-and-egg question.
Do you need success to have fun? Do you need to have fun to have success?
Caldwell gave me a nice chunk of time on the subject during training camp.
"I think success breeds fun," said Caldwell, whose team meets the
Houston Texans
in an AFC South showdown on Monday night (ESPN, 8:30 ET). "Guys have to believe in what you're doing, they have to be able to in execute it, and that's hard work. It's discipline, it's fortitude, it's toughness. All of those things -- there is no easy way to get that done.
"I really do believe the fun comes after. And you can enjoy it. These guys enjoy it and have passion for what we do. Passion, enthusiasm -- those are high on the list. That's different than fun. And I think fun comes after winning. That's my take on it."
Weekly preparations can be monotonous. There are moments in an NFL day and times in an NFL week that laughter can help pass time better than anything. I am sure the Colts, like other teams, have plenty of those times.
But you won't come across stories of the Colts dressing up rookies in Halloween costumes for a flight or of a position group deciding to all grow mustaches or mullets. You won't find two of their top players doing a reality show on Versus or a star with a weekly fantasy football radio show.
Stuff like that just isn't part of the way the Colts operate, and their fun comes in different, less visible, ways.
"I think when you think of the Colts, you think of the mellow-type guys who take everything business-like and serious," second-year cornerback
Jerraud Powers
said. "But we've got a lot of jokes going on on this team. We've got a lot of different personalities. You see
Dan Muir
and
Eric Foster
and them in pregame warm-ups trying to see who can dance the best. You've got Peyton in the funny commercials and all that. They bring that type of excitement to the team.
"We have fun, we cut up and play around. But when it's time for football, that's what it is: It's football."
And while Caldwell might go into great detail about work and discipline, fortitude and toughness, he does talk fun too.
"When Coach Caldwell has a meeting, it's 'We've got to do this, we've got to do that, we've got to do this.' But he always ends with 'let's have fun and win,' " Powers said. "People take it to heart … I think we have fun, just in our own way. You might not see a guy going out of the ordinary, trying to get attention. But we have fun out there."
And laughs and smiles and jokes are hardly the only measure of whether football players are having fun.
Seeing a smart plan work is fun. Executing with a precision that frustrates an opponent is fun. Carrying a coaching tip into a game and seeing it work against an opponent is fun. (Cashing large paychecks must be fun, too.)
Clyde Christensen, a Tony Dungy disciple who is now Caldwell's offensive coordinator, said he looks at the whole job and setting as fun.
"I just give them the same bullet points that I have with my life, you know?" Christensen said. "What a great privilege to make your living in football. I'm going to enjoy it, I'm going to enjoy every day, I'm going to enjoy practice, I'm going to enjoy the guys.
"Now I have found ... winning is really fun. But I'm going to enjoy it either way. I love doing it, I love coaching, I love teaching, I love being around these guys, I like the relationships; I enjoy all that's part of it. It is an awful lot of fun to win a football game. It's an awful good feeling to head into that locker room with the guys you did that with."
Things differ from guy to guy. Christensen cited injured tight end
Dallas Clark
as a fun-all-the-time type. Caldwell knows he comes across differently, and freely admits he doesn't relax much until his work is done. There might be a few weeks during the offseason when he really asks if he's finished.
Everything else qualifies as prep time.
"Our guys enjoy playing. Just watch our guys when they take the field -- there is a lot of enthusiasm, they have a great time," he said. "But I also believe this: the fun is in winning. In our preparation to do so, we have a good time."
September, 16, 2010
9/16/10
3:21
PM ET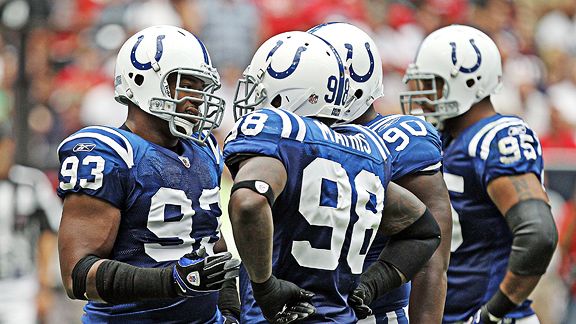 Ronald Martinez/Getty ImagesVeterans Dwight Freeney and Robert Mathis have witnessed the Colts' run defense get burned -- and recover -- in the past.
The night of Dec. 10, 2006, the
Indianapolis Colts
were in a stupor, hoping for a short memory and a quick recovery.
They'd just been gashed for 375 rushing yards by the Jaguars in
44-17 loss in Jacksonville
.
It was the Colts' second loss in a row, their third in four games and the run defense was a critical issue. They finished the regular season dead last in ground yards allowed, yielding an average of 173 yards a game, 44.1 more yards than the next worst team.
Those Colts rebounded from the second-worst rush defense in franchise history. They defended the run well enough to deliver Indianapolis its first Lombardi Trophy just seven games after
Maurice Jones-Drew
and
Fred Taylor
went crazy against them.
The timing is different now. There is the possibility we saw a blip -- not the start of a trend -- in Houston Sunday. But the theme is similar.
After allowing
Arian Foster
a
Houston Texans
' single-game record of 231 yards at Reliant Stadium, the Colts are looking to restore a semblance of order to their run defense in order to get on track.
"We pride ourselves on fixing things," middle linebacker
Gary Brackett
said. "And I think that's what we'll get done."
This week's opponent, the
New York Giants
, have a good offensive line. Surely they will look to feed running back
Ahmad Bradshaw
and take advantage of some of the run-defense deficiencies the Texans exposed. But the Colts expect to be a different defense, one closer to last year's form.
"They are an extremely fast defense and need to get to the football with multiple players -- which they did pretty well last year," said Matt Williamson of Scouts Inc. "Their defensive tackles are also bigger than they have been in seasons past. Am I sure that is better? No.
"But I also tend to think that Sunday's performance was about as bad as it can get and that generally speaking, they are a better run defense than what they showed. They also game planned Houston to have [Colts' safety]
Bob Sanders
[available], who is a terrific fill player. And much of their scheme is designed to funnel the ball in his direction."
In 2006, Sanders' return from a knee injury keyed the Super Bowl run. He missed 12 games including the final four of the regular season, but was a giant factor in three playoff games and the Super Bowl. Another part of the solution: moving
Rob Morris
into an outside linebacker slot to replace
Gilbert Gardner
.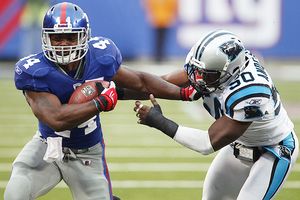 William Perlman/The Star-Ledger/US PresswireNext up for the Colts' run defense: Ahmad Bradshaw and the New York Giants.
Sunday in Houston, Sanders went down early. He's out indefinitely after surgery to repair a torn bicep. Without him to fill, the Colts need to be more disciplined and not let their speed become a disadvantage. They don't want their linebackers and defensive backs to overrun plays.
Aggressiveness is good. Overaggressiveness can be deadly.
The outside linebackers,
Philip Wheeler
and
Clint Session
, and Sanders' replacement,
Melvin Bullitt
, were especially ineffective against Foster and the Texans.
The Colts have to have people in position to snuff out cutback lanes and runs, slowing a back while help arrives.
The team almost can take solace in the fact that it has recovered from this sort of thing before. In those four playoff games in the 2006 season, the defense allowed only an average of 82.8 yards a game, a drop of more than 90 yards from the regular season.
"It is certainly fixable," coach Jim Caldwell said. "We have gone through spurts like that before, not something you want to revisit every single week obviously. But until you get it stopped, it's an issue. We had games where Jacksonville ran for I don't know how many yards, Kansas City torched us for over 500 [total yards], but we were able to come back and get the ship righted in that regard. This is going to take a little work, but we can get it done."
Unlike many teams, Indianapolis is not built to sell out in stopping the run. The Colts are willing to give up some rushing yards. It fits with their philosophy.
With an offense built around
Peyton Manning
and some dangerous weapons, the Colts look to build a lead and play from ahead. If a game pans out in that fashion -- and it very often does -- susceptibility to the run becomes less of a factor, because an opponent generally needs to throw to rally. And the Colts defense wants quarterbacks to drop back since
Dwight Freeney
and
Robert Mathis
get to rush and cause problems.
Freeney said it will be particularly important this week for veterans who've been through it to convey those survival instincts to youngsters who were not around in 2006.
Key players on defense like defensive tackles Dan Muir,
Antonio Johnson
and
Fili Moala
, linebackers Session and Wheeler and corners
Jerraud Powers
and
Jacob Lacey
were not with the team then.
"The veterans have to let guys know, 'These things happen, this is the National Football League,'" Freeney said. "The other team gets paid, too. You're not going to always have your best game. I just think it's about how you bounce back from those type of games.
"That really defines the character of your team and what kind of guys you have. I don't know one team in the history of football that hasn't had a bad week. I don't care who it is."
March, 4, 2010
3/04/10
9:12
AM ET
Houston Texans

Potential unrestricted free agents:
CB
Dunta Robinson
, WR
Kevin Walter
, RB
Chris Brown
, DT
Jeff Zgonina
, G
Chester Pitts
, S
Brian Russell
, S
Nick Ferguson
, LS
Bryan Pittman
, LB
Chaun Thompson
, QB
Rex Grossman
, LB
Khary Campbell
, G
Tutan Reyes
, T
Ephraim Salaam
, P
Matt Turk
.
Potential restricted free agents:
DL
Tim Bulman
, S
John Busing
, OT
Rashad Butler
, TE
Owen Daniels
, RB
Ryan Moats
, S
Bernard Pollard
, LB
DeMeco Ryans
, G
Chris White
.
Franchise player:
None.
What to expect:
I don't think the Texans will jump out and make any monumental moves. But by deciding not to tag Robinson they created another hole and saved themselves big dollars. With needs at corner, running back, free safety, interior offensive line and defensive tackle they may have more than they can address in one draft. That means they could jump out for one significant free agent – like they did last year with defensive lineman
Antonio Smith
-- and maybe another less expensive one or two.
Indianapolis Colts

Potential unrestricted free agents:
MLB
Gary Brackett
, K
Matt Stover
.
Potential restricted free agents:
WR
Hank Baskett
, S
Antoine Bethea
, S
Melvin Bullitt
, OL
Dan Federkeil
, CB
Aaron Francisco
, LB
Tyjuan Hagler
, CB
Marlin Jackson
, CB
Tim Jennings
, DT
Antonio Johnson
, OT
Charlie Johnson
, LB
Freddy Keiaho
, DT
Dan Muir
, CBPR
T.J. Rushing
.
Franchise player:
None.
What to expect:
Brackett is priority one and the team has indicated a plan to pay him as an upper-echelon guy. The restricted list includes a lot of key guys who will remain big factors next year. Indy is not a team that looks to bring in many outsiders for big roles and it won't start now. Bill Polian's said the Colts will sit back and see how things unfold in the new capless landscape.
Jacksonville Jaguars

Potential unrestricted free agents:
DE
Reggie Hayward
, G
Kynan Forney
.
Potential restricted free agents:
DT
Atiyyah Ellison
, LB
Clint Ingram
, DL
Greg Peterson
.
Franchise player:
None.
What to expect:
The Jaguars are draft-reliant, but will also shop for bargains in free agency, hoping to plug a couple holes with high-character guys with upside who fit what they are doing. As for a big splash, it's unlikely based on their recent busts with big-name free agents like
Jerry Porter
and
Drayton Florence
and the direction they've moved since.
Tennessee Titans

Potential unrestricted free agents:
DE
Kyle Vanden Bosch
, C
Kevin Mawae
, LB
Keith Bulluck
, TE
Alge Crumpler
, CB
Nick Harper
, CB
Rod Hood
, DE
Jevon Kearse
, S
Kevin Kaesviharn
.
Potential restricted free agents:
DE
Dave Ball
, DT
Tony Brown
, TE
Bo Scaife
, LB
Stephen Tulloch
, DT
Kevin Vickerson
, RB
LenDale White
.
Franchise player:
None.
What to expect:
The Titans will undergo a youth movement, especially on defense where Vanden Bosch and Bulluck, who's recovering from ACL repair, are going to be allowed to walk. Mawae been told his only chance to return is as a backup at a backup price. Brown, Scaife and Tulloch are important guys they'll want to retain. Beyond that, expect mostly bargain shopping.
March, 4, 2010
3/04/10
9:08
AM ET
Restricted free-agent tenders have to be done before midnight ET. Here's what's out so far:

Houston

From John McClain of the Houston Chronicle.

Indianapolis

Bethea info from Adam Schefter.

Jacksonville

Tennessee

From Jim Wyatt of The Tennessean.


October, 14, 2009
10/14/09
5:04
PM ET

Posted by ESPN.com's Paul Kuharsky
The Colts did
Ed Johnson
a big disservice the way they handled his release.
| | |
| --- | --- |
| | |
| | Don McPeak/US Presswire |
| | Ed Johnson (92) had 11 tackles and no sacks through four games. |
Johnson was officially let go Tuesday, and whether the news came out on the timetable the Colts desired or not, it came out.
Johnson was cut last season for violating a zero-tolerance policy in place for him regarding off-the-field issues. He was brought back this season with those same strict guidelines.
Considering the fanfare that greeted his return, that he was a starter since he was reinstated from his Week 1 suspension and that there had been no public questioning of his play, the team had to know a release without explanation was going to prompt suspicions he'd done something wrong off the field.
Coach Jim Caldwell admitted as much when he began to address it Wednesday.
"I know some might wonder whether or not it was a character issue," he said.
If you knew, coach, why wouldn't you seek to clarify that it was not as soon as possible? Isn't that what you would have liked for someone to do for you if you were in a similar circumstance?
The team could have simply put out a statement Tuesday or have word passed down from on high that it was a production issue, not a behavioral one.
Here's Caldwell's entire explanation about how the move was tied to the addition of kicker
Matt Stover
.
"We released Ed Johnson. I know some might wonder whether or not it was a character issue. It was not. We had to take a real good look at our roster and see where we may be able to make an adjustment here or there to get another guy on it. (With) Ed (it) was more production than anything else.
On if rookie defensive tackle Fili Moala will now be in the rotation:
"Yes. Antonio Johnson is still there and Dan Muir along with Fili will rotate along with Eric Foster. We will still have a four-man rotation. I believe he [Moala] will do just like we expect him to do. There are a lot of young guys who come in and step up and are able to do the job, and we expect the same from him. He has shown, the last couple of weeks in particular, he has really come along. He has made some strides. We are going to have an opportunity to get him out there and see what he can do."
On the reason for the Ed Johnson release:
"It was production or lack thereof."
On when Adam Vinatieri's knee injury came about:
"Last week is when the issue arose where it required a MRI and from that, we made a decision on what to do and how to go about it. He wanted to fight through it and continue to go, but we felt this was the best course of action."

Posted by ESPN.com's Paul Kuharsky
Five nuggets of knowledge about this weekend's games:
The Texans need a lot from Brian Cushing and Dunta Robinson
: The rookie linebacker and the veteran cornerback were not part of the preseason, when the defense was not good, particularly against the run. Can they provide the missing ingredients against the Jets, who will be determined to run it? I think they will be difference-makers, but fear that others think their mere presence will "fix" things.
| | |
| --- | --- |
| | |
| | Drew Hallowell/Getty Images |
| | How productive will Anthony Gonzalez be in a passing game already featuring Reggie Wayne and Dallas Clark? |
The Jaguars are not an ideal draw for the Colts
: Jacksonville has run the ball with good success against the Colts in recent games. The Jaguars are a different team now, with two rookie tackles in
Eugene Monroe
on the left and
Eben Britton
on the right. Can they plow room for
Maurice Jones-Drew
and
Greg Jones
or
Rashad Jennings
against a stouter Colts' defense? This is a big game for
Antonio Johnson
, Dan Muir and
Eric Foster
, the three defensive tackles expected to rotate for the Colts while
Ed Johnson
serves his one-game suspension.
Anthony Gonzalez can do a lot to quiet skeptics
: I think he's going to be a very productive player with an expanded role for the post-
Marvin Harrison
Colts. But there are plenty of people doubting just how much he will be able to do as the second or third option for
Peyton Manning
after
Reggie Wayne
and
Dallas Clark
. If he gets turns against rookie cornerback
Derek Cox
he needs to help Manning take advantage of Cox's inexperience.
Mario Williams is bound to draw lots of attention
: Whether he's on the right where he starts out or flipped to the left in pass-rushing downs, the Texans stud defensive end will draw a lot of attention from the Jets. Here's the first test as to whether the Texans can generate sufficient pass rush from elsewhere. Free-agent additions
Antonio Smith
and
Shaun Cody
and rookie
Connor Barwin
need to penetrate, hit and fluster rookie quarterback
Mark Sanchez
to maximize Houston's chances.
Some rookie will rank as a hero or a goat in Indy
: We've mentioned Monroe, Britton and Cox. Jacksonville will also start defensive tackle
Terrance Knighton
. The Colts are expected to start rookie cornerback
Jerraud Powers
and will rely on contributions from receiver
Austin Collie
, running back
Donald Brown
and punter
Pat McAfee
. If one of those eight guys has a great or terrible game, he's likely to be a big piece of the storyline at Lucas Oil Stadium.