January, 4, 2013
Jan 4
5:39
PM ET
Seattle Seahawks
defensive coordinator Gus Bradley is a candidate to succeed Andy Reid as the
Philadelphia Eagles
' head coach.
The Eagles announced they have
received permission
to interview Bradley next week.
Bradley has been known to make positive impressions.
Former Seahawks coach Jim Mora had been expected to name Dan Quinn as his defensive coordinator in 2009. Mora changed his mind after interviewing Bradley. It was nothing against Quinn, who advanced on his own and now serves as defensive coordinator for the University of Florida. Bradley simply impressed Mora beyond reasonable expectations. Mora named Bradley coordinator and Quinn to coach the defensive line.
Longtime NFL assistant Monte Kiffin, who had worked with Mora on the
New Orleans Saints
staff in 1995, had recommended Bradley for the coordinator's job.
Mora explained it this way
in 2009: "Monte says, 'J.L., listen to me. I have got a guy here in Tampa that is one of, if not, the finest football coaches I have ever worked with. He's an A-plus. He's a once-in-a-lifetime coach. You need to talk to him.' He said, 'J.L., this guy is special. You have to bring him in.' "
When the Seahawks fired Mora unexpectedly after one season, incoming coach Pete Carroll kept Bradley in place as coordinator, citing an endorsement from Kiffin. Kiffin worked with Carroll in Minnesota and with Bradley in Tampa Bay.
I don't know how many coordinators have stuck around when one head coach replaced another and all three men traced their backgrounds to the same side of the ball. Usually, a new coach comes in with new ideas and specific people in mind for the highest-ranking positions. New coaches usually are looking to break from the past, not build upon it.
Bradley's staying power through a tumultuous time in Seattle speaks well of him.
The chart shows Seattle's defensive stats over the past four seasons. The row for "Defensive EPA" refers to
expected points added
by the defense. Negative numbers are better than positive ones.
February, 7, 2012
2/07/12
10:56
AM ET
It certainly appears as though new Tampa Bay coach Greg Schiano is having a challenging time putting together a staff of assistants.

The latest example of this comes from
this report
that says the
Green Bay Packers
denied permission for the Bucs to speak to tight ends coach Ben McAdoo about becoming offensive coordinator.
McAdoo is at least the second offensive coordinator candidate the Bucs have been blocked from interviewing. The
Arizona Cardinals
previously denied permission for offensive assistant John McNulty, a former Schiano assistant at Rutgers, to interview for the job.
It also was reported Monday that University of Florida defensive coordinator Dan Quinn turned down a position with the Bucs, presumably as the defensive line coach.
The Bucs have not made any official announcements about any hirings of assistants. The only assistant known to have
accepted a position
is wide receivers coach
P.J. Fleck
, another former Rutgers assistant.
The Bucs appear to be in line to add several other Rutgers assistants, but nothing definite has happened yet. There also has been speculation from the moment Schiano was hired that he'd be joined by former NFL and college head coach Butch Davis as defensive coordinator, but nothing has been announced on that move.
Although Tampa Bay was extremely thorough in its search for a head coach -- the process took more than three weeks -- it appears the late start has put Schiano at a disadvantage when it comes to filling out a staff. Most assistant jobs have been filled across the league, and teams are trying to hold onto what they have. Quinn turned down a chance to get back into the NFL, and Rutgers reportedly is doing its best to keep as many assistant coaches as possible.
One of the knocks on former Tampa Bay coach Raheem Morris was that he lacked a strong stable of assistants, especially after firing experienced coordinators Jim Bates and Jeff Jagodzinski during his first season. It's starting to look like the late start might make it tough for Schiano to assemble a quality staff.
May, 18, 2010
5/18/10
4:24
PM ET
NFL assistant coaches are some of the best people to know for those looking to learn more about the game.
That has been my experience in covering the NFL since 1998.
I've helped push for better media access to assistants through the Professional Football Writers of America. I've also learned more about some of the issues important to coaches, including some outlined in
this recent story
about the NFL Coaches Association.
The chart shows NFLCA team reps as the association talks about forming a union.
Kevin Spencer (Cardinals), Johnnie Lynn (49ers), Dan Quinn (Seahawks) and Andy Sugarman (Rams) are the reps for NFC West coaching staffs. The 49ers' Jimmy Raye is president of the NFLCA executive committee.
It's not clear yet whether the NFLCA will move to unionize and such an effort would face a challenge even if the association did decide to move in that direction. But as coaches consider their options, these assistants presumably will be active behind the scenes.
January, 20, 2010
1/20/10
2:56
PM ET
RENTON, Wash. -- Thoughts and observations from the Seahawks' news conference to introduce new general manager John Schneider, hired away from the Packers: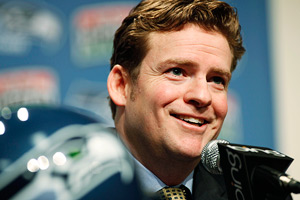 AP Photo/John FroschauerJohn Schneider was introduced as the new Seahawks general manager Wednesday.
This is all about fit. Specifically, it's about Schneider fitting with coach Pete Carroll and helping to find players that fit precisely what Carroll wants. The Seahawks didn't do this as well in recent seasons when former GM Tim Ruskell was identifying players to fit his long-range plans while the team tried to win with Mike Holmgren's offense. Seattle should get more from its personnel this way.
Carroll holds the authority over personnel, CEO Tod Leiweke said, noting that Carroll would win any coin tosses. Schneider then said he would never try to cram a certain player into his head coach's roster, regardless of who had ultimate control of personnel. The structure arguably makes Schneider a better candidate than GM finalist Floyd Reese, who is older and more established in his ways. I got the sense Schneider and Carroll would work well together. It's in Schneider's nature to make this work. I sense he's a pure personnel guy, not someone who cares about getting the credit.
The Seahawks will not be making sweeping changes to their front office or scouting staff. Schneider knows quite a few of the people already in place. Ruston Webster, John Idzik and Will Lewis will remain with the organization, Leiweke indicated. Lewis and Schneider worked together in Seattle previously. The team's salary cap and contract negotiating arm -- headed by Idzik -- will report to Schneider. Carroll wants to pick players, but he doesn't want to be a GM or cap guy.
The Seahawks will become younger not by design but through an effort to encourage competition. The Packers have been one of the NFL's two youngest teams (along with the Colts) in recent seasons. Carroll was opposed to playing rookies during his past incarnation as a head coach. His outlook changed after coaching in college (Carroll compared that experience to being coach and GM, with the GM part changing his view). Personnel guys love to play young players. Seattle was the NFL's eighth-oldest team this week, not counting players signed to future contracts. That ranking will fall, no doubt.
The Seahawks are better off now than they were a few weeks ago. I do think the front office has a better chance to function without the infighting and competing agendas that marked previous regimes in recent seasons. That can help the Seahawks regain credibility lost over the last couple seasons.
Carroll addressed a few hires relating to his coaching staff. Jeremy Bates (offensive coordinator), Alex Gibbs (offensive line), Jedd Fisch (quarterbacks), Pat McPherson (tight ends), Gus Bradley (defensive coordinator), Dan Quinn (defensive line), Jerry Gray (secondary), Ken Norton Jr. (linebackers) and Brian Schneider (special teams) are in place.
The Seahawks are weighing the possibility of trying a 3-4 defensive alignment, but it's early.
Those were a few highlights. Heading home now.
February, 6, 2009
2/06/09
9:32
AM ET
Posted by ESPN.com's Mike Sando

Jim Corbett of USA Today says Anquan Boldin remains unhappy with the Cardinals. Boldin: "I don't think the relationship can be repaired with the organization. It takes more than, 'Well, we did you wrong and we'll pay you this.' It's not about the money. It was always about the principle. Guys being true to their word. I guess I was expected to uphold my end of the bargain, and it wasn't reciprocated."
Bob Romantic of the East Valley Tribune says the Cardinals are making strides in building the depth required to survive free-agent departures.
Revenge of the Birds' Hawkwind says the Cardinals need to sign coach Ken Whisenhunt to a contract extension.
Kent Somers of the Arizona Republic says the Cardinals have opened contract negotiations with linebacker Karlos Dansby. Using the franchise tag on Dansby would cost $9.7 million in 2009.
The Arizona Republic pulls from FoxSports.com and the Kansas City Star in detailing Todd Haley's expected departure to the Chiefs.

VanRam of Turf Show Times links to 19 mock drafts, with an emphasis on which players the Rams might select. Tackle Andre Smith shows up repeatedly.
Jim Thomas of the St. Louis Post-Dispatch clarifies the Rams' front-office structure. General manager Billy Devaney is in charge of player personnel, with input from coach Steve Spagnuolo. Kevin Demoff will negotiate contracts. Also, director of football operations Samir Suleiman is leaving the Rams after nine years with the team. He has interviewed with the Browns.

John Morgan of Field Gulls takes an in-depth look at Seahawks defensive tackle Red Bryant.
Also from Morgan: potential evidence suggesting the Seahawks might not draft a receiver early.
Florida Danny of Niners Nation puts the performance of Jimmy Raye's offenses in perspective.
Danny O'Neil of the Seattle Times checks in with Seahawks assistant head coach/defensive line coach Dan Quinn, whose ambition helped him catch Jim Mora's attention years ago.
Also from O'Neil: The Seahawks expect to have a "diverse" and "dynamic" defensive scheme after drawing concepts from people with varied backgrounds.
Eric Williams of the Tacoma News Tribune checks in with Tim Lewis, Quinn and receivers coach Robert Prince. Prince has ties to receiver Reggie Williams.
Also from Williams: a quick look at mock drafts as they pertain to the Seahawks.

Dan Brown of the San Jose Mercury News uses Jimmy Raye's past offenses to project how current 49ers players might fare. A similar approach told us what to expect from Mike Martz (lots of sacks, relatively few catches for the tight end).
Niners general manager Scot McCloughan says he expects the 49ers to rank among the NFL's top 10 in most salary-cap space heading into free agency.
Matt Barrows of the Sacramento Bee looks at potential draft choices for the 49ers with the 10th overall choice.
Tim Kawakami of the San Jose Mercury News says the 49ers and Raiders need one another more than either might admit.

NFL SCOREBOARD
Sunday, 12/22
Monday, 12/23