February, 5, 2012
2/05/12
8:00
AM ET
INDIANAPOLIS -- Before yesterday's Hall of Fame class was named, former Raiders wide receiver Tim Brown tweeted not to watch the announcement because he wasn't selected.

Butler
It seems Brown is mad that he wasn't selected in his
third
year of eligibility. If you took Brown's advice and didn't watch, you missed out on Steelers defensive back Jack Butler getting elected into the Hall of Fame after a 52-year wait. Yes, more than a half century.
Butler, 84, one of two senior nominees, was a four-time Pro Bowl player who retired after the 1959 season. His election was refreshing compared to the players today that expect to make it.
"I never, ever, ever thought I would be here. I just didn't think that would be the reality," Butler said. "When I was a kid, I dreamed about being a big, strong, good football player. I dreamed of about going to Canton, Ohio, and being in the Hall of Fame. But I never, ever down deep believed what I was dreaming."
Butler was named one of the 33 greatest Steelers of all time in 2008. His 52 interceptions were the second-most in the NFL at the time his career ended. With 52 interceptions in 103 games, Butler has the best interception rate (50.5 percent) of any player in the Hall of Fame.
"Jack was one player," longtime Pittsburgh executive Dan Rooney said, via the
team's website
, "who could have played with the great Steelers teams of the 1970s."
May, 10, 2011
5/10/11
1:00
PM ET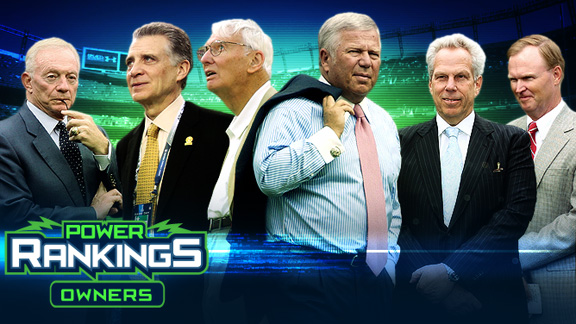 ESPN.com IllustrationThe Rooney family received only first- and second-place votes from our panelists.
There wasn't a whole lot of room for debate at the top.
ESPN.com took its positional Power Rankings series off the field and into the boardroom to rate the owners. None of them are popular fellows these days, but for the purposes of this project, nobody was more respected than the Rooney family.
The
Pittsburgh Steelers
' owners were listed first or second on all eight of the panelists' ballots.
By any definition, Dan Rooney and Art Rooney II qualify as powerful.
They're winners. The Steelers have played in eight Super Bowls and won six of them with three head coaches. The family's success has spanned such a long timeframe that Dan and the late Art Rooney Sr. were inducted into the Pro Football Hall of Fame 36 years apart.
They're transcendent. President Barack Obama selected Steelers chairman Dan Rooney as the U.S. ambassador to Ireland.
They're influential. Dan Rooney was behind the so-called "Rooney Rule," which changed sidelines dramatically by stimulating minority hires. When it comes to the lockout, Rooney is a prominent voice of reason and could help broker the eventual deal.
"The Steelers selection is a no-brainer," ESPN.com senior writer John Clayton said. "The Steelers under the Rooneys have been the model of franchise ownership in sports. They are successful, consistent and supportive.
"They don't undergo the constant changes of other franchises. Plus, the family has been so instrumental in doing things that help advance the league, sometimes at the expense of their own franchise. It's no secret that two Rooneys are in the Pro Football Hall of Fame."
Clayton, AFC North blogger James Walker, AFC West blogger Bill Williamson and NFC South blogger Pat Yasinskas each had the Rooneys atop his ballot.
"The Rooney family is the perfect combination of tradition, consistency and success," Walker said, echoing Clayton's thoughts almost verbatim. "The easiest thing to point out is they've had the most Super Bowl wins and fewest head coaches since 1969. But they also set trends off the field with things like the Rooney Rule. They're very well respected and there's a special sense of pride about the Steelers from players and fans that you don't see in many places. It starts at the top."
But the Rooneys were not unanimous choices in our ownership Power Rankings.
What about the power of the people?
The
Green Bay Packers
' ownership received three of the four remaining first-place votes. NFC North blogger Kevin Seifert, NFC West blogger Mike Sando and I all listed the Packers first because of their unique kind of power. Rules governing the other 31 franchises don't apply to them.
The Packers are the only publicly owned franchise. Green Bay Packers Inc. is a non-profit organization formed in 1922. About 112,000 stockholders own roughly 4.75 million shares of the team. A seven-member executive board oversees the team on behalf of the stockholders.
Packers fans never will have to worry about the team being sold or moving away. The Packers are the only franchise that must open its books.
Oh, yeah. They also just won their NFL-record 13th championship.
Seifert explained why the Packers are special.
"My criteria for this category was twofold," Seifert said. "Do the owners fund the team's operations well? And do they operate the team well?
"I think the Packers' arrangement is currently doing both and has none of the baggage that goes along with single-family ownership. Shareholders don't take dividends, so no one is driven by individual profit. All profits go back into the franchise. In my experience, no expenses are spared in operating the team. People might note that general manager Ted Thompson doesn't sign many free agents, but that's a football decision. He's spent plenty on retaining the Packers' own free agents.
"The executive committee has hired a competent president in Mark Murphy, and after a bumpy start on the
Brett Favre
departure, Murphy has facilitated excellent work from the GM and coach he inherited.
"Finally, the Packers' ownership arrangement requires Murphy, Ted Thompson and Mike McCarthy to be more accountable to 112,000 fans than any other NFL official is to his fan base. Shareholders can't make operating decisions, but they have the right to question decisions, to know how money is being spent and to get straight(er) answers than fans of any other NFL team."
Clayton, however, wasn't impressed. He omitted the Packers from his ballot, ensuring they didn't finish second overall in the Power Rankings despite their three first-place votes.
One gets the impression that if Clayton were to slot all 32 ownerships, he would jot the Packers last.
"I couldn't vote for the Packers because it is a community ownership, not a normal ownership," Clayton said. "It's not as though one owner makes the decisions and has to stand up for the praise or criticism. Assigned the chance to vote for ownership, I felt more comfortable voting for individual owners or family owners."
[+] Enlarge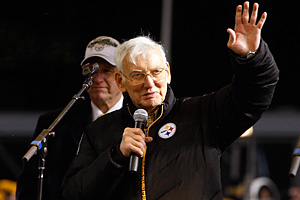 Jared Wickerham/Getty ImagesDan Rooney has been one of the most influential owners in the NFL.
As a result,
New England Patriots
owner Robert Kraft was second overall. Kraft hired Bill Belichick as head coach and has stayed out of the way of football operations. The Patriots have won three Super Bowls in the past decade and went to a fourth. Forbes estimated the Patriots are the third most-valuable NFL franchise and the world's 10th-biggest sports brand.
AFC South blogger Paul Kuharsky listed Kraft above all. Kuharsky had the Rooneys second and the Packers third.
Kuharsky had the most efficient Power Rankings ballot. He was the lone panelist to vote for all of the owners who finished in the top 10.
"Robert Kraft versus the Rooneys is a close call," Kuharsky said. "I went Kraft because I feel he and his team have done more lately. In many ways, the Patriots -- not the Steelers -- are the standard-setters for the league. And while I prefer the way Heinz Field is in the middle of Pittsburgh, that development around Gillette Stadium has to be the envy of a lot of owners."
New York Giants
co-owners John Mara and Steve Tisch came in fourth,
Philadelphia Eagles
owner Jeffrey Lurie was fifth and
Baltimore Ravens
owner Steve Bisciotti was sixth.
From there, everybody else on the Power Rankings top 10 was omitted from at least one ballot.
Eclectic
Indianapolis Colts
owner Jim Irsay, who was able to help land a Super Bowl in a nontraditional locale, came in seventh. Irsay rated no higher than sixth on any ballot, but he didn't make Williamson's top 10.
"I know it sticks out because I was the only one not to rank him, but if he was in the top three, I'd re-evaluate my reasoning," Williamson said. "But I can live with not voting for the No. 7 finisher. To be frank, I never considered Irsay. I considered 14 ownerships in all. Other than his random tweets, Irsay doesn't stick out to me, good or bad."
When it came to voting, money didn't necessarily equal power for some panelists.
I ranked
Dallas Cowboys
owner Jerry Jones third, higher than any other voter. Sando and Yasinskas didn't rate Jones at all.
Jones ended up eighth overall.
To me, you can't argue with his money or his presence. Forbes ranked the Cowboys the world's fourth-greatest sports brand behind only the New York Yankees, Manchester United and Real Madrid. Their estimated brand value was $128 million more than the NFL average and $15 million more than the Eagles and Giants combined.
Forbes estimated the Cowboys franchise was worth $1.8 billion, nearly $300 million more than the next-closest NFL club, the
Washington Redskins
.
Jones also serves as general manager. That puts him in control of every business and personnel decision. Sando saw that as a drawback.
"Jerry Jones is more involved in football operations than an owner ideally would be," Sando said. "He has shown questionable judgment in hiring head coaches. His involvement in football operations had made those coaches' jobs tougher. Jones dispatched with Tom Landry harshly and later failed to sustain the success Jimmy Johnson orchestrated.
"Also on Jones' watch, the Cowboys have suffered through the practice-bubble catastrophe, a Super Bowl experience that produced poor reviews and a video purporting to show Jones' drunken antics in a bar. Jones also was part of the NFL Management Council Executive Committee when the league agreed to the ill-fated 2006 collective bargaining agreement. Overall, the team hasn't enjoyed enough success recently to say the ends justify the means."
Yasinskas contended Jones simply is overrated these days.
"If Jerry Jones had continued the success he had with Jimmy Johnson and Barry Switzer back in the 1990s, he'd be at the top of my list," Yasinskas said. "But the fact is the Cowboys really haven't been all that relevant for a long time. Part of that is due to Jones.
"He's done some good things and the new stadium is fabulous, but he's been way too hands-on with that franchise and he's run through lots of good coaches and players without any real results."
Let us know what you think.
February, 3, 2011
2/03/11
4:00
PM ET
By
Matt Mosley
| ESPN.com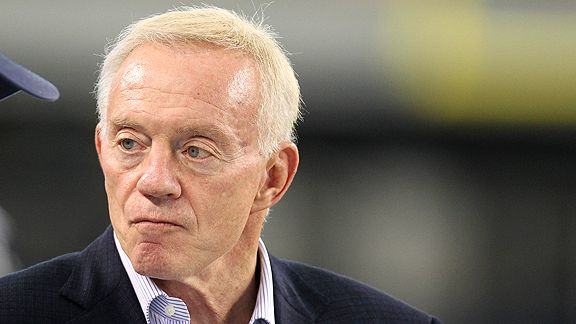 Matthew Emmons/US PresswireJerry Jones had hoped his team would be playing in Cowboys Stadium for the Super Bowl XLV title.
ARLINGTON, Texas --
Pittsburgh Steelers
backup center
Doug Legursky
had a difficult time making eye contact with reporters during the NFL carnival known as Super Bowl media day on Tuesday. It's not that he was being disrespectful, but like a kid seeing snow for the first time (or ice in North Texas), Legursky was awestruck by a JumboTron that hovered over 60 yards of the field like a spaceship in search of a docking station.
No matter what you think of
Dallas Cowboys
owner Jerry Jones -- and Forbes Magazine indicates you really, really dislike him -- the man's a marketing genius. He has somehow kept the Cowboys national brand strong despite all the losing over the past 15 years. The man presides over the most relevant 6-10 team in the NFL. And I'm already hearing the national media talk about the Cowboys as a bounce-back team in 2011.
Much like the New York Yankees, there's always going to be interest in the Cowboys. Given the option of flexing out of a nationally televised matchup involving a 5-8 Cowboys team, I don't think any network would pull the trigger. Jones began a news conference Tuesday at the Super Bowl media center by saying he didn't want to take anything away from the Steelers and Packers. Then he spent the next 42 minutes doing just that.
Over the past 15 years, Jones has become the league's leading illusionist. He has somehow been able to keep the Cowboys in the conversation despite producing only two playoff wins in that span. The
Oakland Raiders
may be the laughingstock of the league, but they've at least been to a Super Bowl since the Cowboys' dynasty ended in the mid-1990s. Meanwhile, the Steelers are in the midst of putting together a dynasty that could rival Chuck Noll's run in the 1970s. They've now been to three Super Bowls in six seasons. And against all odds, the Rooney family has done it without switching head coaches every couple of years -- or ever.
Steelers president Art Rooney II could take a seat on radio row, which I wouldn't advise, and not be recognized by 75 percent of the talk-show hosts. If Jones showed up, they'd treat him like Brooklyn Decker in a two piece. I'm pretty sure I saw Rooney standing off in the distance during media day, surrounded by a handful of reporters. Not far away, reporters breathlessly asked defensive end
Brett Keisel
about his beard grooming. (One male reporter asked and was granted permission to run his fingers through Keisel's beard, which somehow seemed appropriate on that day.)
The Rooneys almost seem amused that folks find their belief in continuity so revolutionary. Steelers coach Mike Tomlin would have to do something like naming his offensive line coach defensive coordinator to even get them to raise their eyebrows. Oh wait, that's another Pennsylvania team.
I'm sure Rooney didn't think he was saying anything profound Tuesday, but something on the 67 quote sheets I received via BlackBerry really got my attention. The Steelers' president was asked why his organization rarely made splashy moves, say, signing
Terrell Owens
or
Albert Haynesworth
.
"Panic doesn't seem to work," he said. "Let's put it that way. There are enough people that seem to have gone through that mode and our feeling is that you pick good people and you try to stick with them if you have good people. There are ups and downs in any sport, but if you have the right people in place, you'll always have a chance to be successful and that's what we do. Every year, we have a single goal, and that's to try and put a championship team on the field and everybody in the organization understands that is the goal. We don't try and make it too complicated."
What I love is that some of my friends try to constantly separate Jerry Jones the owner from the Cowboys' general manager. There's a belief, which doesn't make sense to me, that Jones is a great owner, but a terrible general manager. I certainly think he's an excellent stadium-builder and salesman, but I always thought that part of owning a successful company was hiring the right people -- and letting them do their jobs.
[+] Enlarge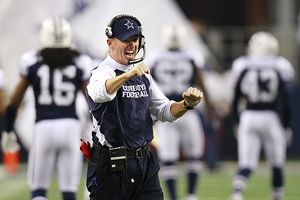 AP Photo/Mike FuentesJason Garrett has been charged with turning the team around on the field.
Jones has constantly undermined his head coaches over the past 15 years because players know that he's ultimately pulling the strings. Yes, I know that he hired a strong head coach in Bill Parcells in 2003, but he has admitted (to a hidden camera in a seafood restaurant) that Parcells was here to help him convince taxpayers to contribute to his crown jewel, Cowboys Stadium.
New head coach Jason Garrett, God bless him, stood up at his introductory news conference last month and talked about doing things the "Cowboy way." But no one really knows what the hell that means anymore. I guess it's a reference to the Jimmy Johnson years, but that's ancient history by NFL standards.
My colleague
Mike Sando wrote a column Thursday
about how the once-proud 49ers organization has been in the wilderness for years. But the Cowboys are in a much different situation. At least 49ers fans realize how awful their team has become. Mark my words that by August or whenever the lockout ends, fans and media will convince themselves that the Cowboys are ready to challenge for a Super Bowl. These are the Sultans of September -- except for this past season of course.
At least Jones has attempted to own up to his team's failure during his public appearances, which are numerous.
"I've done my worst work when I thought I had a pretty good hand," he said. "We certainly didn't play, didn't coach, didn't general manage, didn't own up to expectations."
But within moments, Jones was talking about how the Cowboys could make like the Packers and return to the Super Bowl next season. He did surprise everyone with his recent pronouncement that Garrett would have "final say" when it comes to hiring and firing coaches. But I'm pretty sure Jones has retained the right to fire Garrett.
I spent some time this week talking to Cowboys legends such as Tony Dorsett and Lee Roy Jordan about what the Cowboys have become. They both like Jones on a personal level, but remain somewhat skeptical that things will change.
"The first time [Jones] overrides Jason with one of the players, then Jason will have lost credibility or any discipline," Jordan said. "Every time he overrides the coach from then on, it will steamroll. I hope for everyone involved that Jerry has learned his lesson."
And for Cowboys fans, it never hurts to dream.
February, 1, 2011
2/01/11
5:32
PM ET
ARLINGTON, Texas -- Keith Butler didn't want to say much, at least initially, about his prospects as a candidate to become the
Arizona Cardinals
' defensive coordinator.
"I'm Sergeant Schultz -- I know nothing," the
Pittsburgh Steelers
' linebackers coach joked during Super Bowl media day Tuesday.
At this point, I turned to ESPN.com colleague John Clayton, who covered Butler's playing career in Seattle, and jokingly asked for what the Cardinals have so far failed to secure from the Steelers: permission to speak with Butler about a coaching job in Arizona.
We laughed, and it wasn't for the last time.
Cardinals coach Ken Whisenhunt, Butler's golfing buddy and former coaching associate in Cleveland and Pittsburgh, requested permission to interview Butler following the Super Bowl two years ago. The Steelers denied the request.
Tuesday, Butler repeatedly credited Steelers' ownership for stepping up to keep him in Pittsburgh. He pointed to Dan Rooney in particular for setting up the organization in a manner that has produced six Super Bowl championships.
"And the Rooneys did something they normally don't do with assistant coaches," Butler said. "I am cognizant of that."
What was it, I asked, that was so unusual?
"They gave me a lot of money," Butler said, his deadpan delivery enhanced by an accent with roots in Alabama, where he was born, and Memphis, where he played linebacker.
More laughter.
"It was unusual for a linebackers coach to make that kind of money," Butler said. "That was commitment from them. I am very fond of the Rooneys. I think they are great owners."
Butler credited Dan Rooney for playing a pivotal role in settling the two player strikes that marked Butler's playing career. He said he thought Rooney, now U.S. ambassador to Ireland, should play a role in solving in the current labor impasse.
"He has been a great asset for the league and the proof is in the pudding -- they've got six Lombardi trophies sitting in the trophy case in our office we see every day," Butler said.
If Butler came to Arizona, he would inherit a defense with talent on the line and in the secondary, but with serious concerns at outside linebacker. He credited the Steelers for arming him with high-character linebackers through the draft, noting that it makes his job easier. Butler could not work for a more stable organization.
Butler also shot down reports suggesting the Steelers have put in writing a promise to name him their next defensive coordinator. Current coordinator Dick LeBeau is 73 years old and without a contract for next season. LeBeau has said he'll coach for the Steelers if he coaches next season.
If LeBeau does decide to return, Butler could conceivably have more incentive to consider an offer from Whisenhunt, provided the Steelers granted Arizona permission to interview him. NFL rules require teams to let assistants interview for head coaching positions. Teams do no have to let assistants interview at the coordinator level.
Assistants for Super Bowl teams are off-limits to other teams until after the game.
Whisenhunt and Butler became close friends when working on the Browns' staff in 1999. Once in Pittsburgh, they regularly golfed with LeBeau and current offensive coordinator Bruce Arians. The four still debate which one won the most matches. According to Butler, winning a Super Bowl together cemented the bond.
"That doesn't mean he wouldn't fire me," Butler said of Whisenhunt. "That doesn't mean that at all. That doesn't mean I wouldn't fire him if I was in his shoes, either. He is a good friend of mine. Has been for a long time. We golf once a year in Hilton Head. I've been to Augusta with him once (to play Augusta National)."
The Cardinals fired defensive coordinator Bill Davis about three weeks ago. They have interviewed
Miami Dolphins
assistant head coach/secondary
Todd Bowles
. Whisenhunt has said he'd like to speak with assistants from both Super Bowl teams.
"Kenny has to do what he has to do," Butler said. "I do not want him to do anything that takes away from him being a great head coach at Arizona. I am under contract with the Steelers. I am not sure they will let me go. ...
"So, we'll see how it goes after everything pans out. As to whether I am going to be the defensive coordinator in Arizona or not, I have no idea. Kenny is not allowed to talk to me in terms of that situation until after the Super Bowl."
Steelers permitting.
February, 25, 2010
2/25/10
3:16
PM ET
INDIANAPOLIS -- Cardinals owner Bill Bidwill is raking in the awards this offseason.

Earlier in the week, Sports Faith International made him one of four inductees to the Sports Faith Hall of Fame, joining Brian Piccolo, Gale Sayers, Dominoes Pizza founder and former Detroit Tigers owner Tom Monaghan and John Gagliardi, college football's all-time leader in coaching victories.

Bidwill was named Thursday as winner of the Fritz Pollard Alliance's Paul "Tank" Younger Award for promoting "diversity and equality of job opportunity in the coaching, front office and scouting staffs" of NFL teams.

Past winners include Dan Rooney, Rick Smith, Ozzie Newsome, James Harris, Bill Walsh, Tony Dungy, Frank Gilliam and Bobby Mitchell.

"When you look back over the years, going back to his time in St. Louis, Mr. Bidwill has a long history of hiring minorities to administrative and authoritative positions," Fritz Pollard Alliance chairman John Wooten said in a news release. "He has really helped level the playing field and that is what this award is all about."

The Fritz Pollard Alliance plans to present the award to Bidwill at the NFL combine Friday.
January, 9, 2009
1/09/09
9:58
PM ET
Posted by ESPN.com's Pat Yasinskas
Jerry Richardson calls almost every one of his employees by a different nickname that has some deep, personal meaning.
| | |
| --- | --- |
| | |
| | Paul Spinelli/Getty Images |
| | Panthers owner Jerry Richardson is "hopeful" that he'll be able to attend Saturday's playoff game. |
Around the offices and in the locker room of Bank of America Stadium, there are favorite Richardson names like "Opie," "Waffle House," "Crash" and dozens of others. Around the offices and in the locker room of Bank of America Stadium, there's only one name for the owner of the Carolina Panthers.
Mr. Richardson.
It's not because he signs the paychecks. It's because that's the kind of respect the man commands. Inside the building and outside it. Throughout the Carolinas and throughout the National Football League.
Yeah, there might be a few exceptions, such as wife Rosalind, some other franchise owners and boyhood friends who call him Jerry. After all, that's how he introduces himself on the telephone and what he tells others to call him.
"Yeah, but how could you possibly call him Jerry?" said Atlanta Falcons communications coordinator Ted Crews, who used to work for the Panthers. "Mr. Richardson is just one of those people who just epitomizes why you use the word 'Mister.' He's so filled with class and has such a presence about him. When he's in the building, you just know he's there."
That's a common view for all who know Richardson. But the irony is the man who did more than anyone to make Charlotte a major league location isn't even certain he'll be in the building for one of the biggest sports events in the city's history.
Richardson, 72, had been having health problems throughout the fall and doctors found major issues with his heart. He has been placed on a list for a heart transplant and is awaiting a donor. Richardson has been working an abbreviated schedule, mostly over the phone from home in recent weeks, and trips outside the house depend on how he's feeling from day to day.
That's why the Panthers are saying only that Richardson is "hopeful" of attending Saturday night's playoff game against the Arizona Cardinals. It's only the third home playoff game in the history of the franchise -- a franchise Richardson brought to the Carolinas.
December, 18, 2008
12/18/08
8:30
AM ET
Posted by ESPN.com's James Walker
Here are the most interesting stories Thursday in the AFC North:
Morning take: This is great news for the Steelers and the NFL. The Rooneys are an important and influential part of the league and deserve to remain invested.
Morning take: Goodell said it was "very good use of instant replay." We believe it was the exact opposite.
Morning take: With upcoming games against the Cleveland Browns (4-10) and Kansas City Chiefs (2-12), Ocho Cinco could be correct.
Morning take: ACL injuries can take anywhere from six months to a year, so there are no guarantees when Heiden will be ready. It will be interesting to see if his questionable status affects the Browns' offseason plans for starting tight end Kellen Winslow Jr.
August, 21, 2008
8/21/08
11:38
AM ET
Posted by ESPN.com's James Walker
Pittsburgh Steelers owner Dan Rooney has been a leader and trendsetter on many league and players issues in the NFL. He has worked closely with Gene Upshaw over the years and echoed Thursday the many friends and co-workers who were unaware of Upshaw's condition. Upshaw died Wednesday night at his home in Lake Tahoe, Calif., of pancreatic cancer.
Here is Rooney's complete statement Thursday in reaction to Upshaw's passing:
"This is a sad day for all of professional football. We are shocked to learn of the sudden loss of Gene Upshaw. The NFL and the entire football world will miss him greatly. Gene and I developed a close friendship that remained strong through the good times and some of the NFL's most difficult challenges. We worked very closely on key issues that allowed the NFL to maintain unprecedented labor peace. His biggest asset was his understanding of the business of the game, and you always knew that his concern for the game's best interests guided his actions. Gene was a Super Bowl champion and a very deserving member of the Pro Football Hall of Fame. Our prayers go out to Gene's wife Terri and his entire family. We will miss Gene, but his positive contributions to the NFL will have a lasting impact for many years to come."
NFL SCOREBOARD
Thursday, 12/5
Sunday, 12/8
Monday, 12/9
WEEKLY LEADERS