NFL Nation:

Dancing With The Stars
July, 9, 2011
7/09/11
2:52
PM ET
Ward
Pittsburgh Steelers
receiver
Hines Ward
was
arrested and charged
with drunken driving early Saturday morning in Georgia. Ward was released on $1,300 bond.
Here are some thoughts on Ward's arrest:
This was a surprisingly irresponsible move by Ward, who is 35 and has been a consummate professional with the Steelers. Ward is entering his 14th season and has stayed out of trouble during his career. Ward recently gained a lot of popularity for his success winning "Dancing With The Stars." Now, his name is in the news for the wrong reasons.
It's too early to speculate whether the NFL will come down on Ward. The league is in the middle of a lockout and may look into Ward's case once it reaches a new collective bargaining agreement. Ward does not have prior off-the-field incidents, which helps his case.
For the third year in a row, the Steelers fail to make it through the offseason without an off-the-filed incident involving a star player. Pittsburgh quarterback Ben Roethlisberger was accused of sexual assault two years in a row in 2009 and 2010. This year Ward is being charged for driving under the influence. Ward's situation does not compare to Roethlisberger's, but it still puts a bad light on the Steelers and their team captain.
February, 28, 2011
2/28/11
10:27
PM ET
First it was AFC North receiver
Chad Ochocinco
who participated on "Dancing With The Stars." Now it's
Pittsburgh Steelers
receiver
Hines Ward
.

Ward
The former Super Bowl MVP continued the trend of having current and former NFL players on the show. He adds to the list of NFL DWTS alumni which includes Ochocinco,
Jason Taylor
,
Jerry Rice
and
Emmitt Smith
.
Is this a good idea for Ward? I have some concerns.
Similar to Ochocinco, participating on the spring reality show will take time away from Ward's offseason schedule. Ochocinco had two reality television shows last year, missed all voluntary workouts and had a down year, catching just 67 passes for 831 yards and four touchdowns.
Ward will turn 35 on March 8 and his numbers were also down last season. He caught 59 passes for 755 yards and five touchdowns for the reigning AFC champions.
With a pending lockout, maybe none of this will matter. If a new collective bargaining agreement isn't reached soon, which is very possible, there will be no offseason workout program for teams anyway. Maybe that factored into Ward's thinking, and he decided to take advantage of the spotlight and the opportunity.
But the idea of Ward dancing in Hollywood this spring seems to be an un-Steeler-like move, especially with Pittsburgh coming off a tough loss in Super Bowl XLV and trying to stay focused next season in order to get back to the big game.
June, 15, 2010
6/15/10
4:02
PM ET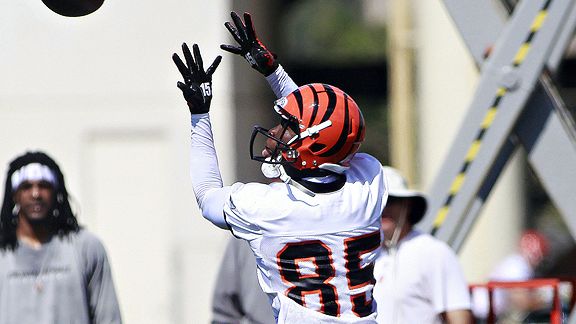 AP Photo/Tony TribbleCincinnati's No. 1 receiver Chad Ochocinco has been absent from offseason workouts -- participating in just his first practice Tuesday.
CINCINNATI -- It has been the one topic the Bengals have tactfully avoided this offseason.
Teammates often made light of the situation. Cincinnati coach Marvin Lewis also deflected it as a non-issue. But in the final week of organized team activities, quarterback
Carson Palmer
finally let out what some in Cincinnati may have been thinking in the back of their minds.
"It would be great to have our No. 1 receiver here and working him and building it around him," an honest
Palmer told reporters.
"We've tried moving guys around. Maybe they're trying to find a new No. 1 receiver because it's hard to work your offense in without that guy around."
"That guy"
is
Chad Ochocinco
. The fact that Palmer didn't refer to him by name may have been a subtle hint that the quarterback wasn't amused that his top target hadn't been around for offseason workouts.
The Bengals are trying to take the next step after last year's quick playoff exit. Meanwhile, Ochocinco has been learning a lot of quick dance steps, spending most of his offseason on the popular television show "Dancing With The Stars." Ochocinco also is in the process of filming a VH1 dating show that will air later this summer, taking even more time away from football.
No. 85 was present Tuesday
for the first time during mandatory minicamp. A majority of his teammates have been working out together for months, desperately trying to prove that last year's
AFC North division title was no fluke.
[+] Enlarge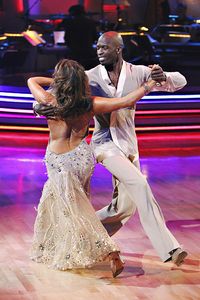 ABC/Adam LarkeyOchocinco spent part of the offseason on the television show, "Dancing With The Stars."
Ochocinco's offseason decisions make you question if he has that same level of desire this year. But he says anyone who doubts him is making a huge mistake.
"My commitment and dedication is still there. My [trash]-talking is still there," Ochocinco said after practice. "I just want everybody to remember that nothing's changed. That's it. There's always questions when I'm not here in OTAs, when I'm not here period. But I still train."
Of course, Ochocinco didn't stop there.
"I just need everybody to trust in me like birth control," Ochocinco said. "Because I'm always going to be there for you, like, 99.9 percent of the time. That [.1] percent is the Jets [playoff] game."
Ochocinco says he's in good "dancing shape" but appeared a little winded in his first football practice with the team. The speed and hands were still there, but the Bengals kept him out of some 11-on-11 drills to limit his reps.
The outspoken receiver is certainly capable. Last year Ochocinco had 72 receptions for 1,047 yards and nine touchdowns, making his sixth Pro Bowl. But Ochocinco, 32, was motivated after a down year in 2008. He did a lot of independent training to get back into top form, and even then, Ochocinco's numbers were not as good as they were several years ago while in his prime.
Ochocinco said he will do more boxing training this summer with world champion Floyd Mayweather to keep up his eye-hand coordination. If Ochocinco is focused and everything falls into place, Palmer said "the sky is the limit" for his offense, and there were of flashes of that in minicamp.
Palmer tossed the ball all over the field to Ochocinco,
Antonio Bryant
and rookies
Jermaine Gresham
and
Jordan Shipley
on Tuesday. But there were also instances where Ochocinco looked rusty and the timing with Palmer seemed slightly off.
"Chad and I missed a couple plays today, and we made some plays today," Palmer said. "But it doesn't matter how many years, receptions or completions you have. It takes a little time to get that rhythm back and that timing back."
Added Lewis: "He has to get caught up between now and training camp and get going that way. But he's got to get his football legs back under him."
Both Lewis and Palmer know Ochocinco is the key to making Cincinnati's passing offense go this season. Ochocinco is the team's most consistent and dangerous receiver, and he will draw the attention of the defense and open up the field for other teammates.
Ochocinco used the word "trust" several times Tuesday. Despite not being around, he wants everyone to trust that he will be ready to help the Bengals make another playoff run in 2010.
But if Ochocinco doesn't have another great year, much of the blame probably will be traced back to his offseason filled with non-football related activities. The receiver seems confident that won't be an issue.
"Everybody in general, you shouldn't question when I'm not here," Ochocinco said. "[It] should never, ever, ever, ever, ever, ever be a question. Ever! Because you already know how I am when I get here. You know what you get when I'm here."
NFL SCOREBOARD
Thursday, 12/5
Sunday, 12/8
Monday, 12/9