NFL Nation:

Dane Fletcher
March, 11, 2014
Mar 11
10:45
PM ET
The initial hours of NFL free agency produced the expected frenzy, and the
New England Patriots
, as they often do, remained on the sidelines. If recent history is any indication, things should now start picking up, with a surprise or two along the way.
The biggest takeaways from the day:
All quiet surrounding Aqib Talib.
With top cornerbacks
Brent Grimes
(Dolphins),
Sam Shields
(Packers) and
Vontae Davis
(Colts) re-signing with their teams, and
Alterraun Verner
(Buccaneers) inking a deal late Tuesday, it leaves Talib as the top remaining corner on the market. Verner's reported deal (4 years, $26.5 million, $14 million guaranteed) came in low compared to the other top corners. From a Patriots perspective, it's obviously a positive development that Talib didn't generate an immediate market as the team is still in the mix to retain him. Talib is arguably the Patriots' top priority based on his difference-making presence the last two seasons.
[+] Enlarge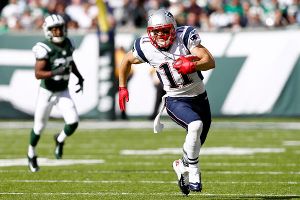 Jeff Zelevansky/Getty ImagesJulian Edelman's timing in hitting the free agent market doesn't seem to be in his favor.
Receiver market soft.
Julian Edelman
has to be wondering what he has to do to catch a break. Last year at this time, the Patriots were so concerned with missing out on receiver
Danny Amendola
that they moved quickly away from
Wes Welker
when the market opened and forked over a five-year, $28.5 million deal with $10 million in bonuses and guarantees. But the receiver market is much softer this year -- the biggest signing at the position Tuesday was
Dexter McCluster
in Tennessee (3 years, up to $12 million) -- and the timing is tough for Edelman, who is coming off a 105-catch season.
Wesley Woodyard an early target.
With a top linebacker trio of
Jerod Mayo
,
Dont'a Hightower
and
Jamie Collins
, the Patriots weren't forecast to be aggressive at the position early in free agency. But Woodyard's availability had the Patriots springing to action to bring the former Denver Bronco to town on Wednesday, and Woodyard is scheduled to visit the
Tennessee Titans
after coming to Foxborough, according to ESPN's Josina Anderson. It's rare to see the Patriots target an undersized linebacker this aggressively, but with more of the game being played in sub defenses (67 percent of the snaps for New England in 2013), it appears that the Patriots view a speedy, coverage-based 'backer as an important addition.
Dane Fletcher draws early visit.
If you had Fletcher taking a free-agent visit (Tampa Bay) before fellow linebacker
Brandon Spikes
, you might consider buying a lottery ticket. That Fletcher has drawn such early interest likely punches his ticket out of town. Woodyard, if he's signed, would immediately slide into that type of role and would represent an upgrade.
Isaac Sopoaga's contract remains unchanged.
While it seems unlikely that the Patriots will keep Sopoaga on the roster at a $3.5 million base salary, there has been no change in the veteran defensive tackle's status. One possible reason: Until the Patriots have some clarity with
Vince Wilfork
's contract situation (he's scheduled to earn $7.5 million in base salary but the club might be looking for an adjustment of some kind), they might be more inclined to hold on to Sopoaga.
Of all the Patriots-related activity from free agency, the situation with the most layers to dissect was with Edelman. The door isn't closed on his return, as the sides are keeping open dialogue, but it's clear that whatever Edelman hoped would be there for him on the open market -- expectations fueled by the contract the Patriots handed out last offseason to Amendola -- hasn't materialized at this point. The
Baltimore Ravens
reportedly have some interest, according to The Baltimore Sun, but it's unclear at what level.
Edelman's situation appears strikingly similar to the position that Welker found himself in last year, as Welker himself had to drum up interest with the Broncos and then ultimately come to grips with a contract that wasn't as rich as what he had initially hoped for.
In the end, Welker found it easier to accept that type of contract from the Broncos than the team he felt he had given everything he had for six seasons. It stands to reason that Edelman might harbor some type of feelings along those lines as well, given that the Patriots invested big in Amendola last year, and not with him.
So the Patriots have some sensitive ground to navigate as they'd still like to retain Edelman. All told, that's probably the biggest difference between Welker/2013 and Edelman/2014; there doesn't seem to be as much urgency from the team to move on to Plan B this year, in part because it's a buyer's market for receivers.
Perhaps there will be a breakthrough on Wednesday.
As has often been the case with the Patriots, the activity usually picks up after the initial flurry of moves.
February, 27, 2014
Feb 27
5:00
AM ET
With various top free agent lists starting to surface, let's narrow things down to the Patriots with a snapshot look at the team's free agents:
1.
CB Aqib Talib
-- Difference-maker when healthy and added a different dynamic to the cornerbacks room since November of 2012. A top priority for the team.
2.
WR Julian Edelman
-- Deserves everything coming to him after a terrific 2013 season. Patriots would obviously like him back, but if another team ups the bidding, he's probably gone.
3.
RB LeGarrette Blount
-- Mutual interest in his return. A player who seemingly has more value to the Patriots than most others, which makes us think it's a greater likelihood he's back.
4.
LB Brandon Spikes
-- The way 2013 ended makes it unlikely he returns.
5.
C Ryan Wendell
-- A scrappy heady performer, Wendell maximizes his talents. I don't evision the Patriots extending their budget to ensure his return, but if a market doesn't develop for him, he'd surely be welcome back in a situation where there might be top competition for the No. 1 job.
6.
TE Michael Hoomanawanui
-- Played his role well in 2013. Would think he's back unless another team unexpectedly ups the ante.
7.
LB Dane Fletcher
-- One of the Patriots' best special teams players. Would think there is a competitive bid to retain him.
8.
DE Andre Carter
-- They don't get much better from a locker-room perspective, but we'd be surprised if the team makes his return a priority at this point.
9.
TE Matthew Mulligan
-- More of a blocking presence, he filled his role well in 2013. Although the Patriots will probably look to add to the position, it wouldn't be a surprise if Mulligan competes for a roster spot again.
10.
WR Austin Collie
-- Veteran was dependable and should warrant serious consideration to re-sign.
11-.
OT Will Svitek
-- Smart, versatile veteran probably will see his spot go to a youngster, unless
Sebastian Vollmer
's recovery doesn't look promising.
August, 18, 2011
8/18/11
11:02
PM ET
TAMPA -- Rapid reaction after the Patriots throttled the Buccaneers,
31-14
, in both teams' second preseason game:

Domination from top units.
The Patriots looked sharp on both sides of the ball, opening a 21-0 lead by the end of the first quarter. It was 28-0 at the half. Quarterback
Tom Brady
was on his game; outside of failing to execute in a two-minute situation at the end of the first half, he directed an offense that played at a regular-season type pace. Meanwhile, the defense had a nice mix of tight coverage and pressure, forcing two three-and-outs to open the game. It was 14-0 by that point as the Patriots' first-stringers smoked the Buccaneers' top players. The Patriots' top units look loaded.
Ochocinco's takes big hit, responds.
The first Tom Brady-to-
Chad Ochocinco
connection got off to a tough start, with Brady's first pass to No. 85 over the middle resulting in Ochocinco taking a big hit from linebacker
Mason Foster
that drew a personal-foul penalty. After another incompletion along the sideline, Ochocinco gathered in an 8-yard touchdown from Brady on a play-action fake out of a three-tight end set. Ochocinco left the football in the end zone, hardly celebrating. In all, Ochocinco was charted on the field for 24 snaps (including penalties). His stat line: 2 catches, 14 yards, 1 TD.
Starters play throughout first half.
Playing time is often a big question in preseason games and Bill Belichick kept his top players in the game throughout the first half. Rookie left tackle
Nate Solder
, who started, played two series into the second half. The Patriots were shorthanded in the secondary, so they had some top players still on the field in the second half.
Attacking defense, led by Carter and Mayo, shines.
After a 2010 season in which the Patriots struggled to generate pressure on a consistent basis out of their base alignment, tonight looked like a different unit. They were swarming, led by linebacker
Jerod Mayo
(2 sacks) and defensive end
Andre Carter
, who was bringing it off the right edge. Impressive.
Running game gets it going.
The offensive line/tight ends and running backs
Danny Woodhead
and
BenJarvus Green-Ellis
get deserving praise, as the Patriots steamrolled the Buccaneers. First-half totals on the ground: 117 yards on 17 carries (6.9 avg.) and two touchdowns.
Health questions with Fletcher, Lockett and Woodhead.
Areas to monitor on the health front in the days to come are with linebacker
Dane Fletcher
(thumb), safety
Bret Lockett
(thigh/groin) and Woodhead (shaken up on fourth-quarter punt coverage). Woodhead was smiling on the bench at the end of the game.
Mallett throws a pick-six.
After an impressive performance in the preseason opener, rookie quarterback
Ryan Mallett
struggled, throwing a pick-six on his first drive which opened the second half. It was returned 69 yards for a touchdown by cornerback
Elbert Mack
, with Mallett getting crunched on the return. No. 2 quarterback
Brian Hoyer
, who played sparingly as he was inserted into the game mid-drive twice as a way to keep him sharp, also almost threw a pick-six. Not a great night for the backups after a strong showing in the preseason opener. Overall, the second half was sloppy for the Patriots' reserves.
August, 11, 2011
8/11/11
11:36
PM ET
FOXBOROUGH, Mass. -- Rapid reaction from the Patriots'
47-12 win
over the Jaguars in the preseason opener:

A night for backups.
Bill Belichick sat several key players, quarterback
Tom Brady
; receivers
Chad Ochocinco
,
Wes Welker
and
Deion Branch
; defensive lineman
Vince Wilfork
; cornerback
Devin McCourty
and linebacker
Jerod Mayo
among them. This gave Belichick a chance to evaluate some younger players, while at the same time not rushing things with key personnel after just seven full-pad practices. You had to be a hard-core fan to sit through all of this one, but in all, it was a productive night for a first preseason game.
Taylor Price one of the big stories.
The second-year receiver was excellent, the highlight play coming with a back-of-the-end-zone, fingertip, toe-tapping touchdown grab. Price later showed his speed on a long catch-and-run play. Price is behind Ochocinco, Branch and Welker on the depth chart, but he ensured that he's not in jeopardy of missing the final roster cut. Impressive night.
Quarterback situation looks sharp.
Between
Brian Hoyer
and
Ryan Mallett
, the Patriots appear to have one of the best backup quarterback situations in the NFL. Both were impressive.
Rookie RB Stevan Ridley shines.
Third-round pick Stevan Ridley showed up for camp on time and took advantage of extended reps as second-rounder
Shane Vereen
had yet to sign and veterans
BenJarvus Green-Ellis
,
Kevin Faulk
and
Sammy Morris
could not yet practice. That showed tonight. Ridley's confidence and hard-charging style was evident on two touchdown runs and he showed good hands on a touchdown catch. Agents generally don't get a lot of praise, but Ridley's agent -- Andy Simms -- gets a tip of the cap from here. Simms is also the agent for McCourty and for two years in a row he's made sure his clients were there for the first day of practice, putting them in the best position to succeed.
Tough night for CBs Darius Butler and Jonathan Wilhite.
Both played into the fourth quarter. That's a hard fall for Butler, the 2009 second-round pick was an opening-day starter last season. Butler and Wilhite look to be on the roster bubble.
Nate Solder passes first test.
The first-round pick played the entire first half at left tackle. He was hardly noticed, which meant he did his job well.
Dane Fletcher a top performer on defense.
The second-year linebacker started and led the defensive huddle. He finished with five tackles while delivering a bit hit in the process. A strong special teams player as a rookie (he made the club as a free agent), he showed he's ready if called upon as a middle linebacker in the event of injury to
Brandon Spikes
.
September, 26, 2010
9/26/10
12:11
PM ET
September, 19, 2010
9/19/10
3:07
PM ET
NFL SCOREBOARD
Sunday, 2/2
WEEKLY LEADERS