NFL Nation:

Danny Lansanah
November, 30, 2014
Nov 30
11:50
AM ET
TAMPA, Fla. -- The
Tampa Bay Buccaneers
will be without four starters for Sunday's game with Cincinnati.
All-Pro linebacker
Lavonte David
, who said Friday he was confident he would play despite a hamstring injury, headlines a list of significant inactives. Center Evan Dietrich-Smith (illness), tight end Austin Seferian-Jenkins (back) and defensive tackle
Clinton McDonald
(hamstring) also are inactive. The other inactives for the Bucs are cornerback
Crezdon Butler
, tight end
Brandon Myers
and tight end
Luke Stocker
.
That means the Bucs are without any of the tight ends they've been going with all season. The team promoted Cameron Brate and signed D.J. Williams and those two will share the duties at tight end and fullback.
With David out, the Bucs are expected to shift
Danny Lansanah
to the weak side and start
Orie Lemon
on the strong side.
Garrett Gilkey
is expected to start in Dietrich-Smith's place and
Akeem Spence
is expected to take McDonald's place.
November, 16, 2014
Nov 16
6:50
PM ET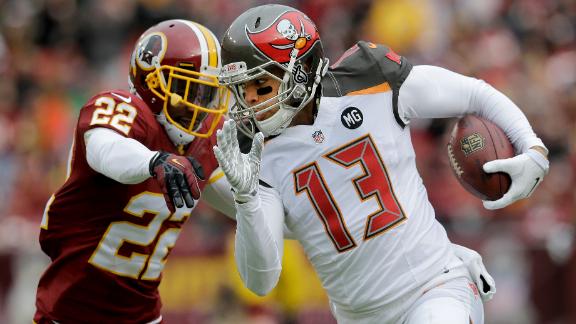 LANDOVER, Md. -- Ever since he was hired in January, we've heard
Tampa Bay Buccaneers
coach Lovie Smith talk about "Buc Ball."
For the first nine games of the season, it looked as if the definition of that was to go out and play bad football. If the Bucs weren't getting routed, they were squandering fourth-quarter leads.
[+] Enlarge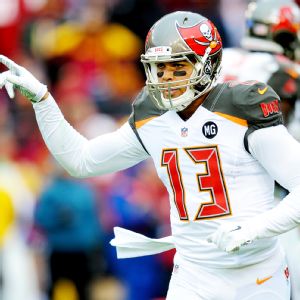 Mitchell Layton/Getty ImagesMike Evans' effort helped seal a Buccaneers victory that was driven by their defense.
But Sunday's 27-7 victory over the
Washington Redskins
showed everyone what Buc Ball is supposed to look like. With rookie wide receiver
Mike Evans
playing the role of closer, Tampa Bay's defense set the stage for a win with its best performance of the season.
"It just shows us what we're capable of," defensive end
Michael Johnson
said. "We can be very dangerous when we do that. We've got a lot of talented players together like that. When it all goes together, it's kind of an orchestra, a symphony, sweet music."
What Buc Ball is made up of is an aggressive and opportunistic defense coupled with an efficient offense. The Bucs took the offense to extra heights, thanks to Evans, who finished with seven catches for 209 yards.
"[Evans] is just special," defensive tackle
Gerald McCoy
said. "I'll just leave it at that."
Evans' two second-half touchdowns sealed the victory, but the defense already had the Bucs in control. It started on the first play of the game when linebacker
Danny Lansanah
intercepted a pass by
Robert Griffin III
to set up a quick field goal.
The 2-8 Bucs, who have been notoriously slow starters, followed up with cornerback
Johnthan Banks
returning a Griffin interception for a touchdown with 3:56 left in the first quarter.
The defensive heroics didn't end there. The Bucs also recovered a fumble and sacked Griffin six times.
"Our defense going on the field and getting a quick takeaway kind of set the tone," Smith said. "We haven't been able to take the ball away as much as we need to on the defensive side. Thought we had great pressure from our front. The front kind of set the tempo as much as anything."
That tempo might have been set by McCoy, who had 1.5 sacks. The unquestioned leader of the defense, McCoy gave a pregame speech that apparently hit home.
"It was the attitude," McCoy said. "I talked to the group before we went out there and told them we have to have a different type of attitude. We just took the attitude of, we expect to win, and we went out there and did what we had to do."
The Bucs did something else they hadn't been doing -- protected a lead. This is the same team that had blown fourth-quarter leads in each of the last three games and five times this season.
"We talk about 'play 60,'" Smith said. "Sixty good minutes. We haven't been able to start the game and finish it at the same time."
This time, the Bucs started and finished well. It was evidence that Buc Ball really can work.
"That's what they're supposed to do," Smith said. "That's our style of ball."
October, 8, 2014
Oct 8
4:00
PM ET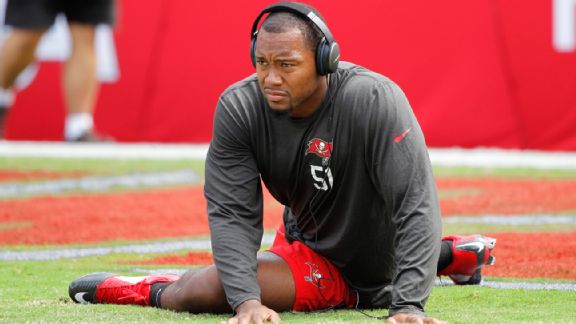 Kim Klement/USA TODAY SportsDanny Lansanah is finally an NFL starter, seven years after his college career ended.
TAMPA, Fla. -- If
Danny Lansanah
hadn't gotten out of football, he might not be back in it.
The
Tampa Bay Buccaneers
linebacker has become a sudden sensation after returning interceptions for touchdowns in two of the past three games. But things haven't always come so easily for Lansanah. He followed a route that has included multiple stops in the NFL, a stay in the United Football League and a year away from the game.
"I wouldn't be in the league if I didn't take that year off," Lansanah said. "That was really an eye-opening experience, just being home and working a real job. I used to wake up every day dreading it. Now, it's like I'm ready to come to work. I'm happy to come to work, so that's how I knew I wasn't done playing football."
Lansanah, 29, spent 2012 working as a counselor for troubled teens in his hometown of Harrisburg, Pennsylvania. That experience led him to pursue getting back into football.
Lansanah spent most of the 2013 season on the
New York Jets
' practice squad, eventually signing with Buccaneers in December. He kept his spot as a backup this past preseason -- and now he has emerged as a starter at strongside linebacker. He scored on a 27-yard interception return in Atlanta on Sept. 18, and again on a 33-yard return last Sunday in New Orleans.
[+] Enlarge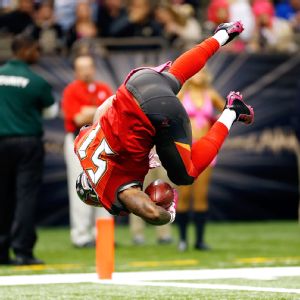 Wesley Hitt/Getty ImagesLansanah celebrated his second touchdown of the season with a dive into the end zone.
If it sounds like Lansanah is leading a charmed life, you need to hear the rest of his story. There are all sorts of twists and turns.
An undrafted free agent out of the University of Connecticut, Lansanah made Green Bay's roster in 2008 and appeared in five games. With hindsight, Lansanah said he might have had too much success too soon.
"I think that played a big part because when I got to the league I was still young and young-minded," Lansanah said. "When I made the team as a free agent as a rookie, I felt like I arrived. So I kind of got complacent."
Green Bay released him the following year, and that's when things started to get tough for Lansanah. He landed on Miami's practice squad for a brief period. Then he had unsuccessful tryouts with four other teams. At that point, Lansanah was ready to give up. That's when his father stepped in.
"I told my dad I was done playing," Lansanah said. "I went home and he met me at the airport and made me get on the next flight to my next workout. I think that was a real big turning point for me to see my friends and my family in my corner like that, pushing me to keep going. I think that's what propelled me."
The next workout was in Detroit and Lansanah ended up signing as a member of the Lions' practice squad. But he was released a couple months later and it looked like his NFL days were over. Lansanah wound up in the United Football League, first with Hartford and later with Las Vegas.
"It wasn't the best of things, but it gave me an opportunity to keep playing and put things on film," Lansanah said. "The guys that worked in the front office, they pumped my film out hard. I have to take my hat off to my agent because he did the same thing and got me the workout with the Jets. Now, I'm here and doing what I love to do and doing a pretty good job doing it."
But Lansanah said he wouldn't be finding the success he is in Tampa Bay if it wasn't for that year out of football.
"I tell people that year that I was out, that definitely was an eye-opening experience," Lansanah said. "It definitely changed me for the better."
September, 18, 2014
Sep 18
11:39
PM ET
ATLANTA -- A few thoughts on the
Tampa Bay Buccaneers
' 56-14
loss
to the
Atlanta Falcons
at the Georgia Dome on Thursday night.
What it means:
Hey, maybe Greg Schiano wasn't so bad after all. At least the Bucs usually were in games when he was coaching. That was never the case for Lovie Smith's crew Thursday. They were down 21-0 after the first quarter and it just kept getting worse. The Bucs seemed to take a big step backward after being close in Smith's first two games. Their defense was horrible and you can't use the fact that All-Pro defensive tackle
Gerald McCoy
was out with a hand injury as an excuse. The offense was dismal and the special teams allowed a
Devin Hester
punt return for a touchdown. Losses don't come much more thorough than this one. The Bucs are 0-3 and they're showing no signs that would give their fanbase any hope.
QB controversy?
After throwing an interception that was returned for a touchdown, quarterback
Josh McCown
left the game in the second quarter with a thumb injury. Second-year pro
Mike Glennon
took over for McCown. Glennon didn't fare much better. But the way this season is unfolding, you have to wonder if the Bucs will do something dramatic to try to shake things up.
Stock watch:
Vincent Jackson
has been one of the better wide receivers in the league in recent years, but he's off to a slow start this season. Jackson hasn't been able to get open deep and hasn't made any big plays. His hands also have been an issue. Jackson dropped a pass that would have gone for a first down. He did have a touchdown catch in the fourth quarter, but that was long after the game had been decided.
Fantasy advice:
Stay away from
Bobby Rainey
. He lost two fumbles. As soon as
Doug Martin
gets healthy, I think we'll see Rainey disappear.
Game ball:
This is a required category, so I've got to go against my instincts and give someone on the Bucs a game ball. I'll go with linebacker
Danny Lansanah
, who had a fourth-quarter interception return for a touchdown. That was about as close to a bright spot as the Bucs had.
What's next:
The Buccaneers play at Pittsburgh on Sept. 28.
August, 23, 2014
Aug 23
7:38
PM ET
ORCHARD PARK, N.Y. --
Tampa Bay Buccaneers
coach Lovie Smith said earlier this week that he wanted to see more sacks and takeaways. Mission accomplished.
Tampa Bay's first-team defense forced three turnovers in Saturday's
27-14
victory against the
Buffalo Bills
at Ralph Wilson Stadium.
Lavonte David
forced a first-quarter fumble by
C.J. Spiller
that was recovered by
Mason Foster
. Tampa Bay's offense punched the ball in for a quick touchdown. Tampa Bay's offense was far from spectacular, but the defense more than made up for it.
The defense produced a touchdown of its own. As
Adrian Clayborn
sacked Buffalo quarterback
EJ Manuel
,
Michael Johnson
reached in and knocked the ball loose. Defensive tackle
Clinton McDonald
picked the ball up and ran it in for a touchdown with 8:21 left in the second quarter.
All of Buffalo's points came in the second half after Tampa Bay's starting defense had left the game. The Bucs held a 24-0 lead at halftime.
Some other observations:
Tampa Bay's offense hadn't been putting together long drives this preseason. That finally changed late in the second quarter. The Bucs had an 11-play drive that covered 82 yards and ended with a touchdown pass from Josh McCown to Mike Evans. That shows the Bucs can sustain a drive. But it's important to remember that we've seen only a very small sampling of coordinator Jeff Tedford's offense. The Bucs are saving most of that for the regular season.
I've got a feeling what we saw Saturday will be repeated a lot during the regular season. The Bucs played fantastic defense and were rather ordinary (but opportunistic) on offense. That's not flashy, but that fits Smith's philosophy perfectly.
Smith said he wanted to take an early look at recently acquired defensive end Larry English. He did, putting English into the game early. He responded with two sacks. The former first-round pick by San Diego still faces an uphill battle to make the team but might be gaining ground on Da'Quan Bowers, who missed the game with a groin injury.
Smith said he wanted to play his starters into the third quarter. He did play his starting offense into the second half, with one notable exception. Backup quarterback Mike Glennon replaced McCown to start the third quarter. That was a smart move. With the offensive line still a work in progress, there's no sense in exposing McCown to possible injury before the regular season starts.
Linebacker Jonathan Casillas did not play for the Bucs. He was held out for a disciplinary reason, according to a team official. Danny Lansanah got the start in his place and played well. Lansanah has had a strong preseason and appears to have secured a roster spot.
August, 12, 2014
Aug 12
8:58
PM ET
TAMPA, Fla. -- A daily review of the hot topics coming out of
Tampa Bay Buccaneers
training camp:
Coach Lovie Smith pulled a bit of a surprise and put an unexpected end to the training camp portion of the preseason Tuesday. The Bucs are off Wednesday. When they return Thursday, they'll be practicing without pads and preparing for Saturday night's preseason game with Miami. Smith said he was pleased with camp overall. "I thought it was good," Smith said. "We practiced in the heat of the day most of the time. It's draining. It's draining just going through a walk through in Tampa. But the guys got through it. We haven't had any major injuries. We felt we got about the proper amount of physical contact that we need to get ourselves in position to play the game. I like the work that we've done. Most of the guys have made a lot of progress throughout. We just need to kind of take steps now. We want to see improvement in the games."
Smith singled out several under-the-radar players that have given themselves a chance to make the roster with strong training camps. He mentioned fullback Jorvorskie Lane, linebacker Danny Lansanah and defensive lineman Scott Solomon. Smith also said rookie receiver Robert Herron has come on strong in recent days after having some problems holding onto the ball earlier in camp.
Defensive tackle Gerald McCoy was given most of the practice off. Smith said that was a coach's decision and a reward for a strong camp by McCoy. Nose tackles Clinton McDonald and Akeem Spence each got some work at McCoy's three-technique position.
Tuesday was "legends" day. The Bucs welcomed 50 former players to watch practice. That was a nice gesture and a change from former coach Greg Schiano, who didn't always welcome former players. "I think we've made it known that they're welcome," Smith said. "Not just on legends day, but any day coming back to their football team. What we're doing, we hope that they see, is we're trying to get it back. Most of the guys that came here had success while they were here, and that's what we plan to do."
The Bucs signed defensive end T.J. Fatinikun.
There is no practice Wednesday. The Bucs are scheduled to practice Thursday at 2 p.m. Although Smith isn't calling it training camp anymore, the practice still will be open to the public, team officials said. This will be the last open practice of the preseason.
December, 27, 2013
12/27/13
3:04
PM ET
September, 1, 2013
9/01/13
5:33
PM ET
As expected, the
New York Jets
were busy on The Day After, acquiring three players on waivers. The newest name is former Colts left tackle
Ben Ijalana
.

Ijalana, a native of New Brunswick, N.J., was a second-round pick out of Villanova in 2011. He suffered a torn ACL in each of his first two seasons, causing the Colts to give up on him. He has played in only four games. It's a logical move for the Jets, who need depth at tackle. They figured veteran
Jason Smith
would be the answer, but he was woefully inept in the final preseason game.
An AFC scout said of Ijalana, "He's a smooth athlete. Good feet, not real physical. He's an undersized tackle [6-foot-4, 322 pounds], but has long arms."
The Jets have 10 offensive linemen on the roster.
To make room for the three waiver claims -- Ijalana, running back
Alex Green
and outside linebacker
Scott Solomon
-- the Jets released running back
Kahlil Bell
and linebacker
Danny Lansanah
and placed linebacker
Josh Mauga
(back) on injured reserve.
Bell and Lansanah enjoyed solid preseasons. In fact, Bell rushed for a team-high 114 yards and scored four touchdowns. Lansanah spent four years out of the NFL and thought he had made the team, but cut-down weekend is unpredictable. Shortly before the move was announced, Lansanah
tweeted
one word: "Wow!!!!!"
August, 29, 2013
8/29/13
10:13
PM ET
EAST RUTHERFORD, N.J. -- The
New York Jets
' quarterback competition took a night off, as neither
Mark Sanchez
nor
Geno Smith
played Thursday night in the final preseason game.
Matt Simms
got the call and led the Jets to a
27-20 victory
over the
Philadelphia Eagles
at MetLife Stadium.

What it means:
The Jets finished the preseason at 3-1. Big deal. No one will remember their record in 24 hours. The focus shifts immediately to opening day and the Tampa Bay Buccaneers. There are a myriad questions for the Jets, starting with the quarterback position: Smith or Sanchez? Sanchez (shoulder) remains day-to-day and should know more about his status when he meets with the medical staff over the weekend.
No Geno:
That the Jets didn't play Smith suggests they believe there's a good chance he will be the opening-day starter. The rookie could've used the work -- his preseason consisted of 3½ quarters -- but it would've been too risky to expose him to potential injury. Coach Rex Ryan bubble-wrapped almost his entire starting lineup. The only projected starters/key reserves that saw action were
Vladimir Ducasse
(started at right guard), cornerback
Kyle Wilson
and safety
Antonio Allen
. Why play Wilson, a virtual starter? It was very curious and, no doubt, will fuel speculation about his future. Were the Jets showcasing him for a trade? Wilson has been a first-round disappointment, but he has value because of his versatility.
Tough dude, Simms:
Battling for the No. 3 QB job, Simms was absolutely terrific. Undaunted by a seven-sack first half, Son of Phil completed 33 of 44 passes for 285 yards and no turnovers, although there were a couple of near-interceptions. He went 25-for-27 in one stretch, shades of his dad in Super Bowl XXI. He showed toughness, poise and accuracy. How can he not make the team?
Greg McElroy
(knee), who didn't play, should be worried about his roster spot. Newly signed
Graham Harrell
didn't play, but could factor into the equation.
Porous pass protection:
The Jets had better hope their starting offensive linemen stay healthy, because the backups are shaky -- and that's being kind. They could be in the market for a backup swing tackle because veteran
Jason Smith
, who re-signed last week, played quite possibly one of the worst games ever by a lineman. Facing the Eagles' backups, Smith -- the No. 2 overall pick in 2009 -- allowed at least three sacks. He was pulled at halftime, the best thing to happen to Simms all night.
Defensive stand:
The Jets' No. 2 defense dominated Chip Kelly's No. 2 offense. LB
Ricky Sapp
, LB
Danny Lansanah
, DE
Leger Douzable
, LB
Nick Bellore
and S
Jaiquawn Jarrett
were among the standouts.
Kicking competition:
It was a draw between incumbent
Nick Folk
and challenger
Dan Carpenter
. Folk was good from 28 yards, Carpenter from 43. Each recorded a touchback on his only kickoff.
What's ahead:
Now comes the bloody part of the business. Teams must pare their rosters to 53 by 6 p.m. ET Saturday, meaning the Jets have to slice 22 players over the next 48 hours.
August, 7, 2009
8/07/09
10:00
PM ET
Posted by ESPN.com's Kevin Seifert
| | |
| --- | --- |
| | |
| | AP Photo/Morry Gash |
| | Tight end Jermichael Finley seems poised to have a breakout season. |
GREEN BAY, Wis. -- All I could see from my vantage point was the No. 58 on the back of reserve linebacker Danny Lansanah's jersey. I knew there was someone standing behind him in the back of the end zone, and I saw that person's hands reach over Lansahah's head to snatch an Aaron Rodgers pass.
I couldn't see the number, but I had no doubt who it was. Over two days of Green Bay's training camp, after all, I had already seen tight end Jermichael Finley make two similar catches and a host of other "wow" plays. I'd already had a number of people insist that Finley is poised to be one of the Packers' breakout stars this season, someone who is as comfortable on the line of scrimmage as he is split out wide and who could force significant changes in the way defenses approach their offense.
Everything I've seen so far leads me to agree. Finley has rebounded from a shaky rookie season, one the Packers have attributed to immaturity. Built like an NBA small forward, Finley's speed and athletic ability have made him "unguardable" in the passing game, Rodgers said Friday. And coach Mike McCarthy said Finley's blocking skills have improved to the point where he can be deployed in any formation and for any role.
"I'm just excited and confident with what I'm about to get into," said Finley, a third-round draft choice out of Texas last season. "When I was at Texas, I used to look at Texas Tech's [passing scheme] and say, 'Man, I would love to have that offense.' And now, basically, it's come true. I'm just going to love it this year when the real games come."
Said Packers general manager Ted Thompson: "Historically the tight end has been huge in the classic West Coast offenses and I think sometimes we've gotten away from that a little bit. The idea is to get back to using those guys. It's difficult for defensive backs. Your skill guys outside are busy trying to handle [Donald] Driver and [Greg] Jennings."
Finley left Texas as an underclassman and didn't turn 22 until 3 1/2 months ago. His adjustment to NFL life was steep. He hit one particularly egregious bump after criticizing Rodgers and the Packers' offensive coaches after a close loss at Tennessee. Suffice it to say that all has been forgiven.
"It's nice when they grow up," McCarthy said. "He was just so young last year. ... When you think about it, that's just a part of developing young players. He's a talented player and loves football. I love the way he plays, with great passion and energy."
Indeed, Finley is like an energetic kid on the practice field, bounding from drill to drill. I've seen him line up as the solo tight end and as part of a double-tight package. He's been a so-called "H-back," has been positioned in the slot and even split out on the far sideline. Everything looks natural and his soft hands rarely betray him. Even the Packers defenders who can stay with him have no chance to touch the ball before he does.
It's harder to judge Finley's blocking without knowing specific assignments, but McCarthy said he "absolutely" feels comfortable using him in any blocking situation.
"When I first got in here," Finley said. "The big thing that everybody was talking about me was that I was just a pass-catching tight end. I think even as last year went on, I progressed in that area. It's a good thing I came out the way I did, because it made me work for that. Now, I grade my blocking as an A+ right now. I just told myself to bunker down and make it my priority. I know that if I go out for a catch, I know I can do that. The challenge was my blocking."
Donald Lee remains the Packers' No. 1 tight end, but from what I saw Finley is essentially 1a. I imagine that starting lineups will be a function of gameplans as much as anything else, but there is little doubt Finley will have ample opportunity to impact the offense this season.
We've already noted on several occasions the exciting NFC North possibilities presented by the arrival of Rodgers, Chicago's Jay Cutler and Detroit's Matthew Stafford at the quarterback position. Well, the young tight ends in this division are equally intriguing. Between Finley, Greg Olsen of the Bears, Brandon Pettigrew of the Lions and Visanthe Shiancoe of the Vikings, I think we'll have quite a competition for the first-team all-Black and Blue team in January.
For those of you are foaming for more Packers coverage, chill out and be patient. I'll be at the Family Night scrimmage on Saturday and will post my official Camp Confidential report Sunday morning. Early next week, I'll have some thoughts on Rodgers as well as the Packers' defensive transition.
October, 8, 2008
10/08/08
8:01
AM ET
Posted by ESPN.com's Kevin Seifert
We've engaged in plenty of discussion the past two weeks about the youth of Green Bay's defense, especially when it comes to some of the replacements the Packers have used in response to a series of injuries.
On Wednesday, Rob Demovsky of the Green Bay Press-Gazette casts a critical eye toward one of the team's top veterans -- defensive end Kabeer Gbaja-Biamila, who hasn't produced so much as a quarterback pressure since Sept. 14 at Detroit. Overall, Gbaja-Biamila has a half-sack to his credit and isn't a viable option as a situational pass rusher.
Gbaja-Biamila has been dealing with knee and ankle injuries, but last week the Packers removed him from their injury report. Defensive ends coach Carl Hairston said: "He's not as explosive as he used to be. It's going to take a little time and repetitions to get that back."
Gbaja-Biamila is 32, however, and Demovsky questions whether he is simply done as a feared pass rusher. If so, it appears unlikely the Packers would bring him back next season; already, they're paying him a base salary of $6.15 for 2008 that was guaranteed when he was a part of the roster on opening weekend.
Continuing our be-bop around the NFC North:

NFL SCOREBOARD
Sunday, 12/28
WEEKLY LEADERS