November, 18, 2011
11/18/11
10:30
AM ET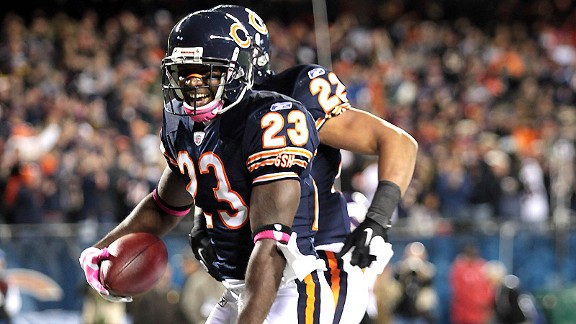 Tasos Katopodis /Getty ImagesDevin Hester is one return away from tying Deion Sanders' NFL record of 19 TD returns of any kind.
Chicago Bears
kick returner/receiver
Devin Hester
is 29. So it's reasonable to assume the actual debate on his candidacy for the Pro Football Hall of Fame is at least 10 years -- and probably a few more touchdown returns -- away. Already, however, Hester's unique status has conjured discussion about his place in history and whether he'll ultimately be recognized as one of the best players of this era.
Here are the facts:
Less than six years into his career, Hester has obliterated the NFL record for career kick returns for touchdowns. He has 17 in his 85-game career, most recently an 82-yard punt return last Sunday against the Detroit Lions, plus one more in the playoffs. It took Brian Mitchell 223 games to finish with 13, the previous record.

When you add in his return of a missed field goal in 2006, Hester is one return away from tying Deion Sanders' NFL record of 19 touchdown returns of any kind. Sanders played in 188 games before retiring.

The Hall of Fame has never inducted a player based on his impact as a returner. In fact, there is only one "pure" special-teams player in the Hall: Place-kicker Jan Stenerud.
Hester's record-breaking production, not to mention his pace, has spurred passionate discussion among his supporters. Bears linebacker
Brian Urlacher
provided a particularly direct assessment this week
during an interview with ESPN 1000
.
"He's the greatest of all time at what he does," Urlacher said. "And in my opinion, when you're the greatest of all time at your position, you should be in the Hall of Fame. He is a first-ballot Hall of Famer in my opinion. He's going to have 30-something touchdown returns if people keep kicking to him. It's a no-brainer for me. I just don't see how people can not agree with that."
From my amateur vantage point, the best way to consider Hester as a potential Hall of Fame candidate is to expand the analysis of his impact. It's going to be difficult for voters to elect a player based solely on "30-something" touchdown returns over the course of a decade, if that's indeed what Hester finishes his career with.
The reality is that punt and kickoff returns make up less than 10 percent of the total plays in an average game; the figures were about 12 of 138 plays in 2010. That's essentially the definition of a specialist who is hard-pressed to make a broad-based impact on games when he is typically exposed to so few opportunities. That's probably why neither Mitchell nor Dante Hall (12 return touchdowns) nor Eric Metcalf (12) have received serious consideration as a Hall of Fame candidate.
But Urlacher made an important point this week: "He changes every football game he's in."
How? By impacting the Bears' field position. Take a look at the chart accompanying this post, which we present after some dutiful research by Mike Corbo of the Bears' communications office.
The Bears have had the NFL's best field position, based on the start of their average drive, in three of Hester's five full seasons. They ranked No. 3 in the other two.
Multiple factors contributed to that success, including their Bears' strong defense of this era. And it's worth noting that they had top-10 field position in four of the five seasons preceding Hester's arrival. But it would be foolish to ignore the role of Hester's returns and also of kicks intentionally shortened or otherwise diverted by opponents to keep the ball away of him.
There are all kinds of politics, waiting games and backlogs involved in election to the Pro Football Hall of Fame. Given the difficulty that players like Kevin Greene (160 career sacks) and Cris Carter (1,101 receptions) have had getting attention, it's hard to imagine that a couple-dozen touchdown returns alone would put Hester on track for induction.
But when you consider him a player that impacts field position all game long, as Hester appears to have done for large portions of his career, then you're moving the conversation away from a specialist and towards the kind of criteria voters are looking for. If you're a proponent of Hester's burgeoning candidacy, that's the direction you need to head.
October, 13, 2010
10/13/10
4:10
PM ET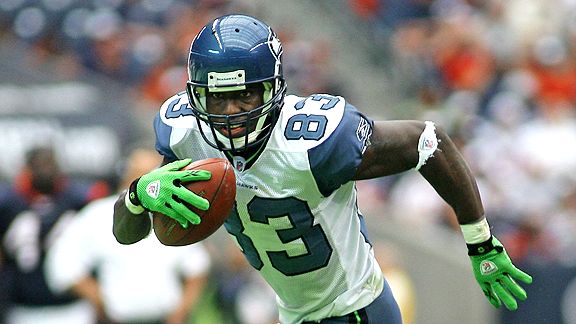 Thomas Campbell/US PresswireSeahawks receiver Deion Branch was worth a fourth-round pick to the Patriots.
Deion Branch
suspected the
Seattle Seahawks
might release him last season.
The team's general manager at the time, Tim Ruskell, repeatedly assured Branch that the organization had no such plans. Ruskell wasn't lying. The Seahawks held onto Branch, but if they had cut ties with the veteran receiver in 2009 following three years of declining production, not even Branch could have expressed shock.
When the post-Ruskell Seahawks finally unloaded Branch this week, the biggest surprise came in the price New England paid in reacquiring the 31-year-old receiver. Branch will return the higher of the Patriots' 2011 fourth-round choices: the one acquired from Denver or the one originally belonging to New England. Wasn't that a little steep?
Randy Moss
had commanded a third-round choice when New England traded him to Minnesota last week, an indication Seattle might be lucky to get a fifth-rounder for Branch. As Branch himself told reporters Tuesday, "I'm not Randy Moss. I wasn't Randy Moss when I was here. And I'm not here to replace him."
The lesson, as always, is that any commodity is worth whatever someone can get for it at a given time. There is no sliding scale or reference chart based on a wide receiver's past production or anything else. Branch's value to the Patriots increased once New England determined keeping Moss was no longer tenable.
For perspective, and with an assist from Keith Hawkins of ESPN Stats & Information, I've classified 17 receiver trades since 2007 by compensation levels:
1. Roy E. Williams to Dallas (2008)
Price paid:
Dallas sent 2009 first-, third- and sixth-round choices to Detroit for Williams and a seventh-rounder.
Comment:
This one sets the standard for overspending. Williams is on pace for his first 1,000-yard season in Dallas, but this deal marked the last time (for now) an NFL team traded a first-round choice for a wide receiver.
2. Randy Moss to Oakland (2005)
Price paid:
Oakland sent 2005 first- and seventh-round picks, plus linebacker
Napoleon Harris
, to Minnesota.
Comment:
The Raiders never had the supporting cast to maximize this investment. Moss didn't hold up his end, of course, but the Patriots later proved Moss could function at a high level in the right environment.
3. Deion Branch to Seattle (2006)
Price paid:
Seattle sent its 2007 first-round choice to New England.
Comment:
Ruskell hoped Branch would add character and leadership to a position group he viewed as lacking in those areas. Branch did not have the talent to justify the price, however, and injury problems diminished what returns Seattle got from its over-investment.
[+] Enlarge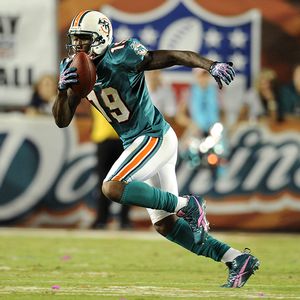 Richard C. Lewis/Icon SMIDenver traded away a 100 catch per year receiver in Brandon Marshall.
4. Brandon Marshall to Miami (2010)
Price paid:
Miami sent 2010 and 2011 second-round choices to Denver.
Comment:
Marshall is on pace for another 100-catch season, although he has only one touchdown reception in his first four games with Miami. Broncos coach Josh McDaniels comes from the New England tree. Both organizations like to load up on second-round draft choices.
5. Wes Welker to New England (2007)
Price paid:
The Patriots sent 2007 second- and seventh-round choices to Miami.
Comment:
Welker is on pace for his fourth consecutive 100-catch season since joining the Patriots. He had caught 96 passes over two seasons with Miami previously. The quarterback situation in New England allowed the Patriots to maximize this trade.
6. Chris Chambers to San Diego (2007)
Price paid:
San Diego sent a 2008 second-round choice to Miami.
Comment:
This deal never worked out the way San Diego planned. Chambers made some solid contributions early, but an ankle injury altered the course of his career with the Chargers.
Malcolm Floyd
emerged as a big-play threat, and San Diego cut Chambers during the 2009 season.
7. Braylon Edwards to the New York Jets (2009)
Price paid:
The Jets sent 2010 third- and fifth-round choices, plus
Jason Trusnik
and
Chansi Stuckey
, to Cleveland.
Comment:
Edwards probably had run his course in Cleveland. The Browns were starting over. Edwards has 52 receptions, seven for touchdowns, in 17 games with the Jets. Check back later on this one.
8. Anquan Boldin to Baltimore (2010)
Price paid:
Baltimore sent its 2010 third- and fourth-round choices to Arizona for Boldin and a fifth-round pick.
Comment:
So far, so good for the Ravens. Boldin has 28 catches for 363 yards and three touchdowns in his first three games with Baltimore. Long-term durability concerns played into Arizona's decision to make the trade. Can Boldin hold up?
9. Randy Moss to Minnesota (2010)
Price paid:
Minnesota sent a 2011 third-round choice to New England.
Comment:
Moss had become unhappy and the Patriots decided to get value for him while they could, possibly at the expense of their 2010 on-field production. The Patriots spent only a fourth-round choice for Moss, used his immense talent for three-plus seasons, then got a third-rounder out of him. Not bad. But at what short-term cost?
10. Randy Moss to New England (2007)
Price paid:
The Patriots sent a 2007 fourth-round choice to the Raiders.
Comment:
Moss' relationship with the Raiders had deteriorated to the point that Oakland needed to unload him despite the high price it paid for Moss in 2005. Getting a fourth-round choice wasn't bad under the circumstances, although the price was a bargain from the Patriots' perspective.
11. Darrell Jackson to San Francisco (2007)
Price paid:
The 49ers sent a 2007 fourth-round choice to Seattle.
Comment:
Viewed as a risky move within the division at the time, Seattle came out OK. Jackson didn't fit the 49ers' offense and his deteriorating knee was another hindrance.
[+] Enlarge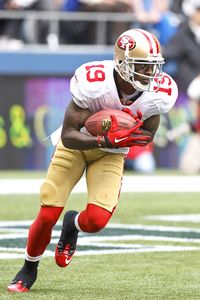 Jason O. Watson/US PresswireThe 49ers hope they get better production from Tedd Ginn Jr. than they did from Darrell Jackson.
12. Ted Ginn Jr. to San Francisco (2010)
Price paid:
The 49ers sent a 2010 fifth-round choice to Miami.
Comment:
Ginn enjoyed a strong training camp before suffering a sprained knee in the regular-season opener. He has made a positive impact in the return game since coming back from the injury. San Francisco needs Ginn to emerge as a deep threat, too.
13. Deion Branch to New England (2010)
Price paid:
The Patriots sent a fourth-round choice to Seattle.
Comment:
The Seahawks got more in return for Branch than expected, but the Patriots can still come out OK. They've got
Tom Brady
, after all.
14. Santonio Holmes to the New York Jets (2010)
Price paid:
The Jets sent a 2010 fifth-round choice to Pittsburgh.
Comment:
Holmes served a four-game suspension to open the season. He caught three passes for 41 yards in his Jets debut Monday night. The Steelers had enough off-field concerns while dealing with the
Ben Roethlisberger
situation. Parting with Holmes made more sense in that context.
15. Greg Lewis to New England (2009)
Price paid:
The Patriots sent a 2009 fifth-round choice to Philadelphia for Lewis and a seventh-rounder.
Comment:
Oops. The Patriots cut Lewis before he played a regular-season game for them.
16. Mark Clayton to St. Louis (2010)
Price paid:
The Rams sent a 2011 sixth-round choice to the Ravens for Clayton and a seventh-rounder.
Comment:
This deal was working out very well for the Rams until Clayton suffered a season-ending knee injury against Detroit in Week 5. Clayton appeared to be a natural fit for the Rams' offense and he worked well with No. 1 overall choice
Sam Bradford
.
17. Troy Williamson to Jacksonville (2008)
Price paid:
The Jaguars sent a 2008 sixth-round choice to Minnesota.
Comment:
Williamson caught eight passes over two seasons for the Jaguars.
September, 26, 2010
9/26/10
11:03
PM ET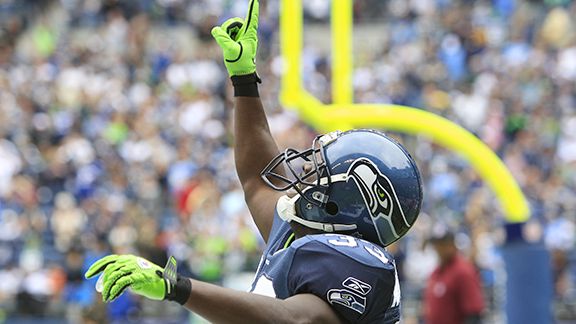 AP Photo/Elaine ThompsonLeon Washington's two kickoff returns for touchdowns was the difference in the game.
SEATTLE --
Leon Washington
is back. So is the "12th Man" at Qwest Field.
The
Seattle Seahawks
are back, too -- not all the way or even most of the way, but enough of the way to win home games and contend for the NFC West title in a flawed division that nonetheless went 3-1 Sunday.
The hard part after the Seahawks'
27-20 victory
over the
San Diego Chargers
was finding players in the winning locker room with enough roster tenure to remember what it was like the last time this team was good enough to make its crowd a decisive factor.
Quarterback
Matt Hasselbeck
remembers. He was there when Seattle was going 7-1 at home in 2007 and 8-0 there in 2005. Those teams were better, but this team doesn't need to be as good.
"For years we have dominated at home and people hated to come up here," Hasselbeck said after Washington's two return touchdowns helped deliver Seattle's second victory in three games this season. "Because we weren't a very good team for two years, we sort of lost that. It's going to be real important to get that back."
It might be back already.
The Seahawks have beaten two division favorites in two home games thus far in 2010. The
San Francisco 49ers
fell first, committing delay penalties and generally imploding on offense amid the noise. The Chargers succumbed Sunday, their offense jumping early and failing to beat the play clock in critical situations.
"I heard all kinds of glowing comments about what it's like to play here," first-year Seahawks coach Pete Carroll said. "Then I was surprised on the first time out against the Niners. This game goes beyond expectation."
[+] Enlarge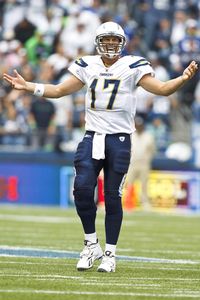 Jason O. Watson/US PresswirePhilip Rivers and the San Diego Chargers were plagued by delay of game penalties.
Chargers quarterback
Philip Rivers
takes
more delay penalties
than any quarterback in the league. The one he took on third-and-10 from the Seattle 12-yard line with 21 seconds left diminished the Chargers' chances. San Diego's previous drive ended with a fourth-and-15 incomplete pass after officials flagged right tackle
Jeromey Clary
and left tackle
Brandyn Dombrowski
for a false-start penalties on consecutive plays.
"That is good to see," said Seahawks safety
Jordan Babineaux
, who has been with the team since 2004.
Babineaux didn't need his Southern Arkansas University education to do the math.
"You sweep home, you could split on the road and that is a 12-4 season," he said. "That's a good year. The biggest challenge for us now is playing the way we play at home on the road. We have to."
Not necessarily. Not in this division.
The preseason favorite 49ers are 0-3 heading into a Week 4 game against Atlanta, their third road trip in four games this season. The
Arizona Cardinals
are tied with Seattle atop the division, but they barely beat St. Louis and Oakland in getting to 2-1. And in listening to the Cardinals-Raiders broadcast Sunday, there were times when fans supporting the Raiders seemed to make the most noise.
Hasselbeck complained of seeing Chargers jerseys in the stands Sunday.
"Our fans are still amazing," he said. "It's probably that stupid ticket-exchange commercial."
If San Diego fans made any noise of consequence, I couldn't hear it. While Hasselbeck's voice resonated during his postgame news conference, Rivers sounded hoarse.
"Most of the screaming is in the huddle and at the line of scrimmage because it's' definitely loud," he said. "It's like most road games."
Like most road games, times two. Seattle opponents had committed 96 false-start penalties at Qwest Field since 2005. Minnesota's Metrodome was second at 86, followed by stadiums in Tennessee (78) and Chicago (70).
Babineaux was at least partly right when he said the Seahawks need to figure out a way to win on the road. Beating the 1-2
St. Louis Rams
at the Edward Jones Dome in Week 4 would give Seattle one of the precious road victories it might need to post a winning season for the first time since 2007.
Crowds cannot win games by themselves. The home crowd matters again in Seattle because the Seahawks have improved almost across the board. Their draft-day trade with the
New York Jets
for Washington paid for itself, and then some, when Washington returned kickoffs 101 and 99 yards against the Chargers. He nearly had another return touchdown, but he slipped while trying to elude the last defender.
Washington's team-record two kickoff returns for touchdowns were the difference. Those returns left Seattle's defense on the field and the Chargers finished with 518 yards, but with rookie safety
Earl Thomas
picking off two passes, including one at the Seattle 5 with 6 seconds remaining, it felt like old times at Qwest Field.
"When you have a returner that has faith in the guys in front of him, he can hit it hard and fast and like I did in New York," Washington said.
A player from another NFL team asked Hasselbeck about Washington during the week.
"I talked about how great he's been and how we love him and he's going to break out here," Hasselbeck said. "I don't think anyone imagined that it could have been like that."
Washington now has six kickoff returns for touchdowns during his career, tied for second in league history with Ollie Matson, Gale Sayers,
Travis Williams
,
Mel Gray
and
Dante Hall
. Only
Josh Cribbs
has more, with eight. Washington's 101- and 99-yarders rank first and second in Seahawks history.
Seattle turned over its roster more than any team during the 2010 offseason.
The changes produced questions. We're starting to get some answers.
The Seahawks' special-teams units are hitting harder than they have in my memory covering the team (since 1998). That reflects improved personnel. Rookie fifth-round choice
Kam Chancellor
forced a fumble during a Chargers return. Rookie seventh-rounder
Dexter Davis
recovered. Rookie second-rounder
Golden Tate
, chosen 60th overall with a pick acquired from San Diego, had a 31-yard punt return and caught all four passes thrown his way.
Most improbably to me, the Seahawks are playing well enough on their offensive line to give Hasselbeck a chance -- even with rookie first-round left tackle
Russell Okung
sidelined by injury for the first three games.
The offense remains in its formative stages, sometimes appearing lost. But Seattle was very close to scoring at least two more touchdowns. The Chargers forced
Deion Branch
to fumble at the 1 after a 41-yard gain. The Seahawks inexplicably let the game clock expire after driving to the San Diego 2 right before halftime.
"I'm not going to overlook that," Carroll said of how close Seattle came to a first-half rout.
There can be no more overlooking the Seahawks at Qwest, either. Their remaining home opponents -- Arizona, the
New York Giants
, Kansas City, Carolina, Atlanta and St. Louis -- will have a hard time winning here.
That's what we've learned about Seattle in the first three weeks.
September, 14, 2010
9/14/10
1:28
AM ET
KANSAS CITY -- Breaking down
the Chiefs' victory, which was played in wet and windy conditions
:


What It means:
It may be too early to say the Chiefs are going to stick around all season, but they are clearly much improved. This was a big night in all three phases of the game for the Chiefs.
For San Diego, the four-time defending division champion, the loss hurts. The Chargers' offense stalled in bad weather for much of the night and it died at the 6-yard line in the final seconds of the game. The Chargers clearly still have a lot of work to do.
Tomorrow's Talker:
The Chiefs have a terrific return game. Second-round picks
Dexter McCluster
and
Javier Arenas
may soon make folks forget the great
Dante Hall
years. Both players had big returns, highlighted by McCluster's team-record 94-yard punt return for a touchdown.
Big Revelation:
The San Diego offense is not beyond being stymied. Monday night, it was the weather that took San Diego's offense out of the game. Give Kansas City's young and energized defense credit. It made plays and it was very active.
But San Diego was clearly frustrated by the driving rain and wind storm. The Chargers didn't have a first down in the second quarter and they went 30:14 with just one first down. The team misses holdouts
Vincent Jackson
and
Marcus McNeill
, but the weather was San Diego's real enemy for much of Monday night. San Diego's offense was much better before and after the rain. Much of the first and fourth quarters were rain free.
Trending:
The Chiefs need to get
Jamaal Charles
the ball more. He is a game breaker. His 56-yard run for a touchdown in the first quarter was a thing of beauty. He made two big-league cuts on the play. He had 92 yards on 11 carries. Starter
Thomas Jones
had 39 yards on 11 carries. I don't care who starts, but Charles needs to carry the ball 20 times a game or more.
What's Next:
San Diego opens its home slate against Jacksonville in a game that it is having difficulty selling out. Kansas City goes to Cleveland in what is a winnable game for the Chiefs.
July, 24, 2009
7/24/09
11:11
AM ET
Posted by ESPN.com's Mike Sando
Training camp site:
Northern Arizona University (Flagstaff, Ariz.)
Campfires: Coach Ken Whisenhunt isn't afraid to make first-round draft choices earn their starting jobs. He benched Matt Leinart coming out of camp last season, then made talented rookie Dominique Rodgers-Cromartie wait until near midseason before becoming a full-time starter. The trend could continue this summer as rookie first-round choice Beanie Wells practices with the Cardinals for the first time.
Wells projects as the long-term replacement for Edgerrin James at running back, but Ohio State's late graduation prevented him from participating in minicamps and organized team activities. That means the adjustment period for Wells could take a little longer. Expect Tim Hightower to enter camp as the tentative starter.
Meanwhile, the situation at tight end remains a mystery. Arizona is carrying six tight ends on its roster, one behind the league high. Ben Patrick, the player coaches have tried to develop as a player versatile enough to help as a receiver and blocker, faces a four-game suspension to start the season. That could open the door for Anthony Becht, Leonard Pope or Stephen Spach to seize the starting job. I don't see a clear favorite, particularly with Patrick serving a suspension and Spach coming off knee surgery.
| | |
| --- | --- |
| | |
| | Jeff Mills/Icon SMI |
| | Will Beanie Wells be able to avoid the injuries that plagued him in college? |
Camp will be a downer if ... Wells doesn't immediately prove he can avoid the long list of injuries that affected him in college. Arizona needs a more dynamic runner to run its offense the way Whisenhunt and offensive line coach/running game coordinator Russ Grimm want to run it. Wells has the physical ability to provide that missing element. Can he stay on the field and will he fight through some of the ailments that await every running back in the NFL?
The preferred scenario would include Wells breaking a few long runs during the preseason, setting up the play-action passing game that worked so well for Arizona when the team showed more balance in the playoffs last season.
Camp will be a success if
... the reconfigured coaching staff takes control of the team and helps Arizona build on the momentum from its Super Bowl season.
Whisenhunt has stressed continuity during the first two years of his tenure. He kept the same five starters on the offensive line even though right guard Deuce Lutui had penalty problems and center Lyle Sendlein sometimes struggled while playing through a shoulder injury. While the approach worked, continuity wasn't an option for the coaching staff once the Chiefs hired offensive coordinator Todd Haley head coach.
Whisenhunt's decision to fire quarterbacks coach Jeff Rutledge and defensive coordinator Clancy Pendergast shook up the staff considerably more.
Warner will miss the rapport he enjoyed with Haley. The two appeared inseparable at times and the relationship seemed to benefit Warner on the field. Can the newly configured staff fill the void or otherwise find ways to keep Warner and the offense rolling?
Money men: Key players Karlos Dansby, Anquan Boldin and Darnell Dockett want lucrative long-term deals.
Franchise player rules will force Dansby to wait, and he should be content "settling" for a one-year franchise deal worth nearly $9.7 million. The volatile Dockett has also committed to letting his play do the talking, a good sign for the team.
While Boldin put aside his concerns to produce last season, his situation bears monitoring. Another year without a new contract probably equates to a higher frustration level. Boldin, generally the consummate pro, might have a harder time dealing with the situation -- particularly if the team fails to meet expectations.

---
San Francisco 49ers
Training camp site:
49ers headquarters (Santa Clara, Calif.)
| | |
| --- | --- |
| | |
| | Kyle Terada/US Presswire |
| | Can Shaun Hill distinguish himself to claim the starting QB job? |
Campfires: The 49ers have quite a few position battles for a team that finished strong and feels good about its chances for contending within the division.
The quarterback race will rightfully command the most attention. Coach Mike Singletary said the players will know whether Shaun Hill or Alex Smith should be the starter, at which point Singletary will merely affirm what they know. That means Smith's status as the No. 1 overall draft choice in 2005 will not afford him any advantage in the competition. Hill's 7-3 record as the 49ers' starter over the last two seasons gives him the edge.
On defense, Dashon Goldson would have to flop or suffer another injury for the older and less athletic Mark Roman to take back his job at free safety. Dre Bly has the edge over Tarell Brown at right corner. Kentwan Balmer, the 49ers' first-round choice in 2008, could push for a starting job at left defensive end.
Camp will be a downer if
... both quarterbacks flounder and veteran
Damon Huard
appears to be the best option. Unlikely? Perhaps. But the scenario isn't as laughable as it should be. Neither Hill nor Smith distinguished himself during the competition a year ago. Even if Mike Martz was playing favorites when he installed J.T. O'Sullivan as the starter, the fact remains that O'Sullivan enjoyed the strongest preseason of the three.
The new offensive system should better suit Hill in particular, and the 49ers have declared this quarterback race a two-man affair, ruling out Huard as a contender. Still, after years of backing up Trent Green, Tom Brady and Dan Marino, Huard wound up starting three of the first five games in Kansas City last season when the unaccomplished Brodie Croyle and Tyler Thigpen were his primary competitors.
Camp will be a success if
... Hill validates his 7-3 record as the 49ers' starter, right tackle
Marvel Smith
makes it through training camp healthy and the push toward a full-time 3-4 defense validates
Parys Haralson
and
Manny Lawson
as promising pass-rushers.
Hitting on all three of those might be asking a bit much, but getting two of them right might be enough, particularly if the 49ers feel good about the quarterback situation.
On the receiving end: It's a little surprising to see the 49ers emerge with their deepest group of receivers in years after committing to Singletary's smashmouth approach. The change to Singletary and offensive coordinator Jimmy Raye was all about making smarter use of the players general manager Scot McCloughan and former coach Mike Nolan had acquired in recent years.
That meant -- and still means -- forging an identity in the ground game. Yet, while receivers Michael Crabtree, Isaac Bruce, Brandon Jones and Josh Morgan will not be battling Larry Fitzgerald and Anquan Boldin for Pro Bowl berths this season, they do give the 49ers better potential than they've enjoyed recently.
Singletary's smashmouth roots should not and likely will not dissuade the 49ers from making frequent use of those receivers.
---
| | |
| --- | --- |
| | |
| | Kirby Lee/Image of Sport/US Presswire |
| | The Seahawks must get Matt Hasselbeck through training camp unscathed. |
Training camp site:
Seahawks headquarters (Renton, Wash.)
Campfires: The Seahawks weren't going to pretend that first-round choice Aaron Curry would have to prove himself in camp to earn a starting job. They put the fourth overall choice in the lineup from the beginning. No suspense there.
Most positions in Seattle appear settled. The situation at receiver should produce intrigue with Nate Burleson, Deion Branch and rookie burner Deon Butler fighting to get on the field with T.J. Houshmandzadeh and tight end John Carlson. Injuries will probably help sort out the situation. Burleson is returning from ACL surgery. Branch is entering his first full season since undergoing his own ACL procedure.
Don't be surprised if rookie second-round choice Max Unger pushes for playing time somewhere in the interior of the offensive line. He projects as the long-term starter at center if Chris Spencer plays out his contract and leaves following this season.
If Spencer holds the job, Unger figures to find his way onto the field in one of the guard spots, perhaps this year.
Camp will be a downer if ... quarterback Matt Hasselbeck's back injury flares up at any point along the way. Hasselbeck and the Seahawks say the quarterback has long since overcome the problems that helped limit him to seven starts last season. They didn't know the extent of the problem a year ago when they assured fans that Hasselbeck would be fine for the regular season. The issue is under control now, they say, but the very nature of back injuries should raise at least some concern heading into a pivotal season for the organization.
Camp will be a success if ... Hasselbeck, left tackle Walter Jones and defensive end Patrick Kerney put to rest concerns about their long-term health. Beyond the obvious injury storylines, this camp becomes a success for Seattle if Curry validates coach Jim Mora's opinion that the linebacker's pass-rushing abilities are indeed far stronger than anticipated on draft day.
Seattle badly needs to restore its pass rush to better compete against the Cardinals' passing game in a broader effort to overtake Arizona in the division. Kerney is the key, but the Seahawks are also counting on pressure from other sources: Brandon Mebane, Cory Redding, Lawrence Jackson, Darryl Tapp and possibly Leroy Hill. Significant pass-rush help from Curry would offset Julian Peterson's departure while making it easier for the Seahawks to justify having drafted a linebacker fourth overall.
Learning curve: By all accounts, the two years Mora spent in the background watching Mike Holmgren operate should leave him better prepared to handle his second head-coaching job. The way Holmgren handled everything from players to the media differed quite a bit from the more freewheeling approach Mora displayed with the Falcons.
Lessons learned? Yes, but it will be interesting to see how the Seahawks' leadership -- operating without Holmgren for the first time since 1998 -- will respond under pressure if things go wrong early.
---
St. Louis Rams
Training camp site: Rams Park (Earth City, Mo.)
| | |
| --- | --- |
| | |
| | G. Newman Lowrance/Getty Images) |
| | Will Marc Bulger be able to regain his old form behind a revamped offensive line? |
Campfires: The Rams need to figure out what they have at receiver, linebacker and left cornerback after overhauling their roster.
Torry Holt, Orlando Pace, Drew Bennett, Trent Green, Anthony Becht, Corey Chavous, Pisa Tinoisamoa, Brian Leonard, Gary Stills, Jason Craft, Ricky Manning, Fakhir Brown, La'Roi Glover, Dane Looker, Travis Minor, Dante Hall, Nick Leckey and Brett Romberg were among the former starters and role players cast aside in the makeover.
None was irreplaceable. Getting rid of them was the easy part. Identifying and developing adequate replacements will take time.
Camp will be a downer if ... top draft choices Jason Smith and James Laurinaitis aren't ready to contribute right away. Coach Steve Spagnuolo has taken it slowly with both rookies, but he likely will not have that luxury once the regular season gets going. Smith and Laurinaitis probably must play and play well for the Rams to avoid trouble.
Laurinaitis' development is critical because the Rams appear so thin at linebacker after releasing Tinoisamoa. Even if Laurinaitis plays well, the Rams' depth at linebacker could betray them.
Camp will be a success if ... quarterback Marc Bulger finds comfort behind an upgraded offensive line. Bulger can be a highly accurate passer when opposing defensive linemen aren't pounding the confidence out of him. The player who topped 4,300 yards passing with 24 touchdowns and eight interceptions three years ago hasn't resembled even remotely the scared soul seen under center for the Rams too often over the last two seasons.
The Rams' should start to regain some swagger on the line with 320-pounder Jason Brown taking over at center and the personably intense Smith at tackle. Right guard Richie Incognito won't be the only starter with some snarl, in other words. That should help provide improved protection for Bulger and leadership for the offense.
Fantasy spin: Running back Steven Jackson should not hurt for opportunities now that the Rams have landed a 320-pound center (Brown, free agent from the Ravens) and a 258-pound fullback (Mike Karney, late of the Saints). The Rams will try to develop their young receivers, but rarely should any of them represent a more formidable option than Jackson. And if he gets some luck with injuries, look out.
June, 26, 2009
6/26/09
12:00
PM ET
Posted by ESPN.com's Bill Williamson
We're wrapping up our all-decade week with our AFC West decade awards:
Offensive player of the decade: Tony Gonzalez
It takes a lot for a tight end to be the offensive player of the decade, but Gonzalez is a worthy selection. He was dominant for the entire timeframe. He owns every NFL receiving record for tight ends.
He was consistent throughout the decade and was the face of the Chiefs until he was traded to Atlanta prior to the draft. Some teams don't value the tight end position, but a player like Gonzalez shows how disruptive the tight end can be.


Defensive player of the decade: Champ Bailey
When Denver acquired Bailey from Washington for running back Clinton Portis, many league observers thought the Broncos made a big mistake.
Yes, Portis was a good player in Denver and he has been good for the Redskins. But Bailey has been brilliant. He was the best cornerback in the NFL this decade and has been one of the best players in the NFL overall.
He became the face of the Denver defense as he made it one of the better units in the NFL during the middle of the decade. Bailey is not only a shutdown cornerback, but he is superb in run support and a fine tackler. Bailey is a shoo-in Hall of Famer.


MVP of the decade: LaDainian Tomlinson
Tomlinson has been the best player in the AFC West since he was the No. 5 overall pick in 2001. He helped transform the Chargers from bottom-feeder to a perennial Super Bowl contender. Tomlinson has been the premier running back in the NFL this decade and his consistency has been stunning. He has never rushed for less than 1,100 yards in a season.
He has a record-breaking 2006 MVP season under his belt and he will be a first-ballot selection to the Hall of Fame.

Team of the decade: San Diego Chargers

The Broncos have been consistent for much of the decade, but they have fallen on tough times. The Chargers are the best team in the division now and they have been consistent in the era of general manager A.J. Smith.
In the past six years, the Chargers have won the fourth-most regular-season games in the NFL with 58. This team has won three straight AFC West titles, made the AFC Championship Game in 2007 and advanced to the AFC divisional round last season. It hasn't been a spectacular decade for teams in the AFC West, but the talented Chargers have been the best team for the longest period.

Moment of the decade: Oakland advancing to Super Bowl XXXVII
The Raiders beat Tennessee to advance to the Super Bowl in January 2003 to culminate four years of knocking on the door.

It was the first and last time an AFC West team made the Super Bowl this decade; the division's Super Bowl drought is the longest in the NFL.
Things have gone downhill for Oakland since then. The Raiders were embarrassed in the Super Bowl by former coach Jon Gruden and Tampa Bay. Oakland is 24-72 in the six seasons since, the worst six-year record by any team in NFL history. But the Raiders do have the memory of having the best moment in the division this decade.
Special teams player of the decade: Dante Hall
In his prime with Kansas City, Hall was the best returner in the NFL. He was a must-see player every Sunday. He won games for Kansas City with his impossible, turn-back-run-across-the-field touchdowns.
Seeing Hall celebrate a touchdown return with the Arrowhead Stadium crowd was one of the better sights in the league. From 2000-2006 in Kansas City, Hall returned six kicks for touchdowns and five punts for scores. He was brilliant.
Coach of the decade: Mike Shanahan
Shanahan almost made it through the decade with Denver. Before his surprise firing in January, Shanahan was the dean of the division. He coached in Denver for 14 years.
While Shanahan's magic wore off in the past few years, he was the best coach in the division along with being the most senior coach. The Broncos were consistent and always seemed primed for 10 wins a season until the wheels fell off defensively in the past two years.
Shanahan may have won his two Super Bowl trophies in the 1990s, but his impact was felt in the AFC West in this decade as well.
February, 26, 2009
2/26/09
11:53
AM ET
Posted by ESPN.com's Mike Sando
| | | |
| --- | --- | --- |
| St. Louis Rams 2009 UFA Candidates | Pos. | Age |
| Gary Stills | LB | 34.6 |
| La'Roi Glover | DL | 34.6 |
| Cory Withrow | OL | 33.8 |
| Jason Craft | CB | 33.0 |
| Dane Looker | WR | 32.8 |
| Fakhir Brown | CB | 31.4 |
| Brandon Gorin | OL | 30.6 |
| Dante Hall | KR | 30.4 |
| Travis Minor | RB | 29.6 |
| Brett Romberg | OL | 29.3 |
| Anthony Davis | OL | 28.9 |
| Adam Goldberg | OL | 28.5 |
| Ricky Manning | CB | 28.2 |
| Eric Moore | DL | 27.9 |
| Ron Bartell | CB | 27.0 |
| Nick Leckey | OL | 26.9 |
| Rob Petitti | OL | 26.7 |
The Rams could conceivably part with every one of their unrestricted free agents this offseason.
They will try to re-sign cornerback Ron Bartell. They could bring back a few others. But when a new front office and new coaching staff inherit a team with five victories over two seasons, serious roster trimming tends to ensue.
The chart ranks the Rams' scheduled unrestricted free agents from oldest to youngest, with ages rounded down to the tenth. Four are at least 33 years old. Four more are at least 30. Two more -- Travis Minor and Brett Romberg -- turn 30 during the 2009 season.
Bartell is clearly the Rams' most attractive UFA candidate. His case is a tough one for the Rams.
While the team would like to retain its best young talent, the coaching staff doesn't know Bartell well enough to make informed judgments about his longterm potential. And with the market for cornerbacks drying up, Bartell might command a significant contract on the open market.
November, 4, 2008
11/04/08
9:50
AM ET
October, 8, 2008
10/08/08
9:49
AM ET
August, 20, 2008
8/20/08
3:23
PM ET
Posted by ESPN.com's Mike Sando
Anquan Boldin's comments Monday made waves in Arizona and beyond, but sometimes these things take a while to resonate throughout a roster. Players are sometimes too busy rehabbing or studying or practicing or lifting to follow the news closely.
Chike Okeafor, the Cardinals' veteran defensive end and outside linebacker, has always offered fresh perspectives. In speaking with him Tuesday about several subjects, I asked about the comments Boldin had made. Cardinals fans might find his answer reassuring:
"'Q' is a great guy and he has his issues with the club and his contract and feeling that respect is given where it's due, but I don't think he's the type of player to let that spread and create a cancer that negatively affects the team.

"Everyone is close, so everyone knows everything that is going on. He is a professional and he is not going to let that affect his play or how he practices."

Boldin's complaints about his contract have been simmering for months. His latest comments blamed coach Ken Whisenhunt for taking an inappropriate role in negotiations. Boldin said he and Whisenhunt are no longer on speaking terms. More from Okeafor:
"I wasn't aware what you were saying about not speaking with coaches and stuff like that. Every man is an individual and you can't put yourself in their shoes. Every situation is different and a different person handles it in their own way. Unless you know all the facts, it's hard to form an opinion.

"We'll be good. We have a real professional organization here and we're about winning ballgames. I think those things will iron themselves out. Probably a little bit of miscommunication and non-communication. Those things will hopefully be resolved in time because he is a great player and a great person for our organization."

Whisenhunt recently began addressing reporters in Arizona. We'll have an update if there's anything new in this ongoing story.
August, 20, 2008
8/20/08
9:00
AM ET
Posted by ESPN.com's Mike Sando
Kent Somers of the Arizona Republic puts Anquan Boldin's contract complaints in perspective. Somers says the team has connected the dots between Boldin's agent, Drew Rosenhaus, and various media outlets (including ESPN) that carried the receivers' comments Monday. Somers: "It's easy to say the situation is irreparable, but don't underestimate the healing powers of money."
Also from Somers: Cardinals coach Ken Whisenhunt says Matt Leinart is the starting quarterback, but not necessarily for the regular-season opener. Whisenhunt: "We haven't changed, as we've said all along, Matt's the starter right now, and Kurt is pushing him." A statement such as that one might serve to keep the pressure on a younger player while keeping the interest of an older one. Or, as Somers notes, the Cardinals might want to keep the 49ers guessing. Arizona opens at San Francisco.
Mike Tulumello of the East Valley Tribune quotes Boldin extensively. Boldin thinks Whisenhunt crossed a line by joining negotiations. Whisenhunt denies doing any such thing. Boldin: "That's where it became a problem. ... I think it should be completely separated. I think that's why we have a department that deals with that."
Darren Urban of azcardinals.com says Boldin's words have more bite than the tone he uses when delivering them.
Also from Urban: Like Somers, Urban went back into the archives to compare Boldin's current comments with past comments. He included the following 2003 lead from a story he wrote as beat writer for the East Valley Tribune: "Growing up, Anquan Boldin heard a constant message from his parents. 'A good name, they said, is better than riches and gold.'" A reminder: Anything you say can and will be used against you in the court of public opinion.
Jim Thomas of the St. Louis Post-Dispatch takes note of Dante Hall's revival under Al Saunders. Hall is the Rams' third receiver. That should sound a little scary if you're a Rams fan; Hall has been a return specialist primarily. But we'll reserve judgment for now.
Bill Coats of the St. Louis Post-Dispatch risks putting a jinx on Alex Barron by lauding the right tackle's durability. I'm kidding. Sort of. As a beat writer covering the Seahawks a few years ago, I remember guard Chris Gray asking me not to bring up his team-record starting streak, for fear of jinxing him.
Greg Johns of the Seattle Post-Intelligencer provides an update on Jason Babin's attempt to earn a roster spot with the Seahawks. Babin was arguably miscast in the Texans defense after Houston made him a first-round draft choice. He has fared better in camp with Seattle. Babin has always been a hard worker, whether pulling a tire around town to build strength or wiring houses with his electrically inclined father.
Clare Farnsworth of the Seattle Post-Intelligencer says the Seahawks are giving first-round choice Lawrence Jackson every chance to seize the starting job at right defensive end. Defensive coordinator John Marshall, after watching Jackson start against the Bears in the most recent exhibition game: "He's certainly not polished, but he did show pass-rush ability. He showed the thing that he showed at USC, [which] was his awareness in certain situations against certain blocking schemes -- crossing faces, reading things. He does a very, very good job of that."
Matt Maiocco of the Santa Rosa Press-Democrat describes the 49ers' quarterback situation in the words of J.T. O'Sullivan and Alex Smith. If only one of them would say something.
Dan Brown of 49ers Hot Read pasted the full transcript from Smith, O'Sullivan and coach Mike Nolan. I was there and didn't find anything worth writing about. It's the same old non-answers to the same old questions.
August, 14, 2008
8/14/08
11:16
AM ET
Posted by ESPN.com's Mike Sando
| | |
| --- | --- |
| | |
| | AP Photo/Jeff Roberson |
| | Chris Long appears likely to earn a starting job entering the regular season. |
The Rams lack depth, but only one of their rookie draft choices -- defensive end Chris Long -- appears likely to earn a starting job entering the regular season. That was a risk the Rams took when they drafted a developmental receiver, Donnie Avery, early in the second round. We take a pick-by-pick look at the Rams' 2008 draft class:
(1) Long, DE, Virginia. Long will learn on the job as the Rams' starting right defensive end. He made no tackles and no discernable impact during the Rams' exhibition opener against Tennessee, but he wasn't alone in that regard. Long is diligent, talented and sure to improve. He is not likely to hit double digits in sacks as a pure pass rusher might.
(2) Avery, WR, Houston. A hip injury kept Avery off the field until this week and he remains somewhat limited in practice. He was already facing a significant adjustment from the offense he ran at the University of Houston. The Rams would like him to emerge as a deep threat, but his development will take time.
(3) John Greco, OL, Toledo. The Rams haven't done a very good job developing mid-round offensive linemen, but Greco might help them improve that way. Coaches have moved him between tackle and guard. Greco enters the season as a backup, but the Rams remain somewhat unsettled on their offensive line.
(4) Justin King, CB, Penn St. King was looking like the Rams' third cornerback, but a toe injury ended those plans abruptly. The Rams placed King on injured reserve, ending his season. Toe injuries can be tricky. His long-term prognosis is unclear.

(4) Keenan Burton, WR, Kentucky. Burton made an immediate positive impression in camp. Avery's absence helped him in the short term. The Rams still do not have a clear-cut No. 3 receiver now that Drew Bennett has replaced Isaac Bruce in the starting lineup. Will Burton emerge? Dante Hall is playing the role now. Reche Caldwell has not stepped up. The Rams threw three passes Burton's way in the second half of the exhibition opener. None were complete. Burton has also had problems with injuries.
(5) Roy Schuening, G, Oregon St. Schuening hasn't been afraid to mix it up. He took down Titans defensive lineman Kyle Vanden Bosch during a practice scuffle, and he recovered a fumble during the exhibition opener. Schuening is also fighting for a roster spot. Immediate contributions appear unlikely.

(7) Chris Chamberlain, LB, Tulsa. Chamberlain was one of the Rams' more impressive players on defense during the exhibition opener. That isn't saying much -- the Rams allowed 340 yards rushing as the Titans exposed their poor depth -- but Chamberlain did impress. He made one tackle for no gain and another 19 yards downfield. Depth at linebacker is a concern for the Rams, so Chamberlain needs to be ready.
(7) David Vobora, LB, Idaho. "Mr. Irrelevant" figures into the team's plans in part because the Rams lack depth at the position, but he struggled against the Titans in the opener. Barring injuries, Vobora should spend most of his time on special teams.
The Rams are better than they showed against the Titans, but their poor depth will cause problems as the season progresses. Their defensive backups had no chance against the Titans, who played some starters longer and dominated.
July, 28, 2008
7/28/08
8:39
AM ET
Posted by ESPN.com's Mike Sando
Kent Somers of the Arizona Republic offers counseling for Anquan Boldin and the Cardinals as their contract impasse simmers. Somers: "If Boldin performs at his usual level while taking the high road and allowing his agent to be the bad guy, the Cardinals will be under pressure to give him a deal comparable to (Larry) Fitzgerald's. And if they don't, they'll be forced to trade him to try to get value for one of the league's better receivers." We're a long way off from that. As the story notes, Boldin has three years remaining on his current deal.
Bob McGinn of the Milwaukee Journal Sentinel explains why former Rams linebacker Brandon Chillar hasn't unseated Brady Poppinga as a starter in Green Bay. McGinn quotes an NFC personnel evaluator this way: "Chillar is a better athlete than Poppinga and will probably make more plays. He's an old-school, traditional outside linebacker. He can stack. But the reality is, if you've got those other two (A.J. Hawk and Nick Barnett), you don't need a third guy to make a lot of plays. You just need him to be in the right spot." Poppinga is apparently more reliable than Chillar that way, which is to be expected because Poppinga has been in the Packers' system longer.
This Associated Press story about Marc Bulger concludes with an interesting quote from the Rams quarterback, who is apparently asserting more leadership now that longtime teammate Isaac Bruce is catching passes in San Francisco. Bulger: "It was tough before when Isaac would run a wrong route or something. I'd say something and he'd give you the Isaac look, so I kind of kept my mouth shut. I think now with some of the younger guys and even some of the older guys, they respect me now, because they think I have a better grasp of the offense than anyone in there. I have been in it for such a long time, and with knowledge you can have that confidence."
Dave Boling of the Tacoma News Tribune takes a closer look at Seahawks offensive lineman Mansfield Wrotto, who is suddenly getting work at center with the first-team offense. The Seahawks drafted Wrotto in 2007 with the fourth-round choice they acquired from San Francisco in the Darrell Jackson trade. If Wrotto develops into a contributor, we'll have tangible evidence of what already appears obvious: Seattle's new line coaches know how to develop younger players.
Bill Coats of the St. Louis Post-Dispatch breaks down the Rams' situation at receiver, with an eye toward Derek Stanley. Coats: "The Rams probably will employ six, and Torry Holt, Drew Bennett, plus draft picks Donnie Avery and Keenan Burton, almost surely are safe. If the team doesn't have the luxury of keeping (Dante) Hall strictly as a returner, then the last spot probably will come down to Stanley, Reche Caldwell, Marques Hagans, Dane Looker and Brandon Williams."
Danny O'Neil of the Seattle Times
takes a look at the Seahawks' situation at running back. Julius Jones and Maurice Morris are both starters, coach Mike Holmgren hedges. The trend in the league has been to sharing carries, but there's an old saying some coaches stand by: running back by committee means you don't have anyone worthy of the job.
Clare Farnsworth of the Seattle Post-Intelligencer sets the scene as the Seahawks put on pads for the first time this summer. Offensive coordinator Gil Haskell:"It's as elemental as it sounds. It's just a different game."
Steve Korte of the Belleville News Democrat checks in with Rams left tackle Orlando Pace, who wants to leave the game on his own terms. Rams coach Scott Linehan is taking the optimistic view on Pace's recent injury troubles. He attributes them to bad luck, which he says usually doesn't stay bad. Unless you're the 2007 Rams, who couldn't get a break.
Chrissy Mauck of sf49ers.com caught up with former Bucs, Ravens, Seahawks, Browns and 49ers quarterback Trent Dilfer, who dropped by 49ers practice. Said Dilfer, now an analyst for ESPN: "I hope if I have a legacy at all with the 49ers that it was that I taught them a little bit about football, but most importantly, showed them what it means to be a great teammate at the quarterback position. In our room, we always emphasized that we couldn't be successful unless that room knows how to compete, but at the same time, help support and be a cheerleader for one another. We always made sure we had an absolute blast working hard and getting better and knowing that this thing is about wins and losses, not your personal achievements."

NFL SCOREBOARD
Sunday, 12/22
Monday, 12/23