April, 5, 2010
4/05/10
11:00
AM ET
Unfortunately, I'm going to be out of pocket for most of Monday. We'll resume full-scale blogging Tuesday, but for now I'd like to touch on a few points percolating in my head.
[+] Enlarge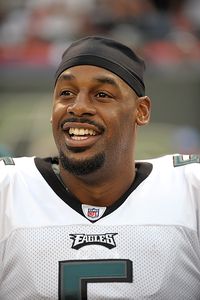 Drew Hallowell/Getty ImagesDid the Eagles learn something from the Packers-Favre feud in trading Donovan McNabb to division rival Washington?
Reports that Philadelphia sent Donovan McNabb to Washington
as a professional courtesy are thought-provoking, especially from an NFC North perspective. Coach Andy Reid
hasn't denied
the suggestion: The Eagles didn't want to send McNabb into what he perceived as bad situations in Oakland or Buffalo.
My first reaction: Pure fantasy. No NFC team would turn down a competitive offer from two AFC teams, and instead make a trade within a division, as a favor to the player being traded. The easy conclusion is that the Raiders and Bills fell short, if they even made an offer at all, and that the Redskins were the most serious suitor.
But I wonder if the Eagles didn't learn something from Green Bay and the
Brett Favre
debacle. The Packers were so focused on shipping Favre out of the division -- and really, out of the NFC -- that they might have inadvertently contributed to Favre's arrival in Minnesota.
As you might remember, the Packers weighed offers from Tampa Bay and the
New York Jets
. With the Buccaneers, Favre would have been reunited with coach Jon Gruden. Had the Packers accepted that offer, Favre (and Gruden) might still be with the Buccaneers.
Instead, Favre went to a team he had no connections with and no real incentive to stay with. The random destination almost certainly contributed to his motivation to find a way to sign with the Vikings.
You don't have to buy that theory, but trust me when I tell you there are some knowledgeable football people I trust who believe it.
The Eagles know McNabb's contract could expire after this season, and he could refuse an extension with his new team and become a free agent in 2011 if he wanted. By trading him to a mutually agreeable location, the Eagles have minimized the chances of that happening. You would think McNabb will sign an extension with the Redskins, meaning the Eagles will have directed his future more than the Packers did with Favre.
So while McNabb will now be in position to impact the Eagles' future in the NFC East, he will have to do it with the division's least competitive team. The Eagles are confident in their replacement,
Kevin Kolb
, and didn't see the necessity to banish McNabb to Siberia to protect themselves. It's a novel concept. Was it the right one? We'll soon see.
There have inevitably arisen comparisons
between Kolb and
Aaron Rodgers
, who near-seamlessly took over for Favre in Green Bay. These suggestions are based primarily on the fact that both players spent multiple seasons backing up a Pro Bowl quarterback.
But let's be careful about assuming everything else will fall into place the same way. What Rodgers has done is exceptional, above-the-curve work. Let's not diminish it by suggesting the primary ingredient is having a few years of incubation on the bench.
Detroit should announce the acquisition
of cornerback
Dante Wesley
sometime early this week. But as teams start to batten down for the draft, the Lions still have at least one important order of business remaining: Cornerback Adam "Pacman" Jones.
There is clearly no rush to get Jones under contract, and it's possible the Lions will wait to see how they fare in the draft. But it's not out of the question that something could develop over the next week or two.
October, 21, 2009
10/21/09
5:23
PM ET
Posted by ESPN.com's Pat Yasinskas
Time for a quick run through the most significant injuries in the NFC South. Surprisingly, as we approach midseason, there aren't that many of note.
As expected Tampa Bay return man/running back
Clifton Smith
was out after suffering a concussion during Sunday's big hit by Carolina's
Dante Wesley
. Look for Smith to be out at least one game and look for rookie
Sammie Stroughter
to handle return duties. The other injury of note is that defensive tackle
Chris Hovan
sat out with an ankle injury. Not sure how significant the injury is and Hovan's nearing the end of the road, but the possibility of being without a starter is not good news as the Bucs get ready for the Patriots.
The Falcons may have to do some shuffling in the backfield as they prepare for Dallas.
Jerious Norwood
(hip) and
Ovie Mughelli
(calf) sat out practice and starting running back
Michael Turner
(chest) was limited. We'll assume Turner will be ready to go, but the Falcons may have to start
Verron Haynes
at fullback and let
Jason Snelling
be the top backup at both running back and fullback.
No surprise that New Orleans linebacker
Scott Fujita
(calf) sat out. The injury looked somewhat serious when it happened Sunday.
Troy Evans
filled in for Fujita on Sunday and it looks like he'll get the start against Miami on Sunday. Tight end
Jeremy Shockey
(shoulder) was limited, but the veteran might have been just getting a little rest.
Carolina remained relatively healthy, but kickoff specialist
Rhys Lloyd
(ankle) did not practice. If he can't kick, punter
Jason Baker
or field goal kicker
John Kasay
would have to handle kickoffs.
October, 20, 2009
10/20/09
11:01
AM ET
»
NFC Stock Watch
:
East
|
West
|
North
|
South
»
AFC
:
East
|
West
|
North
|
South
Posted by ESPN.com's Pat Yasinskas
Falling
1. Michael Turner, running back, Falcons.
Yes, he did score the go-ahead touchdown on a very nice run. But he didn't put up big numbers. There's also a disturbing trend emerging.
Turner suddenly has started to have problems with fumbles. Not sure why that's happening because that wasn't a problem last year. He's got to hold on to the ball.
2. Dante Wesley, defensive back, Panthers.
His hit on Tampa Bay punt returner
Clifton Smith
was simply vicious and stupid. Smith was setting up to return a punt and Wesley hit him long before the ball arrived.
Wesley drew a one-game suspension from the NFL and also was ejected as soon as the incident happened. He's lucky the suspension was only one game. That might be because Wesley had no prior history of anything along these lines. He'll spend the rest of his career under a microscope.
3. Derrick Ward, running back, Buccaneers.
This guy was supposed to be the feature back when the Bucs gave him a big contract and signed him away from the Giants. Ward has been nothing but disappointing.
He couldn't even win the starting job. He lost it to
Cadillac Williams
, who was coming off his second major knee injury. Williams has played well. Ward hasn't. His carries will continue to dwindle.
Rising
1. Marques Colston, wide receiver, Saints.
Did you see him against the Giants on Sunday? Colston was a man among boys. He repeatedly outmuscled New York defensive backs. We all knew Colston was a good receiver from his first two years, but last season's injuries knocked him down a couple of notches.
He's back at full force now. No, wait, he's actually significantly better than he was before. I'm also going to throw in an honorable mention for Colston's fellow receiver
Lance Moore
. He's healthy now and provided a reminder of his talents Sunday. This receiver corps is getting scary good.
2. Thomas DeCoud, safety, Falcons.
DeCoud had two interceptions against the Bears in the best game of his career. DeCoud has played pretty well since taking over as a starter at the beginning of the season and he seems to be steadily improving.
This is a bit of a surprise because the Falcons drafted
William Moore
in April and thought he would start. But Moore had some injury problems in the preseason and DeCoud made the most of his opportunity. He's going to remain a starter for a long time.
3. DeAngelo Williams, running back, Carolina.
We had his stock falling last week, so it's only fair it rises after he ran for 152 yards against the Buccaneers.
Williams is the same player he was a year ago. His slow start was because he wasn't getting good blocking when he did get carries. And he wasn't getting a lot of carries early on because the Panthers were always falling behind. Sunday was a reminder of what Williams and fellow running back
Jonathan Stewart
can do. But let's remember one thing before we get too excited about Carolina's running game. This outburst did happen against the Buccaneers.
March, 16, 2009
3/16/09
12:00
PM ET
| | |
| --- | --- |
| | |
| | Getty Images/AP Photo |
| | Aqib Talib, Jabari Greer and Richard Marshall are part of the changing of the guard at the cornerback position in the NFC South. |
Posted by ESPN.com's Pat Yasinskas
In an otherwise-quiet offseason, the NFC South has turned the corners.
If there's one common theme in the division, it's that there will be lots of change and plenty of youth at cornerback. For better or worse, each team is going to have at least one new starter at cornerback and many familiar faces are gone.
Get used to guys like Richard Marshall, Jabari Greer, Tracy Porter, Aqib Talib and Chevis Jackson because they're going to be the new cornerback faces in the NFC South.
Yes, Tampa Bay's Ronde Barber and New Orleans' Mike McKenzie are still around, but that may be more for show and sentiment than anything. The days of big-name cornerbacks in this division are over -- at least until some of these new guys make names for themselves and they're going to get every chance.
Somebody has to step up and guard the likes of Steve Smith, Roddy White, Marques Colston and Antonio Bryant. That may seem like a big task for a bunch of young and unproven cornerbacks, but that's what it's going to come down to.
Every team in the division suddenly needs major production from young or new cornerbacks.
| | |
| --- | --- |
| | |
| | Dilip Vishwanat/Getty Images |
| | The Saints get a healthy Tracy Porter back after injury cut short his promising rookie campaign. |
Start with the Saints because they could have the most change of all. The entire secondary has been a mess the last couple of years, but the problems have been particularly bad at cornerback. McKenzie's gone down with major injuries in each of the last two seasons and the Saints have been forced to go with the likes of the undersized Jason David and the antiquated Aaron Glenn playing big roles.
It hasn't really mattered how many yards Drew Brees has thrown for the last two seasons because the New Orleans defense has given up just as many. But the plan is for that to stop. Although McKenzie, David and Randall Gay remain on the roster, there's a chance the Saints could end up with Greer and Porter as their starters.
New defensive coordinator Gregg Williams wants to bring an aggressive approach and Greer has been the highlight of New Orleans' free-agency class. He was signed away from Buffalo, where he was a starter the last two years. The four-year, $23 million deal the Saints gave Greer likely means they're counting on him being the No. 1 cornerback.
But don't rule out the possibility of Porter being just as good before all is said and done. A second-round pick last year, Porter got off to a strong start as a rookie. He showed all the physical skills and tremendous confidence before going down with an injury just before midseason.
Tampa Bay also could have two new starters as new coach Raheem Morris takes over. You can pretty much assume that Aqib Talib, last year's first-round pick, will move into a starting role. Starter Phillip Buchanon departed through free agency and Talib showed promise as the nickelback last year. He may have to become Tampa Bay's No. 1 cornerback because nobody knows what the future holds for Barber, who is nearing the end of his career.
The Bucs pursued Greer and several other free-agent cornerbacks. They likely aren't done making moves at this position and that could be a sign that they're considering moving Barber to the nickel role.
Only a year ago, a lot of people thought Carolina had the best trio of cornerbacks in the NFL. But that trio is now just a duo. Chris Gamble remains as probably the division's best cornerback, but he's going to have a new starter beside him.
The Panthers whacked veteran Ken Lucas in a salary-cap move this week. Lucas' play declined late last season. There are a lot of people who believe Richard Marshall, the nickelback the last couple of years, is ready to step in and provide an upgrade over Lucas.
That may turn out to be true, but Marshall's elevation raises another question that doesn't have an obvious answer: Who's going to be the nickelback? All the Panthers have at the moment is C.J. Wilson, who barely has played and veteran Dante Wesley, who may not be much more than a special-teams player. That means there's a good chance the Panthers, who have almost no salary-cap room, will have to draft a cornerback.
| | |
| --- | --- |
| | |
| | AP Photo/Ross D. Franklin |
| | Chevis Jackson, a third-round pick in 2008, should have a larger role in 2009. |
That's a route the Falcons may also follow because they have the division's least-defined cornerback situation at the moment. This team unloaded the talented, but troubled DeAngelo Hall before last season and made it to the playoffs with smoke, mirr
ors and luck at cornerback last season. But some of that luck already is gone.
Domonique Foxworth, who emerged as a pleasant surprise last season, went to Baltimore after getting a massive deal in free agency. But the Falcons don't seem too worried. They could have made a stronger attempt to keep Foxworth, but didn't.
That makes you wonder whether coach Mike Smith has a higher opinion of his cornerbacks than the rest of us do. Chris Houston returns as a starter, but he hasn't yet shown he can be a true No. 1 cornerback. Smith must be thinking Houston can grow into that role because there aren't any other options on the roster.
In fact, it's far from clear who the other starter will be. Von Hutchins will be back after missing last season with an injury and Brent Grimes, who was a part-time starter last year, also remains a possibility.
But keep an eye on Jackson, a third-round pick last year, who started to show some big-play capability at the end of last season. The Falcons may be looking for Jackson to start or, at very least, be the nickelback.
If Jackson can do that, he'll fill a big void. He'll also be one of the faces of change at cornerback in the NFC South.
NFL SCOREBOARD
Thursday, 10/16
Sunday, 10/19
Monday, 10/20
WEEKLY LEADERS