NFL Nation:

Darcy Johnson
August, 15, 2010
8/15/10
12:56
AM ET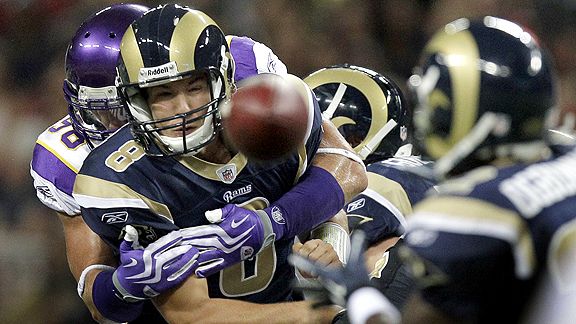 AP Photo/Jeff RobersonEven though Sam Bradford didn't get much pass protection, the No. 1 overall draft pick had an impressive debut.
ST. LOUIS -- Rookie quarterback
Sam Bradford
showed he could run the
St. Louis Rams
' offense competently in his first NFL exhibition game. He appeared comfortable and in command. He threw accurately.
Bradford, sidelined 10 games by a shoulder injury at Oklahoma last season, also showed he could take a hit. Multiple hits. Too many hits.
The No. 1 overall draft choice started quickly in his NFL exhibition debut against the
Minnesota Vikings
. Fans rose from their seats in the Edward Jones Dome and welcomed Bradford with the loudest ovation of the night. They rose again when Bradford completed passes for first downs on his first two third-down plays.
"It was exciting," Bradford said following the
28-7 defeat
. "It was the first time I had been in a game situation for a long time. It was fun to get out there, get hit a couple times, get knocked down, get back up -- just getting back into the flow of a football game was fun."
Bradford's first pass went through the hands of tight end
Darcy Johnson
. He faced third-and-5 from the St. Louis 27 on the next play and found receiver
Laurent Robinson
over the middle for an 18-yard gain. Overall, Bradford completed 6 of 13 passes for 57 yards and a 58.8 rating. But he was sharp early -- as long as his protection lasted.
"Sam sounded confident in the huddle, real calm and comfortable out there," Robinson said. "Threw a great ball, just put it on me and I was able to make the catch and get the first down. It felt good to get his first completion out there."
Two plays later, also on third-and-5, Bradford found receiver
Danny Amendola
underneath for a 5-yard gain.
"He is a leader," Amendola said. "He is a smart guy, he is a quarterback by nature."
Bradford completed a 9-yard pass to running back
Chris Ogbonnaya
on the next play, but the Vikings hit Bradford hard -- a sign of things to come.
The longer Bradford stayed in the game, the less reliable his protection became. Those wondering whether Bradford's surgically repaired throwing shoulder might be vulnerable should know the Vikings drove that shoulder into the turf at least twice. Bradford completed the 9-yarder to Ogbonnaya right before taking the first shoulder-crunching hit. The second hit came on the final play of the final Bradford-led drive of the evening.
Bradford said his shoulder felt fine afterward. More evidence the shoulder was fine: In the locker room, veteran starter
A.J. Feeley
repeatedly slapped Bradford on the shoulder to congratulate him on his first NFL action.
"The shoulder feels great," Bradford said. "I took a couple hits tonight, landed on the shoulder. Feels great, not sore at all. We'll see tomorrow how it feels, but right now it feels great."
Protection problems aren't always a big deal during the exhibition season. Teams aren't preparing for their opponents nearly as much. Coaches sometimes call plays designed more for evaluation purposes than to put individual players in the best possible position to succeed.
In this case, though, the Rams were certainly trying to set up Bradford for success as they sought to build his confidence and feed fan excitement (the dome was sparsely populated on a day when the Chicago Cubs visited Busch Stadium, always a hot ticket here, and a local MMA card attracted more sports dollars).
Unfortunately for Bradford, right tackle
Jason Smith
could not block backup Minnesota Vikings defensive end
Jayme Mitchell
, a player whose most recent regular-season sack came in 2007 (one of 4.0 career sacks for Mitchell). It's not good when the player St. Louis drafted second overall in 2009 cannot prevent an NFL backup from roughing up the new franchise quarterback. But there were mitigating factors. Smith has missed time to injury lately. He improved significantly through the course of the preseason a year ago, and he has time to do the same this summer.
Perhaps this was merely an off night for Smith, but I came out of this game with more questions about Smith's pass protection than about Bradford's poise or potential. Consider it a reminder that quarterbacks, though increasingly important as the NFL becomes more pass-oriented, still need considerable support to function, let alone flourish.
Bradford's third and final series of the first half went like this:
First down: Mitchell drives Smith off the ball, raises his hands and bats down Bradford's pass.

Second down: Mitchell beats Smith again, disrupting Bradford and collecting a half-sack on the play.

Third down: Mitchell beats Smith for a full sack this time.
Both teams were without multiple key players. Running back
Steven Jackson
, the only Rams player with a Pro Bowl on his resume, was among those sitting out. This game ultimately mattered more for what Bradford showed than for the protection issues.
"I felt like I did some good things tonight," Bradford said. "I felt like I did some things not-so-good, but that's what the preseason is for. When we get in there tomorrow and look at the tape, I'm sure we'll find a lot of things to work on."
March, 4, 2010
3/04/10
9:49
AM ET
By
Scouts Inc.'s Matt Williamson
| ESPN.com

Dallas Cowboys
Potential unrestricted free agents
: G
Montrae Holland
Potential restricted free agents
: NT
Junior Siavii
, WR
Miles Austin
, DE
Stephen Bowen
, CB
Cletis Gordon
, DE
Jason Hatcher
, WR
Sam Hurd
, T
Pat McQuistan
, C
Duke Preston
, G
Cory Procter
, S
Gerald Sensabaugh
, DE
Marcus Spears
, S
Pat Watkins
, K
Shaun Suisham
.
What to expect
: Anything is possible with Jerry Jones in charge, and the Cowboys could make a big splash after an underwhelming offseason a year ago. But in terms of team needs and what is required to take the next step, Dallas really doesn't need much. A big-time impact safety makes some sense and could make a very good defense great, but that might be a project for the draft in a trade-up scenario for someone like Earl Thomas. But
Darren Sharper
might pique their interest. They also need to get younger along the offensive line, particularly at tackle, but that seems like a draft-day project, too. Maybe Jones gets real aggressive in the wide receiver market, as
Roy Williams
certainly is not living up to his billing, but the Cowboys are still rather stacked with pass-catchers. All in all, this is a team that is sitting pretty and doesn't have a prominent unrestricted free agent who is poised to leave.

New York Giants
Potential unrestricted free agents
: QB
David Carr
, LB
Danny Clark
, P
Jeff Feagles
, DT
Fred Robbins
Potential restricted free agents
: WR
Domenik Hixon
, TE
Darcy Johnson
, DE
Dave Tollefson
, G
Kevin Boothe
, S
C.C. Brown
, DT
Barry Cofield
, CB
Kevin Dockery
, WR
Derek Hagan
, WR
Sinorice Moss
, T
Guy Whimper
, LB
Gerris Wilkinson
.
What to expect
: Big things could be in the works here, as there are already rumors swirling that New York could be a prime suitor for linebacker
Karlos Dansby
. An impact linebacker is certainly near the top of their wish list and Dansby fits the bill. Plus, he is extremely versatile. Getting faster on defense is a huge priority with new coordinator Perry Fewell stressing the ability to cover a lot of ground. However, Dansby isn't really the thumper they need in the middle and is more of an outside linebacker for this system, although he would be great on passing downs. This is a group of decision-makers who might be starting to feel some heat, so do not rule out a big move or two.

Philadelphia Eagles
Potential unrestricted free agents
: DE
Jason Babin
, S
Sean Jones
, LB
Jeremiah Trotter
, LB
Tracy White
Potential restricted free agents
: LB
Akeem Jordan
, P
Saverio Rocca
, WR
Jason Avant
, C
Nick Cole
, LB
Omar Gaither
, LB
Chris Gocong
, CB
Ellis Hobbs
, G
Max Jean-Gilles
, TE
Alex Smith
, FB
Leonard Weaver
.
What to expect
: There are questions on the offensive line, but overall, the Eagles are in a prime situation to improve their defense, particularly up front and at safety. Remember, they have quarterbacks to dangle as trade bait and really do not have any unrestricted guys that they need to bring back. This is a possible landing spot for
Julius Peppers
and he would be terrific on the opposite side of
Trent Cole
, who is among the most underrated players in the game and could blow up with someone taking pass protection attention away from his side. Count on the Eagles being aggressive in the free-agent and/or trade market. It might just be enough to get them that ever elusive Lombardi trophy. Stranger things have happened.

Washington Redskins
Potential unrestricted free agents
: LS
Ethan Albright
, DE
Phillip Daniels
, T
Levi Jones
, C
Casey Rabach
,
P
Hunter Smith
, T
Mike Williams
, DE
Renaldo Wynn
, TE
Todd Yoder
.
Potential restricted free agents
: DE
Lorenzo Alexander
, T
Stephon Heyer
, LB
Chris Wilson
, QB
Jason Campbell
, S
Reed Doughty
, DT
Kedric Golston
, LB
Rocky McIntosh
, DT
Anthony Montgomery
, C
Will Montgomery
, CB
Carlos Rogers
.
What to expect
: This is a difficult team to get a grasp on in terms of what they might do in free agency, but I think it is safe to say that ownership will not hold Mike Shanahan and company back from opening up the check book and signing (and even overpaying) players whom they desire. It would be wise for Washington to have an excellent idea of what they are going to do with the fourth overall draft pick in terms of going quarterback or offensive tackle before really devising a free-agency plan. Rebuilding the offensive line is a must and Shanahan needs lighter, quicker (and younger) linemen than are on the roster. A running back they can trust wouldn't hurt either, although it looks as though
Clinton Portis
will return, which they may regret. But don't forget, this is a team that -- unwisely in my opinion -- is switching to a 3-4 scheme, so inside linebacker help is required, as are defensive linemen who fit the new scheme. The Redskins have a long wish list, but also have the ownership to endorse big spending when free agency opens.

NFL SCOREBOARD
Thursday, 9/4
Sunday, 9/7
Monday, 9/8