May, 11, 2013
5/11/13
12:03
PM ET
Aaron Curry
's recent
signing
with the
New York Giants
invites a look back at the 2009 NFC West draft class, painful as it might be in some cases.
Four of the 29 players NFC West teams selected in that draft remain with their original teams:
Michael Crabtree
in San Francisco,
James Laurinaitis
in St. Louis,
Max Unger
in Seattle and
Rashad Johnson
in Arizona.
Unger is the only one of the 29 to earn Pro Bowl honors. Unger and Laurinaitis are the only ones to receive long-term contract extensions from their original teams.
NFC West teams have fired the head coaches and general managers associated with those 2009 selections.
Reasons for those firings went far beyond the 2009 draft, of course. Still, the massive turnover since that draft reflects poorly on what was, by most accounts, a weak class across the league. It also shows how frequently personnel turns over in the NFL. The league has 21 new head coaches and 19 new general managers since the 2009 season concluded.
Curry was widely considered the "safest" choice in that 2009 draft as a fearsome linebacker from Wake Forest. Seattle would trade him to Oakland for seventh- and fifth-round picks before Curry had finished his third season.
Jason Smith
, chosen second overall by St. Louis in 2009, supposedly had a mean streak and was a natural leader. The Rams would trade him to the
New York Jets
for
Wayne Hunter
after three disappointing seasons.
Beanie Wells
came to the Cardinals in the first round of that 2009 draft pretty much as advertised: highly talented, but not very durable. The Cardinals released him this offseason, and Wells remains unsigned amid questions about his knee.
2009 was also the year Arizona sought to upgrade its pass-rush by selecting Cody Brown in the second round. The 49ers tried to improve their depth at running back by using a third-round choice for
Glen Coffee
. Brown would never play in an NFL game. Coffee would retire after one season.
The chart shows how many regular-season NFL starts each 2009 NFC West draft choice has made, regardless of team.
December, 12, 2011
12/12/11
7:13
PM ET
SEATTLE -- The
St. Louis Rams
' inactive list could favor the
Seattle Seahawks
' run defense.
The Rams will be without veteran defensive tackle
Fred Robbins
, who was questionable on the injury report and did not practice during the week. Robbins' absence means more playing time for
Darell Scott
and
Gary Gibson
.
Also inactive for the Rams: quarterback
A.J. Feeley
, quarterback
Tom Brandstater
, running back
Quinn Porter
, fullback
Brit Miller
, linebacker
Justin Cole
and guard
Kevin Hughes
.
Kellen Clemens
will serve as the backup quarterback to
Sam Bradford
.
For Seattle, linebacker
David Hawthorne
is active. The Seahawks' inactive list features quarterback
Josh Portis
, safety
Jeron Johnson
, cornerback
Kennard Cox
, linebacker
Adrian Moten
, guard
Mike Gibson
, guard
Paul Fanaika
and defensive tackle Pep Levingston.
October, 28, 2011
10/28/11
10:20
AM ET
The
St. Louis Rams
are not the first team to flop miserably amid expectations for improvement.
[+] Enlarge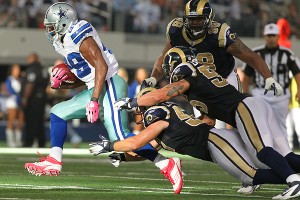 Tim Heitman/US PresswireThe Rams have struggled to stop the run this season. Dallas' DeMarco Murray torched them for 253 yards on 25 carries.
At 0-6 heading into a seemingly impossible matchup with New Orleans, the Rams have almost no shot at contending for the NFC West title this season.
Their best bet could be trying to emulate the
Detroit Lions
and
San Francisco 49ers
. Both teams flopped early last season despite elevated expectations. Both teams also recovered, and both have played well enough to post winning records heading into Week 8 this season.
The Lions opened 2-10 last season. The 49ers were 0-5. Both finished 6-10. They are a combined 10-3 this season (9-2 if we discard the game they played against one another).
The Rams still have two game against 1-5 Arizona, two against 2-4 Seattle and one against a Cleveland team that has gotten to 3-3 with victories over winless Miami and Indianapolis.
Sam Bradford
's injury is complicating efforts to build on a 424-yard performance at Green Bay two weeks ago. I think the offense will improve and build momentum once he returns, particularly with
Steven Jackson
healthy and
Brandon Lloyd
in the lineup at wide receiver.
The problems on defense are what could drag down the Rams and possibly even precipitate sweeping organizational changes, in my view.
The inability of coach Steve Spagnuolo to coax better play from that side of the ball has been surprising. The problems go beyond injuries at cornerback. The inability to acquire and develop young defensive players for the future stands out when analyzing the roster.
As the chart shows, the Rams have allowed more rushing yards through six games than all but two teams since the 2000 season. Worse, they have very few ascending young players to develop on that side of the ball.
James Butler
and
Craig Dahl
are their backup safeties.
Ben Leber
,
Josh Hull
and
Bryan Kehl
are their backup linebackers.
Darell Scott
and
Gary Gibson
are their backup defensive tackles.
Of all the backups on defense, only rookie defensive end
Robert Quinn
projects as a potential front-line player for the future. That would be OK if the defense were playing at a high level and featured ascending young players. But starters
James Hall
,
Fred Robbins
,
Justin Bannan
,
Brady Poppinga
,
Chris Chamberlain
and
Al Harris
are either nearing the end or qualify as veteran stopgaps.
The prospects for sustained long-term improvement on defense appear limited as a result.
December, 5, 2010
12/05/10
3:09
PM ET
GLENDALE, Ariz. -- The
St. Louis Rams
and
Arizona Cardinals
named some healthy contributors inactive Sunday.
The Rams sat down fullback
Mike Karney
for a second consecutive week even though Karney was available to them.
Brit Miller
is getting some snaps at fullback in the base offense. Miller also offers more on special teams. The Rams have sometimes moved a tight end into the backfield for blocking help, although their preferred choice in that role, Mike Hoomanwanui, is inactive with an ankle injury.
The Cardinals named defensive lineman
Gabe Watson
inactive after their defensive front struggled badly against the
San Francisco 49ers
last week. Defensive end
Calais Campbell
, inactive with an ankle injury last week, is active Sunday. Watson had been active for the previous three games.
Also inactive for Arizona: receiver
Max Komar
, cornerback
A.J. Jefferson
, safety
Hamza Abdullah
, cornerback Marshay Green, linebacker
Reggie Walker
and center
Ben Claxton
.
John Skelton
is the third quarterback.
Also inactive for the Rams: safety
Michael Lewis
, cornerback
Jerome Murphy
, linebacker
Bryan Kehl
, guard
John Greco
and defensive tackle
Darell Scott
. Scott has been injured. Defensive tackle
Jermelle Cudjo
, inactive against Denver, is active for this game.
October, 3, 2010
10/03/10
11:49
AM ET
ST. LOUIS -- The
St. Louis Rams
' decision to name
Steve Jackson
active against Seattle despite a strained groin leads to the next question: How much and how well will Jackson play?
Receiver
Laurent Robinson
, safety
Darian Stewart
, tight end
Billy Bajema
, linebacker
Chris Chamberlain
, tackle
Renardo Foster
, tight end
Michael Hoomanawanui
, defensive tackle
Clifton Ryan
and defensive tackle
Darell Scott
are inactive for St. Louis.
Jackson jogged lightly during warm-ups and did not simulate game situations. The Rams obviously expect him to play, and he's listed as the starter. The threat of Jackson helps their offense. The Seahawks should find out early whether Jackson can play at his usual high level.
Jackson showed tremendous toughness and heart playing through a back injury last season. The strained groin he suffered against the
Washington Redskins
in Week 3 presents different challenges, as
Jackson discussed Friday
.
"This is a little different," Jackson said then. "Last year's injury was more dealing with the nerve and there's no really pain medicine for that. It's just your threshold of pain, where a groin injury is somewhat like a hamstring, soft tissue. It's really hard. It's really hard to deal with because certain things are just so limited because of the injury."
August, 17, 2009
8/17/09
5:45
PM ET
Posted by ESPN.com's Mike Sando
The Rams' roster requires additional study after a thorough house-cleaning this offseason. With so many new faces, I feel less familiar with the Rams than with the other teams in the division. This initial look at the roster will hopefully help bring some focus.
Donnie Avery's injury and overall health concerns at receiver could influence how many players the Rams carry into the season at the position.
Marc Bulger's broken pinky shouldn't affect the roster as long as he recovers on schedule. Teams must reduce to 75 players by Sept. 1 and 53 players by Sept. 5. Those initial 53-man rosters sometimes change by Week 1 kickoffs. For that reason, I've been focusing on Week 1 rosters when setting baseline expectations for each position.
St. Louis Rams
Week 1 Roster
Counts since 2003
QB
RB
WR
TE
OL
DL
LB
DB
ST
Fewest
2
5
5
2
9
8
5
8
2
Most
3
7
6
4
10
9
7
11
3
Average
2.8
5.5
5.5
3.0
9.2
8.3
6.3
9.7
2.7
Currently on roster

4

7
10
5
15
13
9
14
3
The chart provides a framework for how many players the Rams might keep at each position heading into the regular-season opener against the Seahawks.
Here's a quick look at which Rams players I might keep on the cutdown to 53 players:
May, 20, 2009
5/20/09
9:42
AM ET
Posted by ESPN.com's Mike Sando

Bernie Miklasz of the St. Louis Post-Dispatch says the Rams have no interest in former Giants receiver Plaxico Burress. Miklasz: "When new head coach Steve Spagnuolo was hired, he stressed the four pillars of his leadership, the four pillars that would rebuild the franchise: (1) Faith; (2) Character; (3) Core Values; (4) Team. Does that sound like Plaxico Burress to you?" Burress could be facing jail time.
Jim Thomas of the St. Louis Post-Dispatch says bouncing between nose tackle and three-technique tackle hasn't helped first-round choice Adam Carriker. Thomas: "Carriker's first two seasons were slightly disappointing, but in his defense he was bouncing around [from] NT to UT. He's more suited for UT, or 3-technique, it seems, and if he's left there, he might come around pretty quickly. [Clifton] Ryan has been pretty solid in the middle. The rest of the rotation is pretty much up in the air at this point. Rookie Darell Scott probably will be in there, and Orien Harris, too. As for [Claude] Wroten, I expect the Rams to release him as soon as he's reinstated. Of course, I could be wrong about that. But he doesn't seem to fit the Spags profile."
Bill Coats of the St. Louis Post-Dispatch says Spagnuolo is stressing penalty reduction. Also: "Larry Grant worked with the first unit at strongside LB on Tuesday. That spot is open following the release of veteran Pisa Tinoisamoa. With second-round draftee James Laurinaitis still with the No. 2 unit, Chris Draft was at MLB with the ones."

Mike Swift of the San Jose Mercury News says the 49ers have reached agreement with Santa Clara on financing for a new stadium. Mayor Patricia Mahan: "I believe we have negotiated as far as we can, and we are ready to bring it to the public." The public could get a look at the deal next week.
Ray Ratto of the San Francisco Chronicle sizes up the 49ers' stadium efforts this way:"In this corner, there is Jed York, born to the purple and working on behalf of mom and dad to get the Santa Clara deal moving. In the other, there is Carmen Policy, Eddie DeBartolo's old wing man, working on behalf of Lennar, the folks who are trying to make the 49ers a new home at Hunters Point if the Santa Clara thing collapses. And in the middle -- leaning toward Jed -- is Eddie, who is about to be inducted into the 49ers' Hall of Fame, largely on Jed's initiative. We're sure the development is entirely coincidental and meritorious."
Gwen Knapp of the San Francisco Chronicle says the 49ers' other receivers seem to be embracing first-round choice Michael Crabtree, viewing him more as a threat to opponents than to their own playing time. If veteran Isaac Bruce is concerned, it's not showing. He has skipped the voluntary workouts to this point.
John Crumpacker of the San Francisco Chronicle says 49ers players keep getting hurt during organized team activities (OTAs). Crumpacker: "The early diagnosis on [Walt] Harris was a sprained knee, with further evaluation to come. The 49ers are not deep at cornerback. Behind Harris on the depth chart is Tarell Brown and after him, there's Shawntae Spencer, who is coming off a 2008 knee injury that cost him 14 games."
Matt Maiocco of the Santa Rosa Press-Democrat says the best-case scenario for Alex Smith and the 49ers would be for Shaun Hill to open the 2009 season as the starter. I think that depends on how the quarterbacks look during the offseason, specifically during the exhibition games. Is there a chance Smith wins the job and plays well for 16 games? Also, just to be clear, the 49ers also have no interest in Burress.
Matt Barrows of the Sacramento Bee says the 49ers' depth at receiver is being tested with Bruce away, Crabtree rehabilitating a foot injury and Jason Hill suffering a sprained ankle in practice.

Bob McManaman of the Arizona Republic says new Cardinals running back Jason Wright is embracing the opportunity in Arizona. Wright: "It's an offense that puts players in the best position to win. It's an attacking offense, aggressive and it's not reactive. I love that about this offense. It's forward moving and it's very efficient. In fact, I was amazed during our first minicamp at how many completions there were and how few dropped balls and mental errors I saw. That's really rare. But they've got something really crisp going on."
Also from McManaman: Karlos Dansby expresses confidence in the Cardinals' ability to reach a long-term agreement with him.
Carrie Watters of the Arizona Republic details Arizona's failed bid to land the 2013 Super Bowl. New Orleans was more than a sentimental favorite.
Darren Urban of azcardinals.com says Kurt Warner, Larry Fitzgerald, Adrian Wilson, Sean Morey, Kenny Iwebema, Bertrand Berry and Chike Okeafor did not attend OTAs Monday. Urban expects them to show up later.
Revenge of the Birds' Hawkwind sizes up Cardinals sixth-round choice Will Davis. Hawkwind: "It wouldn't be surprising at all, given the current depth at OLB, for Davis to spend the season on the practice squad. He has zero experience in space [and] his transition to OLB will be more difficult than second round pick Cody Brown. When you add in that he also needs to get stronger and possibly drop some weight, a year on the practice squad seems to make sense. If he does find his way onto the roster, it'll likely be because he's made a name for himself on special teams."

Gregg Bell of the Associated Press says Bryan Pittman's agent confirmed the long-snapper's contract agreement with the Seahawks.
Clare Farnsworth of Seahawks.com says vice president Joe Biden, speaking at Wake Forest's commencement, pointed to Seahawks linebacker Aaron Curry as reason for optimism. Biden: "As a student of history, it's the history behind me and the people in front of me that give me such a degree of optimism. ... It's about Aaron Curry, a scrawny freshman linebacker recruited by only two schools, who worked his rear off, became a Top 5 pick, and is walking off this stage into an opposing NFL backfield. Aaron, I heard you wanted to go to law school -- you were considering going to graduate school. I also heard that your fellow draftees have taken up a collection encouraging you to go. So I'm sure there's a scholarship there if you want it."
John Morgan of Field Gulls outlines 10 keys for the Seahawks on defense. Darryl Tapp's emergence tops the list.
May, 13, 2009
5/13/09
8:00
AM ET
Posted by ESPN.com's Mike Sando

Kent Somers of the Arizona Republic says the Cardinals have revived contract talks with Adrian Wilson and Karlos Dansby in recent days. Reaching agreement with Wilson would send a positive message through the locker room while Anquan Boldin and Darnell Dockett try to force trades.
Also from Somers: Former Cardinals pass-rusher Travis LaBoy could miss the 2009 season after opting for ankle surgery. Somers: "LaBoy played through a series of injuries last year, including a torn biceps muscle, which required surgery at the end of the season. LaBoy also had the issue with an ankle, and there apparently was some disagreement among doctors about treatment. One thought LaBoy could play in 2009, while others thought surgery was the better option. LaBoy has opted for surgery."
Darren Urban of azcardinals.com thinks re-signing Dansby will be nearly impossible. Urban: "Dansby gets almost $10 million this season as is and if he avoids injury, he thinks he can hit the jackpot as a free agent next offseason. In reality, this will be his lone chance to be a big-time free agent, and sometimes I think Dansby also wants a chance to be the center of attention in a free-agent battle, besides just getting the money."
Tom Marino of Scout.com evaluates the Cardinals' 2009 draft class. Marino: "If physically sound, the Cardinals got an absolute steal at pick number 31, drafting Ohio State' Chris Wells. The birds might have reached some, but Cody Brown is a tough individual who showed wide rush skills. I thought Rashad Johnson, although undersized, was as impressive a safety as I viewed all season."

Matt Maiocco of the Santa Rosa Press-Democrat offers thoughts on every member of the 49ers' roster. He says the Niners are "still convinced" Alex Smith is going to be a "pretty good" starting quarterback. I'll have a few more thoughts on Smith later in the day. Also, Vernon Davis has become one of Mike Singletary's favorite players, while Kentwan Balmer has reduced his body fat percentage in an effort to step up his game.
Marino on the 49ers' draft: "In Michael Crabtree, the 49ers drafted the top receiving prospect since Randy Moss with the 10th pick in the draft."

Danny O'Neil of the Seattle Times summarizes T.J. Houshmandzadeh's comments to KJR radio in Seattle. Houshmandzadeh: "Everybody stays healthy, ah man, we're going to be something special. The talent we have on this team and then coach [Jim] Mora brings everything together just right. Cool dude. Not because I just got there, but everything I've seen from Jim Mora has showed me that we're going to be really good just the way he relates to the players. ... I can't wait to smack some people in the face. They didn't put us on TV so when we start running through everybody like a wet paper bag, don't flex us in late in the season when we're the best. Don't flex us in, we'll have our coming-out party in the playoffs."
John Morgan of Field Gulls likes what he sees in studying Aaron Curry against Boston College.
Marino on the Seahawks' draft: "You could have penciled Aaron Curry in as a starter about a minute after the Seahawks made the selection; he is a every down player and in a word, special. He is going to have to improve his core strength, but all Max Unger is going to do is start for about a dozen years. Deon Butler is a playmaker, although he is undersized and I felt his hands were just adequate."

Jeff Gordon of stltoday.com defends the Rams' decision to select Jason Smith with the second overall choice, even if Smith doesn't become a left tackle. Gordon: "[Steve] Spagnuolo wants to pound the ball on the ground. Tackle was still a top need, left or right, once [Orlando] Pace left. And Jackson will run behind the right tackle. Smith is considered an excellent run blocker. In time, Smith could move to the left side. Or, if [Alex] Barron comes around, perhaps he could stay where he is. But he offers a massive upgrade over Adam Goldberg."
Bill Coats of the St. Louis Post-Dispatch checks in with Rams tight end Randy McMichael, who missed much of last season after suffering a broken leg. McMichael: "You really take [success] for granted until you don't have it. I'm just glad to be back out here with these guys." McMichael, the most accomplished receiver on the roster, thinks he'll benefit from playing in a West Coast-style offense.
Marino on the Rams' draft: "I really like the selection of Clemson's Darell Scott in round four and inside receiving prospect Brooks Foster in round five. The selection of Keith Null was a surprise [I would have pushed for Graham Harrell with this selection], but overall I felt the Rams made some real strides at upgrading their football club."
May, 6, 2009
5/06/09
1:40
PM ET
Posted by ESPN.com's Mike Sando
Previously: The draft and meaningful free-agent signings have passed. Trades remain possible, but less likely as training camps approach. Barring a surprise or two, what you see on NFC West rosters is pretty much what you're going to get for the 2009 season. Where are the Rams, 49ers, Seahawks and Cardinals most vulnerable?
Today: I've weaved my thoughts into the conversation and posted the results below. Thanks for participating. We'll begin with the defending NFC champion Cardinals, followed by the 49ers, Seahawks and Rams.
NFL SCOREBOARD
Sunday, 2/2
WEEKLY LEADERS