July, 28, 2014
7/28/14
5:30
PM ET
EARTH CITY, Mo. -- A daily review of the hot topics coming out of
St. Louis Rams
training camp.
The Rams were finally able to put the pads on Monday morning and did so for a special teams workout before the full squad puts them on this week. Coach Jeff Fisher prefers to get his players acclimated to wearing pads in a special teams workout before throwing them into the mix of a real practice. It has been common practice in the previous two seasons as well.
Believe it or not, special teams practices are pretty entertaining, at least near the end. In what has become a rite of passage for young players trying to make the roster, there are two full-contact drills that really promote competition. In a fairly basic punt cover drill, a gunner lines up on either side of the line with two players in front of him. When the ball is punted or shot out of the JUGS machine, the gunner's task is to beat the double team and get down the field as fast as possible. It is no surprise that linebackers Ray-Ray Armstrong and Daren Bates took the first rep in contact drills Monday. Special teams coach John Fassel wants that duo to take on more of a leadership role this season, and they helped set the tone by jumping into the first rep. The other notable moment from that work was defensive back Lamarcus Joyner taking on Miami natives Stedman Bailey and Brandon McGee. Joyner referred to Bailey and McGee as the Miami Heat, but acquitted himself well by battling tooth and nail. That was enough to draw Fassel's praise. Fassel has been impressed with Joyner so far and said the rookie embodies what he is looking for in a special teams player.
The other notable drill, the main event so to speak, is the one-on-ones that close the practice. The premise is simple: there is a blue tackling dummy set up and two players line up side by side. At the whistle, one player is responsible for getting to the bag and knocking it over while the other's job is to block the pursuer. It's the drill where Bates made his name in 2013 and opened eyes to the prospect of his making the roster. This time, Bates didn't participate, perhaps as a way of dialing him back a bit, but Armstrong was easy to find. Armstrong became tangled with linebacker Lawrence Wilson which set off a short exchange of shoves and words.
Michael Sam also drew praise from Fassel for his work, particularly as a blocker on kick and punt return. Fassel said Sam's weight loss has made a noticeable difference, and he is a bit faster when running down kicks. For now, Fassel envisions Sam contributing in the blocking role while he works on developing the long speed necessary to run down kicks.
Center Scott Wells isn't a part of the special teams, but he did do some work on the side with offensive line coaches Paul Boudreau and Andy Dickerson.
December, 6, 2013
12/06/13
3:35
PM ET
EARTH CITY, Mo. --
St. Louis Rams
left tackle
Jake Long
has cleared the concussion protocol and looks poised to return Sunday against the
Arizona Cardinals
.
Long
After suffering the head injury last week against San Francisco, Long began the process required to return from the concussion soon after. He didn't practice Wednesday and was limited Thursday before taking part in Friday's practice at full speed. On the team's official injury report, Long is listed as probable for Sunday.
"I'm feeling great now and I'm ready to get back in," Long said Friday afternoon.
Long's impending return combined with the potential for normal starting right guard
Harvey Dahl
to get back in the mix could create some interesting offensive line permutations against the Cardinals. Dahl has been out with a knee injury, but practiced all week and is also listed as probable. That leaves something of a logjam on the offensive line given the success of
Rodger Saffold
at right guard in Dahl's stead.
The Rams could opt to rotate Saffold into multiple spots or potentially rotate Dahl in, but either way, they have some choices to make in terms of the offensive line for this one.
Elsewhere on the injury report, linebacker
Daren Bates
also received clearance from concussion protocol and is likely to return this week.
Here's the full Friday injury report:
Out:
Center
Scott Wells
(leg)
Questionable:
Cornerback
Brandon McGee
(foot)
Probable:
Long (concussion), Bates (concussion), Dahl (knee), defensive end
Eugene Sims
(neck)
December, 5, 2013
12/05/13
8:20
PM ET
EARTH CITY, Mo. -- The
St. Louis Rams
got a little break from head coach Jeff Fisher when he gave them a "sleep in" Thursday, pushing back all meetings and practice for the day.
Long
That meant a late afternoon practice ending early Thursday evening. Apparently, the later start time also was helpful in allowing some of the Rams recovering from injury to make positive progress. Heading up that list is left tackle
Jake Long
, who participated on a limited basis Thursday after sitting Wednesday as he goes through the concussion protocol.
Long still has obstacles to clear to return Sunday against Arizona but so far he seems to be following the same steps that three concussed Rams followed last week. Cornerback
Trumaine Johnson
, left guard
Chris Williams
and running back
Zac Stacy
returned from concussions after a week in which they did nothing Wednesday, were limited Thursday and then did everything in Friday's practice. Long has now done the first two but has the third and final piece of that puzzle to complete to get back against the Cardinals.
Linebacker
Daren Bates
is also attempting to return from a concussion and like Long was upgraded from not participating to limited Thursday.
Here's the full rundown of Thursday's injury report:
Did not participate: Center
Scott Wells
(leg)
Limited participation: Long, Bates, cornerback
Brandon McGee
(foot)
Full participation: Defensive end
Eugene Sims
(neck), guard
Harvey Dahl
(knee)
Of note for Arizona, quarterback
Carson Palmer
's status remains a bit tenuous after he was limited for a second day in a row with a right elbow injury. Receiver
Michael Floyd
(ankle) and running back
Andre Ellington
(knee) practiced on a limited basis after sitting out Wednesday.
October, 13, 2013
10/13/13
9:30
PM ET
HOUSTON -- If anyone still needed a case study to prove that there's no statistic more important in the NFL than turnover margin, the
St. Louis Rams
' 38-13
win
over the Texans on Sunday should provide ample evidence.
For the second week in a row, the Rams not only created multiple turnovers but turned them into instant points and didn't have any giveaways of their own. They even went one better than last week's plus-three output and added a special teams touchdown for good measure.
The Rams' plus-four takeaway margin was the first time they've hit that mark since a Week 8 game against Carolina in 2010.
"That was a big thing and we did not turn the football over," coach Jeff Fisher said. "Keeping the penalties down and protecting the football and not turning it over for us has been very helpful for us the last two weeks."
[+] Enlarge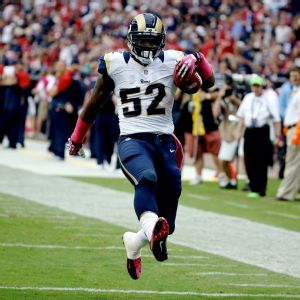 Scott Halleran/Getty ImagesAlec Ogletree returns an interception 98 yards for a touchdown against the Texans.
That's probably putting it mildly.
During the Rams' three-game losing streak earlier this season, they weren't awful in turnover margin, netting a minus-one for those three games, but it's quite clear the difference it makes when there's a plus at the beginning of the construction.
Houston outgained the Rams 420 to 216 in total yards while running 73 plays to the Rams' 41, gaining a dozen more first downs and holding a time of possession edge of 11 minutes and 20 seconds. By all accounts, those numbers would portend a blowout victory. They did, but not in the direction you'd expect.
That's because of the 98-yard interception return for a touchdown by linebacker
Alec Ogletree
, the interception in his own end zone by cornerback
Janoris Jenkins
, Ogletree's forced fumble and recovery by
James Laurinaitis
and the 11-yard fumble recovery for a touchdown by linebacker
Daren Bates
while covering a kick.
Those four plays resulted in 17 Rams points and provided enough to give the Rams a victory.
"When you can score defensive touchdowns, those are game changers," Laurinaitis said. "Those don't come a whole lot. So when you get them, that can change the whole outcome of the game. It's detrimental for them when you give them up."
On the other side of the ball, the Rams have showed a penchant for taking care of the ball and did so with a balanced offensive game plan that was effective in the short bursts when it was actually on the field.
Quarterback
Sam Bradford
attempted only 16 passes but he threw no interceptions. His offensive line allowed no sacks and thus, no opportunities for strip sacks. Running back
Zac Stacy
protected the ball at all costs despite regularly finding himself in heavy traffic with opponents ripping at the ball.
Before the end of Week 6, the Rams' six turnovers put them in a tie for fourth fewest in the league.
Even as yards might accumulate against the defense or the offense continues to search for some consistency, the takeaway formula remains tried and true.
After the Rams scored on a 4-yard touchdown pass from Bradford to
Brian Quick
with 7:46 remaining in the third quarter, the offense didn't get back on the field until there was 11:56 to go in the game, a span of 10 minutes and 48 seconds without the ball.
But because of the touchdowns from Bates and Ogletree, the Rams' lead increased from 24-6 to an insurmountable 38-6. And with that, any hope the Texans entertained of a comeback was gone.
"They're huge," Bradford said. "Anytime our defense creates a turnover, it just gives us a spark on offense and then in the second half today, the one on special teams and then the pick-6, we come off the field and we're up 24-6 and the next time we come on the field we're up 38-6. Those are two huge plays in the game and they just gave us a lot of momentum and kind of sealed the deal."
October, 13, 2013
10/13/13
7:38
PM ET
HOUSTON – It was only 18 days ago that the
St. Louis Rams
were coming off two blowout losses and searching for anything that could remotely be defined as a team identity.
The minimum expectation for any team under the tutelage of coach Jeff Fisher is an innate toughness, the ability to deal with problems head on. Such toughness -- which seemed to build over the course of the 2012 season -- appeared to have vanished after the Sept. 26 drubbing at the hands of San Francisco.
A win against Jacksonville the following week showed that the Rams could do what they needed to against an inferior opponent. But a team personality that the Rams could lean on when times were tough still had not bubbled to the surface.
They aren't there yet, the personality is still in the developmental stages, but for the first time in the 2013 season, the Rams gave a glimpse of what they hope the finished product will become with a resounding
38-13 win
against the
Houston Texans
on Sunday.
[+] Enlarge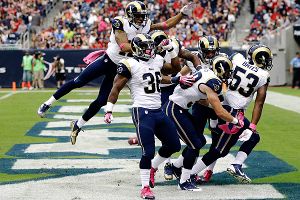 AP Photo/Eric GayThe Rams have come together since a pair of big losses and are showing a newfound toughness.
Now sitting at 3-3, the Rams seem to have dug themselves out of their early-season hole, and all things remain possible.
"It was important to us to speak life into our team, after the Thursday game [against the 49ers]," Fisher said. "I think we did that. We sent them off and gave them a little break and brought them back and just started over."
On Sunday, the Rams showed plenty of signs that their toughness was back, that they could stand toe-to-toe with a physical team such as Houston and not back down. It served them well in 2012 against division foes Seattle and San Francisco, and it did again against the Texans.
Whether it was hard-nosed rookie running back
Zac Stacy
pushing the pile and picking up yards after contact or quarterback
Sam Bradford
standing tall in the pocket to take a hard hit from Houston linebacker
Brooks Reed
as he delivered a strike to tight end
Jared Cook
for 34 yards to set up a touchdown, the Rams refused to let Houston pummel them.
There was no better example of the attitude the Rams are looking to engender than the reaction of guard
Harvey Dahl
when Texans linebacker
Brian Cushing
jumped on Bradford after he slid for a 4-yard gain in the second quarter. Dahl immediately popped up and got in Cushing's face, with not-so-pure intentions clearly on his mind, before tackle
Jake Long
restrained him from acquiring offsetting penalties.
It was a small thing in a game of big plays, but when forming an identity, it can be the small things that count the most.
"That's what I love about Harvey, that's what I love about all those guys upfront," Bradford said. "I know they've got my back. To see something like that happen, I think that's a big step for this team, a big step for this offense, and I couldn't be happier or more proud to play for those guys up front."
That same mentality was evident in the other phases of the game as well.
On special teams, the penalties mostly evaporated and the unit found a way to score one of the rarer touchdowns in football: a fumble return while covering a kickoff. The play happened because safety
Rodney McLeod
hit returner
Keshawn Martin
with reckless abandon and linebacker
Daren Bates
– fresh off running over a would-be blocker – was simply looking for something else to hit.
The Rams' defense struggled to stop Houston running back
Arian Foster
from ripping off big chunks of yards, but they managed to find ways to keep the Texans out of the end zone and hold them to field goals. They also created three more takeaways after grabbing three last week.
"We knew the key to this game was holding them out of the end zone and finding ways to get turnovers," middle linebacker
James Laurinaitis
said. "We knew they were going to get yards. They are tough to defend. We just needed to find ways to keep them out of the end zone and get the ball back for our offense."
The fact that the Rams are the league's youngest team is not lost on anyone; they were last year as well. They don't and won't use it as an excuse for any failures, but after their successes they can point to it and realize there's still plenty of growth to come.
After the loss to San Francisco, it was fair to wonder if the Rams' season would be lost by the time they started to progress again. Fisher told his team that it was starting fresh, that the first four games of the season were nothing more than an extended preseason.
The message was received loud and clear, and now, though the team's identity is still far from formed, that personality is starting to peek from behind the curtain.
"I believe if you want a head coach in a fistfight, I've got Jeff Fisher," defensive end
Chris Long
said. "Even in a really tough time, and the last couple weeks have been really tough trying to find an identity as a team to try to fall back on like we thought we were building last year, having him as our head coach and knowing the guys that he's brought in, the right type of people to help you dig out of this hole and to get to .500, the sky is the limit for us. It's one game. Now, we've got to duplicate this next week."
October, 13, 2013
10/13/13
5:15
PM ET
HOUSTON -- Observed in the locker room after the
St. Louis Rams
'
38-13 win
over the
Houston Texans
.
A fresh start:
Coach Jeff Fisher's message to his team after a disappointing performance against San Francisco in Week 4 was that the first four games didn't happen and they were starting anew. The message seemed a little ridiculous from the outside, but it's clear his team has bought into it. After the game, the team started a "2 and 0, 2 and 0" chant in the locker room. The Rams followed back-to-back 24-point losses with two wins averaging 19.5 points. To a man, every player in the locker room approved of and endorsed the fresh-start idea. Now, the Rams sit at 3-3.
Bates
Bates' big day:
Rookie linebacker
Daren Bates
heard his name for all the wrong reasons after last week's holding penalty wiped out a long punt return. That changed Sunday when he recovered a fumble on a kick return and took it 11 yards for a touchdown. Bates held on to the ball from his first score but plans to give it to special teams coach John Fassel. For the record, Bates said his hip injury didn't occur when he was celebrating the touchdown.
Fisher disappointed in Schaub reaction:
When Rams defensive end
Chris Long
dropped Houston quarterback
Matt Schaub
for a sack in the third quarter, Schaub stayed down with an apparent leg injury. A smattering of Houston fans, already disenchanted with Schaub's recent performances, cheered when Schaub didn't get up. The cheers grew louder when
T.J. Yates
entered in his place. Asked about it after the game, Fisher expressed disappointment in the reaction, saying Schaub has earned more respect for what he's done in Houston.
August, 27, 2013
8/27/13
4:45
PM ET
EARTH CITY, Mo. -- The Rams reached the league-mandated 75-player roster limit as they announced the final two moves needed Tuesday afternoon.

Offensive lineman
Ryan Lee
and linebacker
Jabara Williams
were the final two cuts to reduce the roster from 77 players to 75. Lee was let go with the designation of waived/injured after he suffered an undisclosed injury late in last week's game against Denver.
Neither move comes as a surprise, but Williams' release is indicative of the progress made by a trio of undrafted rookie linebackers in camp. Williams was a former seventh-round pick of the Rams in 2011 and showed enough promise in that preseason that a segment of fans were outraged when he was released after two regular-season games to make room for offensive lineman
Mark LeVoir
.
Chicago claimed Williams and he appeared in five more games before returning to the Rams' practice squad on Nov. 21 of last year.
Williams battled some injuries during this camp but he'd been surpassed by the intriguing trio of
Ray Ray Armstrong
,
Daren Bates
and
Jonathan Stewart
around the same time of his injury.
As it stands, the Rams have eight linebackers on the roster, including
Jo-Lonn Dunbar
, who will not play in the first four games because of a violation of the league's performance-enhancing substance policy. Given the exemption the Rams have for Dunbar in the first four weeks, they could theoretically carry all eight of the remaining linebackers, but it seems more likely that they'll opt to trim at least one more in the final round of cuts.
Armstrong has been one of the team's most pleasant surprises and is a near lock to make the roster at this point. Bates would seem to have the inside track on the final linebacker job because of his special-teams ability.
The final round of cuts is scheduled for Saturday when every team must trim to 53 players by 6 p.m. ET.
August, 17, 2013
8/17/13
12:17
PM ET
EARTH CITY, Mo. -- The Rams and Packers kick off tonight at 8 ET at the Edward Jones Dome.


St. Louis is coming off a 27-19 loss in the preseason opener at Cleveland and makes its home debut for 2013.
Hometown fans hoping to see the Rams unveil some of the new weapons they acquired in the offseason will likely leave disappointed as all indications are that the team will again stick to the vanilla game plan it used last week.
With that in mind, here are five things that are worth keeping an eye on as the Rams host Green Bay.
Right tackle redux:
Projected starting right tackle
Rodger Saffold
suffered a dislocated left shoulder two plays into the opener in Cleveland. He hasn't practiced all week and won't play against the Packers.
Joe Barksdale
, who replaced Saffold last week, has taken almost all of the work with the first-team offense in practice this week and will make the start in Saffold's place.
Barksdale fared pretty well in Saffold's stead last week and the chance to start could give him some valuable reps for a group of backup offensive linemen that doesn't have much in the way of experience.
Behind Barksdale, the Rams don't have much in the way of tackles.
Chris Williams
, who started last week at left guard, could get a look at right tackle. The same can be said for rookie
Barrett Jones
and
Brandon Washington
, both of whom are projected to play on the interior but have filled in at right tackle this week.
Spread it around
: The majority of the starting offense played just 14 snaps last week, leaving for another week the long anticipated first looks at tight end
Jared Cook
and receiver
Tavon Austin
. Neither caught a pass against the Browns as Austin was targeted once and Cook did not get a look.
Starting wideout
Chris Givens
stole the show last week with three catches for 82 yards and will again be involved, but the Rams would like to at least get the likes of Austin and Cook an opportunity or two to contribute.
Going deeper:
All week, Rams coach Jeff Fisher has made it known that the first units will play a little longer on both sides of the ball. Part of that is to get the primary starters a few more reps than they had last week, but the other reason is he wants to get some of his younger players who are down the depth chart a chance to play with the top units.
Namely at running back and receiver, don't be surprised if youngsters such as
Zac Stacy
,
Terrance Ganaway
,
Benny Cunningham
,
Brian Quick
and
Stedman Bailey
see a few snaps with the first-team offense.
Looking at linebackers
: Veteran
Will Witherspoon
is all but certain to step into the starting role in place of suspended starter
Jo-Lonn Dunbar
. Dunbar is eligible to play but Fisher made it clear he wants to use the main workload to prepare the players who will start on the season on Sept. 8.
Witherspoon is a known commodity as he enters his 12th season in the league. Rookie starter
Alec Ogletree
will also look to bounce back from a rough start last week in Cleveland.
What might be more intriguing in this area is the hunt for talented depth that can serve as reliable backups for the starting group.
Josh Hull
is the only backup linebacker with any game experience but the Rams have some intriguing options that figure to get work with the No. 2 defense.
The three undrafted rookies --
Ray Ray Armstrong
,
Daren Bates
and
Jonathan Stewart
-- have flashed potential during camp and proved to be potential long-term contributors on special teams. It seems likely at least one of those three will make the active roster and tonight's game serves as the next chance to make a strong impression.
Corner three
:
Cortland Finnegan
and
Janoris Jenkins
are pretty well entrenched as the starters at cornerback.
Trumaine Johnson
entered camp as the likely third corner in nickel packages after he finished the 2012 season as the team's third corner.
Johnson is probably still in the lead to fill that role again this year, but rookie
Brandon McGee
seems to be at least stating his case for the job.
McGee got some reps with the first-team defense as the third corner in practice this week and it's worth monitoring to see if he gets a shot to do it in the game. Considering Fisher's statement that he wants to give some different young guys a chance to play with the first team, it's entirely possible McGee will at least get a few reps in that role.
June, 11, 2013
6/11/13
8:59
PM ET
ST. LOUIS -- The
St. Louis Rams
own the NFL's youngest roster by average age. They could be interested in adding some veteran seasoning at linebacker, it appears.
Takeo Spikes
, 36, was seen at Rams headquarters Tuesday night and was reportedly
there for a free-agent visit
.
Spikes started all 32 games for the
San Diego Chargers
over the past two seasons. Before that, he started 44 of 48 games during a three-year run with the
San Francisco 49ers
. He would presumably play middle linebacker in the Rams' 4-3 scheme, backing up James Laurinaitis, if St. Louis were to sign him.
Spikes has been a starter every season since entering the NFL with Cincinnati in 1998. He has started 215 games overall, averaging 14.3 starts per season during a 15-year career. He missed 13 games in 2005 while with Buffalo, but otherwise he has been remarkably durable and consistent at a physically demanding position.
Spikes played 66.9 percent of the defensive snaps for San Diego last season. He was the starter in San Francisco previously until the team decided
NaVorro Bowman
was ready to take the job. Bowman became an Associated Press All-Pro selection. Spikes signed with the Chargers after San Diego hired the 49ers' former defensive coordinator, Greg Manusky.
Jo-Lonn Dunbar, Laurinaitis and rookie first-round choice Alec Ogletree are expected to start for the Rams at linebacker. The team is remarkably young and inexperienced at the position beyond Dunbar and Laurinaitis, however. Spikes' 215 starts are about double the combined total for the Rams' current linebackers (108).