NFL Nation:

Darrell Jackson
October, 13, 2010
10/13/10
4:10
PM ET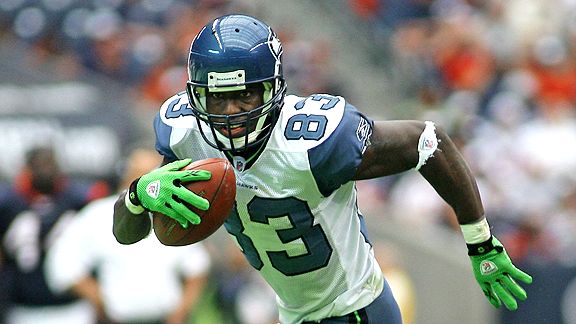 Thomas Campbell/US PresswireSeahawks receiver Deion Branch was worth a fourth-round pick to the Patriots.
Deion Branch
suspected the
Seattle Seahawks
might release him last season.
The team's general manager at the time, Tim Ruskell, repeatedly assured Branch that the organization had no such plans. Ruskell wasn't lying. The Seahawks held onto Branch, but if they had cut ties with the veteran receiver in 2009 following three years of declining production, not even Branch could have expressed shock.
When the post-Ruskell Seahawks finally unloaded Branch this week, the biggest surprise came in the price New England paid in reacquiring the 31-year-old receiver. Branch will return the higher of the Patriots' 2011 fourth-round choices: the one acquired from Denver or the one originally belonging to New England. Wasn't that a little steep?
Randy Moss
had commanded a third-round choice when New England traded him to Minnesota last week, an indication Seattle might be lucky to get a fifth-rounder for Branch. As Branch himself told reporters Tuesday, "I'm not Randy Moss. I wasn't Randy Moss when I was here. And I'm not here to replace him."
The lesson, as always, is that any commodity is worth whatever someone can get for it at a given time. There is no sliding scale or reference chart based on a wide receiver's past production or anything else. Branch's value to the Patriots increased once New England determined keeping Moss was no longer tenable.
For perspective, and with an assist from Keith Hawkins of ESPN Stats & Information, I've classified 17 receiver trades since 2007 by compensation levels:
1. Roy E. Williams to Dallas (2008)
Price paid:
Dallas sent 2009 first-, third- and sixth-round choices to Detroit for Williams and a seventh-rounder.
Comment:
This one sets the standard for overspending. Williams is on pace for his first 1,000-yard season in Dallas, but this deal marked the last time (for now) an NFL team traded a first-round choice for a wide receiver.
2. Randy Moss to Oakland (2005)
Price paid:
Oakland sent 2005 first- and seventh-round picks, plus linebacker
Napoleon Harris
, to Minnesota.
Comment:
The Raiders never had the supporting cast to maximize this investment. Moss didn't hold up his end, of course, but the Patriots later proved Moss could function at a high level in the right environment.
3. Deion Branch to Seattle (2006)
Price paid:
Seattle sent its 2007 first-round choice to New England.
Comment:
Ruskell hoped Branch would add character and leadership to a position group he viewed as lacking in those areas. Branch did not have the talent to justify the price, however, and injury problems diminished what returns Seattle got from its over-investment.
[+] Enlarge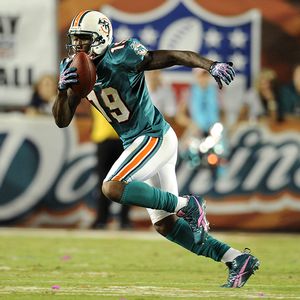 Richard C. Lewis/Icon SMIDenver traded away a 100 catch per year receiver in Brandon Marshall.
4. Brandon Marshall to Miami (2010)
Price paid:
Miami sent 2010 and 2011 second-round choices to Denver.
Comment:
Marshall is on pace for another 100-catch season, although he has only one touchdown reception in his first four games with Miami. Broncos coach Josh McDaniels comes from the New England tree. Both organizations like to load up on second-round draft choices.
5. Wes Welker to New England (2007)
Price paid:
The Patriots sent 2007 second- and seventh-round choices to Miami.
Comment:
Welker is on pace for his fourth consecutive 100-catch season since joining the Patriots. He had caught 96 passes over two seasons with Miami previously. The quarterback situation in New England allowed the Patriots to maximize this trade.
6. Chris Chambers to San Diego (2007)
Price paid:
San Diego sent a 2008 second-round choice to Miami.
Comment:
This deal never worked out the way San Diego planned. Chambers made some solid contributions early, but an ankle injury altered the course of his career with the Chargers.
Malcolm Floyd
emerged as a big-play threat, and San Diego cut Chambers during the 2009 season.
7. Braylon Edwards to the New York Jets (2009)
Price paid:
The Jets sent 2010 third- and fifth-round choices, plus
Jason Trusnik
and
Chansi Stuckey
, to Cleveland.
Comment:
Edwards probably had run his course in Cleveland. The Browns were starting over. Edwards has 52 receptions, seven for touchdowns, in 17 games with the Jets. Check back later on this one.
8. Anquan Boldin to Baltimore (2010)
Price paid:
Baltimore sent its 2010 third- and fourth-round choices to Arizona for Boldin and a fifth-round pick.
Comment:
So far, so good for the Ravens. Boldin has 28 catches for 363 yards and three touchdowns in his first three games with Baltimore. Long-term durability concerns played into Arizona's decision to make the trade. Can Boldin hold up?
9. Randy Moss to Minnesota (2010)
Price paid:
Minnesota sent a 2011 third-round choice to New England.
Comment:
Moss had become unhappy and the Patriots decided to get value for him while they could, possibly at the expense of their 2010 on-field production. The Patriots spent only a fourth-round choice for Moss, used his immense talent for three-plus seasons, then got a third-rounder out of him. Not bad. But at what short-term cost?
10. Randy Moss to New England (2007)
Price paid:
The Patriots sent a 2007 fourth-round choice to the Raiders.
Comment:
Moss' relationship with the Raiders had deteriorated to the point that Oakland needed to unload him despite the high price it paid for Moss in 2005. Getting a fourth-round choice wasn't bad under the circumstances, although the price was a bargain from the Patriots' perspective.
11. Darrell Jackson to San Francisco (2007)
Price paid:
The 49ers sent a 2007 fourth-round choice to Seattle.
Comment:
Viewed as a risky move within the division at the time, Seattle came out OK. Jackson didn't fit the 49ers' offense and his deteriorating knee was another hindrance.
[+] Enlarge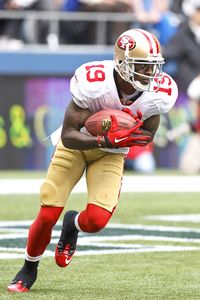 Jason O. Watson/US PresswireThe 49ers hope they get better production from Tedd Ginn Jr. than they did from Darrell Jackson.
12. Ted Ginn Jr. to San Francisco (2010)
Price paid:
The 49ers sent a 2010 fifth-round choice to Miami.
Comment:
Ginn enjoyed a strong training camp before suffering a sprained knee in the regular-season opener. He has made a positive impact in the return game since coming back from the injury. San Francisco needs Ginn to emerge as a deep threat, too.
13. Deion Branch to New England (2010)
Price paid:
The Patriots sent a fourth-round choice to Seattle.
Comment:
The Seahawks got more in return for Branch than expected, but the Patriots can still come out OK. They've got
Tom Brady
, after all.
14. Santonio Holmes to the New York Jets (2010)
Price paid:
The Jets sent a 2010 fifth-round choice to Pittsburgh.
Comment:
Holmes served a four-game suspension to open the season. He caught three passes for 41 yards in his Jets debut Monday night. The Steelers had enough off-field concerns while dealing with the
Ben Roethlisberger
situation. Parting with Holmes made more sense in that context.
15. Greg Lewis to New England (2009)
Price paid:
The Patriots sent a 2009 fifth-round choice to Philadelphia for Lewis and a seventh-rounder.
Comment:
Oops. The Patriots cut Lewis before he played a regular-season game for them.
16. Mark Clayton to St. Louis (2010)
Price paid:
The Rams sent a 2011 sixth-round choice to the Ravens for Clayton and a seventh-rounder.
Comment:
This deal was working out very well for the Rams until Clayton suffered a season-ending knee injury against Detroit in Week 5. Clayton appeared to be a natural fit for the Rams' offense and he worked well with No. 1 overall choice
Sam Bradford
.
17. Troy Williamson to Jacksonville (2008)
Price paid:
The Jaguars sent a 2008 sixth-round choice to Minnesota.
Comment:
Williamson caught eight passes over two seasons for the Jaguars.
June, 24, 2010
6/24/10
10:00
AM ET
Notable players:
LT
Walter Jones
, LG
Steve Hutchinson
, C
Robbie Tobeck
, RB
Shaun Alexander
, QB
Matt Hasselbeck
, FB
Mack Strong
, MLB
Lofa Tatupu
, RCB
Marcus Trufant
, WR
Bobby Engram
, WR
Darrell Jackson
, WR
Joe Jurevicius
[+] Enlarge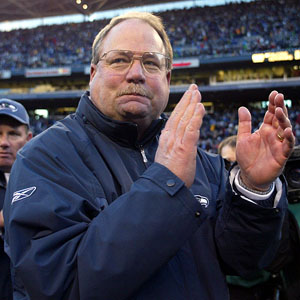 AP Photo/John FroschauerMike Holmgren's 2005 Seahawks were the only team in franchise history to make the Super Bowl.
Analysis:
The 2005
Seattle Seahawks
were the only team in franchise history to win more than 12 regular-season games. They were the only Seahawks team to appear in a Super Bowl, the only one to lead the NFL in points per game or to place more than two offensive linemen in a Pro Bowl.
This was the best team in franchise history by the critical measures. It had a Pro Bowl-caliber quarterback, the best offensive line in the NFL, the league MVP at running back and a defense that played its best where it mattered -- in the red zone. Rookie middle linebacker Lofa Tatupu brought direction to a defense lacking leadership.
Coach Mike Holmgren always said he needed his best players to be at their best for a team to approach its potential. This team had that, but clutch contributions from role players sent the 2005 squad on its way.
Receiver Joe Jurevicius added toughness at receiver while catching 10 touchdown passes, offsetting injuries to Darrell Jackson and Bobby Engram.
On defense, backup cornerback
Jordan Babineaux
made a season-altering play by picking off
Drew Bledsoe
with 14 seconds remaining during a 13-10 victory over the
Dallas Cowboys
in Week 7. Seattle had lost two of its first four games that season. Beating the Cowboys heading into the bye was important, but the matter in which Seattle won the game proved transforming.
"My hope is that every time you can win a game like this where it looked a little grim for a while but they you pull it out, it really helps you down the road," Holmgren said afterward. "It really helps your confidence. Organizations need to win games like this at some point."
The Seahawks had tied the score with 46 seconds remaining on Hasselbeck's 1-yard touchdown pass to backup tight end
Ryan Hannam
(after another backup, receiver
Jerheme Urban
, made a 22-yard reception at the 2-minute warning). Babineaux returned Bledsoe's pass 25 yards, getting out of bounds in time for
Josh Brown
to kick the winning field goal as time expired.
Most impressive win:
The 2005 team was at its dominant best during a 34-14 victory over the
Carolina Panthers
in the NFC title game.
Advanced chemistry:
Teams release injured backups regularly without repercussions, but veteran players protested when management released Urban instead of placing him on injured reserve following a foot injury in November. Urban had made an impression on teammates while catching seven passes for 151 yards. Management gave in to Seattle's veteran leadership, rescinding Urban's release and placing him on IR. The unusual move reflected the strength of the Seattle locker room during a special season.
Honorable mention
1984:
This was the only team in franchise history to rank among the NFL's top five in points scored and points allowed. Kenny Easley was the NFL's defensive player of the year. Steve Largent and Daryl Turner combined for 22 touchdown receptions. Defensive ends
Jeff Bryant
and Jacob Green combined for 27.5 sacks.
1983:
Other Seattle teams had better regular-season records, but the 1983 team recorded two playoff wins, including an upset shocker in Miami. The 2005 Seahawks were the only other Seattle team with more than one victory in the same postseason.
2007:
Losing Hutchinson during the previous offseason hurt, but Hasselbeck set a career high with 28 touchdown passes. Alexander topped 100 yards rushing in an overtime road defeat at eventual NFC champion Chicago in the divisional round.
June, 7, 2010
6/07/10
4:14
PM ET
SANTA CLARA, Calif. -- The
San Francisco 49ers
felt great about getting nothing in return for a potential Hall of Fame receiver Monday.

Bruce
The move they made in trading
Isaac Bruce
to the
St. Louis Rams
for no compensation showed respect for Bruce by letting him retire as a Ram without receiving his release from the 49ers. Quarterback
Alex Smith
described Bruce as "unique" relative to other players he has known in describing Bruce's perfectionist approach to football specifically and life in general.
Bruce, 37, leads all NFL players in receiving yardage (15,208) since he entered the NFL in 1994. Bruce's on-field role had diminished almost to nothing recently, but he still emerged from the 2000s trailing only former Rams teammate
Torry Holt
in receptions and receiving yards for NFC West teams during the decade (
see chart
).
Bruce joins
Walter Jones
and
Kurt Warner
among
NFC West legends retiring
this offseason. Another former star,
Orlando Pace
, remains without a team for 2010. They could all be eligible for Pro Football Hall of Fame consideration at the same time.
February, 3, 2010
2/03/10
12:01
PM ET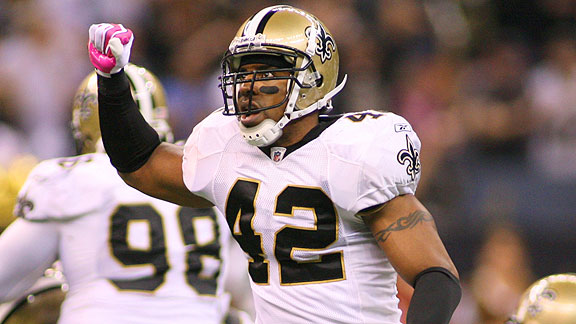 John David Mercer/US PresswireIn his first season in New Orleans, Darren Sharper intercepted nine passes, returning three for TDs.
MIAMI -- How many football lives does
Darren Sharper
have?
We've counted him out at least twice before. There was his departure from Green Bay after the 2004 season, one spurred because the Packers thought he was in marked decline. The next season, Sharper was an All-Pro in Minnesota.
After last season, the Vikings thought he couldn't help them anymore, and like the Packers, they let him depart via free agency. After two months on the market, New Orleans signed him to a one-year deal worth about $1.5 million.
In 2009, he was an All-Pro once again.
Sharper's career renaissance with the Saints has been a testament to conditioning, motivation and smart instincts. More than anything, however, it provided a template for how to use, waste and misjudge the specific skills of a player.
In 2004, the Packers blamed a lack of speed -- rather than a knee injury -- on Sharper's decline in play. From 2006-08, the Vikings squeezed him into a Cover 2 scheme that minimized his playmaking abilities.
In his All-Pro years of 2005 and 2009, however, Sharper played in less rigid schemes that emphasized player flexibility. In those two years alone, he intercepted 18 passes and returned five for touchdowns. During the three years in between? Nine interceptions and one touchdown.
Many followers of the NFC North seem astounded by Sharper's production this season in New Orleans, where he is one of the primary reasons the Saints will appear in Super Bowl XLIV. To me, it's pretty simple. He could have been doing this all along -- in the right scheme.
"Playing in the style I played in Minnesota, I was kind of a protector," Sharper said. "I was the guy that kept everything in front of us and tired to prevent the big play. In [the Saints] defense, I'm allowed to be a playmaker and trust my instincts and attack the football. It's two different worlds, from where I was last year and where I am this year. That's the biggest difference."
September, 20, 2009
9/20/09
1:37
PM ET

Posted by ESPN.com's Mike Sando
SAN FRANCISCO -- The media flip card at Candlestick Park features a name familiar to Seahawks fans: Bill Leavy.
The veteran referee is working a Seahawks game for the first time since Mike Holmgren complained bitterly about calls that went against Seattle during the team's loss to Pittsburgh in Super Bowl XL after the 2005 season.
This appears to be part of an
NFL trend discussed here
after Week 1.
For years, the league appeared to
shield referees
from working games involving teams that suffered from controversial calls, even when those calls were correct.
Walt Coleman still hasn't worked a Raiders game since invoking the tuck rule during the Patriots' playoff victory over Oakland on Jan. 19, 2002. Before last season, Ed Hochuli hadn't worked a Broncos game since Oct. 8, 2000. Before last week, referee Jeff Triplette hadn't worked an Eagles game since Oct. 23, 2001. Those games featured high-profile officiating decisions that worked against the teams involved.
Leavy's crew called controversial penalties against
Darrell Jackson
,
Sean Locklear
and
Matt Hasselbeck
during Super Bowl XL.
"We knew it was going to be tough going up against the
Pittsburgh Steelers
," coach Mike Holmgren told fans during a postgame rally. "I didn't know we were going to have to play the guys in the striped shirts as well."
Holmgren's departure from the Seahawks after last season might have cleared the way for this unwanted reunion. I have a hard time envisioning the league assigning Leavy to a game featuring Holmgren as one of the coaches.
October, 19, 2008
10/19/08
12:12
PM ET
| | |
| --- | --- |
| | |
| | Matthew Emmons/US Presswire |
| | New England cornerback Ellis Hobbs knows the Patriots secondary needs to step it up. |
Posted by ESPN.com's Tim Graham
Chad Pennington grabbed the New England Patriots' secondary and ripped it apart at the seams.
Philip Rivers pumped javelins down the sidelines.
Both methods lacerated the Patriots plenty. The Miami Dolphins beat them by 25, the San Diego Chargers by 20.
"Everyone has to realize it's a wound everyone's going to try to keep opening up until we heal it," Patriots cornerback Ellis Hobbs said. "It's there."
The Patriots' defensive backfield has been overwhelmed as much through five games as it was all last season. New England has given up seven pass plays of 30 yards or longer. That equals the number it yielded in 2007.
Its sixth game won't provide any respite.
The Patriots on Monday night will host the Denver Broncos at Gillette Stadium.
New England's beleaguered secondary will be asked to contain a pass attack ranked first in the AFC and second in the league at 279.3 yards a game entering Week 7.
"I don't know what the questions are for us," Hobbs told reporters this week. "I just know there are questions out there.
"We need to go into this game thinking, 'I feel like my back's against the wall.' Our team's back is against the wall, and we have to come out swinging no matter what. It's early in the season. But this is how you get the momentum going."
After Miami came to Gillette Stadium in Week 3 and unleashed a dumbfounding game plan, New England's coaching staff -- a group that includes defensive architects Bill Belichick, coordinator Dean Pees and secondary coach Dom Capers -- had two weeks to strategize for Mike Martz's offense. The Patriots held the San Francisco 49ers to less than 200 total yards.
Last Sunday night, however, the Chargers bombed away.
Rivers, mostly picking on left cornerback Deltha O'Neal, completed passes of 48, 49, 59 and 22 yards. They weren't screen plays.
Hobbs also committed a 32-yard pass interference penalty to put the Chargers first-and-goal at the 1-yard line. Rivers found tight end Antonio Gates for a touchdown on the next play.
"I felt embarrassed," O'Neal said Wednesday. "I felt embattled. I felt like there were things I could have did that could have changed the outcome of the game. I'm my worst critic.
"I sat and thought about it the last couple of days, that whole flight home. I'm over it now."
Patriots fans should hope so.
Thunder-armed Broncos quarterback Jay Cutler has thrown for 1,694 yards and 12 touchdowns, numbers that rank third and fourth in the NFL.
When healthy, the Broncos have the most talented receiving corps. Brandon Marshall leads the NFL with 43 receptions despite being suspended for the season opener. Eddie Royal's 30 catches are tied for 11th even though he missed last week's game with an ankle injury. Royal is probable for Monday.
Cutler's other targets include Brandon Stokley (16 catches and two touchdowns the past three weeks) and tight end Tony Scheffler. Stokley suffered a concussion last week, while Scheffler is dealing with a groin injury. Both are questionable. Darrell Jackson, a three-time 1,000-yard receiver, is getting over a strained calf. He's listed as probable.
"They have a lot of different options and they really stress the defense in a lot of different ways," Patriots coach Bill Belichick said. "They can pack them in and bring in two or three tight ends. They can spread them out and go with four or five receivers, or flex out Scheffler, who is like another receiver.
"They can get as tight as you want to get, and they can get as spread out as you want to spread out, and they do a good job."
The Patriots rank 12th in pass defense, but their first two victories came against opponents who either couldn't or wouldn't throw.
They knocked Kansas City Chiefs quarterback Brodie Croyle out of the game in Week 1 and fended off Damon Huard. The New York Jets still were trying to figure out how to use Brett Favre, who passed for only 181 yards in Week 2.
A lot of factors have played into the Patriots' shaky pass defense.
The most obvious was Pro Bowl cornerback Asante Samuel's departure. The Patriots clearly knew this was a big deal because they signed free agents Fernando Bryant, Lewis Sanders and Jason Webster and drafted two corners in the first four rounds.
Belichick didn't like any of them more than O'Neal, whom the winless Cincinnati Bengals cut because they didn't think he was anything more than a nickelback.
Other developments have left New England's defensive backs fending for themselves more than in recent years. The vaunted defensive line isn't getting as much push as it used to, giving opposing quarterbacks that much more time to work and less time for New England's defensive backs less chance to recover -- or not be detected -- when beat early on a play.
The Patriots won't have an easy time putting pressure on Cutler or forcing him i
nto bad decisions. The Broncos have allowed a league-low two sacks. Only the Kansas City Chiefs and Bengals -- one victory between them -- have recorded fewer sacks than the Patriots, who have seven.
Inescapable is the Tom Brady factor. Even the defense is affected.
Last year, with the record-breaking Patriots offense providing sizable leads before the echoes of "The Star-Spangled Banner" faded out, they had the NFL's seventh-ranked pass defense.
Under replacement Matt Cassel's direction, the Patriots have gone three-and-out on 14 of their 56 drives, sending the defense right back onto the field 25 percent of the time. They went three-and-out on 26 of their 170 possessions last year, a 15 percent frequency.
The longer games remain close, the less defenses can guess what's coming. Last year's Patriots turned loose on the quarterback and defended the pass from the second quarter on. This year's defense can't afford to commit so fully and, therefore, is unable to dictate.
"They've been all over the map a little bit," Cutler said. "You're not sure what you're going to get with those guys. I think they thought they could play man, control Rivers and the receivers and stop [LaDainian Tomlinson]. But they got hit with some big plays.
"It's going to be interesting to see what they do with us."
July, 29, 2008
7/29/08
10:28
AM ET
Posted by ESPN.com's Mike Sando
Jim Thomas of the St. Louis Post-Dispatch says holdout running back Steven Jackson must report to camp by Aug. 8 to avoid losing credit for the 2008 season under the collective bargaining agreement. Without credit for the season under the CBA, Jackson would not become a free agent. Thomas: "A little-known provision in the collective bargaining agreement could be a huge detriment to a prolonged holdout by Jackson. According to the NFL Players Association, players under contract must report at least 30 days prior to the first regular-season game or else they lose an accrued season of seniority." This provision is so little-known that I've never heard of it. Hmmm.
Dan Arkush of Pro Football Weekly thinks coaching continuity could help the Cardinals, who return every member of Ken Whisenhunt's staff. Of course, other teams in the division think they have improved by shaking up their staffs: Mike Martz in San Francisco, Mike Solari in Seattle, Al Saunders in St. Louis, etc. Coaching continuity is a good thing if you have a good staff. The Cardinals have a good staff with Todd Haley, Russ Grimm and others.
Jose Romero of the Seattle Times checks in with new Seahawks receiver Bryan Gilmore, who explains what separates Seattle from the other NFC West teams for which he has played. Plenty of receivers have jumped around the division. When Isaac Bruce left the Rams for the 49ers this offseason, San Francisco released Darrell Jackson, who had been acquired from Seattle. Another former Seahawks receiver, Jerheme Urban, plays for the Cardinals.
Daniel Brown of the San Jose Mercury News catches up with 49ers offensive lineman Barry Sims, who explains the difference between San Francisco and Oakland. The 49ers' playbook is more complex, Sims said. Also, the 49ers have more of a team atmosphere. Just once I'd like to hear a player rip his new team, but the cash is always greener on the other side.
The Associated Press says Manny Lawson is staying after practice longer than the other 49ers as part of his comeback from injury. Lawson looks good but is not 100 percent, coach Mike Nolan said.
Clare Farnsworth of the Seattle Post-Intelligencer
explains what the Seahawks saw in free-agent running back Julius Jones. The market for running backs was depressed, president Tim Ruskell said, and Jones seemed genuinely fired up about joining the team. One thing I noticed about Jones at Seahawks camp: Teammates described him as the anti-Shaun Alexander without ever mentioning Alexander by name. For example, Bobby Engram talked about Jones being an every-down back who hits the hole quickly.
Jeff Zillgitt of USA Today also writes about Jones in Seattle. Two things: Coach Mike Holmgren says Jones has grasped the offense quickly, and Jones said he's already on the same page with left tackle Walter Jones.
Scott Johnson of the Everett Herald says the Seahawks are having a hard time snapping the ball without their regular centers. Johnson also notes that rookie receiver Michael Bumpus had a very tough time fielding punts.
The Associated Press quotes Holmgren on losing kicker Josh Brown to the rival Rams. Then as now, Holmgren is disappointed. The coach blames poor communication all the way around, even though Holmgren was in contact with Brown during the process.
Kent Somers of the Arizona Republic explains why Edgerrin James thinks he won't fall prey to the curse of the 30-year-old running back. James, who turns 30 this week, thinks superior conditioning will set him apart. On his blog, Somers notes that safety Adrian Wilson keeps dodging reporters. He also has a note about center Al Johnson missing practice. The Cardinals do not have enough depth on their offensive line to lose starters. Elsewhere, Somers notes that a back problem prevented linebacker Monty Beisel from laughing at Adam Sandler's latest movie, which Beisel described as funny despite being the "dumbest movie ever."
Matt Maiocco of the Santa Rosa Press Democrat provides an injury update from 49ers camp. Special-teams star Michael Robinson could miss training camp after undergoing knee surgery, while nose tackle Aubrayo Franklin came off the PUP list. Elsewhere, Maiocco describes what Alex Smith is going through under Martz. Smith has a tendency to become stiff-legged when he isn't sure where to go with the ball, Martz said.
Matt Barrows of the Sacramento Bee thinks Tully Banta-Cain has the best pass-rush move among the 49ers' defensive players. Not sure if that is a good thing. Barrows' employer tried to bury his Justin Smith story on page C7, but we'll feature it here. The 49ers plan to vary where Smith lines up, a contrast to how the Bengals used him.

NFL SCOREBOARD
Thursday, 12/18
Saturday, 12/20
Sunday, 12/21
Monday, 12/22
WEEKLY LEADERS