NFL Nation:

Darrell Revis
February, 20, 2014
Feb 20
8:21
PM ET
Revis
INDIANAPOLIS -- One year ago, John Idzik showed up for his first scouting combine as the
New York Jets
' general manager and he was pelted with questions about
Darrelle Revis
trade rumors.
He was asked every which way about the possibility of a Revis trade, and Idzik did more dancing than a Rockette.
On Thursday, Idzik was reminded of last year's Revis frenzy. He smiled.
"Who?" he asked, playfully.
Idzik could afford to joke. Yes, he traded one of the best cornerbacks in football, incurring criticism, but he turned the draft-pick compensation into
Sheldon Richardson
. He was named NFL Defensive Rookie of the Year.
"Who" did well in his new home, making the Pro Bowl and making $16 million from the
Tampa Bay Buccaneers
.
April, 22, 2013
4/22/13
8:10
PM ET
The new contracts for
Darrelle Revis
in Tampa Bay and
Kam Chancellor
in Seattle will be interesting to analyze once the figures can be confirmed.
Initial reports tend to focus on maximum payouts, which can be misleading. Sometimes the new money available through an extension produces a misleading new average per year.
For context, John Parolin of ESPN Stats & Information recently put together charts showing how much money players received after signing deals reportedly worth at least $100 million. The answer was less than 50 percent in most cases.
The first chart examines the numbers for contracts that are no longer active.
The second chart shows how much money players have received on active contracts with maximum values of at least $100 million. It counts the $29 million signing bonus associated with
Joe Flacco
's deal as money already paid.
February, 28, 2013
2/28/13
3:31
PM ET
Those eagerly awaiting the start of NFL free agency March 12 with visions of your favorite team loading up on accomplished veterans should revisit the list of unrestricted free agents NFC West teams signed last season.
St. Louis, badly in need of a talent infusion following the worst five-year run in NFL history, opened its checkbook to sign a long list of veteran players, some of them at high cost.
That was the exception in the NFC West and I'd be surprised if St. Louis took a similarly aggressive approach this offseason. The Rams have stabilized their roster and positioned themselves to build around young talent.
With that in mind, I'll take a team-by-team look at the unrestricted free agents each NFC West team signed last offseason. UFAs are defined as veterans who reached the market when their contracts expired. Teams also acquired players by other means.
Arizona Cardinals

2012 UFA signings from other teams:
cornerback
William Gay
, linebacker
Quentin Groves
, safety
James Sanders
and guard
Adam Snyder
Comment:
Gay started and played 93 percent of the defensive snaps as a replacement for
Richard Marshall
, who left in free agency. He wasn't a star, but the defense was solid. Gay gave Arizona the snaps it sought. Groves played 43 percent of snaps as a situational pass-rusher. The Cardinals needed him when an injury sidelined
O'Brien Schofield
. Sanders played 11 percent. Snyder started 14 games and played much of the season with an injury for a line that was among the NFL's least effective for much of the season. Arizona's young tackles made progress. I thought the team overspent for Snyder, a player San Francisco eagerly replaced with the undrafted
Alex Boone
, who provided a clear upgrade. Note that three of the four UFA additions last offseason played defense. Arizona needs to target offense this offseason. New coach Bruce Arians and new general manager Steve Keim have praised the existing talent. Arizona might not load up on free agents the way some teams do when new leadership takes over.
St. Louis Rams

2012 UFA signings from other teams:
linebacker
Jo-Lonn Dunbar
, cornerback
Cortland Finnegan
, linebacker
Mario Haggan
, defensive end
William Hayes
, defensive tackle
Kendall Langford
, defensive lineman
Trevor Laws
, guard
Quinn Ojinnaka
, tackle
Barry Richardson
, receiver
Steve Smith
, center
Robert Turner
and center
Scott Wells
Comment:
The Rams were major players in the UFA market. Results were mostly positive. Finnegan gave the Rams the production and veteran presence they sought. He was instantly a playmaker for St. Louis. Dunbar was much better than I had anticipated and well worth his contract, which included a $1 million signing bonus and $1.5 million annual average. Hayes provided good depth on the defensive line, and at a reasonable cost ($900,000 for one year). Langford needed time to transition from the 3-4 scheme he ran previously in Miami. The Rams signed him after
Jason Jones
signed with Seattle instead. Injuries prevented Wells from stabilizing the offensive line, a major disappointment and a reminder of the risks associated with signing older players from other teams.
San Francisco 49ers

2012 UFA signings from other teams:
fullback
Rock Cartwright
, quarterback
Josh Johnson
, receiver
Mario Manningham
Comment:
Does this look like a team poised to strike for
Darrelle Revis
in the trade market? Does this look like a team ready to throw around cash in free agency? Not based on the list of signings last offseason. The interest San Francisco showed in
Peyton Manning
doesn't apply here. Indianapolis released Manning. Manning was not a UFA. I'd put him in a separate category, anyway. Teams make exceptions for Hall of Fame quarterbacks. Back to the 2012 UFA list. Cartwright and Johnson never played for the team. Neither earned a spot on the 53-man roster. Both served a purpose by initially increasing competition at their positions. For example,
Anthony Dixon
moved fro halfback to fullback and became a more valuable player, including on special teams. Johnson provided early insurance, but in retrospect,
Colin Kaepernick
was obviously ready to serve in the No. 2 role before becoming the starter. Manningham provided sufficient value before a knee injury ended his season. The 49ers missed him late in the season, including during the Super Bowl.
Seattle Seahawks

2012 UFA signings from other teams:
quarterback
Matt Flynn
, defensive lineman Jason Jones, guard
Deuce Lutui
and linebacker
Barrett Ruud
Comment:
Flynn would have started if
Russell Wilson
hadn't emerged unexpectedly as the clear choice. Seattle invested $6.5 million per year in Flynn, a sum the team could live with even if Flynn became the backup. It's tough to fault the Seahawks for signing Flynn. They had no idea Wilson would be available in the draft, or that Wilson would perform at such a high level so early in his career. Jones finished the season on injured reserve. That made it impossible for him to provide the interior pass-rushing push Seattle sought when signing him to a one-year deal worth $4.5 million. Lutui and Ruud never earned roster spots. Neither was a liability financially. Both were low-cost insurance policies. Seattle parlayed Ruud into a 2013 draft choice by trading him to New Orleans after the Saints lost
Jonathan Vilma
.
January, 24, 2013
1/24/13
4:14
PM ET
Darrelle Revis
was a great football player before suffering a severe knee injury last season. He might again become a great football player.
But if the
New York Jets
are apprehensive about paying huge money to retain Revis following the 2013 season, why would another team want to trade for the right to do so?
That was the No. 1 question coming to mind upon reading reports suggesting Jets owner Woody Johnson would consider
trading Revis
.
James from Illinois
used
the most recent NFC West chat
to ask whether the
St. Louis Rams
, armed with additional draft choices in 2013, might be wise to consider a trade for Revis. My response: an emphatic no.
[+] Enlarge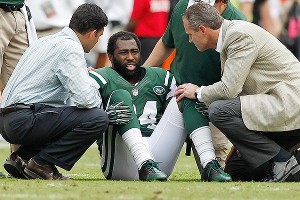 Robert Mayer/US PresswireDarrelle Revis is slated to earn $6 million in the final year of his contract and is coming off of ACL surgery.
The Rams already have talent at cornerback. They fared well with their 2012 draft choices and should continue building that way. St. Louis is currently in position to stock future rosters with young, affordable and healthy draft choices. There could come a time when the team would be better off trading draft capital for a single veteran player. I don't think this is the time. I don't think an injured Revis is the player.
Two years ago, I
made a case
for the
San Francisco 49ers
pursuing cornerback
Nnamdi Asomugha
in the free-agent market. The 49ers showed no interest in Asomugha. They have fielded a sometimes dominant defense over the past two seasons while going 3-1 in the playoffs and reaching the Super Bowl this year.
Would the 49ers be even better with Asomugha on their roster? Sure, at least on paper. But that situation was different. Asomugha would have cost them money, but no additional compensation. Revis would want money. The Jets would want something in return.
Former Arizona and Seattle executive John Idzik is the Jets' new general manager. The team introduced Idzik at a news conference Thursday just as stories were circulating suggesting Johnson wanted to trade Revis.
Welcome to the Jets' circus, John.
On a side note, how frequently do GMs from teams with the most successful owners have to deal with owner-generated rumors such as this one regarding Revis?
The Jets hired Idzik to help them recover from a mismanaged salary cap. The deal Revis renegotiated before the 2010 season voids after 2013 and carries millions in bonus-related salary charges that could complicate trade efforts.
Teams generally do not trade for high-priced veterans, let alone for high-priced veterans coming off injuries.
"Tell me why trading Alex Smith for Revis doesn't make sense,"
@TheTunks countered
.
The 49ers have steadfastly avoided paying big money to players from other teams. The team prefers rewarding the players it develops, not upsetting the pecking order in the locker room by valuing outsiders at a higher level. I know that was part of the 49ers' thinking when they watched Asomugha and other high-priced free agents sign elsewhere.
Revis' deal voids after the 2013 season. Why would he settle for a lesser contact as part of a trade negotiation? He would be better off getting healthy, playing well in 2013 and then seeing whether he can reach the market through a voided contract.
May, 24, 2011
5/24/11
1:00
PM ET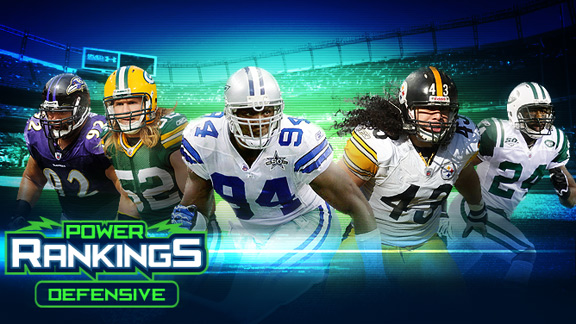 ESPN.com IllustrationTroy Polamalu (43) was the unanimous choice among our bloggers as the NFL's top defensive player.
During the unprecedented offseason of 2011, ESPN.com has ranked the top
pass-rushers
in the NFL. We've ordered
linebackers
, rated
cornerbacks
and chosen the league's top 10
safeties
as well. Now it's time to start putting it all together.
This week's challenge: Meld those four ballots into a single list of the NFL's 10 best defensive players. The subtle shift in parameters required us to consider not only a player's individual impact, but the overall importance of his position to the game.
Both in the draft and in the free-agent market, NFL teams place premium value on pass-rushers and interior defensive linemen. Other positions, most notably safeties, are relegated to secondary priorities. So in that sense, it's both remarkable and telling that
Pittsburgh Steelers
safety
Troy Polamalu
was the unanimous top choice of our committee.
"Troy has a skill set that I've never seen from the safety position," said AFC North blogger James Walker, who has covered Polamalu for years. "He has the hands, coverage skills and acceleration of a corner, but the instincts and timing on the blitz and against the run like a linebacker. When I've asked coaches to draw a comparison to another safety, they struggle to come up with a name, because there's really no one like him. [Steelers defensive coordinator] Dick LeBeau also deserves credit for building his defense around Troy, because that's really hard to do for a safety."
To what extent do NFL teams typically value safeties? Consider that in last month's draft, the first safety wasn't selected until midway through the second round (UCLA's
Rahim Moore
, by the
Denver Broncos
, at No. 45 overall). And in determining franchise tag numbers for a potential 2011 market before the lockout, the league was set to assign safeties the third-lowest figure among all positions, ahead of only tight ends and kickers.
One other safety made our list:
Ed Reed
of the
Baltimore Ravens
. But for the most part, the list was dominated by players known for getting to the quarterback. Our top pass-rusher,
Dallas Cowboys
linebacker
DeMarcus Ware
, ranked second.
Green Bay Packers
linebacker
Clay Matthews
, Pittsburgh Steelers linebacker
James Harrison
and
Chicago Bears
defensive end
Julius Peppers
were among our top eight.
NFC East blogger Dan Graziano rated Ware No. 7 overall and is braced for the wrath of his new readership, but I thought it was healthy and important to add a fresh view that didn't participate in our individual position rankings.
"Guys like Harrison and [Ravens defensive tackle Haloti] Ngata made more of an impression on me," Graziano said. "I certainly don't think calling someone the seventh-best defensive player in the league is any kind of insult. But from what I watched the past couple of years, I felt guys like that impacted the games in which they played more completely than did Ware. If I made a mistake, I'm certainly happy to own up to it and listen to the reasons why I was wrong."
In this debate, right and wrong mattered less than philosophy. Graziano, for example, rated
New York Jets
cornerback
Darrelle Revis
No. 2 overall and also included
Oakland Raiders
cornerback
Nnamdi Asomugha
at No. 8. On the other side of the spectrum, I joined NFC West blogger Mike Sando in choosing only one cornerback (Revis) and one safety (Polamalu). Sando, in fact, ranked Revis No. 9.
Neither one of us has any argument with the skills of Asomugha or Reed. But on a ranking of overall defensive players, we found it difficult to include more than two defensive backs.
"I moved down Revis and cornerbacks in general," Sando said, "for the same reason
Patrick Peterson
went fifth in the draft despite being arguably the best player available. It's just tougher for a cornerback to affect offenses the way a great front-seven player affects them. Quarterbacks can throw away from them."
Along those lines, Sando gave the highest vote for the player who topped our linebacker rankings,
Patrick Willis
of the
San Francisco 49ers
, placing him at No. 2. Willis finished No. 4 with votes ranking anywhere from No. 2 to No. 8
"Willis has no weaknesses and there is no avoiding him on the field," Sando said. "I've seen him return an interception 86 yards for a touchdown, knock out wide receivers with crushing hits, punish quarterbacks on blitzes and scrambles, lift a Pro Bowl offensive lineman off the ground in run support and just generally dominate. He was a serious candidate for the No. 1 spot on my ballot."
Matthews also received a wide range of votes, finishing No. 5 despite three ballots that placed him No. 2, including mine. Most of us considered Ware the top pass-rusher a few months ago, but a few believe Matthews is the better all-around player from the 3-4 outside linebacker position.
"Clay Matthews makes as many game-changing plays as any defender in the league," said NFC South blogger Pat Yasinskas, who joined the AFC South's Paul Kuharsky and myself on the Matthews bandwagon. "That makes him one of the league's best defenders in my eyes. And it doesn't hurt that his team has the Lombardi trophy at the moment."
Said Kuharsky: "Matthews is so dynamic and energetic it made it very difficult for me not to constantly circle back to him as I consider the highest-impact defenders in the league. That Seifert and Yasinskas also rate him second just goes to prove that what everyone says about those two is dead wrong."
A backhanded compliment from Paul Kuharsky? I can't think of a better line to close on.
November, 26, 2010
11/26/10
1:27
PM ET
Last week,
Terrell Owens
and
Chad Ochocinco
, aka Batman and Robin, were upstaged by the Joker.
On Thanksgiving night, they were outdone by Ren and Stimpy.
The
Cincinnati Bengals
season would appear suitable for the Cartoon Network. Animated receivers Owens and Ochocinco have driven the storylines more than the team's success.
The Bengals are 2-8 despite Owens and Ochocinco's proclamations.
Buffalo Bills
receiver
Steve Johnson
, evoking the Joker with his "Why So Serious" undershirt,
outperformed Owens and Ochocinco combined in Week 10
.
On the most recent episode of "The T.Ocho Show" on Versus, Owens said
New York Jets
cornerbacks
Darrelle Revis
and
Antonio Cromartie
were "more like 'Ren and Stimpy,' " the dim-witted Nickelodeon duo.
In a runaway Jets victory Thursday night at the Meadowlands, Ochocinco had four receptions (on nine targets) for 41 yards and no touchdowns, while Owens had three catches (on eight targets) for 17 yards and no touchdowns.
"The stats show," Revis said. "That's all I got to say. He called me average, and I showed him how an average corner plays.
"You can't hide away from the stats. You can't change the stats. You can't add a zero after the 17 [yards]."
ESPN Stats & Information noted Bengals quarterback
Carson Palmer
had a 6.3 passer rating (not a misprint) when throwing to Owens. Revis covered Owens almost every play.
Kristian R. Dyer took a look at their cartoonish posturing for "The Fifth Down" blog at NYTimes.com.
Dyer spoke to body-language expert Patti Wood for her opinion on what
Owens and Ochocinco were saying subliminally
when they suggest they'll dominate Revis and Cromartie.
"The guys were reading their prewritten lines off a teleprompter with a stiff, slow, awkward delivery. They are not showing the alpha power moves they think they are," Wood said. "Even when Ochocinco used the bullhorn, his body -- his head and shoulder posture -- didn't go up with enthusiasm or forward with aggression, nor did his paralanguage such as voice tone, volume and speaking rate show he was energized."
In other words, whatever Owens and Ochocinco said, they didn't believe it.
So deep down inside, their doubts were justified -- again.
April, 28, 2010
4/28/10
4:54
PM ET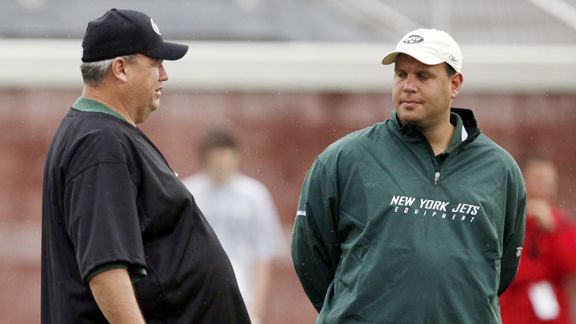 William Perlman/US PresswireMike Tannenbaum, right, has gained a reputation as a wheeler and dealer and is constantly working to improve New York's roster.
Why do I get the feeling that if Mrs. Tannenbaum sent her little Mike off to school with his packed lunch, he rarely ate whatever she made?
By the time the lunch bell rang, he would've traded his bologna for a PB&J, his pretzel sticks for a fruit cup and offered recess services for a pudding to be named later.
"Our needs don't call for tapioca at this time, but we can revisit when chocolate becomes available and keep Jell-O as a contingency," I can imagine him saying during those formative years in Needham, Mass.
Mike Tannenbaum seems born to make his trades. As general manager of the
New York Jets
, he has gained a reputation as the consummate wheeler-dealer, unafraid to pull the trigger on any move that might improve his roster.
"I applaud him," former
Green Bay Packers
vice president Ron Wolf said, "because he's at least willing to put his nuts on the line."
Wolf knows Tannenbaum through mutual friend Bill Parcells. Tannenbaum considers both mentors and has invited Wolf to visit with the Jets' scouting department at the team facility in Florham Park, N.J.
"Everybody there's got to be proud of what he's doing," Wolf said. "They're a viable team."
A substantial reason for the Jets' outlook is Tannenbaum's maverick approach to building the team.
Any time is a fine time to make a trade in Tannenbaum's world.
He'll do it at the draft, trading up to snag cornerback
Darrelle Revis
, linebacker
David Harris
, tight end
Dustin Keller
quarterback
Mark Sanchez
and running back
Shonn Greene
.
He'll do it after training camp starts, bringing
Brett Favre
aboard in August. He'll do it during the season, adding
Braylon Edwards
in October. He'll do it as a component of free agency, taking gambles on cornerback
Antonio Cromartie
and receiver
Santonio Holmes
in the spring.
Makes no difference to Tannenbaum.
"Opportunities come, and you just don't know when they're going to come along," Tannenbaum said. "We just take our sheet and say, 'Here are our needs. Here's the trade possibilities here, the restricted free agents here, the guys that got cut, and here are the UFAs that we can't touch. What's best for the Jets?
"That's our charge. That's our obligation. I love it. I draw everything from it and, hopefully, we take those opportunities."
Tannenbaum carries on like he's running a fantasy football team, and by the looks of the Jets' roster, that might not be too far removed from reality. He also has added highly decorated running back
LaDainian Tomlinson
and pass-rusher
Jason Taylor
through free agency in a bid to win the Super Bowl this season.
"Anything worth fighting for is going to require some risk," said Jets senior personnel executive Terry Bradway, who preceded Tannenbaum as GM. "Expectations are high.
"We feel like we've done a good job putting this team together. But it won't stop. Nobody's going to be fooled by getting to the AFC Championship game and think that we're OK."
The Jets were supposed to be handcuffed by the "final eight" plan, a mechanism put in place for the uncapped season to prevent teams that went deep into the playoffs from loading up rosters. Teams that reached the second round of the playoffs essentially had to lose an unrestricted free agent before they could sign one.
Taylor was the only acquisition that fell under that category. He joined the Jets after they lost kicker
Jay Feely
. The Jets collected the other players by working the phones and hammering out deals the old-fashioned way.
As the Jets did with Edwards last year, they found more risk-reward players who were available for less than market value. As a result, Cromartie and Holmes were added to the roster for a fifth-round pick this year and a third-round pick in 2011.
"You can play it right down the middle and swing nice and easy, or you can take a shot and swing hard," Bradway said. "But all the risks are calculated. In some cases, there's a risk-reward that we're aware of before we make a decision.
"People might look at it as fantasy football, but what really happens is a tremendous amount of research that goes into all these decisions. Mike is really good at gathering all that information, getting all the people pulled in the right direction and making the decision."
Tannenbaum surprised many last week by not making a splashy maneuver through the first three rounds of the draft.
But he made headlines Saturday, when the Jets cut perennial Pro Bowl guard
Alan Faneca
and dealt running back
Leon Washington
, a Pro Bowl kick returner two seasons ago, to the
Seattle Seahawks
.
"There's a lot of ways to improve your football team," Bradway said, "and I think what he has done, with his vision, is to work at every day and see if something makes sense. There's a lot of scenarios we talk about that never come about, but it's very stimulating conversation."
One prominent opposing team official contacted for this story declined to be interviewed, but before hanging up the phone stressed Tannenbaum shouldn't be lauded as some sort of mastermind visionary behind the Jets' success.
The official, while expressing deep respect for Tannenbaum as an organizational manager, claimed more credit should be given to head coaches Eric Mangini (now with the
Cleveland Browns
) and Rex Ryan and chief college scout Joey Clinkscales. The official salutes them for pushing Tannenbaum to pursue the players that make up the team's core.
"Mike is willing to be aggressive, and he deserves credit for that," the official said, "but somebody has to point him. He's not a talent evaluator."
Even so, Tannenbaum's intrepidness and faith in the support staff with which he has surrounded himself allows the Jets to make moves other teams seem to shy away from.
It's not like the Jets had exclusive negotiating rights on Favre, Edwards, Holmes or Cromartie. Other front offices had the opportunity to make similar -- or even better -- deals, but chose not to.
"If you like the player, go get the player," Wolf said. "It seems pretty simple between the two of us talking about it, but a lot of people don't do that.
"Why not take a shot? If you think the guy is good, why not take a shot? What's the risk here? The only risk is the guy's not good. If you go out and get four guys and only two of them play, shoot, that's two more than another team has. Even one out of four isn't bad."
March, 31, 2010
3/31/10
2:21
PM ET
As I started cleaning out my notebook from last week's NFL owners meeting, I realized I forgot to thank
New York Jets
coach Rex Ryan for supporting my position on the controversial Defensive Player of the Year vote.

Woodson

Revis
To review: I favored Green Bay cornerback
Charles Woodson
, the eventual winner, over Jets cornerback
Darrelle Revis
. At the time,
we noted
that Revis was a better cover man but that Woodson had stronger across-the-board impact. If there were a Cornerback of the Year award, Revis would have gotten my vote.
Ryan torched the voting process and
demeaned
Woodson's victory in January. Asked to revisit his position last week, Ryan did nothing but strengthen our original take.
Here's the full text of his response:
"I just think he's a better corner. Woodson would be a better safety and a better linebacker, but he's not a better corner than Darrelle Revis. Darrelle Revis' year might have been as good as there's ever been at the corner position. You start the list with Deion Sanders, and then it might jump to Darrelle Revis if he can continue to play the way he's playing. He's young, he can run and he can match up with any receiver in the league. I don't know if you can say the same about Woodson if he was playing corner every snap. But for what Charles does, he's absolutely phenomenal. He's an impact player. His numbers speak for themselves."
There is no shame in being a lesser cornerback than Ryan's BFF. But Woodson was awfully, awfully good in that role last season while also proving dominant in other facets the Jets never even considered Revis for. Thanks, Rex, for clearing that up.
June, 17, 2009
6/17/09
12:04
PM ET
Posted by ESPN.com's Tim Graham
A look at the key loss and his replacement for each team in the division:

Buffalo Bills
Who's out: Jason Peters, left tackle (Philadelphia Eagles)
Who's in: Langston Walker, left tackle
Outlook: The Bills couldn't cope with the prospect of another prolonged Peters holdout, so they traded away the headache -- even though he's one of the best in the business -- for some draft picks.
The Replacements
• Tuesday: AFC North | West
• Wednesday: AFC South | East
• Thursday: NFC South | East
• Friday: NFC North | NFC West
The Bills opted not to draft any tackles or sign any through free agency. Instead, they are slopping Walker from the right side and shifting right guard Brad Butler to right tackle.
Walker will be a drop-off from Peters. Scouts are skeptical the 6-foot-8 Walker will be mobile enough to handle some of the best pass-rushers in the game. The Bills will face several who finished among the top 10 in sacks last year.
Who's out: Samson Satele, center (Oakland Raiders)
Who's in: Jake Grove, center
Outlook: The Dolphins' biggest problem on the offensive line last year was their center. They didn't think Satele, who has been a starter since he stepped foot in the league, was physical enough against top 3-4 nose tackles.
The Dolphins have to deal with the Patriots' Vince Wilfork and the Jets' Kris Jenkins twice a year. Marcus Stroud is no slouch in Buffalo's 4-3 setup.
Miami targeted Grove in free agency because he grades highly in run blocking and plays with a mean streak. Dolphins defenders say they notice a much more aggressive tone in the trenches since Grove arrived. He has been injury prone, but if he stays healthy he'll improve the run game.
Who's out: Mike Vrabel, outside linebacker (Kansas City Chiefs)
Who's in: Pierre Woods, outside linebacker
Outlook: The most noticeable void on New England's depth chart is the one left by Vrabel's trade to Kansas City. His numbers regressed from his Pro Bowl season in 2007, but he still was a player opponents worried about.
The Patriots still could bring in another veteran before the season begins, but for now it looks like Woods will be the replacement. Woods seems to have Bill Belichick's trust, starting three games last year when Adalius Thomas went down.
Woods, an undrafted fourth-year pro, is decent against the run but hasn't demonstrated pass-rushing skills in a game yet. Barring any developments before training camp, it looks like the job is his to lose.
Who's out: Ty Law, right cornerback (free agent)
Who's in: Lito Sheppard, right cornerback
Outlook: The Jets plucked Law off the street in November when they decided rookie Dwight Lowery wasn't good enough to man the position opposite lockdown left cornerback Darrelle Revis. They didn't re-sign Law after the 2008 season and acquired Sheppard from the Eagles.
Sheppard is a playmaker because he attacks the ball. If he comes up with it, look out; he can go the distance. His coverage skills, however, are suspect. He couldn't retain his starting job in Philly, but the belief is that with Revis on the other side, the Jets can roll help to Sheppard's side.
NFL SCOREBOARD
Thursday, 10/16
Sunday, 10/19
Monday, 10/20
WEEKLY LEADERS