NFL Nation:

Darren Howard
May, 25, 2011
5/25/11
3:05
PM ET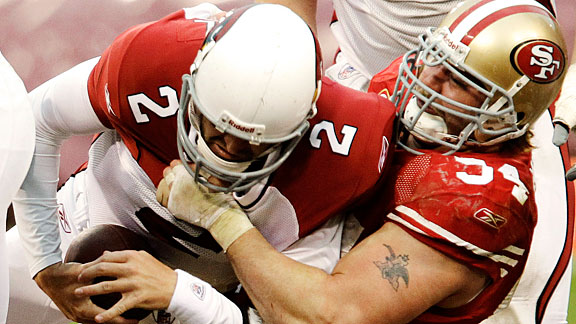 AP Photo/Paul SakumThe 49ers' Justin Smith has collected 8.5 of his 21.5 sacks after the third quarter since 2008.
The try-hard guy, long revered by NFL fans for overcoming physical limitations with all-out effort, has not been universally loved.
Established veterans with a feel for how to practice during long, demanding regular seasons can become resentful when the try-hard guy's misplaced fury produces unwanted collisions.
So, for the sake of clarity, the try-hard guy is excused from this conversation about pass-rushers so relentless, they wear down opponents over the course of a game.
We're talking about players with enough talent to command significant playing time, many as high draft choices or big-ticket free agents. We're talking about the
San Francisco 49ers
'
Justin Smith
, one of two NFC West players to receive votes in
ESPN.com's Power Rankings
for defensive players.
Patrick Willis
was the other.
"Justin Smith is a relentless player who wears down opponents by coming after them each and every play,"
BigBrad184
wrote in response to
this item
Wednesday morning. "I don't have any stats to back this up, but it seems like he often gets many of his sacks in the fourth quarter because of the fatigue he causes to offensive lineman."
Interesting thought.
"Maybe breaking out Smith's sacks by quarter over the past few years is a project for Sando,"
BigBrad184
concluded.
Done deal. John Fisher of ESPN Stats & Information responded to my request for the statistical evidence
BigBrad184
was seeking. Smith does rank among the NFL leaders for fourth-quarter sacks in recent seasons, but two other NFC West players, including one of Smith's teammates, rank higher on the list.
More on the results in a bit. First, a look at the methodology.
Fisher provided a file with quarter-by-quarter sack totals for every player since 2001. I filtered the information to consider:
The last three seasons. There was no sense comparing totals for eight-year veterans against players entering the league more recently. At the same time, three seasons was long enough to pile up adequate numbers.

Players with at least 10 sacks. This reduced qualifying players from 668 to 99, a more manageable number featuring more "name" players.

Late-game production. I then divided the remaining 99 players' fourth-quarter and overtime sack totals by their total sacks, producing percentages that might tell us which players tend to wear down opponents.
The 49ers' Smith collected 8.5 of his 21.5 sacks in fourth quarters or overtimes since 2008. That worked out to 39.5 percent, which ranked 22nd among the 99 qualifying players.
Philadelphia's Darren Howard, who did not play in 2010, led the way with 75.8 percent of his sacks (11.5 of 16.5) after the third quarter. He was on the Eagles' roster for two of the three seasons in question and never played even half the defensive snaps in either year. But he was highly effective as a situational player, at least when measured by sack totals. Only
Jared Allen
(15) and
Joey Porter
(14) had more total sacks after the first three quarters.
There was no way to tell whether players with higher late-game sack percentages had more or better late-game opportunities for reasons unrelated to being relentless. Players operating within superior schemes or alongside better teammates certainly benefited. Overall, players collected more sacks in second and fourth quarters, no surprise given that teams attempted 6,130 additional passes during those quarters over the past three seasons, a likely reflection of two-minute situations.
The San Francisco 49ers' Parys Haralson (52.9 percent) and the
St. Louis Rams
' Chris Long (48.6 percent) ranked highest in fourth-quarter sack percentage among current NFC West players with at least 10 sacks over the past three seasons. Haralson was seventh in the league. Long was ninth. Former 49er Tully Banta-Cain was 10th (48.4 percent), while Arizona's Joey Porter (44.4 percent), St. Louis'
Fred Robbins
(44.4 percent), ex-Seahawk
Lawrence Jackson
(44.0 percent) and current Seahawk
Chris Clemons
(41.0 percent) ranked among the top 20.
Were these guys merely slow starters? Were they strong finishers? Did they wear down opponents over the course of games? The numbers do not answer those questions definitively, but they provide a starting point for discussion.
I was also interested in seeing which players collected a disproportionate number of sacks earlier in games. They were, at best, tone setters. At worst, they failed to finish or failed to adequately wear down opponents. The previous disclaimers applied to them as well.
As the chart below shows, three of the 10 qualifying players with the lowest percentages of late-game sacks have NFC West roots.
Arizona's Calais Campbell has 5.5 of his 13 sacks in first quarters, but only one in fourth quarters or overtimes. The 49ers' Manny Lawson collected 11 of his 12 sacks in the first three quarters. Darryl Tapp, traded from Seattle to Philadelphia in the deal for Clemons, has 4.5 sacks in each of the first two quarters, but only two in second halves (one after the third quarter).
A few other observations with an eye toward the NFC West:
Porter (six) and Campbell (5.5) rank among the top seven in most first-quarter sacks. The 49ers' Smith is right behind with five.

Arizona's Darnell Dockett has nine of his 16 sacks in second quarters. Eight players have more second-quarter sacks over the past three seasons, but all are edge-rusher types. Dockett plays end in a 3-4 scheme.

Pittsburgh's James Harrison and LaMarr Woodley are a third-quarter nightmare for opposing quarterbacks. Harrison leads the NFL with 15.5 sacks in third quarters. Woodley is second with 12. Former Cardinal Calvin Pace ranks in the top 10 with 7.5.

Porter and Allen are tied for the most fourth-quarter sacks in the NFL over the past three seasons. Each has 14 (Allen also had one in overtime). DeMarcus Ware and Robert Mathis are next with 13.5, followed by Dwight Freeney and Julius Peppers with 12.5.
Back to the original question: Is the 49ers' Smith a relentless player who wears down opponents, producing fourth-quarter payoffs?
He might be, but he produces well enough across all quarters to transcend the try-hard label and probably even the relentless label as well. He's a beast.
January, 18, 2009
1/18/09
11:21
PM ET
| | |
| --- | --- |
| | |
| | Jed Jacobsohn/Getty Images |
| | Cardinals receiver Larry Fitzgerald torched Philadelphia's defense for 152 yards and three touchdowns. |
Posted by ESPN.com's Matt Mosley
GLENDALE, Ariz. -- The Philadelphia Eagles spent the past two months digging themselves out of a huge hole. So maybe that's why we weren't surprised that it took an 18-point deficit to rouse their competitive spirit in Sunday's NFC Championship Game.
After a dreadful first half in which the Eagles acted as if they'd never seen film of the best wide receiver in football, they came storming back to take a 25-24 lead over Arizona in the fourth quarter. The Big Toaster fell silent and the Eagles were poised to pull off one of the greatest postseason comebacks this side of Frank Reich.
In the end, though, the Eagles didn't leave themselves enough margin for error. The same defense that had carried the team throughout the postseason faltered at the worst possible moment, and the Cardinals escaped with a 32-25 victory.
At some point, the Eagles will look back and take pride in their postseason accomplishments. But on this day, they weren't interested in providing perspective. They let a golden opportunity slip through their hands because they had no answers for the Cardinals' offense in the first half -- or on its game-winning drive.
"I expected the guys to step up, they expected to step up, but it didn't happen," said coach Andy Reid.
After his team amassed eight yards in the third quarter, Cardinals quarterback Kurt Warner dialed up All-Pro wideout Larry Fitzgerald on several key plays on the winning drive, including a remarkable 6-yard catch at the Eagles' 14 with two Eagles defenders hanging on him.
Fitzgerald has emerged as the most dangerous offensive player in the league and the Eagles didn't have anyone capable of defending him. Cornerback Asante Samuel signed a lucrative free agent contract last March because the Eagles thought he could match up with explosive receivers such as Fitzgerald. On Sunday, he wasn't up to the task.
And as defensive backs Quintin Mikell and Sheldon Brown patiently fielded questions, Samuel retreated to the team bus.
The Eagles should take pride in what they accomplished this season, but Sunday was no time for perspective.
From the start, it was obvious the Eagles didn't respect the Cardinals' running game. Despite their relative success in the postseason -- the Cardinals were last in rushing during the regular season -- Eagles defensive coordinator Jim Johnson flooded the field with defensive backs to account for Warner and the passing game. The Cardinals responded by pounding away with running backs Edgerrin James and Tim Hightower, who combined for 68 yards in the first half.
Fitzgerald had six catches for 113 yards and three touchdowns in the first half. His second score came off a trick play on which J.J. Arrington threw a lateral pass to Warner, who then launched the ball downfield to Fitzgerald. Reserve safety Quintin Demps appeared to be in decent position but got turned around at the last second and fell down at Fitzgerald's ankles. In the somber visiting locker room, Eagles players didn't want to admit they were overmatched, but they were clearly in awe of Fitzgerald.
"He was out of his mind today," said Brown, who was victimized on Fitzgerald's third touchdown. "He's a great player. And I like him because he's not a showman. He does everything in the context of the team."
Later, Brown told me he looked forward to telling his grandchildren about playing against Fitzgerald. Late in the first half, Brown lined up in one-on-one coverage against Fitzgerald at the Eagles' 1-yard line.
Larry Fitzgerald vs. Rest of Cardinals
--
Fitzgerald
Rest of team
Thrown to
10
18
Receptions
9
12
Yards
152
127
TDs
3
1
In the Thanksgiving game between the two teams, he'd been able to break up a slant route to Fitzgerald in a similar situation. Fitzgerald "started dancing" at the line of scrimmage, and when Brown guessed slant, Fitzgerald caught a fade route for a touchdown.
Even 20 minutes after the game, defensive ends Trent Cole, Juqua Parker, Chris Clemons and Darren Howard sat together near their lockers and angrily discussed the Cardinals' winning drive. A few feet away, offensive line coach Juan Castillo sat alone, his face buried in his hands.
The Eagles insisted they didn't underestimate the Cardinals. They had beaten Arizona by 28 points on Thanksgiving, but Reid stressed all week that they didn't get the Cardinals' best shot.
That didn't happen until Sunday.
Middle linebacker Stewart Bradley spent about 15 minutes attempting to explain what had happened, but he finally settled on a hard reality.
"At the end of the day, they did their jobs and we didn't," said Bradley. "And they're going to the Super Bowl and we're going home."
January, 2, 2009
1/02/09
11:00
AM ET
Posted by ESPN.com's Matt Mosley
| | |
| --- | --- |
| | |
| | Chris Gardner/Getty Images |
| | Jim Johnson's defense will have some surprises for the Vikings. |
Like most NFL cities, Philadelphia is all about the quarterback. The topic of Donovan McNabb's future has become the gift that keeps on giving for the media. And when head coach Andy Reid benched his favorite player at halftime against the Ravens in Week 12, it became the story of Philadelphia's season.
It's too bad, because Jim Johnson's defense is having one of its best seasons in club history. No matter what happened on that fateful November afternoon in Baltimore, the Eagles wouldn't be alive if it weren't for their defense. They finished the regular season ranked No. 1 in the NFC and third overall.
"Sure, the defense gets overshadowed a little bit," said starting safety Quintin Mikell, who has emerged as a Pro Bowl-caliber player this season. "But we're still OK with it because at the end of the day, it's not about recognition. We're trying to win games.
That's why a win or loss Sunday may not have as much to do with McNabb's arm as one might think. It will come down to whether the Eagles can slow down the best running back in football, Adrian Peterson, and make Vikings quarterback Tarvaris Jackson beat them. And no matter how much they're praising Jackson this week, the Eagles believe their pass rush will be too much for him to handle.
Johnson has been known to pack more than 20 blitz packages into a game plan, but according to Mikell, the veteran assistant's outdone himself this week. Mikell wasn't specific, but he said 25 different blitzes sounded about right. He's likened Johnson's defense to playing in a video game.
"You have to be smart to play in this defense," said Mikell. "He changes it every week, so even the same blitzes are arranged in a completely different way. It makes it fun, and he'll get you where you can get to the quarterback scot-free."
Insider: Scouting Report
Scouts Inc.'s Ken Moll


breaks down Sunday's NFC wild-card game between Minnesota and Philadelphia.
Scouting Report

Along with the Ravens and Steelers, the Eagles are ranked in the top five in the league in total defense, pass defense, run defense, points allowed and third down efficiency. Philadelphia went to NFC title games on an annual basis at the beginning of this decade, but none of those teams could boast numbers like these. Over the past seven games, teams have only managed 3.1 yards per carry against the Eagles, which bodes well against a team that is built around Peterson's immense talent.
The thing that is so impressive about Johnson is that the defense didn't appear to be loaded with talent heading into the season. No one knew how Mikell would fare as an every down safety, but recently veteran Brian Dawkins said the former undrafted player out of Boise State was the best safety he had played with. After a sluggish start, Johnson benched weakside linebacker Omar Gaither and replaced him with Akeem Jordan, who covers more ground and is much better against the pass.
And instead of coddling Lito Sheppard, Johnson benched him as the nickel cornerback in favor of Joselio Hanson, who has been superb. Not usually prone to hyperbole, Johnson told reporters earlier this week that he couldn't recall feeling this confident about a unit heading into the playoffs.
In one of this week's most popular story lines, Johnson is squaring off against Vikings head coach Brad Childress, the former offensive coordinator in Philly. The two used to see each other every day in practice, so Johnson's planning to be more creative than ever. And if that means only having two down linemen in some formations, so be it. Childress almost seems amused by how willing Johnson is to experiment with his blitz packages. He thinks the longtime assistant has built up more wiggle room than most NFL assistants.
"Well you know he's developed [blitzes] over a career and spends a great amount of time on it," said Childress. "He attacks protections. He attacks formations. He attacks personnel groupings. It's very wide ranging. He's got some of those retirement blitzes you know where if [Vikings defensive coordinator] Leslie [Frazier] ran it here, you know they might say that's not sound with 10 guys on one side and one on the other."
The Eagles have a healthy respect for Peterson, but they also have plenty of confidence heading into Sunday's wild-card matchup. They held Peterson to 70 yards on 20 carries in a win last season.
Johnson has credited his defensive ends for a dramatic improvement against the run over the past seven games. I watched the Redskins push the Eagles around at the line of scrimmage in their first game in October. But players such as Trent Cole, Victor Abiamiri and Darren Howard started doing a much better job of "setting the edge," which means they're turning things inside.
Peterson loves to bounce outside and use his speed to turn the corner, so the Eagle
s will face perhaps their toughest test of the season.
"We have to get a lot of guys to the ball," Mikell said. "We have to minimize the amount of times he reaches the second level. I know I don't want to be back there one on one with him very often."
Mikell was half joking when he made said that. He's one of the leading tacklers in Boise State history and that remains the strongest part of his game. Mikell became aware of Dawkins when he was in college and studied him on TV from 2000-03. Now, the two are inseparable.
"He taught me to take care of my family, to play through injuries and how to conduct myself outside the locker room," Mikell said. "I remember watching him knock Michael Vick out of a playoff game, and I'm pretty sure he knocked himself out, too. That's the kind of player I wanted to become."
Mikell appears to be headed in the right direction -- just like the rest of the Eagles' defense.
Posted by ESPN.com's Matt Mosley
For most of the season, the NFC East seemed like the best division in football. That might not be the case anymore as we sprint toward the playoffs, but the Beast still has its fair share of legitimate MVP candidates.
At one point, Clinton Portis, DeMarcus Ware and Eli Manning were all making strong arguments. Ware and Manning remain in the conversation, but Portis' injuries and slippage in production has dropped him out of the running. But let's take a look at my MVP choice for each team in the division:

Ware
Dallas Cowboys, DeMarcus Ware, OLB
The Cowboys produced 13 Pro Bowlers in 2007, but they won't have half that many this season. Tony Romo is the biggest star on the team, but Ware's undoubtedly been the best player. He displayed immense talent from the start of his career, but a player taken after him in the draft, Shawne Merriman, was considered the more dynamic pass-rusher.
Things have changed dramatically. Merriman may be breaking down and Ware has 16 sacks with three games left to play. I've seen how my fellow bloggers voted in the ESPN.com MVP straw poll, and they completely blew it on Ware. Troy Polamalu and Albert Haynesworth are getting most of the love, but Ware should be right there with them.

Manning
New York Giants, Eli Manning, QB
The numbers won't blow you away (20 touchdowns, eight interceptions), but no quarterback in the league is more important to his team's success. Kurt Warner's the sexy pick (and he's earned the attention), but Manning's the player you want when the game's on the line. Everyone wanted to know what last season's breakout performance in the playoffs would do to Manning. Well, it made him even hungrier. He'll have to do it without Super Bowl hero Plaxico Burress the rest of the way, but I like his chances.
Giants general manager Jerry Reese believes Manning might be the smartest player in the league. He constantly puts the Giants in the right position. Give Tom Coughlin a ton of credit for helping this team overcome adversity, but it all starts and ends with Manning. Not long ago it seemed ludicrous to compare him to his older brother. But at this point, I think Eli will end up with more rings than Peyton.

Westbrook
Philadelphia Eagles, Brian Westbrook, RB
This is a tough one. I'd like to give Donovan McNabb some sort of lifetime achievement award, but he hasn't been the best player on the team this season. Westbrook hasn't been himself because of injuries, but if the Eagles qualify for the playoffs, he'll be the one to get them there. He was brilliant in Sunday's upset of the Giants, and it looks like he's fully healed.
His numbers are down from last season, but he's still one of the best players in the game. The Eagles rewarded him with a lucrative extension in the preseason, and they'll reap the rewards for years to come. It's a little sad that he and McNabb won't win a Super Bowl together -- unless they stay hot right now. Let's give Darren Howard a little credit for his eight sacks.

Portis
Washington Redskins, Clinton Portis, RB
He was having a remarkable season before things went south in the loss to the Steelers. Pittsburgh stuffed Portis, and in subsequent weeks he's been plagued by injuries. Still, he's rushed for 1,260 yards and seven touchdowns. After a slow start in Week 1 against the Giants, he put together a remarkable string of 100-yard games.
Redskins head coach Jim Zorn has done a lot of things right in his first year, but picking a fight with his star player wasn't one of them. Portis has never been a great practice player. He's someone who shows up on game day, though, and lays it on the line. Questioning Portis' preparation in public wasn't the best way to go. Portis was coddled by Joe Gibbs, and the adjustment to Zorn hasn't been easy on him. He has a chance to finish strong -- especially since the Bengals are on the schedule. He's the third-ranked back in the league right now, and that speaks to the amazing start he had.