NFL Nation:

Darrent Williams
February, 29, 2012
2/29/12
4:35
PM ET
The Washington Post reports
the Redskins might make a run at
San Diego Chargers
receiver
Vincent Jackson
in free agency.
Jackson
I can see this happening. The Redskins were one of the teams that considered trading for Jackson while he held out in the 2010 season. Washington coach Mike Shanahan has long been an admirer of Jackson, as the Broncos nearly drafted Jackson at No. 56 in the 2005 draft when Shanahan was at the helm in Denver. However, the Broncos took cornerback
Darrent Williams
. San Diego selected Jackson five picks later.
If the Redskins are, indeed in on Jackson, that could be problematic for the Chargers. San Diego would like to sign Jackson even though the team expects him to get to free agency. There's still a remote chance the Chargers could give Jackson the franchise tag (for the second straight year) by Monday's deadline, but the more likely scenario is him getting to the open market.
The Redskins have been known to throw around wild money, so if they really are going to offer Jackson, it could be out of the Chargers' range. If Jackson does leave, San Diego will look for a replacement in free agency. The Colts'
Reggie Wayne
could
be an option if that scenario develops.
In other AFC West news:
— Denver receiver
Demaryius Thomas
is testifying in
the sexual assault trial
of former Denver cornerback
Perrish Cox
.
—
In an Insider piece

, Todd McShay has a new rankings list of first-round picks to reflect combine performances.
—
Here is a portion of an interview
Oakland quarterback
Carson Palmer
conducted Wednesday on SiriusXM NFL Radio with hosts Adam Schein and
Rich Gannon
.
April, 23, 2011
4/23/11
3:13
PM ET
The
Miami Dolphins
traded two second-round draft choices for wide receiver
Brandon Marshall
last year and gave him a four-year, $47.5 million contract extension.
[+] Enlarge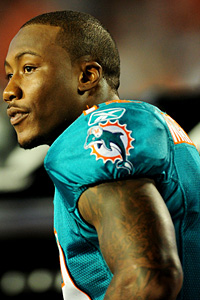 Mark J. Rebilas/US PresswireMiami traded two second-round picks to acquire receiver Brandon Marshall from Denver last year.
Two days ago, Dolphins general manager Jeff Ireland, speaking about the disadvantage of not having a second-round pick next week, said the exchange was worth the hassle.
"Yeah, you wish you had it, for sure," Ireland said, "but I know I got a great player out of it, too. So last year that was the right thing to do, and I'm glad we got the player."
I wonder if Ireland is rethinking that stance.
Marshall's ongoing off-field drama continued Friday, when
his wife allegedly stabbed him in the stomach
. Marshall had surgery at Broward General Hospital in Fort Lauderdale, Fla., and was expected to make a full recovery.
His wife, Michi Nogami-Marshall, was arrested for domestic aggravated battery with a deadly weapon -- a kitchen knife. She admitted to the stabbing and claimed it was in self-defense. She was released on bond Saturday afternoon.
Marshall's problems are incredible. He has cheated death at least twice.
Sports Illustrated recently reviewed the murder of
Denver Broncos
teammate
Darrent Williams
on New Year's Day, 2007. The in-depth narrative
called Marshall the shooter's target and depicted him as an evasive witness
.
Much of his issues stem from relationships with women.
An ESPN investigation for "Outside the Lines" in 2009 (video clip below) found Marshall had been
involved in seven cases of alleged domestic violence
in three states and Puerto Rico. The report featured 911 calls from multiple women, arrest reports and mug shots.
He was arrested for
disorderly conduct after a domestic dispute with Nogami-Marshall
, then his fiancée, in 2009. The police officer reported seeing them "engaged in a fight, kicking and punching each other." The charges were dismissed.
Thirteen months later, they were married. Marshall said his relationship with
Nogami-Marshall, a psychology major at Central Florida, had changed him
.
"She is turning my life around," Marshall told Miami Herald writer Michelle Kaufman in April 2010. "I am a very passionate, emotional person, and she is teaching me to channel that. My life is so much calmer now."
Other charges in Marshall's past include assaulting
an off-duty police officer while at Central Florida and DUI.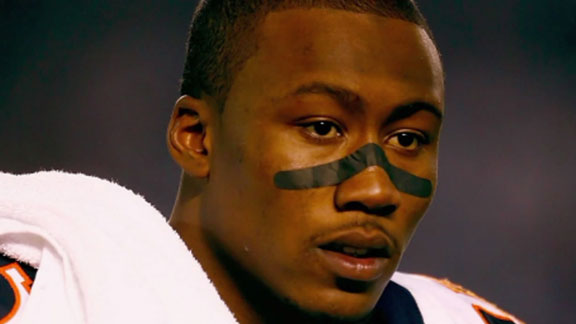 September, 26, 2010
9/26/10
10:52
PM ET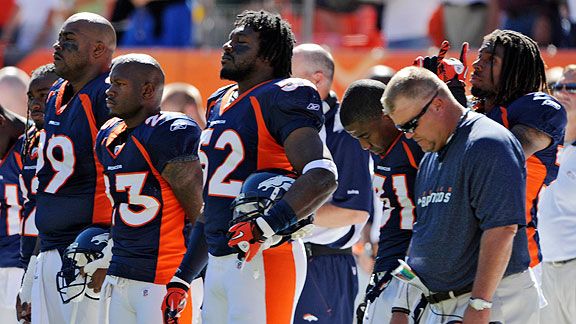 AP Photo/ Jack DempseyThe Denver Broncos observe a moment of silence for Kenny McKinley.
DENVER –- Two days after he spoke at a memorial service for the first time in his life and following a week of being a key part of the support system for the girlfriend and family of one his closest friends,
Matt Prater
had to prepare for an NFL game.
Just like the rest of the confusing, heartbreaking days since he received a phone call that
Kenny McKinley
had died Monday afternoon, Sunday wasn't easy for the Denver Broncos' kicker.
Six minutes before he had to kick off against the
Indianapolis Colts
in
a 27-13 loss
, Prater and his Broncos teammates had to stand through a moment of silence for McKinley.
"Here it is, just before the game and I'm crying," Prater said. "I had to focus on a game and that was happening. I'm sure I wasn't the only guy [crying]. ... I'm tearing up just talking about it now. It was a horrible week."
McKinley died of an apparent suicide Monday. He was 23. The second-year receiver had been on injured reserve since early August because of a knee injury.
Since learning of McKinley's death, the Broncos -- who had to deal with the deaths of 24-year-old players
Darrent Williams
and
Damien Nash
in 2007 -- have been burdened by grief and confusion over the death of a seemingly happy young man. Prater talked to McKinley on Sunday night and the two made plans to see each other Tuesday. Instead, Prater spent the day consoling McKinley's girlfriend.
The Broncos had a team meeting Tuesday morning, during which coach Josh McDaniels and grief counselors addressed the team. The team had an emotional memorial service, which was attended by McKinley's family, Friday. The team on Sunday wore McKinley's No. 11 decal on the back of their helmets, as they will for the rest of the season.
During the moment of silence, Broncos special teams captain
Wesley Woodyard
pointed both arms high into the sky. As soon as the game ended, McKinley's image graced the big screen at Invesco Field at Mile High.
Monday, a contingent of front-office members and players will attend McKinley's funeral in Georgia.
Early last week, Broncos coach Josh McDaniels admitted that it wouldn't be a normal week as the 1-1 Broncos had to prepare for
Peyton Manning
and the Colts.
And it wasn't normal at all.
"It had a big effect on this team this week," Prater said. "There was sadness. We felt it all week."
[+] Enlarge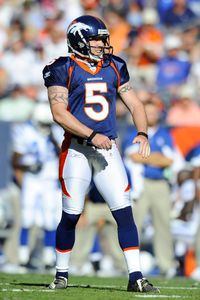 Ron Chenoy/US PresswireKicker Matt Prater, a close friend of Kenny McKinley, was able to connect for a 25-yard field goal in the first quarter.
Prater said Denver's pregame locker room was much quieter than usual, though he did hear a few teammates say the Broncos needed to "win it for Kenny."
After the game, Broncos officials privately lauded McDaniels -- who also spoke at the memorial service -- for allowing himself and his players to grieve while still keeping them focused on the game plan.
The following are some key aspects to the loss for Denver:
Too many mistakes:
The
Broncos hung with the Colts
in this game. Yet, they were doomed by critical mistakes throughout the game. The Colts didn't make big mistakes and that's why they won.
Denver lost a fumbled punt at its 10. Quarterback
Kyle Orton
, despite putting up big numbers, was intercepted in Colts territory. Denver was stopped four straight times from the Colts' 1.
With just over nine minutes to play and the Colts leading 20-13, Denver went for it on fourth down and 3 from the Colts' 12. Orton couldn't hook up with receiver
Brandon Lloyd
.
That play surely will be talk-radio fodder this week in the Rockies. McDaniels said he thought about going for a field goal, but stood by his decision.
"You kick a field goal and you're down four and you go on," McDaniels said. "You make a decision and you live with it. ... We'd probably do it again."
Orton has a big day:
Orton continued to show immense improvement. He threw for 476 yards, which was the second most passing yards in Denver history. Orton has 1,078 yards in three games.
Still, Orton, who completed 37 of 57 passes, had trouble in the red zone, completing 3 of 13. That's where Denver last the game.
"We have to get better there," Orton said.
Manning does enough to win:
At times, Colts superstar Peyton Manning looked like the second-best quarterback on the field. But Manning made enough plays when it counted.
With Denver bottling up the Colts' running game for much of the day, Manning was forced to win the game with his arm. No problem there.
After McDaniels' failed gamble, Manning led the Colts on an impressive drive, including hitting receiver
Austin Collie
on a third-and-15 play to seal the game.
"We just didn't make enough plays," said Denver cornerback
Champ Bailey
, who played despite missing most of the practice week with a foot injury. "We just didn't do enough."
September, 21, 2010
9/21/10
4:49
PM ET
Denver Broncos
coach Josh McDaniels knows this will be a difficult week for his team as it prepares to host Indianapolis on Sunday.
An emotional McDaniels addressed the media Tuesday, a day after second-year receiver
Kenny McKinley
died in an apparent suicide. McKinley, 23, was on the injured reserve. He was a fifth-round pick in 2009. McDaniels declined to discuss the circumstances or details of the death. Yet, he was very open about his feelings toward McKinley and how it will weigh on the team.
"You know, it's not going to be a normal week," McDaniels said. "We are not going to try and pretend that it's a normal week. We are going to do our work and get ready to go and like I said, I think really respect everybody's ability to go through this differently. We are not going to ask everybody to be the same, and we are not all going to be the same. I think the players will understand that the week is going to go forward and we are going to have to handle that as well as get ready for the Colts and be ready to play on Sunday. It will be different, but I think our group will continue to so what they have done, which is prepare hard and get ready to play."
McDaniels called a team meeting for Tuesday morning, which was the team's day off. McDaniels updated the players on the situation and grief counselors addressed the team as well.
The Broncos are experienced with dealing with tragedy. Hours after the 2006 season ended, popular right cornerback
Darrent Williams
was shot and killed in a drive-by shooting in downtown Denver. Fifty-five days later, reserve running back
Damien Nash
died of a heart attack after hosting a charity basketball game. Williams and Nash were both 24.
This situation is somewhat different, because Denver has to play a game in the days after the death of a teammate.
McDaniels said there will be a moment of silence prior to Sunday's game and players will wear a decal with McKinley's No. 11 on it. The team has also decided to keep McKinley's locker intact for the rest of the season. McDaniels said the team is in the progress of working on the details of a memorial service with McKinley's family.
September, 20, 2010
9/20/10
11:30
PM ET
Several
Denver Broncos
were spending the night after their first win of the season honoring the memory of a fallen teammate.
The Broncos have gotten used to dealing with death, if that is even possible. Sadly, they must face the death of a teammate for the third time in less than four years
Second-year receiver
Kenny McKinley
was found dead Monday of an apparent suicide. He was 23. McKinley was a receiver who was a fifth-round pick in 2009. He was on the injured reserve.
Once again, Denver will be saddled with heavy hearts.
Hours after the 2006 season ended, popular starting right cornerback Darrent Williams was shot and killed in a drive-by shooting after a New Year's Eve party in downtown Denver hosted by Denver Nuggets forward Kenyon Martin. Fifty-five days later, reserve running back Damien Nash died of a heart attack after hosting a charity basketball event. Williams and Nash were both 24.
Monday night, Denver star cornerback
Champ Bailey
and former safety
John Lynch
hosted an event to benefit the memorial center named in Williams' honor. Several current Denver players were scheduled to be at the event.
Nearly four years after Williams' senseless death, the event was supposed to be joyous as the team and the Denver community remembered Williams.
Now this news.
The deaths of Williams and Nash understandably affected the 2007 Broncos. There were funerals, tributes and the team wore helmet decals in memory of the two men. As time passed, it seemed Denver found a way to move on, although the team never forgot Williams and Nash.
Now, there will be more memorials and tributes to deal with.
Unlike Williams and Nash, I had never met McKinley. By all accounts, he was pleasant young man who was quick with a smile. This is a tragedy that the Broncos are all too familiar with.
June, 29, 2010
6/29/10
8:25
PM ET
The San Diego Union Tribune
is reporting that the
San Diego Chargers
could end up trading Pro Bowl receiver
Vincent Jackson
, who is planning to hold out as a result of not signing his restricted free-agent tender. He could miss, at least, the first 10 games of the season before returning to qualify for an accrued season.
[+] Enlarge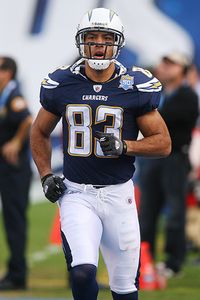 Icon SMISan Diego Chargers receiver Vincent Jackson may be on the trading block.
There has been talk for several days that Jackson could end up being traded. Teams that could be interested include Seattle, Washington, Chicago and Denver, although there is virtually no chance San Diego will deal Jackson to an AFC West rival.
I wrote earlier Tuesday that
San Diego general manager A.J. Smith will not cave in this matter
in regards to both Jackson and left tackle
Marcus McNeill
, who is also planning to stage a hold out.
However, if the Chargers can get something of value for Jackson and get the matter resolved, I don't think that would be caving. That would be a sign of Smith showing he is in control and that he will ship players out of the loveliest city in the NFL if they don't want to play by his rules.
I think San Diego could get some solid value for Jackson. He's is big, strong and fast receiver who had 68 catches last year and is getting better. However, there is a big knock against Jackson. He has two drunken driving arrests since entering the NFL and is likely facing a short NFL suspension in 2010.
Jackson is looking for a huge contract (think north of the $50 million Miami gave
Brandon Marshall
after acquiring him from Denver in April) and some teams may be leery of giving him that deal. Still, Jackson has had fewer legal issues than Marshall and did not create the team problems that Marshall created during his tenuous time in Denver. Miami gave two second-round picks to Denver for Marshall. Jackson could fetch at least a solid No. 2 pick.
I think teams like the Seahawks, Redskins and the Bears would all be willing to give up a nice pick for Jackson. The Seahawks and Redskins would also likely be willing to pay him what he wants.
I know new Washington head coach Mike Shanahan is a big Jackson fan. He nearly drafted him in 2005 in the second round when Broncos took the late Darrent Williams at No. 56. Jackson was next on Denver's draft board. He went five spots later to the rival Chargers and the Broncos were not happy about it. The Redskins have long been known to spend big and to trade draft picks, and trading picks for Jackson could be a fit.
If San Diego can get good value for Jackson, and if it doesn't think it can keep him for the future, they should make the move now.
As for McNeill, the San Diego Union Tribune reports he is not on the block because the team eventually wants to sign him long term. I have also heard that McNeill may not be as dead set as Jackon on holding out for the long haul.
April, 14, 2010
4/14/10
2:40
PM ET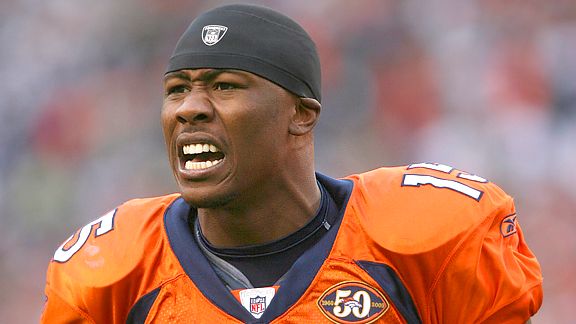 Tom Hauck/Getty ImagesIt was best for both the Broncos and Brandon Marshall to trade the wide receiver out of Denver.
Hours after the
Denver Broncos
took a big kid from a small program in the 2006 draft, I spoke to an assistant coach on the team's staff.
Without prompting, the coach said: "That receiver we got in the fourth round is a superstar, but he's trouble. We have to hope it works."
Three months later,
Brandon Marshall
, that perfect-looking receiver from Central Florida, looked like a 10-year Pro Bowl performer in his first NFL training camp. At 6-5, 230 pounds, the kid looked like he should have been the No. 1 overall pick, not a second-day selection. I asked another Denver assistant coach if I was simply being an impressionable layman or if what I was witnessing on the field was as amazing as I thought.
"The kid is brilliant. He's just brilliant. But I can't tell him that," the coach said. "We have to keep this kid grounded."
It never happened. The Broncos couldn't keep Marshall grounded. In the end, his troublesome tendencies outweighed his on-field brilliance. After four years of headaches, the Broncos had to part ways with Marshall. It wasn't going to change.
It didn't matter if Mike Shanahan or Josh McDaniels was his coach. Marshall was never going to combine off-field harmony with on-field dominance in Denver.
He had to go. It's been evident for a couple of years. That's why Denver has to rejoice with
its trade of Marshall to Miami on Wednesday morning
. The Broncos received Miami's second-round pick (No. 43) this year and second-round pick next year in the deal.
Denver originally wanted a first-round pick for Marshall, but that wasn't going to happen. Getting this package is great for Denver. The Broncos have to look at it this way: They got 327 catches in four seasons from a fourth-round pick and turned it into two quality draft choices. That's excellent production.
In an ideal world, Marshall would have played 12 seasons in Denver and gone into the Pro Football Hall of Fame -- he has that type of talent -- playing for just one team. But that was never going to happen. He was too volatile and too unhappy in Denver.
We know all of the issues. There was the domestic violence and drunken driving arrests, the involvement in an altercation before the shooting death of
Darrent Williams
, the disputes with coaching staffs and the team-sanctioned suspension last summer.
Marshall's fate in Denver became obvious when McDaniels suspended him for the season finale against Kansas City (with the Broncos in the playoff hunt) because he thought Marshall was milking a minor injury. When McDaniels publicly embarrassed Marshall and ruled him out of an important game, which Denver lost, it meant McDaniels was done with him.
There was just no way Denver could move forward with Marshall. He was a divisive presence in the locker room. Marshall gave Denver problems every year he was in town. It would have continued moving forward.
Marshall will be missed on the field. He is a terrific player. He has had more than 100 catches the past three seasons. He is top-five receiver in the NFL, a game changer and a matchup nightmare. But he's was not worth all the trouble in Denver. The team will no longer have to worry every night if Marshall is going to get in trouble or cause any problem the next day at the facility.
Denver is not a better team on the field today without Marshall. But eliminating him from the locker room takes away a major problem that was a heavier burden than his on-field ability was a blessing.
Denver had to rid itself of Marshall. It had no choice.
March, 11, 2010
3/11/10
5:07
PM ET
This day has been a long time coming for the family of Darrent Williams.
Justice was their only chance for peace.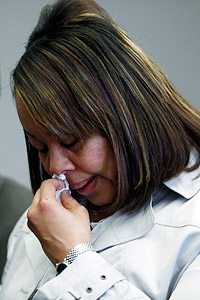 AP Photo/David ZalubowskiRosalind Williams, mother of slain Denver Broncos cornerback Darrent Williams, fights back tears while speaking in Denver on Thursday after Willie Clark was found guilty of murder in the drive-by shooting of her son in 2007.
After three years, it finally arrived in a Denver courtroom Thursday. Denver-area gang member Willie Clark
was convicted of murder in the drive-by shooting death
of Broncos cornerback Darrent Williams on Jan. 1, 2007.
Williams was a wildly popular player in Denver. His death polarized the city. It devastated his family. While in contact with family members Thursday, I got the sense the verdict has brought the closure the family has been searching for the past three years.
Clark's guilt will not bring back the smiling face of the tiny, but feisty defender everyone simply called "D. Will." But it does bring justice.
That's all the family has wanted.
I remember talking to family members after an emotional memorial service the night before Williams' unforgettable funeral in Forth Worth, Texas on a gray Saturday afternoon in January. Between coming down from the emotional public memorial and preparing for more pain that would come the next day, the family huddled around a computer trying to find information on the police's search for D. Will's killer.
It's all they had left.
This week, when speaking to Williams' family members as they prepared for the jury's verdict, they vowed to stay strong whether Clark was found guilty or innocent. Yet, they were hoping and praying for a guilty verdict.
The Williams' family got their justice Thursday. They've long deserved it.
March, 11, 2010
3/11/10
4:06
PM ET
Denver Broncos owner Pat Bowlen released a statement after Denver-area gang member Willie Clark
was convicted on Friday of shooting and killing
Broncos cornerback Darrent Williams on Jan. 1, 2007.
I will have some thoughts on the verdict shortly. Here is Bowlen's statement:
"Nothing can ever bring Darrent Williams back or ease the suffering for Rosalind and her grandchildren.
But after three long years, it is very gratifying to see closure brought to this case. This process has been extremely difficult for the Williams family, his friends and teammates, this community, and the entire Denver Broncos organization.
I would like to praise the long and hard work of the Denver Police Department and the Denver District Attorney's Office. I also want to thank the Denver community for the overwhelming support that both the Williams family and the Broncos have received during this unimaginable tragedy.
Darrent's legacy will live on for all of us in the Broncos organization, and the outstanding work done each day at the Darrent Williams Memorial Teen Center is a tribute to his impact on this community. Our hearts continue to go out to the entire Williams family."
March, 3, 2009
3/03/09
9:58
PM ET
Posted ESPN.com's Bill Williamson

For the second time in 26 months, Troy Asmus is dealing with a tragedy involving one of his clients.
Asmus is one of the agents for Oakland linebacker Marquis Cooper, one of three men who are missing at sea in Florida. The Coast Guard called off the search Tuesday night because they don't believe the three missing men are alive after Saturday's accident.
Asmus was also one of the agents for Darrent Williams. The Denver Broncos cornerback was killed Jan. 1, 2007 in a drive-by-shooting after hosting a New Year's Eve party in downtown Denver.
"It's haunting," Asmus said Tuesday night. "This is so terrible and then it brings me back to D. Will and what we experience there. To deal with it again is tough."
Asmus reiterated the words of Cooper's father, Bruce and said the family is committed to continue the search and private search parties will continue looking for the missing party Wednesday morning.
"We understand and appreciate what the Coast Guard did," Asmus said. "But we're not ready to give up."
Because of their hope, Asmus said any funeral arrangements have been delayed.