NFL Nation:

Darrius Hewyard-Bey
November, 21, 2010
11/21/10
12:36
PM ET
Oakland star cornerback
Nnamdi Asomugha
will be inactive Sunday at Pittsburgh for the second straight game. He suffered an ankle injury three weeks ago. Asomugha was practicing lightly all week in preparation for the Pittsburgh game, but it was announced Friday that he'd be a game-time decision.
Also out for the 5-4 Raiders, who are tied for first place with Kansas City (Oakland currently owns the tiebreakers) is receiver
Darrius Heyward-Bey
. He suffered a hamstring injury during a bye-week practice. That means rookie
Jacoby Ford
will get another start. He played for the injured
Louis Murphy
(who is back this week) against Kansas City and Ford had six catches for 148 yards, including two huge catches at the end of regulation and in overtime to setup Oakland's win.
Ford, who also had a return for a touchdown against the Chiefs, could make a serious push for the permanent starting job if he has a big game against the Steelers. Heyward-Bey has been very inconsistent.
Meanwhile, Kansas City inactivated rookie receiver/returner/running back
Dexter McCluster
for the fourth straight game Sunday against Arizona. He has an ankle injury.
November, 2, 2010
11/02/10
3:02
PM ET
»
NFC High Energy
:
East
|
West
|
North
|
South
»
AFC
:
East
|
West
|
North
|
South
A look at a player who gave his team a significant boost in Week 8:
This one was tough. We had all kinds of candidates in what was a good week for the AFC West (outside of Denver).
[+] Enlarge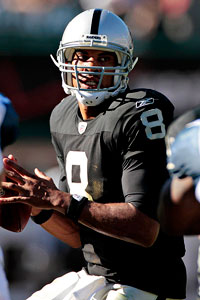 Cary Edmondson/US PresswireJason Campbell needed just 15 completions to throw for 310 yards and two touchdowns on Sunday.
There was
Jamaal Charles
and his 177 rushing yards. There was
Darrius Heyward-Bey
, who had 105 receiving yards and showed signs he can help the Raiders. There was
Philip Rivers
, who threw for 305 yards despite playing without his top four wide receivers.
But we have to go with Oakland quarterback
Jason Campbell
. Campbell gets the nod because of the ramifications of it all. Campbell led the Raiders to 500-plus yards of offense for the second straight week. It was the first time Oakland has ever done that.
That's pretty good for a backup quarterback. The question is, will Campbell remain the backup? Oakland coach Tom Cable says yes. Cable said
Bruce Gradkowski
will be the starter once he returns from a shoulder injury that has kept him out of the past three-plus games. Gradkowski is improving, but he may need one more week to rest, especially with a bye coming after the Raiders' pivotal home game against the Chiefs on Sunday.
I'm wondering if Campbell doesn't deserve the full-time gig. After all, he was brought into Oakland to be the starter in the first place. Yes, he struggled early. But he clearly has it rolling now.
Now that he is performing well, it might be smart to let him to continue to develop in the offense. The reason Gradkowski was given the starting gig in Week 3 was because he had the hot hand. Now Campbell has the hot hand. Do you want to mess with that?
Look, I love Gradkowski's energy as much as anyone, but do you fix what's not broken? This may be an interesting situation to follow, especially if Campbell leads Oakland to a big win over the Chiefs and puts the Raiders on the doorstep of first place in the AFC West.
September, 12, 2010
9/12/10
7:46
PM ET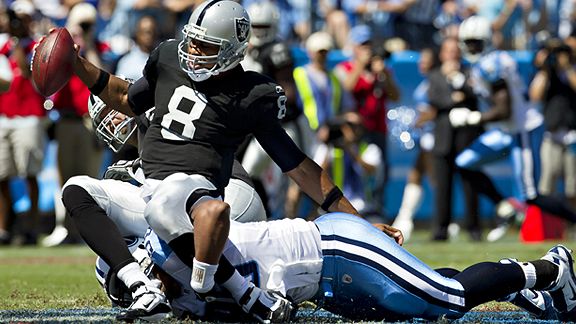 Wesley Hitt/Getty ImagesJason Campbell was sacked four times as the offensive line failed to protect their new quarterback.
NASHVILLE, Tenn. -- It was a familiar scene for the
Oakland Raiders
, and that's a problem.
In one end of a sullen locker room sat the Raiders' quarterback and his receivers. They didn't say much. They were beleaguered after a completely ineffective performance in a
38-13
thrashing at the hands of the
Tennessee Titans
, who were by far, the superior, most prepared and most efficient team on the field Sunday.
Jason Campbell
may be in and
JaMarcus Russell
may be out at quarterback, but the ineffectiveness that saddled and defined the Raiders last season still hovers over the team like an unforgiving and unrelenting stench.
"When I woke up this morning I didn't think this is how the day would go," Raiders tight end
Zach Miller
said.
The Raiders thought they had moved beyond this type of performance.
They thought they had turned the corner from being one of worst organizations in the league and had become a legitimate playoff contender. That is one of the reasons why the Raiders pranced around in T-shirts predicting they'd win the AFC West this year.
However, as they fly across the country Sunday night, the Raiders must realize that true NFL turnarounds occur on the playing field, not in the draft room or on the training-camp practice field.
It was only one game, but the 2010 Oakland Raiders look like more like the 2003-09 Raiders, who lost 11 or more games for a record seven straight seasons, than the team Oakland thought it already had become.
After Week 1 of the NFL season, we cannot talk about the addition of a new, effective quarterback or a shiny new draft class that changed the defense. All we can talk about is that the Raiders are now 29-84 since advancing to the Super Bowl in the 2002 season. For now, the misery in Oakland continues.
The complete beating shocked the Raiders and their coaching staff.
Oakland was convinced this season would be different, and maybe it still will be. But there is now a serious dose of doubt that was not present during the offseason.
[+] Enlarge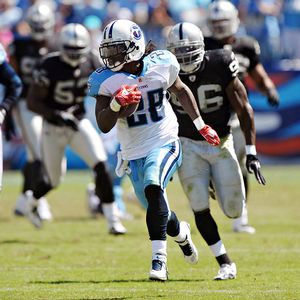 Kirby Lee/US PresswireThe defense couldn't stop the Titans as Tennessee put up 24 straight points in the first half.
The Raiders hired the respected Hue Jackson as their offensive coordinator. They traded for Campbell and cut Russell. They had a solid, smart draft. They performed, for the most part, solidly in the preseason.
All systems were go. Until kickoff. Then, the Raiders reverted back to being the same old Raiders.
Oakland's
Yamon Figurs
fumbled the opening kickoff and the Raiders barely recovered the ball. But it was a sign of things to come. Oakland was sloppy and was outplayed on both sides of f the ball.
The Raiders never truly seemed to be in the game even though they took a 3-0 lead after a
Vince Young
turnover in Titans' territory.
Oakland, who compiled some garbage-time yardage after trailing 31-6 after three quarters, had 136 yards of offense in the first half. Tennessee sacked Campbell four times in the first half and batted down three of his passes. He never had time to set up the deep pass and many of his 22 completions came on check-downs. Their longest pass play was for 27 yards and no other went for more than 16 yards.
They were 0-for-7 on third-down conversions in the first half. Starting receivers
Louis Murphy
and
Darrius Heyward-Bey
combined for five catches for 39 yards. Heyward-Bey, the 2009 first-round pick whom Oakland has high expectations for this season, had one catch for 11 yards.
Campbell finished 22 of 37 for 180 yards. He looked hesitant and didn't appear to completely trust his line, which was anchored by rookie center
Jared Veldheer
, a converted tackle. Campbell fumbled twice, losing one deep in Oakland territory. His one interception was nearly brought back for a touchdown.
Campbell wasn't Russell. But he wasn't Jim Plunkett circa 1980, either. Oakland owner Al Davis compared Campbell's arrival to Plunkett's arrival -- which sparked a title in the 1980 season. Jackson is supposed to revive an offense that scored only 17 touchdowns last season. Yet, the Raiders, who were penalized 10 times for 77 yards, didn't score their lone touchdown Sunday until 9:58 remained in a blowout.
"We're not proud of how we played today," Campbell said. "I thought they were more detailed today than we were … it's deflating."
Defensively, the Raiders gave up too many big plays. While Oakland did a decent job of stopping rushing king
Chris Johnson
at times, he ended up with 142 yards in 27 carries. He had a 76-yard touchdown run and the Titans also had a 56-yard passing play for a score.
To his credit, Oakland coach Tom Cable -- who will once again be the subject of hot-seat talk if this type of play continues -- was clearly perturbed. Cable has earned a reputation for being an eternal optimist in his tenure as Oakland's coach. Cable, who is now 9-20 as the Raiders' head coach, didn't paint a rosy picture Sunday.
"I'm very disappointed in this one game," Cable said. "We were very hesitant in all three phases early in the game, and never seemed to get out of it."
Again, it's only one game, but it's painfully obvious to Oakland that it is not out of the abyss yet.
May, 8, 2009
5/08/09
9:55
PM ET
| | |
| --- | --- |
| | |
| | Ezra Shaw/Getty Images |
| | Rookie Darrius Heyward-Bey practiced with the Raiders for the first time Friday. |
Posted by ESPN.com's Bill Williamson
ALAMEDA, Calif. -- Oakland's Darrius Heyward-Bey and JaMarcus Russell -- two people whose NFL futures are directly tied to one another --- met for the first time Thursday night.
The two took the field Friday and Russell, the third-year quarterback, threw passes for the first time to Heyward-Bey, the team's surprise first round pick who must fight criticism that he was inconsistent in college.
"He's a cool guy," Russell said of his first impression of the speedy Heyward-Bey. "He's going to open a lot of eyes."
Russell better hope so.
This is a critical season for Russell. He must make strides in his second full season as a starter. Russell must become more consistent, efficient and a better field general, but also needs better production from his receivers. Oakland's leading wide receiver, Johnnie Lee Higgins, had 22 catches last season.
That's where Heyward-Bey, who was working with the starting unit Friday, comes in. Heyward-Bey became a national draft day story when he was chosen three spots ahead of top receiver prospect Michael Crabtree, who went three slots later to Bay Area rival San Francisco.
The book on Heyward-Bey is he may need some seasoning before he can be considered a top-flight NFL receiver. Oakland selected him with the No. 7 pick, about 15 spots higher than many expected.
There is no questioning Heyward-Bey's potential. He has off-the-charts speed and size. He has a chance to be very good. The big question in Oakland is if Heyward-Bey can develop quickly.
"We'll see if its year one or year two," Heyward-Bey said. "The thing is if I can stay healthy. If I stay healthy, I will produce."
The Raiders had to be happy with the first day with Heyward-Bey wearing the silver and black.
Not only was his blazing speed on display, but so were his hands. Russell said Heyward-Bey was "sure handed."
His hands were a concern for teams leading up to the draft, but he showed proper technique and hauled in several tough throws Friday morning.
Oakland coach Tom Cable's joy over Heyward-Bey was on full display after the morning session Friday. Cable almost had an I-told-you-so attitude regarding his new player, who he calls a "brilliant young man." Cable said Heyward-Bey will "keep proving" his reputation for having poor hands "isn't true."
"He's going to be a really fine player," said Cable, who admitted he tiring of having to justify the selection.
Heyward-Bey said he understands the criticism but is undeterred. He said he is determined to show that Oakland made a "great pick."
Heyward-Bey said he feels no extra pressure from being picked higher than Crabtree. He knows there will be weekly comparisons between the two, beginning when the Raiders and 49ers meet in the preseason.
"We're not like Kobe and LeBron yet, comparing our stats," Heyward-Bey said with a chuckle. "All I'm worried about is learning this playbook and making this team."
Heyward-Bey said he learned a lesson during the morning session Friday while being covered by Pro Bowl cornerback Nnamdi Asomugha.
Asomugha said Heyward-Bey's eyes led him to the ball and allowed him to break up the pass. The cornerback said he plans to talk to Heyward-Bey about the nuances of not letting a cornerback know the ball is coming his way.
"I knew I wasn't in college anymore," Heyward-Bey said of the play.
Neither is Russell, who had an uneven first practice. Cable said Russell's play Friday ranged from "OK to very good."
Earlier this offseason, Cable said he wants to see Russell take more of a leadership role. Friday, Cable reiterated it. He said that Russell is making strides as a leader but he "isn't there yet."
Russell needs to make big strides this season and Heyward-Bey was drafted to help him get better. There is no doubt they are in this together.
"We have to keep working," Heyward-Bey said. "We have to make a connection."
Update: Heyward-Bey lived up to his reputation for having bad hands on Saturday. He dropped three straight passes. Clearly, he does have improvements to make in that area.

NFL SCOREBOARD
Thursday, 9/4
Sunday, 9/7
Monday, 9/8