NFL Nation:

Darryl Stingley
July, 27, 2010
7/27/10
8:05
PM ET
While the friends and family of Darryl Stingley are still struggling to forgive
Jack Tatum for the play that defined both players' lives, one of Tatum's teammates and fellow Oakland Raider, Art Shell, remembered him as a great, clean player and as a good man.
In an email Shell made it clear Tatum will be missed in Oakland. The two were teammates in the 1970s in Oakland. Shell was a Hall of Fame tackle and was twice Oakland's head coach.
Tatum, a hard-hitting safety who left Stingley paralyzed after delivering a hit in a 1978 preseason game, died at the age of 61 Tuesday.
"Jack Tatum was a great football player that played within the rules, with a great passion for the game," Shell wrote. "He was a loveable guy who cared about his family, his teammates and winning. He also cared about winning in life ... Janice and I will miss him ... Our thoughts and prayers are with his family."
The feeling in New England is understandable, but Shell's quotes show another side of Tatum.
July, 27, 2010
7/27/10
6:42
PM ET
When somebody dies, it's polite to say something nice.
Out of respect, even the reviled are generally granted dispensation when they pass away. A particularly horrible decline elicits extra mercy.
But not when it's Jack Tatum, and not when the man being asked is Steve Grogan.
"I just can't do it," Grogan coldly said Tuesday afternoon.
[+] Enlarge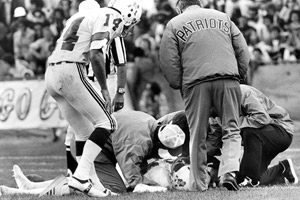 Ron Riesterer/The Sporting News/ZUMA PressDarryl Stingley, above, never recovered from a collision with Jack Tatum in Aug. 1978, remaining in a wheelchair for the remainder of his life.
Tatum, a safety who embodied the
Oakland Raiders
mystique and was called "The Assassin" for his brutal hits,
died of a heart attack at 61
. Tatum dealt with a series of problems related to diabetes in recent years. His right leg and all the toes on his left foot were amputated.
That he lived his final years in such condition was sad to some, tragically poetic to others.
Tatum's most infamous collision occurred when he paralyzed
New England Patriots
receiver Darryl Stingley in a 1978 preseason game. Stingley was 55 when he died three years ago from pneumonia complicated by his paralysis.
"I'm sorry because there was a life lost today," said Darryl Stingley's son, Derek, who was 7 when his father stopped walking. "Jack Tatum had a family. He was somebody's father, somebody's brother, somebody's cousin or uncle. I truly am sad because of that.
"But at the same time that life put my father in a situation that he couldn't feed himself when he wanted to."
Derek Stingley saw a report of Tatum's death on ESPN's news crawl and immediately called his grandmother, Hilda Stingley.
"This brings back all those memories," Derek Stingley said. "I've just been almost in a daze today."
On that fateful night in 1978, Grogan threw to Darryl Stingley on a crossing route in a meaningless game. The ball sailed incomplete. Tatum blasted him head-on anyway. Darryl Stingley didn't get up.
The hit was considered legal at the time, the kind of vicious shot Tatum delivered on a regular basis. No flag was thrown. The NFL didn't discipline Tatum. That Darryl Stingley suffered two broken vertebrae and was paralyzed from the chest down was considered bad luck.
"I've seen the hit over and over," said Derek Stingley, president of the
Darryl Stingley Youth Foundation
, which his father founded. "Tatum was just giving him a hard hit. That was in the cosmos. That was in the stars that day."
What happened in the days, weeks and years after the hit was what Grogan -- and much of the Patriots family -- deemed unforgivable.
"I have a hard time trying to find something nice to say," Grogan said about Tatum. "That bothers me because I'm not like that normally. You may talk to guys that played with him, and they might tell you he was greatest teammate in the world and everybody loved him.
"The circumstance that we were involved with, just the way he handled it, that will never come out of any of our mouths or minds."
Tatum never spoke to Darryl Stingley after the injury -- although he did suggest a televised reconciliation to coincide with the release of a book. Tatum wrote three of them: "They Call Me Assassin" in 1979, "They Still Call Me Assassin" in 1989 and "Final Confessions of NFL Assassin Jack Tatum" in 1996.
"When something like that happens and you can't apologize for it, go out and write a book to make money and try to get famous off the incident, that's just not right," Grogan said. "I thought he handled it very poorly."
In a 2003 Boston Globe story,
Darryl Stingley said he still would welcome a visit or a call from Tatum
-- without a commercial agenda.
"If he called me today, I'd answer," Darryl Stingley said. "If he came to my house, I'd open my door to him. All I ever wanted was for him to acknowledge me as a human being. I just wanted to hear from him if he felt sorry or not. It's not like I'm unreachable. But it's not a phone call I'll be waiting for anymore."
Darryl Stingley also claimed he harbored no hate for Tatum.
"It's hard to articulate," he said. "It was a test of my faith. The entire story. In who, and how much, do you believe, Darryl? In my heart and in my mind I forgave Jack Tatum a long time ago."
Tatum's legacy was forever tainted by his callousness. ESPN's John Clayton wrote a remembrance of Tatum and noted the behavior toward Darryl Stingley
likely prevented Tatum from garnering consideration
for the Pro Football Hall of Fame.
Tatum was a three-time Pro Bowler. He was involved in several memorable hits, knocking off
Minnesota Vikings
receiver Sammy White's helmet in Super Bowl XI and laying out Frenchy Fuqua to ricochet the ball Franco Harris turned into the Immaculate Reception.
The NFL Network ranked Tatum the sixth-most fearsome tackler in league history, but the program never mentioned his hit on Darryl Stingley.
"He had close to 30 years to apologize," Derek Stingley said. "If that created a burden for him to live with, that's his own doing. There were plenty of opportunities.
"This is a reminder to put things to the side and let bygones be bygones. I wish they had that opportunity to close that chapter in their lives, but it never happened."
July, 27, 2010
7/27/10
5:50
PM ET
Jack Tatum struck fear.
That was his life as a football player.
[+] Enlarge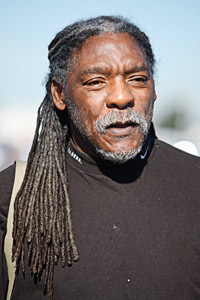 AP Photo/Ben MargotJack Tatum was the face of the Oakland Raiders in the 1970s.
He clearly embraced it. Playing off his nickname, the former Oakland Raiders safety penned his autobiography, "They Call Me Assassin." He was quoted as saying his best hits bordered on "felonious assault."
He was a nasty, fierce hitter and the face of the swaggering Oakland Raiders of the 1970s. The Raiders hurt opponents and it all started with the Assassin, whom
The NFL Network
ranked as the No. 6 most feared hitter in NFL history.
Of course, Tatum is mostly remembered for delivering the hit on receiver Darryl Stingley that left the New England receiver paralyzed in a preseason game in 1978. Stingley,
who died three years ago
, was bitter toward Tatum and the two never met to discuss the unfortunate play. Tatum never apologized. He maintained it was a clean hit. But he did say he tried to visit Stingley in the hospital after the game, but was turned away by Stingley's family.
Because of the play, Tatum was known as a villain. I hope that talk ends. Tatum,
who died Tuesday at age of 61,
was a nasty, tough player. He wasn't dirty. He just played the game the way it was designed in the 1970s, when the rules were much looser than they are in today's game, which, thankfully, places a premium on safety.
Tatum needs to be celebrated in his death. He was a tough man who gave his all to his team and to his sport.
July, 27, 2010
7/27/10
4:16
PM ET
Jack Tatum's playing style was true to his nickname. He was "The Assassin.''
I was lucky enough to cut my teeth covering the NFL during the 1970s in Pittsburgh. Back then, no matchup was more anticipated than Pittsburgh Steelers-Oakland Raiders. Part of the reason was Tatum, who made sure receivers venturing into the middle of the field did so at their own risk.
[+] Enlarge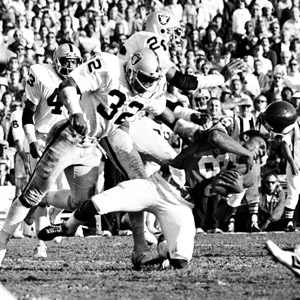 AP Photo/Richard DrewJack Tatum (32), who came from an era of hard running and harder hits, died Tuesday.
What is forgotten is how physical the game was in the 1970s. That was the age of great defense, hard running and harder hits. Situation substitution wasn't part of 1970s football. Cornerbacks were allowed to mug receivers at the line of scrimmage or downfield.
And safeties? Well, the words safety and receiver simply didn't match up in those days. Tatum,
who died Tuesday at 61
, played the position like a linebacker. He hit like no other safety in football.
It was probably fitting that one of his notable hits came against the Steelers. I remember sitting in the auxiliary press box at Three Rivers Stadium during the 1972 playoffs. The Raiders were about to squeak out a come-from-behind victory over an upstart Steelers team. In the final seconds, Terry Bradshaw fired a prayer of a pass toward Frenchy Fuqua.
Tatum saw the ball and Fuqua, so naturally you knew a collision was coming. Tatum's hit caused the ball to fly backward into the hands of running back Franco Harris. The "Ultimate Hit" led to the "Immaculate Reception" as Harris caught the ball just before it hit the ground and scored the winning touchdown.
After Tatum's career was over, I saw him at a celebrity flag football game during a Super Bowl. He led a chorus of former Raiders players who blasted eventual Hall of Fame receiver Lynn Swann of the Steelers for not being tough enough. Tatum and the Raiders made Swann a target back in those days.
What's a shame is the Darryl Stingley incident during a preseason game in 1978. Tatum delivered his usual "Assassin-style" hit, but Stingley never walked again. Tatum didn't show compassion for Stingley, opening the door for plenty of criticism.
Tatum's style might have been outlawed in this new age of football. Research continues into the long-term damage the game inflicts on players. Had he played in the 21st century, Tatum might have had to donate his salary to charity because the league office would be fining him every week.
Is Tatum a Hall of Famer? Well, I am surprised he has not received more attention from voters. The Stingley incident is a huge factor there, so don't count on him making it.