NFL Nation:

Davante Adams
March, 6, 2014
Mar 6
3:00
PM ET
In his latest mock draft, in an Insider piece, ESPN draft analyst Todd McShay believes the
San Francisco 49ers
will shore up the defensive line.

He has Notre Dame nose tackle
Louis Nix III
tabbed for the 49ers. Nix is a high quality player and he would be good value at No. 30, where the 49ers pick. But the 49ers are deep on the defensive line.
McShay has Nix as the pick because his mock has a late first-round run on receivers and cornerbacks. Those are the 49ers' biggest needs.
Still, the 49ers, who are poised to have 13 draft picks, have the capability to trade up in the first round. If they think that's what it would take to get Oregon State receiver
Brandin Cooks
or Florida State receiver
Kelvin Benjamin
, the 49ers would.
Also, as this board falls, I'd think the 49ers would be interested in Fresno State receiver
Davante Adams
or Florida State cornerback
Lamarcus Joyner
with the No. 30 pick.
March, 3, 2014
Mar 3
8:00
AM ET
The
San Francisco 49ers
happily watched the events of the NFL combine late last month.
Perhaps the team's biggest need is receiver. So, it didn't break the 49ers' heart that several players at the position shined at the combine. Numerous coaches, scouts and executives in the league have said this is the best group of receivers in the draft in several years.
The 49ers have the 30th pick in the first round. I asked ESPN draft expert Steve Muench to identify the players who may be available at the back end of the draft.
Muench thinks Oregon State's
Brandin Cooks
, LSU's
Odell Beckham Jr.
and Fresno State's
Davante Adams
could all be available after No. 25.
All three could interest the 49ers. Beckham and Cooks could especially intrigue the 49ers because they have the top-end speed the team lacks at receiver. Plus, they are both standout returners.
If the 49ers identify one of these players as their top choice, I think they can get that player. The 49ers have a surplus of draft picks, so they also have the ability to move up in the draft.
So, it is realistic to say Beckham, Cooks and Adams all are in the 49ers' drafting range.
February, 24, 2014
Feb 24
1:30
PM ET
Speed isn't everything at receiver, where route-running and hands and quickness matter quite a bit as well. But speed does help, especially if you're a team trying to add a little more and stretch the defense -- such as the
Washington Redskins
. So I thought I'd check out the 10 fastest receivers, based on their 40-yard dash times, to see how they produced in the NFL and where they project. Among the receivers not on the list?
Marqise Lee
,
Mike Evans
,
Davante Adams
,
Jarvis Landry
,
Kelvin Benjamin
,
Robert Herron
and
Josh Huff
-- all are included among Mel Kiper's Top 10 receivers. That's why speed is good, but it's not everything.
Regardless, here are the top 10 when it comes to 40-yard dash times:
Brandin Cooks
College:
Oregon State
Size:
5-10, 189
Time:
4.33 seconds
College production:
Was named the Biletnikoff winner, given to the nation's best receiver. He also was a first-team All-American after setting Pac-12 records for receptions (128) and receiving yards (1,730).
Projection:
Possible first-round pick; likely an inside receiver with the ability to move outside.
John Brown
College:
Pittsburg State (Kansas)
Size:
5-10, 179
Time:
4.34
College production:
Dominated Division II the past three years; was named an AP Little All-American three times as an all-purpose player, including a first-teamer in 2012. Finished his three-year career with school records in catches (185) and touchdowns (32). Averaged 32.4 yards per kickoff return as a senior.
Projection:
Slot receiver/returner. Mid- to late-round pick.
Donte Moncrief
College:
Mississippi
Size:
6-2, 221
Time:
4.40
College production:
Finished his three-year career No. 3 on his school's all-time list for receptions 9156), receiving yards (2,371) and receiving touchdowns (20). His nine 100-yard games ranked second on the school's all-time list.
Projection:
Outside receiver. Second-third round.
Paul Richardson
College:
Colorado
Size:
6-0, 175
Time:
4.40
College production:
After missing all of 2012 following a torn ACL, Richardson started all 12 games and was Colorado's leader in catches (83), receiving yards (1,343) and receiving touchdowns (10).
Projection:
Outside receiver. Second-third round.
Martavis Bryant
College:
Clemson
Size:
6-4, 211
Time:
4.42
College production:
In three seasons, Bryant (a former high school teammate of Doug Williams' son), caught 61 passes for 1,354 yards and 13 touchdowns.
Projection:
Outside receiver/red zone target. Third round.
Jeff Janis
College:
Saginaw Valley State
Size:
6-3, 219
Time:
4.42
College production:
Dominated Division II, earning first-team AP Little All-American honors the past two seasons. He caught 83 passes for 1,572 yards and 14 touchdowns in 2013. He had 4,175 receiving yards the past three seasons combined.
Projection:
Outside receiver/red zone target. Late-round pick.
Odell Beckham
College:
LSU
Size:
5-11, 198
Time:
4.43
College Production:
Set an LSU record with 2,315 all-purpose yards thanks in part to his return ability.
Projection:
Slot receiver/returner. First-second round.
Sammy Watkins
College:
Clemson
Size:
6-1, 211
Time:
4.43
College production:
Was second-team All-American receiver as a senior and first-team all-purpose player as a freshman. Watkins established school records in catches (240) and receiving yards (3,391).
Projection:
Outside receiver. Top-10 pick.
Albert Wilson
College:
Georgia State
Size:
5-9, 202
Time:
4.43
College production:
Averaged 190.2 all-purpose yards, though it's not as if his returns were stellar. He averaged 23.5 on kickoffs and 8.5 yards on punts this past season. Finished career with 6,235 all-purpose yards, including 3,190 as a receiver.
Projection:
Slot receiver/returner. Late-round pick.
Jalen Saunders
College:
Oklahoma
Size:
5-9, 165
Time:
4.44
College production:
After transferring from Fresno State, Saunders caught a combined 123 passes for 1,558 yards the past two seasons. He returned 20 punts for 308 yards and two touchdowns this past season.
Projection:
Inside receiver/return man. Late-round pick.
February, 21, 2014
Feb 21
12:00
PM ET
PHILADELPHIA -- It is the position with the highest diva-per-capita ratio in football. That makes it tougher for the Eagles to shop for wide receivers, general manager Howie Roseman said.
"Being able to block -- obviously, we run the ball in Philadelphia," Roseman said. "When you look at that, it's an inherent toughness and willingness to do those little things that help. A lot of these guys in college, because they get the ball so much, they're big-time guys, they're not asked to do the dirty work. They're asked to do the things that are fun. … For us, the receiver position in Philadelphia is going to be a well-rounded guy."
There is plenty of tape of wide receivers running deep routes and making great catches, Roseman said. The combine gives the Eagles' decision-makers a chance to figure out which players are willing to do the "dirty work" that make Chip Kelly's offense tough to defend.
Here are a few receivers the Eagles will likely focus on. A complete list is impossible, since Roseman said the position is so deep this year, there could be a receiver the Eagles like in every round. And since they are likely to be gone before the Eagles' 22nd pick, we're leaving
Mike Evans
of Texas A&M and
Sammy Watkins
of Clemson off this list.
Marqise Lee, USC.
Some well-respected analysts, including ESPN's Mel Kiper Jr. and Mike Mayock of NFL Network, have the 6-foot, 195-pound Lee rated ahead of Evans. Lee has excellent speed and very good hands. He's also a kick returner, which could appeal to the Eagles.
Lee caught 57 passes in 2013. The year before, with a quarterback named
Matt Barkley
, Lee caught 118 passes for 1,721 yards and 14 touchdowns. Against Kelly's Oregon Ducks that year, Lee caught 12 balls for 157 yards and two touchdowns.
Odell Beckham Jr., LSU.
In his second first-round mock draft, Kiper had Beckham going to the Eagles at No. 22. At 5-foot-11, 208 pounds, Beckham has good speed and is also a potential return man.
Kelvin Benjamin, Florida State.
It's hard not to be intrigued by the 6-foot-5, 230-pound Benjamin, who was a sophomore in 2013. His perceived flaws -- less-than-elite speed, inconsistency in route running and occasional drops -- are mostly fixable with coaching.
His upside? As
Nolan Nawrocki of NFL.com
puts it: "A monster-sized, intimidating, big-play receiver, Benjamin has the overall strength, length and wide catching radius that will demand extra coverage be rolled his way."
Brandin Cooks, Oregon State.
Another guy who will be familiar to Kelly, the 5-foot-10, 185-pound Cooks put up remarkable numbers as a junior in 2013: 128 catches, 1,730 yards, 16 touchdowns. The Eagles would probably like a little more size -- they already have the diminutive DeSean Jackson -- but it's hard to argue with that kind of production.
Other names to watch:
Jarvis Landry
, LSU;
Davante Adams
, Fresno State;
Josh Huff
, Oregon;
Jordan Matthews
, Vanderbilt;
Allen Robinson
, Penn State.
February, 17, 2014
Feb 17
4:00
PM ET
With the NFL combine starting Wednesday, here's a look at the Jacksonville Jaguars' positions of need on offense and which prospects the team might be looking to take a closer look at in Indianapolis. Positions of need are listed in order of importance. A look at the defense comes Tuesday.
JACKSONVILLE, Fla. -- The Jaguars have a lot of holes to fill on the roster and the next part in the process comes this week when general manager David Caldwell and head coach Gus Bradley evaluate, watch and interview prospects at the NFL combine.
Here's a breakdown of what the Jaguars need, in order, on offense and some potential targets:
Quarterback:
There's no question this is the Jaguars' top need, although pass-rusher is only slightly behind. Caldwell wants to re-sign
Chad Henne
before free agency begins next month, but Henne is a bridge player or someone who can mentor a young quarterback and begin the season as the starter if the rookie isn't ready. The Jaguars haven't completely given up on
Blaine Gabbert
, either, but he's entering the final year of his contract and it would be surprising if he were re-signed after 2014.
Potential targets:
Teddy Bridgewater
,
Blake Bortles
,
Johnny Manziel
,
Jimmy Garoppolo
,
Derek Carr
,
Aaron Murray
.
Interior offensive line:
The Jaguars have to find a center to replace the retired
Brad Meester
and a left guard to upgrade from
Will Rackley
. The Jaguars will address this area in free agency as well but the team also wants to add some young talent. The Jaguars appear set at both tackles (
Luke Joeckel
and
Austin Pasztor
) and right guard
Uche Nwaneri
has two more years remaining on his contract. He's scheduled to make $4.775 million in each year, though, and could be a cap casualty after 2014.
Mike Brewster
and
Jacques McClendon
can play guard and center but neither appears, now anyway, to be the long-term answer. It wouldn't be surprising if the team took an interior offensive lineman in the third round, especially if the Jaguars took a quarterback earlier.
Potential targets:
G
Gabe Jackson
, G
David Yankey
, G
Brandon Thomas
, C
Marcus Martin
, C
Weston Richburg
, C
Russell Bodine
.
[+] Enlarge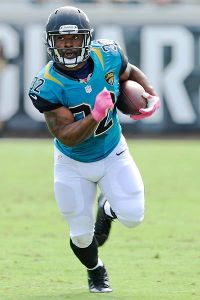 Stephen Morton/AP PhotoThe Jaguars need to find a feature back in the event they do not re-sign Maurice Jones-Drew.
Running back:
The Jaguars are more than likely going to lose
Maurice Jones
-Drew
in free agency, which leaves them with
Jordan Todman
,
Denard Robinson
,
Delone Carter
, and
Justin Forsett
on the roster. Forsett is likely going to be cut, but even if he's retained none of those players is a feature back. The Jaguars don't need to invest a high pick at this spot because good backs can be found in the later middle rounds.
Potential targets:
Lorenzo Taliaferro
,
Jerick McKinnon
,
Tre Mason
,
Lache Seastrunk
,
Dri Archer
,
Andre Williams
.
Receiver:
The Jaguars aren't planning on getting anything from
Justin Blackmon
in 2014 because they don't yet know his status, which is the correct way to approach his situation.
Cecil Shorts
is entering a contract year but has yet to stay healthy for a full season.
Ace Sanders
,
Mike Brown
,
Kerry Taylor
,
Lamar Thomas
, and
Stephen Burton
are complementary players. The Jaguars need to find a bigger, physical receiver. If they do that in free agency, this area drops to the bottom of the offensive needs list.
Potential targets:
Josh Huff
,
Odell Beckham Jr.
,
Davante Adams
.
Tight end:
Marcedes Lewis
came on strong at the end of the season and he should be a 50-catch player in Jedd Fisch's offense if he stays healthy. After Lewis, though, there isn't much.
Clay Harbor
is a flex tight end but he's a free agent and the Jaguars will have to decide if they want to re-sign him.
Danny Noble
is raw and needs more work. The Jaguars want a bigger tight end who can line up next to Lewis in two-tight-end formations.
Potential targets:
Marcel Jensen
,
C.J. Fiedorowicz
,
Crockett Gilmore
,
Jake Murphy
.
February, 6, 2014
Feb 6
3:00
PM ET
There's agreement on the
Cleveland Browns
' two first-round picks in the second mock drafts of ESPN draft analysts Mel Kiper and Todd McShay.
Both agree the Browns will take a quarterback with the first pick (fourth overall) and a receiver with the second pick (26th overall). They both even agree on the receiver.

All of the picks make sense, and it's tough to argue them -- provided you share the belief the Browns pick a quarterback first. I don't. I'd take Clemson receiver
Sammy Watkins
and at some point I'd take Ohio State running back
Carlos Hyde
, perhaps in the second round. Kiper and McShay disagree.
Kiper has the Browns

taking Louisville quarterback
Teddy Bridgewater
with the fourth overall selection.
Kiper opines that with
Josh Gordon
and
Jordan Cameron
, the Browns have players to help a young quarterback. He calls Bridgewater the guy who "has a lot of traits that translate to early success."
Johnny Manziel
is not available in Kiper's draft when the Browns pick.
He is in McShay's draft
,

but McShay has the Browns taking
Blake Bortles
of Central Florida.
His analysis might not exactly thrill fans, though, as he writes the Browns could wind up with a receiver and could pass on Bortles because he's not the most stout guy. He also has qualifiers about his ability.
"He will not wow scouts with a big-time arm, and, like most young quarterbacks, he can become more consistent with his decision-making," McShay writes. "However, Bortles does have enough arm strength to make all the NFL throws, and unlike many college QBs I study on tape, Bortles sees the entire field, stands strong in the pocket and shows the ability to go through NFL-type progressions."
Kiper and McShay both have the Browns taking Fresno State receiver
Davante Adams
(6-foot-4 and 228 pounds) with the pick they acquired from Indianapolis for
Trent Richardson
.
Kiper calls Adams "a strong receiver who will make plays in traffic and beat defenders for the ball on contested throws." McShay calls Adams "a very good complement to Gordon and a nice weapon for Bortles," whom he has the Browns taking first.
Adams is a redshirt sophomore who declared early. He's big and strong but isn't the fastest.
Physically, he resembles
Greg Little
. But unlike Little, who spent one season at receiver and didn't play his senior year due to NCAA violations, Adams' production in college was impressive. In 2012, he had 102 receptions for 1,312 yards. In 2013, he led the nation in receptions (131), receiving yards (1,719) and touchdowns (24).
Clearly those are some impressive numbers.
February, 6, 2014
Feb 6
3:00
PM ET
Mel Kiper Jr.

and
Todd McShay

unveiled their updated mock drafts on Thursday. The
Indianapolis Colts
, as it's been known since last September, do not have a first-round pick after trading it for running back
Trent Richardson
.
The Browns will have the Colts' 26th pick in the first round due to the trade. The Colts definitely could use the pick because of the number of holes they need to fill this offseason.

McShay has the Browns selecting Fresno State receiver
Davante Adams
at No. 26.
Here's some breakdown on Adams.
"Adams is a good-sized WR who had exceptional college production. While he can improve his route-running efficiency, he shows good burst out of his cuts to separate and effectively uses his bigger frame to shield defenders. I also have yet to see him drop a pass in five games I've studied on tape."
NFL Insider Matt Williamson said receiver is one of the positions the Colts need to address when I spoke to him earlier this week. The Colts may not have taken a receiver in the first round if they had a pick because it's not as much of an issue as other areas, like the offensive line.
Colts general manager Ryan Grigson is known for always looking to make moves. Don't be surprised if he tries to make a trade for a first-round pick.
NFL SCOREBOARD
Sunday, 2/2
WEEKLY LEADERS