January, 15, 2014
Jan 15
8:00
AM ET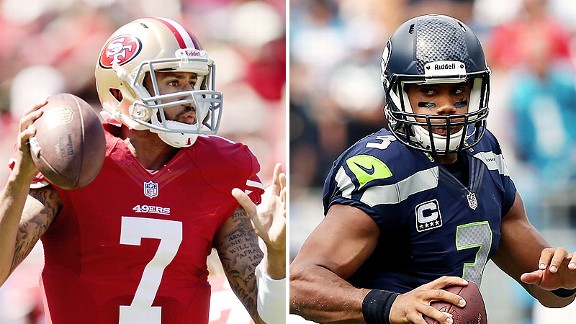 Getty Images49ers quarterback Colin Kaepernick and Seahawks quarterback Russell Wilson will square off for the third time this season.
ALAMEDA, Calif. -- When the
San Francisco 49ers
and
Seattle Seahawks
meet Sunday for the NFC title, it will mark the 18
th
time since the AFL/NFL merger of 1970 that teams from the same division play in a conference championship game.
But it's only happened four times since 2002, when the Seahawks moved from the AFC West to the NFC West as part of the league's realignment. This year marks No. 5.
Still, when the Raiders were a mainstay of the AFC title game – they played in eight such games between 1970 and 1983 – they faced a team from their division, the AFC West, a mere one step away from the Super Bowl three times.
It's interesting to note that all three of those meetings would have happened in the divisional round today because, from 1970 through 1989, two teams from the same division could not meet in the playoffs until the conference title game.
A look, then, at those three meetings ...


Jan. 1, 1978, Mile High Stadium
Denver Broncos 20, Oakland Raiders 17
The defending champion Raiders were the AFC's lone wild-card team at 11-3 – in those days, only the then-three division winners and the second-place team with the best record qualified for the playoffs – and were coming in off their breathtaking "Ghost to the Post" double-overtime divisional playoff win at the Baltimore Colts, 37-31.
The top-seeded Broncos, in the heyday of their "Orange Crush" defense, had gone 12-2 with one of their losses at home to the Raiders – the teams split the regular-season series, each winning on the road – and had just handled the
Pittsburgh Steelers
in the divisional round, 34-21.
The Broncos, who allowed an AFC-low 148 points, never trailed the Raiders, who led the NFL in scoring with 351 points, and led by scores of 14-3 and 20-10. But the Raiders, appearing in their fifth straight AFC title game, remember it for a play that never happened. At least, from the officials' perspective.
"(Rob) Lytle's fumble?" the late Al Davis told NFL Films. "No one saw it, so they said."
Leading 7-3 midway through the third quarter, the Broncos set up at the Raiders' 2-yard line and had a first-and-goal when Lytle ran into the pile and was hit by Jack Tatum. The ball popped out, Mike McCoy scooped it up and was off to the races for the game-changing touchdown. Except ...
Lytle was ruled down, the officials explained, saying that his forward progress had been stopped before the ball came free. Replays showed otherwise and then Art McNally, the former head of NFL officials, came clean to NFL Films, albeit, a decade later.
"It was a fumble," he said, "and we were wrong on the call."
Too little, too late for the Raiders as Jon Keyworth punched it in for Denver one play later and the Broncos led, 14-3, en route to the victory and Super Bowl XII, where they were thumped by the
Dallas Cowboys
, 27-10.
It was John Madden's final playoff game as he retired a year later and Oakland would not return to the postseason until 1980.
Jan. 11, 1981, Jack Murphy Stadium


Oakland Raiders 34, San Diego Chargers 27
Five AFC teams finished 11-5 in 1980, the
Buffalo Bills
, the
Cleveland Browns
, the Houston Oilers, the Chargers and the Raiders.
A second wild-card team had been added to the playoff mix two years earlier and the Raiders were the top-seeded wild card. First they beat a familiar face in Kenny Stabler and the Oilers, 27-7, in the conference's wild-card game, then they traveled to Cleveland, where the wind chill was minus-36 degrees, and upset the Browns, 14-12, in the "Red Right 88" game when Mike Davis picked off Brian Sipe in the end zone with less than a minute to play.
The Chargers, meanwhile, were the AFC's top seed due to a better conference record than Cleveland and Buffalo and won the West over the Raiders, with whom they split the regular-season games as each team won at home, based on better net points in division games. San Diego beat the Bills, 20-14, in its first playoff game.
Oakland began the season just 2-3 and recently acquired quarterback Dan Pastorini was lost in Game 5 with a broken leg. Enter Jim Plunkett and his Lazarus act. Under Plunkett, the Raiders had won 11 of 13 games, including the playoffs, and started hot again against the high-scoring Air Coryell Chargers as Oakland opened up a 28-7 first-half lead.
San Diego woke up with 17 unanswered points , creeping to within 28-24 in the third quarter.
"Ted Hendricks grabs me by the jersey and he starts shaking me and says, 'Keep scoring. We can't stop them,'" Plunkett told NFL Network.
A pair of Chris Bahr field goals gave the Raiders some breathing room before Rolf Benirschke's field goal made it a one-score game with less than seven minutes to play.
The Raiders' offense did not heed Hendricks' advice this time; it simply ran out the clock on a 15-play drive that included 14 runs and four first downs.
"That game in the end, when all was said and done, came down to our offensive line and Mark van Eeghen," Matt Millen, then a rookie linebacker, told NFL Network.
The iconic image of the game, then, is of left guard Gene Upshaw's heavily padded right arm holding the game ball aloft as he exited the field. The Raiders went on to beat the
Philadelphia Eagles
, 27-10, in Super Bowl XV as Plunkett was named the game's MVP and Tom Flores became the first minority head coach to win a Super Bowl.


Jan. 8, 1984, Los Angeles Memorial Coliseum
Los Angeles Raiders 30, Seattle Seahawks 14
The 1983 Raiders are considered one of the best teams of all time and yet, they lost four games that season – one at Washington, in which an injured Marcus Allen did not play, a head-scratcher at home in the penultimate week of the season to the St. Louis Cardinals and two to, yes, the Seahawks.
Indeed, all you NFL newbies, the Raiders were in L.A. from 1982 through 1994 and the Seahawks used to live in the AFC West (from 1977-2001) and they were even a little chippy and, yes, lippy back then.
"Seattle knew us so well," Allen told NFL Network. "It's no secret, I mean they even knew our plays. I looked across the line of scrimmage at Kenny Easley, I shook my head, I said, 'I'm coming right there.' I think he shook his head back and said, 'OK.'"
The Seahawks had swept the Raiders that year by scores of 38-36 in Seattle and 34-21 in L.A. over a three-week period. The sweep got the Seahawks into the playoffs as the top wild-card team at 9-7 and they beat rookie John Elway and the Broncos, 31-7, in the wild-card game at Seattle before upsetting another ballyhooed first-year QB in the Miami Dolphins' Dan Marino, 27-20, at the Orange Bowl.
The top-seeded Raiders had just thumped the Pittsburgh Steelers, 38-10, before a crowd of 92,434 at the Los Angeles Memorial Coliseum and awaited the Seahawks.
"We had lost to Seattle twice," Howie Long told NFL Network. "We took that as we had gotten our ass kicked and it was time for redemption."
It was an alley fight of a game and the Raiders, who led the AFC with 442 points scored, dominated Seattle, the conference's second-highest scoring team with 403 points. L.A. jumped out to a 27-0 lead as Allen, playing with a mouse under his right eye, finished with 216 yards from scrimmage, with 154 yards rushing on 25 carries and 62 yards receiving and a TD on seven catches.
"All I remember was coming out with a black eye and seeing stars," Allen said. "But I wasn't going [to stay] out of the game."
L.A.'s defense picked off five passes from Seahawks quarterbacks Dave Krieg and Jim Zorn, with two interceptions from Mike Davis, and the Raiders also had five sacks, two by rookie Greg Townsend.
The Raiders then went to Tampa Bay for Super Bowl XVIII and beat defending champion Washington, 38-9, with Allen winning MVP honors on the strength of a then-record 191 rushing yards on 20 carries, including his reverse-field 74-yard touchdown run.
It is still the Raiders' most recent Super Bowl title.
December, 23, 2012
12/23/12
2:08
PM ET
I don't know Lomas Brown, the former
Detroit Lions
offensive lineman who is now an ESPN analyst. Everything I know about him, however, reflects the classic lovable giant -- persona he has cultivated in his post-playing career.
"Santa Lomas," is a term I've heard more than once to describe him.
That's what makes Brown's startling admission this past Friday all the more surprising. If you missed it, Brown said on
ESPN Radio's "SVP & Russillo" show

that he had his own way of calling out quarterbacks.

Brown
"Know how I did it?" Brown said. "Let the guy hit them. Just let the D-linemen get a shot at him."
In fact, Brown recalled a specific instance when he allowed a
Green Bay Packers
defender to hit Lions quarterback
Scott Mitchell
in 1994. Mitchell suffered a broken right hand and was replaced by backup
Dave Krieg
, who led a comeback from a 24-0 deficit in
a game the Packers ultimately won 38-30
.
Brown had a few of the details wrong about the score, but as
Kirkland Crawford of the Detroit Free Press
notes, the basics line up. Brown said that "I'm not a big fan of Scott Mitchell" and made clear he wasn't joking. "He's just not on my Christmas list," Brown said. "He won't be getting any Christmas cards from me."
Here's how Brown described what he did:
"We were playing Green Bay in Milwaukee. We were getting beat 24-3 [sic] at the time, and [Mitchell] just stunk up the place, throwing interceptions, just everything. I looked at Kevin Glover, our All-Pro center, and I said, 'Glov, that is it.' I said, 'I'm getting him out of the game.'

"So I gave it the set out, but I got the gator arms on the guy at the last minute. He got around me. He hit Scott Mitchell. He did something to his finger. I don't know what he did to it, but he came out of the game. Dave Krieg came into the game. We ended up losing that game 27-24 [sic]. Now that man came in the game and got some work done. That man who came out of the game? I don't know what he was in there doing."
Told of the gravity of his admission, Brown said: "I've been out of the game since '02. I don't think much can happen to me. Yes, America, yes, I did it."
It should go without saying that what Brown described runs counter to every intuition we have about being a teammate, about sportsmanship and fair play. Regardless of the sport, teams are built on the basic understanding that teammates are all on the same side, have the same goals and are working toward the common good. In football, the quarterback literally trusts his linemen to protect him -- and needs them to succeed in order to do his job.
The ease with which Brown told the story suggests it happens in the NFL more often than any of us want to know. But, quite frankly, it doesn't seem like something to be proud of or to brag about. Some things are better left unsaid.
There is no doubt Mitchell was having a terrible game -- five completions in 13 attempts for 63 yards and two interceptions -- and his tenure with the Lions was a tremendous disappointment. But there is no on-field crime that merits such twisted justice. Purposefully tanking on your job is a reflection of you and your character, not of the culpability you think your victim might have earned.
We've all spent time this year discussing the
New Orleans Saints
' attempts to intentionally injure players. What Brown admitted to -- doing his best to get his own teammate injured -- is worse. Everyone has a weak moment, and I don't think this should define Brown's career or his life. But in the context of a professional team game, it's as bad as it gets.
February, 5, 2011
2/05/11
7:31
PM ET
His nickname, "Prime Time," alone suggests style over substance. But those who witnessed the early NFL years of
Deion Sanders
insist the flashy cornerback had at least as much substance as style.
"He was Deion Sanders six days out of the week,'' said
Atlanta Falcons
senior director of media relations Frank Kleha, who was with the team throughout the Sanders years. "He was Prime Time on the field on Sundays. He wasn't a brash talker in locker room or anything close to it. He wasn't just good teammate in the locker room. He was great teammate in the locker room.''
[+] Enlarge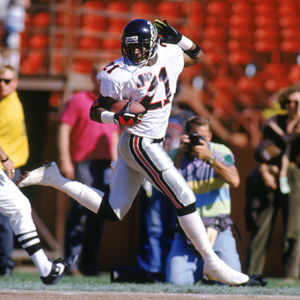 Otto Greule Jr/Getty ImagesIn a 14-year career Deion Sanders played in 188 games, had 53 interceptions for 1331 yards, and scored 19 return touchdowns.
Now, Sanders is headed for the ultimate locker room of greatness. He was elected to the Pro Football Hall of Fame on Saturday and will be inducted to the shrine in Canton, Ohio this summer. He'll be remembered as a flamboyant guy who did great things with the
Dallas Cowboys
and
San Francisco 49ers
, had stops with the
Washington Redskins
and
Baltimore Ravens
and also played Major League Baseball. (Here's a
photo gallery chronicling

Sanders' NFL career.)
But Sanders' time with the Falcons was hugely significant for the player and the franchise and should not be forgotten. Although the Falcons have had some other Hall of Famer players pass through for a year or two, the franchise was without a true Hall of Famer -- until now.
Sanders becomes the first player drafted by the Falcons to be elected to the Hall of Fame. As the fifth overall pick in the 1989 draft, Sanders didn't arrive quietly. He was playing for the New York Yankees as he waited for a contract to get done with the Falcons. Just a matter of days before the deal was agreed to, Sanders hit a home run for the Yankees. He arrived in Atlanta on a Wednesday and that Sunday made his NFL debut.
In a game at the old Fulton County Stadium against the Los Angeles Rams, Sanders attempted to field a punt, dropped it and then scooped up the ball and took off down the right sideline for a touchdown. That was just the start of spectacular things to come.
There was the 1990 game against the Houston Oilers in which Atlanta coach Jerry Glanville was going against his former team in a high-profile game. Sanders picked off Hall of Fame quarterback
Warren Moon
and returned it for a touchdown. As best as anyone can recall, that's the play where Sanders began his tradition of high-stepping into the end zone.
And there was the final game ever at Fulton County Stadium in 1991, when
Tim McKyer
intercepted a
Dave Krieg
pass and lateraled the ball to Sanders, who cut his way through virtually the entire Seattle offense on his way to a touchdown.
Sanders spent five seasons with Atlanta, the same amount of time he spent in Dallas, where he drew even more attention. But Sanders' Atlanta days were a memorable ride. He came along at a time when the franchise was down and didn't have any stars.
Sanders gave them instant star power. Almost exclusively due to Sanders' presence, the Falcons started getting some nationally-televised games. Wait, make that "Prime Time'' games.
January, 9, 2011
1/09/11
8:07
PM ET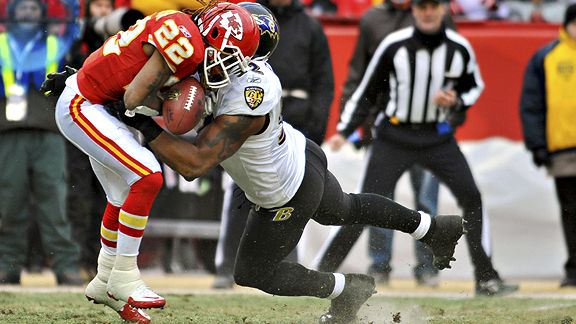 Denny Medley/US PresswireRay Lewis forces a Dexter McCluster fumble, one of the Chiefs' five turnovers on the day.
KANSAS CITY, Mo. –- The
Kansas City Chiefs
weren't overly concerned with the scoreboard as they met in their locker room at halftime Sunday.
Sure, the
Baltimore Ravens
were leading 10-7, but the Chiefs knew they were the faster, fresher and crisper team in the first half. They just didn't have the points to show for their first-half success. But the score was irrelevant. The Chiefs outplayed Baltimore for much of the first half and they knew it.
The game plan for the second half? More of the same and find the end zone.
The Chiefs went back on the field and it all went so wrong. Baltimore completely took over the game, fueled by uncharacteristically sloppy play by the home team, and the suddenly perky Chiefs -- the feel-good story of the NFL season -- became a one-and-done playoff participant. Baltimore outscored the Chiefs 20-0 after halftime on its way to a
30-7 win
.
Everything changed in 30 minutes.
"I tell you this," Kansas City guard
Ryan Lilja
said. "We felt a lot better at halftime than we do right now ... We thought we had a chance, we really did, and that's why this stinks so bad."
The game was Kansas City's seventh straight playoff defeat, an NFL record. The Chiefs' last playoff win came in the 1993 season, when they were led by Joe Montana. On Sunday, the
Matt Cassel
-led Kansas City offense was nowhere near up to Montana's postseason splendor.
Sunday's defeat and the end of an unexpectedly positive season in Kansas City must be pinned on poor offensive execution, which was not a problem for much of the season. Coincidentally or not, Kansas City's offense took a nap after news broke Dec. 31 that offensive coordinator Charlie Weis would take the same position with the University of Florida.
Several Chiefs players have said Weis' pending departure had nothing to do with their sudden offensive failures, but Chiefs fans will likely question that. In fairness to Weis, he didn't miss any time with the Chiefs after he took the Gators' position. Weis is now done with his duties in Kansas City as he heads back to the college ranks.
But the truth is Weis' offense was awful in Week 17 against Oakland and on Sunday. The Chiefs were outscored 61-17 in the two home losses after starting the season 7-0 at home with the hopes of home dominance being a major factor in the playoffs.
The biggest reason for the Chiefs' inability to score in the final two games under Weis was their sudden lack of ball security. The Chiefs committed five turnovers Sunday and two last week. They had 12 turnovers in the first 15 games of the season.
Cassel threw three interceptions (one when the game was out of hand) and Kansas City lost two fumbles. Two of Kansas City's turnovers came in the third quarter, when the Ravens stretched their lead to 23-7.
"We hadn't done that all season," Lilja said. "Ball security was a point of emphasis all season and was this week as well. It was just stuff that snowballed."
Added rookie
Dexter McCluster
, who had one of the fumbles: "We've been a disciplined team all season. That got away from us today and it hurt us."
[+] Enlarge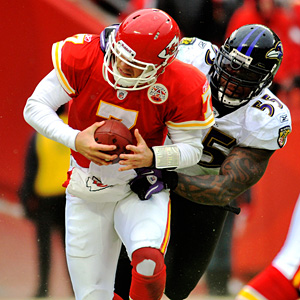 John Rieger/US PRESSWIRETerrell Suggs and Baltimore pressured Chiefs quarterback Matt Cassel all day, sacking him three times and forcing three interceptions.
Cassel -- who threw just five interceptions in the regular season -- couldn't get anything going. Betrayed by poor offensive-line protection for the second straight game, Cassel finished 9-of-18 for 70 yards with a passer rating of a startling 20.4. ESPN Stats & Information, through Pro-Football-Reference, reports that it was the third time since the AFL-NFL merger in 1970 that a quarterback threw for less than 75 yards and had three interceptions in a playoff game. The others were Craig Morton in 1977 and Dave Krieg in 1983. Cassel was historically bad in his final game under Weis, a coach who helped him develop into an effective player this season.
Cassel didn't get any help from his favorite target, Pro Bowl receiver
Dwayne Bowe
. According to ESPN Stats & Information, Bowe wasn't targeted once Sunday.
It was the first time all season Cassel didn't throw to Bowe's direction. Bowe, who had 15 touchdown catches this season, missed practice Wednesday because he had the flu, but he practiced fully the rest of the week.
The Chiefs did everything they could to avoid a flu outbreak this week, but they couldn't avoid a putrid offensive performance Sunday. Coach Todd Haley's penchant for going for it on fourth down hurt the team in the third quarter when running back
Jamaal Charles
-- who gave Kansas City a short-lived 7-3 lead on a 41-yard touchdown run in the first quarter -- was stopped for a 4-yard loss on fourth-and-1 from the Baltimore 33-yard line on the Chiefs' first possession of the second half. It signaled the end of the game for Kansas City.
"We really couldn't do much after that," Kansas City center
Casey Wiegmann
said of the fourth-down failure.
This is a team that transformed from a weak outfit that won 10 games in its previous three seasons to a 10-6 division winner by playing complete, mistake-free football on offense for much of the season. Its old standbys disappeared. Weis' play calling wasn't working. Cassel's efficiency was gone. Bowe's route running was absent. Charles' ball security was out to lunch. The protection was on vacation.
And now so are the Chiefs.
"A lot of guys grew up this season, but the disappointing thing is how it ended," Wiegmann said. "We fell apart at the end."
December, 11, 2009
12/11/09
4:00
PM ET
»
NFC Final Word
:
East
|
West
|
North
|
South
»
AFC
:
East
|
West
|
North
|
South
Five nuggets of knowledge about Week 14: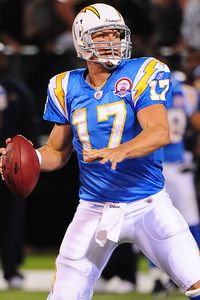 Kyle Terada/US PresswirePhilip Rivers is one touchdown pass away from 100 for his career.
Rivers can achieve an impressive feat
: San Diego quarterback
Philip Rivers
, who turned 28 on Tuesday, has thrown 99 career touchdown passes. If he throws a touchdown pass at Dallas on Sunday, he will have 100 touchdown passes in 65 NFL games, tying Dave Krieg and Jim Everett as the eighth fastest to reach that mark.
Will the Broncos fare better against Manning this time?
Peyton Manning
has long been a Bronco killer. The Colts' quarterback has sliced this team up in the regular season and postseason. In two playoff games, after the 2003 and 2004 seasons, Manning was brilliant against Denver, throwing for 835 yards and nine touchdowns. Denver, though, has an improved pass defense this season. The Broncos have the No. 2 pass defense in the NFL, allowing an average of 180.2 yards per game.
Raiders miss a chance to get revenge on Hall:
Cornerback
DeAngelo Hall
was a disaster in his eight-game tenure with the Raiders last season. However, Oakland won't get an opportunity to pay Hall back for his lousy tenure in Oakland. He is out of Sunday's game with a knee injury. Oakland gave up two draft picks and a huge contract to Hall. But he never fit in with the Raiders and was cut. Hall cost the Raiders $8 million for eight lackluster games.
Can Cassel bounce back?
Kansas City quarterback
Matt Cassel
will try to bounce back from perhaps his worst game as an NFL player. Cassel was awful Sunday against mentor Josh McDaniels and the Broncos in a 31-point Kansas City loss. Cassel completed 10 of 29 passes for 84 yards and was intercepted twice. He was yanked in the third quarter with the game out of hand. Cassel had been making steady strides before the disaster against Denver. He needs to bounce back.
Will Phillips upend the Chargers?
Dallas coach Wade Phillips is very familiar with the Chargers. He was their defensive coordinator before leaving to become the head coach in Dallas in 2007. Many people think Phillips would have been the choice to replace the fired Marty Schottenheimer instead of Norv Turner had Phillips not left for Dallas before Schottenheimer was fired. Phillips is familiar with the Chargers' offensive players. Expect him to go back to the future and throw some wrinkles at the Chargers.
July, 6, 2009
7/06/09
5:34
PM ET
Posted by ESPN.com's Mike Sando
Former Seahawks quarterback Dave Krieg discussed Steve McNair's passing with Mitch Levy of Seattle radio station KJR. Audio here. Krieg and McNair played together in Tennessee during the 1997 and 1998 seasons as Krieg finished a 19-year NFL career.
Krieg on McNair: He was a fisherman, hunter, simple lifestyle-type guy. His mom raised him, worked 16 hours a day, so he always respected what she did for him. Kind of quiet, reserved. But when he did say something, similar to Steve Largent, you would listen to him.
McNair being shot and killed over the weekend stands as one of the more stunning sports-related developments I can recall.
April, 10, 2009
4/10/09
2:19
PM ET
Posted by ESPN.com's Mike Sando
Jeff Chadiha's piece on the smartest and dumbest NFL moves this offseason ranked Kurt Warner's re-signing with Arizona among the most enlightened.
No question, the Cardinals had to bring back Warner. Warner's mostly sensational 2008 season commanded a deal that makes him the starter for 2009 and probably 2010. The question I have is whether the Cardinals can realistically expect Warner to continue performing at a similar level at age 38 and 39.
I flash back to early 2006 when the Seahawks felt compelled to reward Shaun Alexander for his MVP season. Letting Alexander walk after that season would have been politically inconceivable, but such a move would have been prescient.
Like Alexander, Warner is nearing the end of the expected shelf life for players at his position. Unlike Alexander, Warner has quite a few ascending young players around him on offense. That should help him. Also, my perception is that quarterbacks generally do not fall off as quickly as running backs once they hit a certain age.
A few quarterbacks over the past 25 or so years have exceeded 3,000 yards passing past age 37. Warren Moon, Brett Favre, Vinny Testaverde, Doug Flutie, Joe Montana and Phil Simms did it. Several others managed the feat at age 37 -- Rich Gannon, Steve Young, John Elway, Dave Krieg, Dan Marino -- for the final time.
I'm reasonably sure Warner can put up impressive numbers for at least one more season. And if I were the Cardinals, I would rather take my chances with Warner than with any of the other options that were available to them. But to assume Warner will remain atop his game for another year or two? Perhaps we shouldn't go quite that far.
October, 15, 2008
10/15/08
9:06
AM ET