January, 16, 2014
Jan 16
8:11
AM ET
NASHVILLE, Tenn. -- The Titans' secondary was good last year, so defensive backs coach
Brett Maxie
should have been retained.
[+] Enlarge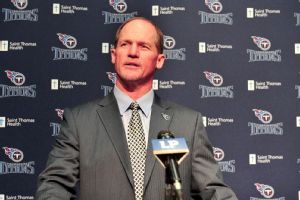 Frederick Breedon/Getty ImagesLet's give Ken Whisenhunt the benefit of the doubt before judging the moves he made regarding the Titans' coaching staff.
The Titans special teams were bad last year, so special teams coach Nate Kaczor and his assistant, Steve Hoffman, should not have been retained.
That's the popular thinking for at least a portion of Titans fans who are vocal on Twitter.
It's overly simplistic and incorrect.
I thought Maxie and assistant secondary coach Steve Brown did a good job last season.
Ken Whisenhunt kept Brown but let Maxie go.
Maybe he loved Maxie's work but has someone else in mind. Maybe he didn't like Maxie's work. Maybe a coaching colleague he trusts told him something about Maxie and something different about Brown. Maybe Ruston Webster gave him different reviews of the two. Maybe he's got a list of secondary coaches he covets and thinks a new guy working with a holdover will maximize the secondary's chances to do its best.
There are a number of factors that could have come into play. Whisenhunt's not going to spell them out for us.
The same is the case with regard to keeping Kaczor and Hoffman.
It's at least a partial endorsement of their work.
Tennessee's special teams were a problem last year, though things settled down when a quality returner,
Leon Washington
, fell into their lap late in the season.
But while those guys were heard, they weren't ultimately responsible for
Darius Reynaud
starting out as returner or
Devon Wylie
holding the job for a bit. Look higher up the Titans organizational chart for blame there -- to
Mike Munchak
and Webster.
As for silly, side-spinning, tee-less onside kicks ...
Perhaps Kaczor brought the idea to the table. But the head coach is the guy responsible for the team using it. Munchak, and any head coach, holds veto power and ultimate responsibility.
Whisenhunt is a smart coach who's respected around the league and arrives with six years as a head coach on his resume.
He's taken in some info and decided to keep the special teams assistants who were in place.
Rather than immediately call it a crazy move, how about we wait and see how they do given another chance?
---
The list of assistants and their fates, per Jim Wyatt of The Tennessean:
Retained:
Steve Watterson, assistant head coach/strength and conditioning; Steve Brown, assistant secondary coach; Sylvester Croom, running backs; Steve Hoffman, assistant special teams;
Shawn Jefferson
, wide receivers; Nate Kaczor, special teams.
Let go:
Dowell Loggains, offensive coordinator; George Henshaw, tight ends;
Bruce Matthews
, offensive line; Brett Maxie, secondary; Chet Parlavecchio, linebackers;
Dave Ragone
, quarterbacks; Tracy Rocker, defensive line.
Contract not renewed:
Jerry Gray
, defensive coordinator; Gregg Williams, senior assistant/defense;
Keith Millard
, pass rush.
TBA*:
Jonathan Gannon, defensive assistant/quality control; Arthur Smith, offensive line/tight end assistant.
* Wyatt says they are retained for now, but the new offensive coordinator will have a say in what direction the team goes.
October, 31, 2013
10/31/13
2:03
PM ET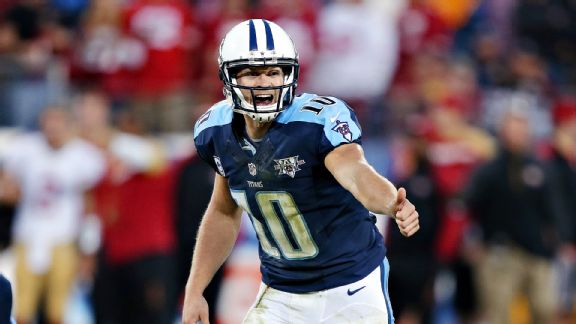 AP Photo/Wade PayneQB Jake Locker has focused on 'clearing the clutter' and improving the mental part of his game.
NASHVILLE, Tenn. -- The safety was 8 yards deep.
Jake Locker
would look at that safety on film and find himself indecisive. Should he check to a run away from that defender or not?
It's the sort of decision an NFL quarterback has to be able to make quickly, with confidence and without much thinking. But in Locker's first two years, such little bumps on the landscape could become mountains.
"You're watching film trying to figure, 'What are they playing here, what are they playing here?' " Locker said. "But if he's at 8 yards and you're not quite sure, run the play into him. He's still at 8 yards. He's got to come up and make a play still. He's not at the line of scrimmage. He's not at linebacker depth. He's still at 8 yards.
"If you've got a play where you're checking away from a safety, don't lose sleep over that. You know what, you're at 8 yards, come make a play. In the past, I would have overthought it and then checked it and then thought about it and it affects maybe the next play because you're still thinking about it. You know what, we'll go get 4 yards and you make a tackle. If you miss the tackle, who knows what happens?
"Don't spend too much of your time and effort focused on those things that sometimes you can't control."
We don't know yet if Locker is a long-term answer for the Titans. But through four games this season before he was hurt on Sept. 29 against the Jets, he was showing steady progress and a lot of encouraging signs. The patient plan the franchise put in place for him is starting to pay off, and psychologically, he seems to have made a jump.
That's come despite a giant issue that has a direct bearing on the quarterback. The run game that was supposed to be the backbone of the team hasn't shown up, which is making his work more difficult.
[+] Enlarge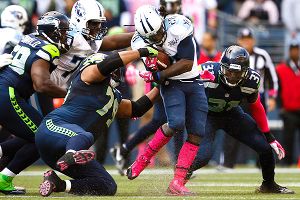 Joe Nicholson/USA TODAY SportsChris Johnson and the Titans' run game were supposed to carry the offense, but that hasn't happened.
As it chose its quarterback of the future in 2011, Tennessee didn't hit the lottery with one of the big prizes in recent drafts such as the brilliant
Andrew Luck
or the dynamic
Robert Griffin III
. The Titans didn't find a guy who they felt could take the reins early, the way
Cam Newton
,
Andy Dalton
,
Russell Wilson
and
Colin Kaepernick
did.
But in Locker's third season, the Titans also aren't in a position where they will need to search for a new quarterback next spring. He's not
Blaine Gabbert
,
Christian Ponder
or
Brandon Weeden
.
"It's not a super-easy evaluation on Locker, as the Titans clearly put very little on his plate early in the season and relied on the running game and D," ESPN.com's resident scout Matt Williamson said. "But surprise, surprise, Locker began to get better and better. Then he got hurt.
"Clearly this guy is confident and doesn't lack toughness whatsoever. Unlike the Gabberts and Ponders, if I were in charge of Tennessee, I am going forward with Locker. But he is still worrisome and far from a sure thing. He's just not a slam dunk to be a true franchise QB."
Former NFL quarterback Neil O'Donnell closely watches the Titans, one of his former teams. He's not ready to say Locker's made it, or even that he's in the clear in terms of having the right sort of outlook and mentality.
"The offense has no identity and I am afraid that if the Titans continue to lose he will start pressing and trying to make big plays that are not there," O'Donnell said. "I believe right now that Jake is a fragile quarterback, mentally. The question of whether he is the guy is still out there. If they make the playoffs, that will help him tremendously upstairs."
After Locker suffered a sprained right hip and knee against the Jets on Sept. 29, he missed two games. He was OK in his return against San Francisco, where the Titans were simply overmatched.
Now, he and the Titans have a couple of games -- Sunday in St. Louis, Nov. 10 against Jacksonville -- where they should be able to move the ball and where we can reasonably expect to see the guy who threw three touchdowns in a half against the Jets.
The thinking about that 8-yard deep safety, or the knowledge that the nickelback's alignment is important on Play A but not on Play B, has done wonders for Locker. He's talked a great deal with offensive coordinator Dowell Loggains and quarterbacks coach Dave Ragone about a simple concept aimed at simplifying his work: "See a little, see a lot."
"When you're trying to see everything out there, you kind of get lost in the trees," Ragone said. "Focus on what your job is. Understand where you are supposed to go and why you're supposed to go there. And just kind of clear the clutter. He's been really good at understanding what he needs to know and just focusing on that."
Locker came into the league with a tremendous work ethic and desire to reward the Titans' faith in him. He pressed to do too much, to be perfect, to make something happen in ways that hurt his game and his team.
He's done better and better work catching himself on that stuff now and not trying to do or see everything all the time.
Ragone said a quarterback's makeup determines his ability to understand that and use it. Ragone was a third-round pick by the Texans in 2003 and played in four games but didn't make it past that season, and said it was because he wasn't able to clear the clutter.
"Sometimes knowing every single detail of everything can cloud you," Ragone said. "Sometimes the picture is not what you think it was going to be, like it was on the chalkboard, and all of a sudden it throws you out of whack a little bit ... You see Jake out there, playing as fast as he can, under control. He's out there with the confidence and a mastery of what he wants to do. And he's having fun. At the end of the day he's got a smile on his face."
At Washington, coach Steve Sarkisian gave Locker his first dose of the "see a little, see a lot" thinking. Loggains and Ragone have picked up on it and carried it forward.
Locker's 97.1 passer rating and his 67.8 QBR both rank ninth in the NFL, ahead of players such as
Matthew Stafford
and
Jay Cutler
.
For all of the big questions that linger around a team with a 3-4 record, Locker has done a good deal in my eyes to squash the question of whether they have a good enough quarterback to win.
They have a lot of bigger things to worry about right now -- unless Locker backslides or O'Donnell's scenario pans out.
Locker's confidence is at an all-time high, and confidence is king for a quarterback.
"I think everybody at this level has the ability to make the throws, can move in the pocket, the physical attributes are there for most guys," Locker said. "Where you can separate yourself is where you can slow the game down and play fast and confident, see what's important."
June, 14, 2012
6/14/12
5:11
PM ET
Physical skills can often offset mental immaturity in the NFL.
A guy who's got it all together is great, but if he can't run or cut or track the ball or hit, his togetherness doesn't matter.
Nate Washington
is a physically gifted player who made it as a member of the
Pittsburgh Steelers
as an undrafted rookie out of Tiffin and was part of the 2005 Super Bowl team. After four years he got a big free-agent contract from the Titans.
[+] Enlarge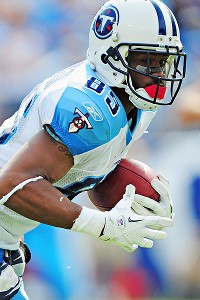 Don McPeak/US PresswireNate Washington made 74 catches for 1,023 yards and seven touchdowns last season.
But through six NFL seasons, he could still be classified as immature. He was a boisterous guy in the locker room, too easily riled up over unimportant stuff. And he was an inconsistent player who dropped passes and didn't always own his bad moments.
His transformation last season, his seventh in the league, was a giant one on the field and well beyond.
With
Kenny Britt
out after just three games, Washington played great for first-year Titans coordinator Chris Palmer, receivers coach Dave Ragone and quarterback
Matt Hasselbeck
.
He caught 74 passes for 1,023 yards and seven touchdowns, all career highs. And he was banged up for a lot of it.
I don't expect Washington will match those numbers -- if Britt is healthy, and first-round pick
Kendall Wright
contributes, receptions and yards should be spread around.
Washington said on The Midday 180 on 104.5 The Zone in Nashville that the new coaching staff really helped him mature. (Full disclosure: I'm part of the show.)
"From a personal standpoint, the new coaches that came in did a lot for me. I had a meeting with each one of them, from coach (Mike) Munchak, coach Palmer, to coach Ragone. They made me aware that I had some abilities in me that hadn't been brought out, and it was going to take some sacrificing, changing some different attitude things that I had going on when I came to football.

"I was very willing and ready to make those changes for them and give them a chance of making me a different person. From a personal standpoint, there were some things I needed to look in the mirror about. Some things that I needed to have a reality- and self-check about… that I took from my personal life and as far as my career. I think it just has a lot to do with growing up.

"This game can be very brutal on the body and the mind… A lot of people don't realize that. This is a more mental game than it is physical sometimes. They always say this is chess not checkers. It was more so me getting some personal stuff right with me before I could come out and make sure I try to do the things that they ask."
January, 17, 2012
1/17/12
1:48
PM ET
We'll wait until next week to start building the All-AFC South Team, and you'll have a big chance to offer input there.
This week we'll pass out hardware for individual awards.
Drum roll please:
[+] Enlarge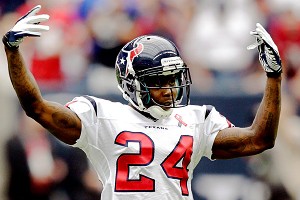 Bob Levey/Getty ImagesJohnathan Joseph, new to the Texans in 2011, helped revitalize Houston's secondary.
Player of the year:
Johnathan Joseph
, Texans cornerback. Runner up:
Brian Cushing
, Texans inside linebacker.
Joseph, Cushing and
Antonio Smith
were the players I sorted through here, and you can make a case for any of them. While the Texans were a better defense at every level, it was the secondary that had the biggest room for improvement. Joseph's ability to match up with a team's best receiver eased the pressure on everyone else in the secondary and helped transform a miserable pass defense into an excellent one. In the Texans' playoff loss in Baltimore he blanketed Ravens receiver
Torrey Smith
, rendering him a non-factor.
Offensive player of the year:
Maurice Jones-Drew
, Jaguars running back. Runner up:
Arian Foster
, Texans running back.
It's hard to fathom that Jones-Drew was the NFL rushing champ considering that defenses could regularly key on him without fear of any real threat from the passing offense, which ranked dead last in the NFL. He showed no signs of wearing down and averaged 100 yards a game. It felt like a waste on a five-win team. Foster missed some action early with hamstring issues or he would have likely challenged Jones-Drew in rushing yards. He's a tremendous combination of power and speed and does excellent work as a pass catcher.
Rookie of the year:
J.J. Watt
, Texans defensive end. Runner up:
Brooks Reed
, Texans outside linebacker.
Watt was installed as a starter the moment the Texans drafted him and was an impactful player from his first snap. A relentless player, he was a force against the run and the pass and played beautifully in concert with the rest of the defensive front. His ability to get his hands on balls at the line of scrimmage turned into a monumental interception return for a touchdown in the playoff win over Cincinnati. Reed filled in very well after
Mario Williams
was lost for the season and may actually help the team decide Williams is expendable.
Best assistant coach:
Wade Phillips, Texans defensive coordinator. Runner up, Mel Tucker, Jaguars defensive coordinator.
Phillips was a factor in the personnel decisions that brought Joseph,
Danieal Manning
, Watt and Reed into the fold for Houston. In his first year as defensive coordinator, he injected a huge dose of confidence into the Texans defenders and wisely drew up schemes that featured guys' strengths and marked their weaknesses. The sort of turnaround the defense made in one year is practically unheard of. In Jacksonville, Tucker was given a huge boost with new personnel, but as he took over play-calling from Jack Del Rio, he excelled.
Best position coach:
Dave Ragone, Titans receivers coach. Runner up, Vance Joseph, Texans secondary coach.
Ragone had no experience working with receivers coming into this job, but did fantastic work. He deserves a great deal of credit for the vast improvement and maturation of
Nate Washington
and the emergence of
Damian Williams
as a threat and
Lavelle Hawkins
as a guy who did some good things with the ball in his hands. In his first season with the Texans, Joseph helped some guys regain confidence while overseeing a successful move of
Glover Quin
from corner to strong safety.
Executive of the year:
Rick Smith, Texans general manager.
He had lots of help, but completely nailed free agency, signing Joseph and Manning rather than
Nnamdi Asomugha
. And the top of the draft was fantastic, with Watt and Reed. As Houston suffered injuries at running back, receiver, linebacker and even punter, the Texans showed good depth and an ability to fill in holes with quality outsiders.
Best unit:
Texans offensive line. Runner up: Texans linebackers.
Led by center
Chris Myers
, who may be the division's most unsung player, Houston's offensive line blocked consistently well for the run game and protected three different quarterbacks well. Left tackle
Duane Brown
and right tackle
Eric Winston
both earned mentions on various All-Pro teams.
Antoine Caldwell
filled in nicely when
Mike Brisiel
missed time at right guard. The Texans linebackers, even without Mario Williams, did spectacular, work stuffing the run and swarming quarterbacks all season long.
Worst unit:
Jaguars receivers. Runner up: Colts cornerbacks.
Mike Thomas
might be a No. 2 receiver and can certainly be a good No. 3, though his play in 2011 dropped off after he got a contract extension. But Jason Hill, who started as the No. 2 guy, wound up getting cut and guys like
Jarett Dillard
, rookie
Cecil Shorts
,
Chastin West
and
Kassim Osgood
did little to show they were NFL-caliber guys.
Blaine Gabbert
suffered the consequences. The Colts were insufficiently stocked at corner, though
Jacob Lacey
bounced back well late in the season after he was benched.
Most improved:
Nate Washington, Titans receiver. Runner up:
Connor Barwin
, Texans outside linebacker.
[+] Enlarge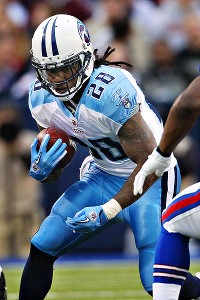 Timothy T. Ludwig/US PresswireFollowing a big contract signing prior to the season, Titans RB Chris Johnson failed to play up to the high expectations.
Washington's maturation was remarkable. An excitable guy really calmed down and settled in working under offensive coordinator Chris Palmer and Ragone and with
Matt Hasselbeck
. Washington figured to be better with those guys while working as the No. 2 behind
Kenny Britt
, but Britt was lost for the season early on and Washington wound up with a 1,000-yard season and seven touchdowns. I give him the nod because I didn't believe he had untapped upside. That was not the case with Barwin, who the Texans have expected to be a pass-rushing force since they drafted him in 2009.
Most disappointing:
Chris Johnson
, Titans running back. Runner up:
Marcedes Lewis
, Jaguars tight end.
I don't care what sort of defenses are offered up for Johnson. He simply did not run as hard after coming out of a holdout with a giant new contract. There were other issues, but too often he appeared to lack fire and desire. In the rare instances he wound up in a one-on-one situation he was hardly the threat he's been in the past. If he doesn't bounce back in 2012, the contract will turn out to be disastrous. Lewis was supposed to be transformed by his MMA training during the lockout. If it impacted him, it made him worse. Expecting another 10 touchdowns was unreasonable. Producing none was unacceptable.
Best position revamp:
TIE, Jaguars safeties and Texans safeties.
Both teams were terrible at the position a year ago and despite a draft class that was incredibly thin, reshaped the spot with great results. The Texans shifted Quin from cornerback and he was very solid alongside free-agent addition Manning. The Jaguars signed
Dawan Landry
from Baltimore and traded for
Dwight Lowery
, shifting a guy who'd played mostly corner to play with Landry. Applause to both teams for fine work addressing a trouble position.
Surprise of the year:
T.J. Yates
, Texans quarterback.
The finish in the playoff loss to Baltimore was a big disappointment. But Yates took over a good team when
Matt Schaub
and
Matt Leinart
went down in quick succession and played beyond what could reasonably be expected from a fifth-round rookie quarterback.
Colt of the year:
Pat Angerer
, middle linebacker.
As Indianapolis was not mentioned here at all, we create this category for the Colts. Angerer showed himself to be a quality starter who has to be in the lineup going forward. That may mean the end of
Gary Brackett
, the veteran middle linebacker who was hurt in Week 1 and missed the season. Angerer is a rangy, instinctive player who's sure to impress new general manager Ryan Grigson.
December, 11, 2011
12/11/11
10:45
PM ET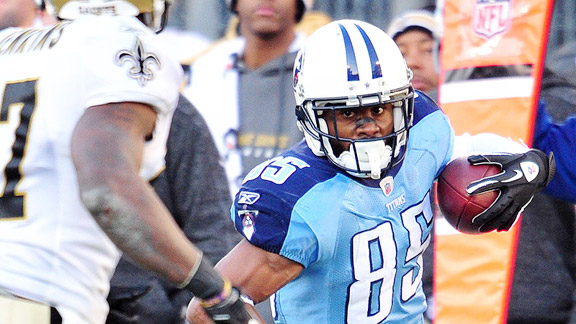 Don McPeak/US PresswireReceiver Nate Washington battled multiple injuries to help keep the Titans competitive on Sunday.
NASHVILLE, Tenn. --
Nate Washington
didn't need to illustrate that he was ailing during his postgame chat with reporters in the locker room. We believed him.
But as his (bad) luck would have it, while he discussed a re-aggravated ankle injury and back troubles, he endured another wave of back spasms.
He passed on an invitation to sit. Then later he asked if it was OK if he moved to a chair.
Washington was the offensive star for the Titans in a 22-17 loss to New Orleans that damaged their playoff hopes but also showed that in bad circumstances they can hang with one of the NFL's best teams. Tennessee had several chances to win it at the end, largely thanks to Washington's six catches for 130 yards and a touchdown.
The career high in receiving yardage came after a week of no practice because of the painful ankle injury he suffered last week in Buffalo.
It didn't come in a win, but it's the pinnacle of his time in Tennessee.
He signed a six-year, $27 million contract with $9 million guaranteed in 2009. In his first two seasons after signing as a free agent from Pittsburgh, he was best known for his drops and he faced more questions about immaturity than the sort of big plays the Titans were expecting.
But all kind of forces have converged in one place for Washington this season, among them a new coaching staff, two new quarterbacks and an early season-ending injury to No. 1 receiver
Kenny Britt
.
He came into the day as the NFL leader in third-down receptions, a true sign of quarterback and playcaller confidence.
And it's not overstating to say he's been transformed.
In 2009 and 2010, he could be a mouthy, overly rambunctious locker-room presence, often in the center of loud debates after practice, arguments that could reach nonsensical levels.
He's mellowed considerably, often coming across as contemplative, running his hand through his beard while speaking in low tones.
I think he used to think he was underrated, and he could bristle when asked about drops or even when he overheard a teammate being asked about one. Now, though he's put himself in few bad situations, he qualifies as stand-up.
Initially reluctant to shift inside to the slot in three-wide packages, he's thrived there.
The team is relying on him much more.
"The mentality of this team has taken me there," Washington said. "I owe a lot to [receivers coach]
Dave Ragone
and to this coaching staff. They really believe in me."
In what might have ranked as the biggest play of the game had the Titans found a way to win, Washington made an incredibly heady choice despite his throbbing ankle and pulsing back.
After he pulled in a 40-yard catch at the New Orleans 5-yard line and got pinballed by two defenders, he was hurting big time. Still, he had the presence of mind to get up and get set to allow
Jake Locker
to spike the ball and stop the clock with 7 seconds left.
Washington then went down, and attentive teammate
Chris Johnson
literally dragged him off the field.
Had officials had to stop the clock after either play, the Titans would have been subject to a 10-second runoff because they had no timeouts, and the game would have ended.
"I knew I had to get up, that time was short," he said. "At the same time, my ankle was hurting so bad. Somebody had hit me in my back and I started having spasms. I have to be better. I could have done a better job. I wish I could have stayed in, I wish I could have given these guys a little more."
Said Ragone: "His football intelligence and IQ are, maybe not downplayed, just not talked about. He's always talking about coverage. And the one thing that I respect is that when he's telling me something, I can see it on film that he's right most of the time. It's good evidence on his part that he can recognize it and give it back. It allows the quarterback to trust him more, too."
Washington repeatedly mentioned how he wasn't "hanging his crown" on anything he's done yet. He was sure to talk up his teammates and the Titans' warrior mentality. He said he wasn't the only guy hurting and working through it, just perhaps the most visible. He also spoke out against what he viewed as
dirty play
by Saints safety
Roman Harper
.
He's a leader now. Back when he first met Ragone, it's something the position coach told Washington should be expected of a seventh-year guy.
"A lot of these guys are looking to me now as a guy who's going to push them in the right direction," Washington said. "So with that being said I know I have to fly straight, I have to do things right. I'm not afraid of it, I accept it. From now on whenever these guys need me, I'll be there..."
"I'm happy about the progress that I've made, but I think I have a long way to go. I think I have a lot more learning to do and I have a lot more plays that I can make."
September, 26, 2011
9/26/11
5:10
PM ET
Titans fans are panicked as they consider the team's options in the wake of the news that wide receiver
Kenny Britt
tore up his knee against Denver and is lost for the season.

Should the team contact
Terrell Owens
? Turn back to
Randy Moss
? Bring back
Justin Gage
?
Jim Wyatt reports
the Titans do have plans to work out
Buster Davis
and, if he doesn't sign with a team he promised to visit first,
Donnie Avery
. Titans beat writers tweeted from Mike Munchak's news conference that the coach said that Moss and Owens are not likely to get a look but that Gage is a possibility.
Davis, Avery or Gage wouldn't jump into the team's rotation. The Titans expect
Nate Washington
,
Damian Williams
,
Lavelle Hawkins
and tight end
Jared Cook
to take on more.
Washington has been excellent the past two weeks.
It's a bit ironic.
In Pittsburgh, he excelled as a scramble option for
Ben Roethlisberger
. The Titans saw him as a great fit for
Vince Young
, presuming they'd work the same sort of magic on freelance plays. But it never really panned out and Washington was wildly inconsistent in his first two seasons in Tennessee, dropping far too many passes.
Now, playing with a more conventional pocket passer in
Matt Hasselbeck
, Washington has found something different. He's had at least six catches in all three of the Titans' games so far, with a total of 21 receptions for 258 yards and a touchdown. He's earning the trust of receivers coach Dave Ragone, offensive coordinator Chris Palmer and Hasselbeck.
It's one thing being the No. 2 receiver when a top-level threat such as Britt is drawing attention. Now the Titans need Washington to show he can continue to produce while ranking as the top guy.
It's not an ideal scenario. But it looks a lot better than it did before the Munchak regime got started.
September, 18, 2011
9/18/11
8:29
PM ET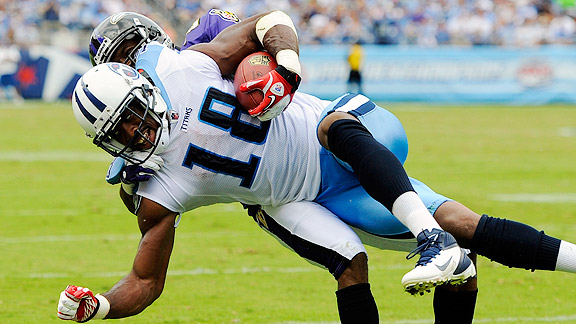 AP Photo/John RussellKenny Britt had 135 yards and a score as Tennessee put up 358 passing yards against Baltimore.
NASHVILLE, Tenn. -- The search for ways to open things up for
Chris Johnson
is ongoing.
The
Tennessee Titans
are a team that is usually about the running back and the run blocking. They are a team that brought in
Randy Moss
a season ago, not so much because he might make big plays, but because he might move a safety out of the box. They are a team now coached by a Hall of Fame offensive lineman who's spoken of being driven by the run.
They are a team that was something else entirely on Sunday.
In a surprising
26-13 win
over the
Baltimore Ravens
Sunday at LP Field, the Titans were a precise, big-play passing team -- a description that qualifies as sweet music to fans who have long craved the dynamic in Music City.
As Johnson managed 2.2 yards a carry and got booed,
Matt Hasselbeck
showed great accuracy against one of the league's toughest defenses. He said during the week there were plays to be made in the secondary. His line gave him the time to make them. He didn't get sacked and he passed for 358 yards (30-for-42, 71 percent).
Seven times he hit on pass plays longer than 15 yards, with
Kenny Britt
as the centerpiece. Britt pulled in receptions of 37, 28 and 16 yards en route to a 135-yard game with a touchdown.
After a troubled offseason, Britt missed the bulk of training camp and the preseason with a hamstring issue. So he and Hasselbeck are still learning each other.
The receiver said the two were 75-80 percent in sync after the Baltimore game and projected it could jump to 95 percent this week. He said Hasselbeck told him during the course of the game, "Once I know what you're doing all the time, we'll be great at it."
A week after he killed the Titans' chances at a late win with an awful interception, Hasselbeck's accuracy keyed the team's first win of the season.
"I think they had really good coverage most of the day," Hasselbeck said. "I played with a guy that always used to say there is no coverage for the perfect throw. It's funny, but it's true. When you're playing a great defense, you've got to have great accuracy.
"And they weren't easy catches. [
Jared Cook
's] catch was a diving catch, Kenny's catch down the middle took a lot of courage,
Nate Washington
had some courageous catches,
Lavelle Hawkins
stepped up with some courageous catches. It was as much them as anything."
So Hasselbeck wasn't afraid of that tight coverage getting to his throws?
"Oh, I was afraid," he said, laughing. "But what are you going to do? I had to throw it."
On Britt's longest reception, he slowed and turned to face the pass as he caught it, then navigated the left sideline as he completed his spin. Cook also turned back to get a 33-yard catch, falling to the ground as he pulled it in. In each situation, if the Titans hadn't caught it, the ball would have fallen harmlessly incomplete.
"Matt was actually trying to put it in a perfect place where I could go get it," Britt said, before talking specifically about turning to go get balls. "It's by design. We've been working on that for at least two to three weeks now since I've been back from my hamstring injury."
Britt was called to Roger Goodell's office to discuss a trouble-filled offseason but avoided any suspension for transgressions during the lockout. The Titans want him to be a central figure in what they do -- one of three dynamic playmakers along with Johnson and Cook.
But it can be difficult to count on him because over the course of his first two seasons he often got dinged and could lose focus.
Now he's got a new veteran quarterback, a new rookie quarterback (
Jake Locker
), a new head coach (Mike Munchak), a new offensive coordinator (Chris Palmer) and a new position coach (Dave Ragone).
All of them are relying on his continued emergence.
Britt's wife and daughter are now in Nashville and he's indicated he won't be spending a lot of time in New Jersey, where most of his troubles arose. If healthy and consistent, with an accurate quarterback throwing to him, Britt may well jump to elite receiver status soon.
The Ravens praised Hasselbeck's precision.
His 358 passing yards were the most the Titans have ever had in 20 matchups against the Ravens and the fourth most Baltimore has yielded over the past five seasons.
"Kenny's covered and he makes a great throw," Titans quarterback coach Dowell Loggains said. "Matt was deadly accurate today."
Baltimore isn't going to give up a lot of running yards. Other teams that are able to slow Johnson should pay for it if Hasselbeck can find Britt, Washington and Cook the way he did Sunday.
"We feel like we have enough weapons with No. 8 on offense that we can do some things that we haven't been able to do in the past," Loggains said. "This is what we should be able to do."
September, 8, 2011
9/08/11
3:59
PM ET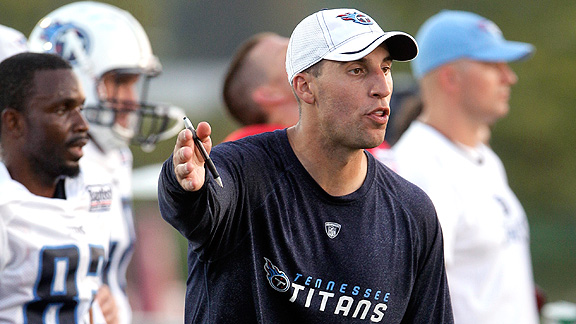 AP Photo/Mark HumphreyFormer NFL QB Dave Ragone brings a fresh perspective as the Titans' receivers coach.
Nate Washington
admits it. When the Titans receiver first heard that a quarterback-turned-assistant-coach,
Dave Ragone
, would be overseeing Tennessee's wideouts, he had doubts.
"He might kill me, but yeah, I was a little skeptical at first," Washington said. "I didn't think negatively, I just didn't know what to expect. It was, 'OK, what is this guy going to bring to us?'"
It didn't take long for Washington to gain an appreciation for his new coach. Ragone has brought new energy to a job that's been a sore spot for a franchise that's struggled at the position since relocating to Tennessee in 1997.
The
Indianapolis Colts
also have installed a quarterback at wide receiver coach, flipping
Frank Reich
to the spot in a swap that sent his predecessor, Ron Turner, to oversee quarterbacks.
It might not qualify as a trend yet, but in the AFC South, a lot of receivers are learning a great deal about routes and coverages through a quarterback's eyes, something both teams say is a big deal.
"(Reich) knows what it is he's looking for in the route, in the breaks, in the coverage," Indianapolis vice chairman Bill Polian said. "So, it gives the receiver a totally different perspective. It isn't about necessarily running this route to get open against this guy. It's about running this route in a certain way that allows the quarterback to get him the ball. It's a sophisticated nuance and it's important."
Even early in training camp, Reich's top guy,
Reggie Wayne
, was singing his praises.
[+] Enlarge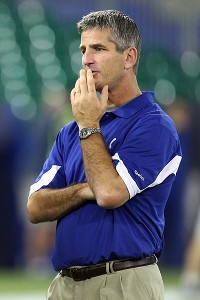 Tom Szczerbowski/US PresswireColts assistant Frank Reich, in his first stint as a receivers coach, has made a good impression on his position group.
Heading into a contract year trimmed down, Wayne asked Reich in their first interaction to coach him like a rookie. Now, he should be a key factor for
Kerry Collins
as he fills in for the injured
Peyton Manning
.
"[Reich] understands what's kind of tough to do as a receiver and what's not tough to do," Wayne said. "A lot of coaches, they're not able to display or give you that… Frank's helped with my stance and starts. He talks to all the receivers about getting in a great stance and being able to come off the ball. He gave us a quote already, he said, 'Plant the seed for speed.' That stuck with me. He's big on details and that's good.
""We've got to make him look good. That's what it's all about."
Ragone throws a lot to his guys in Tennessee. He likes to show off he's got a big arm.
"He throws more balls than the quarterbacks at practice," said offensive coordinator Chris Palmer, who hired Ragone in the UFL.
Ragone prepared for his new role during the lockout with hours of research. The new coach read everything and talked to everyone, sifting through drills that can bring things out of a group that's often seemed to sleepwalk. One that takes place after practice once in a while has receivers reaching with both arms around a goal post stanchion.
That comes from
New England Patriots
receiver
Deion Branch
, a teammate of Ragone's from Louisville who offered it up a few years ago when Ragone asked Branch for his favorite drill. Players can't bring the ball to their bodies, so they must concentrate on catching the ball with their hands while working on the strength of their fingers.
But it's more than just catching the ball. Washington and
Kenny Britt
both talked about a new sense of what exactly qualifies as being open that they have learned from a guy who played three seasons as a backup with the Texans and won an Offensive MVP award in NFL Europe.
"You can't run the route any way you want to and be thinking that you're right just because you're open," Britt said. "Sometimes it's the timing of the play and it can really hurt the quarterback with how many steps to take and how many hitches he has to take before he throws the ball."
Ragone looks forward to crossing paths with Reich, a much more successful NFL quarterback, when the Titans meet the Colts.
Will the two start a revolutionary movement of former quarterbacks to wide receiver coaching positions?
Let's not jump on that, despite
Matt Hasselbeck
telling me "it would be very easy to do."
First we need to see how receivers in Indianapolis and Tennessee do with the new tutoring.
"[Ragone] is leading us in the right direction and we're getting to the potential that we could have been [getting to before]," Washington said. "It's exciting right now."
August, 4, 2011
8/04/11
12:15
PM ET
Alan Lowry, Steve Walters, Ray Sherman and Fred Graves are all good coaches. But Titans receivers under them have been an issue since the team moved to Tennessee.
Did those guys underachieve as coaches, have insufficient talent, or both? And are expectations of receivers unreasonable in a run-based offense?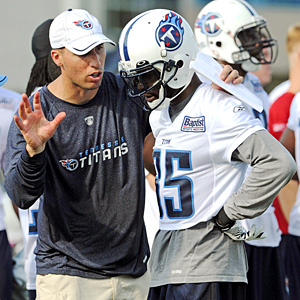 Don McPeak/US PRESSWIREDave Ragone is a former quarterback who has never coached receivers before.
All that is up for debate.
But new receivers coach Dave Ragone, a former quarterback who's never coached receivers before, looks to be breathing a different sort of life into his guys so far. He's far younger and more energetic than the four coaches who preceded him, and he's showing a creative flair in coaching his guys. After one practice, receivers wrapped their arms around the goal post support, catching balls on the other side of it. Clever.
I think such change is very healthy. But I got excited when Graves arrived and had his guys catching bricks too, so my enthusiasm may be momentary.
Ragone also brings a cannon of a left arm.
"He's got a Jugs machine tied to his arm," second-year wideout
Marc Mariani
told
The City Paper's David Boclair
. "He takes pride in that. He thinks he can out-throw us and break our facemask or whatever."
Balls are on receivers quick in practice periods when the coach is throwing, and they have to react quickly and show good hands. On the first day of practice he drilled a ball on the first throw of a period right off
Nate Washington
's facemask. Washington had to wipe it off before getting back in line.
Boclair accurately notes a major difference from receiver work during the Jeff Fisher regime:
"Seemingly every catch is accompanied by a whack from some sort of pad. Many throws are preceded by multiple cuts around a cone or a peak from behind a tackling dummy. Often, there's little time to find the ball and react to it.

"'More than anything else, I hope what we do in those drills translates [to game situations] and helps them when they're actually running their routes,' Ragone said. 'If they can't see how it works and how it can help them, then it's not going to be worth it to them.

'That's more my goal … explaining why it makes sense.'"
I'll revisit the idea of a quarterback coaching receivers after I visit with both Ragone and
Frank Reich
of the Colts.
For now, Ragone is definitely a guy to watch.
July, 30, 2011
7/30/11
7:24
PM ET
NASHVILLE, Tenn. -- Some quick thoughts on Tennessee's opening practice of training camp, before a run to the airport.
With Matt Hasselbeck looking on, unable to practice until Thursday, Jake Locker worked as the starting quarterback. He had a several very shaky throws before the defense was even part of things -- a short ball to the left that sailed well over Lavelle Hawkins, a short pass wobbled over the middle that may have slipped out of his hand, a high deep ball that amounted to a punt Jared Cook had to wait on. But he settled down as the practice went on and didn't look out of place.
Kenny Britt didn't practice. He ran in the morning and the team is being careful early with a guy who had a hamstring issue last season. He looks to be fit, thin even.
Without Britt, Nate Washington and Justin Gage worked as the starting receivers with things rotating quickly. Joe Tronzo was the fullback leading Javon Ringer. Fernando Velasco plugged into Leroy Harris' left guard slot. (Jim Wyatt broke the news during practice that Harris agreed to return with a two-year deal.)
The starting defensive line, left to right, was William Hayes, Jovan Haye, Jurrell Casey and Jason Jones. Will Witherspoon was a middle linebacker between Akeem Ayers and Gerald McRath. Alterraun Verner was at corner opposite Cortland Finnegan.
While Ayers is bigger than any Titans linebacker in memory, the most impressive size was in free agent defensive tackle Shaun Smith (325), who can't yet practice, and Haye. Haye played last year at 275 and told me he's now 312, heaviest in his life. He feels way more powerful. Protein shakes, his wife's cooking and heavy weights helped him bulk up to line up with the new staff's emphasis on size. He's benched 405 when he never topped 315 before.
Chris Hope was here and at strong safety. He was due a $500,000 roster bonus Friday and there has been no news of a restructured deal. That means he got it and isn't going anywhere unless something big changes between now and opening day.
The coaches are a vocal bunch. Two of note I didn't hear were offensive coordinator Chris Palmer and offensive line coach Bruce Matthews. No surprise there. McRath dropped a tipped ball for a pick and linebackers coach Frank Bush told him: "Don't be afraid to be a hero. All they're going to do is put your name in the paper."
Receiver coach Dave Ragone drilled the first pass of one positional drill into the facemask shield of Nate Washington. He warned that balls would be on guys fast out of their breaks, but this bullet may have been too fast and too early for Jerry Rice. Washington had to wipe down the shield before getting into back into line.
The Titans voted to reconstitute the NFLPA.
February, 25, 2011
2/25/11
10:48
AM ET
INDIANAPOLIS -- If Colts officials were available to field any questions at the combine, like virtually every other team in the league does, the first thing I'd ask would be about the flip-flop of Frank Reich and Ron Turner.

The team took Reich, who was quarterbacks coach, and moved him to receivers, while taking Turner, who'd been with the receivers, and moved him to quarterbacks.
We are left to interpret without any explanation from coach Jim Caldwell, any reaction from Reich or Turner and any comment from
Peyton Manning
or
Reggie Wayne
.
Certainly the move was made either because Manning wanted it or because Manning bought it when it was brought to him. I'd expect even Wayne gave a nod.
Will Wolford, who does color for the team's radio broadcast team, shared his thoughts Friday morning at the combine.
"It is unusual; I never saw it as a player," he said. "I think they probably all got together and decided on, 'What can make us a better team, top to bottom?' Obviously they thought that was the move to make."
Wolford and I agree that Reich will have to do some winning over of the receivers, as guys at a position are inclined to be skeptical of a position coach who doesn't have origins or experience playing and/or coaching the spot.
"But I've always believed that quarterbacks make the best coaches regardless of position just because they study the most when they are playing," Wolford said. "A guy like Reich was so studious when he played and with the experience he's gained now, no one knows more than what a wide receiver should think about than a quarterback. So it's probably a pretty good move.
"I saw where the
Tennessee Titans
hired Dave Ragone, a former quarterback, to coach their wide receivers. I think there is definitely something to a quarterback taking over, teaching guys. 'No, I don't know the exact route to run, I can learn that. But I can tell you exactly what a quarterback is thinking on this play and where you should be.'"
March, 9, 2010
3/09/10
11:43
AM ET
Charlie Whitehurst
shares something in common with any quarterback the Cardinals might draft this year.
He has never attempted a pass in a regular-season NFL game.

Whitehurst
The Chargers' backup quarterback,
on the Cardinals' radar
as a restricted free agent, was tendered to a third-round choice. The Cardinals have an extra third-rounder from the
Anquan Boldin
trade, but the team could conceivably attempt to work out alternative compensation with San Diego should Arizona decide to pursue Whitehurst.
NFLDraftScout.com's analysis
on Whitehurst coming out of Clemson in 2006 called him a "good competitor who is a quiet leader, but has total control of the huddle" and a quarterback with "a snappy overhead delivery and a fluid follow-through rather than a windmill type that most tall passers display."
Some of the negatives listed could be outdated, the assumption being Whitehurst has worked to correct them under Norv Turner and the Chargers' offensive staff.
Matt Leinart
is the only quarterback on the Cardinals' roster.
Using a third-round choice for Whitehurst, 27, could make more sense than using one for a college prospect. Though inexperienced, Whitehurst would be better prepared to play in a regular-season game.
The chart shows third-round quarterbacks drafted since 2000. Not many have succeeded. One exception: The Texans acquired 2004 third-round choice
Matt Schaub
from the Falcons when Schaub had minimal experience.
NFL SCOREBOARD
Thursday, 10/2
Sunday, 10/5
Monday, 10/6