NFL Nation:

Dave Zastudil
April, 9, 2014
Apr 9
8:00
AM ET
A lot has been made of the devaluation of running backs throughout the league.
The premium on running backs is dropped because more teams are running spread offenses and the passing game is taking a priority over the run game. Of the 19 free-agent running backs who have signed since March 11, only one has a deal that's worth an average annual value of at least $3.5 million.
The devaluation of running backs isn't new in 2014. During the first round of last year's NFL draft, not a single running back was chosen. And neither of ESPN NFL draft insiders,
Mel Kiper

nor
Todd McShay

, have a running back going in the first round of their latest mock drafts.
It's gotten to the point that in some cases, punters are earning more than running backs. This tweet by ESPN NFL Insider Adam Schefter, shows difference in the guaranteed money between the top kicker, punter and running back contracts signed this offseason.
Most Gtd $ in RB/K/P deals this year: K Robbie Gould $8.85M K Dan Bailey $7.5M RB D. Sproles $5.5M P Pat McAfee $5.25M RB Toby Gerhart $4.5M

— Adam Schefter (@AdamSchefter) April 8, 2014
The
Arizona Cardinals
are among the teams who are paying their punter more than most or all of their running backs.
Dave Zastudil
signed a two-year contract in January and will earn $1.5 million in 2014. The Cardinals' highest-paid running back?
Ryan Williams
. He'll make $1.05 million next season, a year after not being active for any of Arizona's 16 games. The Cardinals' top two returning running backs,
Andre Ellington
and
Stepfan Taylor
, will each make $495,000 next season. Recently acquired running back
Jonathan Dwyer
is scheduled to earn $795,000 in 2014.
At $1.02 million, kicker
Jay Feely
will make more than every running back except Williams.
The NFL is in the midst of another paradigm shift. It could be a fad or it could be here to stay. Good running backs will get paid but the rest will enter a league that devalues them for years to come.
January, 2, 2014
Jan 2
2:00
PM ET
Arrow indicates direction team is trending.

Final Power Ranking:
9
Preseason Power Ranking:
26
Biggest surprise
: No one expected Arizona to struggle like it did throughout the first half of the season because an offensive mastermind, Cardinals coach Bruce Arians, was in charge. Likewise, nobody expected the Cardinals to go on a tear through the final nine, going 7-2 to finish 10-6. A 10-win season for the Cardinals isn't to be ignored. They're tough to come by, but Arians was able to accomplish it in his first season, which nobody expected. He proved himself as a head coach at 61 and showed how great his offense is when a team can learn and execute it.
Biggest disappointment
: Arians was dead set on riding running back
Rashard Mendenhall
this season with rookie
Andre Ellington
as his backup. And while Mendenhall was serviceable, it wasn't a successful move. Mendenhall finished with 687 yards on 217 carries, an average of 3.2 yards per carry -- just 35 more than Ellington on 99 more carries. Partially to blame for Mendenhall underachieving was a turf-toe injury that limited him for most of the season, but when he was healthy, he showed his true speed in only two games. Other than that, he struggled to break through the line as often as the Cardinals needed him to. He's not the future for Arizona at running back. That belongs to Ellington.
Biggest need
: Everyone thinks the most obvious need is a left tackle, but with how the offensive line played during the last eight games, it may be the least of the Cardinals' worries. Arizona needs a big, fast safety who can defend tight ends. The 29 tight ends who faced the Cardinals this season accounted for 1,247 yards and 17 touchdowns on 98 receptions. The yards accounted for 30.7 percent of the total by opposing receivers and the 98 receptions were 26.7 percent of the catches made by opponents. But the most telling stat, and the difference between wins and losses, are the 17 touchdowns by opposing tight ends, which are 58.6 percent of the 29 total allowed by the Cardinals' secondary.
Team MVP
: There were a handful of Cardinals who had good seasons on both sides of the ball, but there was one who really kept the pulse of the team alive. Veteran linebacker
Karlos Dansby
was shunned by Miami and took a huge pay cut to come to Arizona, and he proved to everyone in the league that, at age 32, he still had it. He was second in the NFL with 114 solo tackles, 6.5 sacks -- his most since his eight in 2006 -- and a career-high four interceptions. But his ability to impact a top-six defense near the line of scrimmage, sideline-to-sideline and then dropping back in coverage made him the most important player on the team.
March, 18, 2013
3/18/13
9:18
PM ET
PHOENIX -- The
Seattle Seahawks
and especially the
San Francisco 49ers
added to their 2013 NFL draft hauls Monday when the NFL awarded compensatory selections to offset net losses in free agency last year.
The 49ers received the 131st overall pick, a fourth-rounder, plus the 246th and 252nd choices, both in the seventh round. The Seahawks received the 241st and 242nd overall choices, also in the seventh round.
Teams cannot trade compensatory picks.
"Under the rules for compensatory draft selections, a team losing more or better compensatory free agents than it acquires in the previous year is eligible to receive compensatory draft picks," the NFL announced. "Compensatory free agents are determined by a formula based on salary, playing time and postseason honors. The formula was developed by the NFL Management Council. Not every free agent lost or signed by a club is covered by this formula."
The 49ers received compensatory choices because free-agent losses
Blake Costanzo
,
Josh Morgan
and
Madieu Williams
outweighed free-agent addition
Mario Manningham
according to the formula. The Seahawks received picks because free-agent losses
Atari Bigby
,
John Carlson
,
David Hawthorne
and
Charlie Whitehurst
outweighed free-agent additions
Matt Flynn
and
Jason Jones
.
I've put together lists below showing all unrestricted free agents added, lost and re-signed by NFC West teams last offseason.
Update:
I've also made available for download
an Excel file
with tentative 2013 draft order, reflecting comp picks and known trades. This is unofficial. The league has not yet released the official order; additional trades could affect it.
The 49ers have a league-high 14 picks, including two picks in each of the second through fifth rounds. They're in prime position to stock their roster for the future.
By my accounting, the Cardinals hold the 7th, 38th, 69th, 103rd, 140th, 174th and 176th picks. The 49ers hold the 31st, 34th, 61st, 74th, 93rd, 128th, 131st, 157th, 164th, 180th, 227th, 237th, 246th and 252nd choices. The Seahawks hold the 56th, 87th, 123rd, 138th, 158th, 194th, 214th, 220th, 241st, and 242nd choices. The Rams hold the 16th, 22nd, 46th, 78th, 113th, 149th, 184th and 222nd picks.
Arizona Cardinals
Re-signed:
D'Anthony Batiste
,
Mike Leach
,
Early Doucet
,
Jay Feely
,
Dave Zastudil
Added:
Adam Snyder
,
William Gay
,
James Sanders
,
Quentin Groves
Lost:
Richard Marshall
,
Sean Considine
,
Deuce Lutui
San Francisco 49ers
Re-signed:
Tavares Gooden
,
Carlos Rogers
,
Alex Smith
,
Ted Ginn
Jr.
Added:
Mario Manningham,
Rock Cartwright
,
Josh Johnson
Lost:
Josh Morgan, Adam Snyder, Blake Costanzo,
Reggie Smith
, Madieu Williams,
Chilo Rachal
Seattle Seahawks
Re-signed:
Heath Farwell
,
Red Bryant
,
Paul McQuistan
,
Michael Robinson
,
Leroy Hill
,
Matt McCoy
Added:
Matt Flynn, Jason Jones, Deuce Lutui,
Barrett Ruud
Lost:
John Carlson, Atari Bigby, Charlie Whitehurst, Tony Hargrove, David Hawthorne
St. Louis Rams
Re-signed:
Kellen Clemens
Added:
Cortland Finnegan
,
Kendall Langford
,
Scott Wells
,
Quinn Ojinnaka
,
Steve Smith
,
Robert Turner
,
Jo-Lonn Dunbar
,
William Hayes
,
Trevor Laws
,
Mario Haggan
,
Barry Richardson
Lost:
Brandon Lloyd
,
Chris Chamberlain
,
Donnie Jones
,
Jacob Bell
,
Bryan Kehl
,
Gary Gibson
January, 3, 2013
1/03/13
1:16
PM ET
Just wanted to pass along a quick note from Mark Simon of ESPN Stats & Information: The
San Francisco 49ers
'
Andy Lee
recently edged the
Arizona Cardinals
'
Dave Zastudil
for the NFL's 2012 punter of the year in voting by ESPN writers, researchers and data analysts.
I listed Lee first and Zastudil second on my ballot. Seattle's
Jon Ryan
finished fifth. New Orleans'
Thomas Morstead
was third. Kansas City's
Dustin Colquitt
was fourth.
Punters are a bit like home-field advantages. They're not going to make a bad team win games, but they can put a good team over the top in close ones.
Here's what Simon had to say about the punters and the voting process:
"Lee edged out Zastudil in an extremely close vote. Lee edged out Morstead for the NFL's net average crown (43.2 yards). Lee finished with 36 punts inside the 20 and four touchbacks. His 9-to-1 ratio of inside-the-20 punts to touchbacks ranked tied for fourth-best in NFL. His 36 punts inside the 20 ranked third. Lee had the second-highest percentage of punts inside the 20 (53.7 percent). He was also a two-time winner of "Punter of the Week" honors this season.



"Zastudil led the NFL in punts with 112, 21 more than the player who finished second. He set NFL single-season records for total punt yardage and number of punts inside the 20. Zastudil also fared well by the advanced metrics kept by ESPN's analytics team. His average punt added 1.4 percent to the Cardinals' chances of winning, which was an NFL best, as was his average expected points added per punt (0.33).

"Lee received seven of a possible 15 first-place votes and was named on 15 of the 20 ballots. Five points were awarded for a first-place vote. Three points were given for a second-place vote. Zastudil received five first-place votes and five second-place votes. Lee won our points voting by four points (44-40). Morstead finished with 17 points, Colquitt 14, and Ryan 5."
Congrats to all the nominees. Punters don't get a ton of attention. We've got some good ones here in the NFC West.
December, 23, 2012
12/23/12
7:57
PM ET
Thoughts on the
Arizona Cardinals
'
28-13 home defeat
to the
Chicago Bears
in Week 16:
What it means:
The Cardinals fell to 5-10, moving closer to a second 5-11 finish in three seasons. Arizona again showed its ability to play strong pass defense, but there is now even less hope that any of the quarterbacks on the 53-man roster will factor in a meaningful way next season. Week 1 starter
John Skelton
was named inactive behind rookie sixth-round pick
Ryan Lindley
, who was benched during this game, and waiver-wire pickup
Brian Hoyer
.
What I liked:
Punter
Dave Zastudil
broke the NFL record for punts downed inside the opponent's 20-yard line. ... The Cardinals held Bears quarterback
Jay Cutler
to one completed pass in his first 11 attempts. ...
Larry Fitzgerald
caught eight passes for 111 yards, by far his best statistical performance in more than two months. ...
Calais Campbell
had a sack and a pass defensed. ...
Adrian Wilson
blocked a field-goal try, setting up
Justin Bethel
's 82-yard return touchdown.
What I didn't like:
Lindley averaged 4.7 yards per attempt with zero touchdowns and an interception before getting the hook. He has now played six games, started four and attempted 171 passes this season without a touchdown. Lindley also has seven interceptions.
With Hoyer appearing likely to start in Week 17, Lindley is on track to finish the season with 80 additional pass attempts than any touchdown-less quarterback since at least 2001. The chart lists all players since 2001 with more than 50 pass attempts over a full season and no touchdowns. Lindley and Pittsburgh's Byron Leftwich still have time to remove themselves from the list.
The Cardinals' defense collected only one sack and allowed plays of 36, 35 and 30 yards. It's tough to fault any defense getting zero support from the other side of the ball, but if the Cardinals were going to win this game, they needed a nearly perfect game from their defense. That's too much to ask of any unit.
Beanie Wells
fumbled and finished the game with four carries for three yards.
LaRod Stephens-Howling
had 11 carries for 20 yards. He and Wells had zero carries longer than four yards. The team's longest run covered seven yards.
What's next:
The Cardinals close the regular season at San Francisco.
November, 18, 2012
11/18/12
4:34
PM ET
Thoughts on the
Arizona Cardinals
'
23-19 defeat
against the
Atlanta Falcons
in the Georgia Dome on Sunday:


What it means:
The Cardinals have now lost six consecutive games following a 4-0 start. This game was a bit like their season. Arizona started quickly thanks to a strong defense, but quarterback issues dragged them down over time. Coach Ken Whisenhunt emphasized accountability during the bye week. He backed it up by benching quarterback
John Skelton
while the Cardinals held a 13-3 lead. Skelton missed a wide-open
Larry Fitzgerald
in the end zone as the Cardinals failed to fully capitalize on three first-quarter interceptions off Falcons quarterback
Matt Ryan
. The fact that Arizona picked off five passes and still lost highlighted the team's glaring issues at quarterback.
What I liked:
The defense was fantastic and did enough to win this game with only average play from the quarterback position. Defensive end
Darnell Dockett
was disruptive. He batted one pass to set up an interception. He blew up running plays. The bye week seemed to restore Dockett's health and productivity.
William Gay
,
Kerry Rhodes
and
Greg Toler
had first-quarter interceptions. Inside linebacker
Daryl Washington
added a fourth pick in the second half.
Sam Acho
produced a fifth, collecting a pass that bounced off teammate
Dan Williams
' helmet as Williams leaped to defend the pass.
LaRod Stephens-Howling
gained 127 yards on 22 rushes. He had 52- and 40-yard runs in the half. The 52-yarder featured a jump cut for the ages.
William Powell
had a 65-yard kickoff return. Punter
Dave Zastudil
and the coverage units positively affected field position as the Cardinals jumped to their early lead. Toler made an outstanding effort at throwing a loose ball back inbounds so Arizona could recover for a turnover.
What I didn't like:
The quarterback play was horrendous by NFL standards. Skelton had completed 2 of 7 passes for 6 yards when the Cardinals benched him. Rookie
Ryan Lindley
completed 2 of 7 passes for 18 yards on his first seven attempts. He completed 9 of 20 passes for 64 yards (3.2 per attempt) overall. The Cardinals ran the ball well and have talent at wide receiver. They needed more production from their passing game under the circumstances. The offense wasn't alert enough when the Falcons picked up a loose ball and returned it for a touchdown. The whistle had never blown. Arizona gave away free points on that play. Washington, though outstanding this season, committed a 15-yard penalty after the Cardinals stopped the Falcons on third-and-15. The Cardinals, after holding firm defensively much of the day, gave up a quick touchdown drive to lose the lead late. Fitzgerald could not finish a fourth-and-2 reception in Falcons territory as the team made its final push to retake the lead.
Notable:
Minus the one game he had missed to injury, veteran safety
Adrian Wilson
had played a higher percentage of defensive snaps than any Cardinal other than cornerback
Patrick Peterson
. Wilson wasn't on the field early in the game. His snaps were down overall. Was this one of the switches Whisenhunt had alluded to when he said during the bye that changes would be made? The quick hook for Skelton had to be one. Also, the Cardinals went away from rookie receiver
Michael Floyd
after he appeared to line up incorrectly,
leading to a turnover
.
Coaching gaffe:
Falcons coach Mike Smith threw his challenge flag before officials initiated a mandatory review following the third-quarter turnover Toler helped to force. Smith's challenge was in violation of the rules. And because he threw the flag before booth officials initiated their review, the play became unreviewable. The Cardinals took over possession, short-circuiting a Falcons drive deep in Cardinals territory. Everyone makes mistakes, but coaches earning millions should know basic rules regarding challenges.
Key injury:
Peterson suffered a hamstring injury, apparently in the fourth quarter.
What's next:
The Cardinals are home against the Rams in Week 12.
November, 4, 2012
11/04/12
4:26
PM ET
Thoughts on the
Arizona Cardinals
'
31-17 defeat
to the
Green Bay Packers
at Lambeau Field in Week 9:


What it means:
The Cardinals fell to 4-5 with their fifth consecutive defeat. The slope appears to get more slippery following a Week 10 bye. The team visits the
Atlanta Falcons
to kick off a four-game stretch featuring three road games. Running back
Beanie Wells
is expected to return Nov. 25, but the Cardinals' troubles go beyond one player. Even their defense is sagging. Arizona has allowed 17, 19, 21, 24 and 31 points during its slide.
What I liked:
Arizona's defense held the Packers to a three-and-out and missed field goal after Green Bay opened its first possession from the Cardinals' 20-yard line. Defensive ends
Calais Campbell
and
Darnell Dockett
shared a sack to set back the Packers on that drive. Receiver
Larry Fitzgerald
's diving effort to cap his 31-yard scoring reception gave Arizona life in the second half.
Andre Roberts
had a 40-yard reception,
Michael Floyd
had a 37-yarder and
Rob Housler
had a 22-yarder. The Cardinals downed four of
Dave Zastudil
's punts inside the Green Bay 20-yard line. The coaching staff gave rookie
Nate Potter
a chance at left tackle. Potter had issues, but this was a good time to give him reps. Quarterback
John Skelton
took only two sacks, a low number for Arizona.
What I didn't like:
The Cardinals gave up four touchdown passes to
Aaron Rodgers
, including two to
Randall Cobb
. And when
Tom Crabtree
slipped behind inside linebacker
Paris Lenon
for a 72-yard scoring grab in the second half, the Cardinals were pretty much finished. The Arizona ground game continued to struggle without Wells and
Ryan Williams
.
LaRod Stephens-Howling
and
William Powell
found little room to run.
Early Doucet
continued to struggle with dropped passes. The two he dropped gave him six drops for the season, twice his total for 2011. Outside linebacker
O'Brien Schofield
suffered an injured ankle.
Patrick Peterson
averaged only 4.8 yards per punt return. He has zero returns for touchdowns after getting four as a rookie in 2011. The Cardinals, meanwhile, allowed a 28-yard return and 15.3-yard average to Cobb.
What's next:
The Cardinals have a bye before visiting the Falcons in Week 11.
October, 23, 2012
10/23/12
12:50
PM ET
Calm down, calm down. I realize punter-related items tend to whip the blog into an emotional frenzy, but in the interests of civility, please stifle your displays of excitement.
[+] Enlarge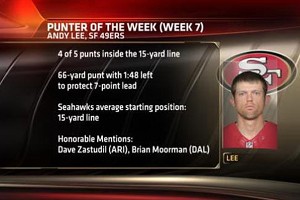 ESPNSan Francisco punter Andy Lee had a huge game against NFC West rival Seattle.
This is not another gratuitous plea for page views.
It's our occasional look at ESPN's punter of the week, as selected by resident puntologist Mark Simon from ESPN Stats & Information.
Seattle's John Ryan won
the honors
previously.
So did
Arizona's
Dave Zastudil
. St. Louis'
Johnny Hekker
was separately named the NFC's top special-teams player for Week 5.
The
San Francisco 49ers
'
Andy Lee
edged Zastudil to top Simon's list for Week 7.
Here's what Simon had to say:
"Lee had five punts in last Thursday's win over the Seahawks and could not have fared much better than he did.

"Lee put four punts inside the 15-yard line.

"On average for the game (including all drives, not just punts), the Seahawks started at their own 15. To that point, it was the worst average starting field position of any team in a game this season.

"Lee's biggest punt was a 66-yarder (net: 61 yards) with 1:48 left and the 49ers protecting a seven-point lead. That turned the field and pushed the Seahawks back their own 11-yard line.

"Since we're giving props to punters for pinning the opponent deep, let's also pay tribute to Dave Zastudil.

"Zastudil, who won Punter of the Week in Week 4, punted five times in situations in which the Cardinals were within 55 yards of the end zone. Zastudil pinned the Vikings inside the 15 on all five punts. Of those five, four were fair catches and one was returned for a net of minus-3 yards. He avoided having any touchbacks."
So, take that, rest of the NFL.
On a more serious note, punters and their coverage units do change expected points when they pin opponents deep. That's important for any team, and especially important in the NFC West, where teams play strong defense and tend to keep the games close.
Way to go, Andy Lee and peers.
March, 16, 2012
3/16/12
12:30
PM ET
Michael Robinson
's expected re-signing with the
Seattle Seahawks
would give the team a league-high four re-signings in the unrestricted free-agent market.
Red Bryant
,
Paul McQuistan
and
Heath Farwell
previously re-signed.
Seattle and the other NFC West teams have added only two UFAs from other teams, however. I've put together UFA scorecards for each team in the division. Ages are in parenthesis. Here goes ...
Seattle Seahawks

UFA unsigned (age):
defensive end
Raheem Brock
(33), defensive lineman
Jimmy Wilkerson
(31), safety
Atari Bigby
(30), quarterback
Charlie Whitehurst
(29), linebacker
Leroy Hill
(29), linebacker
Matt McCoy
(29), defensive lineman
Anthony Hargrove
(28), linebacker
David Hawthorne
(26), running back
Justin Forsett
(26), linebacker
David Vobora
(25)
UFA re-signed:
Farwell (30), Robinson (29), McQuistan (28), Bryant (27)
UFA added:
none
UFA lost:
tight end
John Carlson
(27)
Franchise player:
none
Comment:
Forsett has provided value, but the Seahawks will want to add a power back as depth behind
Marshawn Lynch
, who re-signed before free agency.
Mike Tolbert
, a free agent from the
San Diego Chargers
, could be worth a look if the running back market remains soft. Tolbert weighs 243 pounds, has 21 total touchdowns over the past two seasons, and caught 54 passes in 2012. The price would have to be right after Seattle committed to Lynch.
San Francisco 49ers

UFA unsigned:
fullback
Moran Norris
(33), tight end
Justin Peelle
(33), safety
Madieu Williams
(30), quarterback
Alex Smith
(27), receiver
Ted Ginn
Jr. (26), guard
Chilo Rachal
(26), safety
Reggie Smith
(25)
UFA re-signed:
cornerback
Carlos Rogers
(30), linebacker
Tavares Gooden
(27)
UFA added:
none
UFA lost:
guard
Adam Snyder
(30), linebacker
Blake Costanzo
(27), receiver
Josh Morgan
(26)
Franchise player:
safety
Dashon Goldson
(27)
Comment:
Randy Moss
and potential addition
Rock Cartwright
do not appear in the listings because they were not unrestricted free agents. Re-signing Alex Smith and finding additional receiver help appear to be the top priorities. The 49ers are showing little outward urgency on either front, however.
Arizona Cardinals

UFA unsigned:
defensive lineman
Vonnie Holliday
(36), kicker
Jay Feely
(35), long-snapper
Mike Leach
(35), outside linebacker
Clark Haggans
(35), outside linebacker
Joey Porter
(34), offensive lineman
Floyd Womack
(33), punter
Dave Zastudil
(33), tackle
D'Anthony Batiste
(29), safety
Sean Considine
(29), guard
Deuce Lutui
(28), safety
Hamza Abdullah
(28), tackle
Brandon Keith
(27), receiver
Early Doucet
(26)
UFA re-signed:
none.
UFA added:
Snyder (30)
UFA lost:
cornerback
Richard Marshall
(27)
Franchise player:
defensive end
Calais Campbell
(25)
Comment:
The Cardinals have been in a tough spot. They would have faced criticism had they declined to pursue
Peyton Manning
. They could now face criticism for sacrificing the first week of free agency while waiting for Manning. The reality is that Arizona probably wasn't going to be all that aggressive in the market this offseason, anyway. It did hurt losing Marshall to the
Miami Dolphins
after coordinator Ray Horton called him the Cardinals' defensive MVP.
St. Louis Rams

UFA unsigned:
cornerback
Al Harris
(37), quarterback
A.J. Feeley
(34), offensive lineman
Tony Wragge
(32), linebacker
Brady Poppinga
(32), punter
Donnie Jones
(31), offensive lineman
Adam Goldberg
(31), guard
Jacob Bell
(31), receiver
Brandon Lloyd
(30), cornerback
Rod Hood
(30), running back
Cadillac Williams
(29), defensive tackle
Gary Gibson
(29), receiver
Mark Clayton
(29), tackle
Mark LeVoir
(29), tight end
Stephen Spach
(29), safety
James Butler
(29), tight end
Billy Bajema
(29), quarterback
Kellen Clemens
(28), running back
Jerious Norwood
(28), linebacker
Bryan Kehl
(27), linebacker
Chris Chamberlain
(26), cornerback
Justin King
(24)
UFA re-signed:
none
UFA added:
cornerback
Cortland Finnegan
(28)
UFA lost:
none
Franchise player:
none
Comment:
The Rams are not looking to re-sign many of their own free agents. They want to turn over the roster, and that is happening in a big way. The team's failure to secure playmaking help for quarterback
Sam Bradford
stands out as the biggest theme to this point. Finnegan was a welcome addition, but he isn't going to score many touchdowns.
The chart below shows a general overview.
February, 7, 2012
2/07/12
4:26
PM ET
We're still a month away from NFL free agency, but with the Super Bowl behind us, we'll start sizing up players without contracts for 2012.
Expanding upon
Brian McIntyre's lists
, I've plugged in offensive and defensive snap-count numbers for NFC West free agents, courtesy of ESPN Stats & Information.
The charts below cover the
Arizona Cardinals
' free agents. The final column shows what each player's previous contract averaged annually.

Re-signing defensive end
Calais Campbell
will be a top priority. I don't see the Cardinals letting him get away. They moved on from
Antonio Smith
a few years ago, but they did so with Campbell ready to take over. They would have a hard time replacing Campbell.
Cornerback
Richard Marshall
proved valuable on a one-year deal.
Early Doucet
was a primary threat on third down.
Overall, though, the Cardinals have a relatively modest group of unrestricted free agents.
Safety Sean Considine played extensively on special teams. I've listed him with the offensive and defensive UFAs, however.
The Cardinals' key specialists are without contracts. The team has turned over those positions in recent seasons.
The Cardinals can keep their restricted free agents, listed below, by making one-year qualifying offers to them, then matching any outside offers.
January, 28, 2010
1/28/10
12:30
PM ET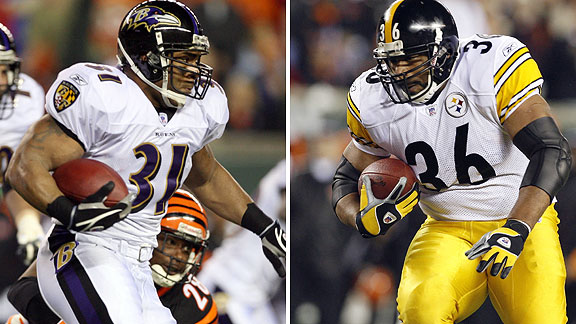 Matthew Emmons/US PresswireRunning backs Jamal Lewis and Jerome Bettis combined to rush for 15,806 yards during the 2000s.
The AFC North earned three Super Bowl titles this past decade, which means there were plenty of great players in the division over that span.
Here is our AFC North all-decade team.
Quarterback:
Ben Roethlisberger
(
Pittsburgh Steelers
)
Analysis:
You can really start and stop this argument with Roethlisberger's two Super Bowls wins in the decade. In terms of starting quarterbacks, Roethlisberger trails only the
New England Patriots
'
Tom Brady
, who won three titles in the decade. Outside of
Carson Palmer
of the
Cincinnati Bengals
, no one was even remotely close for consideration, unless you wanted to reach for quarterbacks who had one or two good seasons in the decade, such as Kordell Stewart,
Joe Flacco
or
Derek Anderson
.
Other considerations:
Palmer (Bengals)
Running backs:
Jamal Lewis
(
Cleveland Browns
/
Baltimore Ravens
) and
Jerome Bettis
(Steelers)
Analysis:
Typical of the AFC North, our all-decade backfield is as physical and heavy duty as it gets. Lewis, who retired after the 2009 season, registered 10,607 total rushing yards as a member of the Browns and Ravens. He had a 2,000-yard season with Baltimore in 2003. Bettis played six seasons (2000-05) in the decade with the Steelers and rushed for 5,199 yards in that span. Both players won Super Bowls and will be considered for the Hall of Fame. Although we don't have a traditional fullback, Bettis is versatile and big enough for the position.
Other considerations:
Willie Parker
(Steelers),
Rudi Johnson
(Bengals)
[+] Enlarge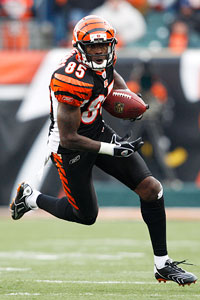 Frank Victores/US PresswireChad Ochocinco is just 48 yards short of reaching 10,000 career receiving yards.
Receivers:
Chad Ochocinco
(Bengals) and
Hines Ward
(Steelers)
Analysis:
We have a good mix at receiver. Ochocinco came to Cincinnati as a raw second-round pick who worked his way to become a six-time Pro Bowler and one of the biggest personalities in the NFL. Ward, a four-time Pro Bowler in the decade, was a former college quarterback who now is one of the toughest and smartest players in the league.
Other considerations:
T.J. Houshmandzadeh
(Bengals),
Derrick Mason
(Ravens)
Tight End:
Todd Heap
(Ravens)
Analysis:
When you look at the total numbers over the past decade, Heap was the clear choice as the top tight end in the division. Heap caught 427 passes over that span and made two Pro Bowls. Pittsburgh's
Heath Miller
, who has 244 receptions, is two years younger and may eventually match Heap's production. But Heap has the better numbers to date. Former Browns tight end
Kellen Winslow
Jr. also put up impressive numbers in just three full seasons with Cleveland.
Other considerations:
Miller (Steelers), Winslow Jr. (Browns)
Offensive line:
OT
Jonathan Ogden
(Ravens), OT
Willie Anderson
(Bengals/Ravens), G
Eric Steinbach
(Browns/Bengals), G
Alan Faneca
(Steelers), C
Jeff Hartings
(Steelers)
Analysis:
Besides leaving off three-time Pro Bowler
Joe Thomas
, putting the offensive line together was easier than I thought. Anderson of the Bengals got the edge over Thomas for two reasons: He's a natural right tackle and played nine years last decade at a high level. Thomas, with just three years, doesn't have the same longevity.
Other considerations:
OT Thomas (Browns), OT
Levi Jones
(Bengals), C
Rich Braham
(Bengals)
Specialists:
K
Matt Stover
(Ravens), P
Chris Gardocki
(Steelers/Browns), KR
Josh Cribbs
(Browns), LS
Ryan Pontbriand
(Browns)
Analysis:
Stover made the Pro Bowl in 2000, and his 93.3 field goal percentage in 2006 led the NFL. He's been consistent for a very long time, which is all you ask from kickers. Gardocki and
Dave Zastudil
is a toss up. But Gardocki led the NFL in punts two years in a row (2000 and 2001) as well as punting yards in 2000. Zastudil cannot boast those claims. Cribbs was a no-brainer, and teammate Pontbriand made two Pro Bowls as Cleveland's long-snapper.
Other considerations:
K
Phil Dawson
(Browns), K
Jeff Reed
(Steelers), P Zastudil (Ravens/Browns),
B.J. Sams
(Ravens)
Defense line:
Casey Hampton
(Steelers),
Aaron Smith
(Steelers),
Justin Smith
(Bengals)
Analysis:
It's only fair that the AFC North all-decade defense runs a 3-4 scheme. Since 2001, Hampton has embodied what a 3-4 nose tackle looks like and plays like. He has five Pro Bowls in the decade, including this past season. Aaron Smith also is a prototype for 3-4 defensive ends. He's always put personal numbers aside so other defenders in Pittsburgh could flourish. Justin Smith of Cincinnati never quite lived up to his lofty draft status. But he was a consistent player for the Bengals.
Other considerations:
DT
Kelly Gregg
(Ravens), DE
Kimo von Oelhoffen
(Steelers), DE
Trevor Pryce
(Ravens)
[+] Enlarge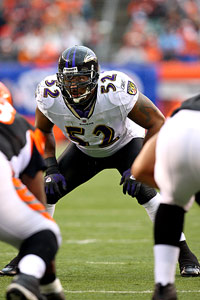 Tom Szczerbowski/US PresswireRay Lewis was the AP Defensive Player of the Year in 2000 and 2003.
Linebackers:
ILB
Ray Lewis
(Ravens), ILB
James Farrior
(Steelers), OLB
Joey Porter
(Steelers), OLB
Terrell Suggs
(Ravens)
Analysis:
You can win a lot of games with this group. You have intelligence and physicality in the middle, and plenty of pass-rush ability on the outside. Lewis, a future Hall of Famer, is the captain and emotional leader of the all-decade defense. Farrior also has the smarts to keep everyone in line, while Suggs and Porter can fly around and wreak havoc on the quarterback. There were several very good candidates at outside linebacker. But Porter and Suggs were dominant forces in the AFC North for a longer period.
Other considerations:
OLB
James Harrison
(Steelers), OLB
Adalius Thomas
(Ravens)
Defensive backs:
CB
Chris McAlister
(Ravens), CB
Ike Taylor
(Steelers), S
Troy Polamalu
(Steelers), S
Ed Reed
(Ravens)
Analysis:
Polamalu and Reed are two of the all-time great safeties, so there is no debate there. Also, fans may recently remember the aging and injured McAlister who was cut by the Ravens last year. But at one point "C-Mac" was the most physically dominant cornerback in the division. Taylor won two Super Bowls with the Steelers and is the best of what's left at cornerback. I also considered
Anthony Henry
, who played in Cleveland for four years during the decade and had one stellar season when he led the NFL with 10 interceptions in 2001.
Other considerations:
CB Henry (Browns), S
Rod Woodson
(Ravens)
September, 17, 2008
9/17/08
12:39
PM ET
| | |
| --- | --- |
| | |
| | Getty Images |
| | The Browns need Derek Anderson (3) and Braylon Edwards (17) to step things up if Cleveland is going to be successful in 2008. |
Posted by ESPN.com's James Walker
BEREA, Ohio -- This week was a classic, gloomy Monday in Browns Town.
Coming off a 10th consecutive loss to their biggest rival, the first player Cleveland Browns head coach Romeo Crennel singled out for praise was the punter.
"Looking at it, I thought [Dave Zastudil] did a really good job, considering the wind and the weather," Crennel said about 12 hours after a 10-6 loss to the Pittsburgh Steelers.
0-2 or Worse To Start Season Since Return to NFL (1999)

With the Browns off to an 0-2 start, here's what Cleveland's done in recent history when starting a season with at least two losses:
Season
Start
Final W-L
2008
0-2
?
2006
0-3
4-12
2003
0-2
5-11
1999
0-7
2-14

0-2 or Worse To Start
Season Since 1980

Going back a bit further, the Browns have not made the playoffs following an 0-2 start since 1980:
Season
Start
Final W-L
2008
0-2
?
2006
0-3
4-12
2003
0-2
5-11
1999
0-7
2-14
1992
0-2
7-9
1984
0-3
5-11
1981
0-2
5-11
1980
0-2
11-5 *
* Made playoffs
The statement pretty much summed up the first two weeks for the 0-2 Browns. There aren't many kudos to go around for a group that hasn't resembled the 10-6 team of a year ago.
In fact, name five of the NFL's most disappointing teams so far, and Cleveland is likely on everyone's list. Just a month ago the Browns were the trendy pick to wreak havoc in the AFC.
Now Cleveland is wreaking havoc only on itself.
Here is a snapshot of what's gone wrong:
Star players have underperformed, particularly on offense. Pro Bowlers Braylon Edwards and quarterback Derek Anderson are well below their projected numbers. Anderson's 57.1 passer rating isn't getting it done, and Edwards has as many drops (five at least) as catches (five for 46 yards) through two games. It also appears Edwards has lost some confidence.
"I think Braylon is trying pretty hard when a ball comes his way because last game he dropped some," Crennel said. "Sometimes when you try hard, you tighten up a little bit and you don't relax. I think he's got to get to the point where he can relax and look the ball in and let it come to him the way it used to."
The offensive line has struggled. The Dallas Cowboys and Pittsburgh Steelers had their way with the right side of Cleveland's line, which has failed to dominate the way it did a year ago. The unit was widely considered one of the best entering the 2008 season.
"It's a lack of execution," Browns left tackle Joe Thomas said. "One or two guys on each play are not getting on the right guy and that's what happens when drives are stalling."
The coaching staff also deserves some of the blame. It's been well publicized this week that Crennel has struggled with his decision-making and clock management in the first two games. Also, offensive coordinator Rob Chudzinski strategically is failing to stay one step ahead of the defense. For example, having 5-foot-9 receiver Syndric Steptoe attempt to block the Steelers' front seven was a disadvantage for Cleveland every time. Steptoe, playing the role that the larger Joe Jurevicius normally plays, was unable to execute several seal blocks on running plays. That's an important part of the Browns' offense. And continuing to call plays for Edwards when he doesn't have it going only complicated matters. It's vital for Chudzinski to find his rhythm as well.
But the positive news for the Browns is it's extremely early.
NFL SCOREBOARD
Thursday, 9/4
Sunday, 9/7
Monday, 9/8