April, 1, 2014
4/01/14
11:30
AM ET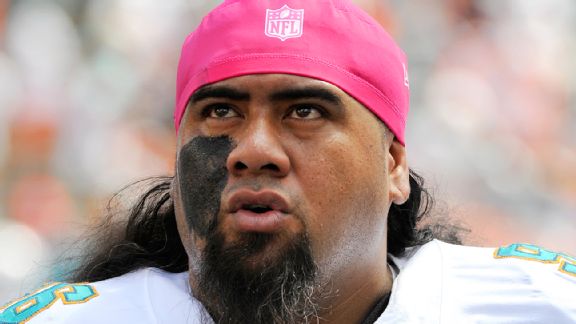 Doug Murray/Icon SMIAfter seven seasons in Miami, Paul Soliai will begin a new chapter in Atlanta.
Suddenly, there was silence.
The team on the phone line had to be thinking all sorts of random thoughts at that moment. Was something said to make negotiations fall apart? Was another team trying to call and get in on the action? Was a cell tower down in the area?
No, there was a simple explanation why agent David Canter's conversation with
Atlanta Falcons
contract negotiator Nick Polk got cut off while they discussed 30-year-old nose tackle
Paul Soliai
.
Blame it on the baby.
"I was holding my 2-year-old son, Austen, because we were talking very early in the morning, and my son pressed the button and hung up on them," Canter explained with a laugh. "I called Nick right back because I didn't want him to think I hung up on him."
Their contract talks got back on track in a big way. Canter's numerous discussions with Polk and the Falcons during the three-day NFL negotiation period resulted in a five-year deal for Soliai worth $33 million, with $14 million guaranteed -- somewhat defying the odds of age and position.
Canter was on a pirate-ship cruise with his wife and sons in Fort Lauderdale, Fla., when multiple teams, including the Falcons,
Minnesota Vikings
and
Indianapolis Colts
, started to inquire about Soliai on March 8.
"We were docking at 12:08 p.m. that Saturday when the first call came in," Canter recalled. "I really don't remember what team it was because I literally hung up the phone on them to take a call from another team. I honestly didn't expect a phone call Saturday right after noon."
A big part of Soliai wanted to remain with the
Miami Dolphins
, who drafted him in the fourth round out of Utah in 2007. But there was a natural fit in Atlanta, where his former defensive coordinator for the Dolphins, Mike Nolan, now holds the same title.
"When you're Mike Nolan and you're [general manager] Thomas Dimitroff and you're sitting there in your meetings and you're talking about moving to a 3-4, you need an anchor for a 3-4," Canter explained. "There's no better anchor, in my opinion, than Paul Soliai."
Here is the evolution of Soliai's free-agent contract through the eyes of the guy who negotiated it.
Testing the market
They had been through this process before.
In 2012, Canter and Soliai had thoughts of moving on from Miami. In fact, they were set to take a free-agent deal with the
Denver Broncos
. But the trip to Denver was canceled at the last minute.
"Paul looked me in the eyes and said, 'I'm not comfortable leaving Florida,'" Canter recalled. "He said to me, 'I know you're close to terms with the Broncos, but call Miami and tell them I want to come back.' So we took a two-year, $11.5 million contract to remain in Miami."
Signing just a two-year deal allowed Soliai to test the market again this offseason. Canter tried to facilitate an extension with the Dolphins, but it never materialized. He said he met with former general manager Jeff Ireland in the parking lot following Miami's loss to the
New York Jets
in the 2013 season finale. Ireland told Canter that Soliai was one of the Dolphins' top three offseason priorities. But Ireland and the team parted ways in January.
So Canter felt somewhat in limbo with a client who wanted to stay put, yet likely wasn't going to be offered the compensation he desired.
"I actually needed a number from Miami in August," Canter explained. "We had a three-year extension on the table, but the major issue was guaranteed money."
Canter felt Soliai was taking a chance by playing the '13 season without an extension. The agent's worst fear almost became a reality when Soliai suffered a knee injury in Week 2 against the Colts. It knocked him out of just one game -- against, coincidentally, the Falcons.
The Dolphins, under new general manager Dennis Hickey, apparently made another attempt to re-sign Soliai the Friday before free agency began. Canter said the offer was similar to the two-year, $12 million deal defensive tackle
Randy Starks
accepted to remain in Miami.
When contacted for this story, the Dolphins declined to comment on their talks with Soliai.
Canter knew what type of money he desired all along. He huddled with his analytics consultant, Brian McIntyre, at season's end and figured $6 million to $8 million per year would be the price range for Soliai.
Atlanta, intent on beefing up both the offensive and defensive lines, made the most sense. Soliai's lone Pro Bowl season came under Nolan in 2011. And current Falcons defensive line coach Bryan Cox was the Dolphins' pass-rush coach that same season.
"With Atlanta, we heard rumors that there might be a change to a 3-4, so we started really looking at Atlanta as possibly an attractive team in January," Canter said. "But you really don't know until you get to Indianapolis at the combine because teams want to see the other defensive linemen that are out there."
Canter proclaimed himself open for business at the combine by hand-delivering analytics packages he developed with McIntyre that broke down all 12 of his free agents, including Soliai. The information also was distributed via email to all 32 teams before the combine.
The section devoted to Soliai emphasized that teams shouldn't focus on him being an aging guy playing an undervalued position.
"The first thing you had to fight wasn't the position; the first thing you had to fight was the age," Canter said. "There's ageism in the NFL. There's this belief that a player that is 30 years old just isn't worth any money anymore, or not nearly as much money."
Soliai hadn't necessarily taken the pounding you would expect from a seven-year interior lineman. He played just 45.7 percent of the Dolphins' defensive snaps in 2013.
"The reality is that snap count is what matters," Canter said. "Now, that can be a positive and a negative for Paul. He didn't, for whatever reason in Miami, play on third down a lot. So some teams would say, 'He's not a three-down player.' I disagree with that. Paul disagrees with that. We've proven when he is in on third down, with our analytics packages, that the team actually performed better."
Soliai missed only one game the past four seasons, which Canter pointed to as a sign of durability. Even after the brief knee scare in 2013, the tandem felt little to worry about in free agency.
"This guy doesn't have an injury history," Canter said of Soliai. "To use Paul's quote, 'I'm Samoan. We don't get hurt.'"
Sealing the deal
By Monday, March 10, the eve of free agency, Canter believed the Falcons would be the major player in the Soliai deal. There were a few more discussions with Polk, including one during which Dimitroff jumped on the line for 10 minutes. Canter figured he would get at least the $6 million per year range from the Falcons with at least $10 million guaranteed. He said seven teams total inquired about Soliai.
"Monday afternoon, I started to get the feeling that I was going to lose teams," he said. "I thought I had another team that I was going to really be able to play against Atlanta. Obviously, I couldn't call them because I'm going to lose leverage.
[+] Enlarge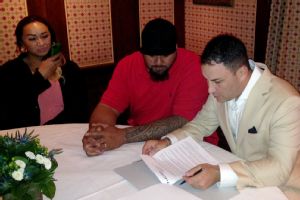 Courtesy of DEC ManagementSoliai and his agent, David Canter, reviewed the nose tackle's contract at an Atlanta restaurant.
"So Monday afternoon, after I hung up the phone with Nick, I started sending text messages to teams and said, 'Hey, if you want in on Paul, here's the range we're going to be in. Can you beat that? Can you get to $6.5 [million average per year]?'" Canter said. "A lot of teams, they won't say no, flat out. They'll say, 'We have something else working. If we don't get that done, we're coming to you.' That's not good enough for me."
Once Tuesday came, Canter and Soliai knew it was all but a done deal. Late that afternoon, Canter tried to push for a little more.
"There was a point in time when the Atlanta deal almost went away," he said. "I was set on $8 million a year for the first two years. Obviously, Atlanta wasn't going to go there. And we didn't get there. But we got $7 million a year. So, then I pushed for $15 million over two years fully guaranteed. During those conversations, I felt like we had to pause and reset and they had to pause and reset."
The sides eventually agreed to the five-year deal with $11 million going to Soliai in the first year.
Without discussing financial terms, Dimitroff explained the negotiations from the Falcons' perspective.
"When going through any negotiation, the ultimate goal is to reach a deal that is mutually beneficial for both the team and the player," Dimitroff said. "I think the three-day period in which you can talk with agents has become very beneficial for both sides. It is important to have constructive and honest dialogue during that time. And if that is the case, it can help you when free agency begins."
After the deal was done, Canter texted Miami out of courtesy, and he said the response back was, "Tell Paul we wish him the best of luck."
When the agreement was announced, Canter was watching with McIntyre on ESPN and actually negotiating the delivery of a Range Rover to another client,
Kansas City Chiefs
cornerback
Sean Smith
.
"I had to get free window tinting thrown into the deal for Sean because the truck was late being delivered," Canter said.
Soliai still had some questions that needed to be answered, such as where the nearest Wal-Mart or Super Target was located in relation to the Falcons' facility and how he could avoid the "challenging" traffic in the city. He nixed the possibility of living in a subdivision popular among the players because it wasn't close enough to a grocery store.
Any last-minute concerns Soliai had calmed when he saw the contract numbers in front of him. The final step in the process occurred at the popular Bones restaurant in the Buckhead area of Atlanta. Soliai, his family and Canter dined with a group that included Dimitroff, assistant general manager Scott Pioli, head coach Mike Smith, Polk, Nolan and Cox. As Canter dug into a bone-in filet and Soliai into a veal steak, Canter reiterated to Soliai how fortunate he was to join such an organization.
"There are so many amazing football minds in that building, and that's kudos to Thomas Dimitroff, Mike Smith and [owner] Arthur Blank for putting together a hierarchy of coaches and front-office people who have been either general managers or head coaches or pro personnel directors," Canter said. "It blew our minds at dinner."
Canter and Soliai scanned the contract details at the dinner table. Canter tried to go line by line over the contract, but Soliai just wanted to sign.
"Ever since I signed with David, I've been in good hands," Soliai said. "My family has been taken care of."
So now Soliai was set to call Atlanta his new home. He mentioned renting out his place in Florida because he already has a residence back in Utah.
As for Canter, he didn't leave town without making one final push: He tried to nudge the Falcons to sign more of his free agents, including safety
Steve Gregory
and cornerback
Brice McCain
.
"I went up to Thomas Dimitroff and [director of player personnel] Lionel Vital and I was like, 'Let's do another deal. Let's get another guy in the building,'" Canter said. "Maybe I'm a little too aggressive. But that's why guys hire me."
July, 27, 2011
7/27/11
2:51
PM ET
The
San Diego Chargers
have been one of the most effective teams in the NFL the past two days. They continued their strong work by securing safety
Eric Weddle
for a record contract. Weddle was the Chargers' top free-agency priority.
His agreement comes a day after the Chargers kept right tackle
Jeromey Clary
and tight end
Randy McMichael
and struck a deal with veteran inside linebacker
Takeo Spikes
. The team agreed to terms with veteran safety
Bob Sanders
prior to the lockout.

Weddle
The agreement with Weddle means San Diego's defense has a chance to be very strong once again. It was ranked No. 1 in the NFL last year and Weddle was a big part of it. He is playmaker who is very smart and who offers strong leadership. The Football Outsiders think it is
a smart move for the Chargers
to keep Weddle.
He fits in well with Spikes and Sanders because of the way he plays the game. Some people around the league may be startled to see that he is now the highest-paid safety in NFL history after agreeing to a five-year, $40 million deal that includes $19 million in guaranteed money, but Weddle means a lot to San Diego.
He is a pillar in the community and he has never been in any trouble. He is a leader in the locker room as well. The Chargers have been reluctant to give star receiver
Vincent Jackson
an extension partly because of off-field concerns. Weddle never gave the Chargers any headaches and he was rewarded for it.
"The Chargers stepped up," Weddle's agent, David Canter, just told me. "I can't say enough about that organization."
Weddle had significant interest from seven teams, Canter said. Among the teams believed to be interested were the Jaguars, Browns, Vikings, Cowboys and Texans. Canter said he focused on getting a deal done with the Chargers Wednesday morning. Weddle, a Southern California native, didn't want to play anywhere else.
Expect the Chargers to try to re-sign linebacker
Kevin Burnett
. However, players like receiver
Malcom Floyd
and running back/returner
Darren Sproles
may be on the way out. The Chargers didn't make those players priorities.
March, 3, 2011
3/03/11
9:21
PM ET
For a team that usually doesn't wade into unrestricted free agency, the
San Diego Chargers
made a big splash on Thursday night.
As labor uncertainty threatens to shut down the league for an indefinite amount of time, the usually passive Chargers got a jump on the league by coming to terms with former NFL Defensive Player of the Year
Bob Sanders
. Sanders, 30, signed a one-year deal.

Sanders
If healthy, Sanders is a substantial addition to this defense, which was ranked No. 1 in the NFL. However, counting on Sanders' health is not advisable. Sanders has played in just nine regular-season games for the Colts in the past three years. He was the Defensive Player of the Year in 2007 when the Colts won the Super Bowl. Sanders played in one game in 2010. He was hurt in the season opener with a torn left biceps. He was recently cut by the Colts.
"We are all very excited to add Bob Sanders to our defense," General Manager A.J. Smith said. "We have always held him in high regard. He's a smart, physical, instinctive player. His intensity and playmaking ability can make an immediate impact on our defense."
Sanders, 5-foot-8, 206 pounds, is a tough, tenacious player when healthy. He will give this team toughness. The Chargers clearly hope to pair him with
Eric Weddle
. However, Weddle could end up being an unrestricted free agent. If he does, he will be very popular on the open market. The Chargers will have to pay to keep him. Weddle's agent, David Canter, said Thursday night that Sanders' deal did not impact Weddle's decision.
"Eric is excited," Canter said. "This is a tremendous pickup for San Diego. If Eric is in San Diego, he and Bob will make a great safety tandem."
If Weddle stays,
Steve Gregory
will likely be the nickel defensive back.
This is a gutsy move by a team that clearly understands that it needs to make some big moves this year to recapture its status as one of the NFL's better teams. San Diego was 9-7 in 2010 and finished out of the playoffs for the first time since 2005. Obviously, the Chargers know they must become more aggressive.
It will be interesting to see what else this team does once free agency starts. The Chargers have five drafts picks in the first three rounds. An active free agency and a fruitful draft could help make this team elite again.
If Sanders can stay healthy, this was a major first step.
August, 3, 2010
8/03/10
3:02
PM ET
OK, the prevailing theory on this blog -- and, apparently, around the NFC North -- is that
Brett Favre
will put on a
Minnesota Vikings
jersey at some point this year. All of this is uncharted territory, of course. But as long as we're just talking among friends, let's address some of the early theories making the rounds:
[+] Enlarge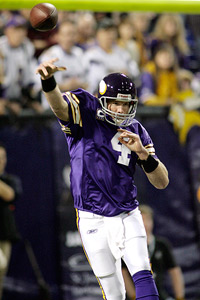 AP Photo/Andy KingHas Brett Favre really thrown his last NFL pass?
"It's always about money"
Comment:
That's what David Canter, a well-known player agent,
tweeted earlier today
. Canter added: "He knows that Vikes are desperate. No doubt they'll sweeten the pot and he'll break the bank. Uncapped year. 20mil." Indeed, the Vikings wouldn't be an encumbered by any salary cap if they want to give Favre more than the $13 million he is scheduled to receive. We don't have any reason to think Favre simply wants more money, but he has more leverage than any player in the NFL right now. He also has an owner who never shuts off the money spigot when it comes to player salaries. Why not take advantage?
Chances of reality: 50 percent.
The ankle is worse than he thought
Comment:
When is the last time a quarterback threw with his foot? I just don't buy that as a legitimate reason why Favre wouldn't play this season. It might well be the reason Favre isn't in training camp now, but I can't see it as more than a secondary issue.
Chances of reality: 30 percent
He's a drama queen
Comment:
It's an interesting thought, especially when you consider the possibility of Favre eventually riding back into town as the savior of a team that struggled through the preseason or started the regular season, say, 1-2. Remember, the Vikings' bye week comes in Week 4. Perfect.
Chances of reality: 60 percent.
Feel free to add your theory in the comments section below.