February, 19, 2015
Feb 19
8:00
AM ET
MINNEAPOLIS -- Between a morning interview session with Twin Cities media and an afternoon podium news conference at the NFL scouting combine,
Minnesota Vikings
general manager Rick Spielman probably spent more time answering questions about
Adrian Peterson
on Wednesday than he has in months.
Spielman's two interview sessions came on the heels of comments from Vikings president Mark Wilf and COO Kevin Warren in support of Peterson's return. The general manager sounded more definitive about Peterson on Wednesday than he did during his postseason media session in January, saying "we want Adrian Peterson back with the Minnesota Vikings" and adding he expects the running back will return "with a point to prove to everybody."
[+] Enlarge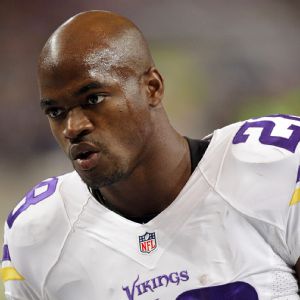 AP Photo/Tom Gannam"I think as you go through this this, time heals things," GM Rick Spielman said of Adrian Peterson.
Anyone who's followed Peterson's career knows how dominant he can be when he's setting out to make a statement. When I spoke with Peterson in December, it was easy to hear the passion in his words as he countered what he felt was an unfair portrayal of him in the months following his indictment for child injury charges. Peterson's voice swelled as he talked about commissioner Roger Goodell scolding him in a published letter, reporters and legislators reviling him and the NFL appointing former league executive Harold Henderson to hear Peterson's appeal. The Vikings are banking on Peterson using all of that as fuel, while hoping his own unrest about a lack of support from some in the organization has subsided.
Peterson talked in December about the possibility of a "fresh start" with another team, but also sounded open to returning to the Vikings, where he knew coaches and teammates supported him. The Vikings were mostly silent about Peterson during the season, once he was placed on the commissioner's exempt list, but I thought something Spielman said on Wednesday was particularly instructive.
"I think as you go through this this, time heals things," Spielman said. "People judge right away, but you have to look at what type of person Adrian is and look at the whole picture and a lot of the great things he has done off the field and for charities and our organization."
Unless his suspension is shortened -- by U.S. District Court Judge David Doty's decision or the NFL's own concession -- Peterson will be at least seven months removed from his arrest by the time he is reinstated. He will have missed 15 games in the prime of his career, been fined more than $4 million and lost millions more in endorsements. Peterson has been punished, and consequently, support for Peterson's return is less provocative than it was last September.
The Vikings were undoubtedly affected by the backlash they got when they first announced on Sept. 15 that Peterson would be allowed to play, and that backlash could explain their relative silence on Peterson from September until the end of the season. "Last year was a complicated year, at various levels," Warren said last week. "But once Adrian gets all of his items resolved with the NFL, is free to play again and rejoin our franchise, I think it's good for Adrian. It'd be good for us, it'd be good for all the Vikings fans, it'd be good for our community and it'd be good for the NFL."
There's considerably less risk in supporting Peterson now, and the Vikings' public outreach to Peterson will likely continue on Thursday, when coach Mike Zimmer speaks at the combine. The Vikings will have to hope time has also healed whatever resentment Peterson might have felt about the team's position last season, but there's no question they're wading through calmer waters as they move toward the running back now.
"He made a mistake; he admitted a mistake," Spielman said on Wednesday. "I'm sure he's doing everything he can to not only make himself better as a football player but also a better person off the field, and that's the type of person Adrian is. He's a suspended player right now, and then we'll see where it goes from there."
December, 4, 2008
12/04/08
7:57
AM ET
Posted by ESPN.com's Kevin Seifert
Thursday should be another interesting day in Minnesota, where there could be action in two different courthouses pertaining to the NFL's suspension of six players for taking a banned diuretic.
First, there will be some kind of follow-up on the temporary injunction issued to Minnesota defensive tackles Kevin Williams and Pat Williams in Hennepin County District Court. At this moment, the players can return to the Vikings' practice facility and prepare for Sunday's game at Detroit, but the NFL seems likely to seek an immediate reversal of the injunction from Judge Gary Larson.
Second, the NFL Players Association is expected to file a lawsuit in U.S. District Court in Minneapolis to overturn all six suspensions, ESPN's Chris Mortensen reported late Wednesday night. One of the judges in that court is David Doty, who has maintained a long-time purview over the league's collective bargaining agreement.
The bottom line is that we're headed toward an unprecedented legal fight to get these six players eligible for Sunday's games. A final answer should come by Friday.
We'll keep you informed and also try to do a better job than we did Wednesday of spreading our coverage to the other teams in this division. Thanks for hanging in with is. This blog will always be a work in progress.
So let's take our morning spin: