March, 29, 2011
3/29/11
5:33
PM ET
To
play off ESPN.com's positional Power Rankings
, I've broken down the AFC East's best tight ends.
Here's how I slot them:
The first five are obvious. Keller is the most dangerous tight end in the division. I
ranked him sixth in the NFL on my ballot
.
But if Gronkowski and Hernandez didn't have to share touches, then one of them might surpass Keller. Gronkowski and Hernandez combined for 87 catches, 1,109 yards and 16 touchdowns.
ESPN analyst Trent Dilfer thought Gronkowski was snubbed from the overall top 10 list and called him "a dominant blocker in-line ... almost like another tackle" and said "he will be the premier tight end in the NFL in the next few years."
Fasano is next in the AFC East with 39 receptions for 528 yards and four touchdowns, but the stats plummet after that. Crumpler is next because of his blocking skills and knowledge he can make the play if the Patriots depended on it.
From there, I sorted them based on speculation.
Cumberland, an undrafted rookie, was deactivated for 15 games. But I saw enough of the physical specimen in training camp and the preseason to imagine him contributing more to the Bills than Martin (seven receptions, one touchdown) or Stupar (12 receptions, no TDs).
December, 12, 2010
12/12/10
4:13
PM ET
Wrapping up the
Buffalo Bills
'
victory against
the
Cleveland Browns
.


What it means:
The Bills rebounded from a ghastly loss at the Metrodome to win their third game in five tries. The Bills continue to piece together an admirable second half of the season, creating momentum that will help their rebuilding process.
Play of the game:
Tough-luck cornerback
Leodis McKelvin
intercepted Browns quarterback
Jake Delhomme
at the Bills' 32-yard line with about four minutes to play.
Streak continues:
Bills quarterback
Ryan Fitzpatrick
connected with
David Nelson
for an 11-yard touchdown in the second quarter. Fitzpatrick has thrown a TD pass in 14 straight games, the team's longest streak since
Jim Kelly
had 18 in row in 1986-87.
Bills defense steps up:
Browns running back
Peyton Hillis
plowed forth for 49 yards on their first possession, but the Bills stuffed him for 1 and zero yards at their 1-yard line to force a field goal. Hillis rushed for 57 yards the rest of the game and fumbled three times, losing one. Delhomme threw for just 86 yards.
Tight ends make an appearance:
Bills tight ends have been invisible this year, but
Jonathan Stupar
had three catches for a game-high 45 yards.
David Martin
added a reception for 13 yards.
Don't cross Moats:
A week after perhaps ending
Brett Favre
's Iron Man streak, Bills rookie outside linebacker
Arthur Moats
had a strip sack of Delhomme to set up a
Rian Lindell
field goal early in the fourth quarter.
What's next:
The Bills will resume their AFC East schedule after two and half months of non-divisional games. The Bills will visit the
Miami Dolphins
at Sun Life Stadium.
November, 12, 2010
11/12/10
12:40
PM ET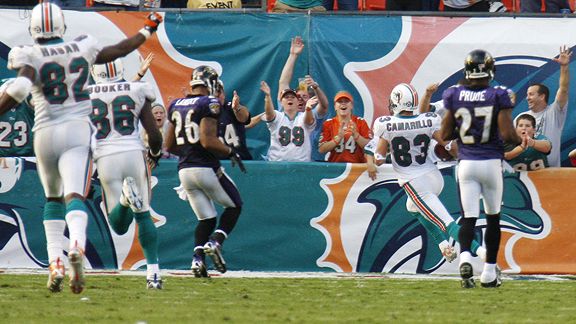 Gary Rothstein/Icon SMIThe 2007 Miami Dolphins flirted with 0-16 before beating Baltimore in overtime in Week 15.
When the 11 o'clock news came on that night,
Vonnie Holliday
sat back with a smile on his face and relived the glorious moment.
He watched his teammates go bonkers in celebration. They jumped. They hugged. They raised their fists -- even a few index fingers -- in self salute.
The
Miami Dolphins
hadn't won just any game. They had won their first game. It was Week 15.
"I remember watching how crazy we were acting out there," said Holliday, the veteran defensive tackle. "I don't know if people could really appreciate it. If you weren't a part of that team or one of those guys who went out every day and worked as hard as we did to get it, you wouldn't understand it."
"That was just
one win
, but it was our Super Bowl."
The power of one victory is immense.
Members of that '07 Dolphins team know what the
Buffalo Bills
are going through this year -- and then some.
The Bills are the NFL's only winless team. They're 0-8 heading into Sunday's game against the
Detroit Lions
in Ralph Wilson Stadium.
The '07 Dolphins lost their first 13 games before they pulled out a dramatic victory, beating the
Baltimore Ravens
when undrafted quarterback
Cleo Lemon
connected with undrafted receiver
Greg Camarillo
for a 64-yard touchdown in sudden death. Camarillo hadn't scored a touchdown since high school.
That's how thin the Dolphins' margin for error was.
"That day, we made a play," said Lemon, now playing for the Toronto Argonauts of the Canadian Football League. "It was a great moment. But as a professional you never want to have a season like that."
The '07 Dolphins lost six games by a field goal that year. The Bills have lost each of their past three games by three points, two of them in overtime.
Bills tight end
David Martin
tells his teammates how much a single "W" can wash away the pressure, the doubt, the feelings of inadequacy and the ridicule that builds with each passing defeat.
Martin played on the '07 Dolphins, too.
"One win would make a big difference," Martin said by phone Thursday from One Bills Drive. "We have a young team, and I'm sure right now it feels like we're doing all this for nothing. But one win will lift everybody's spirits.
"Every game you lose is heartbreaking. That first win in 2007 felt like the Super Bowl. That's what one win will do."
In speaking this week with some players from the '07 Dolphins, I heard them unapologetically compare winning their first game to the feeling of winning a championship. They insisted they weren't being hyperbolic.
I thought the best way to quantify achieving victory late in the season would be to ask somebody with a Stanford engineering degree. I put the question to Camarillo in algebraic terms.
If the value of any victory is "x," then what is the exponential value of a victory when a team is 0-8 or, in the '07 Dolphins' case, 0-13?
I'm not sure if Camarillo pulled out a pad of paper and a slide rule, but he paused for a few moments to weigh the equation.
"If you get it in your first five weeks, it's not that big," Camarillo said after
Minnesota Vikings
practice Wednesday afternoon. "When you're 0-8, it starts getting really bad. When you're 0-5, you still have time to get things rolling.
"That one win in our 14th game was the equivalent of winning 10 games. That win for us was as good as winning a playoff game."
At 0-8, Camarillo thought a victory might be worth five to the Bills.
Camarillo bemoaned that losing so many close games is mentally grueling. He sounded exhausted just talking about 2007.
Without inside knowledge of the Bills, Camarillo surmised how they're feeling right now. He said they're working hard each week, sacrificing and stressing over that first victory. To repeatedly come close and then have the game slip away on the final play -- or in the waning moments -- becomes torture.
"You go into each week actually thinking 'OK, this is going to be the week. We're going to get our victory this week,' " Camarillo said. "As the season wears on, you're still a professional. You might turn from thinking you're going to win to
hoping
you're going to win. But you're ready to compete.
"Then as soon as something goes wrong -- you're 0-8 and throw a pick six or fumble the ball -- you drop your head and say 'Oh, no. Here we go again.' It's that mentality that causes you to lose more games."
The '07 Dolphins dealt with greater pressure than this year's Bills are encountering. Imagine what it must've felt like to get so close to becoming the first team in NFL history to go 0-16 -- the Lions didn't pull their oh-fer until a season later -- when your franchise's claim to fame is being the only team to go undefeated and win the Super Bowl. Meanwhile, the
New England Patriots
were making their run at surpassing the '72 Dolphins' perfect season.
Miami was plagued by significant injuries in 2007. They lost their starting quarterback (
Trent Green
), best two running backs (
Ronnie Brown
,
Ricky Williams
), star linebacker (
Zach Thomas
) and several other starters to major injuries. They traded top receiver
Chris Chambers
. First-year head coach Cam Cameron seemed overmatched.
"Week in and week out ,you're the butt of the joke," said Holliday, a 13-year pro who's now in his first season with the
Washington Redskins
. "It gets frustrating.
"These guys are tremendous competitors, and everybody's watching. Every conversation you're having with your friends, your family, the media, the fans is about you losing. That gets very tiring."
Jay Leno already is using the Bills as a punch line in his monologues.
One victory would put an end to that. One win and the Bills go from being an obvious laughingstock to one of many, including the
Dallas Cowboys
,
Carolina Panthers
,
San Francisco 49ers
and others.
"If you're 1-9, they will stop talking about you and that 0-16 talk," Camarillo said. "As soon as you've won you're just a bad team. You're not the worst team."
In Western New York, however, there's an undercurrent of support for the Bills to avoid winning. Talk-radio shows, message boards and my e-mail inbox are inundated with aspirations of 0-16 to ensure the top pick in next April's draft.
For those who feel that way, know the players don't agree with you.
"If you're thinking about going 0-16, there's going to be some major changes on that team," Camarillo said. "Players aren't planning for next year because half the people won't be back."
Another recurring concept in my conversations for this story was the idea of momentum. The Dolphins didn't win again after stunning the Ravens in December 2007. They had only two more chances, though, and Cameron became a dead man coaching when Bill Parcells was hired to oversee football operations right about then.
"We have more pieces to the puzzle here," said Martin, comparing the teams. "I think when we get that first one we can string a few in a row and get that winning feeling around here."
Lemon is close friends with Bills cornerback
Drayton Florence
and gets the impression when speaking to his former
San Diego Chargers
and
Jacksonville Jaguars
teammate the Bills have their heads in the right place.
"These guys are fighting hard," Lemon said. "They just haven't been able to finish games and just seem to find a way to lose. Unlike us in 2007, they're healthy. They're making plays. If they can get just one win, they can easily turn it around and have a respectable season."
Even if the Bills can't win half of their remaining games and cobble together a 4-12 record, they still have something to look forward to every Sunday for the next two months.
One win at this stage won't earn the Bills any kind of trophy. But they probably will run around the field in jubilation like they'd just won the Super Bowl.
"I did feel like it, though," Holliday said with a laugh. "It felt really, really good."
October, 3, 2010
10/03/10
2:32
PM ET
September, 17, 2010
9/17/10
3:38
PM ET
»
NFC Final Word
:
East
|
West
|
North
|
South
»
AFC
:
East
|
West
|
North
|
South
Five nuggets of knowledge about Week 2:
As frustratingly sloppy as the Jets were Monday night, they're not that bad.
All sorts of atrocities were committed in their season debut. The defense was flagged and the offense gagged.
Mark Sanchez
had the kind of passing stats you'd expect to see in a Pop Warner game. But let's not write them off so fast. The Jets lost by one point to a team many people consider a championship contender. The Jets' run defense shut down one of the NFL's most talented backfields. There were reasons to retain some optimism.
[+] Enlarge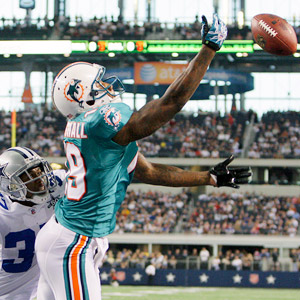 AP Photo/LM OteroBrandon Marshall doesn't appear to be comfortable in the Dolphins' offense yet.
The New England Patriots' offensive line made a magnificent first impression.
What was that left guard's name? Logan Somethingorother? All right, so the Patriots still could use
Logan Mankins
. But they did just fine without him against a respected defense. The
Cincinnati Bengals
didn't record a sack and hit
Tom Brady
only twice. The Patriots also ran for 5.1 yards a carry. What's that running back's name? Laurence Somethingorother?
Chad Henne and Brandon Marshall haven't shown that desired chemistry yet.
I understand Marshall missed every offseason team workout because of hip surgery, but he and Henne have had all of training camp, a full exhibition schedule and a regular-season game to find a connection. Marshall has had problems with drops for weeks. Something's missing, and if they don't start hooking up on a consistently effective basis, you can bet frustrations will start to set in. Sunday's game at the Metrodome would be a really fine time to start.
The Buffalo Bills must rely more on their running backs and tight ends.
The Bills had the ball for a measly 23:07 against the Dolphins on opening day. Shame on the Bills for not doing a better job of utilizing one of their few strengths, the backfield trio of
C.J. Spiller
,
Fred Jackson
and
Marshawn Lynch
. They combined for 14 carries. That should change Sunday against the
Green Bay Packers
at Lambeau Field. Also look for
Trent Edwards
to throw his first pass of the season to a tight end.
David Martin
, a former Packer, should contribute.
The last thing the Jets were supposed to be worried about was their pass defense.
The Jets have problems in their vaunted secondary, though those problems may be short-term.
Darrelle Revis
, perhaps still trying to get in shape after his prolonged holdout, has a hamstring injury. He's about to face
Randy Moss
, who seems to have a chip on his shoulder, by the way. Prized offseason acquisition
Antonio Cromartie
and first-round draft choice
Kyle Wilson
walked off the field Monday night with speed knots. Free-agent safety
Brodney Pool
has been hobbled by an ankle injury. And this crew needs to stifle Brady.
September, 4, 2010
9/04/10
6:48
PM ET
Check
here
for a full list of roster moves.

Biggest surprise:
The Dolphins' decision to release tight end
David Martin
isn't surprising on account of his ability, but because of the depth chart.
Joey Haynos
is out with a foot injury, leaving incumbent starter
Anthony Fasano
and the unconvincing
John Nalbone
. The Dolphins also cut guard
Donald Thomas
, who was good enough to be their opening-day starter as a rookie in 2008 and again last year. Thomas played all 16 games last year and started 12. But the Dolphins have been trying to find the correct combination for the interior offensive line since Bill Parcells arrived at the end of the 2007 season. They signed free agents
Richie Incognito
and
Cory Procter
, drafted
John Jerry
in the third round and just traded for
Pat McQuistan
from the
Dallas Cowboys
. Thomas couldn't beat out any of them.
No-brainers:
Based on 2008 draft status, it's notable that the Dolphins already have given up on quarterback
Pat White
(second round) and receiver
Patrick Turner
(third round). But they didn't belong. Neither of them ever showed they belonged in the NFL. White was drafted to enhance the Wildcat package, but he couldn't throw. Turner was deactivated for all but two games last year and was outplayed by undrafted rookies this summer.
What's next:
Miami has no glaring needs, but they could stand to improve at a number of positions. General manager Jeff Ireland will be scavenging for what he call "acorns" that have fallen out of other teams' trees. Areas to look at will be the pass rush and, as always, interior O-line.
August, 27, 2010
8/27/10
11:46
PM ET
Notes from the
Miami Dolphins
' 16-6
preseason loss
to the
Atlanta Falcons
on Friday night in Sun Life Stadium ...
In the final dress rehearsal for Miami's starters -- unless coach Tony Sparano puts them on the field in next week's preseason finale out of principle -- the offense failed to generate much. The second-team wasn't any better. There has to be some uneasiness heading into the regular season.

[+] Enlarge

AP Photo/Wilfredo LeeChad Henne struggled Friday and ended the night going 10-of-23 with an interception.

The Dolphins haven't been connecting with Brandon Marshall. He had another drop Friday night, giving him four in three games. He and quarterback Chad Henne don't always seem to be on the same page, but that's to be expected. Marshall missed offseason workouts because of hip surgery. They have two weeks to work it out.

Marshall did make some nice plays and finished with three catches for 51 yards. But he was targeted eight times.

The Dolphins' leading rushers? Receiver Marlon Moore gained 12 yards on an end around, and quarterback Chad Pennington scrambled once for 9. Ronnie Brown had eight carries for 9 yards. Ricky Williams had four carries for 5 yards.

Dolphins inside linebacker Karlos Dansby makes coverage look easy. He's 6-foot-4 and 250 pounds, but he can run with tight ends and backs.

Miami's best player was cornerback Vontae Davis, a fearless tackler. He finished with a game-high seven tackles, one for a loss, one forced fumble and three passes defensed.

Problem is, teams have an attractive target on the other side of the field from Davis. Sean Smith usually is over there. Jason Allen got the start Friday because Smith violated a team rule. Roddy White beat Allen for an 18-yard touchdown in the first quarter and sprinted waaaaaaaaaaaaay behind Smith down the left sideline for what should have been a long touchdown, but Matt Ryan overthrew him.

Second-year quarterback Pat White received his first meaningful snaps of the preseason and looked pretty good against the Falcons' backups. White entered with 8:04 left in the game. He completed all four of his passes for 27 yards and had a 5-yard run.

Henne was razor sharp in last week's exhibition with the Jacksonville Jaguars but had a rough night against the Falcons. He was 10-of-23 for 123 yards and no touchdowns with an interception in the end zone. The Falcons sacked him only once, but applied plenty of pressure.

Henne had two shots at a two-minute drill at the end of the first half. First possession started with 1:43 left, went three-and-out and took 30 seconds off the clock. Thanks to an interception, the Dolphins got it back with 66 seconds left. Henne hit Marshall for 26 yards and again for 20 yards to give Miami first-and-goal from the 7 with 13 seconds left. Henne threw a pass to Anthony Fasano that was deflected by a linebacker and intercepted.

Another troubling stat: The Dolphins failed to convert six third downs and a fourth down before they finally moved the chains just before halftime. They converted one of nine third or fourth downs before Henne left in the third quarter.

This week's trade of Greg Camarillo opened a roster spot for another receiver to make the club. Moore, an undrafted rookie from Fresno State, could be the beneficiary. He had another strong showing. Patrick Turner, a third-round pick last year, had one catch for 10 yards.

Joey Haynos went down with a right foot injury in the second half and was carted off the field. The Dolphins remaining tight ends are Fasano, David Martin and John Nalbone. They waived Kory Sperry this week, and he was claimed by the Denver Broncos.

Miami's special teams were a mixed bag. They didn't allow a blocked punt for the first time in the preseason, but they were too forgiving on returns. The Falcons averaged 27.7 yards on three kickoff returns (Eric Weems had a long of 36 yards). Weems averaged 15 yards on four punt returns.
October, 27, 2008
10/27/08
8:20
AM ET
Posted by ESPN.com's Tim Graham
MIAMI -- Did the New York Jets really need to trade for Brett Favre?
Maybe not.
Tale of the tape: Chad Pennington vs. Brett Favre

Pennington

Favre

140
Completions
161
202
Attempts
235
69.3
Percentage
68.5
1,710
Yards
1,611
8.5
Yards per attempt
6.9
244.3
Yards per game
230.1
7
TDs
15
3
INTs
11
20
Passes 20+ yards
17
5
Passes 40+ yards
4
11
Sacks
16
100.5
Rating
89.5
They had on their training-camp roster a quarterback who is playing rather well somewhere else this year.
Chad Pennington, after eight seasons with the Jets, has been posting highly efficient numbers for the Miami Dolphins, who have only one fewer victory than his old club after seven games.
Favre has been winning with performances that make Jets fans feel like they just staggered off the Tilt-A-Whirl. He threw three interceptions, including one for a touchdown, but then hit Laveranues Coles with 65 seconds left to beat the lowly Kansas City Chiefs on Sunday.
About 1,100 miles away, Pennington was marching all over Dolphin Stadium in a victory over the AFC East-leading Buffalo Bills. He threw for 314 yards, his first 300-yard game with Miami and the sixth of his career.
Pennington has notched passer ratings of 100 or higher in four of his past five games. The one time he didn't hit triple digits he finished with a 92.0 rating. Miami is 3-2 in those games.
Then there's Favre, the first-ballot Hall of Famer the Jets just had to obtain because they weren't convinced Pennington could do the job. Pennington has had shoulder surgeries, was coming off an ankle injury and was retooling his mechanics.
Favre over his past three games has thrown three touchdown passes and seven interceptions. His passer rating has plummeted from a well over 100 to 89.5 after Sunday.
Pennington -- rag-arm reputation and all -- has thrown for more yards than Favre on fewer attempts and completions. Pennington also has more completions of 20 yards or longer and 40 yards or longer.
Favre and San Francisco 49ers journeyman J.T. O'Sullivan lead the NFL with 11 interceptions.
One more element to consider: Favre's receiving corps consists of potential game breakers Coles and Jerricho Cotchery and three viable tight ends in Chris Baker, Bubba Franks and Dustin Keller.
After Ted Ginn, a 2007 first-round draft pick who hadn't done much and recorded his first career 100-yard game Sunday, Pennington's next three receivers lately (Greg Camarillo, Davone Bess, Brandon London) weren't drafted at all. Miami does have two nice tight ends in Anthony Fasano and David Martin.
How good would the Jets be if they had kept Pennington and passed on Favre?
August, 30, 2008
8/30/08
9:13
PM ET
Posted by ESPN.com's Tim Graham
Biggest surprises: One sign of a bad team is their inability to cut good players. They don't have enough of them to have a surplus. While the New England Patriots were cutting starters such as CB Fernando Bryant and LB Victor Hobson, the Dolphins' most-experienced deduction was TE Justin Peelle, who has 39 starts in his six-year career. The fact a rebuilding team would cut a draft pick, sixth-round RB Lex Hilliard, also was surprising.
No-brainers: Virtually every player the Dolphins let go was foreseeable. TE Matthew Mulligan faced the longest odds. The undrafted rookie was up against veterans Anthony Fasano, David Martin and Sean Ryan. Mulligan, a basketball player, didn't begin playing organized football until he tried out for Division III Husson College. He later transferred to Division I-AA Maine and played just two seasons. Despite his inexperience, he's being considered for the Dolphins practice squad.
What's next: A flurry of waiver-wire pickups is likely. The Dolphins have been looking forward to this weekend as a preseason draft of sorts. For a team that went 1-15 last year and could not manage to attract many free agents in the offseason, rummaging through the castoff bin will strengthen the roster. Another team's 54th or 55th best player might be Miami's 47th or 48th.
The most likely place to trim are wide receiver and defensive end, where the Dolphins kept six players at each position.