August, 31, 2013
8/31/13
7:53
PM ET

Most significant moves:
This is a thin roster, so there weren't a ton of standout cuts here. But there were two veteran names of note to get the axe in the first year of the Tom Telesco-Mike McCoy era in San Diego. Tackle
Max Starks
and receiver
Robert Meachem
were cut. Neither were very good this summer. Starks was signed to be the left tackle. But he was beaten out by
King Dunlap
and then by young
Mike Harris
to be the swing tackle. Meachem, signed in 2012 by the previous regime to be the No. 1 receiver, was a disaster. The team is thin at receiver and Meachem is guaranteed to make $5 million this season. Still, the Chargers decided to move away from him. Other cuts of note were center
David Molk
and pass-rusher
Thomas Keiser
. Both were expected to have roles going into camp.
Going young:
This is a team that is rebuilding and the 53-man roster shows it. All six draft picks (cornerback
Steve Williams
is on the injured reserve) made the team and three undrafted free agents -- safety
Jahleel Addae
, nose tackle
Kwame Geathers
and defensive end
Brandon Moore
-- made the 53-man roster. U-T San Diego reports it's the first time since 2007 that every draft pick made the team and the first time in 10 years that three undrafted free agents made the roster. Telesco is looking for youth to make an impact. The opportunity is there for these youngsters.
What's next:
This roster is far from set. The Chargers are going to be a work in progress. I expect Telesco will tinker with the bottom of this roster for the next several weeks, maybe even all season. As an executive in Indianapolis, Telesco was known for his eye for talent and for being able to pick up pieces off the street. Thus, this is his time to shine. He has plenty of work to do in San Diego. The Chargers could use depth on the offensive line, at receiver, on the defensive line, at outside linebacker and in the secondary. The team's special teams was weak in the preseason. That's a telltale sign of poor depth. So, more players are needed. Among the players San Diego could potentially look at are receivers
Lavelle Hawkins
,
Chris Harper
,
Russell Shepard
,
Tavarres King
, linemen
Ben Ijalana
,
Fernando Velasco
,
Jake Scott
and
Danny Watkins
and defensive tackle
Drake Nevis
.
Players cut:
CB
Cornelius Brown
, OT
Nick Becton
, DE
Frank Beltre
, S
Sean Cattouse
, TE
Ben Cotton
, CB
Marcus Cromartie
, LB
Phillip Dillard
, CB
Greg Gatson
, CB
Logan Harrell
, DE
Jerrell Harris
, RB
Michael Hill
, CB
Josh Johnson
, LB
Thomas Keiser
, WR Robert Meachem, CB
William Middleton
, LB
Dan Molls
, WR David Molk, OT
Randy Richards
, TE
David Rolf
, G
Steve Schilling
, OT Max Starks, WR
Luke Tasker
.
May, 29, 2013
5/29/13
8:00
AM ET
Now that the
San Diego Chargers
seem to have their five starting offensive linemen figured out, ESPN's Matt Williamson thinks they should get creative.

The Chargers solved an offseason-long need at left tackle by signing former Pittsburgh starter
Max Starks
. While Starks is not a long-term answer (the Chargers will likely try to address the position more permanently next year via free agency or the draft), he does complete the starting offensive line. The unit has been subpar for the past two years because of major injuries.
The Chargers used their first-round pick, No. 11 overall, on
D.J. Fluker
. He is expected to play right tackle. They signed
Chad Rinehart
in free agency; he is expected to start at left tackle. Former right tackle
Jeromey Clary
has the early edge over 2012 draft pick
Johnnie Troutman
, who was injured all of last season, at right guard. Longtime anchor
Nick Hardwick
remains the constant at center.
Williamson has other ideas San Diego might want to try.
He would move Starks to right tackle, use free-agent addition
King Dunlap
at left tackle and move Fluker to right guard.
"That way you would have one great player this year on that line in Fluker," Williamson said. "I think he can be a Pro Bowler at right guard. I think he will struggle some at right tackle. He will have trouble sliding and dealing with speed rushers. At right guard, he can move ahead and smash people, which are his strengths."
Williamson thinks Starks, who has played right tackle, can be successful on the right side, and that Dunlap can be a suitable short-term answer at left tackle. Dunlap can also play right tackle.
It's an interesting concept. I get the idea of putting a player like Fluker where he can best help.
Even if the Chargers keep the current plan, I do think the unit is improved. That's not to say that, as a whole, it is above average -- there will still be work to do next year. But San Diego can get by with this group.
What is important is the Chargers' offensive line is much deeper than it was in the past. In addition to Troutman, the team has youngsters in Troutman,
David Molk
and
Mike Harris
and free-agent pickup
Rich Ohrnberger
. If the line suffers massive injuries for a third consecutive year, it will be in better shape than in the past.
August, 8, 2012
8/08/12
12:00
PM ET
SAN DIEGO -- With the outside perception of the
San Diego Chargers
taking a major tumble, the team, which for so long was built from the inside, changed philosophy in 2012 in a last attempt to keep that proverbial Super Bowl window from slamming shut and causing major upheaval in the organization.

After two playoff-less seasons and a reprieve from ownership, San Diego general manager A.J. Smith made an uncharacteristically heavy play in free agency. Taking advantage of one of the deepest classes in history, the Chargers nabbed more than a dozen free agents to infuse new life into a roster that was still talented but no longer arguably the stoutest in the NFL.
"I love what they have done around here," said safety
Eric Weddle
, one of the Chargers' homegrown mainstays. "We hit the lowest of the lows the past two years by not making the playoffs. Getting new blood in here has helped."
Among the veterans San Diego brought in were running backs
Le'Ron McClain
and
Ronnie Brown
, receivers
Robert Meachem
and
Eddie Royal
, linebacker
Jarret Johnson
and defensive tackle
Aubrayo Franklin
.
"The thing about the new guys is they all love football," San Diego quarterback
Philip Rivers
said. "They love it. We need guys like that here. … It gives us a new start. Those guys won't worry about the past. They weren't here for the slow starts or the six-game losing streak last year. It's all a new start."
If this cleansing of the roster doesn't work, the next restructuring will likely occur up top with the firing of coach Norv Turner and possibly Smith. Yet, in a season of new beginnings, spirits are high.
"I think we can be special," Weddle said. "There's still a lot of talent here, with a bunch of new talent. … People may not be expecting much from us this year because we haven't done anything, so that's fair. But it's kind of nice to be under the radar for once."
THREE HOT ISSUES
[+] Enlarge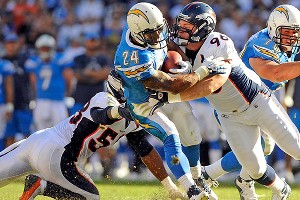 Christopher Hanewinckel/US PresswireThe Chargers aim to lean even more heavily on running back Ryan Mathews this season.
1. Ryan Mathews' workload:
Outside of Rivers, there is likely not a more important player in this camp than Mathews. The Chargers all know if Mathews flourishes in his third NFL season, the team will have a strong chance to be successful. Mathews, the No. 12 overall pick in 2010, had a solid second season as he ran for 1,091 yards and averaged a terrific 4.9 yards per carry. This year, the Chargers want to see Mathews become consistent and stay healthy. He will likely be given the chance to to carry the ball 25 times a game, catch several balls out of the backfield and be a factor on third down and in short yardage. This camp is designed to get him prepared for a heavy workload. From what I saw and heard, it seems like Mathews might be up to the task.
"He's working hard," Rivers said. "Ryan knows what is expected of him."
2. Sparking the defense:
While the offense in San Diego needs some tweaks, the bigger fixes are necessary on defense, where former linebackers coach John Pagano is in charge of fixing a unit that fell apart last season. He replaces Greg Manusky, who was fired after one season on the job. The biggest issue -- it is a major point of emphasis in camp -- is getting off the field on third down. San Diego was last in the NFL in third-down defense in 2011. It gave up a first down on 49.2 percent of all third downs -- according to ESPN Stats & Information, the worst percentage in the NFL since the 1995
Cleveland Browns
. The Chargers have added several pieces to the defense and it has a chance to be much more active -- particularly on passing downs, when No. 1 pick
Melvin Ingram
will be given a chance to make an instant impact as a pass-rusher.
3. Protect the quarterback:
The San Diego offensive line was in shambles for much of last season, and it was a big reason why Rivers struggled for the first 10 games. Mainly due to poor health, San Diego used 13 offensive linemen last season -- literally taking players off the street at one point in November. With
Jared Gaither
, claimed off waivers from Kansas City, solidifying the left tackle spot, the unit improved dramatically late in the season. Gaither was re-signed and is being counted on to protect Rivers' blind side. The steady
Tyronne Green
takes over for the departed
Kris Dielman
. Green has fared well when he's had to play. If this unit remains in good health, it should protect Rivers well. If not, trouble could persist. So far, the unit looks good in camp.
REASON FOR OPTIMISM
The passing game looks to be top-notch. After a sloppy start to last season, Rivers finished 2011 strong. He has looked good in camp, and has an interesting group of receivers. Yes, standout
Vincent Jackson
is gone, but the Chargers have an ensemble group that includes
Malcom Floyd
, free-agent signees Meachem (New Orleans) and Royal (Denver) and second-year player
Vincent Brown
. Together, this group should offer Rivers plenty of help.
"We like what we have there," Turner said. "We like all the pieces. We think we can get some things done in the passing game."
If the Rivers-led passing attack is back at an elite level, the Chargers will be a threat to win every game. When Rivers is on, San Diego has a chance to score every time the offense hits the field.
REASON FOR PESSIMISM
The Chargers must prove they are totally past their doldrums. The team feels good about itself, but it does every summer. We will not know if San Diego is out of its funk until it's out.
Yes, the depth looks good, but will it be enough if injuries pile up for a fourth consecutive year? Yes, cutting down on turnovers is a point of emphasis in camp, but once the season starts, will the hard work pay off or will the killer interceptions and fumbles continue?
It has gotten to the point where we can't trust this team until it shows it is has indeed rebounded.
OBSERVATION DECK
[+] Enlarge

AP Photo/Lenny IgnelziReceiver Eddie Royal, an offseason pickup, appears to have clicked with Chargers QB Philip Rivers.

Tight end Antonio Gates is turning heads on a daily basis. After dealing with foot-related injuries for four years, Gates is finally completely healthy. He's slimmed down and he is making a lot of plays. If his health remains, the 32-year-old should make a huge impact.
Denver might have lost interest in Royal, but there is a place for him San Diego. Expect Royal to get a lot of work. He has impressed the coaching staff this summer and I expect him to be as favorite a target for Rivers during the season as he has been this summer.
The Chargers love what they see in Johnson. He is tough, smart and excellent against the run. They think he can bump the defense up a notch.
Linebacker Donald Butler looks good after a strong 2011 season, which was essentially his rookie season because he was injured in 2010. He is just another fascinating young defensive piece on this team.
Undrafted rookie quarterback Jarrett Lee looks like a keeper. He got extra work because of a knee injury to Charlie Whitehurst. I could see Lee making this roster. The Chargers were burned last year when they tried to sneak undrafted rookie quarterback Scott Tolzien onto the practice squad; he was claimed by San Francisco. If Lee continues to impress, I think the Chargers will find room for him on the 53-man roster. They need to develop a young quarterback at some point and Lee might be it.


The Nate Kaeding-Nick Novak battle at kicker will go down to the wire. If Kaeding stays healthy and kicks well in the preseason, he should win the job.
The Chargers love the skill level of Meachem. Perhaps he was lost in the shuffle of the dynamic offensive weaponry in New Orleans. He'll get his shot in San Diego.
The Chargers are pumped about McClain, a free-agent pickup from Kansas City. He will play a lot and should be in the mix for some carries. They like the veteran stability he brings to the offense.
Center David Molk, a seventh-round pick, is getting some second-team reps. He may have a future.
The Chargers are very happy with pre-camp signings Franklin and running back/special-teamer Jackie Battle. Though they both signed late, I see them both being contributors.
Keep an eye on ex-Chief Demorrio Williams. The linebacker has been a camp stud, boasting terrific speed. The Chargers like him in coverage.
The Chargers will keep their eyes open for help at certain positions, including cornerback and offensive line, as the summer progresses.
Third-round pick Brandon Taylor, a safety, might not make an instant impact, but Taylor has impressed and will get some valuable time behind veteran pickup Atari Bigby, who himself has been outstanding this summer.


Brown has been getting looks as the third-down back and will be an occasional Wildcat threat.
Running back Curtis Brinkley flashed talent at times last season, but because of the logjam at running back, he is a long shot to make the team.


Rookie tight end Ladarius Green has nice receiving skills. I can see him making an impact behind Gates and Dante Rosario (a very nice backup). Green, a fourth-round pick, needs to learn to block at an NFL level, but he has terrific hands and natural size.
Undrafted rookie tackle Mike Harris has taken advantage of an early camp injury to Gaither, getting some reps with the first team. The UCLA product has a chance to make the team. Rivers has joked that Harris has gotten more first-team reps than any undrafted rookie tackle in the history of the NFL.
May, 8, 2012
5/08/12
6:20
PM ET
The
San Diego Chargers
couldn't believe
Melvin Ingram
fell to them in last month's draft, and they didn't waste much time in officially making him a member of the team.

As a testament to the new rookie NFL world, the Chargers have announced they have signed Ingram. The South Carolina pass-rusher was the No. 18 overall pick in the draft. He was expected to be a top-10 pick.
With Ingram signed, the Chargers now can rest easy, knowing their top pick will be at training camp on time. The team also announced the signings of second-round pick
Kendall Reyes
(it was previously reported Tuesday) and seventh-round pick, center
David Molk
.
All three players signed for four years. Ingram's deal has a fifth-year team option, which is standard for first-round picks. Ingram is the second first-round pick to sign this year, joining the Seahawks'
Bruce Irvin
.
Because of the new CBA and rookie pay structure, draft-pick signings have become much easier to negotiate than in the past. Thus, draft picks are signing quicker than in the past.
March, 16, 2012
3/16/12
7:50
PM ET
The
Green Bay Packers
need a center now that veteran
Scott Wells
has agreed to terms with the
St. Louis Rams
.
ESPN's Adam Schefter
reported the news Friday evening.

Wells and the Packers were reportedly far apart during negotiations prior to free agency, and
Bob McGinn of the Milwaukee Journal Sentinel
suggested last month that Wells was unlikely to take a discount to remain with the Packers. He wanted to be paid as a top-5 center, according to McGinn, and the Packers apparently didn't value him that way.
We don't yet know what Wells got from the Rams, but the bottom line is that the Packers will open the season with a new center in 2012 -- one that seems likely to come from outside the organization. Guard
Evan Dietrich-Smith
technically was Wells' backup last season, but considering him a front-runner for the job might be a stretch.
So the question, as always with the Packers, is whether they will seek a veteran via free agency or draft a center and hope to plug him into the lineup. There are a
number of veterans available on the market
, including
Chris Myers
,
Dan Koppen
and
Jeff Saturday
. I won't rule any of them out, but let's just say it has been a rare occasion in recent years for the Packers to sign a free agent to be a starter.
As far as the draft,
ESPN analyst Mel Kiper

includes three former Big Ten players in his list of the five-best centers available: Wisconsin's Peter Konz, Michigan's David Molk and Ohio State's Mike Brewster. Konz is considered a potential first-round pick.
I'm sure the Packers have been planning for this possibility. We'll soon know if they will take a rare dip in the free-agent pool, or if they're confident enough in their ability to grab a starter in the draft.
NFL SCOREBOARD
Sunday, 2/2
WEEKLY LEADERS