NFL Nation:

David Quessenberry
August, 14, 2013
8/14/13
9:00
AM ET
HOUSTON -- At 12-4 last season, the
Houston Texans
had the best record in the young franchise's history, won their second consecutive AFC South championship, became the first professional football team in Houston to win a home playoff game in consecutive years and finished the regular season as one of only two teams to be ranked in the top 10 in both offense and defense.

Doesn't sound like a failed season, does it? But as the franchise has grown and checked off accomplishments, failure has begun to mean anything other than a Super Bowl win.
"We weren't the last team standing last year, so ultimately we all failed," quarterback
Matt Schaub
said. "We all didn't accomplish our goals."
This year's Texans are more businesslike. Most of this year's team was around for the slide at the end of last season, which coincided with a linebacking corps that took one hit after another even after taking its biggest hit in early October, when it lost
Brian Cushing
. They shook their heads at three losses in the last four games of the season. The offense mustered only 12 points per game in those three losses -- less than half its season average.
"Everybody was so excited and couldn't wait for the next season to come around," receiver
Andre Johnson
said. "As you can see, we came out of the gate smoking, but at the end we just didn't finish it the right way. At times, maybe we could have been feeling ourselves or something. I think, I've told people this before, I think the game in New England, our last playoff game, it just showed you what kind of team you have to be in order to accomplish that ultimate goal. That was definitely a humbling experience, and we'll be looking forward to the challenge again."
Now they return with Cushing back and an additional offensive weapon in first-round draft pick
DeAndre Hopkins
-- the receiver with the massive, red-gloved hands. They should have more stability on the offensive line and more depth at safety with the additions of a future Hall of Famer (
Ed Reed
) and a college enforcer (
D.J. Swearinger
). They have healthy cornerbacks and the reigning defensive player of the year in
J.J. Watt
, who is sure he can play better than his unreal 2012 season.
They return with an edge they didn't have last year.
THREE HOT ISSUES
1. Hopkins' impact:
It is impossible not to be impressed by Hopkins' skill and athleticism, owed in part to his unusually large hands. Particularly adept at scoring in the red zone while he was at Clemson, Hopkins is expected to help the Texans, who didn't struggle scoring in the red zone last season but did struggle at scoring touchdowns in the red zone relative to the best offenses in the NFL. Hopkins provides a dimension the Texans didn't have in 2012 -- a second receiver defenses should fear, taking some attention from Johnson. The rookie is at his best on contested catches and spends his practices learning from cornerback
Johnathan Joseph
. Hopkins struggled early in organized team activities, but as training camp has progressed, he has grown more comfortable with just about everything. If he plays in regular-season games like he has in camp, the Texans' offense will improve significantly.
[+] Enlarge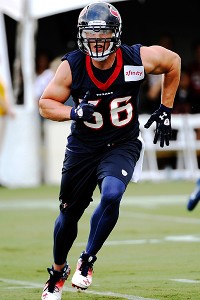 AP Photo/Pat SullivanWhen linebacker Brian Cushing went down for the season in Week 5, the loss was felt across the Texans' defense.
2. Cushing's return:
When Cushing was lost to a torn ACL in Week 5 against the
New York Jets
, a line of Texans greeted the fallen inside linebacker at the door to the locker room, shaking his hand and offering condolences. Losing Cushing hurt the Texans' safeties and outside linebackers as much as it changed their inside linebacker rotation. The pass rush suffered too.
"When Cush rushes, which we try to rush him a lot from the inside, if they have to pick up a back on him they are in trouble," defensive coordinator Wade Phillips said. "We got a big advantage, so they try and pick him up with a lineman. Well, if they do that then the outside guys get a chance to get a back or a better matchup."
Cushing's return brings back a maniacal, focused intensity that intimidates opponents.
"Brian Cushing is back," outside linebacker
Brooks Reed
said. "He's going to bring the attitude back."
3. When will Reed be healthy?
Reed signed with the Texans amid great fanfare. The owner sent his team plane to Atlanta to collect the future Hall of Famer, and the team's official Twitter provided updates along the way. Reed met with coaches, underwent a lengthy physical and then left Houston for a family engagement before returning to sign a three-year deal worth $5 million a year. About a month later, Reed had arthroscopic hip surgery to repair a torn labrum that he thinks he suffered during the Ravens' AFC Championship Game win.
This week, Reed was out of town rehabilitating with a specialist after having spent training camp in Houston working with Texans trainers.
"No, absolutely not," coach Gary Kubiak said when asked if that meant Reed had a setback. "It's just something that we've made our progress here for a couple of weeks. [Head athletic trainer Geoff Kaplan] has been in contact with this guy. He's worked with us before, so we wanted him to go see him for a couple of days and basically make sure we're doing the right things. We're going to do that for a couple of days each week."
So far there hasn't been any clarity on when Reed will be available to the Texans or whether he will be able to play in the season opener.
REASON FOR OPTIMISM
[+] Enlarge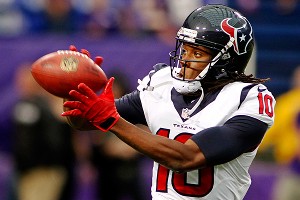 AP Photo/Andy KingRookie DeAndre Hopkins gives Houston a scoring threat in the red zone and a second receiver whom opposing defense should fear.
The Texans have the best defensive player in the NFL in Watt, who in 2012 had, according to his well-traveled defensive coordinator, the best season any defensive lineman has ever had. This was a good team last year that needed some cracks filled. Injuries had a lot to do with the Texans' defensive holes at the end of the season, and those injuries aren't an issue for Houston anymore. Watt also will be healthier this year. Offensively, the Texans have Johnson coming off a career year in receiving yards, running back
Arian Foster
and a quarterback who will benefit from a more stable offensive line and an extra receiving weapon.
There has been a lot of hand-wringing about Schaub, but I expect him to be a lot better this season with the changing personnel around him.
REASON FOR PESSIMISM
The abundance of linebacker injuries last season hurt the defense and special teams. The Texans still are vulnerable there. A rash of linebacker injuries in training camp has caused players to miss some time. Though none of these injuries were significant, a collection of linebacker injuries that keep players out for even two or three games at a time could be damaging.
Reed's health also could be troubling. Swearinger isn't ready yet, and safety
Shiloh Keo
has started in Reed's place during camp. Keo has improved since last season and has had a good camp, but he would be a downgrade from departed safety
Glover Quin
.
OBSERVATION DECK
Earl Mitchell had about the loudest debut as the Texans' starting nose tackle as one could have. Sure, it was a preseason game, but in 10 snaps Friday against Minnesota, Mitchell had four tackles, three of them for loss, including one sack. He also had one quarterback hit. Mitchell is quick on his feet, powerful and has a new confidence this season. The Houston native says that comes from knowing he entered this season as the starter -- a position well earned.

Foster remains on the physically unable to perform list. He initially landed on the list with a calf injury, but that has healed. Now, the Texans are being cautious because of a back injury. I wrote it before and will again: There's no sense in pushing Foster too much right now, especially given the load he takes on during the season.

With one full NFL season accrued, receiver Keshawn Martin has made a dramatic improvement on both offense and special teams. It has caught the eye of teammates. Last season, Lestar Jean joined Martin on the active roster. Jean is an incredibly hard worker, but he finds himself back on the bubble two years removed from being an undrafted rookie.

The Texans' third-string running back battle took an interesting turn Friday in Minnesota when Cierre Wood, who progressed more slowly at first, seemed to have a better night than fellow undrafted rookie Dennis Johnson. It's far too early to determine a winner in that battle, but those two are ahead, with veteran pickup Deji Karim threatening from a special-teams standpoint.

There were times last season when starting cornerback Joseph didn't feel like himself. He had two sports hernias that he didn't even properly identify until after playing in the Pro Bowl. Joseph had surgeries to repair both, and feels healthier than he did all last season. That is great news for the Texans, who pair him opposite the constantly improving Kareem Jackson.

It's unclear exactly how long left guard Wade Smith will be out after having his knee scoped Tuesday morning. What's certain, however, is that Smith's absence will give the Texans a chance to test the versatility of sixth-round draft pick David Quessenberry, who started out the offseason playing mostly tackle. Quessenberry made news during the summer because his truck was stolen, then recovered in East Texas with police saying it was being used for human trafficking. More relevant to our purpose is that Quessenberry has been really impressive in camp and willing to learn. Kubiak said he expects both Ben Jones and Quessenberry to see time there with Smith out.
July, 26, 2013
7/26/13
12:00
PM ET
»
NFC Eight in the Box:
East
|
West
|
North
|
South
»
AFC:
East
|
West
|
North
|
South
One key positional battle for each AFC South team as training camps get underway.

Houston Texans:
Right tackle. There is a lot to sort out at linebacker, and we don't know who the third receiver is going to be. But we'll go to the right side of the offensive line, where
Derek Newton
is coming off knee surgery and third-rounder
Brennan Williams
has battled a knee injury of his own. Ideally the two would slug it out through camp, but we don't know when they both will be ready to make a full push for the position. That could give sixth-rounder
David Quessenberry
the chance to win the job, at least at the start, or prompt the Texans to turn to middling veteran
Ryan Harris
. It's a key position that will have a big bearing on how
Arian Foster
runs and the protection offered to quarterback
Matt Schaub
.

Indianapolis Colts:
Receiver. There is a lot to sort out on the offensive line. But the Colts have question marks at receiver for
Andrew Luck
in his second season.
Reggie Wayne
is locked in as the super-reliable top option. But
Darrius Heyward-Bey
is No. 2 and never lived up to his draft status in Oakland. With a good quarterback in a new system, could he blossom?
T.Y. Hilton
did some good things as a rookie, and if he minimizes his drops, he can really be productive, particularly from the slot. After that, things thin out.
LaVon Brazill
is suspended for the first four games.
Griff Whalen
missed his rookie year hurt.

Jacksonville Jaguars:
Quarterback. Once again, the team will be trying to find the guy who can perform best:
Blaine Gabbert
or
Chad Henne
. But new general manager David Caldwell, new coach Gus Bradley and a new staff don't have the investment in Gabbert, the 10th pick in the 2011 draft. Henne has more experience. Both guys played their best when they first started last season. Gabbert fizzled on a bad team, got hurt and was shut down. Henne had a couple of big games, but ultimately didn't offer much more. Coordinator Jedd Fisch's system will allow the quarterback to make plays on the move more, which should be advantageous to Gabbert.
Mike Kafka
and
Matt Scott
are unlikely to pull an upset.

Tennessee Titans:
Cornerback. Although
Jason McCourty
is locked in as the top guy, the second cornerback slot is up for grabs. Incumbent
Alterraun Verner
is a smart player with a good knack for slot play. But the team is moving toward more aggressive man-to-man play, and that's not his forte.
Tommie Campbell
is physically gifted and fits the mold. The question is whether he can handle it mentally. New senior assistant/defense Gregg Williams did good work as the Titans' defensive coordinator (1997-2000) when there was a similar question with
Denard Walker
. Rookie third-rounder
Blidi Wreh-Wilson
also will get a crack at the job.
June, 14, 2013
6/14/13
12:00
PM ET
»
NFC Eight in the Box
:
East
|
West
|
North
|
South
»
AFC
:
East
|
West
|
North
|
South
The major question facing each team in the AFC South as summer break looms:

Houston Texans:
Even if
Derek Newton
recovers well from his knee surgery, are they sure he can be good at right tackle? In Newton's first year as the starter there, veteran
Ryan Harris
still got a share of the snaps. Now the team has to see how Newton recovers, will consider rookies
Brennan Williams
and
David Quessenberry
and brought Harris back as veteran insurance. They've surely got comfort in numbers, but you'd much rather have a sure thing at the front of the line. If second-year man
Brandon Brooks
doesn't play well from the start at right guard, right tackle could be an even bigger problem. And the Texans need to be able to send
Arian Foster
both left and right to be unpredictable in the run game. They also need to protect
Matt Schaub
from all angles.

Indianapolis Colts:
The team's biggest defensive moves have been keyed on stopping the run. Outside linebacker
Erik Walden
is an edge-setter, defensive linemen like
Ricky Jean Francois
and
Aubrayo Franklin
should help stop backs and safety
LaRon Landry
is a force in the box when he's healthy. If cornerback
Greg Toler
pans out, he will help the pass rush, and rookie outside 'backer
Bjoern Werner
could be an impact rusher if he transitions quickly from college end. But can this team consistently rush the passer? The only truly proven rusher on the defense is
Robert Mathis
, and for the first time he'll be playing without
Dwight Freeney
drawing some of the blocking attention. To me, the major question is: Can they rush the passer effectively?

Jacksonville Jaguars:
Who is the quarterback?
Blaine Gabbert
had most-favored status from the last regime, because the general manager of the last regime traded up to draft him 10th overall. That doesn't mean anything to new GM Dave Caldwell or new coach Gus Bradley. They are looking for a guy who will give them the best chance to improve. If it's Gabbert, that's fine. But
Chad Henne
has said he believes there isn't a charade element to this competition, and the team is talking as if new addition
Mike Kafka
and even undrafted rookie
Matt Scott
have an equally good chance of winning the job. Odds are very high this team will be looking for its long term-quarterback in next year's draft. In the meantime, opportunity abounds.

Tennessee Titans:
All Titans questions start with the quarterback.
Jake Locker
is now protected by a great offensive line, which should also greatly improve the run game. The new offense will give him a lot of play-action as well as rollouts and bootlegs, which will be threatening because of his extraordinary speed. His short-yardage targets should be dangerous --
Kevin Walter
is super reliable;
Kendall Wright
should blossom;
Delanie Walker
and
Chris Johnson
need to be consistently reliable. The deep guys are a solid bunch if healthy.
Kenny Britt
and
Nate Washington
are capable of making downfield plays, and the team is super high on rookie
Justin Hunter
. The defense will be better, which means the Titans will have the ball more. What can Locker do with it?
April, 27, 2013
4/27/13
5:35
PM ET
A quick look at the Texans' four sixth-round picks:
176th overall: David Quessenberry, OT, San Jose State
The pick came in a trade from Oakland, but was well-travelled. It was originally property of the Titans, who dealt it to Minnesota last year. It went from Minnesota to Arizona to Oakland to Houston.
Scouts Inc. says: "Quessenberry has good length, but a bit of linear build. He played left tackle in college, but showed ability to kick inside to guard at the Senior Bowl and that might be his best fit at the next level. While he lacks a prototypical anchor, he bends fairly well to gain leverage and has enough foot quickness and arm length to shuffle and mirror to stay in front of rushers."
195th overall: Alan Bonner, WR, Jacksonville State
Rates as below average in big-play ability and average in ball skills and separation skills, but as exceptionally competitive, per Scouts Inc.
Scouts Inc. says: "Tough and fearless working the middle of the field. Competitive runner after the catch. Shows good focus in traffic and quickly secures the ball when knowing he's going to take a hit. Works to gain positioning as a run blocker. However, simply lacks size and strength to sustain and can be easily discarded by more physical defenders. He is a heady football player though, and has a natural feel for the position. Great situational and field awareness."
198th overall: Chris Jones, DT, Bowling Green
The Texans are lacking at the position after Earl Mitchell, who only has one year left on his contract. Jones will have a chance at playing time.
Scouts Inc. says: "Plays with an edge and never backs down. Instigator that can get under blocker's skin over the course of a game. Never stops working. Makes plays chasing the run and passer despite limited range and closing burst."
201st overall: Ryan Griffin, TE, UConn
Garrett Graham is heading into the final year of his contract, and the Texans love to bring in tight ends.
Scouts Inc. says: "Generally gets a clean release and can open up and run to stretch the middle of the field and threaten the deep seams. However, appears to be very straight line and does not have elite athleticism to elevate and adjust to win one-on-one downfield battles. Does not have much elusiveness as a runner and will need a seam to pick up yards after the catch."
NFL SCOREBOARD
Sunday, 2/2
WEEKLY LEADERS