NFL Nation:

David Woodley
June, 30, 2010
6/30/10
1:00
PM ET
Notable players:
QB Bob Griese, QB Earl Morrall, RB Larry Csonka, RB Mercury Morris, WR Paul Warfield, C Jim Langer, G Bob Kuechenberg, G Larry Little, DE Bill Stanfill, MLB Nick Buoniconti, SS Jake Scott, FS Dick Anderson.
[+] Enlarge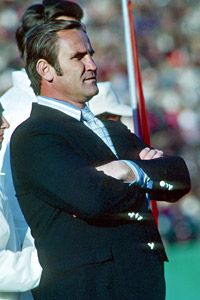 Malcolm Emmons/US PresswireDon Shula guided the 1972 Dolphins to a 17-0 record.
Analysis:
As it turns out, you can argue with perfection.
The obvious choice for the greatest team in
Miami Dolphins
history is 1972, the historic season in which they went undefeated and claimed their first championship.
But some important members of that team have claimed the 1973 edition was even better, although it lost two games against better competition before closing out the season with its second straight Super Bowl victory.
"The question is, do I think my team is better than it was a year ago?" coach Don Shula said after the follow-up title. "There's no question about it. I think we're a better football team than we were a year ago at this time. I think we've gone one step beyond last year's football team. Even though we were 17-0, a perfect season, going back-to-back on Super Bowls is more meaningful."
With all due respect to Coach Shula, perfection won't take a backseat here.
The '72 Dolphins played a pretty feeble schedule, but they ranked first in total offense, scoring offense, total defense and scoring defense. They beat their opponents by an average margin of 15.3 points in the regular season despite losing Griese to a broken ankle in October.
In the playoffs, they dispatched a pair of teams with double-digit victories, the
Cleveland Browns
and
Pittsburgh Steelers
.
The Dolphins easily beat the NFC's top-seeded
Washington Redskins
in the Super Bowl and would have shut them out if not for Garo Yepremian's flubbed field goal that turned into the Redskins' only points.
Most impressive win:
Down 10-7 in the third quarter and on the road against the Steelers in the AFC Championship Game, Griese replaced Morrall and directed a pair of touchdown drives in a 21-17 victory.
Forgiving schedule:
The Dolphins feasted on a schedule that was one of the weakest in NFL history. In the regular season, they played no playoff clubs and just two that finished with winning records. Six opponents won four or fewer games. The combined record of their regular-season foes was 70-122-4.
Honorable mention
1973:
Some assert Miami's back-to-back championship team was better than the one that went undefeated. It held opponents to single-digit points eight times, including the
Minnesota Vikings
in the Super Bowl.
1984:
Dan Marino
threw for 5,084 yards in propelling the Dolphins to a 14-2 record and the AFC championship. Marino's lone Super Bowl appearance ended in a miserable loss to the
San Francisco 49ers
.
1971:
Miami's motivation for its historic 1972 season was losing the Super Bowl to the
Dallas Cowboys
after going 10-3-1 and shutting out the Baltimore Colts in the AFC Championship Game.
1983:
Marino's rookie season was electric. He took over for David Woodley, who had guided the Dolphins to the Super Bowl in a strike-shortened season. Even more impressive was the No. 1-rated Killer B's defense.
June, 7, 2010
6/07/10
10:00
AM ET
I understand why the
Miami Dolphins
and their fans are geared up about
Chad Henne
.
[+] Enlarge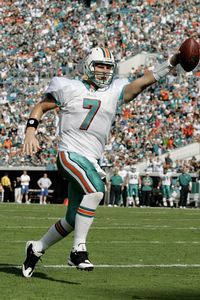 Kim Klement/US PresswireDolphins' owner Stephen Ross has made some bold predictions about Chad Henne.
For nearly 30 years -- between Bob Griese and
Dan Marino
, with help from Earl Morrall and David Woodley -- the Dolphins could count on a franchise quarterback. They've been searching for another since Marino retired a decade ago.
Henne looks like he might be
the guy to end the parade of Marino's successors
. With the exception of 2001, another new quarterback has started a game for Miami each year. In four of those 10 seasons, at least two quarterbacks who'd never started for the Dolphins before were given the nod.
But Dolfans seem to be going a little too gaga over Henne.
Dolphins owner
Stephen Ross made headlines over the weekend
with some bold declarations, saying he thinks the Dolphins will be in the Super Bowl this season and promoting Henne's potential to be the greatest quarterback to wear the aqua and orange.
"Chad has been the greatest quarterback the University of Michigan has had," said Ross, a Michigan alum himself, "and I'm sure that I'm hoping, as is everyone else, that he goes down as the greatest quarterback in Miami Dolphins history -- and you know what that will mean."
I do know what that will mean.
Depending on your preferred measurement of success, Henne would have to either:
A) rewrite the NFL record book to be considered better than Marino, or

B) win three Super Bowls to be considered better than Griese. And maybe go undefeated for a season in the process.
It's way too soon to be talking like this, no?
"Henne can handle the pressure,'' Ross added. "That I can tell you. He started at the University of Michigan as a true freshman and was playing in front of 110,000 people and led them to the Big Ten championship.
"I think the Miami Dolphins have a great quarterback for the future and I think everybody in South Florida is excited about what Chad Henne brings to this team."
Ross is correct when he says Henne is the "greatest quarterback the University of Michigan has had" -- based on career stats.
There was a guy named
Tom Brady
before him. Others to pass through the program include future Pro Bowlers
Jim Harbaugh
,
Elvis Grbac
and
Brian Griese
. Pete Elliott, Benny Friedman and Harry Newman are
Michigan quarterbacks in the College Football Hall of Fame
.
Henne has a bright future ahead of him, but I don't know if Dolphins supporters are doing him -- or themselves -- any favors by ratcheting the expectations for a player with 13 starts, 12 touchdown passes and 14 interceptions in his career.
Big-play receiver
Brandon Marshall
certainly will help, but Henne still has a lot of growing to do before he should be compared with the best quarterbacks in Dolphins history.
January, 26, 2009
1/26/09
12:02
PM ET
Posted by ESPN.com's Tim Graham
New York Jets
Buffalo Bills
Miami Dolphins
New England Patriots
Christopher Price of WEEI.com takes a look at Nick Caserio's formative years. Caserio is the likely replacement for Scott Pioli as vice president of player personnel.

January, 4, 2009
1/04/09
3:05
PM ET
Posted by ESPN.com's Tim Graham
MIAMI -- Here are some Chad Pennington interception stats, courtesy ESPN researcher Mark Simon, that underscore how rare Sunday afternoon's performance against the Baltimore Ravens has been (three interceptions with 10 minutes left in the third quarter):
Pennington had thrown four interceptions in five career playoff games.
Three interceptions ties the Dolphins' record for most in a playoff game (Dan Marino, David Woodley, Jay Fiedler).
Pennington was 0-3 in postseason games in which he threw an interception.
The last time he threw three or more interceptions was Week 5 last year against the New York Giants.
In Pennington's last eight regular-season games: 234 pass attempts, three interceptions.