October, 12, 2014
Oct 12
11:55
AM ET
MINNEAPOLIS --
Chad Greenway
will miss his third consecutive game Sunday for the
Minnesota Vikings
. The linebacker, who was listed as doubtful for the game with broken ribs, is among the team's seven inactives for Sunday's game against the
Detroit Lions
.
That means
Gerald Hodges
will start for the third week in a row at weakside linebacker. Hodges has played well in spots since Greenway got hurt against New Orleans, and he, along with the rest of the Vikings' defense, could catch a break Sunday with both
Calvin Johnson
and
Reggie Bush
out for the Lions.
Detroit listed the receiver and running back as inactive for Sunday's game, and though
Golden Tate
has played well as the Lions' No. 2 receiver, the Vikings certainly have fewer contingencies to worry about as they try to slow down the Lions' offense and get to 3-3 on Sunday.
Here is the full list of the Vikings' inactives:
October, 2, 2014
Oct 2
7:20
PM ET
GREEN BAY, Wis. --
Minnesota Vikings
quarterback
Teddy Bridgewater
is officially inactive for Thursday's game against the
Green Bay Packers
.
Bridgewater
Bridgewater, who sprained his left ankle Sunday against the
Atlanta Falcons
, will sit out, as
Christian Ponder
starts for the Vikings. Chandler Harnish, who was added to the practice squad Monday and activated from it Thursday afternoon, will back up Ponder.
The Vikings will also be without linebacker
Chad Greenway
, who had been ruled out for Thursday's game with a broken rib and broken hand. There aren't many surprises among their other inactives: Defensive end
Scott Crichton
, linebacker
Brandon Watts
, guard
Austin Wentworth
, guard
David Yankey
and tight end
Kyle Rudolph
will all sit out.
There's no rain at Lambeau Field yet, though it certainly looks like precipitation is on the way. We'll see how the Vikings handle their latest set of injuries in about 90 minutes.
September, 28, 2014
Sep 28
3:25
PM ET
MINNEAPOLIS -- Cornerback
Josh Robinson
was the only
Minnesota Vikings
player who was listed as questionable for Sunday's game against the
Atlanta Falcons
. As the Vikings prepare to face the league's top-rated offense, Robinson will be on the field.
Robinson
He is active for Sunday's game after leaving last week's game early against the
New Orleans Saints
with recurring hamstring issues. Robinson will play on a day when the Vikings figure to spend plenty of time in nickel, but the fact he's active means the Vikings must be reasonably confident he'll be able to make it through the afternoon on an 81-degree day.
The Vikings also activated guard
Austin Wentworth
, whom they added to the active roster from their practice squad this week. Wentworth, who came back to the Vikings' practice squad after the team released him in early September, will be active for his first game before fifth-round pick
David Yankey
, who will sit out his fourth game. The Vikings have worked Yankey primarily on the left side of their line, and right guard
Brandon Fusco
's season-ending injury didn't do enough to get Yankey onto the active roster.
Here is the Vikings' full list of inactives for Sunday's game:
August, 16, 2014
Aug 16
12:00
PM ET
The
Minnesota Vikings
(1-0) and
Arizona Cardinals
(1-0) square off for their second preseason game on Saturday night at TCF Bank Stadium.
1. Starters to play more:
Coach Mike Zimmer said quarterback
Matt Cassel
"has a chance" to play the entire first half on Saturday night, which would suggest the Vikings plan to give their first-team offense much more playing time than they saw last Friday against Oakland. Zimmer said this week he's never placed as much importance on the third preseason game as many seem to do, so it's possible the Vikings treat this week's game as more of a dress rehearsal than next Saturday's game against Kansas City.
Adrian Peterson
still won't play, but if Cassel -- who seems like the favorite to win the Vikings' quarterback job -- gets two quarters of work with the first-team offense, we'll get a good sense of how he's handling offensive coordinator Norv Turner's scheme against one of the league's best defenses.
2. Safety dance:
The Vikings are still trying to sort out a crowded competition for the safety spot opposite
Harrison Smith
, and Zimmer said he wants to take a long look at four veterans on Saturday night:
Chris Crocker
,
Andrew Sendejo
,
Jamarca Sanford
and
Kurt Coleman
. With
Robert Blanton
still out because of a hamstring injury, and rookie
Antone Exum
having played 60 snaps last week, it stands to reason the Vikings will use the four safeties for much of the night on Saturday. It's hard to envision a scenario where all four veterans are on the roster, and Zimmer said he's hoping Saturday's game will help the Vikings establish a pecking order at the position. That pecking order could have some important consequences for a number of players.
3. Cleaning up pass protection:
Zimmer wasn't happy with the Vikings' pass protection last week, after the Raiders sacked the Vikings' quarterbacks six times and
Teddy Bridgewater
nearly lost a fumble deep in Raiders territory. The Vikings spent plenty of time focusing on protection schemes this week in practice, and though some of the blitz pickup work from their running backs looked better, the linemen were responsible for many of the sacks anyway -- especially the three that came late in the game on
Christian Ponder
. Particularly from younger players like
David Yankey
and
Antonio Richardson
, the Vikings will be looking for better results this week.
July, 29, 2014
Jul 29
8:00
AM ET
MANKATO, Minn. -- The test was not going to be difficult.
David Yankey
had taken enough U.S. history classes growing up in Roswell, Georgia, that he had little trepidation about his ability to pass an American citizenship exam. There would be a different set of emotions when he sat down to take the test this spring.
There would be pride, from having completed a journey that meant so much to his Ghanaian-born father, David, Sr. There would be a sense of community, from joining his mother and his two younger brothers as citizens of a country his family had moved to when Yankey was 8-years old. And there would be wistfulness, from imagining how happy his dad would be to see him now, a full-fledged American about to graduate from Stanford University and begin a career in the NFL.
"He loved football, and he would have loved to see that, as well," Yankey said. "But I think he would have been ecstatic to see me graduate."
[+] Enlarge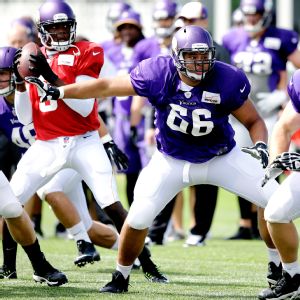 AP Photo/Charlie NeibergallDavid Yankey, who became a U.S. citizen earlier this year, was born outside of Sydney, Australia, to a father from Ghana and a mother from Czechoslovakia.
Yankey has made it now, becoming a U.S. citizen two weeks after the Vikings selected him in the fifth round of the NFL draft and two weeks before he graduated from Stanford. He's been called a possible steal in the draft, after some projections had him going in the second or third round, and he could eventually push
Charlie Johnson
for the starting left guard job. He's arrived in Minnesota, as the next stop on a rich journey that took Yankey from Australia to Georgia, then to California. His dad, though, won't be there to see what comes next. David Yankey, Sr., passed away last fall, from causes that aren't completely clear. He'd had some heart issues in the past, but had gotten himself in better shape before his unexpected death last fall.
His legacy, though, includes a son who's made his family proud.
David Yankey, Jr., was born just outside of Sydney, to a father who'd followed his brothers from Ghana to Australia for work with a foresting company and a mother who'd escaped Communist rule with her family in Czechoslovakia. They met and married in Australia, and David Yankey, Jr., grew up as the oldest of three boys, in a house crackling with linguistic diversity.
Yankey never learned any of the tribal dialects his father spoke, but his parents told him he was fluent in Slovak as a toddler. "I eventually refused to speak it, for some reason," Yankey said. "I think it was just before I could have really maintained it and kept remembering it, unfortunately."
English was the language both of his parents knew, and became the common tongue of his family. But Yankey, who lived in Australia and the Deep South, somehow didn't wind up with an accent from either place.
His family moved to the United States in 2000, when his father took a job as an IT professional. "He'd always wanted to come to the States," Yankey said. "It was always kind of a dream of his, especially growing up in Africa."
And now that he's a citizen, Yankey finds himself even more at home in the U.S. He'd always rooted for Australia during the World Cup, and nervously refrained from taking a side in the Ghana-U.S. matches during the 2006 and 2010 tournaments. But this year, after he'd become a citizen, Yankey proudly supported the U.S. team during its group stage victory over Ghana last month.
Even Minnesota has a familial feel for him. He played with offensive line coach Jeff Davidson's son, Nick, at Stanford, and Jeff Davidson's May trip to the West Coast allowed him to both visit his son and work with Yankey, who couldn't attend the Vikings' organized team activities until Stanford's classes concluded in June.
Yankey said he's happy among a veteran group of linemen, who have played together under Davidson for three seasons and combined to start 157 out of a possible 160 regular-season games the past two seasons.
"Minnesota, I think, was a really awesome place for me to end up," Yankey said. "These guys, they know so much, they do the right things, they're all pros."
His latest stop, so far, feels like a rewarding destination. And Yankey will carry with him the man who put him on his journey in the first place.
July, 26, 2014
Jul 26
8:00
PM ET
MANKATO, Minn. -- A daily review of the hot topics coming out of
Minnesota Vikings
training camp:
The Vikings' quarterbacks were more efficient on Saturday than they were in the team's first practice on Friday, though we didn't see Matt Cassel, Teddy Bridgewater and Christian Ponder take quite as many shots down the field. Cassel again took most of the first-team snaps, finishing the day 10-f0r-13 in 11-on-11 drills, while Bridgewater went 8-for-11 and Ponder was 6-for-7. Cassel had one pass broken up by Linval Joseph, who had also batted down a pass on Friday, but he did connect with Greg Jennings on a long throw that drew one of the day's biggest rounds of applause. Bridgewater and Adam Thielen, who seemed to click during the Vikings' OTAs and minicamp, were in sync again on Saturday. Three of Bridgewater's last four passes were targeted for Thielen, and the two connected on a long play-action pass late in practice. Bridgewater mostly worked with the Vikings' second team, and Ponder's snaps were with the third team.
With Munnerlyn out, the Vikings tried several different players at the slot cornerback position; rookies Jabari Price and Kendall James got some work there, as did Shaun Prater. Price got some first-team snaps and handled himself well. He said he played the slot corner position as a junior at North Carolina before moving back outside as a senior, so as the Vikings try to identify players who can handle the job in the event Munnerlyn gets hurt, Price could make his case for a roster spot that way. "It's definitely a harder job, but you can't put it on the back burner," Price said. "Other teams get those fast receivers in on third down. It's definitely a change-up for corners, but it's something that's got to be done."
Nearly a third of the Vikings' 24 completions in team drills went to running backs, and they put a particular emphasis on setting up screens for Adrian Peterson. Peterson caught one from Matt Cassel, did a masterful job of letting his blockers get out in front of him and raced down the left sideline for a big gain. By my count, Peterson was targeted with four passes, catching three. "There are times where he'll double-catch it a little bit, but most of the time, he's pretty darn good," Zimmer said. "People are afraid of his speed, which gives him some areas to go underneath or beat people to the perimeter. I think he'll be a good weapon. I think when I was in Atlanta (in 2007), he caught a (60)-yard swing pass (in his first NFL game) for a touchdown. Once he gets the ball in his hands, if it's in the open field, it's bad news." Zimmer was also impressed with Matt Asiata, who's making a strong case at the moment to be the No. 2 running back. "He's elusive," Zimmer said. "He's got a little bit of shift, a sneakiness about him the way he goes. He's been good."
For the second day in a row, the Vikings used a nickel package with three safeties, and Zimmer said he also has a three-corner, one-safety base look that he'll unveil at some point. "We're introducing them, and we'll continue to add some," Zimmer said. "We'll get to some more exotic things, I guess you'd say, later on in camp."
It seems like Norv Turner's offense will employ pulling guards more often than Bill Musgrave's scheme did; the Vikings had rookie David Yankey pulling on a number of plays. There will still be some zone blocking, but it doesn't seem like the Vikings will be as married to that style of offensive line play as they were with Musgrave.
June, 5, 2014
Jun 5
8:00
AM ET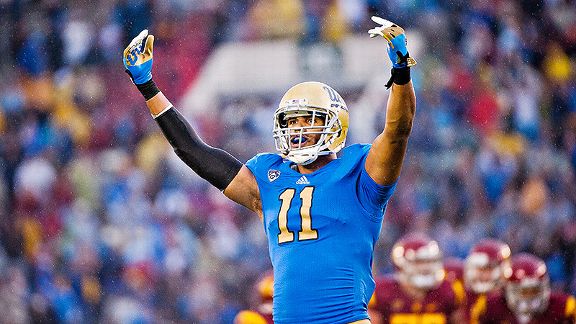 Jonathan Moore/Getty ImagesRookie linebacker Anthony Barr won't be able to work with the Vikings on a full-time basis until he graduates from UCLA later this month.
MINNEAPOLIS --
Anthony Barr
packs up the iPad the
Minnesota Vikings
gave him during their rookie camp, stakes out a spot in a UCLA campus library or in one of the football coaches' offices. He downloads the film from that day's practice, watching a team he doesn't yet feel part of and projecting where he'll fit. Several times a week, he'll plug his headphones and a microphone into his iPhone, so he can keep his hands free to run the iPad while Vikings linebackers coach Adam Zimmer talks through the film over the phone, telling Barr to imagine he is occupying the Vikings' strongside linebacker spot, rather than the player on the screen who will ostensibly be competing with Barr for playing time in training camp.
The ninth overall pick in the NFL draft can have only limited contact with his coaches and can devote only so much time to football while trying to manage the 20-credit load he's taking to finish a degree in sociology this spring. Barr had to miss several midterms in those classes in April while he was working out for teams before the draft, and he's hoping he'll be able to pass the courses without doing too much damage to his 3.0 GPA. Much of his attention, though, is on his employer 1,900 miles away.
"It kind of sucks," Barr said. "I want to be out there, but I'm not allowed to. I wish it was my decision."
This is how Barr is spending his final weeks of college, straddling the line between a degree he's trying to finish and a job he's technically not able to start, at least not completely. UCLA is on the quarters system, like three other schools in the Pac-12, and Barr won't be done with his classes until June 13. Thanks to a 1990 rule the NFL established with the help of the American Football Coaches Association, draft picks from schools on the quarters system are allowed to attend only one minicamp before their classes are done. Beyond that, they are prohibited from being on the field with their coaches, and three of the Vikings' top five picks -- Barr, Oregon State defensive end
Scott Crichton
and Stanford guard
David Yankey
-- are trying to catch up from two time zones west of Minnesota.
The Vikings are doing their best to keep the players on track -- Zimmer will make his second visit to Los Angeles on Friday, and offensive line coach Jeff Davidson will return to Stanford to work on installing the Vikings' scheme with Yankey -- but the system forces teams and rookies to be resourceful under some unique constraints. Barr's friend and former teammate, linebacker
Jordan Zumwalt
, is going through a similar process after the
Pittsburgh Steelers
drafted him in the sixth round.
"We're pretty thorough with it," Barr said. "It's been nice to have [Zimmer], so I don't feel like I'm kind of in the unknown and trying to step in when I get back. It's like I'm just one of the guys."
Barr took the winter quarter off from school while he prepared for the NFL scouting combine, but figured he would stay in school and finish his degree, rather than returning to get it later. That choice put him under the NFL's rule, which attempts to keep players focused on their studies while they're still technically in college. The rule was adopted long before the lengthy offseason programs teams now use, and Barr said it has left him wishing he had more control over how he's able to manage his time, rather than the league mandating he can only spend so much time on the phone and in meetings with Zimmer. He feels as though he's mostly up to speed on what the Vikings are doing, and probably will find a little leeway in the fact that the team's veterans are learning a new defense, too, but head coach Mike Zimmer has talked about how the Vikings have big plans for how they'll use Barr, and those plans will have to wait until minicamp and training camp to be installed on the field.
Barr plans to walk in a commencement ceremony at Pauley Pavilion on June 13, and he'll be on a plane for the Twin Cities the next day, getting to town a couple of days before the Vikings begin minicamp June 17. He hasn't had a chance to look for a house yet, and doesn't know where he'll be staying during the Vikings' three-day minicamp. "Hopefully they'll put me up somewhere the week I'm there," he said.
Those concerns, though, will be secondary to the Vikings' top pick finally getting to step on the field and start a career he's been preparing for through unusual circumstances.
"I'm looking forward to showing them who I am, how much I love the game and just making a good impression on them," he said.
June, 2, 2014
Jun 2
8:00
AM ET
MINNEAPOLIS -- In her piece published on Saturday,
ESPN's Ashley Fox argued that the NFL's offseason rules
, which were enacted to guard players' time and give them some semblance of an offseason to recover from the rigors of the previous year, have gone too far. Teams get much less time to teach players under the current collective bargaining agreement than they did before 2011. Things like offseason quarterback schools are all but dead, and coaches aren't allowed to talk football with their players until April. And now that the draft was pushed into the first week of May, there's even less time to get rookies up to speed before training camp.
[+] Enlarge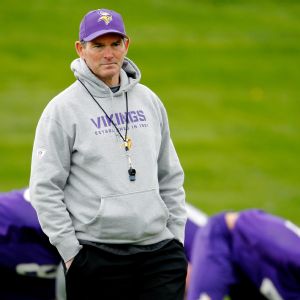 AP Photo/Ann Heisenfelt"We're still in the early stages of what we are learning but I do feel like as a team we're starting to work together a little bit better," Mike Zimmer said.
The pendulum swung that way with good intentions, but Fox raises an interesting point, particularly for a team such as the Vikings. Coach Mike Zimmer and offensive coordinator Norv Turner came in with plans to change the Vikings' offensive and defensive systems, but at the start of the Vikings' organized team activities last week, it was obvious players are still trying to digest everything. Rookie quarterback
Teddy Bridgewater
has won praise from Zimmer for his ability to pick up the scheme quickly, but he was missing from two OTAs, and the Vikings won't get three of their first five picks -- UCLA linebacker
Anthony Barr
, Oregon State defensive end
Scott Crichton
and Stanford guard
David Yankey
-- back in their building until minicamp, since all three players attend schools on the quarters system.
"It's a tremendous, tremendous value," Zimmer said of the Vikings' time at OTAs. "The things that we get a chance to work on and accomplish, being able to understand where we are supposed to be in zone coverage, how the receivers are supposed to run the routes, the timing of everything, understanding how to play blocks, how to combination blocks on offense, the calls that we make, I mean there are so many things that are so valuable. We're still in the early stages of what we are learning but I do feel like as a team we're starting to work together a little bit better."
While Zimmer has said the Vikings have enough time to get everything done, I'm sure he wouldn't refuse more time to work with players, especially younger ones. The CBA's salary structure has led teams toward younger rosters, which means coaches have to do more teaching than they would with a veteran roster, and young players have to absorb playbooks in less time than their predecessors had. The NFLPA fought hard for limits to offseason programs in the 2011 CBA, and union chief DeMaurice Smith told Fox that the current rules catered to the "lowest common denominator," being designed to curb the powers of the most obsessive coaches imaginable.
The current CBA doesn't expire until 2020, so the current system will stand for years. It's worth pointing out, though, just how much teams in situations like the Vikings' current setup have to learn in a shrinking offseason window.
"I probably haven't studied this much football in six or seven years," said linebacker
Chad Greenway
, who is adapting to a new scheme after playing his entire career in the Vikings' old Cover 2 defense. "It's been a long time. I'm always carrying that iPad and notebook around, trying to learn and ask as many questions as possible. There's a lot of things to learn, a lot of things these coaches know that come up in this scheme that hadn't come up before. They've done a good job presenting it to us, and we're trying to learn and make it right."
May, 10, 2014
May 10
7:18
PM ET
»
NFC wrap-ups
:
East
|
West
|
North
|
South
»
AFC
:
East
|
West
|
North
|
South
EDEN PRAIRIE, Minn. -- A wrap-up of the
Minnesota Vikings
' draft.
Click here
for a full list of Vikings draftees.
[+] Enlarge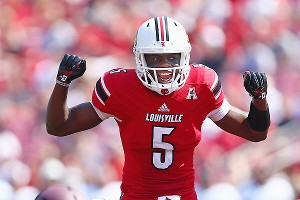 Andy Lyons/Getty ImagesQuarterback Teddy Bridgewater should have an opportunity to develop behind Matt Cassel in Minnesota's system.
Best move:
Getting
Teddy Bridgewater
at the end of the first round could turn out to be a coup for the Vikings. Minnesota gets a player who was projected as the No. 1 overall pick at one point, and they'll have extra time to work with him, thanks to the fifth-year option automatically added to his contract. Bridgewater will get a chance to develop, with
Matt Cassel
likely to start, and there won't be the same pressure to put him on the field as if he'd been a top-10 pick. The move could turn out to be a steal for the Vikings.
Riskiest move:
The Vikings' Day 2 selection of Georgia Southern running back
Jerick McKinnon
represents something of a gamble. McKinnon was a triple-option quarterback in college after starting his career as a cornerback and will need to learn the techniques of the running back position in the NFL. He drew comparisons to Brian Mitchell and
Darren Sproles
-- two diminutive weapons from offensive coordinator Norv Turner's past -- and his impressive athletic ability could make the Vikings' use of a third-round pick worthwhile.
Most surprising move:
The Vikings were still in need of more help at the cornerback position but didn't address it until the third day of the draft, on which they took three players -- Virginia Tech safety
Antone Exum
, Maine cornerback
Kendall James
and North Carolina cornerback
Jabari Price
-- in the sixth and seventh rounds. Those players will get a chance to compete for playing time, but the Vikings are still short on proven cornerbacks behind
Captain Munnerlyn
and promising second-year corner
Xavier Rhodes
.
File it away:
Stanford guard
David Yankey
was projected to go in the first three rounds of the draft but was still there for the Vikings in the fifth round. He'd been on the radar of Vikings offensive line coach
Jeff Davidson
for years after playing in college with Davidson's son, Nick, and could push
Charlie Johnson
for playing time at left guard. The Vikings' scouting report on Yankey describes him as a "classic mauler-type, typically taking big arm swipes to wear down and batter his opponent." He could eventually give the Vikings another good run-blocker to play next to
John Sullivan
and
Brandon Fusco
.
April, 17, 2014
Apr 17
12:15
PM ET
When it comes to where the
Denver Broncos
are pointing in next month's draft, ESPN draft analyst Mel Kiper Jr. has consistently said the team will keep working to upgrade its defense.
To that end Kiper has pointed the team to that side of the ball much of the time in his mock drafts thus far, and stays with that theme in
his latest as well
.

April, 3, 2014
Apr 3
12:15
PM ET
The
Tampa Bay Buccaneers
have the seventh overall pick in this year's draft after going 4-12 last season.
A wide receiver, an offensive guard and anything that would bring much-needed depth to just about any position would make a lot of sense for the Bucs.

Mel Kiper's
fourth 2014 NFL mock draft
is out on ESPN Insider today, and his choice isn't a big surprise for the Bucs. In this mock draft, Kiper chooses what he thinks each team should do, not what it will do.
To continue reading this article you must be an Insider
February, 20, 2014
Feb 20
10:15
AM ET
Like most other NFL organizations, the
San Diego Chargers
are a team that builds and maintains its roster through the draft. General manager Tom Telesco doesn't necessarily put any more value on securing impact players through the draft, versus trade or free agency.
But annually selecting rookies that can make an impact on a team's roster is important, particularly when you consider the player will be under the team's control for at least four years, likely at an inexpensive salary.

So getting detailed medical evaluations and vetting players through the intense interviewing process are the most important things for teams this week at the NFL scouting combine in Indianapolis. Of the 53 players that finished the season on San Diego's roster, 23 were secured through the draft, compared to 27 free agents, two through trades, and one claimed off waivers.
The Chargers have seven original picks in this year's draft, one in each round beginning with the No. 25 overall pick. So they will be paying close attention to the more than 330 players invited to this year's combine.
Along with evaluating draft prospects, Telesco will have an opportunity to meet with middle linebacker
Donald Butler
's representation as the Chargers try to get him signed to a multi-year deal before he hits free agency next month.
Here are five things to keep an eye on regarding the Chargers.
1. Physical cornerbacks who can turn and run:
A major area of need for San Diego is improving the overall talent and depth at cornerback. Last year's top free agent signee
Derek Cox
likely will not be back after being supplanted in the starting lineup by
Richard Marshall
. San Diego's 2013 fifth-round selection
Steve Williams
could work into the conversation at corner in 2014. The Cal product sat out his rookie year after suffering a torn pectoral muscle during preseason play. But the Chargers need to add a couple physical corners who can cover -- through the draft, free agency or trade. Some names to keep an eye on include Oklahoma State's
Justin Gilbert
, Ohio State's
Bradley Roby
and Florida's
Loucheiz Purifoy
. Those players stand out to me because of their length, athleticism and playmaking ability.
2. Edge rushers needed:
The Chargers have several veterans at this position, but you can never have enough athletes who can rush the passer. And San Diego struggled at creating consistent pressure, particularly on third down. Three guys potentially available on Day 1 of the draft who could make an impact include Missouri's
Kony Ealy
, BYU's
Kyle Van Noy
, and Auburn's
Dee Ford
.
3. A run-stuffing defensive tackle:
San Diego gave up an average of 4.59 yards per carry on defense in 2013, No. 29 in the NFL.
Cam Thomas
started the most games at defensive tackle, but will be a free agent in March.
Sean Lissemore
finished as the team's starter at the end of the season, but needs to add some bulk to effectively fill this position. San Diego could certainly use a two-gap defensive tackle to control the middle of the defense, similar to
Dontari Poe
in Kansas City. Potential candidates in the draft include Notre Dame's
Louis Nix III
, Minnesota's
Ra'Shede Hageman
, and Penn State's
Daquan Jones
.
4. Improved interior offensive line depth:
With center
Nick Hardwick
contemplating retirement and veteran guard
Jeromey Clary
a potential salary-cap causality, the Chargers need to add some depth to the interior of the offensive line. Mississippi State's
Gabe Jackson
and Stanford's
David Yankey
are the top rated guards in this year's draft. And USC's
Marcus Martin
could be the long-term answer for a team at center.
5. Add a couple explosive playmakers:
San Diego could use some help in the return game.
Keenan Allen
should not be the team's main punt returner. He's too valuable on offense. And the Chargers could use someone with some juice in the kick return game. Washington's
Bishop Sankey
, Oregon State's
Brandin Cooks
, and Oregon's
De'Anthony Thomas
makes some sense because of their ability to create explosive plays on offense and in the return game. Chargers quarterback
Philip Rivers
needs a few more weapons on offense to make his job easier, and all three of these players would fit the bill.
February, 17, 2014
Feb 17
4:00
PM ET
With the NFL combine starting Wednesday, here's a look at the Jacksonville Jaguars' positions of need on offense and which prospects the team might be looking to take a closer look at in Indianapolis. Positions of need are listed in order of importance. A look at the defense comes Tuesday.
JACKSONVILLE, Fla. -- The Jaguars have a lot of holes to fill on the roster and the next part in the process comes this week when general manager David Caldwell and head coach Gus Bradley evaluate, watch and interview prospects at the NFL combine.
Here's a breakdown of what the Jaguars need, in order, on offense and some potential targets:
Quarterback:
There's no question this is the Jaguars' top need, although pass-rusher is only slightly behind. Caldwell wants to re-sign
Chad Henne
before free agency begins next month, but Henne is a bridge player or someone who can mentor a young quarterback and begin the season as the starter if the rookie isn't ready. The Jaguars haven't completely given up on
Blaine Gabbert
, either, but he's entering the final year of his contract and it would be surprising if he were re-signed after 2014.
Potential targets:
Teddy Bridgewater
,
Blake Bortles
,
Johnny Manziel
,
Jimmy Garoppolo
,
Derek Carr
,
Aaron Murray
.
Interior offensive line:
The Jaguars have to find a center to replace the retired
Brad Meester
and a left guard to upgrade from
Will Rackley
. The Jaguars will address this area in free agency as well but the team also wants to add some young talent. The Jaguars appear set at both tackles (
Luke Joeckel
and
Austin Pasztor
) and right guard
Uche Nwaneri
has two more years remaining on his contract. He's scheduled to make $4.775 million in each year, though, and could be a cap casualty after 2014.
Mike Brewster
and
Jacques McClendon
can play guard and center but neither appears, now anyway, to be the long-term answer. It wouldn't be surprising if the team took an interior offensive lineman in the third round, especially if the Jaguars took a quarterback earlier.
Potential targets:
G
Gabe Jackson
, G
David Yankey
, G
Brandon Thomas
, C
Marcus Martin
, C
Weston Richburg
, C
Russell Bodine
.
[+] Enlarge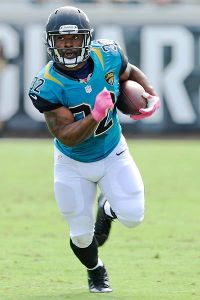 Stephen Morton/AP PhotoThe Jaguars need to find a feature back in the event they do not re-sign Maurice Jones-Drew.
Running back:
The Jaguars are more than likely going to lose
Maurice Jones
-Drew
in free agency, which leaves them with
Jordan Todman
,
Denard Robinson
,
Delone Carter
, and
Justin Forsett
on the roster. Forsett is likely going to be cut, but even if he's retained none of those players is a feature back. The Jaguars don't need to invest a high pick at this spot because good backs can be found in the later middle rounds.
Potential targets:
Lorenzo Taliaferro
,
Jerick McKinnon
,
Tre Mason
,
Lache Seastrunk
,
Dri Archer
,
Andre Williams
.
Receiver:
The Jaguars aren't planning on getting anything from
Justin Blackmon
in 2014 because they don't yet know his status, which is the correct way to approach his situation.
Cecil Shorts
is entering a contract year but has yet to stay healthy for a full season.
Ace Sanders
,
Mike Brown
,
Kerry Taylor
,
Lamar Thomas
, and
Stephen Burton
are complementary players. The Jaguars need to find a bigger, physical receiver. If they do that in free agency, this area drops to the bottom of the offensive needs list.
Potential targets:
Josh Huff
,
Odell Beckham Jr.
,
Davante Adams
.
Tight end:
Marcedes Lewis
came on strong at the end of the season and he should be a 50-catch player in Jedd Fisch's offense if he stays healthy. After Lewis, though, there isn't much.
Clay Harbor
is a flex tight end but he's a free agent and the Jaguars will have to decide if they want to re-sign him.
Danny Noble
is raw and needs more work. The Jaguars want a bigger tight end who can line up next to Lewis in two-tight-end formations.
Potential targets:
Marcel Jensen
,
C.J. Fiedorowicz
,
Crockett Gilmore
,
Jake Murphy
.
NFL SCOREBOARD
Thursday, 10/23
Sunday, 10/26
Monday, 10/27