March, 3, 2014
Mar 3
1:30
PM ET
MIAMI -- The free agency period is nearly upon us, and the
Miami Dolphins
are projected to be significant players in the open market for the second year in a row.
The fun begins on March 11 and with approximately $37 million available to spend in 2014, Miami has an opportunity to go after several top targets to plug holes on its roster.
But what is Miami's sales pitch? This is a team that is coming off a
high-profile bullying scandal
and a late-season collapse. Head coach Joe Philbin is also on the hot seat.
The Dolphins must keep the focus off the negatives when chasing free agents next week. Here are the most important things Miami has going for itself:
Money: It's no secret that money is the No. 1 priority for free agents. Players want to get paid, and the Dolphins have plenty of money to throw around. Miami is in the top five in cap room this offseason. Executive Vice President of Football Administration Dawn Aponte deserves a lot of credit for keeping the Dolphins in position to spend for the second consecutive year. Miami has well-defined needs and should go for top-level offensive linemen. The Dolphins will show free agents the money, which will definitely get some players' attention.
Location: Top-level free agents can make millions in several NFL cities next season. Why not be young and rich in Miami, one of the most glamorous cities in the United States? The Dolphins have a built-in advantage in South Florida. It's a vibrant city with ideal year-round weather. If the money is equal, the city of Miami is a good tiebreaker to have for free agents and their families.
Dolphins were .500 in 2013: Despite all the controversy and dysfunction the past several months, the Dolphins were actually one victory away from making the playoffs last season. Miami needed to beat the Buffalo Bills or New York Jets in the final two weeks and didn't get the job done. New Dolphins general manager Dennis Hickey and Philbin can pitch to free agents that the team isn't far away, and that signing a certain player could be a difference-maker.
Remember to follow
ESPN.com's Dolphins page
throughout March for all your free-agency news.
February, 21, 2014
Feb 21
4:00
PM ET
The
Miami Dolphins
can use some good news. And here it is: In less than two weeks, the Dolphins will have plenty of cap space to pursue free agents.

Look for the Dolphins to be major players for the second straight offseason when free agency opens March 11. Last year, Miami spent more than $100 million in guaranteed money for outside free agents such as
Mike Wallace
,
Dannell Ellerbe
and
Philip Wheeler
and in-house free agents such as
Brian Hartline
and
Chris Clemons
.
This year the Dolphins will have approximately $36 million to spend within the projected $130 million salary cap. That includes about $18 million
in carryover from 2013,
which trails only the
Cleveland Browns
($24.5 million) and
Jacksonville Jaguars
($19.6 million).
Dawn Aponte, Dolphins vice president of football administration, has done a masterful job with the salary cap to allow Miami to be aggressive for the second year in a row. Miami can certainly use the additional resources. The Dolphins have well-defined weaknesses, such as offensive line, cornerback and safety. Miami also has more than 20 restricted and unrestricted free agents looking for new contracts. Some will stay in Miami and some will sign with other teams.
Already in 2014 the Dolphins have gone through a GM change, coaching-staff changes and the Ted Wells report, which highlighted Miami's ugly bullying scandal. But March 11 should be an exciting time for the Dolphins and their downtrodden fan base.
January, 29, 2014
Jan 29
4:00
PM ET
DAVIE, Fla. -- The
Miami Dolphins
held their introductory news conference Tuesday evening for general manager Dennis Hickey. Unfortunately for Hickey,
Miami owner Stephen Ross
and embattled offensive tackle
Jonathan Martin
stole the show
with interesting comments
on what's gone wrong with the Dolphins the past few months.
But Hickey also had a lot to say in his first meeting with the media. Here were some takeaways and early impressions:
[+] Enlarge

AP Photo/Lynne SladkyExpect Dennis Hickey's front office to tap into computer analytics as a supplemental draft tool.

After a highly publicized fallout between coach Joe Philbin and former general manager Jeff Ireland, Ross said it was important to find a GM who can play nice and bring everyone together. "Harmony" was a word Ross used a couple of times. It was easy to see Tuesday that Hickey is a nice guy. He was excited and did not have the domineering personality we've seen from Ireland. If Hickey can handle his scouting role well and stay in his lane, it could be a good match for what Miami currently needs.

Speaking of scouting, Hickey was clear that his draft philosophy is always to select the best available player over need. A lot of personnel types like to say that, but not everyone applies it. Hickey says Miami plans to rank its top 500 players and stay true to its board on draft day.

Hickey made a quick decision Wednesday to "part ways" with former Dolphins assistant general manager Brian Gaine. Hickey is in charge of the personnel department and it's clear he wants to bring in his own people. There is the natural link that Hickey could be interested in hiring Mark Dominik, his former boss in Tampa Bay.

Something under the radar that was interesting was Hickey buys into draft analytics. This is a growing fad in NFL circles where some teams are using computer metrics to help with talent evaluation. Scouts and GMs must still trust their eyes and the game tape. However, it appears Hickey and the Dolphins' front office will tap into computer analytics as a supplemental tool moving forward.
It's time for Hickey to role up his sleeves and get to work. With more than 20 restricted and unrestricted free agents, self-scouting is an immediate task on Hickey's to-do list.
January, 28, 2014
Jan 28
6:44
PM ET
DAVIE, Fla. --
Miami Dolphins
owner Stephen Ross admitted Tuesday that head coach Joe Philbin and former general manager Jeff Ireland had a falling out last season.
This is not a surprise as various media outlets, including ESPN.com, reported a late-season power struggle developing between Ireland on one side and Philbin and vice present of football administration Dawn Aponte on the other. Ross met with both parties after Miami's 8-8 regular season and determined it was best to get rid of Ireland.
Ross spoke about the Dolphins' internal issues for the first time publicly in 2014.
"I have a lot of confidence in Jeff, he's a good friend," Ross explained. "But we need to have harmony within the organization. We have to think as one organization where everyone has respect for each other and operates with the same mindset at all times."
Miami hired new general manager Dennis Hickey from the
Tampa Bay Buccaneers
. One of the big requirements during Miami's general manager search was finding someone who can work alongside Philbin. It was clear after two seasons that Philbin and Ireland grew apart.
This is the second head coach with whom Ireland had a falling out. Ireland also had a well-publicized split with former Dolphins head coach Tony Sparano before Sparano was fired.
Philbin is 15-17 in two years in Miami. He enters an important third season. The Dolphins had a drama-filled year in 2013 and must get on the same page in order to build a consistent winner.
"I was aware of it, and a lot was written about it, I think," Ross said said of the internal strife between Miami's GM and coach. "It's something you don't address in the middle of the season. There was something I knew I had to addressed at the end of the season."
January, 27, 2014
Jan 27
7:00
AM ET
The
Miami Dolphins
' questionable structure has been a hot topic in NFL circles since they began interviews for their general manager position several weeks ago.

Multiple candidates turned down offers from the Dolphins or backed out of interviews to keep lesser jobs with other teams. A common theme has been Miami's opening isn't typical compared to most teams.
This begs the question: Do the Dolphins properly value a general manager?
It was clear Miami went into interviews pointing out that the GM will have no power over head coach Joe Philbin. Both will report directly to owner Stephen Ross, and a case can be made that Philbin currently has more pull because he's been there longer and has two years of internal knowledge.
In essence, the Dolphins were willing to settle and sacrifice the quality of GM candidates in order to protect and maintain the power of their head coach. Ross believes Philbin is the long-term solution, despite his 15-17 record.
This is not to take anything away from Dennis Hickey, who eventually took Miami's general manager position. He's spent 18 years with the
Tampa Bay Buccaneers
with mixed results and has extensive experience in college scouting, which is needed in Miami. But the fact is Hickey was not Miami's first, second or third choice and that is very telling. He probably wasn't in the Dolphins' top seven when they began putting their list together.
Right now the Dolphins appear like an organization that isn't putting enough value and power that comes with being a high-quality GM. Only time will tell if that is the right call.
January, 26, 2014
Jan 26
1:00
PM ET
MIAMI -- There is something terribly wrong with the
Miami Dolphins
. Their process of finding someone --
anyone
-- to become their next general manager should open some eyes within the organization that something internally must change.
After a long and arduous process, the
Dolphins hired Dennis Hickey
on Sunday to become their next general manager. Hickey replaces the embattled Jeff Ireland, who parted ways with the team after six seasons.
But today is not about Hickey as much as it is about the Dolphins' questionable internal structure. This is not a media creation. Multiple candidates legitimately ran away from the chance to be GM of the Dolphins. It's clear that people around the NFL are not buying how Miami wants to run its franchise.
In the past 24 hours, Nick Caserio of the
New England Patriots
and Lake Dawson of the
Tennessee Titans
, in order, were offered the job and turned it down for smaller roles with their current teams. Ray Farmer of the
Cleveland Browns
, an early favorite, took his name out of consideration Thursday night when he was closing in on the gig. At least four other high-profile candidates declined the opportunity for an interview to even hear what the Dolphins have to say.
Many didn't believe the job the Dolphins were offering was a true GM position. Hickey has no power beyond the 53-man roster. Dolphins owner Stephen Ross didn't want the GM to be above coach Joe Philbin and vice president of football administration Dawn Aponte. All three will start on equal footing and answer directly to the owner, which can create an atmosphere where factions develop and sniping can occur. That's pretty much the story of Miami's 2013 season between Ireland, Philbin and Aponte.
But Hickey is willing to take the plunge and must mesh with Philbin and Aponte. The Dolphins may try to put a good face on the situation and say Hickey was their top choice all along. Yet it's clear Hickey was not Miami's first, second or third choice. Hickey probably wasn't in the top seven when Miami's brass created its initial list. But he was the first person willing to take the job.
On paper, the Dolphins' GM position should have been a quality opening.
The Dolphins are not a rebuilding project. This is an 8-8 team with a promising young quarterback in
Ryan Tannehill
, four Pro Bowlers and
solid cap room
entering the offseason. A few good roster improvements here and there and Miami could be in playoff contention in 2014.
But the internal workings and behind-the-scenes drama in Miami made its GM position significantly less attractive. The Dolphins must look in the mirror, re-examine themselves and figure out if this is the smartest way to do business moving forward.
January, 24, 2014
Jan 24
12:31
PM ET
The
Miami Dolphins
lost one of their top choices Thursday when
Cleveland Browns
assistant general manager Ray Farmer backed out due to concerns about the team's structure.

But according to
ESPN's Adam Schefter
, Miami has moved on to interview
New England Patriots
Director of Pro Personnel Nick Caserio. Although Caserio doesn't have final say, he works closely with Patriots head coach Bill Belichick.
The biggest thing this tells me is the Dolphins are not satisfied with their current list of finalists. Miami recently paired down its list to Farmer, who backed out, Dennis Hickey of the
Tampa Bay Buccaneers
and Miami assistant GM Brian Gaine. It's not a deep or impressive list, and it appears the Dolphins may be willing to wait to see if there are bigger names out there.
Caserio is now the biggest name in this group. But you have to wonder if he would leave a stable job in New England as Belichick's right-hand man for Miami. The Dolphins told prior candidates that the GM is not the boss over coach Joe Philbin or vice president of football administration Dawn Aponte. All three would be on equal footing.
It's unknown if Miami would be willing to change that way of thinking to lure Caserio. The Dolphins don't have a lot of time left to figure out this GM situation with the NFL scouting combine looming (Feb. 19-25).
January, 21, 2014
Jan 21
1:30
PM ET
There is good news and bad news for the next general manager of the
Miami Dolphins
.
The good news is Miami has quality cap room, because the team isn't tied into a lot of contracts. The bad news is the Dolphins' next GM has plenty of important decisions to make.
The Dolphins have just 48 players under contract, which includes practice squad players and future contracts. That is the seventh-lowest total in the NFL.
Dolphins Vice President of Football Administration Dawn Aponte did a good job with the team's salary cap. Miami will enter free agency this year with some flexibility, despite spending more than $100 million in guaranteed contracts in 2013.
The Dolphins' current cap number is about $109 million, according to the Roster Management System. That is about $17.3 million under the projected $126.3 million cap for this year.
On the flip side, Miami has more than 20 restricted and unrestricted free agents. The new GM must hit the ground running in deciding which Dolphins players they want to keep and let enter the open market. The biggest decision will be star cornerback
Brent Grimes
, who made his second Pro Bowl this season and won't come cheap.
The Dolphins have well-defined needs in free agency this year on the offensive line, at running back and in the secondary.
January, 9, 2014
Jan 9
3:00
PM ET
Remember when the
New York Jets
were known as the most dysfunctional team in the NFL? That unofficial title now belongs to the
Miami Dolphins
-- the South Beach circus.

Mangini
Turns out the
Richie Incognito
-
Jonathan Martin
bullying scandal was only the start of the Dolphins' woes. These days, they're making news with a fractured front office that makes the Christie administration look like the honor society. It might be safer to swim with sharks than to work for the Dolphins. Then again, it's kind of the same thing.
"A lot of politics," a person familiar with the situation told me.
General manager Jeff Ireland, who failed to make the playoffs in any of his six seasons, agreed to part ways with the team this week after losing a power struggle with coach Joe Philbin, according to reports in South Florida and elsewhere. Funny thing is, there's a greenish tint to the entire mess -- meaning links to the Jets.
One of the biggest sharks in the Miami tank apparently is Dawn Aponte, the executive vice president of football administration -- a former underling of ex-Jets general manager Mike Tannenbaum. Aponte
reportedly
stabbed Ireland in the back, formed an alliance with Philbin and worked her way into the inner circle of owner Stephen Ross.
Ross, a super wealthy businessman who lives in New York, has a curious affinity for former Jets. He recently named Jets Hall of Famer Curtis Martin to his "Bully Board" -- an advistory committee that was formed in the aftermath of the Incognito-Martin controversy. In addition, one of Ross' most trusted advisors is Matt Higgins, former team president of the Jets.
You can't make this stuff up.
Dolphins team reporter James Walker does a nice job of outlining the Dolphins-Jets parallels
on his blog.
It's a must-read.
So now the Dolphins are looking for a new general manager, and the names being reported in the South Florida media include Tannenbaum and former Jets coach Eric Mangini, currently an offensive consultant for the
San Francisco 49ers
. Once upon a time, Tannenbaum rose to power in the Jets' organization when he convinced owner Woody Johnson to hire Mangini away from Bill Belichick. The Tannenbaum-Mangini alliance ruled the Jets for three years. When Mangini was fired, and hired by the
Cleveland Browns
, he brought along an up-and-coming star in the front office.
Aponte.
This would be a great reality show, wouldn't it?
January, 8, 2011
1/08/11
2:49
PM ET
I only kissed her, and that's as far as it went.
I didn't inhale.
We did not offer Jim Harbaugh a contract or reach out to Bill Cowher or Jon Gruden.
[+] Enlarge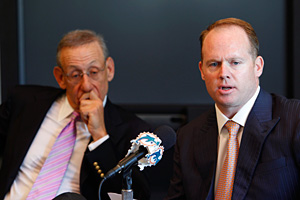 AP Photo/Wilfredo LeeDolphins owner Stephen Ross, left, and general manager Jeff Ireland spoke Saturday at the team's training facility in Davie, Fla.
I've seen enough episodes of "Maury" to know these sorts of declarations rarely hold up.
Tony Sparano said the Dolphins were in "a happy place" after a week of embarrassment and agitation. The
Miami Dolphins
announced Saturday that they were going to stick with Sparano as their head coach -- and gave him an extension through 2013 -- after a disastrous flirtation with Stanford head coach Jim Harbaugh.
Dolphins owner Stephen Ross, general manager Jeff Ireland and Sparano held a media roundtable in their board room to clear the air and give their side of the story. Much of what they said sounded like spin, but they also debunked some erroneous media reports about their pursuit of Harbaugh.
Ross and Ireland admitted they jetted cross-continent to meet Harbaugh without telling Sparano. Ross said he was na´ve to think he could get away with pursuing Harbaugh -- just like that hidden camera and the hot-to-trot decoy in Maury's green room -- without the nation finding out.
Ross insisted he didn't make a contract offer to Harbaugh. ESPN's Chris Mortensen reported
Ross was "willing" to make Harbaugh one of the NFL's richest coaches
with a deal between $7 million and $8 million. Ross claimed during the meeting he advised Harbaugh to stay at Stanford, which makes Ireland's presence even more curious.
Ross also was emphatic that no one within the Dolphins organization contacted Cowher or Gruden. Within seconds of Ross voicing that contention, Miami Herald reporter Jeff Darlington, who was seated at the media roundtable, tweeted
"I have multiple sources who will refute that."
NFL Network reporter Jason La Canfora also added he had sources that told him the Dolphins did reach out to Cowher and Gruden. Mortensen previously reported the Dolphins had done so.
Perhaps Ross was dealing in semantics. His close friend is former
Kansas City Chiefs
executive Carl Peterson, who has been an adviser since Ross took over the Dolphins and has helped him in ancillary business endeavors. Peterson technically doesn't hold a position within the Dolphins organization. Or maybe the Dolphins didn't specifically speak with Cowher or Gruden, rather with their agents to gauge their interest level.
But for the sake of discussion, let's assume Ross is being genuine in his assertion the Dolphins didn't contact Gruden or Cowher.
That, to me, would make him look worse.
The Dolphins would have you believe they were going to stick with Sparano or dump him for Harbaugh only. If a team has identified that it needs to upgrade its coach, then why not explore all viable options?
Ross said Peterson wasn't on the flight to see Harbaugh as reported. Ross also explained the meeting he had agreed to and then canceled with former
Cleveland Browns
and
New York Jets
head coach Eric Mangini. Ross said Mangini asked to meet about a non-coaching capacity through Dolphins capologist Dawn Aponte, who came from the Browns.
The Dolphins will go through a healing process in the coming months.
They'll need to set aside their differences and get ready to evaluate prospects at the Senior Bowl and then the NFL scouting combine. They'll need to work together through free agency. They'll need to be on the same page at the draft.
The Dolphins fully expect to move past this. But so often these fractured relationships simply don't have a happy ending.

NFL SCOREBOARD
Thursday, 9/18
Sunday, 9/21
Monday, 9/22
WEEKLY LEADERS