February, 18, 2014
Feb 18
3:55
PM ET
Chicago plans to stick to its base 4-3 defense, according to a story posted
on the team's official website
, and that falls in line with what league sources have said all along about the team's future, despite recent additions of coaches with 3-4 backgrounds.
At the conclusion of the regular season, rampant speculation circulated about the possibility of the team moving to a 3-4 front after the Bears put up historically horrid numbers during a 2013 season in which they surrendered the most yards (6,313), points (478), and rushing yards in franchise history and rushing yards (2,583). But the club refused to tip its hand as to plans for the 2014 season.
"I can say this: We know we have the coaching ability to move scheme," Bears coach Marc Trestman said when asked specifically about a potential switch to a 3-4. "We have that kind of intellect in this building. I've said this early on: We're not looking to put a square peg in a round hole. [General manager] Phil [Emery] is going to do everything he can to give us the best possible players. I don't know. Everything is on the table in terms of a discussion. Once we get an evaluation from inside-out of what our players can do, then we'll move forward with what we can do with them schematically. Part of our decisions and how we move forward schematically will be based on the players that are in our locker room."
Trestman's last remark explains why the Bears plan to stick to a 4-3 front: those types of players are what the team has in terms of personnel. Switching over to a 3-4 front would require the Bears to spend at least one entire offseason bringing aboard players that fit that scheme.
The club's acquisition of former Jaguar
Austen Lane
on Tuesday provided further evidence of the team's plans to stick to a 4-3. That's not to say the Bears won't experiment. The addition of defensive line coach Paul Pasqualoni and linebackers coach Reggie Herring gives the Bears flexibility if they decide to try different looks based on their backgrounds in 3-4 defenses.
"It's a matter of being to utilize the people that we have and be ready to do whatever it's going to take with a system that's flexible enough to do it," Trestman told the team's official website. "It's making sure we have a scheme that can utilize our players and bring the best out of them."
Obviously one component of that might involve the Bears veering away some from the defense brought to the team by former coach Lovie Smith. So while it's likely Chicago will continue to run some elements of Smith's system, it's also expected that the Bears will become more multiple to prevent opponents from catching on to what they're doing on a game-by-game basis.
"We want to be very stout and physical in the run game and then in the passing game be able to pressure with four guys," Bears defensive coordinator Mel Tucker told ChicagoBears.com. "Our pressure packages will fit our personnel and be dynamic enough where we can play to guys' strengths and be unpredictable."
September, 1, 2013
9/01/13
4:25
PM ET
A look at the current incarnation of the St. Louis Rams defense and specialists, where reinforcements may be needed and how the depth chart could look when the season begins.
Defensive ends (5):
Chris Long
,
Robert Quinn
,
William Hayes
,
Eugene Sims
,
Gerald Rivers
Long and Quinn are the starters and the pass-rushers around whom the entire defense revolves. Hayes and Sims are valuable backups with the versatility to play inside and come in on running downs. All four will get plenty of playing time, and possibly even be on the field together at times. Rivers is a promising youngster who earned a spot with a strong camp, though he seems the most likely candidate to be inactive on game days, at least initially. The Rams are all set here as this is probably the strongest position on the team.
Defensive tackles (4):
Michael Brockers
,
Kendall Langford
,
Jermelle Cudjo
,
Matt Conrath
Brockers and Langford handle starting duties and will get the bulk of the work, though the Rams do like to use a rotation along the defensive line. Cudjo is still coming back from a foot injury, but he played in the preseason finale and would be first off the bench on the inside. Conrath is healthy and added bulk in the offseason. His size and strength makes him a promising player for the future, but it remains to be seen where he'll contribute aside from special teams this season. Again, the Rams seem pleased with what they have at this position.
[+] Enlarge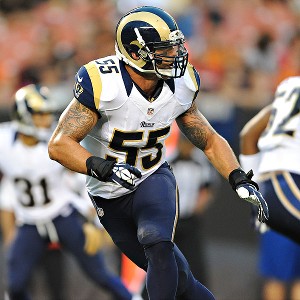 David Dermer/Diamond Images/Getty ImagesMiddle linebacker James Laurinaitis will again run the Rams defense, and now will have help from rookie Alec Ogletree.
Linebackers (6):
James Laurinaitis
,
Will Witherspoon
,
Alec Ogletree
,
Ray-Ray Armstrong
,
Daren Bates
,
Jonathan Stewart
Laurinaitis runs the defense from his middle linebacker spot, and he's got a running mate now in the rookie Ogletree. Those two will start and figure to stay on the field for all three downs. Witherspoon steps in for the suspended
Jo-Lonn Dunbar
and offers the Rams a sound, veteran presence on a unit that doesn't have much. Behind the starters, the Rams have three, count 'em three, undrafted rookies providing the depth. Armstrong has shown particular promise on the outside, while Stewart provides some backing for Laurinaitis. Bates projects as a core special-teams player, an area Armstrong also will contribute. The lack of experienced depth until Dunbar gets back won't be an issue so long as the Rams have good health the first quarter of the season. It still wouldn't be a shock if they made a tweak or two to this position before opening day.
Cornerbacks (5):
Cortland Finnegan
,
Janoris Jenkins
,
Trumaine Johnson
,
Brandon McGee
,
Quinton Pointer
Finnegan and Jenkins return for a second run in the starting roles and Johnson again figures as the third corner in nickel situations on the outside, with Finnegan moving into the slot. McGee played well in camp before getting banged up late, slowing his progress a bit. He's the fourth corner. Pointer brings some versatility in that he can play safety in a pinch and contribute on special teams. Unless an obvious upgrade appears on the waiver wire, this is another spot that seems pretty secure.
Safeties (5):
T.J. McDonald
,
Rodney McLeod
,
Darian Stewart
,
Matt Giordano
,
Matt Daniels
McDonald has one starting spot secured. The other one looks like it will be McLeod, at least for the time being as Stewart nurses a hamstring injury. McLeod has probably done enough to earn the job on a full-time basis, though. Stewart and Giordano give the Rams some much-needed experience for a young group, but both have had injury issues throughout camp and it's uncertain when they'll be available. Daniels closed the preseason with a flourish, helps on special teams and figures to contribute in a variety of ways. The uncertainty surrounding the health of Stewart and Giordano, combined with the inexperience of McDonald, McLeod and Daniels, could have the Rams looking for upgrades here as well.
Specialists (3):
LS
Jake McQuaide
, P
Johnny Hekker
, K
Greg Zuerlein
This young trio has been locked into its spots since the start of camp. The Rams hope this group performs well enough to hold the jobs down not only for this season but many in the future.
August, 7, 2013
8/07/13
8:00
AM ET
The
Miami Dolphins
continued their trend of handing out big contract extensions this week. Miami signed starting safety
Reshad Jones
to a
four-year, $30 million extension
. Jones now is under contract through the 2017 season.
Miami spent more than $200 million in total contracts this offseason. However, Jones initially was not one of those players the team rewarded. After some early tension, which included Jones considering a holdout, general manager Jeff Ireland stayed true to his word and eventually took care of Jones.
"We've been working on this since OTAs [organized team activities]," Jones explained Tuesday. "They said they would get it done, and like I said they went out and got it done. So that's a thanks to [owner] Stephen Ross, Jeff Ireland, Coach [Joe] Philbin and this whole organization for making this possible."
Now that Jones is financially secure, he can fully turn his attention to football. Jones had a career year in 2012 when he recorded 94 tackles, 4 interceptions, 2 forced fumbles and a sack. He was one of Miami's few playmakers on defense last season.
This year Jones, 25, is thinking big. He's already one of the top young safeties in the NFL. But Jones' goal this year is to be mentioned among the very best at his position.
"The sky is the limit," Jones said Tuesday. "I think I went out last year and demonstrated that I'm one of the elite safeties in this game. I just want to be consistent, continue to keep doing what I'm doing and be a leader on this team."
The Dolphins could certainly use another big year from Jones. For the first time in years, Miami enters the season with a lot of preseason hype and playoff expectations.
Jones came to Miami as a fifth-round pick in 2010. But he quickly established himself with the Dolphins and became a full-time starter one year later. Once Jones was put in the starting lineup, it was clear that he was a keeper.
It's rare that a fifth-round pick becomes one of the highest-paid players at his position after just three seasons. But Jones proved himself on the field and the Dolphins are showing confidence that his stellar play will continue.
"It feels even better, knowing that I had to work for it," Jones said of his road to the big extension. "When you have to work for whatever it is, I think it's more rewarding. So it feels good knowing that I went out, proved myself and I earned it, it wasn't just given to me."
November, 25, 2012
11/25/12
4:07
PM ET
MIAMI -- Here are some thoughts on the
Miami Dolphins' 24-21 victory
over the
Seattle Seahawks
:
What it means:
The Dolphins improve to 5-6 and snapped a three-game losing streak. Seattle is a tough team that owns victories over the
New England Patriots
and
Green Bay Packers
. So this victory by the Dolphins counts as one of the best of the season. It shows the Dolphins are not going to lie down the rest of the season and are still mathematically in the playoff hunt. At the very least, Miami has something to play for in December.


Tannehill edges Wilson:
Sunday's game presented an underrated battle of rookie quarterbacks. Seattle third-round pick
Russell Wilson
showed his athleticism and elusiveness. He threw for 224 yards, two touchdowns and rushed for an additional 38 yards.
Ryan Tannehill
overcame some early adversity and showed mental toughness. He threw for 253 yards, one touchdown and an interception. But Tannehill did his best work on the final drive by getting Miami in field goal position. Dolphins kicker
Dan Carpenter
nailed a 44-yard field goal to end the game. Tannehill improved to 1-1 against fellow rookie quarterbacks this season. He lost to
Andrew Luck
of the
Indianapolis Colts
in October.
AFC East flashback:
Former
New York Jets
tailback
Leon Washington
stuck it to his former rival with a big play in the fourth quarter. Washington returned a kickoff 98 yards for a touchdown. Washington played many games in Miami as a member of the Jets and probably enjoyed producing against his former division rival.
Run defense returns:
Miami's usually stout run defense has fallen off in recent weeks. But the Dolphins made it a point to stuff Seattle tailback
Marshawn Lynch
. The Dolphins held Lynch to just 46 yards on 19 carries.
What's next:
The Dolphins continue their toughest stretch of the season. Next week they host the reigning AFC champion Patriots (8-3) at Sun Life Stadium.
November, 18, 2012
11/18/12
5:11
PM ET

All week, the
New York Jets
have
been a train wreck
.
It started last Sunday with an embarrassing loss to the
Seattle Seahawks
. Later in the week, anonymous
players ripped backup
quarterback
Tim Tebow
, who seemed like an odd target for the team's struggles.
Then, Jets owner Woody Johnson laid down the gauntlet by saying what the Jets are
doing is unacceptable
.
"I didn't sign up for a 3-6 season," the Jets boss said bluntly.
This all had the makings of another Jets implosion. Instead, New York set aside its various distractions and picked up a 27-13 victory over the
St. Louis Rams
.
Jets quarterback
Mark Sanchez
was an efficient 15-of-20 passing for 178 yards and a touchdown in the win. New York's defense forced three turnovers.
New York improved to 4-6 and ended a three-game losing streak that spanned 35 days thanks to a bye. More importantly, the Jets jumped from fourth place to second place in the AFC East via tiebreakers and kept their slim postseason hopes alive.
The Jets versus the
New England Patriots
is one of the NFL's great rivalries -- and it is much better when something is at stake for both teams.
Sunday's win by the Jets makes Thanksgiving's nationally televised home game against the rival Patriots more meaningful. For New England, it's a chance to put the final nail in the coffin on New York's season. That is something the Rams failed to do. For the hosting Jets, it's a chance to stay alive in the wild-card chase and perhaps close the gap with the Patriots in the AFC East.
A loss to the Rams this weekend would not have made that possible. The Jets would've been 3-7, floundering and with nothing to play for. New York's win at least gives the Jets some much-needed confidence and motivation. The Jets played the Patriots extremely tough at Gillette Stadium during a 29-26 loss in Week 7.
After Sunday's game, Johnson had nicer words for his team.
"Nice team win in St. Louis today,"
the Jets' owner tweeted
.
Here are some other AFC East notes from Week 11:
The Buffalo Bills and Miami Dolphins are also 4-6. Therefore, no team in the division is mathematically eliminated. But the Bills have the easiest schedule of the three teams. Only two of Buffalo's final six games are against teams currently with winning records. The Bills have a shot to win many of these games if they get hot at the right time. They have a huge game next week against the Colts, who currently hold a wild-card spot in the AFC.
The Dolphins' playoff hopes look all but over after their Thursday night loss to the Bills. They play three consecutive postseason contenders. Miami will host the Seahawks (6-4) next week, followed by the Patriots and San Francisco 49ers. I think, at best, Miami finishes 1-2 in this span and falls out of contention. But there is also a good chance the Dolphins drop all three games.
It was interesting to see former Miami quarterback Chad Henne light up the Houston Texans on Sunday for four touchdowns. Henne replaced starter Blaine Gabbert and threw for 354 yards in an 43-37 overtime loss. This game has dual meaning for the AFC East. First, the Dolphins gave up on Henne after four inconsistent years. They drafted rookie quarterback Ryan Tannehill and moved on. Second, Houston is one of the biggest threats to New England in the AFC. But the Texans showed a lot of holes in a pass defense that New England and quarterback Tom Brady could exploit. The Patriots will host the Texans on Dec. 10 on "Monday Night Football." There is also a good chance both teams will meet in the playoffs on the road to the Super Bowl.
November, 9, 2012
11/09/12
1:30
PM ET
»
NFC Final Word
:
East
|
West
|
North
|
South
»
AFC
:
East
|
West
|
North
|
South
Here are five nuggets of knowledge for Week 10:
Spiller Time:
If the
Buffalo Bills
have any chance of pulling off a monumental upset of the
New England Patriots
, the Bills must get
C.J. Spiller
involved. Spiller is Buffalo's most dynamic player, but doesn't get enough touches. He leads the NFL with 7.2 yards per attempt, but only had six carries in last week's loss to the
Houston Texans
. Spiller is a threat to take it to the house every time he touches the football. New England's defense must account for him.
[+] Enlarge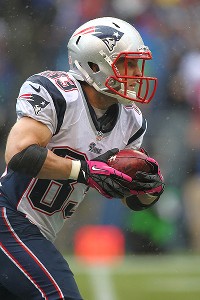 AP Photo/Jon FerreySeveral injured Patriots, including Wes Welker, were helped by the bye week.
Healthy returns:
The bye week helped the Patriots with several injuries. Receiver
Wes Welker
(ankle) and cornerback
Kyle Arrington
(head) were injured in a win against the
St. Louis Rams
. Pro Bowl guard
Logan Mankins
(hip) and tight end
Aaron Hernandez
(ankle) didn't play in the game. The time off should help the Patriots get back most of these key players Sunday against Buffalo.
New and improved Tebow:
The
New York Jets
said that during the bye week they would figure out how to get backup quarterback
Tim Tebow
more involved in the offense. New York (3-5) plans to unleash more Tebow in a tough road game against the
Seattle Seahawks
. Tebow has been mostly a dud in the first eight games. He hasn't done much on offense, but successfully converted on several fake punts on special teams. On Sunday we will see what the Jets came up with.
Rookie vs. Rex:
Jets head coach Rex Ryan is a longtime defensive coordinator who has made a habit of battering rookie quarterbacks. Look no further than
Miami Dolphins
rookie quarterback
Ryan Tannehill
, who lost his first meeting against the Jets and was knocked out of the second game in the first quarter. Ryan's defense gets another rookie this weekend in Seattle's
Russell Wilson
. Expect plenty of blitzes and exotic looks to confuse and get in the face of Wilson, who has won five games this season. The Jets' best chance to pull the upset is to stop the run and bring the kitchen sink at Wilson to see if he can beat New York with his arm.
Quick turnaround:
The Dolphins (4-4) have an important two-game stretch that could determine their season. Miami hosts the
Tennessee Titans
on Sunday and travels to play Buffalo on Thursday. The Dolphins have a chance to take two winnable games in five days. The Dolphins could quickly be 6-4 if they take care of business. Miami also could be 4-6 if it loses focus.
October, 26, 2012
10/26/12
11:00
AM ET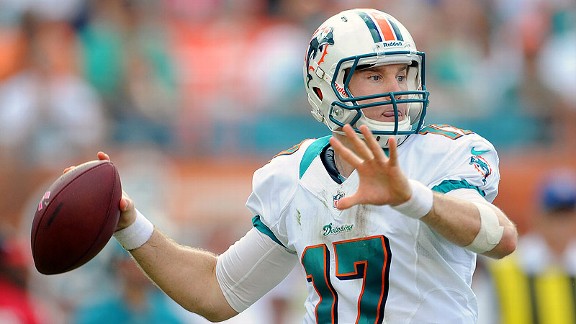 Ronald C. Modra/Sports Imagery/Getty ImagesSince struggling Sept. 23 against the Jets, Ryan Tannehill has put together three solid games.
DAVIE, Fla. --
Miami Dolphins
running back
Reggie Bush
walked into the media room with a smirk on his face Wednesday.
"Packed house," Bush said with a grin. "I wonder why."
Miami rookie head coach Joe Philbin entered minutes later and also noticed a larger-than-usual media corps. It was quiet confirmation that the Dolphins finally are doing something right.
It's been four years since the Dolphins have been this interesting. That was 2008, when former coach Tony Sparano led Miami to an unexpected 11-5 season and an AFC East title.
Since then, the Dolphins have pretty much been a bad punchline. This summer alone, Miami had to slog through a winless preseason and handle the
Chad Johnson
fiasco on national television during HBO's "Hard Knocks." A 1-3 start to the regular season also didn't help things.
But the Dolphins are suddenly interesting again. They have won two straight with a talented rookie quarterback (
Ryan Tannehill
) and a physical defense. Many now are wondering whether Miami is just a flash in the pan or potentially a surprise team in the second half of the season.
The Dolphins (3-3) are at a crossroads, and Sunday they travel to MetLife Stadium to face the rival
New York Jets
(3-4). This matchup will greatly affect the direction of both AFC East teams.
"It's a big game," the usually calm Philbin said. "No question about it."
Added Jets coach Rex Ryan, "It's a huge game for both teams. If it's said otherwise, it's not true, because nobody believes it. Everybody knows how huge this game is."
Is Miami a contender or pretender?
This rebuilt Miami team wasn't expected to compete for a playoff spot in 2012. But the division is mediocre and so is the AFC, and suddenly the wild-card spots are wide open for any teams that can get hot.
[+] Enlarge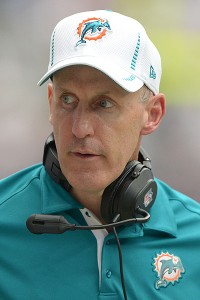 Kirby Lee/Image of Sport/US Presswire"It's a big game," Dolphins coach Joe Philbin said of Sunday's matchup with the Jets. "No question about it."
The veteran Jets have been there before. They went to back-to-back AFC title games in 2009 and 2010. It's the younger, less experience Dolphins who have to prove they are legit.
This is a golden opportunity for Miami to bury the Jets and send them packing for the season at 3-5. That is a record New York most likely cannot recover from, especially with its best player (
Darrelle Revis
) and No. 1 receiver (
Santonio Holmes
) lost for the season.
If the Dolphins are legit, they won't let New York "ground and pound" their defense. Miami's run defense is fifth in the NFL, and another good performance would force the New York to go to its air attack and quarterback
Mark Sanchez
.
If the Dolphins are legit, they will establish Bush and their ground game on the road against a Jets defense ranked 30th against the run. The combination of running well and stopping the run has kept Miami in nearly every game this season.
If the Dolphins are legit, Tannehill will continue to show improvement after the bye. He struggled against New York's defense in the first meeting, throwing for just 196 yards and a costly pick-six. But Tannehill's quarterback ratings in three games since have been 86.5, 92.3 and 112.0.
"I think he's steadily improved each and every week," Dolphins guard
Richie Incognito
said. "He's done a really good job knowing what the defense is trying to do to us and putting us in the right protections and the right run calls."
There are no excuses for the Dolphins, who have had two weeks to rest and prepare for their biggest rival. Miami nearly beat the Jets in overtime in the first meeting, and the Dolphins have seen enough tape to adjust to what went wrong.
Unlike the Jets, the Dolphins have been very fortunate with injuries and will enter this game virtually at full strength. Cornerback
Richard Marshall
(back) is the only player not expected to be available on Sunday. The Jets have injuries at linebacker (
Bart Scott
), defensive line (
Sione Pouha
,
Kenrick Ellis
) and running back (
Bilal Powell
and
Joe McKnight
).
A caveat might be the trash talking and emotion. These rivals simply don't like each other. The back and forth between Dolphins players such as Bush and center
Mike Pouncey
and Jets players such as
LaRon Landry
and
Aaron Maybin
have made for a fun week. Landry has gone as far as to guarantee a win for the Jets.
Whether the trash talking leads to rough play remains to be seen.
"I go back to the game I saw on September 23 (and) it was a hard fought game by both teams," Philbin said. "I didn't think it was a dirty game. Players played hard and I suspect that will be what happens this time around."
The Dolphins have another thing going for them: Miami has never been swept by the Jets under Ryan. The Dolphins will be motivated not to let their biggest rival accomplish that feat.
"We know who we're playing. This is a good football team," Ryan said. "The fact that we've never beat them twice, that kind of gives us energy. The fact that we can go 3-1 in our division with two wins over Miami, that would be huge. So we see it as a real possibility."
If the Dolphins are truly a contender, they will win this game and position themselves to make a push in the second half of the season. On the other hand, a loss by the Dolphins would throw them back in the pack of mediocre, sub-.500 teams.
It's time for Miami to make its choice.
October, 18, 2012
10/18/12
9:10
AM ET


When the
New York Jets
play the
New England Patriots
, there is always potential for something over-the-top coming from the Jets' locker room.
The latest is from Jets linebacker
Calvin Pace
. He gave a backhanded compliment to the Patriots' No. 1-ranked offense, calling it "borderline illegal."
"It's borderline illegal, because sometimes the guys aren't always set when they snap the ball," Pace told
ESPNNewYork.com
. "But it's smart. Why not hurry a team up? I wish we would do it. For a defense, it just puts pressure on you."
I've watched the Patriots all season, and there is nothing illegal about their offense. The Patriots line up fast and get the play in by using one-word terminology.
New England's offense is lethal, not illegal. The Patriots got the idea from the Oregon Ducks, and have implemented a college scheme that's working in the NFL. New England is ahead of the curve and perhaps providing a glimpse into the future of a scheme and tempo that more teams eventually will use.
For now, the Patriots are the only team that can play at this tempo for four quarters. It takes a smart quarterback (
Tom Brady
) and all 11 players on the same page. New England has mastered it.
Just because it's unusual doesn't mean it's illegal.
August, 20, 2012
8/20/12
11:29
PM ET
The
New England Patriots
rested many of their key players against the
Philadelphia Eagles
on "Monday Night Football." The Eagles won the game,
27-17
.


Here are some notes and observations:
Healthy scratches:
Monday's marked the second of three games the Patriots play in a 10-day span. That is why New England coach Bill Belichick chose to rest many of his veteran players, including quarterback
Tom Brady
, receiver
Wes Welker
, defensive tackle
Vince Wilfork
and tight end
Rob Gronkowski
. The Patriots are the reigning AFC champions and do not need much preseason work.
What I liked:
It was a decent showcase for Patriots backup quarterback
Ryan Mallett
. He received a surprise start over
Brian Hoyer
Monday and took advantage of the opportunity. Mallett showed off his big arm and completed 10 of 20 passes for 105 yards and a touchdown against Philadelphia. Mallett held his own against Philadelphia's first-team defense in the first half. He also played some in the second half. Hoyer struggled, going 5-for-17 for just 55 yards and a lost fumble.
What I didn't like:
The running game wasn't nearly as impressive as last week.
Shane Vereen
got the start after a stellar preseason opener. But Vereen didn't do much, recording just 20 yards on 10 carries.
Stevan Ridley
also had mediocre numbers, rushing for 25 yards on 10 carries. The running lanes clearly were not as big without the threat of Brady, Gronkowski and Welker in the passing game.
Spikes produces:
Linebacker
Brandon Spikes
showed why New England projects him to start this season. Spikes was productive and had four tackles, including a big hit in the first quarter on Eagles Pro Bowl running back
LeSean McCoy
. Spikes can be a factor for New England if he can only stay healthy. He's been in and out of training camp this summer.
What's next:
The Patriots have a short turnaround. They will play the
Tampa Bay Buccaneers
on Friday for their annual "dress rehearsal" in preparation for Week 1 of the regular season.
January, 19, 2012
1/19/12
12:47
PM ET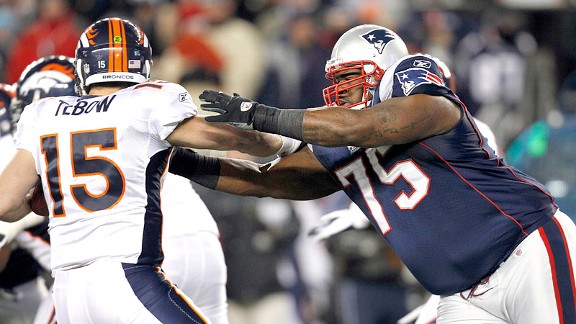 AP Photo/Elise AmendolaVince Wilfork, right, and the Patriots' defense dominated Saturday's playoff game against Denver.
Trick question: Which team has the top-rated defense in the NFL playoffs? If you answered the
New England Patriots
, you are correct.
The much-maligned Patriots' defense had the best performance of the playoffs thus far in a 45-10 win against the
Denver Broncos
. A group that was mostly on its heels during the regular season attacked Denver and quarterback
Tim Tebow
, allowing just 252 total yards. Whether the one-game performance was a fluke or a sign of things to come is a subject of intense debate.
We will find out Sunday when the Patriots host the
Baltimore Ravens
in the AFC Championship Game. When it comes to defense, the Patriots stand out in a group that includes the Ravens, the
San Francisco 49ers
and the
New York Giants
in the conference championships. Baltimore and San Francisco were both top-four defenses. The Giants were injured on defense all season, but are finally healthy and playing like the talented unit most expected.
According to ESPN Stats and Information, New England is trying to become, by far, the worst-rated defense ever to win a Super Bowl. New England was ranked 31st in total defense in the regular season. Only the
Green Bay Packers
-- who were 15-1 but one-and-done in the playoffs -- were worse. Is this Patriots' defense good enough to win a championship?
"Everyone is real easy to jump on the Patriots' defense and say they're so terrible and they can't win a Super Bowl being this bad. But I don't agree with that," said Matt Williamson of Scouts Inc. "I don't think it's great. It's clearly the worst defense still in the playoffs. They allow all these passing yards, but they don't allow that many points, and that's more important."
The Patriots continue to challenge the longstanding theory that "defense wins championships." The past three Super Bowl champions -- Green Bay, New Orleans and Indianapolis -- were led by dynamic offenses. But this season, defense is making a comeback.
The Patriots have the best offense and worse defense remaining in the field. Yet, they are the odds-on favorite to win the Super Bowl.
"Big defenses will stand up in playoff situations. So it's still relevant," NFL analyst Steve Young explained in a conference call this week. "It's just not quite as relevant as the old days in my mind. It's a big deal, and I think the Giants and 49ers playing each other is interesting, because [they have] two really great defenses. The Patriots will have to be proven wrong, that they can't go the distance in this pass-happy era. ... I think the question is going to be answered on the field. Phenomenal offense against a great defense and we'll see in this era who can pull off championship football."
The matchup between Baltimore's offense and New England's defense is an intriguing one. Both groups have been the weaker links of their respective teams. With Baltimore's passing game inconsistent, the key to slowing the Ravens will be corralling Pro Bowl running back
Ray Rice
. In many ways, Rice is to Baltimore what quarterback
Tom Brady
is to New England. Rice led the Ravens in rushing (1,364) and receptions (76). Patriots head coach Bill Belichick usually attempts to take away an opponent's best weapon and force a team to win with its second and third options. Similar to last week, expect New England to gear up heavily against the run and see if Baltimore can keep up with New England's high-powered offense by passing the football.
But stopping Rice won't be easy. He had six 100-yard rushing games this season, including 204 yards against the
Cleveland Browns
and 191 yards against the
Cincinnati Bengals
.
"I'll tell you what, he's probably one of the toughest guys to bring down in this league because he always keeps those wheels spinning," Patriots Pro Bowl defensive lineman
Vince Wilfork
said. "He always comes up with big plays for his team, if it's in the pass game or the running game. When you have a running back like that, you can do anything with him. I think the Ravens do a good job of using him. That's first on our list, we have to slow him down if we want to be successful as a defense."
If things go as planned for New England, there will be a lot of pressure on Ravens quarterback
Joe Flacco
to keep up. Flacco's performances in the playoffs have been inconsistent. Last week he completed just 14 of 27 passes for 176 yards in a 20-13 win against the
Houston Texans
. Flacco also was sacked five times. That also happens to be the same amount of sacks New England registered against Tebow last week. You also cannot ignore the "Brady Factor" when talking about New England's defense. The future Hall of Famer is playing some of the best football of his career, and is coming off a six-touchdown performance against Denver, which tied a playoff record.
New England's high-scoring offense is averaging 40.5 points in the past four games and has complemented the defense well. Despite all of New England's defensive issues, the team is pretty solid in the red zone and is 15th in points allowed (21.4) per game.
"The Patriots are not great [defensively], but they don't need to shut teams out either with Brady and the offense that they have," Williamson said.
For months many have wondered if the Patriots' struggling defense can step up in the playoffs if the offense cannot light it up against an elite defense. This is probably the week we find out against Baltimore in the AFC Championship Game.
Perhaps no group in the playoffs has more to prove this week than New England's defense, which might or might not be turning the corner.
"It's playoff time," Patriots starting cornerback
Kyle Arrington
said. "Our records, our stats go out the window this time of year. We're fully committed to play for one another."
June, 10, 2009
6/10/09
12:00
PM ET
| | |
| --- | --- |
| | |
| | Getty Images |
| | A good case could be made for Shaun Rogers, Haloti Ngata or Casey Hampton as the best defensive lineman in the AFC North. |
Posted by ESPN.com's James Walker
It was the debate that just wouldn't end last week.
Who is the top interior defensive lineman in the AFC North: Casey Hampton, Haloti Ngata or Shaun Rogers?
What started as a simple question turned into a heated topic of discussion. The comment section for "Take your pick" and our AFC North inbox has been filling up since the question was first posed June 1.
Everyone had very good points to make for these three stud defenders. Therefore, this week we decided to reopen this challenging debate.
Here is an in-depth look at each player highlighted by an AFC North final say:

Casey Hampton
#98 DT
Pittsburgh Steelers


2008 STATS
TACK
SOLO
FF
INT
SACK
22
13
0
0
1.0
Casey Hampton, Pittsburgh Steelers
Case for: Hampton is the top run-stuffer for the NFL's most dominant defense. Playing nose in a 3-4 defense is extremely difficult because of the constant double teams. Yet "The Big Snack" has done it seamlessly and with ease for nine straight seasons. His two Super Bowl championships are accomplishments unmatched by his two counterparts and a testament to his dominance and consistency.
Case against: Hampton, 31, is very one-dimensional. He's tremendous against the run but doesn't give you much in terms of pass rush. Hampton only has 5.5 sacks for his career. In fact, Hampton often is subbed on obvious passing situations and has become mostly a two-down player at this point in his career. Weight also has become an issue in recent years.
Reader's take: Jim from Zanesville writes: James, it is clear the deepest group of defensive tackles reside in the AFC North. The only reason we can compare those 3 DTs is because they are in a 3-4. There is a big difference between a DT in a 3-4 and a 4-3 (ask Tank Johnson). That being said, I have to go with Hampton. With two rings and being the centerpiece of the best defense in the league last year, "Big Snack" is where it's at! Ngata is also a proven commodity, but he's not better than Hampton -- not yet. Rogers hasn't proven himself to me as a 3-4 NT. He is a great athlete no doubt, and we'll see more this year. But he's third on my list for now.

Haloti Ngata
#92 DT
Baltimore Ravens


2008 STATS
TACK
SOLO
FF
INT
SACK
55
43
0
2
1.0
Haloti Ngata, Baltimore Ravens
Case for: Ngata is the most athletic and versatile of the group. He can play defensive tackle, defensive end and occasionally drops into coverage, as evidenced by his three career interceptions (two in 2008). Like Hampton and Rogers, Ngata is extremely hard to move off the line of scrimmage, but he's also athletic enough to avoid blockers chopping at his legs to stay active in plays. He's very durable and hasn't missed a start during his three-year career (48 straight games, 52 including playoffs).
Case against: At 25, Ngata also is t
he youngest of the group. He hasn't fully reached his potential, and sometimes Ngata's competitive mean streak on the field can get the best of him. His tackle and sack numbers decreased in 2008 from the season before, even though Baltimore's overall defense improved.
Reader's take: Bobby from Pittsburgh writes: I'm a die-hard Steelers fan. However, I think Ngata is the best DT in the AFC North. At 25, he has already been dominant on a dominating defense. I think Shaun Rogers had his last good year and will not be a force this year or in the future. Casey Hampton is also declining. Hampton may still finish with the best stats, two shiny Super Bowl rings and a dominant career. But Ngata is the better DT and his career is just beginning. Ngata hasn't hit his prime yet while the other two are past theirs.

Shaun Rogers
#92 DT
Cleveland Browns


2008 STATS
TACK
SOLO
FF
INT
SACK
76
61
0
0
4.5
Shaun Rogers, Cleveland Browns
Case for: Rogers had arguably the best season of any defensive lineman in 2008, recording 76 tackles and 4.5 sacks. Despite Cleveland's awful 4-12 record, Rogers made the Pro Bowl last season as an alternate, which carries a lot of weight because the coaches and players pick the reserves. When Rogers is inspired and motivated, which we saw last year, he is among the NFL's top defensive players at any position.
Case against: The problem with Rogers always has been inconsistency. Hampton and even the younger Ngata have shown the ability to be consistently dominant week in and week out. Rogers doesn't have the same track record over his eight NFL seasons. Playing for mostly losing teams with the Detroit Lions could be one reason. But at the same time, it is puzzling that a player as good as Rogers failed to lift his team or defensive units to become more dominant.
Reader's take: T.J. from Bedford, Ohio, writes: This take your pick question is pretty easy in my opinion. I may be biased towards Shaun Rogers being a Browns fan but numbers don't lie. Rogers dominates Hampton and Ngata statistically and he is the best defender on his team, with the same being arguable at best for Hampton and Ngata. Last year Rogers had linebacker-like numbers with 76 tackles, with 61 of those being solos. Hampton and Ngata combined for 77 tackles (Hampton 22, Ngata 55). Rogers also dominated in terms of sacks, with 4.5 being more than double what Hampton and Ngata had combined. Sorry Stiller and Ratbird fans but this is a question of best player, not the best defense. So it goes to Rogers by a landslide!
AFC North final say
James Walker: It's hard to go wrong with any of these three players. But the AFC North blog's pick for top interior defensive lineman in the division is Haloti Ngata, because of his youth, consistency, pure athleticism, upside, versatility and track record as a winner. Ngata is the only player who currently embodies all of these traits. Hampton is a consummate winner and an ideal nose tackle for a 3-4 defense. But he's 31 and a two-down player. Rogers dominated in 2008 and his stats were off the charts. But he's 30, inconsistent and has never played for a winning team. Ngata is the complete package with significantly less mileage, making the Raven the clear choice.
As always, I appreciate everyone's participation. A special thanks goes to T.J. from Bedford, Ohio; Jim from Zanesville, Ohio; and Bobby from Pittsburgh.
For future "Take your pick" or "Thought of the day" topics, feel free to send them to our AFC North inbox.
NFL SCOREBOARD
Sunday, 2/2
WEEKLY LEADERS