NFL Nation:

DelJuan Robinson
August, 11, 2011
8/11/11
6:36
PM ET
We knew this was probably coming, but it still is a harsh reminder that the
Carolina Panthers
lost one of their top free agents for the season.
Edwards
The team just officially announced defensive tackle
Ron Edwards
has been placed on the injured-reserve list. Edwards, who was signed from Kansas City and was expected to start immediately, suffered a torn triceps muscle early in camp.
The Panthers filled his roster spot by signing
DelJuan Robinson
. Unless Robinson does something really surprising, Carolina could be looking at starting two rookie defensive tackles.
Terrell McClain
and
Sione Fua
both were drafted in the third round and the initial plan was to pair McClain with Edwards in the starting lineup. The front office and coaching staff believe McClain can make a significant impact right away, but believe Fua might take a little more time to develop.
Fua's timetable could be moved up now. Robinson was a backup with the
Houston Texans
in 2008 and '09 and has made only three career starts. The other defensive tackles on Carolina's roster are
Corvey Irvin
,
Nick Hayden
,
Louis Ellis
,
Andre Neblett
and
Tommie Duhart
.
Irvin and Hayden have some experience and could be in the mix to start. But the team might decide to bring in another veteran later in the preseason.
June, 24, 2010
6/24/10
1:00
PM ET
»
NFC On the Radar
:
East
|
West
|
North
|
South
»
AFC
:
East
|
West
|
North
|
South
A player, coach or issue that should be on your radar as training camp approaches.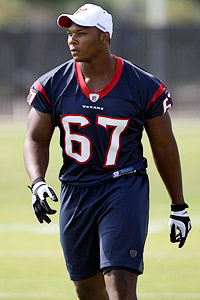 AP Photo/David J. PhillipRookie Malcolm Sheppard has made a positive impression on coach Gary Kubiak.
The Texans have been seeking consistent interior pass rush for some time. In 2005, they spent their first-round draft pick on
Travis Johnson
, who didn't pan out and is gone. In 2007, they went with
Amobi Okoye
in the first round. Okoye still has upside, but he's not been consistently productive.
Shaun Cody
started with Okoye last year, and end
Antonio Smith
will continue to kick inside for clear-cut pass-rush situations. Third-round pick
Earl Mitchell
should solidify the rotation while
Frank Okam
and
DelJuan Robinson
continue to compete for roles.
But there could be an unexpected guy making a push for one of those roles: undrafted rookie
Malcolm Sheppard
from Arkansas.
"Probably the young kid who has surprised me the most through OTAs and everything has been this Sheppard kid that we got from Arkansas," coach Gary Kubiak recently told Houston reporters. "I'm not trying to put pressure on him or anything, but he's been a very pleasant surprise.
"I think he's going to make a good push for this football team. He's played extremely hard, very physical, [a] better athlete than we thought coming out. We thought he was going to get drafted but he didn't. We were lucky to get him."
There is room for Sheppard to win a spot and have an impact. He'll need to build upon the positive initial impression.
September, 1, 2009
9/01/09
12:41
AM ET

Posted by ESPN.com's Paul Kuharsky
Some thoughts on what the Texans did and failed to do in their
17-10 preseason loss
to the Vikings in Houston Monday night:
Based on their failures against the Saints, we figured run defense would be a big issue to monitor. And boom, Adrian Peterson went 75 yards on the first play from scrimmage. I'm sure some of the linemen could have done better to get off blocks, but weakside linebacker Xavier Adibi went way too far with his initial read, running himself out of the play.


| | |
| --- | --- |
| | |
| | Brett Davis/US Presswire |
| | Matt Schaub appeared to have hurt his ankle when he was pushed out of bounds Monday night. |

The linemen in front of him couldn't have reasonably been expected to get to where Peterson went, and the defensive backs behind him weren't going to chase Peterson down. It was hardly the lone bad moment for Adibi. He got a roughing the passer penalty the announcers objected to but that could have been the kind of hit below the knees the league is frowning on, though it wasn't a lunge. And later, Adibi and Glover Quin both had Percy Harvin lined up and bounced off him as Harvin ran for more yards. Adibi did finish with five tackles and a pass defensed.
Did Matt Schaub show something to his team, and his town, by returning to action after suffering a sprained left ankle? Maybe. And he was still taken out of the game earlier than planned. But I'm not sure proving a point is more important than being especially prudent there. He takes too much grief on the toughness issue, but here's hoping he'll be able to navigate his way out of bounds on the sideline without problems.
We had developments on the interior defensive line the day the Texans dealt the injured Travis Johnson to San Diego. Houston started Dan Cody, who'd been working behind Amobi Okoye at defensive tackle, at the nose tackle spot where Johnson spent much of the last four years. DelJuan Robinson, who's been working as the starter there, was playing in the fourth quarter. Cody's hardly the first guy to have his hands full against that offensive line, but was moved with ease on some plays. Guard Anthony Herrera turned him aside on one big Peterson run, if 15 yards qualifies as big for Peterson.
A replay review of an Andre Johnson catch of a deep ball from Dan Orlovsky on which he stepped out of bounds earlier than officials thought simply cannot take that long to sort out. I'm totally pro-replay, but a pause that long actually gives me pause. It was 46 yards, not 58 and it should have taken very little time to figure it out.
If Chris Brown is available to make plays like that fourth-and-1 conversion early in the third quarter when he bounced off Pat Williams, Steve Slaton is really going to benefit.
More reason to dislike Wildcat shenanigans: Brett Favre split out, compelled to throw a crackback block at safety Eugene Wilson that left him with a knee injury. If it proves serious, we've got a big story on our hands.
If Jacoby Jones is really fighting for a job, shouldn't someone else be getting a chance to field a punt?
June, 3, 2009
6/03/09
9:36
AM ET
Posted by ESPN.com's Paul Kuharsky
Houston Texans
Indianapolis Colts
Jacksonville Jaguars
Tennessee Titans
April, 16, 2009
4/16/09
4:41
PM ET
| | |
| --- | --- |
| | |
| | Diamond Images/Getty Images |
| | New defensive line coach Bill Kollar vows to get more out of Houston's defensive line this season. |
Posted by ESPN.com's Paul Kuharsky
Bill Kollar plans to scream, cajole, irritate and pester.
The Texans' new defensive line coach casts himself not just as a coach, but as a button-pusher. He says his style is similar to that of a friend he once crossed coaching paths with briefly at Purdue -- Jim Washburn.
Washburn has coached the Tennessee Titans defensive line with great success -- and at high volume -- since 1999. As the Texans looked to start reinventing their defense, they lured Kollar from Buffalo.
Kollar pledges to do what he needs to squeeze all he can out of a group that features 2006 No. 1 overall draft pick Mario Williams. The Texans didn't produce enough good play around the Pro Bowl defensive end last season. Houston's linemen, then, can expect constant reminders that they are to run to the ball on all occasions and never take a play off.

Kollar will rotate his people. With the free-agent additions of defensive end Antonio Smith (from the Arizona Cardinals) and tackle Shaun Cody (from the Detroit Lions), he should have better depth than his predecessor, Jethro Franklin, did. The Texans are sure to also draft at least one defensive lineman.
"Obviously we're teachers, but we're also motivators," Kollar said. "If you had a whole group of players that were self motivated, that went nuts, you wouldn't have to worry about it. That would be fine. But I've never had a group like that and I don't know how many guys do or if there is a group like that. So I think everybody now and then can be helped to keep going by a little kick in the rear."
Kollar, a 1974-first-round draft pick of the Cincinnati Bengals who played eight seasons as a defensive lineman in the NFL, is still getting to know the Texans. Much of his sense of them still comes more off tape than from his own interaction and experiences.
In a phone chat with the AFC South Blog this week, he was willing to frame each of his linemen, providing his general feelings about each of them -- feelings that can obviously change significantly between now and opening day.
Smith: "A guy who works his butt off, gives you 100 percent all the time. We think he will end up definitely helping us. He's got good technique and knows how to use his hands and stuff. He's not the most agile guy out there that's going to run a 4.5 or something like that. But he really uses his hands well, watching him over the last few years he does a really good job."
Williams: "A heck of a guy, a heck of a player. I've really been impressed with the guy... He works his butt off out there and I think he just wants to keep getting better and better and take the team to the playoffs. And the better your team is, the better accolades your players end up getting.
"People know about the sacks, but he's a hell of a run player too. As long and as strong as he is, he does a heck of a job in both aspects."
| | |
| --- | --- |
| | |
| | AP/Gene J. Puskar |
| | The Texans lured Bill Kollar from the Bills and hope Kollar's motivational style is what the defensive line needs to take the next step. |
Defensive tackle Amobi Okoye: "I know he had that high ankle sprain [last year] and it's tough to play with. We're obviously hoping that's all past him now and with a young guy like that hopefully by the third year they hopefully kick in and become the player that they are going to be. We're hoping that happens this year...
"He's 22 [in June] and you look at it and sort of feel like the first two years in the league were his junior and senior year of college and he's just sort of had a jump on the guys coming out this year because he's already been playing with the big boys instead of still playing in college. Now you're hoping he's able to take it to the next level, stay healthy, that's always a big factor in anybody's career."
Defensive tackle Travis Johnson: "The guy plays hard, he's more of a run-down player, he's sort of trying to anchor down in the middle compared to a pass rusher. What happens when you end up taking a defensive tackle or a defensive end in the first round, you expect production in both the run and the pass. [The Texans selected Johnson in the first round in 2005.]
"The funny thing is, if you go back over years, very seldom do your nose men turn out to be pass rushers. They are the guys in there getting doubled all the time and anchoring down and then usually -- I won't say all the time, but usually - when it becomes third down, you might take another guy, you might take one of your outside guys and move him inside. And those [nose] guys sort of end up getting their break in passing situations. You can look at it quite a few different ways, but that's how I sort of view it and it really happens that way for a lot of guys."
Cody: "He's been unable to do anything so far here. I remember watching him and liking him coming out of USC. He had some injury problems there in Detroit, we're hoping that all those are past him now and we see him as able to play either spot inside which turns out to be a big plus for him, it turns out to give you more playing time and for us it helps depth-wise."
"We see him probably a little more as a solid player in the run game than he is a pass rush guy. Anytime you get a pass rush guy who can get up the field and go, we'd love to have it. When he was in college and so far at Detroit, he's a little more of a run down player than a pass rusher."
End Tim Bulman: "A real hard worker, a real tough kid when you watch him. I've sort of been impressed so far with what I have seen of him... I know he was down at Arizona when Kyle Vanden Bosch was down there and Vanden Bosch didn't have a lot of success down there, I know he was injured, he blew a couple of knees out and stuff. But I think Tim has seen
what Vanden Bosch was able to do on a new team and I am sure he's hoping that's a possibility that it could happen for him."
Defensive tackle Frank Okam: "He's more of an anchor guy, we're hoping he can end up getting in there and plug up the gap and help with short-line pursuit and stuff... A lot of second-year guys that really didn't play that much their first year, sometimes they make a big step. We'll just sort of see how it ends up going with him."
End Stanley McClover, who spent almost all of 2008 on IR with a right knee injury: "He's still probably not at 100 percent. I really saw no film on him, he got hurt in the first game I think. I really don't know much about him at all."
End Jesse Nading: "Played a little bit last year, mainly in passing situations. Showed a little quickness here and there. Maybe a little undersized but has some good mobility, has pretty good feet."
Defensive tackle DelJuan Robinson: "He's a big stop guy, too, in there."
A final thought:
Prevailing wisdom has been that the Texans need an upgrade inside to play the nose next to Okoye. Kollar sounds pleased with the pool he's already got to choose from, and he could and could get another candidate in the draft.
"We've got quite a few on the inside especially at the nose we should end up having some good competition with Johnson, Cody, Okam and Robinson," he said.
But if one of the ends emerges as a good rusher opposite Williams or the Texans add that guy in the draft, it sure sounds like Smith could be the interior answer on passing downs.
"He's definitely a good inside rusher, I mean he's slippery inside, he uses his hands well," Kollar said. "He ended up playing a lot inside last year on first and second down. He just does a good job, he plays with great leverage, he was able to slip through gaps. He can give you some rush from the inside, that's for sure."
December, 18, 2008
12/18/08
7:50
AM ET
Posted by ESPN.com's Paul Kuharsky
Off to Jacksonville this morning. Look forward to talking with you from there...
Houston Texans
Indianapolis Colts
Jacksonville Jaguars
Tennessee Titans
NFL SCOREBOARD
Sunday, 2/2
WEEKLY LEADERS