NFL Nation:

Deltha O\'Neal
December, 1, 2009
12/01/09
2:42
AM ET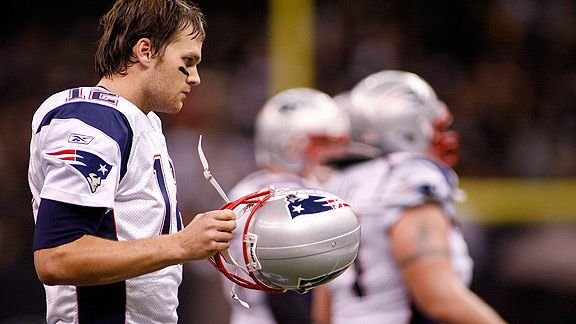 John David Mercer/US PresswireTom Brady and the Patriots needed a win over New Orleans to be considered an elite team.
NEW ORLEANS -- The
New England Patriots
confirmed what few had been thinking before Monday night.
They are not an elite NFL team. Not at this time. Maybe they can be again, but based on the way the
New Orleans Saints
pillaged them in the Superdome, the Patriots aren't in the conversation anymore about the best clubs in the game.
New Orleans thoroughly outclassed New England in a
38-17
laugher.
"There's obviously a big gap between us," Patriots quarterback
Tom Brady
said.
Drew Brees
made the Patriots' defensive backs, who had been thriving lately, look like a bunch of XFLers. He bombed them for five touchdowns, something that has never been done to a Bill Belichick-coached team.
"They were better than we were in every phase of the game," Belichick said in the postgame news conference. "I don't know any other way to put it. They were better coached. They played better on offense, defense, in the kicking game, they covered better than we did."
Belichick punctuated his response with incredulity at the questions about how his team failed to compete.
"They were obviously the better team," he said. "You guys
had to
see that. You were at the game."
It was a massacre. The 11-0 Saints made a deafening statement they're the NFL's best team. The Patriots merely whimpered in their final opportunity to record a signature victory before the postseason.
"They put it to us," Patriots receiver
Randy Moss
said. "We got our butts beat by 21."
New England (7-4), a team that likely will have to venture away from Gillette Stadium in the playoffs, is 0-4 in true road games and has come up short against two measuring sticks in the past three weeks.
They literally failed to measure up two weeks ago in Indianapolis. That heinous loss to the Colts resonates even more now.
"When we have expectations set high like we do, we take one game at a time," Moss said. "But we really see each week what teams are made of. I think we've shown we're up for a second, we're down for a second, we're up, we're down. It's kind of wavy right now."
At least now we know why Belichick went for it on fourth down from his own 28-yard line in the waning minutes at Indianapolis. His beloved former linebacker,
Tedy Bruschi
, criticized Belichick afterward for not showing enough faith in his defense to punt and force
Peyton Manning
to go 70 yards or so for the winning touchdown.
Belichick appears justified in the light of the bonfire Brees ignited here.
The game spiraled out of control so badly in the second half that Belichick raised the white flag, almost begging Saints coach Sean Payton to stop scorching his defensive backs. Belichick removed Brady from the game and inserted undrafted rookie
Brian Hoyer
, a signal to the Saints he'd seen enough carnage for one evening.
Nevada doesn't have as much open real estate as what Brees saw laid out before him.
To
Devery Henderson
for a 75-yard touchdown. To
Marques Colston
for 68 yards. To
Robert Meachem
for a 38-yard touchdown. To Henderson again for 33 yards.
"A lot of it had to do with us beating ourselves. A lot," Patriots nose tackle
Vince Wilfork
said. "Don't get me wrong. They came out and made plays and capitalized on [mistakes]. But it seemed like at times we couldn't stop them. That's a frustrating feeling.
"A lot of the plays we gave up out there, I could've completed the ball, or I could have ran the ball. Make an offense earn it, and we didn't do that at time. It cost us."
New England's defensive backs still had their eyebrows after the game, but you half expected to see them singed off. They looked like a quintet of
Deltha O'Neal
impersonators.
"We had several blown coverages defensively," Belichick said. "They took advantage of enormous mistakes on our part that they turned into huge plays. You can't make those kinds of mistakes against a good football team. We made too many of them."
Brees completed touchdown passes to five teammates. He finished with a 158.3 passer rating, nearly triple Brady's paltry 55.0 rating. Brady didn't have a touchdown. He threw two interceptions. A lot of his passes sailed.
More mystifying is that the Saints fielded a slapdash defensive backfield and Brady came into the game having thrown for 300 yards in five straight games, one shy of the NFL record.
His streak was snapped by a secondary that included Patriots castoff
Randall Gay
and rookie
Malcolm Jenkins
at cornerback, and
Mike McKenzie
, a street free agent two weeks ago, at nickel. Gay didn't play in the second half because of a leg injury.
The Patriots' chances to knock off the Saints seemed to get stronger when the inactive list was announced. On it were usual starting cornerbacks
Jabari Greer
and
Tracy Porter
, and dangerous running back
Reggie Bush
. Pro Bowl left tackle
Matt Light
and running back
Sammy Morris
returned from injuries for the Patriots.
"It wasn't nearly as competitive as we all were expecting," Brady said.
Where was
Wes Welker
? One week after Welker had the best game of his life, he had his worst of the season.
What about Moss? One reception for 9 yards in the first half, three catches for 67 yards all told.
New England's top target was
Sam Aiken
, mainly a special-teamer. He had seven catches for 90 yards, the best numbers of his career. But when Aiken is making your best plays and has two fewer receptions than Welker and Moss combined, chances are the Patriots will break your heart.
Belichick coached with conviction throughout the game. He kept his offense on the field for two fourth downs on their opening drive. They converted both, including
Laurence Maroney
's 4-yard touchdown run to put them up 7-3.
Yet, a fourth-down play doomed them. Belichick opted to go for it on fourth-and-4 from the Saints' 10-yard line with 4:12 left in the third quarter. A field goal would have put the Patriots a touchdown and a field goal behind. But Belichick knew his team needed a touchdown to keep pace with Brees.
Brady tried to force a pass to Moss in the left flat. McKenzie, out of football for 11 months before the Saints signed him, broke it up.
"That changed the momentum of the game," Saints safety
Darren Sharper
said.
The Patriots have a favorable schedule ahead. Just one of their final five opponents owns a winning record, the 6-5
Jacksonville Jaguars
.
Next up are the
Miami Dolphins
in Land Shark Stadium on a short week. If the Dolphins can pull out a victory, they would be one game behind the Patriots in the AFC East standings.
"We'll rally around each other," Wilfork said. "If not, it's going to be over real soon if we don't get it going. But I have faith in these guys that we're going to get it together."
July, 22, 2009
7/22/09
11:35
AM ET
Posted by ESPN.com's Tim Graham
Buffalo Bills
Training camp site: St. John Fisher College in Pittsford, N.Y.
Campfires: All eyes will be on Terrell Owens, but he's not the most significant storyline at St. John Fisher. The Bills' offensive line is a jumbled unit and needs to emerge from camp with proficiency. None of the projected starting five will play the same position as last year. Pro Bowl left tackle Jason Peters is gone. Right tackle Langston Walker is flipping over to the other side. Right guard Brad Butler is replacing Walker. Geoff Hangartner is the new center. Rookies are expected to play guard.
| | |
| --- | --- |
| | |
| | AP Photo/David Duprey |
| | All eyes will be on Terrell Owens during the Bills' training camp. |
A lot of parts must come together, but if they do, then the Bills' offense could be dangerous. They're adopting a no-huddle approach that will be fun to watch with a cast that includes Owens, Lee Evans and Marshawn Lynch. The Bills have been installing the offense for months, but the coaching staff's confidence in it will be dictated by how well Trent Edwards commands the no-huddle in camp and preseason games.
On defense, Buffalo's success may hinge on the defensive line. Pro Bowl defensive end Aaron Schobel is coming off a foot injury that rendered him essentially useless last year. The Bills drafted Penn State pass-rusher Aaron Maybin 11th overall. They also are hoping to get some production finally out of fourth-year defensive tackle John McCargo, who the Bills traded up to draft in the first round but so far has been a slug.
Camp will be a downer if ... the offensive line suffers an injury that prevents chemistry from forming. The main question about the Bills' front five is not that it's incapable. While there are doubts about Walker and Butler, many believe first-day draft picks Eric Wood and Andy Levitre have bright futures, and all of them can play multiple positions.
But nobody can dispute the value of cohesion and consistency along the offensive line. The sooner they learn to play their positions at a high level together, the less harassed Edwards will be. Any preseason volatility here would be harmful.
Camp will be a success if ... the defensive front shows signs it can be a positive influence. Buffalo defensive linemen recorded 12.5 sacks last year. Right end Ryan Denney led the way with four. Buffalo ranked 22nd in rushing yards allowed per game and 21st in yards per carry.
Buffalo is the only AFC East team that runs a 4-3 defense. If the Bills don't stop the run and can't sack quarterbacks, what's the point?
Project to monitor: Some Bills fans are enamored with the possibilities of sophomore tackle Demetrius Bell, a seventh-round draft pick from Northwestern State who didn't play a game last year. Bell has a good frame (6-foot-5, 307 pounds) and is the son of former NBA star Karl Malone.
Bell is viewed as a potential discovery in the making, the second coming of Peters, who the Bills signed as a rookie free-agent tight end and converted into a Pro Bowl left tackle. Bell spent the offseason getting reps as the second-team left tackle.
---
Miami Dolphins
Training camp site: team facility in Davie, Fla.
Campfires: Dolfans are eager to see how old friend Jason Taylor fits into defensive coordinator Paul Pasqualoni's 3-4 scheme, and a substantial factor is whether Cameron Wake will resemble the player who dominated in Canada the past two years. Joey Porter, the reigning AFC sack leader, will remain on the right side. That leaves Taylor (who has played almost his entire c
areer on the right side), Wake and incumbent Matt Roth to divvy up the snaps at left outside linebacker. That battle will be interesting to monitor.
| | |
| --- | --- |
| | |
| | Jamie Mullen/US Presswire |
| | Jason Taylor (99) returns to Miami after spending last season with the Washington Redskins. |
Second-round draft pick Pat White has generated plenty of excitement for what he could provide the Wildcat offense. Training camp will be the West Virginia quarterback's proving ground. He looked raggedy as a passer in minicamp. Chad Henne certainly will remain the No. 2 quarterback behind Chad Pennington, but White's value will be as a threat to throw out of the trendy direct-snap offense.
One of the Dolphins' big areas of need heading into the offseason was at receiver. They don't have a clear-cut, go-to target. Rather than obtain one, they tweaked. They drafted Southern California's Patrick Turner as a third-down and red zone option and Ohio State's Brian Hartline as another possession receiver. Ted Ginn is entering his third year and needs to show he was worth the ninth overall pick Miami used to draft him.
Camp will be a downer if ... Taylor's homecoming doesn't pan out. Despite fan enthusiasm for his return after a bitter, one-year exile, there are no guarantees. Taylor probably won't hold down an every-down role. He will be playing on the side opposite of his career success.
Acid reflux will be a common ailment for Dolfans if injury-prone center Jake Grove can't stay healthy. Grove, a free agent from the Oakland Raiders, was the Dolphins' top offseason acquisition after the staff identified stout blocking at center as their greatest need. It's the only major offensive upgrade the Dolphins made, but he has missed 26 games since he was drafted in 2004.
Camp will be a success if ... one of the rookie corners steps into the starting role on the right side. The Dolphins drafted Vontae Davis in the first round and Sean Smith in the second.
It takes a while for rookie cornerbacks to gain the coaches' trust, but the Dolphins lost last year's starter, Andre' Goodman, to free agency. They signed Eric Green, but he lost his starting job with the Arizona Cardinals last year. What a boon it would be if Davis or Smith show he's ready right away.
Newcomer to watch: Even his new teammates are keen on finding out whether Wake is the real deal. He dominated Canadian Football League offensive linemen, piling up 39 sacks in two seasons.
But he hasn't worn full pads in the NFL. The former Penn State captain went undrafted. The New York Giants signed him in 2005 but cut him before training camp began. Many Dolphins players have been impressed with Wake's raw athleticism but haven't been able to definitively state what they think of his chances until they see him in full-contact situations.
---
New England Patriots
Training camp site: Gillette Stadium complex in Foxborough, Mass.
Campfires: Tom Brady's left knee not only is the top story of Patriots camp, but perhaps the NFL preseason, too. How Brady responds from having two ligaments reattached will determine whether the Patriots return to their familiar status as Super Bowl contenders. He looked impressive during minicamp, but what everybody wants to see is Brady against a live pass rush. One of his biggest assets is his pocket presence. We'll see if oncoming defenders affect him.
| | |
| --- | --- |
| | |
| | AP Photo/Stephan Savoia |
| | Tom Brady has looked solid during offseason workouts as he recovers from knee surgery. |
Vince Wilfork's contract situation could be a problem. The Patriots drafted Boston College defensive tackle Ron Brace, but he's no Wilfork, the behemoth who anchors Bill Belichick's 3-4 defense. Wilfork is entering the final year of his contract and wants security. He skipped offseason workouts and his displeasure could impact his participation in training camp.
A couple of intriguing positions to watch will be outside linebacker and running back. The Patriots didn't bring in anybody to replace respected veteran Mike Vrabel, a Pro Bowler two seasons ago. Pierre Woods, Shawn Crable and Tully Banta-Cain don't make quarterbacks quake in their cleats, but maybe somebody will emerge. In the offensive backfield, Laurence Maroney is coming off a shoulder injury and, entering his fourth season, needs to produce. The Patriots also signed free agent Fred Taylor.
Camp will be a downer if ... Brady suffers a setback in his recovery. The Patriots won 11 games with unheralded reserve Matt Cassel last year, but does second-year backup Kevin O'Connell (without offensive coordinator Josh McDaniels, no less) engender enough confidence to withstand Brady tweaking his
knee?
If Brady encounters some turbulence, it's foreseeable the Patriots still could pull through as they did last year. But any Brady struggles will make Patriot Nation squirm.
Camp will be a success if ... somebody emerges as Vrabel's replacement and the Patriots come away pleased with their cornerbacks. New England's defense has some uncertainties, but finding reliable help at these spots will be huge.
The Patriots emerged from last year's camp unstable at cornerback. They cut Fernando Bryant just before the season and signed Deltha O'Neal, who was lackluster. This offseason they welcomed veterans Shawn Springs and Leigh Bodden and second-rounder Darius Butler. They traded right-side starter Ellis Hobbs.
Tough cuts to come? The Patriots will have some decisions to make at running back. Maroney is a first-round pick entering just his fourth season. They identified Taylor as somebody they needed. Sammy Morris and Kevin Faulk are old dependables. BenJarvus Green-Ellis showed he could play in the NFL when given the chance. It will be interesting to see how this position sorts out.
---
New York Jets
Training camp site: State University of New York in Cortland, N.Y.
Campfires: As much as rookie coach Rex Ryan's revamped defense will shape the Jets' season, quarterback battles always steal the headlines. When one of the candidates is the highest-paid player in franchise history and the highest-drafted quarterback since Joe Namath, you know it will be a molten topic. The Jets traded up to draft Mark Sanchez fifth overall. He's getting paid $28 million in guarantees. Unless he flops or veteran Kellen Clemens is brilliant, the rookie should start.
| | |
| --- | --- |
| | |
| | Rich Kane/Icon SMI |
| | Vernon Gholston had a disappointing rookie season. |
The Jets, however, likely will go as far as their defense takes them. It's difficult to tell how an aggressive, blitz-oriented defense is coming together when nobody's wearing pads or hitting. Training camp conditions will be the first real sense we'll get about how Ryan's methods will translate from Baltimore.
Ryan's defense will be aided substantially if he can get pass-rusher Vernon Gholston to contribute. Last year's sixth overall pick from Ohio State had an undetectable rookie campaign. The Jets need to get some kind of return on their investment, but the urgency is greater with outside linebacker Calvin Pace's four-game suspension at the start of the season. Gholston's opportunity couldn't be more obvious. He must have a terrific camp.
Camp will be a downer if ... Ryan's much-ballyhooed defense doesn't hum by the end of preseason. With all of the bluster, the signings of Bart Scott and Jim Leonhard and the Lito Sheppard trade, the Jets better be good on defense.
Purely from an entertainment perspective, camp will be a bummer if Ryan doesn't keep yapping like he did during OTAs and minicamp.
Camp will be a success if ... either Sanchez or Gholston emerges as a credible player. They don't have to be Pro Bowlers, but if one or the other demonstrates a level of competence to build from, then fans -- and general manager Mike Tannenbaum -- can breathe a little easier about the immediate future.
Sanchez, of course, is who the Jets need to come into his own more than any other player. They have the most invested in him. He might be the franchise's front man for the next decade. But if Sanchez sputters in camp and Gholston's game materializes, organizational confidence still would be buoyed.
Catch and release: The Jets haven't made the move fans hoped. They haven't landed an experienced receiver to play with Jerricho Cotchery. They lost Laveranues Coles but have opted to find a starter among last year's reserves and by turning over the bottom of the roster.
Chansi Stuckey and speedster David Clowney look like the best bets to emerge from this crew. Brad Smith and Wallace Wright also could end up with bigger roles, but the auditions will last right up until the regular season begins.
Trey Wingo, Darren Woodson and Tim Hasselbeck preview the AFC East.
January, 7, 2009
1/07/09
2:07
PM ET
Posted by ESPN.com's Tim Graham
As you've surely noticed by now, ESPN.com relaunched all of its pages Wednesday, giving the NFL section a brand-spanking-new look. Drop a note in the comments section below to let us know what you think.
| | |
| --- | --- |
| | |
| | Getty Images |
| | The Dolphins unveiled the Wildcat formation against the Patriots, and wound up winning their first game of the year. |
To stay in the spirit, let's relaunch this season for the AFC East with tweaks to the script.
What do you think would've happened:
1. What if Tom Brady didn't get hurt?
The New England Patriots finished 11-5 with Matt Cassel at quarterback but needed one more victory to reach the playoffs. How much would their record change with Brady healthy? Would Cassel have remained anonymous his whole career?
2. What if Brett Favre stayed retired?
The New York Jets probably wouldn't have traded Chad Pennington, but would they have insisted Kellen Clemens be the quarterback? Do they win nine games without Favre? Could the Miami Dolphins have won the division without Pennington?
3. What if the Dolphins hadn't tried the Wildcat in Foxborough?
It took guts for Dolphins coach Tony Sparano and his staff to unveil their gimmick offense. He admitted he was worried because, if it failed, he would be ridiculed. But the Wildcat didn't fail, and the Dolphins detonated the Patriots. The Dolphins avoided a 0-3 start and all of a sudden had reason to believe.
4. What if the Patriots had brought back Asante Samuel?
The Patriots let the Pro Bowl cornerback hit the free-agency market and never saw him again. They used the likes of retread Deltha O'Neal, Lewis Sanders, Mike Richardson and rookies Terrence Wheatley and Jonathan Wilhite.
| | |
| --- | --- |
| | |
| | AP Photo/Ross D. Franklin |
| | Trent Edwards didn't appear to be the same after suffering a concussion against the Cardinals. |
5. What if Trent Edwards hadn't suffered a concussion?
The Buffalo Bills quarterback was a popular subject in the national media for propelling the Bills to a 4-0 start with some fourth-quarter heroics. His confidence was soaring. Then Arizona Cardinals safety Adrian Wilson crushed him on a blitz. Edwards suffered a concussion, and while he looked sharp in beating the San Diego Chargers in his next game back, everybody wondered if the concussion contributed to the Bills' second-half collapse.
6. What if the Jets had drafted somebody other than Vernon Gholston?
The Jets had the sixth overall pick. They were infatuated with the Ohio State pass-rush specialist enough to snag him there even though many other teams had him slotted late in the first round or early second. Gholston proved to be a long-term project. He was invisible on Sundays and eventually deactivated. Might the Jets have been able to use Jerod Mayo? Sedrick Ellis? Derrick Harvey? Ryan Clady?
7. What if the Dolphins had drafted Matt Ryan instead of Jake Long?
The Long selection was a successful one, but as great as Ryan was in leading the Atlanta Falcons to the playoffs, Dolfans will be wondering for years what path their team would have taken if Ryan was the quarterback for the next 10 years.
8. What if the Bills had held off a couple of weeks on that Dick Jauron contract extension?
They probably wouldn't have given him one based on losing eight of their last 10 games. The Bills might be going through a head-coaching search right now.
October, 19, 2008
10/19/08
12:12
PM ET
| | |
| --- | --- |
| | |
| | Matthew Emmons/US Presswire |
| | New England cornerback Ellis Hobbs knows the Patriots secondary needs to step it up. |
Posted by ESPN.com's Tim Graham
Chad Pennington grabbed the New England Patriots' secondary and ripped it apart at the seams.
Philip Rivers pumped javelins down the sidelines.
Both methods lacerated the Patriots plenty. The Miami Dolphins beat them by 25, the San Diego Chargers by 20.
"Everyone has to realize it's a wound everyone's going to try to keep opening up until we heal it," Patriots cornerback Ellis Hobbs said. "It's there."
The Patriots' defensive backfield has been overwhelmed as much through five games as it was all last season. New England has given up seven pass plays of 30 yards or longer. That equals the number it yielded in 2007.
Its sixth game won't provide any respite.
The Patriots on Monday night will host the Denver Broncos at Gillette Stadium.
New England's beleaguered secondary will be asked to contain a pass attack ranked first in the AFC and second in the league at 279.3 yards a game entering Week 7.
"I don't know what the questions are for us," Hobbs told reporters this week. "I just know there are questions out there.
"We need to go into this game thinking, 'I feel like my back's against the wall.' Our team's back is against the wall, and we have to come out swinging no matter what. It's early in the season. But this is how you get the momentum going."
After Miami came to Gillette Stadium in Week 3 and unleashed a dumbfounding game plan, New England's coaching staff -- a group that includes defensive architects Bill Belichick, coordinator Dean Pees and secondary coach Dom Capers -- had two weeks to strategize for Mike Martz's offense. The Patriots held the San Francisco 49ers to less than 200 total yards.
Last Sunday night, however, the Chargers bombed away.
Rivers, mostly picking on left cornerback Deltha O'Neal, completed passes of 48, 49, 59 and 22 yards. They weren't screen plays.
Hobbs also committed a 32-yard pass interference penalty to put the Chargers first-and-goal at the 1-yard line. Rivers found tight end Antonio Gates for a touchdown on the next play.
"I felt embarrassed," O'Neal said Wednesday. "I felt embattled. I felt like there were things I could have did that could have changed the outcome of the game. I'm my worst critic.
"I sat and thought about it the last couple of days, that whole flight home. I'm over it now."
Patriots fans should hope so.
Thunder-armed Broncos quarterback Jay Cutler has thrown for 1,694 yards and 12 touchdowns, numbers that rank third and fourth in the NFL.
When healthy, the Broncos have the most talented receiving corps. Brandon Marshall leads the NFL with 43 receptions despite being suspended for the season opener. Eddie Royal's 30 catches are tied for 11th even though he missed last week's game with an ankle injury. Royal is probable for Monday.
Cutler's other targets include Brandon Stokley (16 catches and two touchdowns the past three weeks) and tight end Tony Scheffler. Stokley suffered a concussion last week, while Scheffler is dealing with a groin injury. Both are questionable. Darrell Jackson, a three-time 1,000-yard receiver, is getting over a strained calf. He's listed as probable.
"They have a lot of different options and they really stress the defense in a lot of different ways," Patriots coach Bill Belichick said. "They can pack them in and bring in two or three tight ends. They can spread them out and go with four or five receivers, or flex out Scheffler, who is like another receiver.
"They can get as tight as you want to get, and they can get as spread out as you want to spread out, and they do a good job."
The Patriots rank 12th in pass defense, but their first two victories came against opponents who either couldn't or wouldn't throw.
They knocked Kansas City Chiefs quarterback Brodie Croyle out of the game in Week 1 and fended off Damon Huard. The New York Jets still were trying to figure out how to use Brett Favre, who passed for only 181 yards in Week 2.
A lot of factors have played into the Patriots' shaky pass defense.
The most obvious was Pro Bowl cornerback Asante Samuel's departure. The Patriots clearly knew this was a big deal because they signed free agents Fernando Bryant, Lewis Sanders and Jason Webster and drafted two corners in the first four rounds.
Belichick didn't like any of them more than O'Neal, whom the winless Cincinnati Bengals cut because they didn't think he was anything more than a nickelback.
Other developments have left New England's defensive backs fending for themselves more than in recent years. The vaunted defensive line isn't getting as much push as it used to, giving opposing quarterbacks that much more time to work and less time for New England's defensive backs less chance to recover -- or not be detected -- when beat early on a play.
The Patriots won't have an easy time putting pressure on Cutler or forcing him i
nto bad decisions. The Broncos have allowed a league-low two sacks. Only the Kansas City Chiefs and Bengals -- one victory between them -- have recorded fewer sacks than the Patriots, who have seven.
Inescapable is the Tom Brady factor. Even the defense is affected.
Last year, with the record-breaking Patriots offense providing sizable leads before the echoes of "The Star-Spangled Banner" faded out, they had the NFL's seventh-ranked pass defense.
Under replacement Matt Cassel's direction, the Patriots have gone three-and-out on 14 of their 56 drives, sending the defense right back onto the field 25 percent of the time. They went three-and-out on 26 of their 170 possessions last year, a 15 percent frequency.
The longer games remain close, the less defenses can guess what's coming. Last year's Patriots turned loose on the quarterback and defended the pass from the second quarter on. This year's defense can't afford to commit so fully and, therefore, is unable to dictate.
"They've been all over the map a little bit," Cutler said. "You're not sure what you're going to get with those guys. I think they thought they could play man, control Rivers and the receivers and stop [LaDainian Tomlinson]. But they got hit with some big plays.
"It's going to be interesting to see what they do with us."
October, 16, 2008
10/16/08
12:46
PM ET
Posted by ESPN.com's Tim Graham
New England Patriots
Buffalo Bills
Miami Dolphins
New York Jets
October, 9, 2008
10/09/08
11:31
AM ET
Posted by ESPN.com's Tim Graham
New England Patriots
Buffalo Bills
Miami Dolphins
New York Jets
September, 2, 2008
9/02/08
9:26
AM ET
Posted by ESPN.com's Tim Graham
New York Jets
Buffalo Bills
Miami Dolphins
New England Patriots
September, 1, 2008
9/01/08
3:36
PM ET
Posted by ESPN.com's Tim Graham

O'Neal
The New England Patriots didn't need to do much research when it came to Deltha O'Neal.
They have his highlight films playing in their heads.
"We got killed by him, yes," Patriots coach Bill Belichick said Monday at his daily news conference when asked about his new CB. O'Neal, cut by the Cincinnati Bengals over the weekend, signed today with Patriots.
O'Neal, 31, played his first four seasons with the Denver Broncos and his past four with the Bengals. The two-time Pro Bowler has 30 career interceptions, including a career-high 10 in 2005.
O'Neal intercepted Patriots QB Tom Brady twice in an Oct. 28 victory for the Broncos.
"Yeah, I remember -- very well," Brady said. "There were four picks in the second half ... actually in the fourth quarter. He made a diving catch that was pretty awesome.
"You don't want to mess around with him that much. He has great ball skills. In college [California], he could do everything. He was a receiver, defensive back and he returned kicks. Hopefully, he can add some of that play-making ability to our team."
The knock on O'Neal in Cincy was that he wasn't compatible with new defensive coordinator Mike Zimmer's high-pressure system. The Bengals' CBs need to have excellent man-to-man skills, and O'Neal has lost a step.
But Belichick apparently didn't think that was enough reason to ignore O'Neal once he hit the street.
"We played him last year in Cincinnati, and I did some work on him going into that game and saw him the rest of the season and in preseason this year," Belichick said. "He is a very athletic corner, good ball skills, pretty big guy that goes up and plays a lot of press coverage.
"[He is] a physical player, good tackler, good interceptor, returner. We have seen the back of his jersey on that a couple of times."
September, 1, 2008
9/01/08
9:41
AM ET
Posted by ESPN.com's Tim Graham
New England Patriots
Buffalo Bills
Miami Dolphins
New York Jets

NFL SCOREBOARD
Sunday, 2/2
WEEKLY LEADERS