NFL Nation:

Dennis Erickson
June, 4, 2012
6/04/12
6:36
PM ET
The Mike Nolan era in San Francisco produced more heartache than the 49ers would care to revisit, but the long-term legacy isn't so bad.
Eleven draft choices, including eight current starters and five Pro Bowl selections, remain on the 49ers' roster from the Nolan era.
The other NFC West teams have a combined eight of their own draft choices from the same 2005-2008 window. That includes six starters and no Pro Bowl selections for the
Seattle Seahawks
,
Arizona Cardinals
and
St. Louis Rams
.
Improved coaching and ownership have helped San Francisco get more from its talent. The current personnel department has also fared well in continuing to build, adding high-impact draft choices such as
Aldon Smith
and
NaVorro Bowman
.
Overall, the 49ers have a division-high 38 of their own draft choices. The Seahawks are closest behind with 34, including 26 drafted since Pete Carroll became head coach in 2010.
In St. Louis, new coach Jeff Fisher inherits a young franchise quarterback in
Sam Bradford
, but he has only one Rams draft choice from 2005-2008: defensive end
Chris Long
. Consider this one more way to define first-year expectations for St. Louis relative to the expectations when Jim Harbaugh took over in San Francisco. Fisher inherits so much less.
Alex Smith
,
Frank Gore
,
Tarell Brown
,
Delanie Walker
,
Patrick Willis
,
Larry Grant
,
Joe Staley
,
Vernon Davis
,
Ray McDonald
,
Parys Haralson
and
Dashon Goldson
remain with the 49ers from their 2005-2008 drafts. Gore, Willis, Staley, Davis and Goldson have achieved Pro Bowl status. Those five and Alex Smith, Brown, McDonald, Haralson and (sometimes) Walker started for the 49ers last season.
Leroy Hill
,
Red Bryant
,
Brandon Mebane
and
Ben Obomanu
remain with Seattle from that era. The Cardinals still have
Calais Campbell
,
Early Doucet
and
Levi Brown
.
The chart breaks down NFC West draft choices by how many remain with their original teams and by the head coaches who welcomed those players into the league.
The 49ers have two players from the Dennis Erickson era (punter
Andy Lee
, defensive lineman
Isaac Sopoaga
) and one from the Steve Mariucci era (snapper
Brian Jennings
). They are the only team in the division with a draft choice remaining from five head coaches ago (Jennings). The Rams have one player,
Steven Jackson
, remaining from the Mike Martz era (four coaches ago).
Update:
I reduced by one the total for the Rams under Fisher to reflect the fact that Cortland Finnegan was a Fisher draft choice in Tennessee, not St. Louis.
April, 23, 2012
4/23/12
10:56
PM ET
The
San Francisco 49ers
twice lost close games against New Orleans in the Superdome when the Saints were
allegedly eavesdropping
on visiting coaches from 2002-2004.
Coincidence? Evidence of malfeasance?
"There's something missing here,"
said Bill Polian
, the ESPN analyst and former longtime NFL executive. "I don't know what kind of competitive advantage you can get."
The report by "Outside the Lines" cites people familiar with the Saints' game-day operations as saying Mickey Loomis, the Saints' general manager, had the ability to monitor opposing coaches from his private box during home games.
NFC West teams played three games at the Superdome during the period in question.
The 49ers suffered a 35-27 defeat at New Orleans in 2002 after the Saints outscored them 22-3 in the fourth quarter. They also suffered a 30-27 defeat there in 2004 after Aaron Brooks found Donte Stallworth for a 16-yard touchdown with 1:01 remaining. Also in 2004, the
Seattle Seahawks
claimed a 21-7 victory at New Orleans.
The NFL has already suspended Loomis, a former longtime Seahawks executive, for the first eight games of the 2012 season as punishment for his handling of the Saints' bounty situation.
The allegations against Loomis are damaging whether or not the Saints realized any in-game advantages.
"Mickey would have to know the verbiage of every other opposing team in order to translate it, and then he would have to do it instantly and find some way to communicate with his coaching staff and get it down to the field in time for it to be useful," Polian said. "That would be very difficult to do, in my opinion."
The Saints have strongly denied the allegations.
Steve Mariucci (2002) and Dennis Erickson (2004) were the 49ers' head coaches for the NFC West defeats in question. Erickson and Loomis worked together in Seattle years earlier.
Another NFC West alum, Jim Haslett, was the Saints' head coach at the time.
November, 17, 2011
11/17/11
3:58
PM ET
Ronnie Lott witnessed one of the greatest coaching jobs in NFL history during the Bill Walsh years in San Francisco three decades ago.
The Hall of Famer thinks the 49ers' current coach, Jim Harbaugh, might be doing something more spectacular in leading the team to an 8-1 record against all expectations.
"This might be the greatest coaching that I've ever seen in the history of the game of professional football," Lott told Sirius NFL Radio recently. "It's his first [season as an NFL head coach] and not only is he hitting it out of the park but, man, he's hitting all the notes. Everything that you can think of, he's done."
Lott pointed to the 49ers' ability to play well and win under a first-time NFL head coach following a lockout-shortened offseason. The turnaround from eight consecutive non-winning seasons has been striking. Kenton Wong of ESPN Stats & Information put together a Harbaugh-related packet with the following key points:
Stanford went from 1-11 the year before Harbaugh arrived as head coach to 4-8, 5-7, 8-5 and 12-1 over his four seasons at the university.
The 49ers brought back most key players, notably Alex Smith, from a team that went 6-10 last season. Their eight victories this season match the rest of the NFC West combined. The 49ers have a .889 winning percentage, compared to .296 for the rest of the division. They are plus-95 in points. The rest of the NFC West is minus-198. The 49ers have one more road win (four) than the rest of the division combined.
Smith is on pace for career bests in yards per attempt (7.2) and touchdown-to-interception ratio (3.7).
Harbaugh's seven-game winning streak is tied for second longest by a rookie head coach since the 1970 NFL-AFL merger, according to Elias Sports Bureau. Ted Marchibroda's Colts won nine in a row in 1975. Bobby Ross' Chargers won seven straight in 1992. Chuck Knox's Rams (1972) and Nick Saban's Dolphins (2005) each enjoyed six-game streaks. Update: Steve Mariucci won 11 in a row during the 1997 season, his first with the 49ers. We'll notify Elias on that one.
This is the best start for a rookie NFC West coach since Mariucci's 49ers opened the 1997 season with an 11-1 record. They finished 13-3.
Mike Martz's
St. Louis Rams
went 8-2 to open the 2000 season. Mike Holmgren's Seahawks opened the 1999 season with an 8-2 record.
I've put together a chart showing NFC West head coaches' first-year records since 1997, excluding interim coaches.
.
February, 3, 2011
2/03/11
3:30
PM ET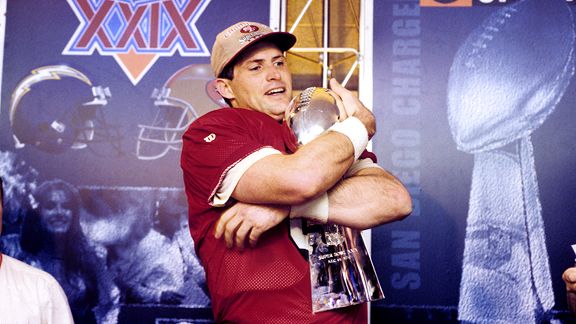 US PresswireThe 49ers haven't won the Super Bowl since Steve Young held the Lombardi Trophy on Jan. 29, 1995.
DALLAS -- Sixteen years have passed since
Steve Young
defined his legacy while leading the
San Francisco 49ers
to their fifth Super Bowl championship.
The 49ers haven't been back to a Super Bowl since and they haven't even sniffed the playoffs since 2002. That was four head coaches and one interim coach ago.
Ten quarterbacks have started games for the 49ers since 2000; the number was 12 for the previous 19 seasons, and two of those guys are in the Pro Football Hall of Fame.
The losing and instability stand in stark contrast to the standards two other proud franchises, Green Bay and Pittsburgh, have set in reaching this Super Bowl. The Packers and Steelers have weathered downturns and gotten stronger.
What happened to the 49ers? Who deserves the blame? Why? What will it take to restore the 49ers' status? Those were
the questions I asked
on the blog Wednesday. There was no shortage of material in the comments section, but one of the shortest answers summarized most of the feelings.
"Bad ownership picking bad leadership picking bad coaches picking bad talent,"
Claatuop
wrote.
Total system failure, in other words.
It's the ownership
Green Bay and Pittsburgh feature arguably the strongest, most stable ownership situations in the NFL.
The Packers have had the same basic philosophy toward personnel since Ron Wolf became their general manager in 1991. Wolf has long since retired, but the Packers' current GM, Ted Thompson, learned under him. Green Bay has likewise run a version of the West Coast offense since Mike Holmgren became their coach in 1992.
The Steelers have had three head coaches since 1969.
The 49ers enjoyed stable ownership until legal troubles forced Eddie DeBartolo Jr. to give up control of the team in 2000. The team posted winning records under coach Steve Mariucci in 2001 and 2002, but Mariucci was out after that season and the team hasn't had a winning record in any season since.
"For the 49ers, it all comes down to ownership,"
caseytb4949
wrote. "After the Eddie DeBartolo fiasco, ownership of the team transitioned to his sister, Denise, who had little interest in the 49ers. Her husband, who exerted practical control of the team, was and is not a football guy. What's worse, his ego was such that it precluded him from hiring sound football minds. He hired an inexperienced GM, Terry Donahue, and forced out a winning coach in Steve Mariucci. His GM then went on to completely gut the team's talent."
Harsh words, but the evidence supports the general idea, minus the ego part. Quite a few comments suggested the 49ers have put business before football since DeBartolo's departure.
"It was 'Eddie D' leaving and the departure from the Bill Walsh coaching/personnel tree,"
kingjames988
wrote. "When you move away from what made you great, you almost always end up with less success."
John York and Denise DeBartolo York have handed control of the team to their son, Jed. Jed York, as team president, has shown he values the 49ers' past and the values that made the organization great, but there's little evidence to this point he knows how to return the team to its previous standing.
Its' the leadership
The 49ers have bounced from one leadership team and front-office model to another.
They've handed over total control to a head coach (Mike Nolan). They've had a GM (Scot McCloughan) work with a head coach (Mike Singletary) who had final say over the 53-man roster. They've gone without a GM (after McCloughan left the team abruptly last year).
The current setup is more traditional, with new coach
Jim Harbaugh
working under new general manager Trent Baalke.
Frequently shifting leadership has made it tougher for the team to develop players and maintain a consistent philosophy. Bad luck has compounded matters, as when offensive coordinators Mike McCarthy and Norv Turner took head coaching jobs.
The 49ers sustained Walsh's philosophy on offense and overall, at least to an extent, into the last decade. But Walsh's influence was eroding all the while. And when Donahue took over as general manager in 2001, Walsh was available only as a consultant. He was out of the organization by 2005 and died in 2007.
"Going from Walsh to Donahue was a complete swing-and-miss, and he fired Steve Mariucci after a year where the Niners went 10-6 and won one of the most epic playoff games of all time,"
Joey Barrows
wrote. " 'Mooch' was perfect for the Niners and bad management messed that up."
What started as a reasoned explanation turned into a more emotional rant mentioning Dennis Erickson,
Tim Rattay
,
Ken Dorsey
, the York family's ownership, Turner and Mike Nolan. It concluded with, "And don't get me started on Mike Singletary. Dear Lord."
It's the coach
Walsh set the standard. George Seifert sustained the legacy. Mariucci maintained offensive continuity. They all won.
The 49ers haven't had a winning season since Mariucci lost an internal power struggle.
Singletary projected strong leadership, but he had never been even a coordinator, let alone a head coach. Nolan had never been a head coach, either. In retrospect, the 49ers could have benefited from more seasoned leadership on the sideline, particularly without more experienced leadership in the front office.
"It seems that every department performed poorly after Mariucci left,"
catterbu
wrote. "There is also a certain chicken-egg sort of scenario that has taken place. Instability with coaching leads to poor development of players since the same coaches are not there for very long, which leads to poor performance and firing of the coaches. It's the cycle that must be broken. I think that many of us 49ers fans still love the team, but have almost grown numb to the pain."
Harbaugh has succeeded as a head coach at the college level. He has expertise on offense, something the 49ers haven't had in a head coach since Dennis Erickson replaced Mariucci. The 49ers ranked fifth in yards and ninth in points under Erickson while going 7-9 in 2003, but they parted with quarterback
Jeff Garcia
after the season.
Which leads to the next problem area.
It's the quarterback
[+] Enlarge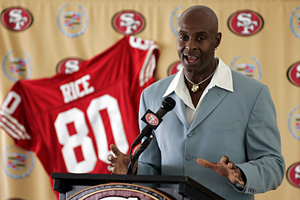 Justin Kase Conder/US PresswireFormer 49ers receiver Jerry Rice says the team's instability at quarterback has been a major reason for it's lack of success in recent seasons.
One of the greatest 49ers, retired receiver
Jerry Rice
, offered his thoughts Thursday morning between appearances on ESPN. He pointed to management problems and the 49ers' decision to draft
Alex Smith
over Packers quarterback
Aaron Rodgers
with the first overall choice in 2005.
"I mean, there are certain draft choices that you make or you don't make and it's going to cost you," Rice said. "This guy (Rodgers) was right there at Cal. He wanted to be a 49er. But we decided to pass on him and go with Alex Smith. This is not all his fault, but Alex Smith at Utah was more of just a shotgun passer. That is a whole different scenario there. Then with him having so many offensive coordinators and stuff like that, it was major."
The 49ers won at least 10 games in every non-strike season between 1981 and 1998. Young played only three games in 1999 before retiring.
Joe Montana
and/or Young were the quarterbacks during that brilliant run from 1981-1998. The 49ers had limited success with Jeff Garcia in subsequent years, but they haven't acquired or developed the right quarterback. Sometimes it's that simple.
"The Niners were once a team that was built upon a strong mixed offense,"
SFDM12
wrote, "but over the years they have had some key ingredients, but always lack one important piece: a stable quarterback that can handle the pressure and deliver."
Having the wrong quarterback magnifies problems that might not matter so much otherwise, whether it's losing a coordinator or making a mistake in the draft. Rice thinks the quarterback issue is even bigger now than when he played, because players are less apt to rally around a lesser one.
"When I played the game, if it was not Montana or Young, I had to do whatever I had to do to make that guy under center better, and I took pride in that," Rice said. "But with the guys today, they are not going to do that. If they feel you are not capable of doing it, they are not going to waste their time. You are done. It's a whole different generation of guys. I'm not saying they don't love the game, but I could tell with the Niners that they did not feel confident that this guy was the leader and they could win games with him."
For that reason, and because the 49ers have pretty good talent elsewhere on the roster, Rice said he thinks the 49ers should pursue a veteran quarterback.
The road back
The 49ers' ownership isn't likely to change. The leadership and coaching positions appear set.
Quarterback remains a massive question mark.
Harbaugh has a five-year contract and a clear offensive philosophy. He should be able to offer some continuity on offense, at least. And he has said he'll reach back into the West Coast tradition Walsh established three decades ago.
"That was the philosophy he was using at Stanford," Rice said. "It is very simple where these players can just go play football. I think that is going to help. I think having a GM in place is going to help because it takes some of the pressure off Jim Harbaugh."
They will, of course, need the quarterback.
"Since the hiring of Nolan, they have at least tried to do the right thing, and the roster talent has grown immensely,"
WakeTripper
wrote. "With Jed at the helm, there seems to be a new attitude, more similar to the 'Eddie D' days. And now, capped with the hiring of Harbaugh and his desire to bring back the West Coast Offense, us longtime fans can at least have hope that the Niners can regain their team identity and return to their former status as one of the great teams in the league."
January, 14, 2011
1/14/11
12:37
PM ET
A few nuggets following news that the
San Francisco 49ers
have
identified Stanford assistant head coach Greg Roman
as their next offensive coordinator:
This was an expected move once Stanford hired David Shaw over Roman as successor to new 49ers coach Jim Harbaugh.
Roman has worked closely with Harbaugh, a bonus. The comfort level is already there. The 49ers haven't had this built-in comfort level between their head coach and offensive coordinators in recent seasons.
Roman might have done a marvelous job at Stanford, but Harbaugh's background on offense diminishes, to a degree, the value of the 49ers' offensive coordinator. Put another way: The 49ers will be less reliant on their offensive coordinator because their head coach can do the heavy lifting on that side of the ball. That is a welcome change, although the defensive hires now become more important than they were under, say, Mike Nolan.
The 49ers have not ranked higher than 18th in points per game or 24th in yards per game since ranking among the NFL's top 10 in both categories back in 2003, Dennis Erickson's first year as head coach. The bar has been set pretty low, in other words. Harbaugh and Roman need to jump over it pretty quickly.
Roman has coached in the NFL with Carolina, Houston and Baltimore. That helps. He was quarterbacks coach for the Texans when current 49ers backup David Carr was their quarterback in 2004 and 2005. I don't know if that makes Carr more or less likely to return as a backup, but the 49ers know they still need to find their long-term starter elsewhere.
We should expect Harbaugh to continue piecing together his staff at an accelerated rate now that Stanford has hired a head coach.
December, 29, 2010
12/29/10
3:29
PM ET
Thanks to
@rcurtis67
for asking how Jon Gruden could be out of the running in San Francisco, which precipitated some Googling, which led to
this NBC Bay Area item
about
Peter King's comments
Tuesday night:
"The 49ers have not been trendsetters in anything recently, except losing. But I do think what they're going to do this year is going to set an example for a lot of teams in this league to follow. 'In' are going to be the young, hungry, affordable, mostly assistant coaches in the NFL. 'Out' are going to be the been-there, done-that, won-Super-Bowl guys -- Bill Cowher, Jon Gruden. A lot of people have said, 'Hey, Gruden is a good candidate for this San Francisco job'. And I'm told flat-out he is not a candidate for the San Francisco job. Instead, a guy like Jim Harbaugh, the Stanford coach, who I'm told by several people around the league is going to be the hot guy this coming offseason. Harbaugh is a guy the 49ers are definitely interested in -- and I think he is going to have interest in them."
The 49ers have gone with first-time head coaches for their last two hires. Neither succeeded. Before hiring Mike Singletary and Mike Nolan, the 49ers went with Dennis Erickson, who did have experience as a head coach. That failed, too. We have no evidence the 49ers' current leadership knows how to identify, develop or support successful head coaches. That does not doom the 49ers to failure in the future, but if they do not hire strong, experienced leadership, it's especially important for them to find an exceptional head coach.
Hiring head coaches with previous experience in the role can carry risks, too. If the 49ers go that route, they need to make sure that coach remains hungry. They would want to make sure he could assemble an ascending, forward-thinking staff. Gruden is a grinder by nature. I would not question his hunger or drive. The 49ers' current leadership could view his strong personality as a threat, however. And if teams really are going to focus on hiring cheaper coaches from the pool of assistants, Gruden obviously would not fit that mold.
December, 27, 2010
12/27/10
3:11
PM ET
One more return touchdown in Week 17 would leave the
Arizona Cardinals
tied with the 1998
Seattle Seahawks
for the most in an NFL season.
Note that previous reports had associated that record with the 2003 Seattle team; the Cardinals have subsequently updated their note. It was definitely the 1998 team. I covered that Seahawks team and remember it struggling to an 8-8 finish in Dennis Erickson's final season as head coach.
One of the more memorable returns that season:
Sam Adams
batting
Troy Aikman
's pass to himself and returning the ball 25 yards for a touchdown.
The chart shows the teams with at least 11 return touchdowns. I've added a column for season records. Arizona and Seattle are the only teams on the list that failed to finish with a winning record despite all those unconventional points.
January, 8, 2010
1/08/10
3:33
PM ET
The wheels are spinning fast after Seattle fired coach Jim Mora.
ESPN's John Clayton says the Seahawks have shown interest in Vikings defensive coordinator Leslie Frazier.
Chris Mortensen has identified USC coach Pete Carroll as
the top candidate
.
Update: Mortensen reports that Frazier has declined the Seahawks' request. This item has been updated to condense the section dealing with Frazier's possible candidacy.
The Seahawks could use a bold move right about now. It's been a couple rough seasons for the organization.
Frazier's name has come up in previous head coaching searches around the NFL. His connection to former Colts coach Tony Dungy interested me because another former Dungy associate, Ruston Webster, happens to be the Seahawks' interim general manager.
How good would the Seahawks look if they could somehow land Dungy in an advisory role, lending immediate credibility, with Webster as GM and Frazier as head coach? It's an idea that requires some connecting of the dots. I've had no indication from anyone that such an arrangement has been considered, would be considered or would even be practical.
Do you fire Mora to hire Frazier? Is that an obvious upgrade?
Carroll is a much bigger name. He's energetic and he's dynamic. He would fit with Leiweke, for sure.
Would he be the right choice? I recently watched an NFL Network show featuring former NFL head coaches who should have stayed at the college level. Former Seahawks coach Dennis Erickson was one of the men featured. Carroll was another.
The program showed locker room footage of Carroll giving sappy rah-rah speeches, with former players saying the NFL was no place for him.
Much time has passed since Carroll left the Patriots after the 1999 season. He would go into his next NFL job a wiser man for the experience.
Should be an interesting next week or so in the NFC West.
January, 8, 2010
1/08/10
2:23
PM ET
[+] Enlarge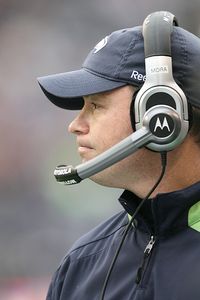 Otto Greule Jr/Getty ImagesJim Mora is the first Seattle coach to last only one season.
Following a legend can be rough.
Ray Rhodes found out when he tried to replace Mike Holmgren with the Packers. Rhodes lasted one season. The team managed to finish 8-8, but quarterback Brett Favre was floundering and Rhodes' leadership style came into question.
Jim Mora became the next Rhodes when the Seattle Seahawks, fresh off a 10-year run with Holmgren,
fired him Friday
after one season.
The organization is making a statement that the Seahawks need a complete makeover after putting together 4-12 and 5-11 seasons, the latter under Mora. A franchise that valued continuity in naming Mora to the job ahead of time has now decided a complete makeover is in order. There's no use in sticking with the wrong plan, the organization seems to be saying.
The Seahawks are a little tough to figure right now. That is understandable to a degree. Owner Paul Allen has been undergoing cancer treatments recently. He certainly has more important things on his mind. His top Seahawks executive, CEO Tod Leiweke, had advocated Mora's continued employment during the early December news conference to announce Tim Ruskell's resignation as general manager. What was Leiweke supposed to say in that situation? Exactly.
Ruskell was the one primarily responsible for landing Mora and installing him as coach-in-waiting. Ruskell's resignation foreshadowed potential trouble for Mora, although the general feeling was that every head coach should have more than one year to establish his program.
Allen, famous for co-founding Microsoft, is basically hitting control-alt-delete to trigger a forced system restart. The move makes Mora the first coach in Seahawks history to last only one season. Tom Flores lasted three. Dennis Erickson lasted four. Jack Patera lasted six and change. Chuck Knox led the team for nine seasons.
Did Mora deserve to be fired? We could make that case after a 5-11 season that saw the team getting worse in some areas. Was firing him fair? Not really. Most head coaches should get more than one season.
Those are not necessarily the most important questions here.
The key question is whether the Seahawks can hire someone demonstrably better, and whether the next coach can field a superior staff.
Finding the next GM should become easier now that it's clear the next GM will have input in hiring the head coach. The Seahawks can now move forward with their front office and coaching staff in chronological alignment for the first time in the better part of a decade. That is important as long as the Seahawks hire the right people.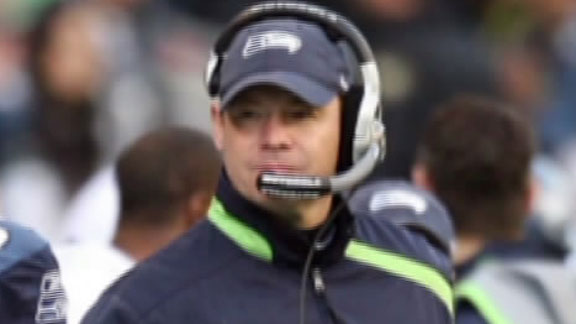 December, 16, 2009
12/16/09
10:35
AM ET
Todd writes via Facebook:
I am struggling with the reports of division and hesitancy on the part of the Seahawks with respect to bringing back Mike Holmgren. The Seahawks were a mediocre team for 15 years post-Chuck Knox. They might have (had) talent, but they always seemed to play beneath it. I think that was extremely true of the Erickson years in particular.
[+] Enlarge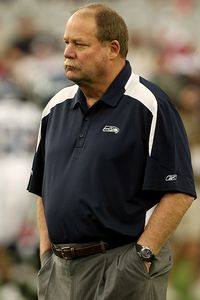 Stephen Dunn/Getty ImagesMike Holmgren reportedly met with the Browns for a second day on Tuesday.
Paul Allen ownership and Holmgren coaching and even his personnel choices made the Seahawks relevant. Holmgren is the most sucessful coach in Seahawks history and there are people in the organization that think it would be better if he were with the Browns? I can only think it might be better for those people as individuals. How can it not be beneficial to have someone with that degree of history and football knowledge with your team?
Mike Sando:
Mike Holmgren is a credible leader. I think he is a good administrator. I think he could be effective as the top man running an organization. It's important to acknowledge and appreciate the many good things Holmgren accomplished in Seattle. It's also important to resist embellishing his record as general manager in the name of sentiment.
Seattle was 31-33 in four years under Dennis Erickson. Seattle was 31-33 in four years with Holmgren as coach and general manager. Holmgren was fired as general manager. He did not win a postseason game until he had completed seven full seasons as head coach. I believe most good coaches with sufficient resources will win eventually if given enough time. Seven years is an eternity in the modern NFL.
By comparison, Jon Gruden stepped into a far more dysfunctional situation with Oakland in 1998. He went 38-26 in four seasons, winning two playoff games and leaving the Raiders -- 28-36 in the four seasons before his arrival -- in position for a Super Bowl run. In Green Bay, Holmgren went 38-26 in his first four regular seasons, collecting four playoff victories and sharing the credit with GM Ron Wolf.
For Seattle, bringing back Holmgren under the right terms could indeed make sense. Holmgren would not be coach and general manager, so the dynamic would be different. Holmgren brings credibility. He could help the Seahawks find their next quarterback. He could hire a GM with a strong background to do the scouting grunt work (Ted Thompson was that man for him in Seattle).
But if the Seahawks are wary about turning over their entire operation to a "football czar" with grand plans, I can see why. They think the current structure and operation is not broken. They think the organization has grown to a point where it's bigger than any one person. They gave sweeping powers to Holmgren once already. They should consider their options and make sure the fit is right.
I do not think Holmgren will rush into a deal with Cleveland. If he does, he'll probably command more power than the Seahawks feel comfortable granting to any one person. Seattle would be staying true to its stated values, while Holmgren would be getting the power he craved.
Posted by ESPN.com's Bill Williamson

Here's the latest from the Raiders' facility:
Lane Kiffin, fired this morning over the phone by owner Al Davis, has been escorted from the facility. His time in Oakland is officially over. Kiffin was able to say goodbye to whoever was in the building but since the players are off today, there was no official team gathering.
Al Davis has been talking this afternoon to offensive line coach Tom Cable, who appears to be the leading candidate to take over the team. No announcement has been made. Cable has previous head coaching experience at his alma mater, Idaho. Cable played with Scott Linehan, fired Monday by St. Louis, at Idaho under current Arizona State coach Dennis Erickson.
Davis is set to meet the press at 5 p.m. ET today. Expect Kiffin's insubordination to be detailed. An announcement of his replacement is expected later today.
It has already been a wild day in Oakland, expect more fireworks as the day progresses.

NFL SCOREBOARD
Thursday, 9/18
Sunday, 9/21
Monday, 9/22
WEEKLY LEADERS