NFL Nation:

Dennis Harrah
August, 7, 2013
8/07/13
4:00
PM ET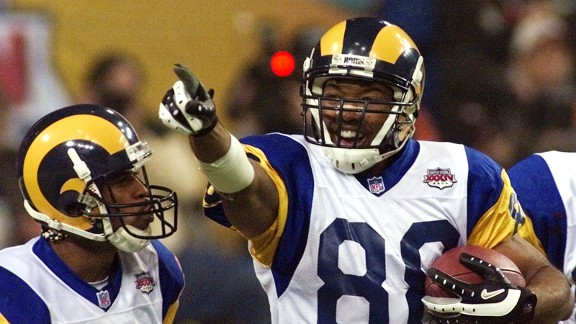 AP Photo/Chuck BurtonAfter years of feeling unwelcome by their old franchise, former Rams greats such as Torry Holt are making their way back to Rams Park at the invitation of St. Louis coach Jeff Fisher.
EARTH CITY, Mo. -- Standing between two fields at Rams Park watching practice on Monday afternoon was a group that might as well have been a part of a reunion for Super Bowl XXXIV.
Former Rams receivers
Torry Holt
and
Isaac Bruce
chatted it up with former Tennessee cornerback
Samari Rolle
, who is working in the team's coaching internship program. That trio was joined at various times by
Lance Schulters
, another former Titans defensive back in the internship program,
La'Roi Glover
, a former Rams defensive tackle and now the team's director of player programs, and former Rams tackle
Grant Williams
.
The sight of former Rams is nothing new around the team's training facility these days. Since Jeff Fisher took over as coach in Jan. 2012, he's made it abundantly clear that he's happy to welcome back former players who might want to offer some advice to his young team or who might just want to watch practice.
In the two weeks since camp started, other former Rams such as defensive back
Aeneas Williams
, safety
Keith Lyle
and linebacker
Chris Draft
have stopped by. It's not limited to Rams alumni, either. In addition to Schulters and Rolle, former Titans linebacker
Keith Bulluck
was also in town for a couple of days.
While it might be nothing new for Fisher to open the doors to past Rams, it does represent something of a departure from how things were in the not-too-distant past.
"This is home," Holt said. "I should feel comfortable and good when I come here. Myself and others, we did a lot for this organization. So it feels good to be able to step back out on this field and not be looking over your shoulder or feel like you're stepping on anybody's toes and then to be able to provide information for guys to improve their game. It's not about us, it's just about sharing what we've learned to make this organization better and try to bring back championships to this organization."
That's a feeling that Holt shared with plenty of other former Rams who didn't feel welcome or comfortable about being at Rams Park on a regular basis.
In 2011, Rams Hall of Famer Jack Youngblood told ESPN's Arash Markazi that he didn't feel like he had any connection to the team he once played Super Bowl XIV with while nursing a broken leg.
"We are their legacy but they forgot us," Youngblood said then. "They don't have anything to do with us, really. I find that unfortunate because you look at other franchises, even those that have moved, and they use their alumni in their marketing and in their organization. They use their Hall of Famers as an example for the players who are there today. They use their alumni, but the Rams have cut us out of the picture."
At the time, the Rams had begun to make inroads in their alumni program, which has taken off in recent years. As part of those efforts, the Rams signed Holt and Bruce to one-day contracts so each could retire as Rams. Most notably they welcomed back 20 prominent players from their past to celebrate the team's 75th anniversary last December.
Included in that group were a number of Los Angeles Rams, including Rosey Grier, Vince Ferragamo, Dennis Harrah,
Jackie Slater
, LeRoy Irvin and Youngblood.
That's just the tip of iceberg. Holt is back in St. Louis this week in preparation for his work as a color analyst on the team's preseason broadcasts. He joins another former Ram, Hall of Fame running back
Marshall Faulk
, in the booth for those duties.
Fisher's open-door policy should come as no surprise given his experience in the league. He's entering his 28th year coaching in the NFL and his 18th as a head coach.
Surrounded by a veteran staff with plenty of experience of its own, Fisher is undeniably comfortable in his own skin. The paranoia that can sometimes accompany first-time head coaches has long since evaporated and Fisher clearly views the opportunity to bring in any former player with wisdom to share as a positive for a team that again figures to be one of the youngest in the league.
"It feels good to be back, it feels good to be welcome and Coach Fisher gets it," Holt said. "He welcomes us. He knows the value and the importance of the guys talking to veteran guys who have been there, done it and done it at a high level because you can gain so much from that as a player. I'm thankful that I'm able to come back and coach Fisher is an excellent coach who understands the game, understands what it takes to improve his roster and he's allowing us to help out."
April, 17, 2012
4/17/12
4:24
PM ET
Rich Saul's former Los Angeles Rams teammates recalled his Pro Bowl talent, scary toughness and, humorously, a legendary appetite that waned only in the retired center's final days.
Early in Saul's career, when he was putting on weight to fulfill George Allen's vision for him as a center, the former middle linebacker from Michigan State would slip a bag of coins under his cap for weigh-ins, fearful the team would cut him if the scale revealed his actual poundage.
That was not all.
"When we would go through the [cafeteria] line in camp, most would put a plate on a tray and then food on plate," recalled former Rams defensive tackle Phil Olsen. "Rich had to eat so much, he would load the food on his tray. He would skip the plate. I'll tell you, up until a few days before he died, we were stuffing him full of food in the hospital."
Olsen and Hall of Famer Jack Youngblood joined the Rams in 1971, a year after Saul. The three bonded quickly, as did their families. Olsen and Youngblood shared a few laughs Monday when remembering Saul, who died Sunday from leukemia at age 64. But they kept coming back to the impact Saul made outside football.
[+] Enlarge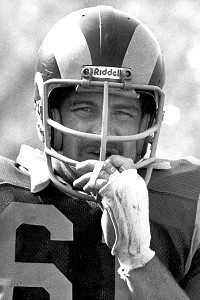 AP Photo/NFL PhotosRich Saul was a six-time Pro Bowler for the Los Angeles Rams.
"I can't express what Richie meant to us," Youngblood said.
Evidence of Saul's impact remains visible in the passages his grown son, Josh, and others shared through a website chronicling the family's recent journey.
"The best was the way he looked at my mom tonight,"
Josh wrote
in an April 6 entry after his father watched the Masters and continued to engage those close to him.
"I have never seen 'I love you' so clearly spoken without words," Josh continued. "Theirs is a bond that will live on forever. I am so thankful to have had such an amazing example of marriage and family leadership to follow."
One of a kind
Saul finished his Rams career with six consecutive trips to the Pro Bowl during a seven-year run as their starting center. That he played mostly special teams for his first five seasons, then emerged as a perennial Pro Bowl choice, seems incomprehensible in a modern context. There was no free agency at the time, however. A team could more easily stockpile and develop talent.
The Rams were stacked on the offensive line under coach Chuck Knox, with Hall of Famer Tom Mack at one guard spot and veterans elsewhere on the line. Saul had never played center in college, putting him at a significant disadvantage. The Rams also made Saul their long-snapper, forcing him to learn another skill that was previously foreign to him. Not that he had much choice in the matter.
And so Saul played special teams with a vengeance, earning the nickname "Super Saul" -- shortened to "Soup" with an eye toward his prodigious appetite. His contract was for $12,500, the minimum at the time, but an incentive clause tied to special-teams tackles allowed Saul to collect additional income.
"He made like 100 tackles on special teams that first year," Olsen said. "He just ran down the field and knocked everybody down."
They still called special-teams units "suicide squads" back then, as reflected in
a 1971 Life Magazine
cover story featuring Saul and others around the league.
"The injury rate is eight times higher on suicide squads than for any other position," a caption in the magazine read.
Saul was undaunted. He'd already overcome a catastrophic knee injury at Michigan State, where Saul and his twin brother, Ron, had earned All-America honors, Rich as a linebacker and Ron as an offensive linemen. That the two would combine to play 318 regular-season games came as an upset following Rich's injury.
"The only thing holding the upper leg to the lower leg was the skin," Olsen said. "It is amazing he got to play in the NFL. He would describe that as a miracle surgery performed by
Dr. Lanny Johnson
."
Tough guy
Youngblood went to seven consecutive Pro Bowls and set a standard for grit by playing through the 1979 postseason, including the Super Bowl, with a broken fibula.
Former Rams guard Dennis Harrah aptly called Youngblood the
"John Wayne" of professional football
. Even John Wayne knew to pick his spots in practice.
"I was a defensive end and Richie was a center, and I knew that I should not go in there because Rich Saul will hurt you if you go into his territory," Youngblood said. "There was many a linebacker in the league who did not like to see the schedule knowing they had to go see Rich Saul. That was going to be an all-day affair."
Former Rams video director Mickey Dukich once
recounted for the Los Angeles Times
a story of Saul, a former wrestler, applying a choke hold on teammate Butch Robertson, a six-time Pro Bowl choice at linebacker.
"Butch passed out," Dukich told the Times for the 1987 piece. "Rich thought he had killed Butch."
Youngblood confirmed the basic details.
"Rich, there was a little conflict in the locker room and it resulted in, he didin't hurt the guy, but he did show that you didn't mess with Rich Saul," Youngblood said. "That was the message. Message was well received."
On the line
The Rams led the NFL in rushing with 2,799 yards during the 1980 season, a total surpassed just twice in subsequent years, by the 1984 Chicago Bears and 2006 Atlanta Falcons. The Rams ranked among the league leaders in that category throughout most of the 1970s, before and after Saul succeeded Ken Iman as the full-time center in 1975.
"[Saul] became an extremely proficient blocker on a team that still used primarily man-to-man blocking on defensive line stunts -- you never see this any more! -- and did a multitude of blocking combinations on running plays," Mack, an 11-time Pro Bowl choice with the Rams from 1966-1978, wrote in an email. "We could slip, slide, fold and cut block defenses as effectively as any team in football and we led the league in rushing. That alone proved he was both smart and a great athlete!"
Saul played 176 regular-season games and 12 playoff games, including the Super Bowl against Pittsburgh following the 1979 season, all for the Rams under four head coaches: Allen, Tommy Prothro, Knox and Ray Malavasi. He was one of three NFL players -- Jack Lambert and Robert Brazile were the others -- to earn Pro Bowl honors every season from 1976 through 1981.
Legacy
Olsen recalled the famous quote from Jackie Robinson about a life lacking import except to the extent it has impacted the lives of others. He said Saul, who succeeded in finance and real estate following football, lived that ethic and cared more about what people thought of him off the field than on it.
"We used to talk about that a lot," Olsen said.
"He took great pride in being a father and a husband and a grandfather. ... He was always going to the hospital to talk to kids with cancer or to send a note or a card or a picture or go to speak to a group that needed something done. He was a very strong advocate for abused and battered children, very active with the Cancer Society and all those organizations that needed someone to stand up and speak on their behalf.
"That is how people will remember him, as a humanitarian, a good father, a good friend."
May, 17, 2011
5/17/11
3:31
PM ET
The late
St. Louis Rams
owner Georgia Frontiere, astrologically inclined as she was, might have said the planets aligned for this blog entry.
How else to explain such freakish timing?
With ESPN.com's ongoing power rankings series focusing on helmets later Tuesday, I decided to visit the UniWatch blog to see whether those concerned with "the obsessive study of uniform aesthetics" might have anything to say on the matter.
By dumb luck, the blog was currently
leading with an interview
featuring helmet- and uniform-related reflections from longtime Rams equipment manager Todd Hewitt. The interview, which originally
appeared at helmethut.com
, is a fascinating read for any Rams fan or anyone interested in football lore.
I'll break out a few highlights below, but please do check out the full transcript. Great stuff. Among the revelations:
[+] Enlarge

Focus on Sport/Getty ImagesMerlin Olsen and the Rams used to sport blue-and-white uniforms since they showed better on black-and-white TV.

The team used only Riddell helmets for years because Hewitt's father knew John Riddell. But Dennis Harrah had other ideas.
At one point, the Rams settled on a certain shade of yellow they liked, but then-owner Dan Reeves forced a change upon learning the color carried a sissified name -- "buttercup" yellow.
The Rams considered 15-20 color combinations when changing uniforms in 2000. Frontiere went with "new century gold" and "millennium blue" because the combination "made cosmic sense" entering the 21st century, even though she thought other colors looked better.
The team favored blue-and-white uniforms, without gold, beginning in the 1960s because the combination reproduced better on black-and-white TV.
Carroll Rosenbloom had an eye toward Hollywood when pushing to incorporate gold after taking over the team in 1972.
The team has never, ever considered removing the iconic horns from its helmets. Hewitt and his father had been the only ones to apply the helmet decals since the team went away from painted horns nearly 40 years ago. That is changing now that Hewitt no longer works for the team.
Former coach Ray Malavasi favored white jerseys at home because he thought they made players look bigger. Comfortable pants were a higher priority for former coach John Robinson. Mike Martz loved white uniform pants, but team exec John Shaw hated them (not that the Rams went through any front-office turmoil during those years).
I listed the Rams' helmets among the top five in the NFL in balloting for the power rankings, which ran on
Bill Williamson's AFC West blog
Tuesday.
February, 28, 2010
2/28/10
10:06
AM ET
Kevin from Sylmar, Calif., writes:
Hey Sando, you
talk about
how scouts do not project
Mike Iupati
to transition from guard to right tackle. Do you think that it is possible that the Niners could select someone like
Trent Williams
with the 13th pick and Lupati at No. 17?
That way you could move David Bass to a backup role if he is re-signed. It would be similar to what the Jets did a few years ago with
D'Brickashaw Ferguson
and
Nick Mangold
.
Mike Sando:
I like the Jets comparison because the 49ers have wanted to become a power running team as well. As the Jets' site
notes
, their selection of Ferguson and Mangold marked the first time since 1975 that an NFL team selected two offensive linemen in the first round of the same draft. The Rams did it with Dennis Harrah and Doug France in 1975.
Your thinking is sound in theory, but the reality is that the values San Francisco places on players in this draft could make it difficult or even impossible for them to justify going that route at the expense of any higher-rated players available to them in the round. It's impossible to know right now which players will be available. It just seems unlikely that the value would justify going that route based on all the other potential scenarios.
I do like your thinking in theory, except that the ideal scenario would be to find effective starting offensive linemen later in the draft, saving the higher picks for positions of greater impact. The 49ers would be addressing an area where a team can't have enough quality depth among the nine offensive linemen that typically earn 53-man roster spots.
Williams unofficially ran the 40-yard dash in the 4.8-second range, pretty remarkable for an offensive tackle. The 49ers will value size over speed as they look for a right tackle, and Williams has that, too (6-foot-5 and 315 pounds). Even though the 49ers have wanted to become a physical running team, it's important for their right tackle to hold up well in pass protection. I think it's an absolute must if they seriously consider drafting a right tackle among the first 17 picks.