NFL Nation:

Dennis Johnson
September, 1, 2013
9/01/13
6:01
PM ET
The
Cleveland Browns
were the busiest team when it came to hitting the waiver wire Sunday, signing six players who were cut from other teams a day ago.

But none of the additions was a kicker. So, less than a full week from kicking off the season against Miami, Cleveland doesn't have a replacement for
Phil Dawson
, the team's kicker since the Browns returned to the league in 1999.
Here are the players who are out for the Browns: running back
Brandon Jackson
, tight end
Kellen Davis
, linebacker
L.J. Fort
, offensive lineman
Caylin Hauptmann
, offensive lineman
Jarrod Shaw
and fullback
Brad Smelley
.
Here are the players who are in: running backs Bobby Rainey (Ravens) and
Dennis Johnson
(Texans); tight ends MarQuies Gray (49ers) and Keavon Milton (Saints); offensive lineman Patrick Lewis (Packers); and linebacker Brandon Magee (Cowboys).
"Again, our roster is fluid right now," coach Rob Chudzinski said in what must have been the understatement of the day. "We still need to address our kicker position, so we're not done. We're a young and hungry team with some solid veteran leaders. I like the foundation we have in place as we enter the season. I'm excited to see what we can do."
The Browns now have nine 2013 undrafted rookies when you add the five signed Sunday (Gray, Johnson, Lewis, Magee and Milton) with safety Josh Aubrey, offensive lineman Martin Wallace and linebackers Paul Hazel and Eric Martin. That's nearly 17 percent of the Browns' 53-man roster.
These moves show the Browns wanted to upgrade at running back and tight end. Rainey and Johnson will compete to be the No. 2 running back behind
Trent Richardson
. Gray and Milton will add depth behind
Jordan Cameron
and
Gary Barnidge
.
August, 30, 2013
8/30/13
12:23
AM ET
ARLINGTON, Texas -- Gary Kubiak will have some decisions to make in the next several hours. Many of them were made much easier by Thursday night's final preseason game, in which his
Houston Texans
beat the
Dallas Cowboys
24-6
.

The game saw both backup quarterbacks play well, and made it very likely the Texans will keep three on their roster this season.
It showcased the two remaining running backs whom Kubiak needed to see more of in
Cierre Wood
and
Dennis Johnson
. Wood helped himself with 107 rushing yards and a 5.6-yards-per-carry average. Johnson hurt himself with three fumbles, one of which he lost, and difficulty fielding returns. Kubiak said he already knew enough about veteran running back
Deji Karim
, so he didn't play him much at all.
Cornerback
A.J. Bouye
showed skill with an interception. Then he got chewed out after he incurred a 15-yard penalty for standing in the middle of the Cowboys' star, his arms outstretched like Terrell Owens. The undrafted rookie said he probably won't even sleep Thursday night waiting to hear whether or not he made the team.
And tight end
Ryan Griffin
showed exactly why the Texans drafted him in a performance that included five catches for 87 yards.
The decisions will start tomorrow -- and could finish then, too. Stay tuned.
August, 29, 2013
8/29/13
4:25
PM ET
Eleven undrafted rookies remain with the
Houston Texans
after their first set of cuts, and it's a group that coach Gary Kubiak loves.

"Boy, if you look at our [college] free-agent class, this might be about as good as we've had as far as the numbers that could possibly be on this football team come final roster cuts next week," he said. "I've been very pleased with some of the free-agent acquisitions we've had coming out of college, that they have a chance to make us better."
I've already taken a look at five players who could be impacted by tonight's game against Dallas. In this edition of W2W4, we'll look at three undrafted rookies:
1. CB A.J. Bouye:
Last season the Texans realized just how important defensive-back depth is when they had a rash of injuries at the position late in the season. Bouye, undrafted out of the University of Central Florida, has a real chance to make the roster and contribute to that depth. He has five tackles during the preseason. In college, he had six interceptions, including three his senior season.
2. OLB Willie Jefferson:
Jefferson has played defense for only two full football seasons after starting his college career as a wide receiver. He's taken to it really well. Given how little time he's spent learning his new position, he has a lot of room to grow. In the preseason, he's had three quarterback hits, including one sack. He also has one batted pass. Jefferson is developing a keen sense of timing that helps his pass-rush ability. His run-stopping skills need a bit more work.
3. RB Cierre Wood:
Wood left Notre Dame early, driven to find a role on an NFL team. Though it seems young veteran
Deji Karim
is in the lead to be the Texans' third running back, Wood could fight his way onto the roster, or at least the practice squad, with a good performance tonight. He really started to garner notice once the games began and has seemed a bit ahead of fellow undrafted rookie
Dennis Johnson
. Both will get looks tonight.
August, 25, 2013
8/25/13
12:50
PM ET
After a simulated normal game week, the Texans will face the Saints this afternoon at 4 p.m. ET.


It's the game when the Texans will get to see the most of their starters (with the exception of suspended defensive end
Antonio Smith
, concussed receiver
DeAndre Hopkins
and recovering running back
Arian Foster
) they have all preseason. Then after this game, the starters will shut down and let the bottom of the roster sort itself out on Thursday in Dallas.
"As the veteran guys, we know where we need to be after this game," receiver
Andre Johnson
said. "I think that's about it. When I walk off the field Sunday and the game is over, I want to feel a certain way and, if I feel that way, I know I'm ready to go out and play."
Here are three things to watch Sunday afternoon:
1. This won't be the end of the line for the backup quarterbacks, but their battle continues
. I'll admit, I thought this was
T.J. Yates
' job solidly throughout training camp. But no one can deny how well
Case Keenum
is playing. To be clear (and it's ridiculous we even have to say this) neither of them are playing anywhere close to starter
Matt Schaub
. But as backups in this league go, they are both better options than a lot of teams have. Keenum played second after Schaub last week and Yates will play second this week.
2.
Watch the starters, with a few caveats
. The caveats are these: Some very important starters will be missing this week as the rest of them play 30-40 snaps, which will likely last for about a half. Also remember defenses do not show everything they have in the preseason. Offenses usually look much better than defenses in the preseason (and if they don't, that's a problem).
3. You'll get about a half of the third-string running back competition
. Before the games began,
Dennis Johnson
was the leader, but Johnson has fallen significantly down the depth chart. Veteran
Deji Karim
and undrafted rookie
Cierre Wood
are now at the top of the Texans' list. Karim led all running backs with nine carries for 55 yards last week against the Dolphins. He averaged 6.1 yards per carry with the help of a 19-yard run. Wood had five carries for a respectable 20 yards. It took him a little while to figure out exactly what the Texans wanted from him, but now that he has, he's doing well.
August, 14, 2013
8/14/13
9:00
AM ET
HOUSTON -- At 12-4 last season, the
Houston Texans
had the best record in the young franchise's history, won their second consecutive AFC South championship, became the first professional football team in Houston to win a home playoff game in consecutive years and finished the regular season as one of only two teams to be ranked in the top 10 in both offense and defense.

Doesn't sound like a failed season, does it? But as the franchise has grown and checked off accomplishments, failure has begun to mean anything other than a Super Bowl win.
"We weren't the last team standing last year, so ultimately we all failed," quarterback
Matt Schaub
said. "We all didn't accomplish our goals."
This year's Texans are more businesslike. Most of this year's team was around for the slide at the end of last season, which coincided with a linebacking corps that took one hit after another even after taking its biggest hit in early October, when it lost
Brian Cushing
. They shook their heads at three losses in the last four games of the season. The offense mustered only 12 points per game in those three losses -- less than half its season average.
"Everybody was so excited and couldn't wait for the next season to come around," receiver
Andre Johnson
said. "As you can see, we came out of the gate smoking, but at the end we just didn't finish it the right way. At times, maybe we could have been feeling ourselves or something. I think, I've told people this before, I think the game in New England, our last playoff game, it just showed you what kind of team you have to be in order to accomplish that ultimate goal. That was definitely a humbling experience, and we'll be looking forward to the challenge again."
Now they return with Cushing back and an additional offensive weapon in first-round draft pick
DeAndre Hopkins
-- the receiver with the massive, red-gloved hands. They should have more stability on the offensive line and more depth at safety with the additions of a future Hall of Famer (
Ed Reed
) and a college enforcer (
D.J. Swearinger
). They have healthy cornerbacks and the reigning defensive player of the year in
J.J. Watt
, who is sure he can play better than his unreal 2012 season.
They return with an edge they didn't have last year.
THREE HOT ISSUES
1. Hopkins' impact:
It is impossible not to be impressed by Hopkins' skill and athleticism, owed in part to his unusually large hands. Particularly adept at scoring in the red zone while he was at Clemson, Hopkins is expected to help the Texans, who didn't struggle scoring in the red zone last season but did struggle at scoring touchdowns in the red zone relative to the best offenses in the NFL. Hopkins provides a dimension the Texans didn't have in 2012 -- a second receiver defenses should fear, taking some attention from Johnson. The rookie is at his best on contested catches and spends his practices learning from cornerback
Johnathan Joseph
. Hopkins struggled early in organized team activities, but as training camp has progressed, he has grown more comfortable with just about everything. If he plays in regular-season games like he has in camp, the Texans' offense will improve significantly.
[+] Enlarge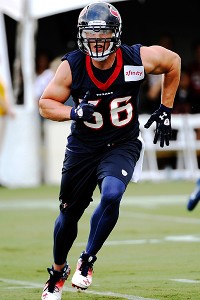 AP Photo/Pat SullivanWhen linebacker Brian Cushing went down for the season in Week 5, the loss was felt across the Texans' defense.
2. Cushing's return:
When Cushing was lost to a torn ACL in Week 5 against the
New York Jets
, a line of Texans greeted the fallen inside linebacker at the door to the locker room, shaking his hand and offering condolences. Losing Cushing hurt the Texans' safeties and outside linebackers as much as it changed their inside linebacker rotation. The pass rush suffered too.
"When Cush rushes, which we try to rush him a lot from the inside, if they have to pick up a back on him they are in trouble," defensive coordinator Wade Phillips said. "We got a big advantage, so they try and pick him up with a lineman. Well, if they do that then the outside guys get a chance to get a back or a better matchup."
Cushing's return brings back a maniacal, focused intensity that intimidates opponents.
"Brian Cushing is back," outside linebacker
Brooks Reed
said. "He's going to bring the attitude back."
3. When will Reed be healthy?
Reed signed with the Texans amid great fanfare. The owner sent his team plane to Atlanta to collect the future Hall of Famer, and the team's official Twitter provided updates along the way. Reed met with coaches, underwent a lengthy physical and then left Houston for a family engagement before returning to sign a three-year deal worth $5 million a year. About a month later, Reed had arthroscopic hip surgery to repair a torn labrum that he thinks he suffered during the Ravens' AFC Championship Game win.
This week, Reed was out of town rehabilitating with a specialist after having spent training camp in Houston working with Texans trainers.
"No, absolutely not," coach Gary Kubiak said when asked if that meant Reed had a setback. "It's just something that we've made our progress here for a couple of weeks. [Head athletic trainer Geoff Kaplan] has been in contact with this guy. He's worked with us before, so we wanted him to go see him for a couple of days and basically make sure we're doing the right things. We're going to do that for a couple of days each week."
So far there hasn't been any clarity on when Reed will be available to the Texans or whether he will be able to play in the season opener.
REASON FOR OPTIMISM
[+] Enlarge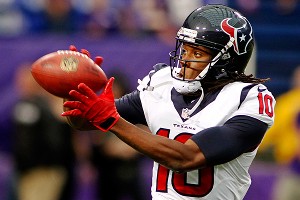 AP Photo/Andy KingRookie DeAndre Hopkins gives Houston a scoring threat in the red zone and a second receiver whom opposing defense should fear.
The Texans have the best defensive player in the NFL in Watt, who in 2012 had, according to his well-traveled defensive coordinator, the best season any defensive lineman has ever had. This was a good team last year that needed some cracks filled. Injuries had a lot to do with the Texans' defensive holes at the end of the season, and those injuries aren't an issue for Houston anymore. Watt also will be healthier this year. Offensively, the Texans have Johnson coming off a career year in receiving yards, running back
Arian Foster
and a quarterback who will benefit from a more stable offensive line and an extra receiving weapon.
There has been a lot of hand-wringing about Schaub, but I expect him to be a lot better this season with the changing personnel around him.
REASON FOR PESSIMISM
The abundance of linebacker injuries last season hurt the defense and special teams. The Texans still are vulnerable there. A rash of linebacker injuries in training camp has caused players to miss some time. Though none of these injuries were significant, a collection of linebacker injuries that keep players out for even two or three games at a time could be damaging.
Reed's health also could be troubling. Swearinger isn't ready yet, and safety
Shiloh Keo
has started in Reed's place during camp. Keo has improved since last season and has had a good camp, but he would be a downgrade from departed safety
Glover Quin
.
OBSERVATION DECK
Earl Mitchell had about the loudest debut as the Texans' starting nose tackle as one could have. Sure, it was a preseason game, but in 10 snaps Friday against Minnesota, Mitchell had four tackles, three of them for loss, including one sack. He also had one quarterback hit. Mitchell is quick on his feet, powerful and has a new confidence this season. The Houston native says that comes from knowing he entered this season as the starter -- a position well earned.

Foster remains on the physically unable to perform list. He initially landed on the list with a calf injury, but that has healed. Now, the Texans are being cautious because of a back injury. I wrote it before and will again: There's no sense in pushing Foster too much right now, especially given the load he takes on during the season.

With one full NFL season accrued, receiver Keshawn Martin has made a dramatic improvement on both offense and special teams. It has caught the eye of teammates. Last season, Lestar Jean joined Martin on the active roster. Jean is an incredibly hard worker, but he finds himself back on the bubble two years removed from being an undrafted rookie.

The Texans' third-string running back battle took an interesting turn Friday in Minnesota when Cierre Wood, who progressed more slowly at first, seemed to have a better night than fellow undrafted rookie Dennis Johnson. It's far too early to determine a winner in that battle, but those two are ahead, with veteran pickup Deji Karim threatening from a special-teams standpoint.

There were times last season when starting cornerback Joseph didn't feel like himself. He had two sports hernias that he didn't even properly identify until after playing in the Pro Bowl. Joseph had surgeries to repair both, and feels healthier than he did all last season. That is great news for the Texans, who pair him opposite the constantly improving Kareem Jackson.

It's unclear exactly how long left guard Wade Smith will be out after having his knee scoped Tuesday morning. What's certain, however, is that Smith's absence will give the Texans a chance to test the versatility of sixth-round draft pick David Quessenberry, who started out the offseason playing mostly tackle. Quessenberry made news during the summer because his truck was stolen, then recovered in East Texas with police saying it was being used for human trafficking. More relevant to our purpose is that Quessenberry has been really impressive in camp and willing to learn. Kubiak said he expects both Ben Jones and Quessenberry to see time there with Smith out.
August, 9, 2013
8/09/13
11:52
PM ET
When
Houston Texans
quarterback
T.J. Yates
threw up what seemed to be a jump ball, the ensuing play revealed exactly why the Texans loved
DeAndre Hopkins
in this year's draft.

Well covered by Minnesota defensive back
Bobby Felder
, Hopkins leaped, secured the ball, then came down with his first NFL touchdown.
Texans coach Gary Kubiak often says that Hopkins is at his best on contested catches. It's something he thrives on during practices when the Texans' starting cornerbacks don't give him much room.
Even better for the Texans was that the touchdown play came very shortly after an uncharacteristic drop by Hopkins. He wasn't happy with himself for that play, but didn't let it linger long.
A few more observations from Friday night's game:
I wrote earlier today that quarterback Case Keenum struggled in Wednesday's practice and my feeling was the backup quarterback job was Yates' to lose. That wasn't a feeling based on just that practice, of course. While I still think Yates is ahead, Keenum had a really nice game in Minnesota. On Twitter, John McClain of the Houston Chronicle suggested Keenum should be first off the bench next week against Miami. It's a good point. Keenum looked good, but he did it against worse players than Yates did. Flipping the two to see how Keenum does against second-string defenders could allow a more accurate assessment. Against the Vikings, Keenum completed 13 of 18 passes for 125 yards and a touchdown. Yates completed 13 of 21 passes for 151 yards and a touchdown.
Earl Mitchell will take over as the Texans' starting nose tackle this season, and if tonight was any indication, the Texans are getting a serious upgrade at the position. Mitchell, another player in a contract year, led the team with four tackles in the first quarter, three of them for loss and one of which was a sack. He was constantly in the backfield early in the game.
The Texans' punting and kicking on Friday was greatly improved, even though Andrew Shapiro, not Shane Lechler, did the punting. Shapiro's second punt was downed inside the 10-yard line. Coverage, however, struggled at the start of the game when Vikings rookie Cordarrelle Patterson returned the opening kickoff 50 yards.
The Texans don't do live tackling in practice, and at times it showed. A short pass by Vikings backup Matt Cassel turned into a 61-yard touchdown catch by Zach Line when three different Texans defensive backs missed tackles.
Minnesota's first series ended with Houston safety Shiloh Keo intercepting a Christian Ponder pass. Keo has had a good training camp, but the players who made that interception happen were two linebackers fighting for a starting role: Joe Mays and Darryl Sharpton. Sharpton broke through to pressure Ponder as he released the ball, and Mays disrupted receiver Jerome Simpson's route. The pass bounced off Simpson and into Keo's arms.
Running back Cierre Wood helped himself. The undrafted rookie out of Notre Dame came into Friday night's game second to Dennis Johnson in the battle to be the Texans' third running back. Wood had 10 carries for 59 yards, including a 20-yard run. Johnson had seven carries for 11 yards, though he had four carries for 14 yards in the first quarter.
Oh, and the Texans won 27-13. Don't care? Good. You shouldn't.
April, 25, 2011
4/25/11
11:45
AM ET
NFC West teams have drafted 22 defensive ends since 2002, a number smaller than I would have anticipated.
An even smaller number -- two! -- start for the teams that drafted them.
One,
Antonio Smith
, starts for another team.
A few notes relating to this latest item in
a series examining various positions
:
Kentwan Balmer appears as a defensive end because the San Francisco 49ers drafted him to play that position. Balmer played defensive tackle in college.
Darnell Dockett does not appear as a defensive end because the Arizona Cardinals drafted him to play defensive tackle. Yes, Dockett plays defensive end in the Cardinals' current scheme, but the NFL lists him as a tackle for Pro Bowl voting and he is not a typical defensive end even by 3-4 standards.
Of the 22, only Chris Long and Calais Campbell are starting for their original teams. Smith is starting for the Houston Texans.
Six of the eight most highly drafted ends since 2002 came from teams most recently affiliated with the ACC.
Long was the only player on the list drafted before the 28th overall choice.
Will Davis and Parys Haralson were listed as defensive ends coming out of college, but both projected as outside linebackers. That is why they do not appear below. Cody Brown also projects at linebacker.
I've used the term "not active" loosely in the charts to describe players who weren't on active rosters during the regular season recently.
Now, on to the charts. I've broken them up with italicized comments representing what NFL teams might have been thinking at corresponding stages of these drafts.
Playing it safe and hoping those NFL bloodlines pay off ...
Defensive linemen are at a premium, and we might find out why ...
The pure pass-rushers are gone by now ...
If these guys don't pan out, it'll be a while before we take another third-round end ...
It's an upset if we find a starter at this point ...
Time to fill out the practice squad, but you never know ...