June, 30, 2014
Jun 30
5:30
PM ET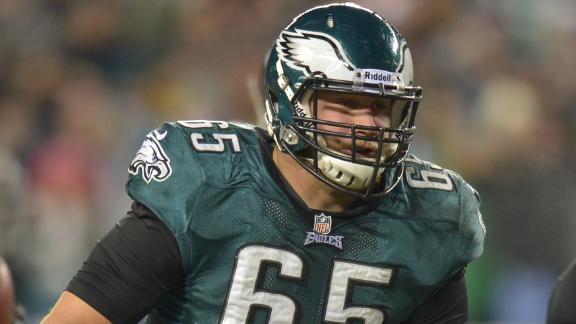 PHILADELPHIA -- The Eagles don't have a problem if offensive tackle
Lane Johnson
is really suspended for four games, as reported by Paul Domowitch of the Philadelphia Daily News.
They have several problems.
Remember, Johnson was a quarterback in high school and then a tight end when he first got to Oklahoma University. The 6-foot-6 Johnson bulked up to more than 300 pounds to become an offensive tackle good enough to be taken fourth overall in the 2013 NFL draft.
Johnson
Was that physical transformation natural or the result of performance-enhancing drugs? This is more than a theoretical matter for the Eagles. They drafted Johnson based on his size and his physical skills. At the scouting combine last year, Johnson ran a 4.75-yard 40-yard dash, an excellent time for a man of his size. The Eagles drafted him fourth, which meant a contract worth almost $20 million, including a signing bonus of $12 million.
The Eagles made that investment on the assumption that Johnson was clean. He earned his money as a rookie, starting all 16 regular-season games plus the playoff game against New Orleans. But the question becomes, can he perform at the same level if he stops doing whatever earned him a four-game suspension?
If Johnson is sidelined, the Eagles could start either guard
Todd Herremans
or backup lineman
Allen Barbre
at right tackle. Barbe performed very well when pressed into action at left tackle last year at Green Bay. Herremans played right tackle in 2012 and 2013 before moving back inside to guard last year.
The other candidates to fill in for Johnson are
Dennis Kelly
, who was troubled by back pain last season, and
Matt Tobin
and
Michael Bamiro
. The Eagles did not take an offensive lineman in this year's draft.
Taking a step back, a suspension would cast doubts upon more than just Johnson.
Head coach Chip Kelly has gotten a lot of attention for his training methods and his sports science-based approach to football. It didn't raise many questions when linebacker
Jake Knott
was suspended earlier this year. But now, with a first-round pick and starter reportedly testing positive for PEDs, there will be plenty of speculation about what's in those custom smoothies the players drink after every practice.
Johnson would be the fifth Eagles player suspended for performance enhancing drugs. This would be the first time, however, that two Eagles have tested positive in the same year. Instead of a minor player whose absence would barely be noticed, Knott becomes part of a trend for the 2013 NFC East champions. If there are no more positive tests, there will be no more suspicions. But if the trend continues, questions will be asked.
December, 29, 2013
12/29/13
7:45
PM ET
ARLINGTON, Texas -- Eagles safety
Earl Wolff
is inactive for Sunday night's showdown against the
Dallas Cowboys
.
Wolff missed four games after injuring his right knee in Green Bay Nov. 10. He returned for last week's game against Chicago but left after playing one series. Veteran
Patrick Chung
will start at safety in place of the rookie.
Backup safety
Colt Anderson
(hamstring) and backup center
Julian Vandervelde
, who were listed as out, were both inactive. Otherwise, it was the usual group: quarterback
Matt Barkley
, running back
Matthew Tucker
, offensive lineman
Dennis Kelly
and cornerback
Curtis Marsh
.
Offensive lineman
Matt Tobin
is active for the second time this season. He takes Vandervelde's spot on the 46-man roster, but would not play center if anything happened to starter
Jason Kelce
. That role would likely fall to left guard
Evan Mathis
.
As expected, Cowboys quarterback
Tony Romo
and inside linebacker
Sean Lee
are inactive. So is former Eagle
Ernie Sims
, which leaves Dallas even thinner at linebacker.
September, 29, 2013
9/29/13
3:35
PM ET

DENVER -- It wasn't surprising when the
Philadelphia Eagles
announced that safety
Patrick Chung
will be inactive for today's game against the
Denver Broncos
. Chung injured his shoulder against Kansas City and didn't practice all week. Rookie
Earl Wolff
will start in his place.
There was a little intrigue in the rest of the secondary. The Eagles are desperately trying to develop some depth with their young cornerbacks.
Roc Carmichael
, who was signed off the Texans' practice squad last week, will dress for the first time. Seventh-round pick
Jordan Poyer
is also in uniform. Both of them were inactive for the Chiefs game.
Shaun Prater
, who dressed last week, is back on the inactive list this week.
Carmichael and Poyer are likely to see most, even all, of their playing time on special teams. But there is always a chance they will be pressed into action due to injury. Poyer was forced to play against Washington and was immediately targeted by
Robert Griffin III
.
Offensive lineman
Dennis Kelly
is inactive for the fourth time. The first three weeks, he was unable to practice because he was recovering from back surgery. Kelly practiced this week, but is behind
Allen Barbre
, who backs up at both guard and tackle.
Matt Barkley
,
Matt Tobin
,
Damion Square
and
Emil Igwenagu
are the other inactive Eagles.
Cornerback
Champ Bailey
(foot) in inactive for the Broncos. It will be interesting to see if that means
Dominique Rodgers-Cromartie
is assigned to
DeSean Jackson
wherever he lines up.
November, 18, 2012
11/18/12
2:50
PM ET
LANDOVER, Md. -- I just don't know how else to put it. This is nothing against the
Washington Redskins
, who just took a 17-3 halftime lead over the
Philadelphia Eagles
thanks to
LeSean McCoy
's last-minute fumble in his own red zone. But the Eagles are simply one of the worst teams in the NFL right now. They do absolutely nothing well. They don't block, tackle, cover, run, pass or catch. They are not creative, on offense or defense. They are not disciplined, as their six first-half penalties for 45 yards attest. They came in here today on a five-game losing streak, with a rookie quarterback making his first start, and they've shown nothing to indicate an ability to avoid losing a sixth straight.


The number of breakdowns so far is too high to cram into one halftime post, so we'll take a look specifically at the 49-yard touchdown pass from Robert Griffin III to
Aldrick Robinson
in the second quarter. Robinson was so open you'd have thought he had the measles. Good for Griffin for spotting him and heaving the throw into the end zone on a fake-reverse play action play, but this was a screw-up on the part of the Eagles. Safety
Nate Allen
came up to play the tight end when it's obvious that cornerback
Nnamdi Asomugha
was expecting him to cover deep, but that still doesn't excuse Asomugha from not going with the receiver, since he appeared to have nothing else to do on the play.
Let's give Griffin credit for a sharp first half in which he completed 8-of-9 passes for 99 yards and two touchdowns and rushed for 20 yards on four carries. But this has not been a challenge for a rested Redskins team coming off its bye and playing at home. They have had a couple of third-down breakdowns on defense, as the Eagles are 4-for-9 on third downs. But that's about all that's gone wrong. They picked off Eagles rookie quarterback
Nick Foles
twice in the first quarter, and they seem to be benefiting from the Redskins debut of safety
Brandon Meriweather
, who missed the first nine games of this season with knee injuries and has one of the two interceptions.
Foles is 12-for-22 for 120 yards and those two interceptions. Frankly, he looks as lost as you'd expect a third-round rookie making his first start 0f the season in Week 11 to look. The first interception went off the hands of tight end
Brent Celek
, but the throw wasn't very good to begin with, and Foles has shown nothing to indicate that he's in any kind of rhythm with his offense or receivers. The Eagles have had the ball for 19:11 of the game's 30 minutes so far, and yet they have outgained the Redskins only 169 yards to 138.
The Eagles' offensive line, which was a big part of the problem all year when
Michael Vick
was playing quarterback, still looks shaky. Newly signed
Jake Scott
started at right guard in place of
Danny Watkins
, and he's been flagged for two false start penalties. Right tackle
Dennis Kelly
has been called for holding twice (though one was declined), and left tackle
King Dunlap
got called for a hold as well. Foles isn't picking up the corner blitz any better than Vick did, and in short the Eagles' offense looks as ugly and disjointed as it has all year.
On the Redskins' side, wide receiver
Pierre Garcon
is starting his fourth game of the season, but it's clear they're limiting his snaps as he plays with the foot injury that has bothered him since the season opener. Garcon has two catches for a total of six yards.
October, 28, 2012
10/28/12
12:05
PM ET
April, 28, 2012
4/28/12
5:17
PM ET
The
Philadelphia Eagles
used their second pick of the sixth round (No. 30 in the round, No. 200 overall) to select Miami offensive lineman
Brandon Washington
. He played tackle last year at Miami but guard the two years prior to that, and the Eagles announced him as a guard, which is where he projects to play in the NFL. At 6-foot-3, 320 pounds, he feels a little big for a Howard Mudd guard. But perhaps his experience at guard and tackle is part of the appeal for a team that was looking to add bench depth behind its offensive line starters.
As we wrote when the Eagles picked tackle
Dennis Kelly
in the fifth round, the Eagles allow Mudd to have some say in deciding who they pick at the offensive line spots, and he tends to like a certain kind of player with which he believes he can work. Under Mudd, the Eagles' offensive linemen have to be quick and athletic to get out and block from a position upfield from the one in which they start, and maybe they saw something on tape with Washington that made him think he'd take to it.
April, 28, 2012
4/28/12
3:16
PM ET
We have reached the add-depth portion of the NFL draft, and the
Philadelphia Eagles
have added some depth -- not to mention height -- at a position of need. With the 18th pick in the fifth round (No. 153 overall), the Eagles took Purdue tackle Dennis Kelly, who is 6-foot-8 and 304 pounds. Kelly moves into the backup offensive line mix following the injury to starting left tackle
Jason Peters
and the signing of new starter
Demetress Bell
and the re-signing of backup tackle
King Dunlap
.
Kelly is a project lineman, but the project lineman that offensive line coach Howard Mudd got in the sixth round last year was
Jason Kelce
, who emerged as the Eagles' starting center last summer and held that position all year. So Kelly becomes Mudd's next developmental guy, and the speed with which he picks up Mudd's blocking schemes will determine how quickly he can be a contributor on the line for the Eagles.

NFL SCOREBOARD
Thursday, 8/21
Friday, 8/22
Saturday, 8/23
Sunday, 8/24
WEEKLY LEADERS