NFL Nation:

Deonte Thompson
July, 13, 2014
Jul 13
10:45
AM ET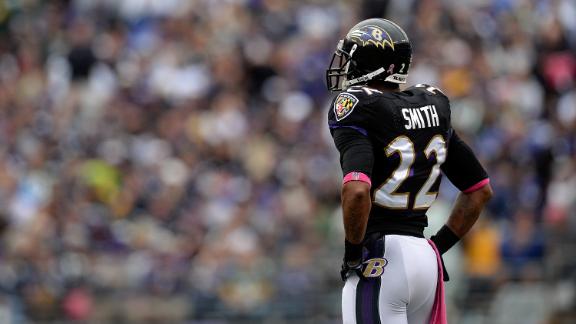 Jimmy Smith
became the fifth
Baltimore Ravens
player arrested this offseason when he was
charged with misdemeanor disorderly conduct
late Saturday night.
The embarrassment for the Ravens isn't the individual arrests, per se. Three players were arrested for misdemeanors, and none may go to trial on any of the charges.
Five years from now, the lasting black eye from the Ravens' trouble-filled 2014 offseason will likely be running back
Ray Rice
's incident and the cumulative effect of the arrests.
The numbers are nearly unbelievable since this year's Super Bowl:
The Ravens have had five players arrested, and the other 31 teams combined have had 14 arrests. This means one out of every four NFL players arrested this offseason have been Ravens.
There are only three other teams with multiple arrests (San Francisco, Buffalo and Chicago), and none has more than two. The Cincinnati Bengals, who have been known for making headlines for arrests in the past, have had only one off-field incident.
The Ravens' five arrests have been in a five-month span this year and are one more than they had in coach John Harbaugh's previous six seasons.
Most of these legal issues have been resolved. Rice (felony aggravated assault) and offensive lineman
Jah Reid
(misdemeanor battery) have both been accepted into pretrial intervention programs, and wide receiver
Deonte Thompson
(felony possession of marijuana) had his case dismissed.
Running back
Lorenzo Taliaferro
(misdemeanor destruction of property as well as drunk and disorderly) has a July 31 court date, and Smith will have a court date assigned.
While many want to point a finger at the Ravens for not having a tighter rein on their players, all five arrests occurred when the players were on a break from offseason workouts. In fact, all but Smith's arrest occurred outside Maryland. There is only so much a team can do to keep an eye on all 90 players on its roster.
The good news for the Ravens is that the offseason is almost over. There are only 10 days until the entire team reports for training camp. The Ravens can only hope they don't add to this police blotter of an offseason before then.
March, 9, 2014
Mar 9
3:50
PM ET
Another arrest, another black mark on the
Baltimore Ravens
' image.
The arrest of backup offensive lineman
Jah Reid
on
two misdemeanor battery charges
was the third involving a Ravens player in 22 days. That is nearly one per week since the middle of February.
Embarrassing? Without question. Have the Ravens become the NFL's bad boys again? You could make that argument.
All you have to do is bring up
Ray Rice
's TMZ video and the mug shots for Reid and wide receiver
Deonte Thompson
. Some will say it's unfair to put that label on the Ravens because two of the three players are backups and might not be on the team when the 2014 season kicks off. But the casual football fan will remember "three Ravens arrested in less than a month" and not the names of those players.
The Ravens have made significant strides to repair their image since the days of Ray Lewis pleading guilty to a obstruction of justice charge in a double murder and Jamal Lewis going to jail on a federal drug charge. I remember going to games in 2005 and seeing fans at opposing stadiums wearing orange jump suits with the name "Lewis" on back of them.
Coach John Harbaugh made it a focus to make over the Ravens' bad boy persona, even going as far as shelving the all-black uniforms to avoid "playing into everyone's stereotypical thinking." In Harbaugh's first six seasons, only four Ravens had been arrested. None were starters, and linebacker Rolando McClain was arrested before even putting on a Ravens uniform.
Even though there has been a spike in arrests, it's hard to blame Harbaugh, because he can't be following 53 players to Atlantic City or Florida. It's also difficult to blame the Ravens, because Rice, Thompson and Reid had never been arrested before in their NFL careers. It's not like you can accuse the Ravens of keeping repeat offenders.
But it's hard to alter the national perception when the headlines have been about another Ravens player arrested. Bad news is bad news. This was already going to be a challenging offseason for the Ravens, who were coming off their first non-winning season under Harbaugh. The Ravens have to rebuild their offense, part of their front seven on defense, and now their image.
The Ravens were atop the football world a year ago as Super Bowl champions. Now, it feels like their image is at the bottom of it.
November, 28, 2013
11/28/13
7:28
PM ET

BALTIMORE -- There were no surprises with the inactives for the
Baltimore Ravens
, who play host to the
Pittsburgh Steelers
on Thursday night (8:30 ET, NBC).
Defensive end
Chris Canty
, who was probable with a shoulder injury, is active and will start. For the second straight week, the Ravens decided to go with wide receiver
Brandon Stokley
and defensive lineman
DeAngelo Tyson
, and they made wide receiver
Deonte Thompson
and defensive lineman
Brandon Williams
inactive.
Here are the Ravens' official inactives: safety
Brynden Trawick
, linebacker
John Simon
, defensive lineman Brandon Williams, wide receiver Deonte Thompson, running back
Bernard Scott
, safety
Omar Brown
and center
Ryan Jensen
.
October, 5, 2013
10/05/13
2:40
PM ET
The
Baltimore Ravens
cut wide receiver
Brandon Stokley
on Saturday and re-signed tight end
Billy Bajema
.
Parting ways with Stokley shows the Ravens are more confident in their young receivers like
Marlon Brown
and
Deonte Thompson
. In fact, Thompson's strong showing in Buffalo (four catches for 50 yards) likely prompted the move.
The Ravens signed Stokley during training camp because they wanted a sure-handed veteran who could move the chains on third down. But the Ravens are now going with more speed and big-play ability by opting for Thompson over Stokley. Cutting Stokley is also an indication that Thompson was cleared to play Sunday after suffering a concussion last week.
Even though four wide receivers are listed as questionable, the Ravens are getting healthier at that position. Thompson made his 2013 debut last week after missing the first three games with a foot injury.
Jacoby Jones
has a chance of playing Sunday after sitting out the past three games with a sprained knee.
Stokley had been banged up recently. He was inactive last Sunday because of a groin injury and didn't practice Friday. Stokley caught nine passes for 79 yards for the Ravens in three games.
September, 12, 2013
9/12/13
4:41
PM ET
There were no changes to the Ravens' injury report Thursday.
Four players didn't practice: wide receivers
Jacoby Jones
(knee, already ruled out) and
Deonte Thompson
(foot); nose tackle
Brandon Williams
(toe); and center
Ryan Jensen
(foot).
Defensive lineman
Arthur Jones
(illness) and backup running back
Bernard Pierce
(thigh) were limited again. Offensive tackle
Michael Oher
(ankle) had full participation for a second straight day.
"(Oher) is an unusual guy -- extremely tough, extremely dedicated and disciplined," offensive coordinator Jim Caldwell said Thursday. "He has a very, very high tolerance for pain. He's been able to get back out. He's obviously committed to this team, and he's working at it extremely hard."
September, 7, 2013
9/07/13
10:29
AM ET
The
Baltimore Ravens
could be without wide receiver-returner
Jacoby Jones
for four to six weeks,
according to multiple reports
.
Jones reportedly has sprained his medial collateral ligament in his right knee after undergoing an MRI on Friday. He was injured when undrafted rookie
Brynden Trawick
, who was playing in his first NFL game, ran into the Pro Bowl returner on a punt return in Baltimore's season-opening 49-27 loss to the
Denver Broncos
Thursday night.
The Ravens can't put Jones on the injured reserve-designated for return list because they used that on tight end
Dennis Pitta
. And, given the possibility of Jones returning in a month, Baltimore wouldn't have used that designation, which sidelines a player for at least eight weeks, on Jones.
Here's the impact of not having a triple threat like Jones:
Wide receiver
: Minimal. Jones was the No. 2 receiver for the Ravens, but it's debatable whether he's the second-best receiver on the team. You can make the argument that undrafted rookie
Marlon Brown
is a better pass-catcher right now than Jones. In the season opener, Jones had three catches for 24 yards in a little over one quarter of work, while Brown had four receptions for 65 yards and a touchdown. Brown's size and ability to make catches over the middle is an asset to this offense. So, in the big picture, Baltimore is going to miss
Anquan Boldin
(traded in the offseason) more than Jones.
Punt returns
: Moderate. It looks like the Ravens are going to have cornerback
Lardarius Webb
fill in for Jones here. Jones scored a critical touchdown off a punt at Pittsburgh last season, but he ranked 15th in the NFL in punt returns with a 9.2-yard average. Baltimore may not lose much with Webb, who is an experienced punt returner. In 2011, Webb had a slightly better average (10.0) than Jones and had a 68-yard touchdown. The biggest problems deal with injury. The Ravens ideally wouldn't want to put too much on Webb, who is 11 months removed from anterior cruciate ligament surgery, and wouldn't want to expose their best cover corner to getting hurt on special teams.
Kickoff returns
: Big. This is the role where Jones excels the most. Jones earned his first Pro Bowl nod primarily for leading the NFL with a franchise-record 30.7-yard kickoff return average. He is the only player in NFL history to record two kickoff return touchdowns of at least 105 yards, and he did so in a four-week span last season. Jones also had a Super Bowl-record 108-yard kickoff return for a touchdown to open the second half. The Ravens went with
Bernard Pierce
on kickoffs after losing Jones on Thursday night, although the injured
Deonte Thompson
(foot) is listed as the No. 2 kickoff returner on the depth chart. Whoever takes over, the Ravens won't have the same explosiveness as they did with Jones.
September, 4, 2013
9/04/13
5:00
PM ET
Here is the
Baltimore Ravens
' injury report for Thursday's game in Denver:

OUT
: DT
Art Jones
(non-football illness).
DOUBTFUL
: C
Ryan Jensen
(foot), WR
Deonte Thompson
(foot), DT
Brandon Williams
(toe).
PROBABLE
: TE
Ed Dickson
(hamstring), DE
Pernell McPhee
(knee).
September, 3, 2013
9/03/13
4:13
PM ET
Baltimore Ravens
tight end
Ed Dickson
had his second full practice, a sign that he'll play in Thursday's regular-season opener in Denver.

Dickson has been dealing with a hamstring injury throughout the preseason. On Monday, Dickson sounded optimistic about his chances of suiting up.
"I'd go with what Ed said," coach John Harbaugh said Tuesday. "He knows himself as well as anybody, and he's had good practices."
Wide receiver
Deonte Thompson
(foot), nose tackle
Brandon Williams
(toe) and center
Ryan Jensen
aren't expected to be available after missing Tuesday's practice. Linebacker
Pernell McPhee
was limited with a knee injury.
Starting defensive end
Art Jones
, who was ruled out Monday with an illness, addressed his situation
on Twitter
on Tuesday.
"As many of you know i'm having personal health issues. Please respect my privacy. We as athlete's go through real life problems also.Thank You all for your love and support. Ravens fans are the best!! See you all on the field soon!!! : ) #Onelove"
Harbaugh said he would leave it to Jones to discuss the specifics of his illness.
"It's not anything that's life threatening or anything like that, but it's non-football related," Harbaugh said. "We've just got to get some tests done to make sure he's OK. And until the tests come out the right way, he's not going to be able to play. It's something that I've been told now that they can't tell you how long it'll be. It could be a week. It could be indefinitely. We don't think it's going to be the second part of it, but he's going to see a specialist here on Wednesday."
July, 29, 2013
7/29/13
11:00
AM ET
OWINGS MILLS, Md. --
Baltimore Ravens
coach John Harbaugh didn't waste any time to set the theme for the defending Super Bowl champions' training camp.

"First post-practice press conference of the 2013 season," Harbaugh told reporters last week, "so I guess that means that 2012 is behind us, right?"
No one in the organization is wearing a Super Bowl ring. The two Lombardi trophies won by the Ravens aren't sitting in the lobby of the team's headquarters. Even two of the most prominent players in franchise history --
Ray Lewis
and
Ed Reed
-- are gone.
This is more than distancing themselves from a Super Bowl hangover. The Ravens have undergone a Super Bowl team makeover. This is a new team with new challenges. In many ways, this is a new era.
When you factor in the season-ending injury to tight end
Dennis Pitta
, the Ravens will take the field in 2013 with 10 different starters from the team that beat the
San Francisco 49ers
in the Super Bowl in February; six on defense, four on offense. How drastic is this change? No previous Super Bowl champion has lost more than five starters the following year.
The Ravens can't say this was part of some grand scheme to be revolutionary. A salary-cap crunch forced some tough decisions and even tougher divorces. Many have counted out the possibility of a Ravens repeat because of these losses. The Ravens, though, believe they remain a title contender because of the players who will replace them, such as pass-rusher
Elvis Dumervil
, defensive lineman
Chris Canty
, safety
Michael Huff
and first-round pick
Matt Elam
.
"Every move we've made is what's best for our football team to be the best team we can. Period. ... We'll just see where that takes us," Harbaugh said. "I'm pretty excited about it. I think we can be a very good football team. But we have to prove it."
THREE HOT ISSUES
1. Figuring out the No. 2 wide receiver
. The one move that the Ravens will second-guess is trading wide receiver
Anquan Boldin
to the 49ers for a sixth-round draft pick because he refused to reduce his $6 million salary. This leaves the Ravens with
Torrey Smith
as the No. 1 wide receiver and a bunch of question marks.
The favorite at this point is
Jacoby Jones
, but team officials won't just hand the job over to him. Jones will have to win it. You get a feeling that the team would like one of its young receivers to take over the No. 2 spot, which would allow Jones to focus on his true strengths. Jones was a difference-maker in the playoffs as a field-stretching No. 3 receiver and a returner. But there's no proven experience beyond Smith and Jones, the only two wide receivers on the Ravens' roster who have caught more than seven passes in a season.
"I will play whatever role they want me to play," Jones said. "If they want me to hand out the water, I will be the best water boy there is."
The other receivers are making an impression early in camp.
Tandon Doss
, who is considered more of a possession receiver since being a fourth-round pick in 2011, looks more explosive.
Deonte Thompson
, who went undrafted a year ago, has the talent to develop into a starting receiver in this league, but he has to be more consistent. And
David Reed
, who has been an afterthought in this competition, has bulked up.
[+] Enlarge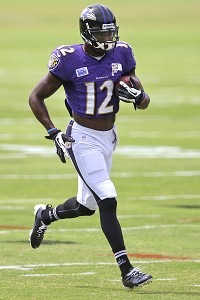 AP Photo/Patrick SemanskyJacoby Jones looks to move up the depth chart following the departure of Anquan Boldin.
All four receivers have rotated into the starting lineup in the first week of camp. "That's exactly the plan," Harbaugh said. "We're rotating those guys by period usually, and we're giving them all a chance to work with the first group and work with Joe [Flacco]."
2. The state of the offensive line
. Most of the players blocking for Flacco right now likely will not do so in the regular-season opener in Denver. Right guard
Marshal Yanda
(offseason shoulder surgery) is on the physically unable to perform list. Left guard
Kelechi Osemele
is sitting out some practices after tweaking his hamstring. And left tackle
Bryant McKinnie
is working himself back into shape.
The only starters in front of Flacco right now are right tackle
Michael Oher
and first-year starting center
Gino Gradkowski
, who has to prove he's strong enough to be a center at this level. As a result, Flacco isn't getting much time in the pocket, not even on his three-step drops. Although none of these injuries is serious, the Ravens need to get this group together as quickly as possible to get their chemistry back.
The reason the Ravens believe this offensive line will be better than last year's group is Juan Castillo. His title is run game coordinator, but make no mistake, he's running this offensive line. Castillo is a respected offensive line coach from his days with the
Philadelphia Eagles
, and he's also one of the more motivated coaches in the league after being fired following two tumultuous seasons as the Eagles' defensive coordinator. Several teams were interested in adding Castillo to their staff, but Harbaugh had an edge. He's known Castillo since he was in fifth grade.
3. Availability of inside linebacker Jameel McClain
. The original prognosis was that McClain would be sidelined for six months after suffering a spinal cord contusion. Nine months later, McClain still hasn't been cleared for football activities. This is a big deal for the Ravens, even though McClain is hardly a big name around the league. While the spotlight has been on Lewis for years, McClain has been an underrated force in the middle for Baltimore.
McClain's slower-than-expected recovery hasn't put the Ravens in a vulnerable position. Already knowing the team had to replace the retired Lewis, Baltimore drafted
Arthur Brown
in the second round, and the team has been impressed with his ability to run sideline to sideline. Then, after the team's first choice at inside linebacker,
Rolando McClain
, abruptly retired, the Ravens signed
Daryl Smith
, a free agent from the
Jacksonville Jaguars
, on June 5.
If McClain is unable to return for the regular season, Smith would start at inside linebacker with Brown. The Ravens had been monitoring Smith throughout the offseason, but they wanted to wait until June to sign him so he wouldn't count against them getting an additional compensatory pick next year.
"Daryl is a very intelligent player," Ravens defensive coordinator Dean Pees said. "You can tell he's a veteran. He plays smooth. He's got heavy hands. He's a tough guy. I really love his personality -- fits right in with our room."
REASON FOR OPTIMISM
[+] Enlarge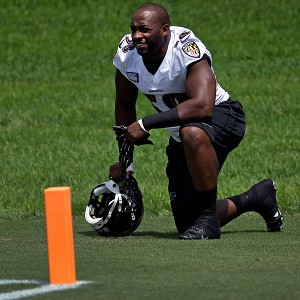 AP Photo/Patrick SemanskyPass-rusher Elvis Dumervil is one of the Ravens' high-profile offseason acquisitions.
On paper, the Ravens have a better defense than a year ago. That's not saying much. A franchise known for stopping the run and picking off quarterbacks, the Ravens finished 17th in the NFL in yards allowed (5,615) last season. Baltimore improved its pass rush by replacing
Paul Kruger
with Dumervil. The Ravens upgraded their defensive line with Canty. They also added two well-rounded safeties in Elam and Huff to fill the void left by Reed, who struggled with tackling, and Pollard, who struggled in pass coverage. Plus, the Ravens get back their best cornerback in
Lardarius Webb
, who suffered a season-ending knee injury in October.
Offensively, the Ravens have the potential to improve if Flacco has truly turned the corner. Last season, after Jim Caldwell took over as offensive coordinator, Flacco averaged 283.8 yards per game with 15 touchdowns and one interception. If Flacco can carry this over in 2013, the Ravens will have a top-10 offense.
REASON FOR PESSIMISM
There are always going to be doubts about Flacco because he hasn't been able to play at a high level for 16 games in the regular season. The pressure will be on Flacco to produce after he signed a $120.6 million contract this offseason. He'll have to validate that contract with not much of a supporting cast this season. He lost his top two targets from a year ago in Boldin and Pitta. They accounted for 36 receptions in the postseason, which was nearly half of Flacco's completions.
Where Flacco will miss Boldin and Pitta the most is in the red zone. The Ravens will be vulnerable if they are scoring field goals instead of touchdowns. There will be little room for error for the Ravens, who have to hold off the upstart Bengals to win the AFC North for a third straight season.
OBSERVATION DECK
One apparent change since Caldwell took over as offensive coordinator was moving Flacco out of the pocket more. It was more of the same in the first couple of practices in camp. Flacco, though, doesn't want to be the next RG III. "You hope that you have some room in there to move around and look for guys," Flacco said. "But I'm not going to make a living doing it. And if I was to do that, I'd probably be out of the game after like four of them and on the sideline for the rest of the season."

Terrell Suggs has never been a workout warrior, but he took his training to another level this offseason. He reported to training camp in the best shape of his 11-year career. Some of the motivation comes from the fact that he wants to reclaim his title as best defender in the league after an Achilles injury slowed him down in 2012. He also wants to prove his worth to the Ravens considering his base salary in 2014 jumps to $7.8 million.

Another veteran who is in much better shape than a year ago is Haloti Ngata, who is working at a new position at nose tackle. The addition of Canty allowed Ngata to move inside, where Ngata is more comfortable and effective. It's clear Ngata is carrying fewer pounds when you see him run down the line and disrupt the stretch running plays.

Let's not write off Ray Rice too quickly. There's been a clamoring in the Ravens' fan base for backup running back Bernard Pierce to get more carries because he had a stronger finish to last season than Rice. Although the Ravens are wise not to overload Rice, he's still the best playmaker at running back. Look at fourth-and-29 in San Diego if you need a reminder. Pierce has shown the ability to get yards on defenses after the Ravens have worn them down. He's not in the same league as Rice yet.

Rookie fullback Kyle Juszczyk has to prove himself as a lead blocker, especially in short-yardage situations. Some have already been calling for the Ravens to re-sign Pro Bowl fullback Vonta Leach. But Juszczyk has been effective as a receiver. One local reporter nicknamed him "Little Pitta."

The natural assumption is that the signing of Dumervil will reduce playing time for outside linebacker Courtney Upshaw. That may not be true. The Ravens like Upshaw's impact on run defense and his ability to set the edge. It wouldn't surprise me if Upshaw played a majority of the early downs, which would keep Dumervil fresh as a pass-rusher.

It was last year at this time when the Ravens were deciding between Justin Tucker and Billy Cundiff at kicker. Harbaugh made the right move in going with Tucker, but it was far from a no-brainer. Tucker was an undrafted rookie and Cundiff was a year removed from being a Pro Bowl kicker. Tucker didn't convincingly win the battle, but it was enough to beat out Cundiff, who had that painful miss in the AFC Championship Game the previous postseason. Tucker converted 30 of 33 field goals (90.9 percent), the second-best success rate for a rookie in NFL history. He made a 58-yard field goal in training camp this year. Cundiff, meanwhile, is with the New York Jets, his third team since getting cut by the Ravens in August 2012.
January, 12, 2013
1/12/13
3:51
PM ET
DENVER -- There are no surprises on Denver's inactive list for Saturday's AFC divisional playoff game against Baltimore.
Here are Denver's inactives:
Tracy Porter
,
Andre Caldwell
,
C.J. Davis
,
Chris Gronkowski
,
Caleb Hanie
,
Sealver Siliga
and
Julius Thomas
. Porter is the most important injured player of the group. He has a concussion. Denver is remarkably healthy going into this game.
Here are Baltimore's inactive:
Deonte Thompson
,
David Reed
,
Ramon Harewood
,
Chris Johnson
,
Bryan Hall
,
Omar Brown
and
Adrian Hamilton
.
As expected, it is quite chilly here. But the skies are clearing up, and it is not as gloomy as it was a couple of hours ago when it was snowing lightly. The field is in good condition.
I think here is a chance the game will be played in dry conditions, although there are reports that the wind-chill factor might be near zero late in the game.
October, 18, 2012
10/18/12
12:00
PM ET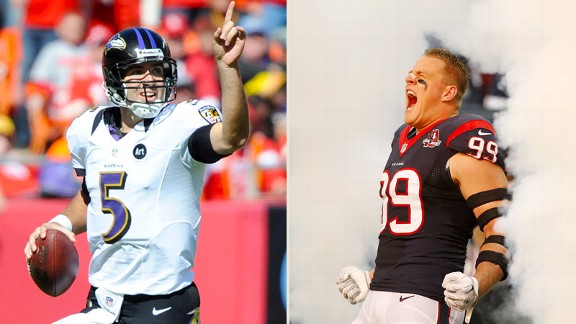 US Presswire, AP ImagesHow Baltimore's Joe Flacco, left, fares against Houston's explosive J.J. Watt could be key Sunday.
The last time we saw the Texans and Ravens square off, we were watching a divisional-round playoff game at M&T Bank Stadium in Baltimore.
Terrell Suggs
had six tackles and a pass defended as the Ravens' rush linebacker. Houston featured third-string rookie
T.J. Yates
at quarterback, and his three interceptions -- paired with multiple special-teams gaffes by Texans returner
Jacoby Jones
-- were big factors in a 20-13 Baltimore victory.
The Texans returned home to rave reviews for their first playoff season but also couldn't help wonder what might have been if they'd had injured starting quarterback
Matt Schaub
and played a cleaner game. Baltimore advanced to the AFC Championship Game in New England, where it lost to the Patriots, but a near-catch for a touchdown by
Lee Evans
could have won it with 27 seconds left and a missed 32-yard field goal by
Billy Cundiff
could have forced overtime.
This rematch doesn't carry the same stakes but could have big implications. The winner will have the AFC's best record at 6-1.
AFC North blogger Jamison Hensley and AFC South blogger Paul Kuharsky will be watching closely.
HENSLEY
: I think it's easy to say this is a battle of the two best teams in the AFC. Not really going out on a limb here because the Ravens and Texans are the only teams with winning records in this mediocre conference. I know there are going to be nine games after this one, but this is shaping up to be the Ravens' most important game of the regular season.
The result of this game could become a tiebreaker for home-field advantage or a first-round bye at the end of the season. The Ravens, who have won a league-best 14 consecutive games at home, don't want to go on the road in the playoffs. The Ravens' mindset is that they won't have to come back to Houston this year if they win there Sunday. What's the mindset of the Texans after what happened in Houston last Sunday night?
KUHARSKY
: Because the Texans are so young, they've played a lot of "biggest games in franchise history." This is certainly the newest one to top the list. Their critics look at the 5-1 record and see wins over mostly softies and a pasting by the Packers on Sunday night. A victory over the Ravens validates everything they've done and regains a firm hold on Best in the AFC. A loss would create some serious concerns. They do have the cushion of playing in a terrible division they simply can't lose. But Baltimore has been an obstacle and ended the Texans' last season in the playoffs. If they meet again with such high stakes, they don't want to be traveling.
It might be a good time to draw the Ravens, too, right? I know
Ray Lewis
wasn't what he has been, but their first game without a leader like that and without an underrated, great corner like
Lardarius Webb
may make them a bit more susceptible, no?
HENSLEY
: This is the most vulnerable I've seen the Ravens' defense in 13 seasons. Lewis wasn't playing like the Lewis from 10 years ago, but he was still an above-average linebacker in this league. The Ravens have given up more than 200 yards rushing in each of the past two games, and losing Lewis only makes that run defense shakier.
Dannell Ellerbe
, who has made seven starts since entering the league as an undrafted free agent in 2009, will take Lewis' spot.
Though the Ravens will miss Lewis' leadership, the bigger loss is Webb. He was emerging as one of the top cornerbacks in the league. His nine interceptions since the start of the 2011 season was tied for the league lead. So, the Ravens have taken shots to both their run and pass defenses this week. How do you see the Texans attacking the Ravens' defense Sunday?
KUHARSKY
: Although they might not run first chronologically Sunday, the Texans are a run-first team. Everything they do offensively is keyed on the one-cut-and-go running of
Arian Foster
, who did great work running for 132 yards in that playoff game on Jan. 15. They send him left most often now, because
Duane Brown
and
Wade Smith
are steadier blockers than the guys on the right side, where they have two new starters who aren't even full time.
Spinning off that run game, we'll see play-action heavy with bootlegs and rollouts. It's always remarkable to see
Owen Daniels
out in space awaiting a Matt Schaub pass.
Andre Johnson
is certainly dangerous too, though they've not been able to feed him the ball as much as usual. He hates the talk that he's getting older and slowing down, but he hasn't looked like the same player so far this season. Two weeks ago, Jets cornerback
Antonio Cromartie
really smothered Johnson. I figured Webb would be a guy who could do similar work. If AJ sees someone like
Cary Williams
instead, it could be a different story.
Speaking of Schaub, let's turn to quarterbacks. He has been quite efficient this year, doing what Houston needs and not getting caught up at all in his numbers. I came into the season not sold on
Joe Flacco
and thinking the Ravens didn't have the right guy under center to become an offensive team. But he has done some very good work in the games I've seen and started to change my opinion. Even minus
Brian Cushing
, the Texans' front throws a lot at a quarterback. Green Bay might have exposed some coverage deficiencies. How's Flacco at assessing such things on the fly and taking advantage?
HENSLEY
: Flacco's biggest improvement this season has been his ability to audible at the line. The Ravens are using the no-huddle more than any other time in Flacco's five seasons. It's not to the point of being
Peyton Manning
, but Flacco is constantly changing the play at the line. Flacco, who ran the no-huddle during his college days, is comfortable with this. He has wanted to have more control of the offense and he's now getting it.
A lot of credit goes to quarterbacks coach Jim Caldwell, who is familiar with this style from his days with the Colts. Flacco makes his mistakes when he gets pressured. His pocket awareness has improved and he can scramble for yards. But Flacco will rush and make poor throws when a defender is in his face. Left tackle
Michael Oher
(four sacks) and rookie right tackle
Kelechi Osemele
(three sacks) have struggled at times keeping rushers away from Flacco. Is there any chance the Ravens slow down
J.J. Watt
and Houston's pass rush?
KUHARSKY
: It sure seems like the key to the game for me. Watt is going to get his at some point, and it's not just sacks. Watch how he'll stop rushing when he knows he's not getting there and time his jump to bat down, or even pick off, a pass.
And although the numbers of the other guys aren't in his stratosphere,
Brooks Reed
,
Antonio Smith
and
Connor Barwin
are very effective rushers who will have a bearing on Flacco's pocket comfort. Force some mistakes with that rush, and I like Houston's chances. Get stonewalled and fall victim to the ball coming out super-fast, and I feel differently.
One note about the quicker Ravens offense: With Cushing out,
Brice McCain
, the nickelback, will have a bigger role in covering players such as
Ray Rice
and
Dennis Pitta
on routes. If the Ravens run hurry-up or no-huddle, they can potentially trap the Texans in base if they want McCain off the field. I am eager to see whether they try that. The Texans are obviously are familiar with Jim Caldwell's no-huddling.
How about special teams? Tell me how Jacoby Jones is now reliably explosive? The Texans have some serious special-teams issues.
HENSLEY
: Jacoby Jones has been one of the bigger surprises this season for Baltimore. The Ravens were looking to upgrade the return game this offseason and failed to sign
Eddie Royal
or
Ted Ginn
in free agency. That's why they jumped on Jones when he was cut by the Texans. He has been average as a punt returner (9 yards per return), but he really keyed the win over the Cowboys on Sunday. His 108-yard kickoff return for a touchdown, which tied an NFL record, was the big play in that game.
The only reason the Ravens turned to Jones on kickoffs was because rookie
Deonte Thompson
fumbled a kickoff the week before. If you think about it, it's kind of funny that Jones got his chance to be explosive because another player couldn't hold onto the ball, especially after Jones' problems fielding kicks in the past. But that really hasn't surfaced so far with the Ravens.
Baltimore's coverage teams are both ranked in the top half of the league, which is a big improvement from last year. In 2012, the Ravens allowed three touchdowns on returns. Another improvement is at kicker. Rookie
Justin Tucker
has made 12 of 13 field goals this season and has hit both attempts beyond 50 yards. If this game is close, the Ravens have a lot of confidence in Tucker to make a pressure kick. So, what are the issues with the Texans' special teams?
KUHARSKY
: Well,
Trindon Holliday
was absolutely electric as their returner in the preseason. But it didn't carry over and they gave up on him. You saw Holliday playing for the Broncos on Monday night.
Keshawn Martin
is the man now. The team averages only 9.8 yards a punt return and 18.5 yards a kick return.
Their average start after a kickoff is the league's worst -- the 17.7-yard line. Their coverage isn't that bad -- it's 31st in the league instead of 32nd. Opponents start at the 26.9-yard line.
Donnie Jones
is a middle-of-the-pack punter in net average.
Shayne Graham
has been good on field goals, hitting 11 of 12, but is tied for 24th in touchbacks playing at home in what amounts to a domed stadium.
It's gambler's logic that the Texans are due to break through against the Ravens. Maybe they will, maybe they won't. If they don't and Jacoby Jones has something to do with it, it'll hurt a little bit extra.
It's certainly no stretch to predict we'll see these teams facing off again in the playoffs. In what round and where is the question, and Sunday's winner will lead the race to be in position to host.
October, 14, 2012
10/14/12
11:52
AM ET
BALTIMORE -- Former
Cincinnati Bengals
lineman
Bobbie Williams
will make his first start for the
Baltimore Ravens
, replacing benched
Ramon Harewood
at left guard. Harewood, who had started the first five games, is on the inactive list Sunday against the
Dallas Cowboys
.
The Ravens are also making a change on kickoff returns. Undrafted rookie
Deonte Thompson
, who had been the primary kickoff returner, fumbled in Kansas City last Sunday.
Jacoby Jones
is expected to replace him.
LaQuan Williams
is another option.
Here's the Ravens' inactive list: G Ramon Harewood, OT
Jah Reid
, WR Deonte Thompson, LB
Sergio Kindle
, DE
DeAngelo Tyson
, CB
Asa Jackson
and DT
Bryan Hall
.

NFL SCOREBOARD
Thursday, 9/4
Sunday, 9/7
Monday, 9/8