NFL Nation:

Derek Hardman
August, 23, 2013
Aug 23
5:35
PM ET
The
Detroit Lions
became the first NFC North team to start addressing the NFL's looming roster cuts by releasing five players and beginning to assess the injuries of two others.

According to
Tim Twentyman of the Lions' web site
, the players released were: defensive back
Domonique Johnson
, receiver
Chaz Schilens
, offensive lineman
Derek Hardman
, defensive tackle
John Drew
, and cornerback
Ross Weaver
. Meanwhile, the Lions will have to decide what to do with running back
Montell Owens
, who seemed to suffer a serious knee injury Thursday night, and rookie tight end
Michael Williams
-- who has a broken hand and will require surgery, according to
Dave Birkett of the Detroit Free Press
.
Owens and Williams could be candidates for injured reserve if their injuries are serious enough. One beneficiary could be undrafted rookie tight end
Joseph Fauria
, whose unique skill-set had the Lions contemplating whether to open a fourth tight end spot for him.
The biggest name of those released is Schilens, whom the team signed just before camp to provide extra depth at receiver. Since then, however, veterans
Nate Burleson
and
Ryan Broyles
have appeared fully recovered from their season-ending injuries. Young players
Patrick Edwards
and
Matt Willis
have also pushed for playing time, lessening the Lions' need to hold on to veteran depth.
NFL teams must cut their rosters to 75 by Tuesday and 53 by Aug. 31.
August, 29, 2012
8/29/12
10:08
PM ET
Tampa Bay's
30-3 loss
to the
Washington Redskins
on Wednesday night didn't make for great viewing.
Blame much of it on Tampa Bay coach Greg Schiano. But, more importantly give Schiano lots of credit for making one of his best decisions since taking over the Buccaneers in January.


The Tampa Bay starters did not play. Instead, they stood on the sidelines after going through a full practice at Georgetown University earlier in the day.
It's not unusual for an NFL coach to use his starters lightly or sit some of them in the final preseason game. But Schiano took this to an extreme. He even sat long-snapper
Andrew Economos
and a few guys that are likely to be key backups.
There's absolutely nothing wrong with that. After watching Pro Bowl guard
Davin Joseph
go down with a season-ending knee injury last week, Schiano wasn't taking any chances. He wants his starters healthy for the regular-season opener, which comes Sept. 9 against Carolina.
That game is going to be a lot more important -- and, hopefully more entertaining -- than the preseason finale.
Some quick observations from Wednesday night's game:
The Bucs still are trying to figure out how they're going to replace Joseph. Jamon Meredith started at right guard, but I don't know if that means he'll be there for the Carolina game. Meredith surrendered a sack and was called for two penalties in the first half. The Bucs are experimenting with their options at that spot. Ted Larsen, who got the start at center, and Derek Hardman, also are possibilities from the current roster. But the Bucs also could scan the waiver wire for help in the coming days. After watching all the backup offensive linemen, I'd suggest the waiver wire might be the way to go.
Defensive tackle Wallace Gilberry might have helped his chances of landing a roster spot. He batted down a pass at the line of scrimmage early in the game. The Bucs are expected to use Gerald McCoy and Roy Miller as their starters. Amobi Okoye is expected to be part of the backup rotation, but he's missed a lot of time with an injury. Gilberry likely is in the mix with Gary Gibson and Frank Okam to be part of the rotation.
I remember a preseason or two back in the 1990s when third-stringer quarterback Scott Milanovich was the most popular quarterback in Tampa Bay. After watching Brett Ratliff get the start and play the entire game, I don't think starter Josh Freeman or backup Dan Orlovsky have anything to worry about. In fact, I think there is at least a chance the Bucs could follow the path a lot of other teams have taken in recent years and go with only two quarterbacks on the regular-season roster. In fairness to Ratliff, he got no help from his offensive line.
Broadcaster and former Buc John Lynch might have stirred up some speculation when he said the Bucs should try to sign tight end Chris Cooley, who recently was released by the Redskins. Usually, I try to shoot down speculation about the Bucs signing guys in their 30s because that really doesn't fit the profile of a team that's doing most of its building through the draft. But I'm with Lynch on this one. I think the Bucs could use a little more depth to go with Dallas Clark and Luke Stocker. If Cooley's healthy, he might be worth a shot. I think he'd be a better lockerroom fit than Jeremy Shockey, who still remains unsigned. General manager Mark Dominik said during a fourth-quarter interview with the broadcast team that there had been contact with Cooley's agent, but said the team is now aggressively pursuing the veteran tight end.
Rookie safety Sean Baker still might be a long shot to make the 53-man roster. But he intercepted two passes and recovered a fumble Wednesday night. That might help Baker land a spot on the practice squad.
Nice to see Bucs' co-chairman Joel Glazer hugging Raheem Morris before the game. Morris coached the Bucs the last three seasons and is now Washington's defensive backs coach. Morris had a good relationship with ownership, but it was obvious to all that a move had to be made as the Bucs lost their final 10 games of last season. I'm just guessing here, but I doubt any members of the Glazer family were exchanging hugs with Washington general manager Bruce Allen, who once held the same role in Tampa Bay.
August, 25, 2012
8/25/12
4:59
PM ET
As expected, Tampa Bay coach Greg Schiano delivered some
bad news
when he met with the media Saturday afternoon.

Pro Bowl guard
Davin Joseph
suffered a season-ending injury in Friday night's preseason victory against New England, Schiano said. Joseph tore the patellar tendon in his right knee. Schiano said Joseph is scheduled for surgery Monday and will be placed on injured reserve.
This is a huge blow because the Bucs thought they had the potential to have one of the league's better offensive lines. A big part of their logic was that they were pairing Joseph with free-agent pickup
Carl Nicks
, who had been an All-Pro with New Orleans. The thinking was that the Bucs could have the league's best guard tandem.
Now, they have to look at other alternatives -- and it's not likely any of them are on a par with Joseph.
"It's part of what we do,'' Schiano said. "You mourn and you move on.''
Schiano said the Bucs will monitor guards that are available and come available as teams trim their rosters. But he also said it's likely Joseph's replacement in the starting lineup will come from within the existing roster.
Ted Larsen
seems to be the leading candidate. He replaced Joseph on Friday night. But
Derek Hardman
, who has had a solid preseason, also could get a look.
August, 24, 2012
8/24/12
11:18
PM ET
TAMPA, Fla. -- The starting offense and defense of the
Tampa Bay Buccaneers
played about as well as anyone could have hoped for in the first half of Friday night's
30-28 preseason victory
against the
New England Patriots
. But they also might have suffered a big loss.
With 1 minute, 5 seconds left in the second quarter and the Bucs leading 17-7, Pro Bowl guard
Davin Joseph
went down with a right knee injury. Joseph was carted off the field.


Coach Greg Schiano said Joseph's injury "doesn't look good'' after the game. He said the team will get a full evaluation Saturday when more tests are performed.
If Joseph is lost for an extended period, it could have big consequences on a Tampa Bay offensive line that has the potential to be a big strength. The Bucs brought in All-Pro
Carl Nicks
and the hope is that he and Joseph could form the league's best guard tandem. If the Bucs have to use
Ted Larsen
or
Derek Hardman
in Joseph's place, there's a big drop off.
Some other observations on the Bucs:
January, 1, 2012
1/01/12
3:11
PM ET
December, 17, 2011
12/17/11
7:11
PM ET
September, 25, 2011
9/25/11
3:02
PM ET
January, 21, 2011
1/21/11
11:11
AM ET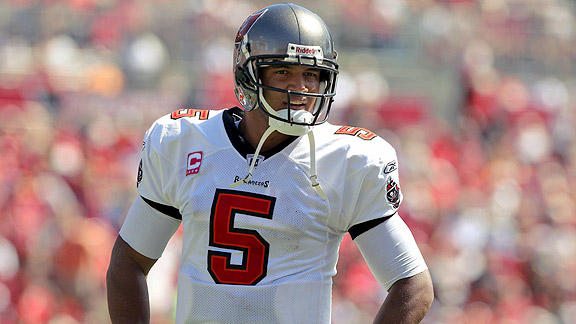 Kim Klement/US PresswireJosh Freeman threw for 3,451 yards this season, with 25 touchdown passes and six interceptions.
Let's not even bother with the setup. Let's just open the envelope and read what's inside.
The NFC South Most Valuable Player for the 2010 season is ...
Josh Freeman
.
Go ahead, start yelling and screaming in New Orleans and Atlanta. Throw eggs or whatever, but just be aware that I've got the alarm system on and since
Jahri Evans
,
Carl Nicks
,
Harvey Dahl
and
Justin Blalock
are worried about the possibility of a lockout, I've hired them as guards.
Yep, I picked Freeman over
Drew Brees
and
Matt Ryan
. I picked him over
Michael Turner
and
Roddy White
too.
Let's be real clear: I'm not saying Freeman is a better quarterback than Brees, who is going to the Hall of Fame someday. I'm not even saying Freeman's better than Ryan, who has had three very nice years. I'm not even saying Freeman had a better season than Brees and Ryan or even Turner and White.
Go back and read the second paragraph and circle the word valuable. That's really the crux of all this. There are lots of ways you can give out MVP awards. But if you put the emphasis solely on the value a player had to his team, Freeman wins in a landslide.
That thought hit me Sunday morning on a plane from Atlanta to Tampa. I'd given some thought to Turner and White, but was pretty much ready to flip a coin to decide between Brees and Ryan. They both had nice regular seasons and they both got bounced in their first playoff games.
In other words, Brees and Ryan did exactly what was expected of them in the regular season, and I don't mean to sell that short as an accomplishment because the bar was set sky high for both of them. But did either of them really do anything special? Anything that was beyond expectations?
When I thought about it in those terms, that's when Freeman's name hit me and this decision was made.
"I think the most important thing is, in just about every game this season, Josh at least had us in a position to win the game,'' Tampa Bay general manager Mark Dominik said. "With a young team, that was hugely important, and he allowed us to accelerate our process. That made him incredibly valuable to us.''
I'll take it a little further than Dominik and say Freeman meant everything to the Buccaneers. He carried that team all season. For those who weren't paying attention, like the 30,000 who weren't showing up for games at Raymond James Stadium or the millions who couldn't watch Tampa Bay's games because they were blacked out on local television, the Bucs went from being 3-13 and a national embarrassment in 2009 to a 10-6 team that barely missed the playoffs.
Nobody expected anything close to that. And nobody expected anything like that from a quarterback who didn't celebrate his 23rd birthday until after the season was over, and who created an instant army of critics when Dominik made the then-ridiculous move of trading a sixth-round pick to move up and draft Freeman in 2009.
Everything Dominik and coach Raheem Morris did in 2009 seemed ridiculous. They signed
Derrick Ward
, fired both coordinators by midseason and lost a lot of games. But it turned out they did one thing right.
They drafted Freeman and, in his first season as a full-time starter, he made a lot of other things look right. He threw for 3,451 yards, 25 touchdowns and six interceptions. His touchdown-to-interception ratio was one of the 10 best in history, and he also used his legs to win games.
More than anything, Freeman used his back to carry the Buccaneers. Tampa Bay had the league's lowest payroll and had the youngest roster in the league and, if you really look at that roster, it wasn't all that good. Yes, some bright spots (running back
LeGarrette Blount
and receiver
Mike Williams
) emerged, but part of the reason they emerged was because they were playing with Freeman.
The Bucs had so many injuries on the offensive line that, by the end of the season, they were starting
Ted Larsen
,
Jeremy Zuttah
and
Derek Hardman
at the three interior positions. If you're not a close relative and had heard of any of those three before they were starting, it might be time to develop some other hobbies.
With all the changes around him, Freeman was the one constant. Other than his six interceptions, his stats didn't compare favorably to the numbers Brees and Ryan put up.
But let's do a little exercise here. Picture the Saints without Brees for a season. Put
Chase Daniel
in with all those weapons and Sean Payton calling the plays and the Saints still win a fair amount of games. Picture the Falcons with
Chris Redman
in for Ryan. It's the same thing. The Saints and the Falcons would at least be competitive without Brees and Ryan.
Now, picture the 2010 Buccaneers without Freeman. I say they would have been 0-16. If you disagree, go out to training camp this summer and watch a few plays with backups
Josh Johnson
and
Rudy Carpenter
under center.
That's why Freeman did more for his team than any NFC South player in 2010.
"The thing is people forget that he was only 22 this season,'' Dominik said. "He took big steps this year and that helped our whole team take some big steps. He's only going to get better in the future, and that's only going to help everyone around him get better in the future.''
Remember, all I'm saying is Freeman was more valuable to his team this year than anyone else. If what Dominik said about the progression of Freeman and the Bucs comes true in the future, then I might be back here with an update. I might end up writing that Freeman is a better quarterback than Brees and Ryan.
December, 17, 2010
12/17/10
4:22
PM ET
»
NFC Final Word
:
East
|
West
|
North
|
South
»
AFC
:
East
|
West
|
North
|
South
Five nuggets of knowledge about Week 15.
[+] Enlarge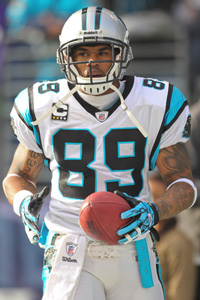 Otto Greule Jr/Getty ImagesReceiver Steve Smith may not want to stick around for the ongoing rebuilding process in Carolina.
Another farewell?
There has been all sorts of talk about John Fox coaching his last home game for the Panthers. But there also seems to be a lot of speculation from Carolina fans that this could be the last time wide receiver
Steve Smith
plays for the Panthers in Bank of America Stadium. It's a legitimate question about one of the best players in franchise history. Smith remains under contract with the team through 2012. But it is fair to wonder whether Smith might want out or whether a new coach might want to start fresh with young receivers. Does Smith want out? I think it's important to note that a guy who rarely hides his feelings has never even hinted about wanting out. However, I wouldn't blame Smith if he did ask out. He's a guy who has an outside shot at the Hall of Fame if he can put up some big numbers for a few more years. Common sense says it's going to take the Panthers some time to build, and Smith doesn't have time for that. He's also a highly competitive guy, and I seriously doubt he enjoys losing. If he goes and asks management to trade him, I think he'd get his wish pretty much out of respect. But unless or until he actually says he wants out, I don't think everyone should assume Smith wants to leave Carolina.
The Domeless Saints.
I'm looking at Sunday's weather forecast for Baltimore and it doesn't look as bad as it did a few days ago when snow was mentioned as a possibility. The latest forecast says there is only a 10-percent chance of precipitation and the temperature might be a little above freezing. This might be a good warm-up game for the Saints because they could have to go on the road to someplace like New York, Philadelphia or Chicago in the playoffs. They have that perception of being a "dome team." Might be a good time to start shedding that perception.
Turn down "The Burner."
It sounds like there is a decent chance Atlanta running back
Jason Snelling
could return to play against Seattle after sitting out the last couple of games. If he does, that's really good news for the Falcons. They've been riding starter
Michael Turner
very hard the last few weeks, and he has produced in outstanding fashion. The Falcons aren't going to do anything to dramatically cut Turner's carries because he's such an important part of the offense. But they'd love nothing more than to give a few of those carries to Snelling, who is a quality backup. At the moment, Turner has 275 carries. He's been getting around 25 carries a game recently. If you project it out at that rate, Turner's on pace for 350 carries for the regular season. That number is a little higher than the Falcons would like, especially when you consider that more carries will be coming in the playoffs. I'm thinking the Falcons would like to chop Turner's pace down to a point where he ends the regular season with somewhere around 330 carries.
Mix and match.
The
Tampa Bay Buccaneers
, who seem to have been scrambling to compensate for injuries every week in recent memory, will have to do it again. This time, the big question is how they will replace rookie defensive tackle
Gerald McCoy
. There is no singular answer to that. The Bucs haven't laid out their entire plan, but coach Raheem Morris has said the team will take a committee approach at defensive tackle. Defensive end
Michael Bennett
could slide over there and backups
Al Woods
and
Frank Okam
could get some time in what figures to be a heavy rotation. There even have been hints that nose tackle
Roy Miller
could slide over to McCoy's old spot at times.
Suh Flu outbreak.
I'm sort of glad I'm getting on a plane to Baltimore on Saturday because there could be an epidemic hitting Tampa Bay on Sunday. It's called Suh Flu, and symptoms are offensive linemen breaking out in a cold sweat at the prospect of having to block Detroit's rookie sensation
Ndamukong Suh
. He's lived up to all the hype that came with being the No. 2 overall pick in the draft. The Bucs are expected to start rookie guards
Ted Larsen
and
Derek Hardman
. They certainly will get some attempts at help from center
Jeremy Zuttah
, but I'm not sure that will be enough to stop this outbreak.
November, 21, 2010
11/21/10
3:49
PM ET
September, 6, 2010
9/06/10
5:30
PM ET
Just when it looked like the
Tampa Bay Buccaneers
had made it through a preseason without anything crazy (like firing a coordinator) happening, we've got some developments out of One Buccaneer Place that are a little out of the ordinary.
It's not quite as chaotic as the firing of offensive coordinator Jeff Jagodzinski just before last season. But, still, the Bucs just unloaded the punter they drafted (
Brent Bowden
) and released receiver
Reggie Brown
, who they once thought enough of to make a trade for him with five years left on his contract.
To replace Bowden, the Bucs signed
Chris Bryan
. He's the guy who spent four years playing in the Australian Football League before going to Green Bay this offseason. Although Bryan averaged 42 yards a punt in the preseason, the Packers let him go.
The release of Brown was a bit more surprising. Although the Bucs were carrying seven receivers and it was obvious someone had to go, I didn't think it would be Brown. As recently as a few weeks ago, team officials were talking about him being a possible starter opposite
Mike Williams
. That job now could go to
Arrelious Benn
or
Sammie Stroughter
.
To fill Brown's roster spot, the Bucs signed running back
LeGarrette Blount
. You might recognize the name. He's the former Oregon running back who gained notoriety after punching an opponent and confronting fans at the end of a 2009 game against Boise State. Blount was suspended for the rest of the season. The suspension was later reduced and he played in a December game against Oregon State and in the Rose Bowl.
The Bucs have been pretty vocal about character recently, and they've prided themselves on having a controversy-free preseason. Well, preseason is over and, even though Blount served his suspension and made apologies, his mere presence is going to create a media stir for at least a few days.
Blount wasn't drafted and spent this preseason with the Titans before being released.
The Bucs also announced they've added receiver
Dezmon Briscoe
, tackle
Will Barker
and tackle
Derek Hardman
to the practice squad.
NFL SCOREBOARD
Thursday, 12/5
Sunday, 12/8
Monday, 12/9
WEEKLY LEADERS