March, 7, 2013
3/07/13
1:00
PM ET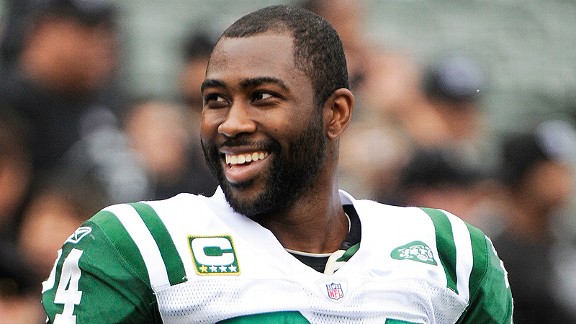 Thearon W. Henderson/Getty ImagesCornerback Darrelle Revis certainly has the star power that would get Bucs fans fired up.
While seemingly every NFL team is denying interest in
New York Jets
cornerback
Darrelle Revis
, there is one team that should be going after him.
I say put Revis Island on Davis Islands.
That's the tandem of islands in the shadows of downtown Tampa and just down the road from Raymond James Stadium. It's on those islands that New York Yankees legend Derek Jeter built a mansion, and he could use some company.
The
Tampa Bay Buccaneers
also could use a shutdown corner.
Revis and the Bucs would be a perfect match on every level. Other teams are citing the cost of a trade and the salary cap as reasons why they don't want the guy that might be the best cornerback of his generation. But none of those excuses work for the Bucs.
In fact, the things that work against those other teams work for the Bucs.
Let's start with the price of getting Revis and keeping him for the long term. It will probably take a couple of draft picks to pry Revis from the Jets. The Bucs have some flexibility there because they have an extra fourth-round pick this year. Even if the Bucs had to give up this year's first-round pick (No. 13 overall) as part of the package, so what?
They're not going to find a better cornerback than Revis in the middle of the first round.
Then, there's also the realistic fear that trading for Revis would only be a one-year solution because he's heading into the final season of his contract. But the Bucs are in a unique spot there. They're more than $32 million under this year's salary cap and they have plenty of cap room in upcoming years.
They could trade for Revis, immediately sign him to a huge extension and still have plenty of cap room to work with now and in the future.
But the Bucs have more than just the means to get Revis. They have a glaring need.
Did you happen to catch Tampa Bay's secondary last season?
The Bucs were so bad they allowed more passing yards than the
New Orleans Saints
, which is saying a lot. The Bucs were so bad that they had the league's top-ranked run defense but still managed to finish No. 31 in total defense.
[+] Enlarge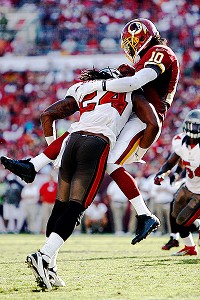 Matt Stamey/USA TODAY SportsYoung Tampa Bay safety Mark Barron could benefit in a big way if the Bucs managed to acquire star CB Darrelle Revis.
In the process, they traded away their top cornerback,
Aqib Talib
, mainly because he was a perpetual headache.
Eric Wright
, the free agent they signed to a big contract last year, didn't really work out. He ended up getting suspended for violating the league's policy on performance-enhancing substances. That suspension voided his guaranteed base salary for this year and the Bucs may end up releasing Wright.
This is a team that can't afford to go into next year counting on
Leonard Johnson
and
E.J. Biggers
as anything more than role players. This is a team that needs a big-time cornerback and they don't come any bigger than Revis.
He instantly would make the Bucs better and that would be a huge plus for a franchise that hasn't been to the playoffs since the 2007 season. Put Revis with second-year safety
Mark Barron
and add another cornerback and a safety behind a front seven that has some talent, and Tampa Bay's defense suddenly could become very good.
There were hints last season that the offense could be pretty good. Get a little more consistency out of quarterback
Josh Freeman
, let Revis bolster the defense, and Tampa Bay could be in the playoff hunt.
That brings us to another point. The Bucs need to win and they also need to excite a fan base that hasn't had a lot to be excited about in recent years.
Winning can cure a lot of that, but so could an injection of charisma. Revis has charisma. He trademarked the "Revis Island'' name and he has star power.
That's something the Bucs desperately need as they try to put fans into a stadium that rarely has sold out in recent years.
The arrival of running back
Doug Martin
and wide receiver
Vincent Jackson
gave the Bucs some star power last year. But, still, Tampa Bay might be the rarest of NFL markets.
Hockey's Steven Stamkos and baseball's Evan Longoria might be more popular in Tampa Bay than any of the Bucs. Jeter might even be Tampa Bay's most famous resident from the sports world and he plays his home games more than 1,000 miles away, not far from where Revis has spent his career.
But maybe it's time for the Bucs to step up and take Revis out of New York. If they do, they can give themselves a true superstar, fill their stadium and, maybe, turn into a playoff team.
April, 16, 2012
4/16/12
6:23
PM ET
During Super Bowl week, I wrote
this story
about the relationship between
New York Giants
quarterback
Eli Manning
and New York Yankees shortstop Derek Jeter. Specifically, it was about the ways in which Jeter's example as a low-key star New York athlete has helped inspire Manning, who has modeled himself after Jeter in some ways. I don't know if you remember it or not, but hey, it's baseball season now, so go ahead and read it again.
Anyway, the reason I thought of this was that I read this post by Art Stapleton of The Record, who
spoke with Jeter
over the weekend and asked him what advice he'd give Manning for his upcoming (May 5) stint as the host of Saturday Night Live. Jeter hosted the show in 2001, and he had this advice to offer Manning, per Art:
"Enjoy it," Jeter told me in an exclusive interview with The Record Sunday night. "I tried to have fun with it, but I was nervous. It's a tough week. It's a lot to do. You'll gain a lot of respect for those actors and actresses on that show. It's a lot of work that goes into it. I enjoyed myself."

...

"I had fun with it," Jeter said with a smirk. "I dressed up like a woman, man. I had fun and I just went with it."
Obviously, it remains to be seen what kind of fun the show's writers will devise for Manning -- and whether he'll pull it off as well as Jeter did or as well as his brother
Peyton Manning
did when he hosted the show in 2007. But no matter how the show comes out, Jeter remains an admirer of Manning's:
"Eli's done a great job," Jeter said. "I really like the way he handles himself, especially here in New York. He's done a great job in dealing with everything, and he's had a lot of success. He's going to have a lot more success, too."
In the meantime, though, Manning's going to try his hand at some comedy. I understand the skepticism, but I promise you, those of us who were covering Jeter in 2001 were skeptical about him in the same role. You never really know about a guy...
March, 22, 2012
3/22/12
3:00
PM ET
New York is such a huge media market that it always needs royalty in place.
So who is the current sports king of New York? Can new Jets quarterback
Tim Tebow
fill that void?
[+] Enlarge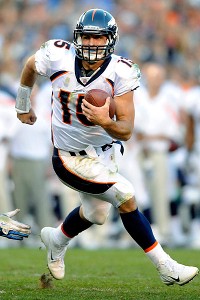 Christopher Hanewinckel/US PresswireWill New Yorkers embrace Tim Tebow like fans did in Denver?
The crown right now is on the head of
New York Giants
quarterback
Eli Manning
. He's won two Super Bowls in the past five seasons and went through the ringer with New York fans and media. Manning persevered and came out on the other side a stronger person and better quarterback. He showed the toughness it takes to be a professional athlete in New York, and he's earned Gotham's respect. That crown will be hard to take.
But every sports king needs a sports prince. That is where Tebow-mania has the potential to take over.
Tebow already comes to the media capital of the world with an immense fan base. The Gang Green No. 15 jersey sales will go through the roof. Tebow just needs to do his part on the field, which he did in Denver last year by leading the Broncos to the playoffs. Based on his character and work ethic, we already know no one is going to work harder. Those are admirable traits that the New York metropolitan area will respect.
The competition for New York's No. 2 athlete has some contenders. I consider Derek Jeter, 37, in his own category. He's run New York for so long that he's in the "King of New York" Hall of Fame. He's more of the governor or mayor at this point. Leave the rotating crowns to the younger guys. Let's look at five who are in the running for the prince role behind Manning:
Jeremy Lin, PG, Knicks: For about a three-week period, there was nothing bigger in sports than Lin. His story of going undrafted out of Harvard to starring for the New York Knicks at Madison Square Garden captured the imagination of the sports world. But the Knicks have since fizzled out and so has Lin's momentum. He's still averaging a solid 14.9 points and 6.3 assists per game. But the Knicks are a game below .500 and in danger of missing the playoffs.

Carmelo Anthony, F, Knicks: He came to New York with a ton of fanfare, but there are already signs that Anthony is starting to wear out his welcome. The Knicks seemed to play better without him this year, which isn't a good sign. Maybe that's just a coincidence, but that hasn't stopped New Yorkers from pointing that out as the Knicks currently stand with a losing record (23-24). Anthony is averaging 20.3 points per game and his star has fallen significantly in the King of New York race.

Henrik Lundqvist, G, Rangers: Now, here is a dark-horse competitor. He already has the nickname "King Henrik," and the New York Rangers are in first place and one of the favorites to win the Stanley Cup. Winning matters more than numbers, but Lundqvist is putting up both. He has a 1.87 goals against average and a stellar 34-15 record as of Wednesday. If the Rangers win the cup, look out.

Mark Sanchez, QB, Jets: Similar to Anthony, Sanchez had "King of New York" potential upon his arrival, but production and results have dipped of late. That basically kills his chances, especially now that Manning has that spot for the rival Giants. Sanchez helped lead the Jets to back-to-back AFC title games his first two years and was on his way to being New York royalty. But failing to get over that hump and crashing and burning last year has put him back in the pack. Having Tebow-mania waiting behind him also doesn't help.

Darrelle Revis, CB, Jets: Revis Island gained a good following, but it's hard for a cornerback to get that kind of recognition -- especially a quiet cornerback like Revis. Knowing Revis, he probably doesn't want this kind of spotlight and publicity. He leads by working hard and being the best cornerback on the field. The Jets need to win, though, and go far for everyone in New York to truly appreciate what Revis can do.
Unless Tebow can win two Super Bowls in New York -- which isn't likely, the crown isn't leaving Manning's head any time soon. But Tebow has such a huge fan base that there is potential to capture the imagination of New Yorkers and challenge for the No. 2 spot.