August, 28, 2014
8/28/14
12:00
PM ET
The
Carolina Panthers
(1-2) and
Pittsburgh Steelers
(1-2) play Thursday night at Heinz Field.
Steelers coach Mike Tomlin told his players the story of wide receiver Derek Moye earlier this week. Moye, an undrafted free agent in 2012, had been on the outside looking in going into the final preseason game last season. Moye caught two passes for 55 yards and just as impressive was his running down Panthers cornerback Josh Norman from behind after an interception. Moye played his way onto the 53-man roster, and Tomlin's message to those who are in the same situation this year -- and that includes Moye -- was simple: Make it hard if not impossible for us to cut you.
Veteran defensive end Brett Keisel, who has been back with the Steelers for little more than a week, is expected to receive extensive playing time in a game that is generally reserved for younger players. Keisel could use work in preparation for the regular-season opener, and it will be interesting to see where the 13-year veteran gets his snaps. Keisel started at right defensive end from 2006-13 and Cameron Heyward, who will sit out as a precaution after spraining his ankle last Thursday, is listed at left defensive end on the depth chart. But Heyward started at right defensive end in the Steelers' third preseason game, the day after they re-signed Keisel, and he has been entrenched there since the outset of offseason practices. We may find out more on how the Steelers plan on using Keisel this season based on where he lines up against the Panthers.
Steelers quarterback Ben Roethlisberger won't play against the Panthers. Backup Bruce Gradkowski will play sparingly if at all. That means it will be Landry Jones' show, and if the second-year man bombs against the Panthers there may not be a place for him on the 53-man roster. The Steelers desperately want Jones, on whom they inexplicably used a fourth-round draft pick in 2013, to earn a spot on the team and not find his way onto it because they want to carry three quarterbacks. The former Oklahoma star did not play well in the Steelers' second preseason game and he didn't play at all last Thursday in a 31-21 loss at Philadelphia. It's interesting that No. 4 quarterback Brendon Kay survived the first round of cuts Tuesday. Is the undrafted rookie competing with Jones or are the Steelers planning to play him Thursday so he can put out game tape after not seeing the field in the first three preseason games?
August, 9, 2014
8/09/14
12:00
PM ET
The
Pittsburgh Steelers
(0-0) and
New York Giants
(0-0) open the preseason Saturday night at MetLife Stadium.
1. The 2014 draft class:
The rookies are brimming with promise and a handful of them should help right away. Coach Mike Tomlin and his assistants get their first look at the players in a live game who collectively are a key to the Steelers rebounding from consecutive 8-8 seasons. First-round pick
Ryan Shazier
is unlikely to play after missing three consecutive practices because of the right knee injury that Tomlin has called a "boo boo." Even if the ailment is a minor one, the Steelers would be crazy to take anything but a cautious approach with the inside linebacker. Second-round pick
Stephon Tuitt
has created as much of a buzz at training camp as Shazier. He is likely to start at left defensive end. It will be interesting to see the different ways in which the Steelers deploy third-round pick
Dri Archer
, a running back/wide receiver/return specialist, and wide receiver
Martavis Bryant
, a fourth-round pick, has made his share of plays in practice. Now it's time to see if the 6-foot-4, 211-pound speedster can transfer that to a game.
2. Justin Brown:
Tomlin almost always sidesteps questions such as the one posed to him Thursday when the eighth-year coach was asked if any players have surprised him during camp. He mostly spoke in generalities but did mention Brown specifically. That added more confirmation that few, if any, players on the Steelers' roster have improved more since last season than Brown. The 2013 sixth-round pick spent all of last season on the Steelers' practice squad but he stood out during offseason practices and has continued his strong play in camp. Brown has already displayed toughness, returning to practice one day after undergoing surgery to fix a broken nose. Tonight he gets to show how much he has improved in a game. Brown has the inside track to a roster spot at a crowded position but it is early. He will have to produce in preseason games to hold off players such as
Derek Moye
and
Darrius Heyward-Bey
if the Steelers keep only five wide receivers.
3. The long shots:
A handful of undrafted free agents and players who signed futures contracts have flashed during camp. They include safety
Jordan Dangerfield
, guard/center
Chris Elkins
and outside linebacker
Howard Jones
. They will receive extensive playing time with the starters expected to receive only a limited number of snaps. I'm especially looking forward to watching Jones, who signed with the Steelers in May after starring at Shepherd University, a Division II school in West Virginia. He has played well in camp and may have the easiest path to the 53-man roster since the Steelers are not especially deep at outside linebacker.
May, 28, 2014
5/28/14
12:00
PM ET
PITTSBURGH -- Soft-spoken and humble,
Markus Wheaton
is in many ways the anti-wide receiver -- or at least the preening, me-me-me player that has become the caricature of the position.
[+] Enlarge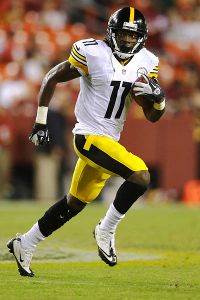 Patrick Semansky/AP PhotoThrough offseason practices, Markus Wheaton appears to be the leading candidate to start at wide receiver for the Steelers.
Far from demanding the ball, Wheaton won't even say the
Pittsburgh Steelers
' starting job opposite Pro Bowler
Antonio Brown
is his to lose even though he occupies it at the outset of offseason practices.
"There's a lot of guys chasing that spot and hopefully I can get it first and go from there," Wheaton said. "They're pushing all of us to get better, and whoever wants it the most will take it, so I'm going to do what I can to get that spot."
Such, ahem, bravado, won't ease the anxiety of Steelers fans who have concerns about a receiving corps that lost two of its top three players from last year and 16 touchdowns alone from
Jerricho Cotchery
and
Emmanuel Sanders
.
But Wheaton appears ready to emerge in every way except for his decidedly non-cavalier attitude.
The finger injury that required multiple surgeries last season and limited Wheaton to 157 snaps is behind him, he said. Wheaton and fellow wideouts
Derek Moye
and
Justin Brown
also spent a week practicing with
Ben Roethlisberger
in California this offseason, taking the Steelers' quarterback up on his invitation to work on timing and other aspects of the passing game.
With Sanders in Denver -- he signed a three-year deal with the Broncos in March -- Wheaton has a clear path to the field.
And someone has to step up with Antonio Brown certain to see all kinds of extra attention this season.
"I'm excited to see what he can do," Roethlisberger said. "He's a guy that wants to prove that he can be a starter."
Wheaton did not get to show much last season after breaking his right pinkie in several places in the fourth game of the season. The injury, which also damaged a joint, effectively forced Wheaton to redshirt his rookie season, but it did not stop the third-round draft pick from doing everything he could to learn a new offense.
And when the 5-11, 182-pounder had one of his many questions, he could turn to Cotchery or Roethlisberger, whose locker is next to Wheaton's at the Steelers' practice facility.
"Being able to sit out last year pretty much helped me," said Wheaton, who caught six passes for 64 yards in limited action. "I learned a lot of the coverages, the adjustments Ben throws at us, the playbook."
How much Wheaton can transfer what he has learned to the field will be critical to Roethlisberger developing the kind of trust in him that will allow the Steelers to run their no-huddle offense with the same frequency as in the second half of last season when they won six of eight games.
"We lost two starting wide receivers that knew the no-huddle so well, so we're going to need the new guys and the young guys to pick it up quick," Roethlisberger said.
April, 1, 2014
4/01/14
8:40
PM ET
PITTSBURGH -- A day after adding depth at cornerback with the signing of
Brice McCain
the Steelers could do the same at wide receiver.
Heyward-Bey
Darrius Heyward-Bey
, the seventh overall pick of the 2009 NFL draft, will visit the Steelers on Wednesday, according to the Pittsburgh Post-Gazette.
According to the NFL Players Association, the Steelers are only $171,934 under the cap, but hovering near the spending ceiling hasn't stopped them from filling holes on their roster, and Heyward-Bey has emerged as their latest target.
Heyward-Bey never lived up to enormous expectations in Oakland after the Raiders fell in love with his speed and made him the first wide receiver drafted in 2009. The 6-2, 219-pounder spent four seasons in Oakland before signing with Indianapolis.
Heyward-Bey played in all 16 games last season for the Colts -- he started 11 of them -- and caught 29 passes for 309 yards and a touchdown. In five NFL seasons Heyward-Bey has 169 catches for 2,380 yards and 12 touchdowns.
The Steelers are expected to take a wide receiver early in the draft but they apparently are interested in adding another veteran to the position as well.
Markus Wheaton
is expected to get the first crack at replacing
Emmanuel Sanders
opposite Pro Bowler
Antonio Brown
, but he played just 153 snaps his rookie season and caught six passes for 64 yards.
The Steelers signed
Lance Moore
to take over as their No. 3 wide receiver following the loss of
Jerricho Cotchery
to the Panthers and the only other wide receiver on the roster with any NFL experience is
Derek Moye
.
The 6-5 Moye played 52 snaps last season and caught two passes for 20 yards and a touchdown.
January, 3, 2014
1/03/14
8:00
AM ET
PITTSBURGH -- A number of underclassmen who figure to be high picks have declared for the 2014 NFL draft, and one in particular should intrigue the
Pittsburgh Steelers
.
Allen Robinson
needed just two seasons to rewrite the receiving part of Penn State's record books, and there is a lot to like about him for a team that might make wide receiver a priority in the draft.
Robinson has been incredibly productive -- he caught 97 passes for 1,432 yards in 2013 despite playing with a true freshman at quarterback and regularly facing double coverage -- and has good size and ball skills. The 6-foot-3, 210-pounder is also athletic enough that he could have played basketball at a Division I school had he taken that route.
[+] Enlarge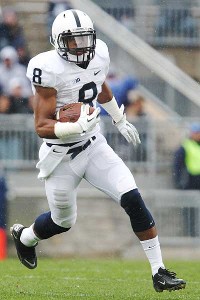 Matthew O'Haren/USA TODAY SportsPenn State's Allen Robinson had 97 catches for 1,432 yards in 2013.
What should really put Robinson on the Steelers' radar: he could be available when they make their second-round pick.
He has been projected to go anywhere from the first to the third round, and my guess is that Robinson is selected in the second round as I think questions could be raised about his speed -- or at least enough of them to drop him into the second round.
I think the only way the Steelers go offense with the 15
th
overall pick of the draft is if there is a left tackle prospect they feel they cannot afford to pass on, or if there is a transcendent wide receiver that gives quarterback
Ben Roethlisberger
the big downfield target he has long coveted.
Other than that, I think the Steelers take a playmaker on defense, whether it is for the back end of their secondary, their linebacking corps, or a nose tackle who fits the prototype more than incumbent
Steve McLendon
does.
Assuming they don't take a wide receiver in the first round for the first time since Plaxico Burress in 2000, the Steelers could seriously be in play for one in the second round.
Emmanuel Sanders
is, at best, 50-50 to return next season , and if he signs elsewhere the Steelers should bring in a taller wide receiver or give 6-foot-5, 210-pound
Derek Moye
a serious look there.
There is a lot to like about Robinson, who is already polished as a receiver, but doesn't turn 21 until next August and still has plenty of upside.
General manager Kevin Colbert said the Steelers do extra homework on NFL prospects in their backyard, so they don't miss on a player who is right in front of them. You can bet Colbert and the Steelers coaches and scouts will take plenty of interest in Robinson, as they should.
December, 29, 2013
12/29/13
12:20
PM ET
PITTSBURGH -- The
Pittsburgh Steelers
will be without their leading pass-rusher Sunday against the
Cleveland Browns
as outside linebacker
Jason Worilds
is inactive because of an abdominal injury. Wide receiver
Emmanuel Sanders
is playing despite a sprained knee that knocked him out of the second half of the Packers game last Sunday.
Worilds
The Steelers are dressing an extra wide receiver as insurance as
Derek Moye
is active.
Sanders is among those who could be playing in their final game for the Steelers today as he will be an unrestricted free agent after this season.
The Steelers need to beat the Browns and also get wins from the Jets, Bengals and Chiefs to make the playoffs.
In addition to Worilds, who will be replaced at left outside linebacker by
Chris Carter
, linebacker
Terence Garvin
, nose tackle
Hebron Fangupo
, cornerback
Isaiah Green
, defensive
Brian Arnfelt
, quarterback
Landry Jones
and center
David Snow
are inactive for the Steelers.
A steady raining is falling in Pittsburgh, and the grounds crew took the tarp off the field a little before 11 a.m. ET.
October, 11, 2013
10/11/13
4:03
PM ET
PITTSBURGH -- Health shouldn't be an issue Sunday when the Steelers try to break into the win column.

Starting left guard
Ramon Foster
(pectoral) is listed as probable for the 1 p.m. ET game against the Jets after going through a full practice Friday for the third day in a row.
Quarterback
Ben Roethlisberger
(finger) and tight end
Heath Miller
are also listed as probable for the game at MetLife Stadium. Coach Mike Tomlin limited Miller in practice Thursday, but he was a full participant in drills Friday.
Rookie wide receiver
Markus Wheaton
is the only Steelers player who has been ruled out for Sunday.
Wheaton had surgery on his right pinkie, and he is scheduled to get stitches removed Monday.
Derek Moye
will replace Wheaton as the Steelers' No. 4 wide receiver.
The 6-foot-5, 210-pound Moye has not dressed the past two games, but he provides Roethlisberger with a tall receiver.
Moye's only catch this season was a nifty one, and it accounted for the Steelers' only touchdown in a 20-10 loss at Cincinnati on Sept. 16. He reeled in a Roethlisberger pass on a fade pattern and got two feet down just before running out of bounds for a 1-yard touchdown.
The former undrafted free agent is looking forward to getting an opportunity against the Jets.
"I go in day in and day out in practice and prove that I belong here," Moye said. "Obviously the game's a whole different scenario, so I'm just looking forward to the opportunity to carry over what I've been doing in practice."
August, 30, 2013
8/30/13
12:08
AM ET
Some thoughts from the
Pittsburgh Steelers
'
25-10 loss
to the
Carolina Panthers
in Thursday's preseason finale:
The only way Derek Moye doesn't make the 53-man roster is if the Steelers keep just four wide receivers. The 6-foot-5, 210-pounder clearly separated himself from the other receivers vying for a spot behind Antonio Brown, Emmanuel Sanders, Jerricho Cotchery and Markus Wheaton. Moye caught two passes for a team-high 55 yards Thursday; he received bonus points for chasing down Josh Norman from behind after the Carolina cornerback intercepted a Landry Jones throw and had nothing but green grass in front of him. Moye's hustle saved a touchdown and the Panthers settled for a field goal.
Jones played the entire game and finished with a thud after a great start. The former Oklahoma star looked masterful in directing an eight-play, 80-yard touchdown drive on the Steelers' opening possession. Jones looked like the rookie he is after that. He completed just 13 of 32 passes for 149 yards and three interceptions. The last pick came on his final pass of the game and, the Steelers have to hope, the foreseeable future. Wide receiver Justin Brown fell down on the play, but Jones still looked a long way from being NFL-ready. If injuries force Jones -- the No. 3 quarterback -- to play, the Steelers are in trouble anyway.
The toughest roster decisions the coaches and front office have to make might come at linebacker. Undrafted rookie Alan Baxter again put consistent pressure on the quarterback, and he will be tough to cut. But do the Steelers like him enough on special teams to keep a fifth outside linebacker? There appear to be at least four solid candidates for two backup spots at inside linebacker, and it probably comes down to special teams when sorting through those players.
If veteran Brian Moorman had to beat out Drew Butler, I think the latter hangs on to his job as punter. Neither one stood out during preseason play, and Butler is younger. He is also the incumbent.
Felix Jones ran well, gaining a game-high 56 yards on 14 carries and presenting the coaches with a tough decision at running back. Jones is probably the odd man out if the Steelers keep four running backs on their 53-man roster as well as fullback Will Johnson. But the former first-round pick could have convinced Pittsburgh to keep another running back while rookie Le'Veon Bell recovers from a mid-foot sprain.
I don't think Curtis Brown is in trouble as far as making the team, but the former third-round pick didn't help himself at Carolina. He was beaten twice for touchdowns by Ted Ginn Jr., who torched the Steelers with 149 receiving yards.
Wheaton saw his most extension action of the preseason, and the rookie third-round draft pick produced mixed results. He dropped three passes, including one that Jones put right on his hands. But Wheaton also showed why the Steelers are so high on him. He blew past a Panthers defensive back in the first half and would have caught a long touchdown pass had Jones not put too much air under the ball.
I know fans were screaming when Reggie Dunn fielded a punt inside the Steelers' 5-yard line and got tackled for a safety after he went backward while trying to reverse field. But Dunn isn't going to make the team anyway, and the undrafted rookie was just trying to make a play. The Steelers were intrigued by his speed, but one thing worked against Dunn from the start: the frequency of touchbacks in the NFL has de-emphasized kickoff returners.
What will the 53-man roster look like? I will take a shot at projecting it Friday in a post that will be up before noon. I expect the Steelers to make some cuts Friday afternoon, and they could do as they did in 2011, when they made the majority of their roster moves a day before the 53-man rosters had to be finalized.
August, 26, 2013
8/26/13
4:34
PM ET
Le'Veon Bell
's foot injury probably cost third-year running back
Baron Batch
any chance of making the Steelers. Batch was among the players cut Sunday as the Steelers trimmed their roster to 75 players, and he was simply a luxury the team couldn't afford with its running game in such flux.

You can win with players like Baron Batch. He is excellent on special teams and is a more than willing and able blocker, especially when it comes to blitzing linebackers. The former seventh-round pick does all of the little things well and has a heart the size of his native Texas.
Batch would be an ideal fourth running back on a team that has a feature back since he could play primarily on special teams and provide injury insurance. But he wasn't a good fit on a team that will go with a running back by committee -– at least until Bell is healthy and able to fill the role of feature back.
Releasing Batch before the final cut might have come as a surprise to some Steelers fans. But it is probably a measure of how highly the Steelers think of Batch, as a person and a professional. The timing of his release gives Batch a chance to catch on somewhere else and get a couple of days to impress his new team.
The release of
Stevenson Sylvester
, the other veteran cut on Sunday, leaves the Steelers with very little experience behind
Lawrence Timmons
and
Larry Foote
at inside linebacker.
It all but assures
Marshall McFadden
and rookie
Vince Williams
, a sixth-round pick last April, of making the 53-man roster.
The only draft pick right now that won't make the 53-man roster is seventh-rounder
Nick Williams
, who has been shut down by a knee injury. The Steelers liked enough of what they saw from Williams, a defensive end, that they put him on the reserve/injured list instead of the waived/injured list.
Cornerback
Terry Hawthorne
(fifth round) and wide receiver
Justin Brown
(sixth round) are battling for roster spots, and I think Hawthorne makes the team, but Brown might have too much to overcome -- namely his former Penn State teammate
Derek Moye
and the real possibility that the Steelers only keep four wide receivers.
Moye appears to have separated himself among the wide receivers who aren't a lock to make the team. But he could get caught in a numbers cruch if the Steelers have to carry an extra tight end or running back because of injuries.
February, 26, 2012
2/26/12
2:18
PM ET
INDIANAPOLIS -- Quick thoughts after a second session watching quarterbacks and receivers at the NFL scouting combine in Lucas Oil Stadium:
This was the second of two trips inside Lucas Oil Stadium as part of groups organized by the Pro Football Writers of America. I'll remain here until Monday morning, working from the media room at the stadium.