NFL Nation:

Derrick Martin
February, 24, 2014
Feb 24
2:50
PM ET
The
Chicago Bears
announced Monday they signed center
Taylor Boggs
and safety
Derrick Martin
to one-year contracts.
Financial terms of the deals weren't disclosed.
A three-year veteran, Boggs (6-foot-3, 285 pounds) played in one game last season, after spending the prior two years with the
New York Jets
after joining them in 2011 as an undrafted free agent out of Humboldt State.
Boggs served as the primary backup last season to veteran
Roberto Garza
. So it's unclear what the signing of Boggs means for Garza, a pending free agent. The club has said it would like to bring back Garza for 2014. But all indications point to the Bears wanting to do so with a veteran minimum type of deal, which means there's a good chance Garza will wait to see if other teams are interested in bringing him in as a potential starter.
Garza has started in 133 of 142 regular-season games for the Bears, and served as the leader on an offensive line that featured four new starters in 2013.
Martin, meanwhile, is an eight-year veteran who played in seven games for the Bears in 2013, primarily as a special-teamer. He produced six special-teams tackles and one stop on defense in 2013, and has played on five teams (
Baltimore Ravens
,
Green Bay Packers
,
New York Giants
,
New England Patriots
and the Bears) over eight seasons.
Martin has posted 66 tackles on special teams, 38 on defense, and three interceptions, eight pass breakups, a sack and a fumble recovery.
November, 27, 2013
11/27/13
4:27
PM ET
LAKE FOREST, Ill. –
Chicago Bears
running back
Matt Forte
missed practice on Wednesday because of a hyperextended right knee, but coach Marc Trestman sounded confident that Forte will play in Sunday's NFC North divisional game against the
Minnesota Vikings
.
Forte
"I'm still optimistic that [Forte will play on Sunday]," Trestman said. "I feel pretty good that he'll start getting some work tomorrow. We'll see where he is at, but I'm going in optimistic."
Forte hurt his knee last weekend in the Bears' loss to the
St. Louis Rams
but managed to finish the game, gaining 117 all-purpose yards. Forte, the NFL's sixth-leading rusher (851 yards) and third in yards from scrimmage (1,265), has been inactive only five times in his six seasons in the league.
Safety
Anthony Walters
and cornerback
Derrick Martin
were also sidelined on Wednesday.
Defensive tackles
Stephen Paea
(toe) and
Jeremiah Ratliff
(groin) were both limited during the workout. Paea sat out last week after re-injuring his toe in the Bears' Week 11 victory over the
Baltimore Ravens
, while Ratliff has yet to make his 2013 debut after signing a one-year deal with the club on Nov. 2.
Trestman officially ruled out linebacker
Lance Briggs
(shoulder) and quarterback
Jay Cutler
(ankle) for the Vikings game.
November, 22, 2013
11/22/13
3:30
PM ET
LAKE FOREST, Ill. -- Return specialist
Devin Hester
grinned Friday when approached by reporters to explain the cameo appearance he made at practice this week with the club's defensive backs.
"If I go line up at quarterback and take a couple of snaps, you are all going to say we are running the option or running the Wildcat," Hester said. "That's your job."
Hester
Hester, a former collegiate and NFL cornerback and nickelback, participated with members of the secondary in individual drills open to the media twice this week (Wednesday and Friday), and even spent roughly 10 minutes after Wednesday's session working one-on-one with Bears' defensive backs coach Jon Hoke.
"I did it to have fun," Hester said. "Being a special-teamer now, I really don't get as many reps as the normal guys do in practice since I'm a specialist now with the returns. That's pretty much all I do now. To keep myself busy, I jump in every now and again to play around.
"We all hang out off the field, so whenever I come over there and play around with those guys, it gives them a little more energy and a little more excitement to go out there and work hard. When they see me in their group, it sparks them up a little bit. You have to make practice fun. You just can't go through the same routine every day. When you joke around and have some fun, it goes by quick."
While Hester seemed to enjoy the attention, he got serious for a moment when asked if he could cover
Tavon Austin
, the Rams' speedy rookie wide receiver, if the situation called for it.
"I can cover anybody," Hester said before cracking a smile. "Just put a safety over the top, and I can shut anybody down. I need a safety over the top; I'm a Cover 2 man."
Hester is likely an emergency option for the Bears if they suffer more injuries in the secondary Sunday. Cornerback
Charles Tillman
(triceps) has already been ruled out, while safety
Craig Steltz
is questionable with a concussion and starting nickelback
Isaiah Frey
is dealing with a fractured right hand that will require him to wear a cast during the game. The Bears also have reserve cornerbacks
Sherrick McManis
and
Derrick Martin
on the depth chart, and could theoretically elevate another defensive back from the practice squad before Sunday since the active roster stands at 52 (the max is 53).
March, 1, 2011
3/01/11
1:15
PM ET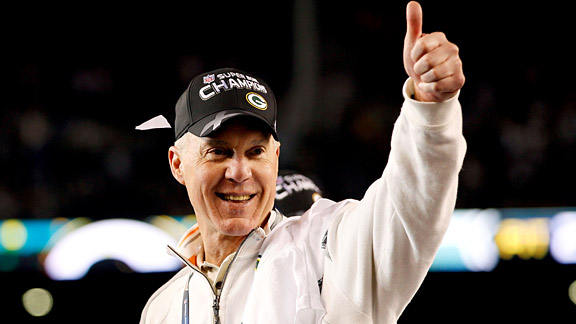 Kevin C. Cox/Getty ImagesTed Thompson's team-building philosophy will likely be popular around the league this offseason.
The
Green Bay Packers
ended the 2009 season with short- and long-term needs at both offensive tackle positions. Their ensuing plan was never in doubt. The Packers re-signed both incumbents,
Chad Clifton
and
Mark Tauscher
, and then sat tight until the April draft -- where they patiently waited for Iowa tackle
Bryan Bulaga
to fall to them at No. 23 overall.
Clifton started all 20 games of the Packers' run to the Super Bowl XLV championship, while Bulaga replaced an injured Tauscher for the final 16. It was a routine example of the Packers' team-building philosophy: Develop your own depth, promote from within and spend free-agent money to retain your own players.
Around here,
we've gone around and around
on the Packers' recent unwillingness to supplement their roster with veteran free agents. It's hard to argue with the results this season, and now it's time to find out how -- and if -- the rest of the NFL implements "The Packer Way."
The methods of all Super Bowl champions are scrutinized and often copied the following offseason. But this year, the Packers' competitors aren't likely to have a choice. The impending lockout will wipe out free agency, at least for now. Although the market will eventually open when a collective bargaining agreement is reached, it's quite possible the timing will be reversed.
The draft will come first, followed by free agency, rather than the other way around. Teams will not have the luxury of making draft decisions based on the results of free agency. Without a hard plan in place, they must, in the words of Arizona general manager Rod Graves, "approach the draft as if that's the only thing we have to focus on."
We needn't waste much time on the background. You know it well. Of all the players currently on the Packers' roster, only three -- cornerback
Charles Woodson
, defensive end
Ryan Pickett
and linebacker
Brandon Chillar
-- were signed as veteran free agents. Three more were acquired via trade: running back
Ryan Grant
, along with safeties safety
Derrick Martin
and
Anthony Smith
. The rest were either drafted by the Packers, signed as undrafted rookies, claimed on waivers or signed off another team's practice squad.
The intriguing issue is whether the Packers are uniquely equipped to navigate the offseason as it crystallizes for all NFL teams. From the outside, it sure seems that way.
[+] Enlarge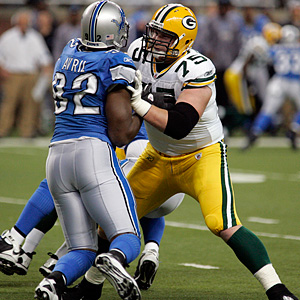 AP Photo/Duane BurlesonThe Packers waited for Bryan Bulaga to fall to them in last year's draft, and the offensive tackle was a starter most of the season.
"I'd say that our football team represents what you can accomplish building through the draft," Packers coach Mike McCarthy said. "That's a credit to [general manager] Ted Thompson and our personnel staff. We're a draft-and-develop program, we have been for the last five years, we'll continue to do so, and this is a very important draft class for our football team to keep the competition at a high level in the locker room, to keep the depth of our football team as deep as possible. The lesson we learned going through this past season is a very good experience to draw from, so we believe in the draft. That's important to us."
As he has in past years at the scouting combine, Thompson found himself answering questions last week about his approach to free agency and the draft. This year, however, there was no tinge of derision. Instead, Thompson was asked to explain how he stocked his team so well while largely eschewing a primary source of talent.
Thompson credited former Packers general manager Ron Wolf for being a "strong believer that you build the core of your team around the draft" but otherwise said: "Our guys do a lot of work."
Thompson said: "Most of our entire staff and personnel was trained by Ron Wolf and he believed very strongly in scouting and going to see players and doing due diligence and working just as hard on the seventh-round guys and the free agents as we do on the first-round guys. That's just the way we do business."
It's not as if other teams don't try their best to draft good players. But the Packers have two factors working in their favor that some others do not:
A proven system for scouting, evaluating and valuing potential draft picks

A single-mindedness about the draft that, without the crutch of free agency, forces them to keep looking until they find what they want
It was interesting last week listening to the disparate viewpoints of NFL general managers. Some were clearly relived to see two draft-first teams, the Packers and
Pittsburgh Steelers
, advance to the Super Bowl.
"Oh man, I love it," said Billy Devaney of the
St. Louis Rams
. "Isn't that awesome? I think both teams combined maybe had four starters that they got through free agency. The vast majority were draft picks, a couple of street free agents here and there, but those two organizations -- they've done it the way that everybody else aspires to do it. Putting it together with the foundation of hitting on their draft picks, and doing a great job keeping their guys."
The truth is, not everyone does aspire to it. Two disciples of
New England Patriots
coach Bill Belichick suggested it's wrong to ignore any avenue for improving their team.
"I think you truly believe that you need to compare both sides going into every year and decide where the strengths are and where the weaknesses are and if you can fix them in the draft or in free agency," said the Atlanta Falcons' Thomas Dimitroff. " I know that was something that I was very particular about coming into Atlanta to make sure that I didn't get pigeon-holed as one type of team builder."
GM Scott Pioli of the
Kansas City Chiefs
suggested that patience will allow teams to stay true to their core values, whatever they may be.
"Everybody is going to build their team the same way that they believe," Pioli said. "You're going to have the draft. You're going to have free agency. None of this is going to go away. At some point everything is going to be done."
But if nothing else, the uncertainty about the timing and nature of this year's free-agent market seems likely to make the draft each team's first stop for offseason upgrades. You don't have to look any further than the NFC North to find recent examples where teams were able to focus their attention elsewhere in the draft after making inroads in free agency six weeks earlier.
The
Chicago Bears
, for example, signed free-agent defensive end
Julius Peppers
in March and then focused on safeties at the top of the April draft, eventually landing expected 2011 starter
Major Wright
. The
Detroit Lions
signed receiver
Nate Burleson
in free agency, relieving a primary roster need and freeing them to pursue running back
Jahvid Best
and safety
Amari Spievey
in the draft. Both players are likely 2011 starters.
This spring will be a guessing game -- for most teams. For the Packers, it will be business as usual.
October, 31, 2010
10/31/10
4:32
PM ET
Wrapping up the
Green Bay Packers
'
9-0
win against the
New York Jets
.
What it means:
The Green Bay Packers improved to 5-3 to take a half-game lead in the NFC North as the
Chicago Bears
enjoyed their bye week. I'm obviously not in New York to poll the Packers individually, but they have to be satisfied with five victories at their season's midpoint after the run of injuries they've endured. Tally ho!
Scoreless:
On a windy day at the New Meadowlands Stadium, the Packers' defense issued an impressive shutout. Despite a perceived mismatch against the Jets' rushing game, the Packers limited them to 99 rushing yards. But two late plays stuck out to me. Backup safety
Charlie Peprah
, playing because of injuries to
Atari Bigby
,
Morgan Burnett
and
Derrick Martin
, twice separated the ball from Jets receiver
Jerricho Cotchery
-- one on fourth down to end a late Jets threat. You know it's a good day when your No. 4 safety is making game-saving plays.
Injury report:
Quarterback
Aaron Rodgers
played much of the fourth quarter with his left ankle heavily taped after appearing to sprain it on the stadium turf. I had to laugh when, shortly after the injury, FOX cameras panned to Gillette Stadium to show
Minnesota Vikings
quarterback
Brett Favre
preparing to play with two fractures in his left foot. Can Rodgers ever get some independent credit?!
Unsung hero:
How about punter
Tim Masthay
getting down the hold on
Mason Crosby
's 20-yard field goal in the first quarter? The snap hit the ground, but Masthay got it up in time for the kick.
What's next:
The Packers will host the
Dallas Cowboys
in their second Sunday night game in three weeks.
October, 17, 2010
10/17/10
10:46
PM ET
Some quick thoughts on the
Green Bay Packers
' 23-20
loss
to the
Miami Dolphins
.


What it means:
The Green Bay Packers are 3-3, with all three losses coming by three points. Two have been in overtime, and the winning field goal in the third came with four seconds remaining in regulation. No matter how small the margin of defeat, however, the Packers are nowhere close to where they hoped to be six games into the season.
This will turn it around:
In classic Ted Thompson fashion,
the Packers acquired
safety
Anthony Smith
from the
Jacksonville Jaguars
after the game for a conditional seventh-round draft pick. Yes, it's the same Smith whom the Packers released on the final cutdown day prior to the 2009 season. Smith will provide some depth following injuries to
Morgan Burnett
and
Derrick Martin
, and before
Atari Bigby
can return from the physically unable to perform list.
Offensive:
The Packers had 359 net yards, but 86 of them came on one pass play to receiver
Greg Jennings
in the first quarter. They averaged 4.7 yards on their other 58 plays. Quarterback
Aaron Rodgers
continues to be uncharacteristically inaccurate, completing only 18 of 33 passes, and his best play Sunday was what appeared to be an impromptu quarterback sneak to tie the game with 13 seconds remaining in the fourth quarter. Rodgers did appear to be under duress for a good part of the game; defensive end
Cameron Wake
had three of the Dolphins' five sacks.
Controversial call:
Special teams coordinator Shawn Slocum was so upset about a fourth-quarter call that he showed a photograph of the pre-snap alignment to reporters, according to
Kareem Copeland of the Green Bay Press-Gazette
. Linebacker Robert Francois was called for being over the center on a punt, a new rule this season. But Slocum said the photograph showed Francois was well off the line of scrimmage and in compliance with the rule. The call, however, returned possession to the Dolphins and set up a go-ahead touchdown pass to tight end
Anthony Fasano
.
Short-handed:
We already knew the Packers would be without tight end
Jermichael Finley
, right tackle
Mark Tauscher
and linebacker
Nick Barnett
, among others. But they also played Sunday without linebacker
Clay Matthews
, defensive end
Ryan Pickett
and defensive lineman
Mike Neal
. Matthews' replacement,
Brady Poppinga
, left Sunday's game with an injury.
Back in action:
The Packers made an effort to get the ball to their top offensive playmaker following the loss of Finley. Jennings finished with six receptions for 133 yards after catching 14 in the Packers' first five games combined.
What's next:
The Packers host the
Minnesota Vikings
next Sunday night at Lambeau Field.
October, 11, 2010
10/11/10
2:43
PM ET
As painful as it might be, let's take a moment to update the
Green Bay Packers
' astonishing injury report. The bottom line: The Packers will definitely be without tight end
Jermichael Finley
, linebacker
Nick Barnett
, safety
Derrick Martin
and tight end
Donald Lee
for the next several weeks. A number of other players could also fall in that category based on progress (or lack thereof) this week. A rundown:
Finley: He will have surgery to repair what the Milwaukee Journal Sentinel reports is a torn meniscus in his right knee. Coach Mike McCarthy said he would be "surprised" if the injury ended Finley's season. It's more likely he'll miss between three and six weeks.
Barnett: There is now "some hope" that a wrist injury will not cost him the rest of the season, McCarthy said. But surgery scheduled for Wednesday likely will cost Barnett at least six weeks.
Lee: He has a chest sprain, McCarthy said, that will cost "maybe a couple weeks."
Martin: A knee sprain is likely to cost him several weeks.
Quarterback Aaron Rodgers: McCarthy said he will miss some practice time "at minimum" this week but wouldn't rule him out of Sunday's game against the Miami Dolphins. Still, given the heightened state of awareness on brain issues in the NFL, it wouldn't at all be surprising to see Rodgers miss his first game since becoming the team's starter in 2008.
Linebacker Clay Matthews: He missed a month during the preseason because of a hamstring pull, but McCarthy said the latest hamstring injury was "not as severe as the first time." Whether Matthews can make it back in one week, however, is uncertain.
Defensive end Ryan Pickett: An ankle sprain has left his status uncertain for this week and beyond.
All told, the Packers could play the Dolphins without seven players who were Week 1 starters. We have a long practice week ahead of us, but this injury report is just incredible. I think we can all agree that it will require a highly effective patchwork effort for the Packers to get where they want to go this season.
Just so you know what the Packers are up against, let's take a look at Weeks 6 through 12 of the Packers' 17-week schedule:
Week 6:
Miami Dolphins
Week 7:
Minnesota Vikings
Week 8:
at
New York Jets
Week 9:
Dallas Cowboys
Week 10:
Bye
Week 11:
at Minnesota Vikings
Week 12:
at Atlanta Falcon
s
November, 24, 2009
11/24/09
2:30
PM ET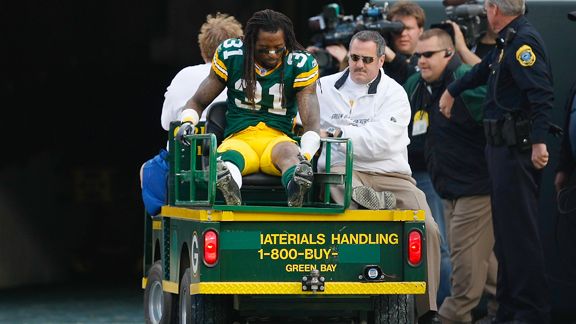 Scott Boehm/Getty ImagesLosing defensive back Al Harris hurts the Packers but Green Bay still has a shot at the playoffs.
It was only two weeks ago that some numbskull
suggested
Green Bay might have a tough time getting in playoff position during the second half of the season. Geez. Some people just don't think about what they say or write.
Because as we stand on the brink of Week 12, the Packers have given themselves an excellent chance to clinch a wild-card spot if they continue a winning pace. (I would define "winning pace" as winning more than you lose. For the Packers, that would mean a 4-2 finish and a 10-6 final record.)
It won't be as easy as it sounds, not when you consider they have only two home games remaining. It's possible that a 9-7 record could clinch a playoff spot, but let's be safe for the purposes of this discussion. In recognition of that strong assumption, let's consider four keys to the Packers' postseason run. (Four! Get it?)
1. Schematically cover for personnel losses on defense
The loss of cornerback
Al Harris
pushes the rest of the Packers' defensive backs up the depth chart.
Tramon Williams
is the likely starter, with some combination of
Jarrett Bush
,
Brandon Underwood
and newcomer
Josh Bell
all in the mix for the nickel. Navigating this issue will be the Packers' biggest challenge in making the playoffs.
All three players are relative unknowns in terms of coverage ability. It's great if one of them steps up. If not, however, defensive coordinator Dom Capers will have to implement some lineup creativity to get his best 11 players on the field.
That could mean leaving an extra linebacker on the field in some nickel situations. It might require finding a bigger role for backup linebacker
Desmond Bishop
. It could mean flooding the line of scrimmage with blitzers, if that's what Capers' remaining players do best.
From the moment he arrived in Green Bay, Capers pledged to craft a scheme around the strengths of his players. It's time for him once again to follow through.
2. Remaining disciplined with the "new" short-range offense
Over the past two weeks, the Packers have returned to the approach they used in 2007, emphasizing quicker passes, shorter routes and better balance with the run. In this case, the shift was a response to the limited pass protection they have offered quarterback
Aaron Rodgers
.
The development has been obvious the casual observer, but
Tom Pelissero of the Green Bay Press-Gazette
recently put a strong number behind it. In Sunday's 30-24 victory over San Francisco, 20 of Rodgers' 32 completions traveled within 4 yards of the line of scrimmage. And their biggest offensive play came off a simple 10-yard slant pass to receiver
Greg Jennings
, who turned it into a 64-yard touchdown.
"We know our strengths," Jennings said. "We know our weaknesses, and we have to play to our strengths. And our strength is getting the ball out of Aaron's hands and letting us make plays. … I think [the short game] is the best way to get the ball in any one of our hands. The last couple of weeks, that's been a huge emphasis -- the three-step game, the quick game, just trying to get the ball in each one of our hands and just get us out in space against the perimeter guys."
3. Win the right games
This might sound counterintuitive, but some of Green Bay's games will be more important than others. I'm not suggesting the Packers do anything other than try to win all of them. But we observers should keep priority and orderliness in mind when looking at their schedule.
In terms of tiebreakers and playoff seeding, division games are most important -- even if it has nothing to do with winning the title. Conference matchups rank next, followed by AFC games. So if I'm making a priority list of the teams I think the Packers need to beat to make the playoffs, it's going to look like this:
A. Detroit
B. Chicago
C. Seattle
D. Arizona
E. Baltimore
F. Pittsburgh
I ranked Seattle and Baltimore ahead of Arizona and Pittsburgh because they're home games. No tiebreaker applies to home victories, but any playoff plan should include winning your home games first.
4. Make a standard out of the special-teams performance we saw Sunday.
The Packers have had their share of coverage problems this season, and our friends over at
Football Outsiders
ranked their special teams last in the NFL through the first nine games of the season. But I thought the Packers put forth a mostly winning effort Sunday.
No one can be happy about Josh Morgan's 76-yard kickoff return in the fourth quarter. Moving past that play, however, the 49ers managed 18.7 yards on their other three kickoff returns and 2.3 yards on three punt returns.
Meanwhile, Williams' 27-yard punt return set up what turned out to be a key field goal at the end of the first half. And don't forget that
Derrick Martin
downed a
Jeremy Kapinos
punt at the 49ers' 2-yard line in the fourth quarter. On the next play, safety
Nick Collins
intercepted
Alex Smith
to set up the Packers' final touchdown.
You can't solve any problem overnight, special teams or otherwise. But if the Packers can minimize big returns and make some positive plays to balance them out, I think what they did Sunday would suffice in a playoff race.
September, 27, 2009
9/27/09
2:47
PM ET

Posted by ESPN.com's Kevin Seifert
ST. LOUIS -- A few halftime observations from the Edwards Jones Dome, where Green Bay leads St. Louis 23-14 in what became an offensive explosion during the second quarter:
September, 25, 2009
9/25/09
9:13
AM ET

Posted by ESPN.com's Kevin Seifert
Adrian Peterson considers his first game against San Francisco the worst of his career and has set his sights on avenging a 14-carry, 3-yard performance Sunday at the Metrodome.

The 49ers broke out a new way of defending Peterson in that game, which the Vikings ultimately won 27-7 on Dec. 9, 2007. Both cornerbacks crashed the line of scrimmage, effectively creating a nine-man box that tested Peterson's patience.
Peterson: "[After] watching film, I wasn't being patient enough, rushing my plays, not giving the offensive line time to do their job. That really is what disappointed me the most when I watched the film."
As
Chip Scoggins of the Star Tribune
reports, Peterson has been waiting for this rematch for two years. You might consider this some brand of corny motivation, but knowing Peterson's competitive fire, I'm sure those three yards have been burning a hole in his pocket for two years.
Continuing around the NFC North:
September, 5, 2009
9/05/09
6:02
PM ET

Posted by ESPN.com's James Walker

Biggest surprise:
The Ravens didn't have any major surprises on Saturday's cut list. Perhaps the only move that was mildly surprising was releasing receiver
Justin Harper
, who started training camp and the preseason extremely well but hit a wall as of late. He was once in competition for Baltimore's No. 3 receiver job, yet by the end of the summer Harper finds himself looking for a job. Receiver and return specialist
Yamon Figurs
was on the bubble all offseason. So although he has a name people in Baltimore are familiar with, cutting Figurs wasn't a huge shock. Fourth-year cornerback
Evan Oglesby
made a late push but it wasn't enough.
No-brainers:
The Ravens confirmed what most media members suspected with the release of kicker
Graham Gano
. By midway through the preseason, it was clear
Steven Hauschka
was separating himself in the race to take over Baltimore's kicking duties. But Hauschka cannot breathe easy, because longtime Ravens kicker
Matt Stover
remains just a phone call away. Therefore, Hauschka needs to continue to make field goals in the regular season to hold his spot on the active roster.
What's next:
The Ravens traded cornerback
Derrick Martin
Saturday to the
Green Bay Packers
for guard/tackle
Tony Moll
. The move adds depth to their offensive line, as Moll has 18 career starts in three seasons. Also look for Baltimore to attempt to reclaim some of its rookie draft picks such as running back
Cedric Peerman
and tight end
Davon Drew
. Even Gano may be a solid practice-squad candidate who can keep Hauschka sharp and in a competitive mode during the regular season.

NFL SCOREBOARD
Sunday, 2/2
WEEKLY LEADERS