NFL Nation:

Desmond Howard
July, 11, 2014
7/11/14
10:00
AM ET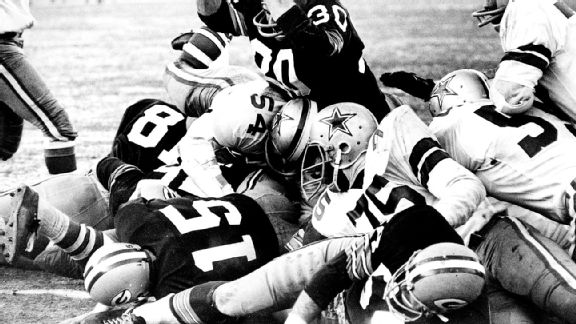 John Biever/Icon SMI
We have a winner. The voters picked Bart Starr's quarterback sneak for a touchdown to win the Ice Bowl as the Packers' most memorable play, and I applaud their selection.
Score:
Packers 21, Cowboys 17
Date:
Dec. 31, 1967
Site:
Lambeau Field
From the moment we began soliciting nominations for the
Green Bay Packers
' three most memorable plays, Bart Starr's quarterback sneak for a touchdown to win the Ice Bowl was mentioned more often than any other play.
So it should come as no surprise that it was the runaway winner in the voting.
Few NFL franchises have one defining play like that, but Starr's sneak ranks up there with
the Immaculate Reception
and
The Catch
.

When the voting closed on Thursday, Starr's play finished as a landslide winner over Brett Favre's 54-yard touchdown pass to Andre Rison in Super Bowl XXXI and
Aaron Rodgers
' third-and-10 completion to
Greg Jennings
to help clinch Super Bowl XLV.
What was most interesting in researching this project was that there was no consensus on the most memorable plays from Super Bowls XXXI and XLV. There was just as much support for Desmond Howard's 99-yard kickoff return for a touchdown that helped him win the Super Bowl XXXI MVP. Likewise in Super Bowl XLV, strong cases could be made for Nick Collins' interception return for a touchdown in the first quarter and
Clay Matthews
' forced fumble that thwarted a potential go-ahead drive by the Steelers in the fourth quarter.
Unlike Starr's sneak, no one play won Super Bowls XXXI or XVL.
And that is why Starr's play was so special.
As we wrap up this project, it's also worth noting some of the other plays that were considered, thanks in part to input from readers and other longtime observers of the team.
Among the others:
Don Hutson's first touchdown, an 83-yarder in 1935.

Dave Robinson drilling Don Meredith, leading to Tom Brown's interception to beat the Cowboys in the 1966 NFL Championship.

Herb Adderley's interception against the Lions in a 1962 regular-season game to set up the game-winning field goal in a 9-7 victory.

Chester Marcol's blocked field goal that he ran in for a touchdown to beat the Bears in 1980.

Don Majkowski to Sterling Sharpe for a 14-yard touchdown pass in 1989 against the Bears in what is known as the Instant Replay Game.

Favre to Sharpe in Detroit for a 40-yard touchdown with 55 seconds remaining in a 1994 playoff game.

Antonio Freeman's "Monday Night Miracle" catch to beat the Vikings in 2000.

B.J. Raji's interception return for a touchdown against the Bears in the NFC Championship Game in 2011.

The "Fail Mary" play against the Seahawks in 2012.
The problem with some of those plays is they were either flukes or meaningless plays in meaningless games. Oh, and there was one other play that a longtime Packers observer was convinced would be the most important play in team history if there more details about it were available. It was a punt, said to be nearly 90 yards by Verne Lewellen in a 1929 game against the
New York Giants
. That punt pinned the Giants deep in their own territory and helped secure a victory that was the difference between the teams in the standings (there were no playoffs at that time). The Packers, with a 12-0-1 record, won the championship over the Giants, whose only loss was to the Packers. It gave the Packers their first championship and, because it happened in New York, helped the Packers capture the attention of the powerful New York media. However, reports from that game do not clearly describe Lewellen's punt.
In the end, Starr's sneak is the play that has been, and likely will continue to be, the most memorable.
July, 8, 2014
7/08/14
10:00
AM ET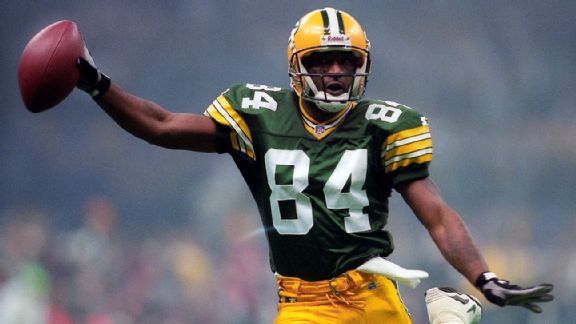 Matthew Emmons/USA TODAY Sports
»
VOTE HERE
»
NFC Plays:
East
|
West
|
North
|
South
»
AFC:
East
|
West
|
North
|
South
This is one of three nominations for the most memorable play in
Green Bay Packers
history. The others are: Bart Starr's quarterback sneak for a touchdown to win the Ice Bowl and
Aaron Rodgers
' third-and-10 completion to
Greg Jennings
in the fourth quarter of Super Bowl XLV that helped clinch the game. Please vote for your choice as the Packers' most memorable play.
Score
: Packers 35, Patriots 21
Date
: Jan. 26, 1997
Site
: Louisiana Superdome

You can argue that the most memorable play from Super Bowl XXXI was Desmond Howard's 99-yard kickoff return for a touchdown in the third quarter -- and many of you on Twitter did. After all, Howard was the game's MVP.
Or you can make a case for Antonio Freeman's 81-yard touchdown -- which at the time was the longest touchdown catch in Super Bowl history -- although none of you did.
But the ever-lasting memory from the Packers' third Super Bowl title was quarterback Brett Favre running like a wild-man, sans helmet, after his 54-yard touchdown pass to Andre Rison on the Packers' second play from scrimmage.
Favre, sensing a blitz from the Patriots, changed the play at the line of scrimmage. Rison, who joined the Packers midseason, ran a post route and found himself wide open down the seam.
Favre later revealed the play was rooted in something he had seen from the
San Francisco 49ers
when he was watching Super Bowl highlights during the week leading up to the game. He saw Joe Montana hit
Jerry Rice
in Super Bowl XXIV on a play the 49ers called "59 Razor." The Packers adopted it and called it "29 Razor." It was an audible to be used against a blitz that called for maximum blocking protection and only two receivers out in patters.
"Lo and behold, second play of the game, I checked to 29 Razor and hit Andre Rison for a touchdown," Favre said years after the game. "So when you see me running with my helmet off, I'm thinking, 'Can you believe I checked to this play?' It was amazing. And it worked, which was even more amazing."
Favre to Rison. #NFLNPackersTopPlays

— Alex Tallitsch (@AlexTallitsch) June 5, 2014
April, 29, 2011
4/29/11
9:28
AM ET
Nice nugget from ESPN Stats & Information on multiple Heisman Trophy winners selected in the same draft and this one has big NFC South implications.
With
Cam Newton
and
Mark Ingram
both selected in the first round Thursday night, the 2011 draft marked just the seventh draft since 1967 in which more than one Heisman Trophy winner has entered the league in the same year.
Newton was picked No. 1 overall and he was college football's Heisman Trophy winner last season. Ingram was taken at No. 28, after the Saints traded back into the first round to get him. Ingram won the Heisman in the 2009 college season.
The feat also happened in last year's draft, when
Sam Bradford
and
Tim Tebow
both came with the trophy. Prior to that,
Reggie Bush
and
Matt Leinart
came in together in 2006.
Beyond that, there was a much bigger gap in the time frame. Desmond Howard and Ty Detmer came in the 1992 draft. Vinny Testaverde and Bo Jackson were picked in the 1987 draft. Herschel Walker and Doug Flutie were selected in 1985. Billy Sims and Charles White were drafted in 1980.
January, 28, 2010
1/28/10
6:30
PM ET
Thanks to everyone who offered up their
favorite NFC North Super Bowl moments
. As you recall, I offered up three suggestions Wednesday and left two spaces open for you to reach a total of five. Well, as the Supreme Ruler of all NFC North blogs on ESPN.com, I've made an executive decision to expand the list.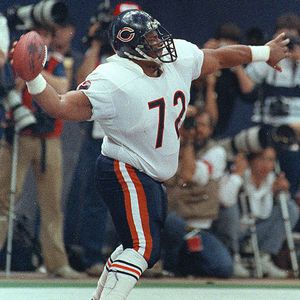 AP Photo/Amy SancettaWilliam Perry's celebration following a TD plunge is one of the enduring images of Super Bowl XX.
You brought up three really cool moments that I think belong on this list. I've published all six below, including your comments on the latest additions.
I realize this list doesn't include a moment from any of Minnesota's four Super Bowl appearances. There are a few reasons for that. First, the Vikings lost all four games. Second, their last appearance was 33 years ago. For most of us, there is a generational gap that has probably muted the progression of any highlights from those games.
OK, on with it:
1. Play:
Green Bay receiver Max McGee's one-handed, 37-yard touchdown reception in the first quarter of Super Bowl I.
Comment:
As the story goes, McGee didn't expect to play in the game and missed curfew while spending the evening on the town. He was, uh, not at full capacity at kickoff.
2. Play:
Green Bay kick returner Desmond Howard's 99-yard kickoff return in Super Bowl XXXI.
Comment:
The final score of the game sealed the Packers' victory.
3.
Play:
Devin Hester's 92-yard return of the opening kickoff in Super Bowl XLI.
Comment:
You can't start a game better than that.
4. Play:
William Perry's 1-yard touchdown run in Super Bowl XX.
Comment from Bshuma1:
You just can't beat the big guy's celebration and toothless smile after he owned that linebacker.
5. Play:
Brett Favre's 54-yard touchdown pass to
Andre Rison
on the Packers' second play in Super Bowl XXXI.
Comment from Capdogg13:
One of the best NFC North moments, what with Favre running up the field. That image, along with being one of the best Super Bowl images, defines exactly how Favre approaches the game, no matter his age.
6. Play:
Bears players carrying defensive coordinator Buddy Ryan off the field along with coach Mike Ditka after Super Bowl XX.

Comment from bcrawford85:
Awesome moment in Bears history, let alone the NFC "Central" history.
Comment from me:
I agree. It was the ultimate sign of respect and appreciation for the leader of one of the best defenses in NFL history.