NFL Nation:

Dewayne White
August, 21, 2013
8/21/13
4:58
PM ET
RENTON, Wash. -- The Seahawks continue to stockpile defensive lineman, adding two more in the past two days. Seattle now has 11 defensive lineman who were not with the team one year ago.

The
John Moffitt
trade, which took two tries (first to Cleveland, that was voided, then to Denver the next day) resulted in Seattle acquiring Broncos defensive tackle
Sealver Siliga
.
The Seahawks also added defensive tackle
Dewayne Cherrington
, a rookie free agent from Mississippi, after releasing kicker Carson Wiggs on Monday.
Siliga, 6-2 and 325 pounds, is in his second season out of Utah. He had two assisted tackles against the Seahawks in the preseason game Saturday night at Seattle. Siliga already was at practice Wednesday.
"A true pro in the way he worked,'' defensive coordinator Dan Quinn said of Siliga. "You could see his strength right away."
Cherrington (6-3, 335) played college football at Richmond. Cherrington was not drafted, but signed with New England as a free agent before being released last week.
Both Siliga and Cherrington are longshots to make the 53-man roster, but the Seahawks coaches are trying to make sure they don't come up short with the players on the defensive front.
The others who are new this year include
Cliff Avril
,
Tony McDaniel
,
Michael Bennett
,
O'Brien Schofield
,
Martin Parker
and
Michael Brooks
(veteran players who were signed and brought in), draft choices
Jordan Hill
and
Jesse Williams
, and rookie free agent
Benson Mayowa
.
Obviously, some of these men will be gone when cuts are made to get down to the 53-man roster (and eight possible practice squad players) before the regular season begins.
But a few of the newcomers have stood out, especially Mayowa and Schofield. Mayowa, a rush end from Idaho, has 2.5 sacks and four quarterback pressures in the first two preseason games.
Schofield, a fourth-year player from Wisconsin, has a sack, a forced fumble and a fumble recovery. Schofield knocked the ball out of quarterback
Brock Osweiler
's hands and recovered it in the backfield in the Denver game last weekend.
"We started him at linebacker and then moved him back to Leo (rush defensive end)," Quinn said of Schofield, who played three seasons for the
Arizona Cardinals
. "He's doing well."
Hill, a third-round pick from Penn State, also has looked strong at defensive tackle. He's in the running for the starting spot at the 3-technique defensive tackle, a spot vacated when Seattle lost
Alan Branch
to free agency in the offseason. Quinn said no decision had been made there, but McDaniel and
Jaye Howard
probably have the best chance of earning the first-team spot.
Avril and Bennent, two proven pass-rushers, and McDaniel, a defensive tackle in his eighth season, were the biggest off-season acquisitions on defense. Bennett has played both tackle and defensive end. Avril has yet to get in a game, and missed most of training camp with a hamstring injury. He also missed mini-camp and OTAs with a foot injury, but the Seahawks are counting on him to be a major contributor this season.
It was clear after the 2012 season that the Seattle coaches wanted to upgrade the defensive front and improve their rush. With defensive end
Chris Clemons
still recovering from off-season ACL surgery and defensive end/outside linebacker
Bruce Irvin
suspended for the first four games, the Seahawks are trying to ensure they have enough quality depth to make an improvement in that area.
March, 11, 2010
3/11/10
1:00
PM ET
»
NFC Stock Watch
:
East
|
West
|
North
|
South
»
AFC
:
East
|
West
|
North
|
South
Falling

Bryant McKinnie, Minnesota left tackle.
Julius Peppers
' arrival in the NFC North is another hit in a tough offseason for McKinnie. In a nationally televised matchup last December, Peppers dominated McKinnie so thoroughly that the Vikings eventually benched him. In that game, Peppers notched one sack, had three quarterback hits and also batted down a pass. As Chicago's top free-agent pickup, Peppers will now face the Vikings -- and potentially McKinnie -- twice a season. Peppers has played on both the right and left side of the defensive line in his career, but the Bears are sure to be tempted to match him up on McKinnie when the teams play in 2010.
Rising

Gunther Cunningham, Detroit defensive coordinator.
Good players make for good coaches. So you can expect Cunningham to be a better coordinator in 2010 after an overhaul of the defensive line that might not be done yet. The Lions already are better at two positions, with
Kyle Vanden Bosch
taking over for defensive end
Dewayne White
and
Corey Williams
succeeding nose tackle
Grady Jackson
. If the Lions draft a defensive tackle No. 2 overall, they will have pulled together a more-than-competitive defensive front that will create more havoc in the backfield and get more heat on the quarterback. The first place to address any woebegone defense is up front, and Cunningham will be the beneficiary in 2010.

Posted by ESPN.com's Kevin Seifert
Five nuggets of knowledge about this week's games:
| | |
| --- | --- |
| | |
| | Rich Gabrielson/Icon SMI |
| | Forget Brett Favre, the Packers should really be worried about Vikings running back Adrian Peterson. |
With so much attention on the Brett Favre drama,
it should be pointed out that Minnesota tailback
Adrian Peterson
has punished Green Bay for most of his career. He could be primed for another big night against a Packers defense that has given up 300 rushing yards in its past two games. Peterson has run for at least 100 yards in three of his four career games against the Packers, including 192 last season at the Metrodome. The only exception came in 2007, when cornerback Al Harris' low but legal tackle knocked him out of the game after 11 carries. Peterson returned the favor by drilling Harris with a forearm in the teams' next meeting and seems fully engaged in the emotion of this rivalry.
Looking for a technical matchup to track Monday night at the Metrodome?
ESPN Stats & Information suggests you follow how well Green Bay's defense stands up to Minnesota's two-tight end formation. The Vikings have used the alignment (which includes two receivers and one running back) more than all but four NFL teams this season. It has led to an average of 6.4 yards per play, be it a run or pass. That's the third-best mark in the NFL. The Packers, on the other hand, have held teams to 4.3 yards per play against two-tight end sets. As much as anything, that's a tribute to the transition of outside linebacker
Aaron Kampman
, along with the play of
Brady Poppinga
and rookie
Clay Matthews
.
Monday night will be a referendum
on the Packers' decision to stick with left tackle
Chad Clifton
for one more season. Clifton had surgery on both knees and shoulders this offseason, raising the question of how much he has left at age 33. The Packers didn't craft much of a contingency plan should Clifton break down, and he's already missed one game because of an ankle injury. He's likely to miss this matchup as well, which would again force the Packers to move left guard
Daryn Colledge
to left tackle -- putting him in a difficult matchup against Vikings pass rush rusher
Jared Allen
. Clifton has had some success against Allen in the past, but I don't like his chances on an injured ankle. And I definitely don't like the Colledge matchup if there isn't a lot of help involved. Colledge looked serviceable last week against St. Louis but you have to consider the quality of opponent.
Chicago would be smart to use Sunday's game against Detroit to get its running game in order.
The Lions have improved significantly against the run, ranking No. 16 among NFL teams, but it's likely they will be short-handed on the defensive line. Tackle
Sammie Lee Hill
(ankle) and end
Dewayne White
(hamstring) both missed practice this week, while end
Cliff Avril
(hamstring) isn't a certainty after missing the past two games. As a result, the Lions signed free agent Chuck Darby for emergency depth this week. We've discussed it before: Good running games are about quantity as much as quality. The Bears rank in the bottom third of the league in rushing attempts (76) this season. They need to elevate that number Sunday against the Lions.
Detroit has led at halftime in each of its past two games,
but ESPN Stats & Information suggests the Lions will have a tough time holding any lead they might get at Soldier Field. Bears quarterback
Jay Cutler
already has generated two fourth-quarter comebacks this season, compiling a combined 114.3 passer rating in that span. Meanwhile, opposing quarterbacks have torched the Lions defense in the final stanza this season. The Lions have given up 249 passing yards and three touchdowns during their trio of fourth quarters, good for a 126.6 passer rating. Look at the bright side, though. This analysis alone is a sign of progress for the Lions. By the end of last season, no one was breaking down their chances for holding a fourth-quarter lead.
August, 23, 2009
8/23/09
11:00
AM ET
Posted by ESPN.com's Kevin Seifert
As we review preseason action this summer, I won't pretend to bring you brilliant insight from games I don't cover live. We'll save that kind of thorough analysis for the games that I actually see and conduct interviews at afterwards. (Yes, there was some sarcasm there. Lighten up. It's Sunday morning!)
With that said, it's important to get a feel for every NFC North preseason game in a timely fashion. So while I covered Friday night's Minnesota-Kansas City game, below are some thoughts on the three games that took place Saturday night. I've also included links to the local coverage of reporters who were in attendance as well as some NFL.com video so you can see for yourself.
Chicago 17, New York Giants 3

Everyone can agree that quarterback Jay Cutler was sharp (8-of-13) and productive (17 points in his first three drives) during his second start of the preseason. He threw well on the run, scrambled once on his own for 12 yards and threw a beautiful touch pass to receiver Devin Aromashodu for 38 yards. Working at times from the no-huddle, the Bears gave their future opponents plenty to think about with their passing performance. Cutler and backup Caleb Hanie combined to complete 18 of 31 passes for 241 yards.
If you were worried about tailback Matt Forte's hamstring, it didn't look bad Saturday night on a 32-yard touchdown dash up the middle. Overall, Forte finished with 58 yards on nine carries. On the downside, backups Kevin Jones and Garrett Wolfe each lost a fumble.
Defensive tackle Tommie Harris started but didn't show up in the box score. Fellow defensive linemen Alex Brown, Adewale Ogunleye, Dusty Dvoracek and Marcus Harrison all finished the game with a sack.
Local coverage: ESPN Chicago, Chicago Sun-Times, Daily Herald. For video click here.

Cleveland 27, Detroit 10

Incredibly, the Lions fought among themselves before the game. Defensive end Dewayne White and tight end Carson Butler were the culprits, fighting long enough that they both ended up on the ground. It's always good to be in a "fighting mood" during pregame warm-ups. But actually fighting? Unheard of. I'm guessing Butler, at least, will have his ticket punched out of Detroit soon.
Quarterback Matthew Stafford had a tough night. Getting a start as he competes with Daunte Culpepper, Stafford threw an interception on his first pass and later overthrew two wide-open receivers (John Standeford and Adam Jennings) on passes downfield. Overall, Stafford completed 5 of 13 passes. Neither he nor Culpepper led the Lions to a score. We go to Week 3 of the preseason with no better idea of who will win the starting job.
Let's just say it: Saturday night was terrible all around for the Lions. The special teams gave up two touchdown returns to Cleveland's Josh Cribbs, although one was called back by penalty. And Browns quarterback Derek Anderson picked apart the Lions' defense for 130 passing yards.
Local coverage: Detroit Free Press, Detroit News, Mlive.com. For video click here.
Green Bay 31, Buffalo 21

The Packers' top defense held Buffalo scoreless in the first half and continued to swarm the ball. Safety Nick Collins forced an early interception, and Green Bay got some good pass rush out of its 4-3 nickel alignment. Defensive lineman Johnny Jolly finished with two sacks. The Packers led 21-0 when starters left the game. The only downside: Collins left with a rib injury.
Quarterback Aaron Rodgers was locked in, completing 8 of 9 passes for 98 yards and two scores. His 5-yard touchdown pass to Donald Driver was an athletic play, and fantasy players everywhere are going to like that he connected multiple times with second-year tight end Jermichael Finley.
Backup quarterback Brian Brohm got extended playing time because of a shoulder injury to Matt Flynn that isn't deemed serious. But Brohm didn't give anyone reason to believe he can overtake Flynn on the depth chart if everyone is healthy.
Local coverage: Milwaukee Journal Sentinel, Green Bay Press-Gazette. For video, click here.
August, 21, 2009
8/21/09
2:14
PM ET
| | |
| --- | --- |
| | |
| | Scott Boehm/Getty Images |
| | New Lions coach Jim Schwartz is attempting to change the atmosphere in Detroit. |
Posted by ESPN.com's Kevin Seifert
ALLEN PARK, Mich. -- Upon arriving in Detroit to begin offseason workouts, Lions players found their locker room had been painted. Their lockers had been moved around. They had been assigned new parking spaces. Their lifting regimen had been changed. Their uniforms looked different.
Most symbolic, a number of motivational signs were replaced by one that simply read: "National Football League" -- a reminder of the high standards set for everyone who walks into the building.
"It sort of made a little statement to the players," Lions coach Jim Schwartz said. "The whole idea was that when the players came back, they didn't walk into the building and have the same old thing. ... The objective was for them not to say, 'Whoop, same old stuff around here.' That was the plan."
That approach has extended into training camp, where more than half of the players on Detroit's 80-man roster are newcomers. Schwartz has tweaked his practice plan for every day of camp, both to reinforce the message and provide variety. After taking over the first 0-16 team in NFL history, he really had no other choice.
"You can't stand pat," Schwartz said. "That's something that gives the players a little bit of comfort, that we're not standing pat. ... Every time they come to practice, they're working on a different situation, a little bit different drill, different emphasis of periods and things like that. There's drudgery in walking out of the hotel every morning and going to bed and walking to the next meeting. But when they walk onto the practice field, it's a fresh plan that day. It's not the same old thing."
(Note: Due to circumstances, my stay in Detroit was cut short. But for additional information, make sure you've checked out this practice report posted earlier this week.)
Key questions
| | |
| --- | --- |
| | |
| | Mark Cunningham/Getty Images |
| | Detroit rookie quarterback Matthew Stafford has played well enough to be the starter. |
1. Who will start at quarterback?

I hope it doesn't sound patronizing to praise
Daunte Culpepper
for losing 30 pounds during the offseason. Culpepper reported to camp at 260 pounds and has never looked lighter in his NFL career. During the practice I attended this week, he was decisive and his passes were sharp.
To be honest, Culpepper probably couldn't have done more thus far to win the Lions' starting job. And he still might not see the field this season.
Rookie Matthew Stafford, whose pre-draft contract agreement ensured he would not miss a day of training camp, has practiced his way into a legitimate opportunity to start the Sept. 13 opener at New Orleans. (Let that be a lesson to all future No. 1 draft picks.) In practice, at least, it's difficult to see much difference between him and Culpepper. If that remains the case, it's hard to imagine Stafford opening the year on the bench.
Stafford still has plenty of work to do, beginning with his anticipated start Saturday night against at Cleveland. But at the very least, it looks like Stafford is going to give Schwartz a very difficult decision.
2. Can the Lions retrofit their defensive line?
You won't find two more dissimilar defensive schemes than when you compare the Lions' 2008 approach with the one Schwartz is implementing now.
"The philosophy here in the past had been small and quick," he said. "The philosophy here now is big and powerful."
That put the Lions' personnel department on a search for larger defensive linemen, while incumbents were required to gain weight in the offseason. Such changes don't occur overnight, and it appears the Lions are about halfway there.
They've added some interior bulk in Grady Jackson (340ish pounds), Shaun Smith (325 pounds) and rookie Sammie Lee Hill (329 pounds). Based on pure size, that trio should be more difficult to drive off the ball than the players Detroit used last year.
On the outside, however, the Lions will miss veteran Jared DeVries, who ruptured his Achilles tendon early in camp and is lost for the season. Their current depth at end -- led by Cliff Avril, Jason Hunter and Dewayne White -- is thin.
3. What impact will the free agent/trade crop have?
The Lions' revolving personnel door has continued into training camp, most recently with Shaun Smith. New veterans are sprinkled all over the field, from Smith and Jac
kson to cornerbacks Phillip Buchanon and Anthony Henry, from linebackers Larry Foote and Julian Peterson to receivers Bryant Johnson and Dennis Northcutt.
Considering the personnel deficit that contributed to last season's record, an influx seemed unavoidable. The Lions decided to pursue the veteran route in hopes of establishing some short-term credibility while building for the long term behind the scenes. In all, it looks like the Lions will have at least 11 new starters when the season opens.
Market watch

The Lions acquired Henry, 33, in exchange for quarterback
Jon Kitna
. Henry is of the age where cornerbacks typically convert to nickel backs or safety, but for now the Lions have him listed as a starter opposite Buchanon.
You wonder whether that will last all season or if Henry will eventually make his way to safety. From the outside, he doesn't appear to be a good matchup for the speedy receivers in this division, be it Green Bay's Greg Jennings, Minnesota's Bernard Berrian or Chicago's Devin Hester.
A previous surplus of safeties has been whittled down to the point where this move might make sense, if the Lions can find another cornerback they feel comfortable inserting into the lineup.
Newcomer to watch

During the best portion of his career, Peterson was a pass-rushing, play-making force to be reckoned with. Offenses had to account for him on every play.
At 32, Peterson might be past that prime. But the Lions believe he can still be a disruptive player who will help cover for some pass-rushing deficiency in other areas. His success or failure will play a big role in whether the Lions can improve their takeaway totals from last season.
Defensive coordinator Gunther Cunningham has said he could blitz as often as 40 percent of the time this season. Expect him to lean heavily on Peterson in those situations.
Observation deck
The Lions signed veteran Maurice Morris to back up starting running back Kevin Smith, but you wonder what Morris' role will be if rookie Aaron Brown continues to display big-play capabilities. Brown's speed might make it difficult to keep him off the field. ... When the summer began, the Lions had too many safeties. But their surplus has thinned out considerably after the trade of Gerald Alexander and a season-ending knee injury to Daniel Bullocks. Rookie Louis Delmas and veteran Marquand Manuel have been limited by injuries. When it's all said and done, expect Delmas and Kalvin Pearson to hold starting jobs. ... Receiver Demir Boldin, the brother of Arizona's Anquan Boldin, is a long shot to make the roster but made a number of professional-level catches during the practice I watched. ... Receiver Calvin Johnson has been limited by a thumb injury during much of camp and will miss his second consecutive preseason game Saturday at Cleveland. But Johnson is expected to be healed in time for the regular season. ... Quarterback Drew Stanton appears close to locking down a roster spot after seeming to be on the brink of release during the offseason.
August, 19, 2009
8/19/09
11:04
AM ET
Posted by ESPN.com's Kevin Seifert
As some of you know, I was standing on the sideline at Detroit's practice when news broke of Brett Favre's contract agreement with Minnesota. I managed to jot down a page of practice notes and spend some time with Lions coach Jim Schwartz before I left, and I want to bring you some thoughts before they fade or become irrelevant.
| | |
| --- | --- |
| | |
| | Matthew Emmons/US Presswire |
| | Rookie quarterback Matthew Stafford has looked impressive in the first few weeks of camp. |
(Keep in mind that a full Lions Camp Confidential will appear on a day to be determined in this space.)
As I matched up numbers on the field to names on the roster, it was jarring to realize how many prominent players were sitting out because of injuries.
First-round draft pick Brandon Pettigrew (thigh) was moving around with a notable limp. The Lions' best player last season, placekicker Jason Hanson, was sidelined after having a minor procedure on his knee. Defensive lineman Grady Jackson, receiver Calvin Johnson and receiver Dennis Northcutt were limited. Schwartz, however, said the Lions' long injury list is a function of a caution-first approach as much as anything.
"Our philosophy is to err on the side of caution in [organized team activities] and training camp," he said. "If this were a regular-season game, there would be a lot of urgency to get a guy back. But one thing we don't want to do is turn a minor injury into a major one, or turn an injury with a fairly set timetable into a nagging season-long thing because we're worried about getting him back for one more practice in training camp. There's an urgency to get back on the field, but we don't want to cross the line in setting guys back and making the situation worse than it is."
With that said, it's not a great sign that Pettigrew has only practiced sporadically this summer and has now stepped into more of a long-term recovery process from a quadriceps injury. Schwartz said the injury wasn't responding as hoped, and now the goal is to try to get him healthy in time to have a productive regular season.
I caught a glimpse of one-on-one pass drills and was particularly interested to watch the matchup of right tackle Gosder Cherilus and defensive end Cliff Avril. Cherilus, of course, was the Lions' top draft pick last season and had a pretty up-and-down rookie year. He's penciled in as the starter this season and appears to be holding off veteran Jon Jansen for the job.
Avril, meanwhile, offers the Lions perhaps their best chance for an outside pass rush after notching five sacks in limited playing time as a rookie.
For the rep I watched, at least, there was no contest. Cherilus rode Avril wide around the pocket. And when Avril tried a spin move to get inside, Cherilus capitalized on the momentary lack of balance and shoved Avril to the ground. That's how you keep a pass-rusher away from the quarterback.
February, 18, 2009
2/18/09
11:36
AM ET
Posted by ESPN.com's Mike Sando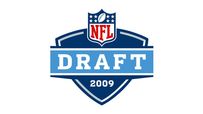 The premise: NFC West general managers Billy Devaney (Rams), Tim Ruskell (Seahawks), Scot McCloughan (49ers) and Rod Graves (Cardinals) have been evaluating NFL talent in some capacity since at least 1994, except for a two-year period when Devaney worked for CBS. Studying their teams' draft selections over the last 15 years can provide perspective for the decisions they'll make in the 2009 draft.
With that in mind, we break down the first- and second-round track records.
November, 20, 2008
11/20/08
6:31
PM ET
Posted by ESPN.com's Kevin Seifert
This is the time of year when coaches like to say that rookies are no longer rookies. They've been involved in at least 14 "game weeks," including the preseason, and thus made it through the duration of a typical college season.
| | |
| --- | --- |
| | |
| | Scott Boehm/Getty Images |
| | The Bears have leaned heavily on rookie Matt Forte so far this season and they aren't going to stop now. |
This hasn't been a huge year for impact rookies in the NFC North, in part because three-fourths of the teams in essence are playing without a first-round draft pick. Minnesota and Green Bay didn't have a first-round pick, while Chicago offensive tackle Chris Williams (No. 14 overall) had back surgery in August.
We'll take a more in-depth look at each team's rookie class after the season, but for now let's consider five rookies who could impact their teams during the final six games of the season. Here's the drill: I'll name my top four. You give me your suggestions for the fifth (the mailbag would be fine) and we'll all meet back here on Friday.
1. Chicago tailback Matt Forte: It would be hard for the Bears to rely on Forte any more than they already do. He has accounted for nearly 75 percent of their rushing yards, and his 43 receptions are 10 more than his closest teammate. From a conditioning standpoint, you would think the Bears will give him relief at some point. But there's no indication that they trust Kevin Jones, Adrian Peterson or Garrett Wolfe enough to take Forte off the field.
2. Detroit tailback Kevin Smith: It appears the Lions have finally committed to using Smith as their primary runner rather than splitting his carries with veteran Rudi Johnson. Smith has produced 208 yards over the past two games, his best stretch of the season, and should get a long look over the final six games.
3. Green Bay receiver Jordy Nelson: This is a notoriously difficult position for rookies. Playing as the No. 4 receiver this season, Nelson has 21 receptions. But that total ranks as the fourth most for rookie receivers in the NFL. His playing time might depend on the condition of teammate James Jones' knee, but Nelson should get his share of opportunities.
4. Detroit defensive end Cliff Avril: He only has one sack this season, but there are some who believe Avril could develop into a significant outside pass-rusher. All he needs is playing time, and the Lions should give him plenty of it. Starters Dewayne White and Jared DeVries have been dinged up, and their injuries provide the Lions a perfect reason to get Avril a prominent role.
5. ????? Again, your nominations are accepted here.
September, 5, 2008
9/05/08
4:02
PM ET
Posted by ESPN.com's Pat Yasinskas


Carolina Panthers vs. San Diego Chargers, 4:15 p.m. ET
In the Wofford College cafeteria this summer, Mike Trgovac saw me wearing a red baseball hat with "LT" on it and said, "Man, I used to like you. But now you're rubbing it in, too''.
The "LT'' on my hat was for Lackawanna Trail, my old high school in Pennsylvania, and a gift from my old baseball coach shortly before he died. I explained it to Trgovac, who smiled and said it was nice I still cared about my school.
"But I still think it's a sign or something,'' Trgovac said with a laugh. "Everywhere I look this summer, I see LT.''
It's understandable because Trgovac has had months to think about the real LT, LaDainian Tomlinson of the San Diego Chargers. How do you stop him? Or even slow him down a little bit?
That's the task facing Trgovac, Carolina's defensive coordinator. He's got plenty of tools with middle linebacker Jon Beason on the verge of becoming a star, defensive end Julius Peppers trying to become one again and a good group of complementary players.
But Tomlinson has tested many a defensive coordinator through the years. If Trgovac's summer of searching for the perfect scheme gave him an answer, he might stop seeing "LT'' everywhere he looks.


Tampa Bay Buccaneers vs. New Orleans Saints, 1 p.m. ET
If I'd actually seen the real Tampa Bay Buccaneers in training camp or the preseason, it might be easier to have a gauge on this team. I spent about six days at camp and went to two preseason games and I still have no idea what the defending NFC South champions are going to look like.
That's largely because the Bucs haven't had a chance to be the Bucs. With Joey Galloway, Jeff Garcia, Jovan Haye and Cadillac Williams out just about the entire preseason and a bunch of other injured players in and out, it was hard to get a read on this team. I'm sure it was the same for coach Jon Gruden.
He's got Garcia, Haye and Galloway back now and all three should play Sunday. But you have to at least be concerned about rust on Galloway and Garcia. Sure, they're veterans, but they didn't play together at all in a preseason game.
Galloway has a long history of lighting up the Saints, who have made improvements to a horrendous secondary. But it's impossible to know if Galloway and Garcia are ready.
Detroit Lions vs. Atlanta Falcons, 1 p.m. ET
If you never have heard of Dewayne White, you very well may before Sunday afternoon is over. He's the right defensive end for the Detroit Lions. He's a pretty ordinary guy, coming off a season in which he recorded a career-best 6.5 sacks.
But, with the retirement of Michael Strahan, White could become the next great pass rusher -- for one day, anyway. White is looking at what could be the luckiest draw of Week One. He'll be out there trying to sack rookie quarterback Matt Ryan in his debut.
More importantly, the only thing between White and Ryan will be rookie left tackle Sam Baker. After an up-and-down preseason, the Falcons are throwing in Baker to sink or swim. Baker is a massive tackle, but he's not known for his footwork and his technique is a little raw. Think Detroit coach Rod Marinelli, an old defensive line coach, might have spent a little extra time schooling White up for this matchup?
The Falcons had better give Baker lots of help from the tight ends and running backs or else the new face of the franchise (Ryan) could have a long day.
NFL SCOREBOARD
Thursday, 11/20
Sunday, 11/23
Monday, 11/24
WEEKLY LEADERS