February, 28, 2014
Feb 28
8:00
AM ET
The free-agent period won't begin until March 11, but the reality is that it's already underway. At least when it comes to signing your own free agents, or looking at players cut from other teams. The Redskins have expressed interest in free-agent linebacker
D'Qwell Jackson
, but had yet to line up a visit with him as of late Thursday night, a team source said. The Browns released Jackson Wednesday (but the move was not submitted to the league until Thursday) and he already has visits lined up with Tennessee and Denver.
Other players will be released before March 11. Until more are free, the focus is on your own. Here's a look at the Redskins' free agents, both those who are re-signed and still available.
They're done:
CB DeAngelo Hall
Signed a four-year deal worth $17 million, with $4.25 million guaranteed. His cap number is only $2.1 million this season, but jumps to $4.8 million in 2015 and $5.1 in 2016. Those are hefty sums for a 30-plus cornerback. If Hall regresses this season the Redskins could always cut him next year and save $2.4 million of cap space. They'd be wise to find another good young corner to groom just to be ready. Hall could always move to safety in a couple of years as well, but the safety position is a problem they must solve this year. If it's still an issue in, say, two years? That's a failure.
DL Chris Baker
Signed a three-year, $12-million deal with $4 million guaranteed. That sounds like starter-type money (albeit not a high level one), but it's certainly not guaranteed starter money. He has $1 million in incentives that are not likely to be earned -- based on play time, sack totals and Pro Bowl appearances -- each of the three years and his cap number is only $2 million this year and tops out at $4 million in the final year of the contract. The deal averages $3 million per season. It allows the Redskins to keep a young, improving lineman who can help them at multiple spots: end, nose tackle and nickel rusher. Even if he doesn't start he will play a lot.
Still waiting:
[+] Enlarge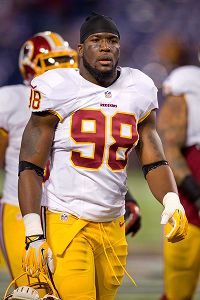 Bruce Kluckhohn/USA TODAY SportsThe Redskins are interested in bringing Brian Orakpo back, but he could test the market first.
LB Brian Orakpo
The Redskins want to re-sign him and Orakpo would like to come back. But he's more than comfortable testing the market in order to get the sort of contract he wants. The Redskins could place the franchise tag on him (the deadline is Monday). That would leave him with a salary of approximately $11 million this year, but no long-term security if he gets injured. The Redskins could sign him to a back-loaded five-year contract that has a much lower cap figure for the first two years of the deal. But at some point he'll count a great deal against the cap and not be cuttable, at least for a year. (For example, Pittsburgh's
LaMarr Woodley
, in Year 3 of his deal, counts more against the cap if he's released.)
LB Perry Riley
The Redskins don't want to create another hole at inside linebacker with
London Fletcher
already retiring. But if Riley wants a big contract he'll have to go elsewhere. They'd prefer to keep him; they know they can upgrade if necessary. A word of warning: It's not a deep group at inside linebacker so it could be tough to fill one spot let alone two.
S Brandon Meriweather
Haven't heard a whole lot in regards to Meriweather. It's hard to imagine they'd bring him back on anything other than a one-year deal, while hoping that
Phillip Thomas
eventually becomes the starter. The Redskins need to solve this position and Meriweather's play did not warrant him being a strong solution.
CB Josh Wilson
He did a good job against the run while in the slot, which isn't always easy. But his coverage skills aren't what the Redskins need. Plus
David Amerson
, entering his second season, should be elevated to a starter. The Redskins will need more corners, however. But they also need more size at this position.
S Reed Doughty
Doughty is a capable backup who too often was pressed into a starting role. He's a good special-teamer as well.
CB E.J. Biggers
He was their fourth corner and played some safety, though it's doubtful he'd have played that spot for any team other than the safety-starved Redskins. But he adds depth and there's a chance he'll return.
LB Rob Jackson
The Redskins have yet to talk contract with Jackson. Obviously they have Orakpo to worry about and if he signs it's tough to imagine Jackson returning as well. He'll want to go somewhere he has a chance to start.
LB Darryl Tapp
Very strong against the run. Not bad to keep around at all.
LB Nick Barnett
He's not a starting candidate and they need to find backups who are much better on special teams.
WR Josh Morgan
He failed to produce considering the contract he received. The Redskins need to upgrade.
WR Santana Moss
They can always use
Leonard Hankerson
in the slot, but he might not be healthy until the middle of August. They still think Moss can play. If they upgrade other receiver spots they don't need to spend a lot for a dynamic slot receiver.
QB Rex Grossman
New coach Jay Gruden has typically kept two quarterbacks, which would leave no room for Grossman. Perhaps Kyle Shanahan will want him in Cleveland to help the other quarterbacks learn his offense.
TE Fred Davis
Davis has bigger issues to worry about.
C J.D. Walton
Signed late in the season. The former third-round pick was a starter in Denver until a bad ankle injury in 2012. The Broncos cut him in December. Washington could upgrade at center.
LB Bryan Kehl
A good special-teams player, but coming off a torn ACL in October.
WR Dez Briscoe
Spent the year on injured reserve; worked with current receivers coach Ike Hilliard two years ago. Has size, but you need more than just size. The Redskins have little depth at this position.
August, 30, 2013
8/30/13
8:35
PM ET

This is like picking the NCAA basketball tournament. Most teams are very easy to pick -- going out on a limb and projecting Robert Griffin III on the roster, barring conflicting statements of course. And there are few things I dislike more than picking the final 53. Why? Chance to be wrong too many times. And yet, here I am on the eve of cut-down day sending out projections. Fortunately, I feel good about tight ends, linebackers and the defensive line. And, I think, quarterbacks. But I'm shaky on running back, receiver and the defensive backfield. More fluid parts there.
QUARTERBACKS (3)
They're in:
Griffin,
Kirk Cousins
,
Rex Grossman

Out:
Pat White
Note:
White made strides, and under different circumstances I'd keep him around. Just to see how he develops. But with questions about Griffin's durability, I'd be reluctant to have White as my third quarterback because of his inexperience. He improved with his accuracy, but still was inconsistent on certain throws. He'll take time to develop. Would you keep White to groom him as the backup and then trade Cousins in the offseason? Sure. But what if something else happens to Griffin and you hang onto Cousins, just in case? When you listen to the coaches, they definitely like how White has progressed. Their enthusiasm for his progress is genuine. A few weeks ago I would not have written any explanation about why he would or would not stick around.
RUNNING BACKS (5)
They're in:
Alfred Morris
,
Roy Helu
,
Keiland Williams
,
Chris Thompson
,
Darrel Young

Out:
Evan Royster
Note:
Royster is a better running back, but I wouldn't be surprised if they tried to trade him. (Was told by one coach of another team there would be at least a limited market for him.) Before the Bucs game, I was convinced he was gone. Now? I think it's 51-49 he leaves. Or, perhaps 50.5-49.5. Williams is a better special-teams player than Royster. Both have solid hands, but Royster needs the ball a lot to be effective. So in a pinch he's not as effective. Though he's a good fit in a zone-read, the Redskins have a featured back (Morris), a third-down back (Helu), a speed back (Thompson) and a special-teamer do-it-all (Williams). It does not sound as if Williams' shoulder is that bad from Thursday; if it is, then this changes.
TIGHT ENDS (4)
They're in:
Fred Davis
,
Jordan Reed
,
Logan Paulsen
,
Niles Paul

Out:
Emmanuel Ogbuehi
Note:
No surprises here. On draft day coach Mike Shanahan made it clear they could keep four tight ends. Paul looked a lot more comfortable this summer than last, thanks to an offseason of work after playing the position for the first time. Reed will help once he becomes more consistent. Ogbuehi impressed them, but there's no room.
RECEIVERS (5)
They're in:
Pierre Garcon
,
Josh Morgan
,
Santana Moss
,
Leonard Hankerson
,
Aldrick Robinson

Out:
Dez Briscoe
,
Skye Dawson
,
Nick Williams
Note:
The first five were a lock before camp opened and remained that way throughout the summer. Briscoe could sneak in because of his size, but his hands are inconsistent – that was true last season and again this summer. He had a nice play the other night, but I didn't like that he got caught from behind. With four tight ends, three of whom are solid receiving threats, and with Helu, the Redskins don't need as many receivers as in the past. Keep in mind, too, that Shanahan has kept as few as four wideouts in the past (with Denver in 2005 and '08, according to their opening day rosters). If they keep Dawson or Williams around on the practice squad they should be fine. Neither Dawson nor Williams did enough to warrant a spot. Dawson is quick and was tough to cover in one-on-one drills, but did little in 11-on-11 work. As a returner he was fine, but needed to be great.
OFFENSIVE LINE (8)
They're in:
Trent Williams
,
Kory Lichtensteiger
,
Will Montgomery
,
Chris Chester
,
Tyler Polumbus
,
Tom Compton
,
Adam Gettis
,
Josh LeRibeus

Out:
Tony Pashos
Note:
The Redskins opt for youth at the backup spots, but while Pashos did show some good things – his hands, strength – I'm not sure he moved as well as needed in this offense. Again, another one I'm uneasy about because I don't like the inexperience with the backups. Plus Compton's development at left tackle should give them confidence that he could move to the right side if needed. The problem: Compton did not have a good final game, especially early. Gave up more than you'd like in protection and some issues in the run game, too. He was inconsistent in the opener, but played well in the second and third games. They also have
Maurice Hurt
, who likely will be on the PUP list. I'm uneasy with the backup guards, even though I do like how Gettis progressed.
DEFENSIVE LINE (6)
They're in:
Kedric Golston
,
Barry Cofield
,
Stephen Bowen
,
Chris Baker
,
Chris Neild
,
Phillip Merling

Out:
Ron Brace
Note:
Merling would have been bumped had
Jarvis Jenkins
not been suspended. So when Jenkins returns, Merling could be in trouble. But Merling was fine against the run. Golston has played well enough to open at left end; he does a better job than Baker of doing his job here, occupying blockers. Baker too often likes to get upfield and make plays; it can lead to big gaps in the defense.
LINEBACKERS (8)
They're in:
Ryan Kerrigan
,
Perry Riley
,
London Fletcher
,
Brian Orakpo
,
Darryl Tapp
,
Bryan Kehl
,
Nick Barnett
,
Brandon Jenkins

Out:
Will Compton
,
Marvin Burdette
Note:
This is tough for me because I like how Compton has played. He's a smart, decisive player who was able to defeat blockers in part because he often beat them to the spot. I'd definitely want him on the practice squad. The other question is, what happens when
Rob Jackson
returns from suspension? Do they cut one of these players? I don't know who you would cut; Tapp has been a terrific surprise (for me anyway) and Jenkins is safe. So they might end up with nine linebackers when Jackson returns.
CORNERBACKS (6)
They're in:
DeAngelo Hall
,
Josh Wilson
,
E.J. Biggers
,
David Amerson
,
Chase Minnifield
,
Jerome Murphy
Note:
Murphy is a surprise choice; the coaches really like him and he's a physical player and good on special teams.
SAFETIES (5)
They're in:
Brandon Meriweather
,
Reed Doughty
,
Bacarri Rambo
,
Jordan Pugh
,
DeJon Gomes
.
Out:
Jose Gumbs
Note:
Gumbs to the practice squad. And, by the way, I'm not confident at all in this position. The Redskins, one league source said, had contacted teams about Gomes a couple weeks ago, seeing if there was any trade interest. Whether or not he's still on the market – or if anyone would part with something for him -- I don't know. And if they're concerned about Meriweather's durability, perhaps you keep Gomes because he can play in the box and back up Doughty. He's also a good special-teams player. I'm not anticipating a
Tanard Jackson
return either. He can apply for reinstatement Saturday. That does not mean he'll be reinstated immediately -- if at all. Remember, it was an indefinite suspension.
SPECIALISTS (3)
They're in:
Sav Rocca
,
Kai Forbath
,
Nick Sundberg
Note:
If you're expecting great analysis here, stop reading. Nothing to say. They were in from Day One.
August, 29, 2013
8/29/13
9:02
AM ET
With just about every starter out for Thursday's preseason finale at 7:30 p.m. ET at Tampa Bay, is there much reason to be interested in this game? The biggest part of the night will be an examination of
Robert Griffin III
's right knee. If they televised that, it might draw higher ratings than the game. But they are going to play and we're going to watch, and this is what needs to be monitored:


How Brandon Meriweather looks.
The Redskins need Meriweather to look like he's ready to play a game and, thus far, they have not been convinced that is the case in practice. Every game he played last season, whether it was in the preseason or the one game against Philadelphia during the regular season, Meriweather made plays. There were breakups, hits and turnovers. If he's not around the ball a lot; if he's not making plays; then Meriweather might still be affected by his December ACL surgery.
Many happy returns?
The Redskins could use another game with many punts, just to give them a better idea on certain players, such as rookie
Chris Thompson
. Two weeks ago he looked bad fielding punts; last week he did not -- he was patient and knows how to set up blocks. But those two fumbles from scrimmage loom large, as does his inexperience.
Josh Morgan
might get a surprise shot here, coach Mike Shanahan said Tuesday. But Morgan was a good punt returner at Virginia Tech, though he's returned just one in the NFL.
Skye Dawson
has returned punts throughout the preseason and has done well since two bad returns in the opener (fumble, bad decision). Hard to imagine he's done enough to warrant a roster spot.
Pat White.
He'll start and play the whole game, capping a summer of terrific opportunities. Thanks to Robert Griffin III's knee, White received more time than he ordinarily would have as a fourth quarterback. It enabled him to showcase more of what he could do. Could he earn a spot here? Only as a fourth quarterback, and that seems like a big stretch. The Redskins are convinced he'll be on someone's roster -- is that legit or an attempt to possibly drum up trade interest (slight long shot). White is not close to where the others on the Redskins are as a quarterback. He has improved, but all he's shown thus far is an ability to run (already known) and that he can hit the slant/dig route. He needs to show he can go through a progression; that he can consistently hit the out routes. White has definitely improved since we first saw him in spring workouts (when he looked like someone who should not even be invited to camp). He deserves a lot of credit, and I could see another team wanting him as a developmental No. 3. With two young quarterbacks already, the Redskins don't need such a player, unless they already anticipate trading
Kirk Cousins
in the offseason (though how could you know that already; what if something happens to Griffin once again?) and want to groom another backup.
Secondary issues.
At least those not named Meriweather.
Josh Wilson
will play, one of the few projected starters who will appear in the game (tight end
Fred Davis
was not yet scheduled to have the night off as of Tuesday; that's surprising, so we'll see if he actually plays or not). Wilson is coming off shoulder surgery and needs the work. Is there any way he loses his starting job? I can't go there yet, because rookie
David Amerson
is still clearly learning lessons. But I can't imagine Wilson has a stronghold on the position either. Why should he? Two guys to watch are cornerback
Jerome Murphy
and safety
Jose Gumbs
. Murphy has been a special teams standout, and fared well in limited time from scrimmage; he had a good camp, too. Gumbs is a hitter learning to play free safety. This is, perhaps, the most jumbled of all the positions because they also have
Jordan Pugh
and
DeJon Gomes
. Tough to see both making the roster, but it really could depend on the Bucs game.
Who has the big finale?
There are players who can change their fate with a big showing in the final preseason game. A year ago
Brandon Banks
had 156 total yards against Tampa Bay -- 90 from scrimmage; 66 on punt returns -- to clinch a roster spot. Maybe he already had earned one, but this made it definite. Linebacker
Robert Henson
had a terrific final game in 2009 to jump ahead of fellow rookie linebacker
Cody Glenn
and earn a spot. A year later Henson lost his opportunity when he blew out his knee in the preseason finale. Who will have that sort of game Thursday night?
Running back battle.
My best guess is that the Redskins keep four running backs, in addition to fullback
Darrel Young
. In that scenario Thompson makes it with
Keiland Williams
and
Evan Royster
vying for the final spot. Right now, I'd give Williams the edge. Rookie
Jawan Jamison
hasn't done a whole lot this summer and appears to be a good candidate for the practice squad. And if they somehow lost him, oh well.
Receiver questions
. Do they keep a sixth receiver? If so, would someone else other than
Dez Briscoe
be in that battle? Hard to imagine based on what we've seen in games and practice.
Lance Lewis
has a long way to go to be ready to make an NFL roster, and Dawson and
Nick Williams
both are more suited to the practice squad. What if
Leonard Hankerson
has a big game? Could he unseat Morgan as the Z receiver? I'd like to see a lot more consistency from Hankerson to make that happen. Morgan makes the tough catches that Hankerson has yet to prove he can make (not the one-handers, but the grabs over the middle when you're about to be drilled).

NFL SCOREBOARD
Thursday, 8/21
Friday, 8/22
Saturday, 8/23
Sunday, 8/24
WEEKLY LEADERS