NFL Nation:

Dick Anderson
April, 26, 2011
4/26/11
11:17
PM ET
Jim Mandich, a member of the undefeated 1972
Miami Dolphins
and a beloved broadcaster for the club, has died after a long battle with bile-duct cancer. He was 62.
"When you think about Jim Mandich," said teammate Kim Bokamper, "you think Miami Dolphins."
The Dolphins confirmed Mandich's death Tuesday night but didn't have immediate details. He was diagnosed with cancer in early 2010. Chemotherapy had left him gaunt, but he continued to be the unwavering voice of the Dolphins.
[+] Enlarge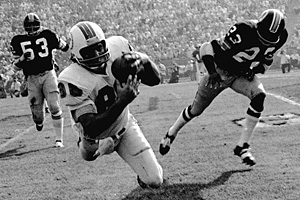 AP PhotoJim Mandich was a Dolphins tight end for eight seasons and accumulated 1,406 yards on 121 receptions. Mandich is shown here during Super Bowl VII in 1973.
He was a homer and unapologetic about it.
Former Dolphins running back Jim Kiick called the news "devastating."
"For the Dolphins organization, this will be very difficult," Kiick said. "Everyone -- former Dolphins all the way to the current players -- knew him as a teammate and a man."
Added Bokamper: "The scope of what he meant to the Dolphins can be measured by the people that respect him. You talk to Don Shula, you talk to Nick Buoniconti, you talk to Jake Scott, you talk to Larry Csonka and each one of those people respected Jim maybe like none other."
Hall of Fame receiver Paul Warfield said Mandich was "a man of character, committed, a loyal friend, a tremendous family man. You could depend on him. This is a loss for Miami."
Mandich was a Dolphins tight end for eight years, winning two Super Bowls. He earned the nickname "Mad Dog" for his recklessness on special teams and aggression going after the ball.
He finished with 121 catches for 1,406 yards and 23 touchdowns at a time when tight ends weren't prolific receiving threats. In 1974, he finished with more receptions and three times as many touchdowns as Warfield, who went to the Pro Bowl that year.
"He was a money player," former Dolphins safety Dick Anderson said. "When you go back to the 1972 season and some of the tight games we had, he made great, leaping catches. Whenever the ball got near him, he caught it."
Mandich set tight end records at the University of Michigan for catches and yardage. He was a Wolverines captain, the team's MVP and an All-American in 1969. He was inducted into Michigan's Athletic Hall of Honor in 1994 and the College Football Hall of Fame in 2004.
Warfield chuckled at the recollection of sharing an adjoining locker stall with Mandich. They had some things in common as fellow Northeast Ohioans who each joined the Dolphins in 1970. But there was a big difference: Warfield was an Ohio State man.
"His blood certainly was maize and blue," Warfield said. "He was one of the building blocks of that program, very instrumental in helping Michigan regain its status as a powerhouse. We often had many discussions and a few wagers."
Mandich also was an influential South Florida businessman in the trucking and construction industries and often mentored those around him.
Bokamper gleaned as much as he could from Mandich over the years, starting in 1976. That was Bokamper's rookie season and Mandich's penultimate with the Dolphins.
Not by complete coincidence, Bokamper also is a successful South Florida broadcaster. His business portfolio has included an Interstate Battery distributorship, a production company, a booking agency and a restaurant chain.
"Jim usually was the first and only guy that I called when I needed business advice," Bokamper said. "I just learned so much from him. There were times in my life he inspired me to figure it out and get it done.
"Jim was always a guy who looked at where he was, what resources were available and how he could maximize those resources. Unlike a lot of people who thought about doing things, he did them."
Even with all that, generations of Dolphins fans knew him as the charismatic voice of their team.
His signature "Awwww right, Miami!" call marked the team's big plays over the years. He also hosted a successful afternoon drive radio show on WQAM in Miami.
"You always knew where he stood," Anderson said. "He never pulled any punches.
"But he always had that winning attitude. He absolutely was a great teammate, a great friend."
Anderson's voice began to crack.
"I'm going to miss him," he said. "A lot of us are."
June, 30, 2010
6/30/10
1:00
PM ET
Notable players:
QB Bob Griese, QB Earl Morrall, RB Larry Csonka, RB Mercury Morris, WR Paul Warfield, C Jim Langer, G Bob Kuechenberg, G Larry Little, DE Bill Stanfill, MLB Nick Buoniconti, SS Jake Scott, FS Dick Anderson.
[+] Enlarge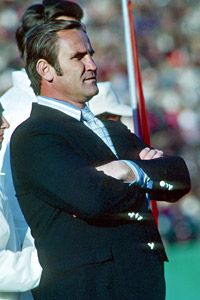 Malcolm Emmons/US PresswireDon Shula guided the 1972 Dolphins to a 17-0 record.
Analysis:
As it turns out, you can argue with perfection.
The obvious choice for the greatest team in
Miami Dolphins
history is 1972, the historic season in which they went undefeated and claimed their first championship.
But some important members of that team have claimed the 1973 edition was even better, although it lost two games against better competition before closing out the season with its second straight Super Bowl victory.
"The question is, do I think my team is better than it was a year ago?" coach Don Shula said after the follow-up title. "There's no question about it. I think we're a better football team than we were a year ago at this time. I think we've gone one step beyond last year's football team. Even though we were 17-0, a perfect season, going back-to-back on Super Bowls is more meaningful."
With all due respect to Coach Shula, perfection won't take a backseat here.
The '72 Dolphins played a pretty feeble schedule, but they ranked first in total offense, scoring offense, total defense and scoring defense. They beat their opponents by an average margin of 15.3 points in the regular season despite losing Griese to a broken ankle in October.
In the playoffs, they dispatched a pair of teams with double-digit victories, the
Cleveland Browns
and
Pittsburgh Steelers
.
The Dolphins easily beat the NFC's top-seeded
Washington Redskins
in the Super Bowl and would have shut them out if not for Garo Yepremian's flubbed field goal that turned into the Redskins' only points.
Most impressive win:
Down 10-7 in the third quarter and on the road against the Steelers in the AFC Championship Game, Griese replaced Morrall and directed a pair of touchdown drives in a 21-17 victory.
Forgiving schedule:
The Dolphins feasted on a schedule that was one of the weakest in NFL history. In the regular season, they played no playoff clubs and just two that finished with winning records. Six opponents won four or fewer games. The combined record of their regular-season foes was 70-122-4.
Honorable mention
1973:
Some assert Miami's back-to-back championship team was better than the one that went undefeated. It held opponents to single-digit points eight times, including the
Minnesota Vikings
in the Super Bowl.
1984:
Dan Marino
threw for 5,084 yards in propelling the Dolphins to a 14-2 record and the AFC championship. Marino's lone Super Bowl appearance ended in a miserable loss to the
San Francisco 49ers
.
1971:
Miami's motivation for its historic 1972 season was losing the Super Bowl to the
Dallas Cowboys
after going 10-3-1 and shutting out the Baltimore Colts in the AFC Championship Game.
1983:
Marino's rookie season was electric. He took over for David Woodley, who had guided the Dolphins to the Super Bowl in a strike-shortened season. Even more impressive was the No. 1-rated Killer B's defense.
October, 6, 2008
10/06/08
4:56
PM ET
| | |
| --- | --- |
| | |
| | Darryl Norenberg/Getty Images |
| | In 1968, Marlin Briscoe became the first black quarterback in the modern era to start a game. |
Posted by ESPN.com's Tim Graham
Forty years have passed -- a long time, but not a lifetime.
What a big moment it was then. Now it's a weekly occurrence in multiple NFL stadiums.
A black quarterback starting in the NFL is no big deal these days. A couple generations have grown up with Doug Williams and Warren Moon and Donovan McNabb and Daunte Culpepper and Michael Vick running offenses.
But when Marlin Briscoe broke the Denver Broncos huddle and surveyed the Cincinnati Bengals defense as he walked to the line of scrimmage Oct. 6, 1968, he became the first black quarterback in the modern era to start a game.
"It's come a long way," Briscoe said from his home in Long Beach, Calif. "They thought a black man could not think, throw and lead at that level."
Now the United States could be on the verge of electing its first black president.
Willie Thrower was the first black quarterback to get into an NFL game in 1953, but stereotypes and small-mindedness prevented coaches from providing a real opportunity until Lou Saban, partially out of desperation, handed the job to Briscoe.

NFL SCOREBOARD
Thursday, 9/18
Sunday, 9/21
Monday, 9/22
WEEKLY LEADERS