December, 9, 2013
12/09/13
4:46
PM ET
CHICAGO -- Welcome to Soldier Field where the
Dallas Cowboys
have a chance to maintain pace with the
Philadelphia Eagles
in the NFC East with a win against the
Chicago Bears
.


On Sunday, the Eagles beat the
Detroit Lions
in a snowstorm, forcing the Cowboys to beat the Bears to maintain first place -- albeit via tiebreaker -- in the NFC East with three games to play.
Attacking on offense:
The conditions could play a factor in Monday night's game with the cold, wind and field conditions. Does that mean the Cowboys will run the ball more?
"I think you go in saying you want to do both," quarterback
Tony Romo
said. "You always want to run the ball, be balanced and attack when you can. We'll take that approach."
The Cowboys have run the ball better in the past three games, averaging 5.2 yards per carry.
DeMarco Murray
has an outside shot at 1,000 yards despite missing two games, but the Cowboys will miss
Lance Dunbar
. He suffered a season-ending knee injury on Thanksgiving after finally showing the change of pace the Cowboys thought they would have all season.
Now the running game will be Murray's. Can he handle the load?
The return of the quarterback:
No, not Romo. We're talking defense and the return of
Sean Lee
.
The middle linebacker missed two games with a hamstring injury and the Cowboys were able to win both games. But Lee is their best play maker. He is the team leader in tackles and interceptions. He is tied for the team lead in tackles for loss.
Against a team where middle linebackers have dominated for years -- Bill George, Dick Butkus, Mike Singletary,
Brian Urlacher
-- Lee will get his chance to show his worth to the Cowboys.
He will be a three-down linebacker and he said the hamstring feels fine. The cold weather will force him to do some extra warming up, but he does not expect it to be an issue.
"I thought we did a great job adapting, guys coming in and playing unbelievably," Lee said. "Hopefully we can build on the success and continue to go forward."
Former teammate, now enemy:
Say hello to Jay Ratliff. Oop.
Jeremiah Ratliff
.
Released by the Cowboys in October, Ratliff signed a one-year deal with the Bears in November and will play in his second game of the season. This has not gone over well with owner and general manager Jerry Jones.
The Cowboys did not believe Ratliff would play this year based on what Ratliff told them. And here he is on the field against the Cowboys in a pivotal December game. Ratliff was a declining player with the Cowboys and was barely a factor last week against the
Minnesota Vikings
.
But you know he will want to be a difference maker tonight.
January, 2, 2013
1/02/13
6:30
PM ET
While everyone
knows my stance
on where
Ray Lewis
ranks all-time among defensive players, ESPN's John Clayton has a different take on the Ravens middle linebacker. Clayton ranks Lewis No. 5 on
his all-time list
, just below Dick Butkus.
Here is what Clayton had to say about his decision:
Every time I watched Lewis, he reminded me of Butkus. Because Lewis was faster, maybe he should be ranked ahead of Butkus among the greatest defensive players ever, but out of respect to NFL history, I rank Butkus ahead of Lewis.
According to the results of the
SportsNation poll
(as of 6:30 p.m. ET), fans don't agree with Clayton or myself. Lewis is currently ranked second all-time with 113,667 votes, which trails only
Lawrence Taylor
(127,413).
May, 15, 2012
5/15/12
12:00
PM ET
The AFC North blog doesn't give birthday shout-outs, but this one has special significance.
Ravens linebacker
Ray Lewis
turns 37 today, which could be the magic number for him. In April 2011, Lewis hinted at a target date for his retirement when he told the NFL Network, "I can't see myself playing football past 37."

Lewis
Lewis made it clear after Baltimore's AFC Championship Game loss that he was returning in 2012, but there has to be questions about whether he will play beyond this year. At some point, Lewis is going to have to say goodbye to football, although there haven't been any recent indicators he will be calling it quits anytime soon. His contract runs through 2015, and the Ravens showed confidence in Lewis when they once again didn't draft his eventual replacement in April.
Lewis started off strong last season and was among the NFL's top inside linebackers in the first half of the 2011. Then, after missing four games with a toe injury, he seemed to wear down toward the end of the year.
Still, he has been one of the league's top Iron Men. His 222 games played is second-most among active players, ranking only behind a kicker (
Jason Hanson
). He is the longest-tenured Raven on the roster by six seasons (safety
Ed Reed
is second).
No other great middle linebacker has played as along as Lewis. Mike Singletary retired after 12 seasons with the
Chicago Bears
before his play declined. The
Pittsburgh Steelers
' Jack Lambert walked away after 11 years because of a severe toe injury. And the Bears' Dick Butkus stopped after nine seasons because of knee injuries.
Lewis is now entering his 17th season in the NFL. And, after turning 37 today, you have to wonder whether this will be his last.
November, 24, 2010
11/24/10
10:00
AM ET
»
NFC Stock Watch
:
East
|
West
|
North
|
South
»
AFC
:
East
|
West
|
North
|
South
FALLING
1. Tension in Minnesota:
More than anything, the firing of coach Brad Childress relieved the daily updates we have received about his relationship with players and his stature within the organization. The Vikings were a tense, irritable and clearly distracted team from the start of training camp. That doesn't provide an excuse for why they are 3-7, but it's certainly part of the explanation. Interim coach Leslie Frazier will have to walk the line between easing up on players while also establishing an appropriate sense of urgency.
2. Jahvid Best, Detroit Lions tailback:
Something doesn't add up. Best put his explosive wares on display in Week 2, accumulating 232 all-purpose yards against the
Philadelphia Eagles
. Since then, however, his production has dipped dramatically. Over the past two games, Best has touched the ball 28 times and gained 56 yards. He is known to be suffering from multiple turf toe injuries, but he hasn't missed a game. If the injuries were the sole explanation for his struggles, you would assume the Lions would have given him a rest by now. They haven't. So what does that tell us? Either the injuries aren't as debilitating as they appear, and his low production is due to other factors, or the Lions have been criminally negligent with one of their top assets.
3. Brett Favre, Minnesota Vikings quarterback:
Now that his presumed nemesis has been vanquished, Favre has one less excuse for playing poorly over the season's final six games. He's enmeshed in one of the worst stretches of his career, having posted a passer rating below 52 in three of his past five games, and now has a limited engagement to resurrect his reputation in what you would assume is the final year of his career. Don't underestimate how important legacy is to him. With his full complement of receivers and presumably more license within the offense, Favre should have just about everything he thinks he needs to play better.
[+] Enlarge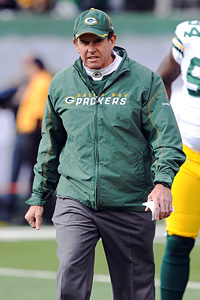 AP Photo/Evan PinkusDom Capers' defense is holding opponents to an average of 14.6 points per game.
RISING
1. Dom Capers, Green Bay Packers defensive coordinator:
After limiting opponents to 10 points combined over the past three games, the Packers are tied for the NFL low in points allowed per game. Capers' scheming and personnel adjustments have played a big role. It's amazing, for example, to watch how many one-on-one situations Capers gets linebacker
Clay Matthews
into over the course of a game. You know that opponents would prefer a double-team if they could figure out where he is going to line up. Normally, this type of coaching job is what gets your name on the short list of head-coaching candidates the following season. Capers, 60, has already had two shots as a head coach and might not get a third. But he's still had one of the best seasons of any assistant coach this season.
2. Rod Marinelli, Chicago Bears defensive coordinator:
It's hard to mention Capers without noting that Marinelli, in his first-ever stint as a coordinator, has his defense playing just as well. Marinelli has taken a different tack, using his base 4-3 scheme for about 70 percent of downs and occasionally mixing in blitzes to surprise opponents. Players have raved about the motivational nuggets he has used, and you can't argue with the results. Like the Packers, the Bears are giving up an average of 14.6 points per game. It's nice to see Marinelli resurrect his career and reputation following his 0-16 debacle with the Lions in 2008.
3. Brian Urlacher, Chicago Bears middle linebacker:
An important milestone eluded us during the chaos of the past week. Urlacher's five tackles last Thursday against the
Miami Dolphins
lifted him ahead of Mike Singletary and into first place on the Bears' all-time list of tackles. His total currently stands at 1,484. Tackles are an unofficial statistic and subject to coach's review, but if nothing else, the accomplishment puts Urlacher in the historical context of two Hall of Fame linebackers, Singletary and Dick Butkus, among others. And he's not done yet.
February, 3, 2010
2/03/10
11:17
AM ET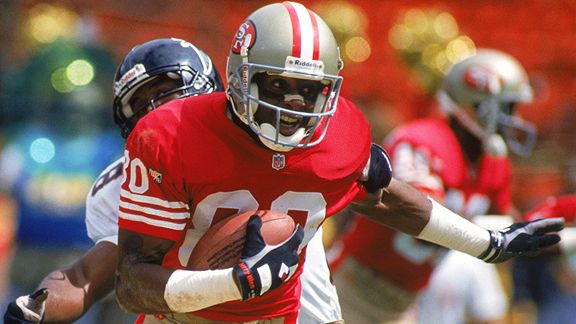 George Rose/Getty ImagesWide receiver Jerry Rice retired with his name all over the National Football League record book.
MIAMI -- Anyone advocating Jerry Rice as the greatest player in NFL history can bury the opposition in statistics.
Rice averaged 1,145 yards receiving and more than 10 total touchdowns per season -- for 20 NFL seasons.
Rice caught 69 touchdown passes -- more than the career totals for Art Monk, Michael Irvin, Charlie Joiner, John Stallworth and numerous other Hall of Fame receivers -- during a five-season span ending in 1993. Rice then caught 28 touchdown passes over the next two seasons, more than half the career total for Hall of Famer Lynn Swann.
He retired holding NFL records for:
Touchdowns (208), receiving TDs (197), receiving TDs in a season (22), consecutive games with a TD reception (13), TDs in Super Bowls (8), receiving TDs in a single Super Bowl (3) and postseason TDs (22).

Receptions (1,549), consecutive games with a reception (274), receptions in Super Bowls (33) and postseason receptions (151).

Receiving yards (22,895), receiving yards in a season (1,848), receiving yards in Super Bowls (589), receiving yards in a Super Bowl (215), postseason receiving yards (2,245) and seasons with at least 1,000 yards receiving (14).
Rice, whose selection to the Pro Football Hall of Fame is a formality Saturday, probably enjoyed the greatest NFL career. He was probably the greatest wide receiver despite some arguments for Don Hutson. But was he the greatest player, period?
"Oh, yeah," Hall of Fame defensive back Rod Woodson said almost reflexively during Super Bowl media day.
Woodson, perhaps mindful of history as a member of the NFL's 75th Anniversary team, then showed he could still backpedal a bit.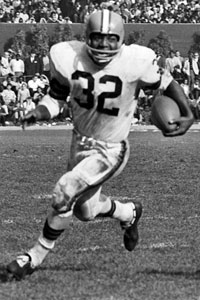 Getty ImagesWhen talking about the greatest players ever, Jim Brown needs to be in the conversation.
"I mean, he is definitely up there," he said. "I don't think one player is the greatest player ever, but he is in that water-cooler conversation. Now, if you say greatest receiver, absolutely. But the greatest player, to make him the most dominant player ever in NFL history or just say pro football history, that is a profound statement. But I can say that he will be in that argument time in and time out."
The conversation might include Otto Graham, Jim Brown, Sammy Baugh, Lawrence Taylor, Joe Montana, Johnny Unitas, Hutson, Walter Payton and Barry Sanders among players no longer active. And that list is probably shortchanging defensive greats such as Deacon Jones and Dick Butkus.
But
Ray Lewis
, arguably the greatest defensive player of the current era, didn't hesitate in singling out Rice.
"I don't know what argument you are going to make why he is not," Lewis said.
And that might be what separates Rice from the rest. There really isn't a great case against him. No one played at such a high level for as long with such grace.
"Jerry Rice doesn't
rank
in the all-time greats," said Saints safety
Darren Sharper
, a five-time Pro Bowl choice and member of the 2000s All-Decade team. "He
is
the greatest receiver and maybe the greatest football player of all time."
Maybe?
"I can't comment on eras that I didn't perform in," retired cornerback Deion Sanders said, "but the era I performed in, Jerry Rice is the best football player to play in that era."
On what grounds beyond the numbers?
"Work ethic, precision, routes, physical toughness, awareness, that hunger," Sanders said. "Jerry stayed hungry until the day he retired."
NFL SCOREBOARD
Sunday, 2/2
WEEKLY LEADERS