NFL Nation:

D\'Marco Farr
October, 12, 2014
Oct 12
3:00
PM ET
EARTH CITY, Mo. -- Long before the
St. Louis Rams
traded for running back Marshall Faulk or hired Mike Martz to run the offense or any of the other moves they made that eventually turned the offense into what is now known as the "Greatest Show on Turf," the Rams' offense was perpetually stuck in the mud. Even in practice.
That's because even as the Rams struggled to win games, they actually had the defensive pieces in place to become a good team if only the offense could keep them off the field long enough to come up for air.
"I just don't think they talk about our defense enough," receiver Torry Holt said. "We were the No. 1 offense in the National Football League, but our defense was top five in the NFL. But they were so overshadowed by what we were doing offensively and the speed and the points that we were generating, the energy that we created. But I think our defense just didn't get talked about enough and still doesn't get talked about enough.
[+] Enlarge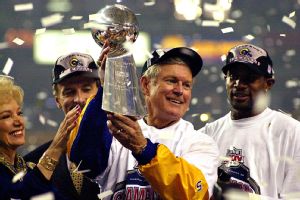 Scott Rovak/USA TODAY SportsThe Rams and Dick Vermeil won the Super Bowl thanks in part to an under-the-radar defense that dominated in the shadow of an explosive offense.
"Some would say there wasn't a lot of household names. I beg to differ. Todd Lyght, Kevin Carter, Mike Jones, D'Marco Farr, Ray Agnew, Keith Lyle, the list goes on and on of guys that were more than able to start on any team in the National Football League. They played together as a cohesive unit all the time for a long period of time for 16 weeks. They created a lot of turnovers and gave us as an offense the opportunity to get the ball back and generate more points."
As the Rams offense burst on to the scene in 1999, the defense made a similar move to rank near the top of the league in most categories. Though the two were simultaneously impressing on a weekly basis, the defense was quietly flying under the radar by offering big plays and shutting down opponents in blowout victories.
Although it was easy to point to the large leads the offense often staked the defense to as the reason for success, such leads were also a product of a defense capable of getting enough early stops for the points to accumulate. And in many cases, the defense also provided the points.
That season, the Rams were fourth in the NFL in points allowed per game (15.1), first in run defense (74.3 yards per game) and tied for the league lead with 57 sacks. They also finished sixth in takeaways with 36 and scored three defensive touchdowns.
Defensive end Carter posted a then-franchise record with 17 sacks on his way to a Pro Bowl berth. Defensive tackle Farr and cornerback Lyght joined Carter in Hawaii. It was a group that also featured the young versions of future difference-makers London Fletcher and Leonard Little.
"We all did our job," Farr said. "The Greatest Show on Turf thing where it became just about the offense, that's something else from outside this room. We all worked together. When we stopped them and got the ball back, we knew we were going to score. It was a personal challenge. They'd be up watching us play defense and we'd be up watching them play offense. If you don't do it, we're going to do it. If you have a whole group like that, the next thing you know you are in the Super Bowl."
In no place was that more evident than on the practice fields at Rams Park. For the previous two seasons under coach Dick Vermeil, the Rams' defense would regularly dominate the proceedings in practice. Receiver Isaac Bruce remembers the helpless feeling of playing on an offense that couldn't even score in practice let alone in games.
But after the offseason additions of guys like Faulk, Martz, Holt, Adam Timmerman and others, it didn't take long for the defense to realize that things were about to change.
"It's not like you don't have much respect for the guys you play with, you do," Farr said. "They're your teammates, you love them, but we were facing a whole lot better on game day than we were getting in practice. So practice got boring some of those years. We could shut those guys down anytime we needed to, so how were we getting better? Then all of a sudden it switched where we're on our heels, we're backing up and you look up and start to recognize signals and demeanor. Then it became something different and they started to compete with us and beat us."
In many ways, the practices became tougher than the games for the defense. Where Farr could once have his way with any nondescript guard on the roster, players like Timmerman and Tom Nutten would offer much more resistance. Tales of left tackle Orlando Pace's dominance of end Grant Wistrom in practice still get talked about anytime an offensive tackle beats an end consistently in pass-rush drills. But Pace's excellence only made things easier for Wistrom.
Though the defense still doesn't get the credit it might deserve 15 years later, there is no denying the Rams wouldn't have even gone to Super Bowl XXXIV, let alone win it, without a strong defensive performance. When the offense finally struggled against Tampa Bay's stout defense in the NFC Championship Game, it was the Rams' defense that rose to the occasion.
The Rams held Tampa Bay to 203 total yards and came up with two turnovers, five sacks and a safety in leading St. Louis to an 11-6 victory.
"We got into a dogfight," Farr said. "It made me respect Tampa more on defense, because if you can slow those guys down, then you can play. But we were more than capable of going into a dogfight with anybody. That type of game is what that defense was used to before the offense took off. It was nothing new to us. It was 'OK, that's what type of game this is? Great.' We'd been there before. So we were trained for it."
They became champions because of it.
October, 9, 2014
Oct 9
11:00
AM ET
EARTH CITY, Mo. -- The
St. Louis Rams
are celebrating the 15th anniversary of their Super Bowl XXXIV championship during next week's "Monday Night Football" matchup against the
San Francisco 49ers
.
With that in mind, we are spending this week doing some reminiscing with some of the key players from that team, and we will take a bigger-picture look back later in the week.
We continue the series by asking D'Marco Farr, one the stalwart of that team's defense, five questions about that season.
Wagoner:
When did you know that season could be special?
[+] Enlarge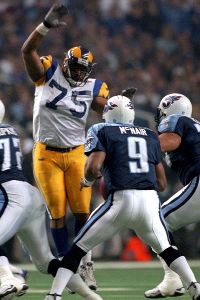 Focus on Sport/Getty ImagesD'Marco Farr was a key component of the St. Louis Rams' Super Bowl XXXIV team.
Farr:
When I saw Trent Green break the huddle right out here, right there as a matter of fact. When I saw him break the huddle and he got under center and started barking out signals. I just kind of had this feeling we had a real quarterback finally. I just had a feeling that was what we had kind of been missing. All due respect to the guys before him but you just felt more calm with him. Then I thought we had a chance to be good. Then when you saw Marshall come out here, things just changed a whole lot and I thought we had a chance to be really, really good.
Wagoner:
What as your favorite memory of that season?
Farr:
Just the end. The ticker tape coming down after we won and the journey from being a rookie free agent and the same group of guys coming over from L.A. coming here, getting all set up, coming from Matthews-Dickey, that's the same group of guys up on the podium getting the trophy and they're my teammates and you can't take it away. That whole moment, that whole celebration right at the end of the game when we're all on the field together was my favorite moment.
Wagoner:
What was the most underappreciated thing about that team?
Farr:
The defense, definitely the defense. We actually had a pretty good defense in '98, '97, '96, we were pretty good, we just weren't very good and didn't know how to win games. So whenever people talk about the Greatest Show on Turf now, they always talk about the offense but there was defense and special teams attached, too. Just the underrated part was how hard we worked. I know it seemed like it was easy on game day but we had a bunch of guys that loved to work out here.
Wagoner:
What was the toughest part of that season?
Farr:
The toughest part was actually trying to get Coach [Dick] Vermeil to understand that you don't have to kill us every day. Dead serious. He only knew one way to do it and it was brutal. It was throwback-type football. It worked, he got us in condition but it really did take a toll on us. Trying to get him to change his mind to give us more freedom, it was like growing up and asking your parents for the car keys for the first time. Trust me, we'll be OK. Getting him to dial it back some was a huge deal and once it happened, you see what happened.
Wagoner:
What would you like the legacy of that team to be?
Farr:
Wow. Just wow. I'd want people to say I've never seen anything like that and you probably never well. This is funny and I don't want to take shots at any other champion out there, anybody that wears a ring like me but I would take our team versus anybody in history. Anybody. And we'll win going away.
August, 29, 2013
8/29/13
9:30
PM ET
Former
St. Louis Rams
defensive tackle D'Marco Farr isn't on the list of more than 4,500 plaintiffs who
settled their concussion-related lawsuit
with the NFL in a deal announced Thursday. That doesn't mean he hasn't thought about it.
"Every day I thought about it," said Farr, who played from 1994 to 2000. "Here's the thing and this is why I don't know if I'm right or wrong: I don't think I have any problems. I don't think I'm having the same problems that this guy is and I don't want to be one of those people that is trying to get in on some case just to get paid. I'd rather go out and work hard for it, you know what I mean? I'd feel bad if I went up there and I don't feel like I have symptoms, I might be taking money away from a guy that does.
"That's why I wasn't a part of it. But the thing that scares me about the settlement and everything else, I don't know what's going to happen to me next year or what's going to happen to me in 10 years. I don't know if this is the way Junior Seau felt 10 years before he shot himself, so that's the only concern."
The order from U.S. District Judge Anita Brody outlined a proposed $765 million settlement that has drawn mixed reaction from current and former players. It will pay about a third of the living former players, but Farr isn't one of them.
Farr retired after a seven-year career in which he went to a Pro Bowl and started for the Super Bowl XXXIV champions. Today, he's a sports talk-show host on ESPN radio in St. Louis and serves as the color analyst for Rams game broadcasts. He has pain in his knees and joints and gets an occasional migraine headache, but he said he has no noticeable signs of lingering concussion symptoms from head trauma.
When I spoke to Farr about the issue Thursday evening, he brought up an interesting point about the timing of the agreement. He understands the basics of the deal, but I got the sense he felt like it was a little too easy, like the NFL was hiding a secret that would make this agreement seem like a bargain.
"It just seems kind of, all kind of right that it would all come out right now before you get exposed," Farr said. "You might as well settle it before you get embarrassed and exposed. So, I don't know. That's the only thing I'm concerned with. I'm happy for the guys that are going through things and they are going to get that money and that care, but I really, really want to know what the NFL is not telling me about me."
I've known Farr for a long time and, in the interest of full disclosure, I consider him a friend. After talking to him, it's hard not to wonder if he's not far enough removed to see the big picture or what type of ailments his future may hold.
Playing defensive tackle meant a collision with another large man on every play, collisions that might be categorized as concussions but at the time were just thought of as part of the game.
"Back in the day, when concussions were funny and they're not funny now; concussions were when you got knocked unconscious," Farr said. "If you are unconscious, you probably have a concussion. Now they're saying you feel like you got your bell rung and that's a concussion, or if you say you feel dizzy, you've got a concussion. Well, that's almost every snap. That's just the way it went in the trenches, it was just an accepted part of the job."
As Slim Charles from "The Wire" might say, "the thing about the old days -- they the old days." Today's NFL has evolved to where doctors stand on the sidelines and have final say about whether a player has a concussion and can return to a game.
Farr jokes that, without the benefit of those cross-checks, he either had 20 concussions or none at all. The reality? The answer is probably closer to 20 than zero. Even with that knowledge, Farr opted not to join fellow alumni in the lawsuit.
"I had some very real talks with friends and family," Farr said. "I said 'You guys need to tell me, am I crazy? Tell me because I might not know. Do I forget things?' I think I have a pretty good grasp on who everyone is and phone numbers of where I live and stuff like that, but I don't know. As of right now, I didn't and don't feel like I need the NFL to take care of me post-career."
Here's hoping it stays that way.
August, 6, 2011
8/06/11
10:32
AM ET
Twenty-one NFL players
since 1970 have caught at least 12 receptions for at least 200 yards in a regular-season game.
Marshall Faulk was the only running back. The position never defined him.
Faulk, the 28th modern-era running back
enshrined in the Pro Football Hall of Fame
, stands apart for his ability to line up as a true wide receiver.
"I saw Marshall do something I've never seen another running back do," former St. Louis Rams teammate D'Marco Farr said
during Super Bowl week
. "He lined up in the slot and beat a cornerback on a post. He beat a corner on a post route! It was incredible. He could play corner. I swear, he could play linebacker if he wanted to."
Faulk was recruited out of high school as a cornerback and chose San Diego State because the Aztecs were willing to let him play running back. In the NFL, Faulk would rush for at least 200 yards in a game three times. He would rush for between 150 and 199 yards nine times. As great as Faulk was as a runner, it was his all-around game that differentiated him.
The chart shows Faulk's eight regular-season performances with at least 100 yards receiving. He had games with 99 and 90 yards receiving in the playoffs.
"For a time, Marshall Faulk was the best weapon in the NFL, a guy that could catch the ball out of the backfield, could run for power, run for speed -- could do it all," Farr said. "He was absolutely indefensible for a period of time. And how smart he is. He could be a head coach. When you talk about great players and where they come from, they are not trained, they are born. He is one of them. And those guys deserve to be in the Hall of Fame."
February, 1, 2011
2/01/11
6:48
PM ET
ARLINGTON, Texas --
D'Marco Farr
's eyes brightened when I asked the retired defensive tackle what he would say to Hall of Fame voters regarding his former
St. Louis Rams
teammate,
Marshall Faulk
.
[+] Enlarge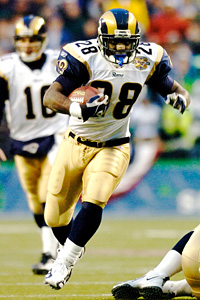 AP Photo/Paul SakumaFormer St. Louis Rams running back Marshall Faulk is up for Hall of Fame induction this Saturday.
Farr, attending Super Bowl media day as a member of the Rams' radio team, thanks Faulk more than any other teammate for the Super Bowl ring he wore Tuesday.
"For a time, Marshall Faulk was the best weapon in the NFL, a guy that could catch the ball out of the backfield, could run for power, run for speed -- could do it all," Farr said. "He was absolutely indefensible for a period of time. And how smart he is. He could be a head coach. When you talk about great players and where they come from, they are not trained, they are born. He is one of them. And those guys deserve to be in the Hall of Fame."
Hall of Fame voters will consider Faulk's candidacy Saturday, the first time Faulk is eligible for enshrinement.
Faulk finished his career with seven Pro Bowl appearances, 100 rushing touchdowns, 36 receiving touchdowns, more than 12,000 yards rushing and a 9.0-yard average on his 767 receptions. But you had to see him play to appreciate what set him apart from other backs.
"I saw Marshall do something I've never seen another running back do," Farr said. "He lined up in the slot and beat a cornerback on a post. He beat a corner on a post route! It was incredible. He could play corner. I swear, he could play linebacker if he wanted to."
Farr looked down at the massive jewelry on his right ring finger. He professed love for
Kurt Warner
,
Isaac Bruce
and
Torry Holt
. Then he continued.
"The first guy I think about when I put this thing on is Marshall," Farr said. "I thank him every single day for this thing -- every single day, whether he hears it or not."
February, 1, 2011
2/01/11
1:49
PM ET
ARLINGTON, Texas -- A few subjects I'll be expanding upon following Super Bowl media day at Cowboys Stadium:
The Steelers' media session is ongoing. I'm going to head back out there. Just wanted to check in on Butler in particular.
July, 10, 2009
7/10/09
4:10
PM ET
Posted by ESPN.com's Paul Kuharsky
It's a thought that came back to me repeatedly Thursday as I talked to former teammates of Steve McNair at his memorial:
In six months, the Titans will celebrate the 10th anniversary of their biggest moment -- their appearance in Super Bowl XXXIV. What's that going to be like for them without McNair as a part of it?
"Well, we're going to leave that seat [at the head of the table] open, and we know Steve will be there in spirit because he's with us all," Eddie George said. "We talked about him [Wednesday] night, sharing some great stories. We laughed, we cried. It's going to be different. It's surreal."
"I'm going to try to not even think about that right now," Jevon Kearse said. "He will be missed very deeply by myself and a lot of other people."
"It won't feel the same," Samari Rolle said. "He's the face of Nashville. When you think of Steve McNair, you think of that drive in '99."
Several guys who played with McNair said their indelible image of him will come from "that drive in '99," a play that read like this in the official play-by-play sheet from Super Bowl XXXIV:
| | |
| --- | --- |
| | |
| | AP Photo/Susan Walsh |
| | Kevin Carter wasn't the only rusher Steve McNair miraculously escaped on the second-to-last play of Super Bowl XXXIV. |
3-5-SL 26 (:22) S. McNair (shotgun) pass to K. Dyson to SL 10 for 16 (D. McCleon). QB Pressure by K. Carter and J. Williams
If you saw it, that play-by-play line doesn't do it justice.
"I still point back to the second-last play of that game where Kevin Carter and D'Marco Farr literally have him tackled and have him halfway dragged down to the ground and somehow with the power and strength he had he gets away and delivers the ball downfield to Kevin and gives us a chance to win the game on the last play," kicker Al Del Greco said. "If he gets tackled there, the game is over. It just said what he was all about. He was Superman at times."
Three points about the final two plays of that game, and I am not picking on Del Greco, who's hardly the only person to misremember some details.
On that signature play when McNair shed two rushers to stay alive, it's become a habit for many of us to say it was Carter and Farr. But this blog officially offers an apology to Farr, who may have failed to get to McNair but was not brushed aside. Moving forward I pledge to remember the second guy was Jay Williams.
The game wouldn't have been over if McNair had been sacked. The Titans would have called their third and final timeout just as they did after the completion to Dyson. But then the last play would have been from around the 26-yard line instead of the 10.
Had the Titans scored in either scenario, an extra point would have tied it and forced overtime, not won it.