May, 10, 2011
5/10/11
1:00
PM ET
What key event significantly changed the fortunes of the Saints -- for better or worse? Give us your take and we'll give you our definitive moment on May 25.
These events could be positives or negatives. In the case of the Saints, I elected to just stick with the positives because there have been a lot recently. This long-suffering franchise has done all sorts of good things since the devastation of Hurricane Katrina in 2005.
There have been two trips to the NFC Championship Game, a Super Bowl title and a future that still looks very bright, and most of your choices are from the modern era. You can trace all that's right with the Saints these days back to 2006, when coach Sean Payton and quarterback
Drew Brees
, who supposedly had a shoulder injury so bad he might not play again, arrived. For those with longer memories, I even included the arrival of Jim Mora as coach in 1986. That move triggered the first real surge of competitiveness as the "Dome Patrol'' and Bobby Hebert showed it was possible to win in New Orleans.
Prior to that, the highlights I left out were Tom Dempsey's 63-yard field goal and the days of Archie Manning running for his life, but also throwing some nice passes. Beyond that, there wasn't much else.
If you vote Other, give us your suggestion in the comments area below.
August, 5, 2010
8/05/10
11:08
AM ET
Over the next few days, you're going to hear a lot about Rickey Jackson from Rickey Jackson. And you're going to hear a lot about Jackson from Tom Benson.
[+] Enlarge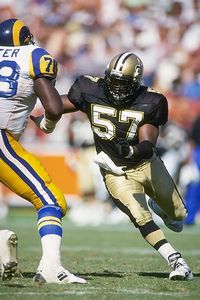 Stephen Dunn/Getty ImagesRickey Jackson compiled 128 sacks over his 15 seasons in the NFL.
That's because Jackson will be inducted into the Pro Football Hall of Fame on Saturday. He'll give his acceptance speech and Benson, the owner of the New Orleans Saints, will introduce him. You'll hear Jackson's thoughts and you'll hear accolades from Benson about a linebacker who helped make the Saints good for the first time in franchise history.
You'll hear analysts talk about Jackson. You'll see his career numbers flashed across the screen and you'll see highlights from his playing career. That's all going to be great. But let's do something different here. To fully understand why Jackson is going into the Hall of Fame, let's go back to the New Orleans locker room, practice fields and sidelines back in the team's first glory days.
Let's turn to Bobby Hebert, the quarterback through much of Jackson's time with the Saints, for an inside look at what it was like to play with the franchise's first Hall of Famer.
"Rickey and I always had a special bond because, even though I grew up in Louisiana and he grew up in Florida, we basically came from the same place,'' Hebert said. "We were driving down Highway 90 outside of New Orleans one time and Rickey was looking around at the sugar-cane fields and he said, "This is home''. It was just like Pahokee, Florida. They call it "the muck'' in Pahokee, but it was all the same. Rickey was as blue collar as you can get.''
Jackson was so blue collar that his body should have been black and blue and bruised throughout his career. It wasn't.
"He never taped his ankles,'' Hebert said. "Coach (Jim) Mora would get on him, but he wouldn't do it. Not for practice and not for games and he never had a sprained ankle. You're supposed to have official pads, but Rickey wouldn't do that. He'd take the real pads out of his thigh pads and knee pads and put in these little sponges like you use for doing the dishes so he'd be faster. So it was like he wasn't playing with any pads. But he was so good with his forearms and using his hands, that they weren't ever going to get to his knees or his thighs. He'd wear kicker shoulder pads when he could get away with it. He was basically a rugby player.
"Mora used to threaten him that he would fine him if he got hurt, but he never got hurt. He was a man among boys.''
And Jackson was "the man'' in the New Orleans locker room.
"You can't look at the NFL like war because, unless there's a freak accident, you're not going to die,'' Hebert said. "So I don't want to talk about going to battle. But, if I was in a fight, I want Rickey Jackson by my side. I can remember Rickey in the locker room. He would challenge guys. He'd walk up to guys and say if you're scared, say you're scared. Rickey was such a vocal leader. The coaches didn't even have to address things because Rickey ran that locker room and nipped everything in the bud.
"I can remember him telling him Pat Swilling, "Come on, you've got to step it up. You're having your big games and getting all your sacks against the Jets and the Bucs. Let's see you get sacks against a tough opponent''. He'd challenge players like no one else I ever saw and they would respond to it.''
Using a 3-4 defense, New Orleans' linebackers were called the "Dome Patrol''. Sam Mills, Swilling and Vaughn Johnson all had wonderful careers. But Jackson was the best of the bunch, Hebert said, and that's why he's going into the Hall of Fame.
"Sam Mills was the brains, calling the defense,'' Hebert said. "Pat Swilling and Vaughn Johnson were great players too. But Rickey was the heart and soul of the linebackers. Rickey was the heart and soul of the defense. Rickey Jackson was the heart and soul of the New Orleans Saints.''
February, 6, 2010
2/06/10
6:01
PM ET
MIAMI -- Let's go ahead and consider this an omen for the Super Bowl. Times really have changed for the New Orleans Saints.
[+] Enlarge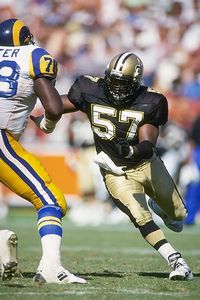 Stephen Dunn/Getty ImagesRickey Jackson compiled 128 sacks over his 15 seasons in the NFL.
Rickey Jackson
has been selected to the Pro Football Hall of Fame.
That announcement came moments ago and it's another sign that a franchise that has spent most of its existence as loveable losers no longer fits that image. The day before the Saints play in their first Super Bowl, they've got their first Hall of Famer.
Coincidence?
Maybe, maybe not. We don't know exactly what was on the minds of voters. But the fact is Jackson never had even made it to finalist stage before this year. The fact that "Who Dat Nation" suddenly became more than a regional thing might have had some sort of subconscious impact on the voters and it certainly increased Jackson's visibility.
But the fact is Jackson has deserved this honor for a long time. He was part of the famed "Dome Patrol'' of the late 1980s and early '90s. Before this magical season, the Saints of Jackson's era were the only truly proud time in franchise history. That era's finally getting the recognition it deserves.
Maybe this won't be the only truly memorable event of the weekend for the Saints and their fans.

NFL SCOREBOARD
Thursday, 9/18
Sunday, 9/21
Monday, 9/22
WEEKLY LEADERS