NFL Nation:

Dominique Easley
June, 18, 2014
Jun 18
11:00
AM ET
Veteran defensive tackle
Kevin Williams
told ESPN.com NFL Nation Vikings reporter Ben Goessling that he
took a little less money
to sign with the
Seattle Seahawks
than the
New England Patriots
. With the specifics of Williams' contract now known, there is some added context on how far the Patriots were willing to extend financially.
Williams
Via colleague Field Yates, Williams' deal breaks down this way:
Term/total value:
One year, $2.1 million
Signing bonus:
$250,000
Base salary:
$1.5 million ($250,000 guaranteed)
Incentives:
Up to $350,000 in per-game roster bonuses
With Williams electing to sign in Seattle, here is a snapshot look at the Patriots' defensive tackle depth chart, with a quick-hit thought on each player:
Vince Wilfork (6-2, 325):
Captain and 11-year veteran is making progress in his return from a ruptured Achilles last September. Looks to be moving well.
Tommy Kelly (6-6, 310):
Another 11-year veteran, he took another step in his return from a torn ACL by participating in 11-on-11 drills Tuesday.
Dominique Easley (6-2, 288):
First-round draft choice is coming off two torn ACLs over the past 22 months, suffered in college, and has yet to take the field this spring.
Chris Jones (6-1, 309)
Second-year player was claimed on waivers last year and led all Patriots defensive tackles in snaps played in 2013. Best when penetrating.
Sealver Siliga (6-2, 325):
After a slow start to his career, the run-stuffer looks like he has built some momentum as a developmental prospect behind Wilfork.
Armond Armstead (6-5, 305):
The former Southern Cal and Canadian Football League standout has been sidelined for most of spring camps after missing all of last season with an infection.
Joe Vellano (6-2, 300):
Hard-working second-year player from Maryland is a lunch pail type of guy who plays with top effort.
Marcus Forston (6-3, 305):
Second-year player has spent multiple seasons on the practice squad and has filled in when injuries hit.
L.T. Tuipulotu (6-1, 305):
Undrafted free agent from Utah is on the developmental track.
Seali'i Epenesa (6-1, 310):
Undrafted free agent from UCLA was signed on Tuesday.
May, 10, 2014
May 10
7:40
PM ET
»
NFC wrap-ups
:
East
|
West
|
North
|
South
»
AFC
:
East
|
West
|
North
|
South
FOXBOROUGH, Mass. -- A wrap-up of the
New England Patriots
' draft.
Click here
for a full list of Patriots draftees.
[+] Enlarge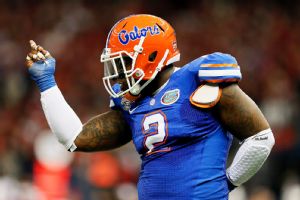 Kevin C. Cox/Getty ImagesFlorida's Dominique Easley will be an impact talent for the Patriots if he can stay healthy.
Best move:
Reinvesting in the offensive line. The Patriots hadn't drafted an offensive lineman in 2012 or 2013, but they triple-dipped with fourth-round center
Bryan Stork
(Florida State), fourth-round tackle
Cameron Fleming
(Stanford) and sixth-round right guard
Jon Halapio
(Florida). Time will tell if the picks were the right ones, but from a general standpoint, the Patriots needed to pay attention to the line both from an infusing-the-pipeline standpoint and also with salary cap integrity in mind. What stands out is the size of Stork (6-3 7/8, 315), Fleming (6-4 7/8, 323) and Halapio (6-3 1/2, 323). The Patriots added an element of offensive toughness in this draft, while also planning for the future. This is a big year for the team's offensive line as it transitions from former coach Dante Scarnecchia to Dave DeGuglielmo.
Riskiest move:
Easley. The first-round defensive lineman is a big-time talent who wouldn't have been available at No. 29 if healthy. But he tore both ACLs at Florida and that affected his ability to work out at 100 percent in the pre-draft process. If Easley returns to full health, the Patriots' willingness to assume the risk could pay off in a big way as the team's interior pass rush could use a boost. But if problems crop up with Easley's knees, the Patriots might ultimately regret their willingness to invest such a high draft pick on an injured player.
Most surprising move:
Dominique Easley
. Wouldn't have thought the Patriots' selection of a player who tore both ACLs in a span of three years was an option in the first round. They generally don't assume that much risk with their top pick, which has contributed to their solid first-round draft record.

File it away:
All the angst that might have been expressed about the Patriots' selecting quarterback
Jimmy Garoppolo
with a late second-round pick (No. 62) will most likely be looked back upon with a chuckle. The biggest question from this perspective is if the Patriots passed on a player who might have helped them more immediately (e.g., Iowa tight end
C.J. Fiedorowicz
to the Texans three picks later), and that's going to be an interesting dynamic to follow in the years to come. But overall, there is no more important position than quarterback. The 2011 Colts are the prime example of a team that didn't address the backup spot and the bottom fell out of their season when starter Peyton Manning was lost for the season. People lost jobs because of it. The Colts were fortunate to wind up with the rare can't-miss prospect (Andrew Luck) the next year in the draft, but most teams aren't that lucky, so the Patriots were wise to be thinking ahead at a hard-to-fill position. It's just a bit jarring to hear the team acknowledge the possibility of a succession plan with Tom Brady, which is still four years away (if not longer) from this viewpoint.
May, 9, 2014
May 9
10:45
AM ET
The
New England Patriots
have added to their carousel of defensive linemen with former Florida standout
Dominique Easley
. Below is our scouting report on Easley after a closer examination this morning.
Alignment:
A movable chess piece on the defensive line, Easley had many homes along the defensive front. He played what is known as a "5 technique" (over the outside eye of the opposing offensive tackle) at-times, other times as a titled nose tackle and in the interior of the line. He also played on the edge to the tight end side of formations, more like a conventional defensive end. Florida was innovative and smart in its usage of Easley.
[+] Enlarge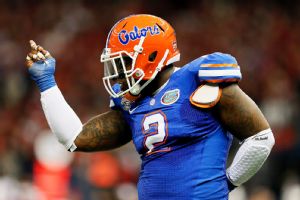 Kevin C. Cox/Getty ImagesDominique Easley showed versatility in college, lining up in several different spots along the defensive line for Florida.
Athleticism:
Easley has an explosive first step and creates substantial force through his hips and core at the initial point of attack. He has enough length (nearly 33-inch arms) and is loose-hipped and flexible. He shows very good closing acceleration as a backside defender and pass-rusher. He's more explosive than
Chandler Jones
, but does not have Jones' overall length.
Strengths:
Explosive. He fires out of the gate at the snap. Easley shows exceptional instincts to time the snap and a ferocious, balanced first step. He plays with wildly active hands, using them to fight and club in pass rush. He has powerful punches when anchoring against an offensive lineman in defending the run. Easley has a diverse pass-rush arsenal that involves his ability to beat you with quickness, speed, the ability to slither and find space, work you with his hands and in pursuit.
Limitations:
The injury is a legitimate concern. He has two torn ACL's in his past that bear monitoring. Easley is slight for an every-down defensive tackle at just 288 pounds. He gets his shoulders turned at times when taking on double teams. Durability is the issue of primary focus.
Pro comparison:
Typically, we find pro comparisons to be a stretch, as it is rare for two players to have identical skill sets. But if we had to choose a comparable player, I see some
Lamarr Houston
in Easley. Houston, now a Chicago Bear, has been a standout for the Raiders with the ability to win on the edge as an end and along the interior. Houston is just a shade under 300 pounds, but has very good explosion.
Projecting Patriots fit:
The first question is at what point will Easley be all-systems-go following his knee injury? He expressed confidence about his progress Thursday night. Assuming he's healthy by the start of training camp, he has a chance to be a top-six defensive lineman for the Patriots (with
Vince Wilfork
, Chandler Jones,
Rob Ninkovich
,
Tommy Kelly
and
Will Smith
). The Patriots can utilize Easley in similar ways to Florida -- all over the line. With his ability to play on the edge and on the inside, he is a player whose role could be heavily involved in games that they face strong passing attacks. The bottom line on Easley is when evaluating him before his most recent injury, impressive traits pop. He has uncommon explosiveness and versatility for a defensive lineman. He might well have been drafted closer to pick 10 or 12 if he had not been injured. That is not to say he is a sure-fire future Pro Bowler, but the Patriots had the luxury of taking a player that they can be patient with, while also adding depth to a major area of need. If he can stay healthy -- a big if -- the Patriots added a potential stud.
May, 9, 2014
May 9
1:50
AM ET
FOXBOROUGH, Mass. --
New England Patriots
coach Bill Belichick spent one-on-one time with first-round draft choice
Dominique Easley
in Florida as part of the pre-draft process, and Easley obviously made a favorable impression.
"Saw a guy that likes football, smart. He's definitely into football," Belichick said late Thursday night after the Patriots used the 29th pick to select him.
[+] Enlarge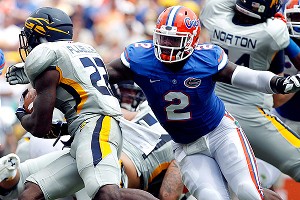 Kim Klement/USA TODAY SportsPatriots coach Bill Belichick used the term "explosive" in describing ex-Florida standout Dominique Easley's play in the trenches.
As for Easley on the field, there wasn't much to dissect from this past season because he only played in three games. Still, Belichick saw enough from 2013 and past years to feel comfortable with the pick.
"He does a lot of things well. He's a smart guy, very instinctive," Belichick said. "He's got a great motor, works hard. Football is very important to him. He's an all-in guy. There's not much to not like about him."
Belichick also touched on Easley's versatility and ability to create havoc inside.
"He's played everywhere along the defensive line," he said. "You don't see a lot of guys who do that -- he lines up on the nose, he lines up on the guard, he lines up on the tackle, he lines up out wide at times. You can see him playing all those spots.
"He's an explosive player, very explosive. A very disruptive player. In college, I would say his stats might have been a little bit deceiving because a lot of times he was the disruptive person on the play, but he wasn't the guy who ended up making the tackle, or it wouldn't be on the stat sheet. But the reason the play wasn't successful was his penetration and ability to be disruptive. I think he has a good knack for that."
Some more soundbites from Belichick:
Overall thoughts on the draft.
"The way the board ended up, we felt very good about Dominique being available at 29. He's been a very good player in a real good program. They're well coached down there with Coach [Will] Muschamp. You can see him playing against a lot of good players in that conference. I thought Dominque played very well. He's a versatile guy that's played different positions along the defensive line. So we'll just see how it all comes together here, but I'm glad he was able to last that long. I'm looking forward to having him."
On sensing interest with Easley from other teams.
"There are always [trade] conversations, but we felt good about Dominique and there were a couple teams behind us that – we just didn't want to take a chance on him."
Easley's two torn ACLs
. "We feel like he'll be all right. ... When he gets up here we'll work with him and see where he's at, just like we do with everyone else."
Playing against good competition in the SEC
. "There are a lot of good football players there and I think you can put on just about any film and watch him against quality players in the SEC or even Louisville last year [in the 2013 Sugar Bowl]. But you know, there was plenty of good competition. You see him against guys that are either in the league from previous years or guys that you have on your draft board this year or you're going to have on there next year. I think he's a very disruptive player and he showed up against good competition."
On rumors of a possible Ryan Mallett trade.
"Why don't you talk to whoever wrote the story. Since that person has all the answers, go talk to them."
On if he watched the Bruins winning in overtime over the Canadiens.
"No, we didn't. We really didn't until after we were done. They won in overtime, right? Goal from the guy they brought up today. That's good personnel management by [general manager] Peter [Chiarelli] and [head coach] Claude [Julien]. Hats off to them. That's great. That's great coming back here now tied up. Tough to win there in Montreal, too, so that's a big win for them. That's great. Congratulations to them."
May, 9, 2014
May 9
1:30
AM ET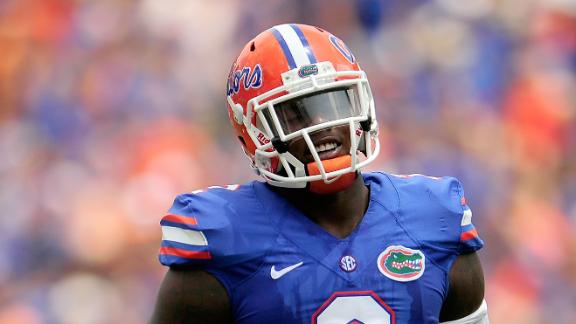 FOXBOROUGH, Mass. --
New England Patriots
first-round draft choice
Dominique Easley
tore both of his ACLs during his college career and was limited to three games this past season, which put his health on the front burner in his introductory conference call with reporters late Thursday night.
"I'm healthy," said Easley, who underwent knee surgery in October. "I'm just ready to get up there and do whatever Coach [Bill] Belichick needs me to do."
Asked if he is now 100 percent, he responded: "I'm just working to get back healthy and I'm just ready to get up there."
If not for the injuries, Easley likely would have been drafted higher than 29th. The Patriots spent extensive time with him in the pre-draft process, which included a visit to Gillette Stadium and a one-on-one meeting with Belichick in Florida.
"We talked a whole lot and got to know each other. He's a great guy," said Easley, adding that it was a pleasant surprise to receive the call from the Patriots.
"
I've been watching the Patriots for a long time. I'm pretty sure you guys know some players from Staten Island played there and then Coach Urban Meyer had a lot of players go to the Patriots. It's a winning team so I'm real excited."
A few more sound bites from Easley:
On getting the call from the Patriots
. "I actually was [surprised]. I was real excited when I saw the Massachusetts number come up on my phone."
Surprised to be picked in the first round?
"I wasn't honestly paying attention to it, to what was going on, to what was said. I was just waiting for my dream to come true."
Playing next to Vince Wilfork.
"It's going to be a great experience, to get to learn from an old guy, a veteran that's real good. He'll teach me some stuff. It's going to be real exciting to learn from him."
On comments at the combine that he doesn't watch football.
"I wasn't really paying attention to it but I love football. I love football, I love watching tape on football. I think people probably got the wrong idea and that's about it."
Entering the NFL draft
. "I have a 1-year-old son [Dominique Easley II] so I just wanted to really get a move on and try to get back healthy and continue my life ... Every decision I make is not for me, it affects my son in every which way. On the field, it didn't really change much because my love for football has always been and always will be there. It just matured me as a man."
May, 8, 2014
May 8
11:39
PM ET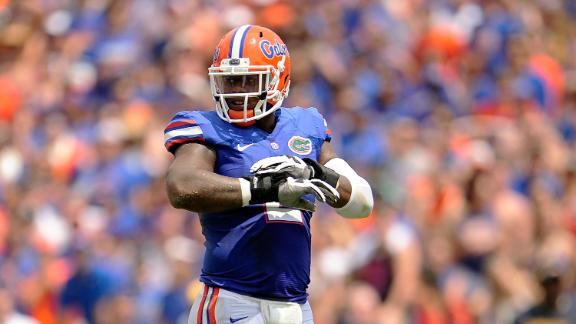 FOXBOROUGH, Mass. --
The pick:
Dominique Easley
, DT, Florida.
My take:
Surprised. When I think about when the
New England Patriots
have been at their best in the draft, it's when they have locked in on "clean," steady picks with limited injury history. Easley tore both ACLs in college, so the first thing about this pick is the medical history. The Patriots obviously feel comfortable with it and if Easley returns to form, they picked up an explosive interior pass-rusher who would have been picked higher (top 15 perhaps) if not for his injury history. Easley (6-foot-1¾, 288 pounds) doesn't fit the prototype of the big, sturdy defensive linemen often associated with the Patriots, as he's more of an interior rusher. This is an indication to me that Bill Belichick is taking into greater consideration the fact that the team is playing an increasing number of snaps in sub packages (67 percent last year) and that defensive linemen who can pressure from the inside -- more so than play a two-gapping style to defend the run -- have greater value to the Pats than in the past. Think about the AFC Championship Game against the
Denver Broncos
and how the Patriots struggled to pressure inside against
Peyton Manning
. A player like Easley, if he is healthy, could be the answer to that trouble spot.
A feel for the defensive tackle spot:
Starting defensive tackles
Vince Wilfork
(32) and
Tommy Kelly
(33) are closer to the end of their careers, while the Patriots also have nose tackle
Sealver Siliga
, interior penetrators
Chris Jones
and
Armond Armstead
, and second-year player
Joe Vellano
on the depth chart. Easley's skill set seems to most mirror that of Jones (second round) and Armstead, the former Canadian Football League player who the team had high hopes for before a surprise infection cost him the entire 2013 season. Easley is a rare talent and will upgrade the unit, but the injuries can't be ignored.
What's next:
The Patriots pick again at No. 62 in the second round.
February, 18, 2014
Feb 18
1:00
PM ET
Last year, the
San Francisco 49ers
took advantage of a surplus of picks and were able to take injured standout players Tank Carradine (second round) and
Marcus Lattimore
(fourth round) with an eye on the future. Both players missed the 2013 season, but the team is counting on Carradine, a defensive tackle, and Lattimore, a running back, to contribute in 2014.
It wouldn't be a surprise if the 49ers -- with few immediate needs and a projected 12 draft picks -- to again show interest in injured players to develop. But unlike last year's draft, there aren't many top rated players recovering from an injury this year.
The best prospect coming off an injury may be Florida defensive lineman
Dominique Easley
. He was a first-round talent, but had a torn ACL. He is now projected as a late-second or early-third round pick, according to ESPN draft analyst Steve Muench.
Muench said Virginia Tech cornerback
Antone Exum
(the position is one of the 49ers' top needs) could be a mid-round steal. He is coming off a knee injury that kept him out of most of last season.
LSU quarterback
Zach Mettenberger
is coming off a torn ACL that will affect his draft status. But Muench said he doubts he is a fit for the 49ers, which may be looking in the draft for a quarterback to groom as a backup.
Still, as we learned last year, the 49ers will not be swayed by injury. They are willing to wait for the right player.
January, 20, 2014
Jan 20
1:15
PM ET
MOBILE, Ala. -- Nearly the entire Jaguars football staff is on hand for the Reese's Senior Bowl. The Jaguars will coach the South team and the
Atlanta Falcons
will coach the North team, but each will switch rosters for a day on Thursday so they can interact with all the players.
Here's a primer of what to expect:
Help wanted:
Jaguars coach Gus Bradley said he expected his staff to remain intact, but linebackers coach Mark Duffner left the team on Sunday night to take the same position with the
Miami Dolphins
. Duffner just finished his eighth season with the team. Defensive coordinator Bob Babich, who spent seven seasons as a linebackers coach with the
Chicago Bears
and
St. Louis Rams
, will work with the linebackers this week. In addition to being a college all-star game, the Senior Bowl is also part coaches convention. Unemployed assistants are here trying to land jobs and head coaches are also here trying to fill staffs.
Keep your eye on:
The Jaguars certainly have a lot of needs to fill, beginning with quarterback and pass rusher. So naturally all the quarterbacks -- particularly
Derek Carr
,
Tajh Boyd
and
David Fales
-- are players to watch during the practices and games. Though he is unable to play because of a torn ACL he suffered in late November against Kentucky,
Aaron Murray
is here to participate in meetings and interviews. It's a smart decision and one that GMs will like.
As for those pass rushers, Jeremiah Attaochu (who played linebacker at Georgia Tech), Michael Sams,
Kareem Martin
,
Chris Smith
, and
James Gayle
are defensive ends to watch. At outside linebacker,
Trent Murphy
and
Christian Jones
are worth watching.
Unfortunately, two of the country's top pass rushers won't be here. Buffalo's
Khalil Mack
has opted not to participate and UCLA's
Anthony Barr
will miss the week because of an undisclosed injury. Both are considered top-10 draft picks.
Some other players to watch: WR
Jordan Matthews
, TE
C.J. Fiedorowicz
, TE Jacob Pederson, G
Cyril Richardson
and C
Weston Richburg
.
What you'll get:
Each day I'll provide Jaguars news and notes as well as observations from practice. I'll concentrate on players at positions that correspond to the Jaguars' top needs (QB, DE, OLB, interior OL, RB, WR) but there will be other players as well. I'll have several blog posts a day and you also can follow me on Twitter @ESPNdirocco.
ETC.:
Among the other players who either opted out or cannot participate because of injury are RBs
Carlos Hyde
(opted out),
Andre Williams
(injury) and
Tyler Gaffney
(injury), OTs
Jake Matthews
(opted out) and
Taylor Lewan
(injury), WR
Tevin Reese
(injury), and DT
Dominique Easley
(injury).

NFL SCOREBOARD
Thursday, 8/28
WEEKLY LEADERS