July, 11, 2014
7/11/14
10:00
AM ET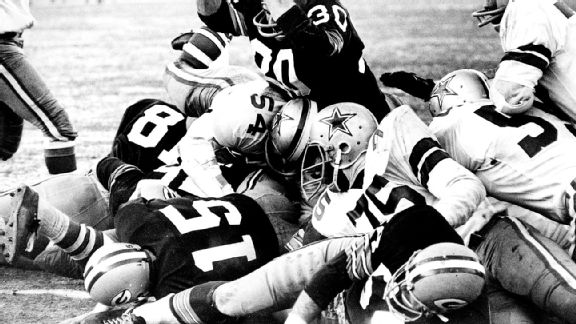 John Biever/Icon SMI
We have a winner. The voters picked Bart Starr's quarterback sneak for a touchdown to win the Ice Bowl as the Packers' most memorable play, and I applaud their selection.
Score:
Packers 21, Cowboys 17
Date:
Dec. 31, 1967
Site:
Lambeau Field
From the moment we began soliciting nominations for the
Green Bay Packers
' three most memorable plays, Bart Starr's quarterback sneak for a touchdown to win the Ice Bowl was mentioned more often than any other play.
So it should come as no surprise that it was the runaway winner in the voting.
Few NFL franchises have one defining play like that, but Starr's sneak ranks up there with
the Immaculate Reception
and
The Catch
.

When the voting closed on Thursday, Starr's play finished as a landslide winner over Brett Favre's 54-yard touchdown pass to Andre Rison in Super Bowl XXXI and
Aaron Rodgers
' third-and-10 completion to
Greg Jennings
to help clinch Super Bowl XLV.
What was most interesting in researching this project was that there was no consensus on the most memorable plays from Super Bowls XXXI and XLV. There was just as much support for Desmond Howard's 99-yard kickoff return for a touchdown that helped him win the Super Bowl XXXI MVP. Likewise in Super Bowl XLV, strong cases could be made for Nick Collins' interception return for a touchdown in the first quarter and
Clay Matthews
' forced fumble that thwarted a potential go-ahead drive by the Steelers in the fourth quarter.
Unlike Starr's sneak, no one play won Super Bowls XXXI or XVL.
And that is why Starr's play was so special.
As we wrap up this project, it's also worth noting some of the other plays that were considered, thanks in part to input from readers and other longtime observers of the team.
Among the others:
Don Hutson's first touchdown, an 83-yarder in 1935.

Dave Robinson drilling Don Meredith, leading to Tom Brown's interception to beat the Cowboys in the 1966 NFL Championship.

Herb Adderley's interception against the Lions in a 1962 regular-season game to set up the game-winning field goal in a 9-7 victory.

Chester Marcol's blocked field goal that he ran in for a touchdown to beat the Bears in 1980.

Don Majkowski to Sterling Sharpe for a 14-yard touchdown pass in 1989 against the Bears in what is known as the Instant Replay Game.

Favre to Sharpe in Detroit for a 40-yard touchdown with 55 seconds remaining in a 1994 playoff game.

Antonio Freeman's "Monday Night Miracle" catch to beat the Vikings in 2000.

B.J. Raji's interception return for a touchdown against the Bears in the NFC Championship Game in 2011.

The "Fail Mary" play against the Seahawks in 2012.
The problem with some of those plays is they were either flukes or meaningless plays in meaningless games. Oh, and there was one other play that a longtime Packers observer was convinced would be the most important play in team history if there more details about it were available. It was a punt, said to be nearly 90 yards by Verne Lewellen in a 1929 game against the
New York Giants
. That punt pinned the Giants deep in their own territory and helped secure a victory that was the difference between the teams in the standings (there were no playoffs at that time). The Packers, with a 12-0-1 record, won the championship over the Giants, whose only loss was to the Packers. It gave the Packers their first championship and, because it happened in New York, helped the Packers capture the attention of the powerful New York media. However, reports from that game do not clearly describe Lewellen's punt.
In the end, Starr's sneak is the play that has been, and likely will continue to be, the most memorable.
October, 11, 2012
10/11/12
3:34
PM ET
Tony Gonzalez
seems ageless.
At 36, he leads the NFL with 39 receptions through five games. With some help from ESPN Stats & Information, let's put some historical perspective on that.
The 39 receptions through five games are the most in NFL history -- by far -- by a player 36 or older.
Jerry Rice
and
Terrell Owens
are tied for the next spot on the list with 31 catches. Rice did that in 2002, when he was 39. Owens did it in 2010, when he was 36. The fourth-best start in history, also belongs to Rice -- 25 receptions to start the 2001 season. The top five is rounded out by
Tim Brown
, who had 24 catches through five games in 2002.
Gonzalez also is one touchdown short of becoming the eighth player in NFL history with 100 receiving touchdowns. He currently is tied with Don Hutson with 99 touchdown catches. The next touchdown catch by Gonzalez will put him into a tie with Brown and Steve Largent.
We've talked a lot about how Atlanta tight end
November, 5, 2010
11/05/10
10:25
AM ET
The NFL Network on Thursday night concluded its
persuasive series "The Top 100: NFL's Greatest Players"
by revealing the best 10 in league history.
As expected, no AFC East players made the top 10 because all of the big names already had been revealed. Some
New England Patriots
fans probably would argue about their three-time champion quarterback being listed 21st compared to a certain
Indianapolis Colts
quarterback being eighth.
Here's the rundown of players from the AFC East (with the fan ranking):
20 (6). Brett Favre, Jets quarterback
21 (20). Tom Brady, Patriots quarterback
24 (--). John Hannah, Patriots guard
25 (7). Dan Marino, Dolphins quarterback
31 (33). Bruce Smith, Bills defensive end
40 (44). O.J. Simpson, Bills running back
49 (--). Mike Haynes, Patriots cornerback
61 (31). LaDainian Tomlinson, Jets running back
65 (24). Randy Moss, Patriots receiver
100 (42). Joe Namath, Jets quarterback
What do you think of the list?
Who is missing? Who is overrated? Who isn't high enough?
Reviewing the list made me think back to a phone call I had with Moss two summers ago. In addition to forecasting better offensive numbers in 2009 than the Patriots posted in their record-breaking 2007 season,
Moss proclaimed himself the greatest receiver -- and maybe player -- in NFL history
.
"I'm the best wide receiver of all-time, hands down," Moss told me.
"I don't really like to judge people or other athletes. I know what I'm able to do on the field, but the things I'm able to do to dictate how a defense plays the game, I don't think there's no other receiver but myself and
Jerry Rice
to be able to do that."
Moss later added: "To hell with wide receiver. I think I go down as one of the greatest players to ever play this game."
The NFL Network rated Rice as the greatest player of all-time and Don Hutson ninth. Moss was ranked the third-best receiver on the list.
February, 3, 2010
2/03/10
11:17
AM ET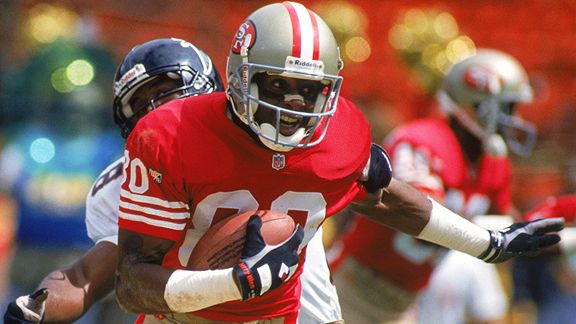 George Rose/Getty ImagesWide receiver Jerry Rice retired with his name all over the National Football League record book.
MIAMI -- Anyone advocating Jerry Rice as the greatest player in NFL history can bury the opposition in statistics.
Rice averaged 1,145 yards receiving and more than 10 total touchdowns per season -- for 20 NFL seasons.
Rice caught 69 touchdown passes -- more than the career totals for Art Monk, Michael Irvin, Charlie Joiner, John Stallworth and numerous other Hall of Fame receivers -- during a five-season span ending in 1993. Rice then caught 28 touchdown passes over the next two seasons, more than half the career total for Hall of Famer Lynn Swann.
He retired holding NFL records for:
Touchdowns (208), receiving TDs (197), receiving TDs in a season (22), consecutive games with a TD reception (13), TDs in Super Bowls (8), receiving TDs in a single Super Bowl (3) and postseason TDs (22).

Receptions (1,549), consecutive games with a reception (274), receptions in Super Bowls (33) and postseason receptions (151).

Receiving yards (22,895), receiving yards in a season (1,848), receiving yards in Super Bowls (589), receiving yards in a Super Bowl (215), postseason receiving yards (2,245) and seasons with at least 1,000 yards receiving (14).
Rice, whose selection to the Pro Football Hall of Fame is a formality Saturday, probably enjoyed the greatest NFL career. He was probably the greatest wide receiver despite some arguments for Don Hutson. But was he the greatest player, period?
"Oh, yeah," Hall of Fame defensive back Rod Woodson said almost reflexively during Super Bowl media day.
Woodson, perhaps mindful of history as a member of the NFL's 75th Anniversary team, then showed he could still backpedal a bit.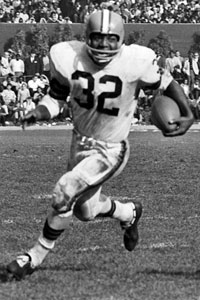 Getty ImagesWhen talking about the greatest players ever, Jim Brown needs to be in the conversation.
"I mean, he is definitely up there," he said. "I don't think one player is the greatest player ever, but he is in that water-cooler conversation. Now, if you say greatest receiver, absolutely. But the greatest player, to make him the most dominant player ever in NFL history or just say pro football history, that is a profound statement. But I can say that he will be in that argument time in and time out."
The conversation might include Otto Graham, Jim Brown, Sammy Baugh, Lawrence Taylor, Joe Montana, Johnny Unitas, Hutson, Walter Payton and Barry Sanders among players no longer active. And that list is probably shortchanging defensive greats such as Deacon Jones and Dick Butkus.
But
Ray Lewis
, arguably the greatest defensive player of the current era, didn't hesitate in singling out Rice.
"I don't know what argument you are going to make why he is not," Lewis said.
And that might be what separates Rice from the rest. There really isn't a great case against him. No one played at such a high level for as long with such grace.
"Jerry Rice doesn't
rank
in the all-time greats," said Saints safety
Darren Sharper
, a five-time Pro Bowl choice and member of the 2000s All-Decade team. "He
is
the greatest receiver and maybe the greatest football player of all time."
Maybe?
"I can't comment on eras that I didn't perform in," retired cornerback Deion Sanders said, "but the era I performed in, Jerry Rice is the best football player to play in that era."
On what grounds beyond the numbers?
"Work ethic, precision, routes, physical toughness, awareness, that hunger," Sanders said. "Jerry stayed hungry until the day he retired."